* From state treasurer-elect Mike Frerichs' Facebook page…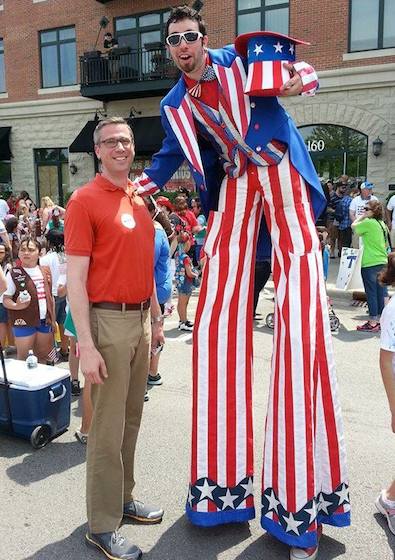 * The Question: Caption?
Additional challenge: No mention of the word "tall."
- Posted by Rich Miller 64 Comments


* From a press release…
Governor-elect Bruce Rauner & Transition Co-Chair Evelyn Sanguinnetti today announced the co-chairs of 10 transition policy committees. The committees, ranging from agriculture to government operations, represent diverse voices from throughout all of Illinois.

"It is essential for us to have the best and brightest and most informed group of talent from around the state providing input on how to make Illinois compassionate and competitive," Rauner said.
* Education…
Tony Smith, Executive Director W. Clement Stone and Jessie V. Stone Foundation
Beth Purvis, CEO, Chicago International Charter School
Dr. Alice Marie Jacobs, President Danville Area Community College
Al Bowman, President Emeritus, Illinois State University
Karen Reagan, 2nd Grade Teacher, Century School District
Dr. Lazaro Lopez, Associate Superintendent for Teaching and Learning, High School District 214
No teachers union leaders, of course. Bowman is a beloved figure, but U of I may feel a bit snubbed. And the Century School District is in Ullin, population 443, way down yonder in Pulaski County. I kinda like that idea.
* Healthcare and Human Services…
Eric Hargan, Former Deputy Secretary and Regulatory Policy Officer at the U.S. Department of Health and Human Services, Shareholder, Greenberg Traurig, LLP.
Ken Smithmier, President and Chief Executive Officer, Decatur Memorial Hospital
Neli Vasquez-Rowland, President, A Safe Haven Foundation
Greenberg Traurig is Victor Reyes' old firm. It's also Jack Abramoff's former firm. Maybe that's why its website declares…
A law firm's effectiveness is not judged on the past, but on the present and future.
* Infrastructure…
MarySue Barrett, President, Metropolitan Planning Council
Del Wilkins, President, Illinois Marine Towing, Inc.
Kirk Dillard, Chairman, Regional Transportation Authority
Barrett and Dillard are both good choices. Illinois Marine Towing does barge towing on the upper Illinois River.
* Agriculture…
Len Corzine, Past President, National Corn Growers Association and Illinois Corn Growers Association, Farmer
Heather Hampton-Knodle, Past President, Illinois Agri Women, Chair, Montgomery County Board Economic Development Committee and Farmer
Jeff Beasley, Past President, Illinois Beef Association
Corey Flournoy, Center for Urban Agricultural Education Director, University of Illinois
Seem like good choices there. But alt ag isn't represented.
* Intergovernmental Efficiencies and Local Government…
Karen Darch, Village President, Village of Barrington
Jim Ardis, Mayor, City of Peoria
Chuck Griswold, Mayor, City of Fairfield
Ruben Pineda, Mayor, City of West Chicago
The goofy mayor who unleashed his police force on a Twitter user?
Dislike.
* Economic Development…
Doug Oberhelman, Chairman and CEO of Caterpillar
Ezequiel (Zeke) Flores, CEO, Flying Retail LLC
William Foster, CEO and Senior Pastor, Providence Development Corporation, Providence Baptist Church & President & CEO of Baptist General State Convention of Illinois
Alyssa Rapp, Founder and CEO, Bottlenotes, Inc.
Maybe Oberhelman will stop griping now.
* Energy and Environment…
Amy Francetic, CEO, Clean Energy Trust
Jerri Titsworth, Environmental Supervisor, Marathon Petroleum Company LP
Charlie Potter, President and CEO, Max McGraw Wildlife Foundation
Maybe some good news for the state's clean energy biz.
* Public Safety…
John Maki, Executive Director, John Howard Association of Illinois
Diane Williams, President Emeritus, Safer Foundation
Paula Wolff, Director, Illinois Justice Project
Chuck Peck, Shift Supervisor, Vienna Correctional Center
Good choices all around, including putting a prison shift supervisor on the team.
* Government Operations…
Deb DeHaas, Vice Chair, Deloitte LLP
David Kahnweiler, Chairman and CEO, Colliers Chicago
John Garabedian, Senior Partner and Managing Director, BCG
Not one government person on the government panel.
Garabedian works mainly in the healthcare field. But this is from BCG's website…
Done right, outsourcing and offshoring can do more than just lower costs. BCG helps companies achieve a lasting competitive advantage through the strategic use of outsourcing—which can improve quality and productivity, drive innovation, provide new sources of revenue, open up new markets, and deliver a sustainable cost advantage.
Colliers Chicago is a commercial real estate firm, so the state may be selling off some properties or trying to renegotiate leases.
From Deb DeHaas' bio…
Deb is chief inclusion officer and national managing partner of the Center for Corporate Governance for Deloitte LLP. As chief inclusion officer, Deb drives Deloitte's strategy to recruit, develop and promote a diverse workforce and foster an inclusive environment where leaders thrive, a constant passion and focus of Deloitte for more than 20 years.
* Veterans…
Dave Leckrone, Colonel U.S Army (Retired)
Juan Pérez - Sergeant, United States Marine Corps
Brian Rowland, CEO, A Safe Haven LLC
* What else do you see in these lists?
- Posted by Rich Miller 78 Comments


* From the Tom Cross campaign…
With the final votes counted, this election now has a conclusive outcome and I have congratulated Senator Frerichs on a hard-fought victory. Senator Frerichs has demonstrated time and time again his commitment to our state and that will serve all of us well as he becomes Illinois' next State Treasurer.

My entire family is extremely grateful and humbled by the incredible amount of support we received from supporters and voters across Illinois. As I campaigned across Illinois, I was continually reminded at how great a state we truly have. I am proud of Illinois, I am honored to have served its citizens in the legislature and I look forward to new opportunities to make our state even better.
…Adding… From the ILGOP…
Tim Schneider, Chairman of the Illinois Republican Party, released a statement today following the news that Tom Cross has conceded the race for Illinois Treasurer:

"I want to commend Tom Cross and his campaign team on a tough, hard-fought race.

"Tom Cross has given us more than two decades of service and principled leadership, and for that we are truly grateful.

"We owe a debt of gratitude as well to his staff, his supporters, and the countless volunteers who worked on his campaign, on Election Day, and in the days since, for their energy and their dedication to our cause.

"I wish Mike Frerichs well as he serves the people of Illinois as the next Treasurer."
- Posted by Rich Miller 82 Comments


* The BGA has a story about how Glenn Poshard boosted his pension to over $200K a year…
The key element in how Poshard built his enviable retirement cushion was winning election to the state Senate. Of all Illinois state pensions, none is as generous as the one legislators created for themselves — the General Assembly Retirement System, or GARS.

That allowed Poshard to start his retirement with a pension of 85 percent of his state salary when he started collecting his pension in 2003 after retiring for the first time from SIU.

Poshard also understood early on that there were ways to boost his pension. At 42, while running for Congress in 1988, then-state Sen. Poshard contacted GARS about his future pension. According to a handwritten note in his file at the pension fund, Poshard "was leaving town & wanted to know right away" what it would cost to buy pension credit for the two years left in his Senate term. The note said: "situation discussed at length during office visit of 11/17/88."

Poshard paid $7,860 to get pension credit for 23 months of the Senate term he didn't serve. That gave him credit for seven years in the Senate, though he served five. It was money well spent, boosting his current pension by $20,000 a year, records show.

Poshard later bought 1.25 years of pension credits in the State Universities Retirement System for jobs he had nearly 30 years earlier while an undergraduate at SIU. The credits cost him $5,598. They add $5,000 a year to his pension.

He also was allowed to buy 2.5 years of credit from the university pension system for his time in the U.S. Army in the 1960s. He wasn't in the Army long enough to qualify for a military pension.
Poshard, of course, is a member of Bruce Rauner's transition team. Rauner has repeatedly blasted state pensions, but they refused to take the BGA's bait…
"Dr. Poshard has a tremendous amount of knowledge about southern Illinois, as well as the university system, and is respected across party lines," the Rauner spokesman said. "His role with the transition is voluntary and not focused on pension issues."
- Posted by Rich Miller 68 Comments


[The following is a paid advertisement.]
By now, you have seen the recent stories about the Uber executive who threatened to use the personal data of a journalist to destroy her because she dared criticize them.
And yesterday in Chicago, after two fires and a plane crash caused a traffic meltdown in frigid temperatures, Uber responded like it has across the country in similar situations – by stiffing their riders and raising "surge prices" over five times the normal limit.
Today, the New York Times ran a front page article on Uber detailing its abundant underhanded tactics and exposing a billion-dollar bully who plays fast and loose with its customers privacy.
All these stories above show how Uber has become a toxic, win-at-all-costs corporate culture that breeds bad behavior from the top down.
Yet, Uber still resists even minimal standards on how it should legally and ethically operate, like what is proposed in HB 4075 & 5331 – bipartisan legislation that would provide public protections like police background checks, drug tests and proper insurance requirements in Illinois.
Why would anyone support unchecked bad behavior – instead of supporting basic consumer protections in our state?
Override Governor Quinn's veto of HB 4075 & 5331 and provide common sense statewide protections for all Illinoisans.
- Posted by Advertising Department Comments Off


[The following is a paid advertisement.]
Governor-Elect Bruce Rauner and Governor Quinn agreed on one thing during the 2014 Election: Veto HB 4075
Governor-elect Bruce Rauner spoke out against and Governor Quinn vetoed HB 4075 to protect consumer choice and promote job growth in Illinois.
86,000 Voters Urged Governor Quinn to Veto HB 4075
Voters from all 118 state house districts signed a petition urging Governor Quinn to veto the bill written by the taxi industry to limit their transportation options.
Mayors from every region in the state agreed: Vote NO on HB 4075
"The expansion of ridesharing in the state of Illinois should not be an issue that is debated in Springfield. Ridesharing is a local issue that should be left up to each municipality to govern and regulate in a way that supports the needs of our communities."
The Chicago Sun-Times agreed too:
"The logical place to regulate ride sharing is at the local level, the same place where decisions traditionally have been made about taxis. A group of mayors, including those in Bloomington and Normal, has written to state legislators making just that point and asking that ride sharing oversight be left in their hands…Leave the steering wheel at City Hall, not 200 miles away in Springfield."
But, the taxi industry is still fighting to push their bill to end ridesharing as we know it in Illinois, prevent local cities and towns from authorizing rideshare services, limit consumer choice and stunt an economic growth opportunity.
Vote NO on HB 4075. To learn more, visit http://blog.uber.com/2014/11/13/uberx-belongs-in-illinois-sustain-the-hb4075-veto/.
- Posted by Advertising Department Comments Off


* Yep…
After watching one Illinois House race where their candidate led by just a dozen votes on election night, Democrats appear to have retained their veto-proof majorities in both chambers of the General Assembly.

State Rep. Kate Cloonen, D-Kankakee, widened her lead from 12 votes to 114 votes over Republican Glenn Nixon in the 79th House District on Tuesday after Kankakee County officials finished counting provisional and late-absentee ballots.
* More…
Democrats won veto-proof majorities in each chamber for the first time after the 2012 elections. Now, they'll have them again when Rauner and the new General Assembly are sworn-in in January.

That means Rauner will have to find Democratic legislators willing to defy Madigan and Cullerton to allow his vetoes to stand — and that's assuming all Republican lawmakers are on board with his plans.
I'm gonna push back on this just a bit because it's become almost a Biblical truism that Madigan can override every Rauner veto.
* Unlike the Senate, Madigan has the bare minimum needed to override. He doesn't have Cullerton's cushion. And he has more conservative Democratic members than the Senate does.
Rep. Jack Franks isn't exactly a team player on revenue and budget issues. And neither is Rep. Carol Sente. Rauner did really well in suburban Cook County and in Lake County, which puts legislators like Reps. Michelle Mussman, Fred Crespo, Sam Yingling, Scott Drury and others on the bubble.
Despite the folklore, Madigan can't just order his members to vote a certain way. And he rarely if ever asks a member to take a vote that could harm a member's district or harm a member's reelection chances.
* This furious House campaign season wasn't about overriding Rauner next year. It was about fighting off Rauner's attempt to take seats away from Madigan. The Speaker is one of the most competitive people I've ever met.
Madigan didn't actually try to win a super majority two years ago, but once he obtained it, he wasn't gonna let some guy like Rauner (or anybody else) take it away from him. He could've just let Cloonen's seat go and focused on more winnable races, but he dumped a ton of resources into that district, including 50 or so of his best 13th Ward captains.
* Rep. Cloonen, by the way, earns mad props for her own door to door efforts. She's one of the hardest workers Madigan has in the House, and that's why he rewarded her with such an intense push.
Signs don't vote, but they can be an indication of a strong organization, and as I told subscribers before the election, I was astonished during a cruise through my grandma's old Kankakee neighborhood at how many Cloonen signs I saw.
- Posted by Rich Miller 34 Comments


* From a press release…
[Yesterday], Mayor Rahm Emanuel's re-election campaign released a new television ad entitled "Clean Air" and unveiled its new website—ChicagoTogether.org.

The television ad features Kim Wasserman, a Pilsen community activist who was among the leaders of a longtime fight to close two coal plants believed to cause asthma. This is the first in a series of ads where Chicagoans will share their stories on a range of important city issues. The ads will air on both broadcast and cable television stations.

The new website, ChicagoTogether.org, highlights programs and initiatives in Chicago, offers users various ways to take get involved with campaign activities, and provides the latest updates from the campaign. The homepage features a map with stories and successes from every neighborhood in the city and encourages visitors to share their own stories about themselves and their neighborhoods.
* Rate it…
- Posted by Rich Miller 26 Comments


* A subscriber dug up the late Bill Campbell's portrayal of Big Jim Thompson from back in the day…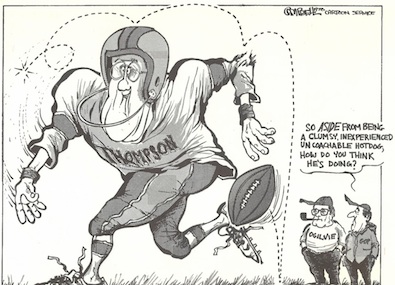 Background on Campbell is here, by the way. He was a great mentor to a lot of us in the biz, myself included.
- Posted by Rich Miller 10 Comments


* From Scott Kennedy's updates last night on the state treasurer's race…
The most surprising news of the day came in the collar counties. In the 5 traditional collar counties overall Cross beat Frerichs 57%-38%. I expected that the updates in the 5 collar counties would give Cross the net gains he would need to keep this race close. That was not the case.

We haven't had a public update in McHenry County since 11/5 and did not get one so far today. DuPage had a large public update on 11/5 as well, both producing large margins for Cross. However in today's updates it was Frerichs who came out with a net gain in Lake and Will (472 and 376 votes respectively) while Cross' net gain today in DuPage was only 48 votes. The Kane County part outside of Aurora updated last night Cross gained 215 votes while the Aurora election authority update today gave a net gain to Frerichs of 235 votes. In these most recent collar county updates it was Frerichs who had a net gain, when I was expecting a large net gain for Tom Cross.

In the overall statewide vote the 5 collar counties made up 25% of the vote in this race, while the Cook County suburbs made up 19% of the total vote. Cross needed gains in the collar counties to blunt the gains by Frerichs in Cook County and what is expected in Chicago. Unless McHenry comes in with a very large update, that didn't happen.
After Cook County's numbers came in, Frerichs picked up another 2,263 net votes. The final coffin nail came from Chicago…
The Chicago numbers came in just before 9pm and as expected it boosted Frerichs lead by over 6,000 votes. I did a complete check of all the election authorities again and the only other update was Marion County. On my tracker I still have not yet confirmed the final totals for 50 of the state's 110 election authorities. Of that number 14 don't have websites and the other 36 just haven't updated their websites yet with final totals.

The current margin is Frerichs by 9,439 votes.
Consider this race called for Frerichs.
- Posted by Rich Miller 45 Comments


[The following is a paid advertisement.]
Public policy is one area where lawmakers can send a message to entrepreneurs that Illinois is the place to nurture and grow their business. Illinois should continue to establish and embrace a climate where businesses can succeed or fail based on the merits of their ideas. Opportunity exists to foster innovation and competition, to the benefit of consumers throughout the state.
While ridesharing in Illinois is only three years old, Uber is already making a significant impact in Chicago.
$192,000,000 in economic impact for the City of Chicago in 2014
500 new Chicago headquarters jobs to be added by the end of 2016
2,900 full-time equivalent jobs created in 2014
95% of uberX partners live in neighborhoods and suburbs underserved by taxis
Sustain the HB 4075 veto to provide new, innovative transportation options across the state while growing the Illinois economy.
To learn more about ridesharing and HB 4075, visit http://blog.uber.com/2014/11/13/uberx-belongs-in-illinois-sustain-the-hb4075-veto/.
- Posted by Advertising Department Comments Off


* From the Register-Mail…
For the first time in more than a decade a Republican will sit as Governor serving with a Democratic Legislature.

Knox College Political Science instructor Jim Nowlan said it's going to be rough for Gov.-elect Bruce Rauner.

"He's created expectations I'm afraid he can't fulfill," Nowlan said. "It will be interesting to see how quickly people sour if they do, they may not. It's going to be tough for him to fulfill the public's expectations."
Yep.
He's said that he wants to cut income taxes, freeze property taxes, raise school and university spending, keep prisons open, make prisons safer, beef up IDNR, stop child deaths with a better DCFS, end patronage, and on and on and on and on. He has promised the moon, but all he may be able to deliver is an asteroid - let's just hope it doesn't crash into the governor's mansion.
And then there are all of his evasions, to the point where people generally just add whatever they think should be done to his tabula rasa.
The bar is high. Very, very high.
- Posted by Rich Miller 48 Comments


* Senate President Pro Tempore Don Harmon penned an op-ed for his local paper about the incoming Rauner administration…
A divided government has virtues and vulnerabilities. With a Democratic legislature and a Republican governor, I do not foresee more of the bold, progressive policy victories we achieved over the last six years. Marriage equality, abolition of the death penalty, expanding health insurance to thousands of low-income adults — none of these victories would likely be possible in an age of divided government. Bipartisan power sharing may help us achieve difficult things, but not dramatic things.

A divided government does give us the opportunity, however, to deal in a more bipartisan fashion with the nuts and bolts of government. For more than a decade, we have adopted Democratic budgets paid for with Democratic revenue proposals. Now, Gov. Rauner and the Republican Party will own the state budget and need to provide revenues adequate to pay for their proposals.

I fully expect the Democratic majorities in the General Assembly to cooperate with the governor to achieve fair and balanced budgets. But fair and balanced budgets will require something we haven't seen in recent years: the active engagement, sponsorship and affirmative votes of Republicans. The GOP has had the luxury of avoiding responsibility by voting "no" on necessary yet unpopular reforms. But now, with a governor of their own party, Republican legislators have responsibility for real, achievable solutions. This may be a rude awakening for my GOP friends but potentially good for Illinois. We shall see.

While divided government can lead to cooperation on certain issues, it leads to confrontation on others. With a Republican governor, the Democratic General Assembly will become even more important as the defender of progressive ideals. If Gov. Rauner advances proposals to do away with collective bargaining, adopt "right to work for less" proposals, repeal or lower the minimum wage or otherwise attack the bedrock of working families in Illinois, he should gird for a fierce fight.
Thoughts?
- Posted by Rich Miller 44 Comments


* Today, our venerated commenter and celebrated budget expert Steve Schnorf turns 70. Happy birthday, Steve!
I love the guy. He looks like a biker, is always the pragmatist and thinks like a wonk…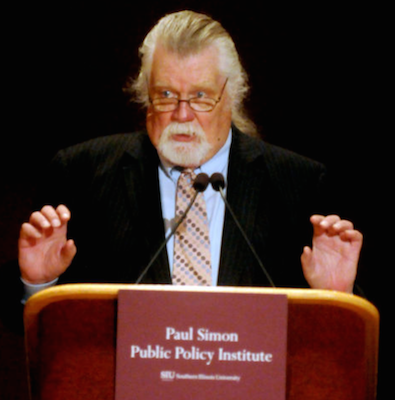 * The Question: Caption?
Keep it clean, people.
- Posted by Rich Miller 81 Comments


* One of Gov. Pat Quinn's next decisions involves his official portrait…
Governor Quinn still has time to decide if he'll have his portrait hanging in the Capitol building.

It's around this time governors leaving office will usually start planning to leave their mark, which is a portrait in the Capitol building. But, it comes at a hefty price.

Officials tell us the paintings cost around $20,000.

The paintings of Illinois' former leaders hang on the second floor of the building, in "The Hall of Governors."
* But…
In 1994, when Quinn was state treasurer, he held a press conference to mock then-Senate President James "Pate" Philip for commissioning an $8,676 portrait that now hangs in the Senate chambers.

Philip, who left state government in 2003, ignored Quinn's call to reimburse the state for the painting and his portrait remains in its place in the President's Gallery overlooking the room where senators cast their votes.
If he does sit for the portrait, I'm assuming it won't be state financed. Right, governor?
*** UPDATE *** The governor's press secretary just told me that Quinn will use "private funds" for the portrait.
- Posted by Rich Miller 43 Comments


* This new drug has been a miracle for people with Hepatitis C…
With nearly a 95 percent cure rate in clinical trails, Sovaldi is being hailed as a major breakthrough for a disease that more than 3 million Americans carry. The drug's price tag, though, is spooking health insurers and state Medicaid programs at a time when there's a heightened effort to diagnose the liver disease.
* The Tribune had a story this week about strict limitations placed on Illinois Medicaid patients…
The high price of Sovaldi drove Illinois Medicaid's hepatitis C spending to $22 million for the fiscal year ending June 30, 2014, up from $6.7 million the previous year, according to the Illinois Department of Healthcare and Family Services.

Facing higher costs, Medicaid officials stopped paying for any but the sickest patients to get the new drugs, drawing criticism from some liver doctors who have said the state is preventing them from properly treating their patients. […]

In addition to limiting Sovaldi to the sickest patients, the Illinois Department of Healthcare and Family Services has set two dozen criteria for who can get the drug, including requiring that patients have no evidence of drug or alcohol abuse in the last 12 months and barring treatments not approved by the Food and Drug Administration.

Spending on hepatitis C treatment dropped from $1 million per week to about $200,000 per week after the department adopted the restrictions, said Dr. Arvind Goyal, the department's medical director. […]

The state did not start keeping track of how many patients it denied Sovaldi until October, Goyal said. For the month of October, 43 of 50 patients who requested the treatment were denied, according to the department.
The problem is that state policy could be increasing state costs down the line, when denied Medicaid patients wind up hospitalized.
* And, of course, Americans are getting the shaft…
Although Sovaldi cures hepatitis C in more than 90% of those who for whom it has been prescribed, the 12 week course of treatment in the U.S. is $84,000, which comes to $1,000 a pill.

While curing hepatitis C saves lives and prevents a lot of downstream healthcare costs for patients who, without this drug, could ultimately develop liver cancer or require a liver transplant, payers and politicians are in an uproar for a variety of reasons, not the least of which is that the drug is priced much higher in the U.S. than in the rest of the world. For example, in Europe, where the government negotiates the price, Sovaldi's price tag is on the order of $55,000/patient.

While Gilead's pricing strategy in the U.S. can be challenged, it has certainly taken a responsible approach to Sovaldi pricing in poorer countries. In Egypt and most recently in India, the cost of Sovaldi is going to be only $900/patient
- Posted by Rich Miller 25 Comments


* Those of you who are nobody what nobody sent can now click here and apply for a job with the incoming Rauner administration.
* From the required "Vetting" section…
Business / Lobbying: Describe any business relationship, dealing or financial transaction which you have had during the last five years, whether for yourself, on behalf of a client, or acting as an agent which you believe may constitute an appearance of impropriety or could result in a potential conflict of interest in the position to which you want to be appointed. If none, please state. […]

Convictions: Have you ever been convicted of or entered a plea of guilty or nolo contendere or forfeited collateral for any criminal violation other than a minor traffic offense? (Minor traffic offenses do not include the Illinois offenses of operating under the influence of liquor, operating while impaired, reckless driving or the equivalent offenses in other states) […]

Opposition / Associations: Do you have any expectations of any group or individual voicing concern about your possible appointment? […]

Issues: In the last five years, have you been publicly identified, in person or by organizational membership, with a particularly controversial national, state or local issue? […]

Submission of Views: In the last five years, have you submitted oral or written views to any governmental authority, whether executive or legislative, or to the news media on any particularly controversial issue other than in an official governmental capacity? […]

Controversy: Is there anything in your personal or professional life that would cause controversy for you or the governor during a public review of your candidacy or your service as a gubernatorial appointee?
Seems like standard stuff.
- Posted by Rich Miller 51 Comments


* AP…
Cross, the former Illinois House minority leader from Oswego, and his campaign are questioning the Chicago Board of Election Commissioners about the number of mailed ballots it has received and how it has accounted for them.

The board released a letter late Friday rebutting a majority of the claims, including its accounting for 4,600 absentee ballots and a claim that 1,406 previously unknown mail-in ballots were discovered in a closet. But the board acknowledged that 99 mail-in ballots that were received too late were inadvertently mingled with 459 legitimate ballots. Those 558 ballots were separated for possible "postelection court proceedings" under an agreement with election judges of both parties, board spokesman Jim Allen said.

The complaints by Cross' lawyer William Quinlan prompted U.S. Sen. Mark Kirk to ask U.S. Attorney Zachary Fardon to "secure" questioned ballots and "establish the chain of custody."

"Our home city of Chicago has an unfortunate reputation for voter fraud and producing bogus election results," Kirk wrote in the letter obtained by the AP. Voters "find the alleged behavior repulsive and they demand a change."

Allen responded by re-releasing the board's Friday response to Quinlan and adding, "There are contents of that original letter drafted by Mr. Quinlan that are clearly uninformed, misguided, inaccurate, and absolutely reckless with the truth."
* Meanwhile, you've probably noticed that the treasurer's race numbers changed last night. Scott Kennedy explains why…
* DeWitt County – there were a total of 5 new votes over what was previously publicly reported and Cross gained 4 votes. These should be their final totals.
* Jasper County – there were a total of 4 new votes over what was previously publicly reported and Cross gained 4 votes. These should be their final totals.
* Marshall County – there were a total of 10 new votes over what was previously publicly reported and Cross gained 4 votes. These should be their final totals.
* Pope County – there were a total of 3 new votes over what was previously publicly reported and Cross gained 1 vote. These should be their final totals.
* Richland County – there were a total of 29 new votes over what was previously publicly reported and Cross gained 9 votes. These should be their final totals.
* Macoupin County – there were a total of 79 new votes over what was previously publicly reported and it was a push, the margin remains exactly the same. These should be their final totals.
* Bond County – there were a total of 2 new votes over what was previously publicly reported and Cross gained 2 votes. These should be their final totals.
* Morgan County – there were a total of 123 new votes over what was previously publicly reported and Cross gained 41 votes. These should be their final totals.
* Pike County – there were a total of 4 new votes over what was previously publicly reported and Cross gained 3 votes. These should be their final totals.
* Fayette County – there were a total of 26 new votes over what was previously publicly reported and Cross gained 11 votes. These should be their final totals.
* Kane (only, not including Aurora) – there were a total of 382 new votes over what was previously publicly reported and Cross gained 215 votes. I'm not sure if these are their final totals.
* Vermilion (only, not including Danville) – there were a total of 81 new votes over what was previously publicly reported and Frerichs gained 1 vote. These should be their final totals.
* And gives us a look ahead…
Here is what to expect for tomorrow and Wednesday. I expect the clerks will finalize and update the vote totals in each election authority tomorrow. The clerks will still have to complete the canvass and the totals won't yet be certified but at least we won't be expecting any further updates unless errors are found.

Technically the clerks have to wait to make sure no additional ballots come in the mail tomorrow so the updates are more likely to come later in the day. I will take a late lunch and check for updates during my lunch and then again after work.

On Wednesday I have to travel for work and will not be able to check for updates at all. I have given Rich Miller and his intern access to the Google Doc that is keeping track of these totals so they can make updates if needed.

Also, if you need to get updates faster anyone can copy/paste the data at the bottom of my tracker where it is listed by election authority and perform their own checks.

To make it easier to quickly see which totals are final I have them color coded. All the numbers for each election authority in blue are not yet final, the numbers in black are the numbers that are expected to be final.

For previous updates I've written a little blurb after each one explaining the update. Here is that history in table format. Since almost all 110 election authorities are expected to have an update in the next day or two I probably won't write up each one, I am going to try to keep this table up to date and just reference the table.
His tracker is here.
- Posted by Rich Miller 34 Comments


* Tribune…
Illinois school districts ended up nearly $1 billion in the hole in 2013, dipping into reserves or borrowing to pay the bills, according to the latest finance data, painting a grim picture of the state's public school system.

While statewide school deficits aren't unusual — some have been much higher over the years — the red ink comes just two years after districts as a whole were in the black and at a time when a fight over state education dollars has become more fervent and widespread. […]

Overall, more than 500 of the state's roughly 860 districts spent more than they took in during the 2012-13 school year, struggling to cover losses in state and federal dollars and leaning more on local taxpayers. Even taking into account surpluses in other districts, the public school system's red ink totaled $931 million, state data show. Districts that continue to operate in the red risk state intervention and other consequences.

Despite the deficits, spending per student continued to climb to an average of $12,045 statewide, with some districts in the Chicago region spending more than $20,000 per child, a Tribune analysis found
* Meanwhile…
Elgin School District U46 is looking to fill buses headed to Springfield on Tuesday to rally for the funding reforms that would benefit the district.

For those who cannot attend, school administrators throughout the Fox Valley are urging residents to voice their opinions on the proposed school funding reform package by providing testimony that will be included as part of the record.

The efforts are part of a call-to-action from school districts throughout Illinois who are taking sides in a debate over Senate Bill 16, a plan that shifts how the state funds education. The issue is hitting the forefront because of a joint hearing between the Illinois House's Appropriations-Elementary and Secondary Education Committee and the Elementary and Secondary Education Committee.

The committees are scheduled to take up Senate Bill 16, also known as the School Funding Reform Act of 2014, at 3 p.m. Tuesday in Room 114 of the Capitol.
* More on the bill…
A resolution sponsored by Republican Rep. Ron Sandack and co-sponsored by 20 of the 47 members of the House GOP caucus decries what it called Manar's "piecemeal reallocation" of school funding that will lead hundreds of districts to "deep budget reductions and financial uncertainty."

Rauner, who invested millions in education reform before running for office, indicated during an October debate that he doesn't support Manar's bill, even though he thinks Illinois' school funding formula should be overhauled. His spokesman, Mike Schrimpf, said Rauner would not elaborate at this time beyond what he'd said during the debate. […]

[Rep. Will Davis] said he hopes the proposal could come up for a vote as early as the General Assembly's last session in early January before the inauguration of Rauner, who would likely veto it. […]

"There remains a good amount of concern about the bill in its current form," said Steve Brown, Madigan's spokesman. "(But) there's no doubt some changes need to be made in how we fund schools."
* And…
The Senate architect of the plan says he doesn't know if lawmakers will push something to Democratic Gov. Pat Quinn before Republican Bruce Rauner is sworn into office in January.

"This is going to take the House some time," said state Sen. Andy Manar, a Bunker Hill Democrat. "That's the process the House is starting."
* But Finke reports that all the excitement today will be for naught, at least for now. The bill's sponsor is saying it won't be called for a while…
However, the House won't take action on changing the state funding formula until next spring at the earliest.

"Sen. Manar has done a great job over there, and he knows that we're going to be doing a lot more work on it," Chapa LaVia said. "He knows that the bill won't be called in this General Assembly."

Chapa LaVia noted that there has been pushback from more affluent school districts that fear they will lose money under a revised funding formula. She said she hopes the hearings will focus attention on the need not only to revise the distribution formula but also to put more money into education overall.

"I need as many people at the table, pro and anti on this, so we can all come to an agreement that we have short-sheeted the kids of the state of Illinois for way too long," she said.
Manar has a good idea, but I still think the bill can't move forward without some hold harmless provisions, and that'll require a lot of money that the state simply doesn't currently have. We'll see.
- Posted by Rich Miller 42 Comments


* Considering that Bob Dold lost two years ago in a Democratic landslide and took his seat back from Brad Schneider in this big GOP year, a Schneider comeback wouldn't be all that surprising. From Politico…
Illinois Rep. Brad Schneider, one of 10 House Democrats who lost reelection, stood before his 200 fellow congressional Democrats during a glum gathering Thursday to say goodbye and thank you.

When he finished, Schneider, a bespectacled and mild-mannered former business management consultant, was taken back by the reception. "Run again! Run again!" many of his colleagues chanted.

Only two weeks after a political blowout that left Democrats with their smallest House minority in over 80 years, at least a half-dozen of the party's candidates who fell short are already being courted to run again in 2016. And some of them are seriously considering it.

Their thinking reflects what has become prevailing wisdom in Democratic circles: that presidential elections are as favorable to the party as midterms are punishing. Democrats who lost close races in battleground districts this year could just as easily come out on top in 2016, when the electorate is sure to be younger, more diverse and more liberal. […]

Republican strategists disagree. They argue that many of the Democrats are damaged after coming under a barrage of political attacks in 2014 and are unlikely to fare better if they try again.

"If I were a Republican incumbent in a tough district, I'd prefer a challenger with built-in negatives and a record to attack," said Andy Sere, a GOP ad maker.
Thoughts?
- Posted by Rich Miller 22 Comments


* It'll be mildly interesting to see which office Rauner chooses to use when he's in town this week. That's often interpreted as a sign of who's most in favor. Then again, it's also sometimes misinterpreted. And, then again, he may choose to go to legislators' offices instead. Sun-Times…
Governor-elect Bruce Rauner is to arrive in Springfield in time for Thursday morning's session.

Since winning the Nov. 4 election, Rauner has spoken to more than 50 lawmakers, his staff says. […]

Rauner is headed to Springfield after first traveling to Florida on Tuesday for the Republican Governors Association annual conference.

What Rauner won't be doing in Springfield is lobbying on any issues — not the Uber bill or a proposal to increase the minimum wage — his staff says.
I still think that there's more going on behind the scenes on that Uber bill than is being publicly acknowledged. And maybe even the minimum wage bill.
* And speaking of the minimum wage, from a press release…
Chicago working families are outraged at the news today that Speaker of the House Michael Madigan and State Senator John Cullerton are considering robbing Chicago of its freedom to set its own minimum wage, by annulling Chicago's 'home rule' control over its own regulations and forcing the city to adopt a proposed statewide minimum wage of $10/hour.

According to the United States Department of Commerce, the cost of living in Chicago is higher than any other city in the Midwest, and 20.1% higher than the rest of Illinois. Local residents have spoken out demanding a higher minimum wage. In the March primary elections, 86% of voters in 103 precincts called for a citywide minimum wage of $15/hr, leading legislators to introduce a $15/hr ordinance into City Council in May.

By moving to revise state constitutional law to deny Chicago the right to raise its own minimum wage, Madigan and Cullerton are listening to the interests of low-wage employers and groups like the Illinois Retail Merchants Association, who have given them hundreds of thousands of dollars in campaign contributions, and new Republican Governor-Elect Bruce Rauner, who met privately with the two legislators last week, instead of the Chicago citizens they were elected to represent.
That would require a three-fifths super-majority in both chambers, which means Republican votes, particularly in the House. We'll see.
* By the way, the House has some hearings scheduled for this afternoon. Click here to see the schedule. We'll start our live coverage today at noonish.
- Posted by Rich Miller 29 Comments