***CLICK HERE FOR THE FULL OPINION***
A Sangamon County Circuit Court judge ruled Friday that Illinois' pension reform law passed last year is unconstitutional.

Judge John Belz sided with employee and retiree organizations that argued that the law, passed Dec. 3, 2013, violates the state's constitutional clause that pension benefits "shall not be diminished or impaired."

The state is expected to appeal Mr. Belz's decision to the Illinois Supreme Court.
…Adding…
ILGov-elect Rauner on pension ruling: Hope it goes to Supreme Court. Wants bipartisan solution. As in his successful campaign–no details.

— Rick Pearson (@rap30) November 21, 2014
Attorney General Lisa Madigan's office says it will immediately appeal decision to Supreme Court, ask for expedited decision.

— Monique Garcia (@moniquegarcia) November 21, 2014
Gov. Pat Quinn's office says still confident pension law will ultimately be upheld by Supreme Court.

— Monique Garcia (@moniquegarcia) November 21, 2014
Judge finds there is 'no police power or reserved sovereign power to diminish pension benefits'

— Bernie Schoenburg (@bschoenburg) November 21, 2014
* 3:10 p.m. - From the Attorney General…
"We plan to immediately appeal the decision to the Illinois Supreme Court so that we can obtain a final resolution of these important issues and allow the Governor and General Assembly to take any necessary action. We will ask the Court to expedite the appeal given the significant impact that a final decision in this case will have on the state's fiscal condition."
* 3:46 pm - Leader Durkin…
"Today's ruling is not unexpected. I strongly urge both parties to seek an expedited review of today's decision before the Illinois Supreme Court. The legislature needs certainty on this important issue sooner rather than later."
* Civic Committee…
Statement of Ty Fahner, President of the Civic Committee of The Commercial Club of Chicago:

The finding of any lower Court is significant, however, only the determination of the Illinois Supreme Court will resolve the constitutionality of the pension reform law.
* Bruce Rauner…
"Today's ruling is the first step in a process that should ultimately be decided by the Illinois Supreme Court. It is my hope that the court will take up the case and rule as soon as possible. I look forward to working with the legislature to craft and implement effective, bipartisan pension reform."
* We Are One Illinois…
"We are gratified by the court's ruling today, which makes clear that the Illinois Constitution means what it says. The court held today, as our unions have long argued, that the state cannot simply choose to violate the Constitution and diminish or impair retirement benefits if politicians find these commitments inconvenient to keep.

"This is a victory for every Illinois resident who believes in the integrity of the Constitution. It is a victory for a basic principle of fairness, that working people and retirees who earned modest pensions and always paid their share should not be punished for politicians' failures. And it is a victory for the members of our unions, who work hard every day in every Illinois community to teach kids, protect public safety, care for the most vulnerable and much more. Today they are more secure in the knowledge that their life savings can't be taken away from them.

"Going forward, our union coalition repeats our longstanding commitment to work with anyone of good faith to develop a fair and constitutional solution to fund the state's retirement systems."
* Leader Radogno…
"As always expected, the issue of pension reform will be decided by the Illinois Supreme Court. I remain hopeful the high court will find the comprehensive pension reform legislation constitutional. At the very least, the Court will be called upon to provide guidance. In my opinion, the sooner the better."
* Senate President Cullerton…
Cullerton: The rule of law is absolute

SPRINGFIELD - Senate President John J. Cullerton today issued the following in response to the Sangamon County Circuit Court ruling regarding pension litigation:

"I have long believed there is a constitutional way to confront Illinois' pension challenges. Today's ruling confirms that, while the need for reform is urgent, the rule of law is absolute. I remain committed to working with all parties to address our budget pressures and pension problems in a manner consistent with the Illinois Constitution"
* Sen. Kwame Raoul…
Today's ruling sends yet another signal that – as I have always maintained – our constitution does not allow state government to run roughshod over contractual rights, even in times of great financial hardship. The judicial evaluation of last year's compromise pension reform plan is far from complete, and I await the guidance of the Illinois Supreme Court. I stand ready, once we receive that guidance, to continue the process of negotiating constitutional reforms that protect public employees as well as core services, such as education and health care.
* Gov. Pat Quinn…
We have always anticipated legal challenges to this critical law and urge the Illinois Supreme Court to take the matter up as soon as possible.

This historic pension reform law eliminates the state's unfunded liability and fully stabilizes the systems to ensure retirement security for employees who have faithfully contributed to them.

We're confident the Illinois Supreme Court will uphold this urgently-needed law that squarely addresses the most pressing fiscal crisis of our time.
* From our pension expert RNUG…
Judge Belz quoted Kanerva and a number of the earlier ISC decisions (Kraus, Felt). Not only did he slam the door shut on the State, he double-locked and barricaded it.

Game, set, and match to the retirees and current employees.

The language used in the opinion is short (for a judicial ruling), strong and clear:

"The Act without question diminishes and impairs the benefits of membership in State retirement systems, Illinois Courts have consistently held over time that the Illinois Pension Clause's protection against the diminishment or impairment of pension benefits is absolute and without exception. The Illinois Supreme Court has "consistently invalidated amendment to the Pension Code where the result is to diminish benefits." McNamee v. State, 173Ill. 2d433, 445 (1996)"

And here are the lines that matter:

a. The Plaintiffs' Motions are granted. The defendants' cross-motion for summary judgment is denied, with prejudice, because the Court finds that there is no police power or reserved
sovereign power to diminish pension benefits. Pursuant to 735ILCS5/2-701,the Court enters a final declaratory judgment that Public Act 98-0599 is unconstitutional and void in its entirety;

b. The temporary restraining order and preliminary injunction entered previously in this case is hereby made permanent, The defendants are permanently enjoined from enforcing or implementing any provision of Public Act 98-0599;

c. Pursuant to Illinois Supreme Court Rule 304(a),the Court finds that there is no just reason for delaying either enforcement of this order or appeal or both.

The "denied with prejudice" is a nice touch; basically slams the door shut on future attempts.

The ISC may decide to take the appeal just to eliminate any uncertainty, but I don't see where they need to. Judge Belz was extremely clear on this.
- Posted by Rich Miller 132 Comments


* From a Sun-Times editorial…
A new federal census reports the state's prisons were filled to 173 percent of design capacity as of Sept. 30, one of the worst rates in the nation. The Illinois Department of Corrections disputes that, saying prisons are at less than 100 percent of "operational capacity," which takes into account such measures as construction of additional units and putting two inmates into a cell instead of one. Clearly, though, the prisons are crowded. We need to do a better job of finding effective alternatives to incarceration that don't pose a risk to public safety.

For four decades, Springfield has responded to violence by making more types of crime eligible for prison sentences, and keeping inmates behind bars for longer periods of time.

Just since 2007, Illinois' prison population has increased by about 10 percent, even as the Department of Corrections budget has been cut by more than 10 percent. Our prisons now hold about 48,500 inmates.
The editorial page also has a long list of suggestions for the incoming governor. Go check 'em out and tell us what you think.
…Adding… From the IDOC…
We absolutely do not agree with the BPS calculation. They also have in their tables a grossly incorrect figure for IDOC's operational capacity.

Various data on which BPS relies continues to list "rated [design] capacity," which is an obsolete figure. Why is it obsolete? Because "rated capacity" is the "built-for" capacity at the time of original construction and does not take into account new buildings or double-celling (used by all states) which increase operational capacity. Operational capacity is the only figure that matters…that's how many inmates we can safely house.

Worst of all, "rated capacity" was calculated at a time when prison systems used the one-inmate-per-cell system of incarceration. No state in the U.S. has used single-celling in decades. It's all two-to-a-cell, which raises operational capacity. All systems, including Illinois, do single-cell inmates who cannot coexist with a cellmate, due to mental illness or a history of physical incidents. We also use disciplinary segregation and disciplinary seg is single or double-celled.

Anyway, as for the inaccurate numbers, a typical example is Vienna Correctional Center, built in 1965 with a few buildings and a rated (original) capacity of approximately 850-925. A major expansion in 1973 added 14 buildings, including six new cell houses which nearly doubled operational capacity to 1,730. Yet, the "rated [design] capacity" of Vienna is still listed as 925 and I've seen references to Vienna's current inmate population of 1,643 being 175% of capacity when, in fact, it is 5% below operational capacity.

No, IDOC does not have much spare room. We are crowded, but not overcrowded. Inmates are not stuffed into hallways and corners, and we eliminated gym housing in 2013. We have adequate room to house all inmates humanely in a way which ensures safety and security of staff and inmates. Picture a three-bedroom house with six people living in it; everyone has a bed, bathroom, heat, hot water and three meals/day. No spare room but adequate room.

The simple answer is we are not at or above 100% capacity in our prisons and we certainly are not anywhere near 151% or 172% of the more valid figure of operational capacity. Including classification centers (pre-permanent-prison-assignment holding facilities at prisons), which have all levels of security from maximum down to minimum, IDOC is slightly below 100% capacity. We currently have approximately 48,500 inmates.

Importantly, the U.S. Department of Justice Bureau of Prison Statistics (BPS) has a major error in its tables on prison capacity (Page 31 of attached doc). The "operational capacity" figure of 32,000 for Illinois is INCORRECT. The list operational and rated figures as identical. It is virtually impossible for an "operational" number to be identical to a "rated" number, yet their two figures are the same.

Again, the operational number of 32K is wrong. The correct operational capacity of IDOC prisons is slightly under 49,000. IDOC will see that BJS fixes that error.
- Posted by Rich Miller 23 Comments


* Um, is this snark?…
Illinois Senate President John Cullerton says lawmakers are heeding Gov.-elect Bruce Rauner's advice and won't extend the state's temporary income tax increase.

Rauner advised lawmakers not to take up any substantive issues before he's sworn in.

Cullerton says Rauner has "a little honeymoon period" during his first weeks in office and the Legislature is "giving him his first victory."

The Chicago Democrat says lawmakers won't address an extension of the temporary income tax increase until after Rauner is sworn in Jan. 12.
Obviously, Cullerton's comments were 100 percent snark. But most people who read that story would never know it, especially considering the headline…
Cullerton: Ill. Gov.-elect given 'first victory'
- Posted by Rich Miller 46 Comments


* We should be hearing sometime today from Sangamon County Circuit Judge John Belz about how he's going to rule on the constitutionality of the state's pension reform law. I'll be out of the office today from noon to about 2, so if I'm not here when it comes down, just use this post to comment. SJ-R…
"The defense claims an implied authority is contained within the pension protection clause that gives them the right to reduce benefits," said Gino DiVito, one of the plaintiffs' attorneys. "Nothing could be further from the truth."

The state, though, noted that the pension protection clause says membership in a pension system is "an enforceable contractual relationship." Assistant attorney general Richard Huszagh said the courts have "repeatedly said contract rights are not inviolate" and that government has the right to modify those contracts in extraordinary situations.

The state's position is that the current financial crisis and ever increasing amount of the state budget consumed by meeting pension obligations is an extraordinary situation allowing changes to be made. Under the plaintiffs' argument, Huszagh said, the state could have a 20 percent income tax rate to cover pension costs and benefits still couldn't be changed.

Belz, though, observed that no court had ever used the state's argument as the basis for modifying pension benefits.
* Meanwhile, from the Tribune…
Rauner has said he believed the law, which curbs annual cost-of-living increases for current retirees and delays the retirement age for many current public workers, will end up being found unconstitutional by the state's highest court. He also has said the law did not go far enough to reduce the state's pension debt and indicated he favors moving most public workers into a 401(k)-style defined contribution plan. Rauner, however, has yet to fully detail his concepts to deal with the pension system and didn't provide any more specifics Thursday.

"My preference is probably to wait until the Supreme Court rules so we have some ground rules for what probably works and won't work. I think that's the smarter way to do it," Rauner said.

That could happen sooner rather than later, depending on how Belz rules. The judge could move to hold hearings in the case, or he could declare the measure unconstitutional, which likely would send the matter directly to the state Supreme Court.

Even then, it could take several more months before the justices make a final decision, meaning Rauner may not get the clarity he's seeking in time to drive cost-saving pension changes during the spring legislative session.
Discuss.
- Posted by Rich Miller 92 Comments


* One of the items on Governor-elect Bruce Rauner's agenda yesterday was a tour of the Executive Mansion with his wife Diana. I asked the transition team how it went. From Mike Schrimpf:
Bruce and Diana are excited and looking forward to moving to Springfield. Clearly there's some work that needs to be done on the people's house and Bruce has committed to raising private funds to make the necessary repairs.
Not much to go on there.
* The Question: What do you think their reaction really was?
Hey, it's Friday. Let's have some fun.
- Posted by Rich Miller 94 Comments


* I don't usually delve into national issues, but I received so many press releases yesterday about President Obama's executive order on immigration that I thought I'd share them with you. But, first, from the Washington Post…
President Obama announced a big executive action on immigration Thursday night. But while it allows nearly half of illegal immigrants in the United States to avoid deportation, the impact varies significantly by state.

According to data from the Migration Policy Institute, 51 percent of illegal immigrants in Texas and 50 percent in California — the two states with the largest illegal immigrant populations — will be temporarily exempted from deportation. But in Maryland and Massachusetts, it's just 35 percent, and in Virginia it's 37 percent.

Aside from California and Texas, at least half of illegal immigrants in Arizona, Colorado, Illinois, Oregon and Utah will be exempted. […]

Obama's executive action varies by state because it is focused on illegal immigrants who are parents of children who are citizens or legal permanent residents and have been here for at least five years, which is about 3.7 million of the estimated 11.4 million illegal immigrants in the United States. Another 1.5 million will benefit from the program called Deferred Action for Childhood Arrivals (DACA), which Obama first announced in 2012 and allows young illegal immigrants who came to the United States as children to stay. That program was expanded by about 300,000 after Thursday's announcement
The exemption rate for Illinois is 50 percent.
Nationwide, 6.2 million won't be covered by the executive order.
* OK, on to the react. First up, the state's GOP congressional delegation…
Representatives Adam Kinzinger (R-IL-16), Peter Roskam (R-IL-6), Rodney Davis (R-IL-13), Randy Hultgren (R-IL-14) , John Shimkus (R-IL-15), and Aaron Schock (R-IL-18) today released the following statement reacting to President Obama's announcement that he will be using an executive order to bypass Congress and grant amnesty to millions of undocumented immigrants.

"President Obama's plan to ignore the Constitution and circumvent Congress is a lawless move that will ultimately do much more harm than good. We believe Congress should take the lead on immigration reform, securing our borders, improving the visa system and addressing the many layers of our broken system. This temporary measure will only spark chaos and create major problems both now and in the future. In fact, President Obama himself has said many times that an executive action of this magnitude would be unlawful. By blatantly bypassing Congress to execute this illegal executive order, the president is neglecting the interest of the American people, diminishing our national security, undermining the rule of law, and setting back efforts to permanently and meaningfully fix what's broken in the immigration system."
* Gov. Pat Quinn…
"President Obama today took a necessary first step in fixing our broken immigration system. His plan will give hope to families who live in constant fear of separation.

"Hardworking immigrants from around the world came together to build our country and our state. I commend President Obama for showing compassion and understanding to millions of individuals stuck in a heartbreaking situation.

"Congress must follow President Obama's lead and pass comprehensive immigration reform."
* Mayor Emanuel…
"We applaud President Obama for taking executive action and bringing much needed relief from deportation to families throughout Chicago and across the country. We support this move because it is consistent with our values as a city that has always welcomed and benefited from the contributions of immigrants. It is good for our families, good for our economy, and it will help drive us toward a brighter future for every Chicagoan.

While we support the President's action, only Congress can finish the job. We will continue to join with the overwhelming majority of the American people in pushing for bipartisan action by Congress on comprehensive immigration reform."
* Also from the mayor…
Mayor Rahm Emanuel will join Congressman Luis Gutierrez tomorrow, Sat. November 22 at 9:30am at Benito Juarez High School Auditorium, 1450-1510 W Cermak Road for the IL is Ready Chicago Rally for Administrative Relief.

The Mayor will stand with immigration leaders from community based organizations, legal services providers, faith institutions, college and universities, labor, government agencies, and business to discuss how the City of Chicago will prepare and attendees will learn more about administrative relief, access resources to share with community members, learn how to prevent immigration services fraud, and to prepare for administrative relief.
* Jesus "Chuy" Garcia…
"Chicago is a city of immigrants and today we honored their contributions. I am excited that many members of our community will be granted relief from deportations and our families will no longer live in fear of being separated from their children. Sadly, many of our community leaders who have fought the hardest for this win may not qualify. Elected officials who have advocated for deportation quotas and believe that immigration is the "third rail" of politics prevented a comprehensive immigration reform. Those who impeded our progress on this essential issue of human rights and economic growth need to be held responsible for the fact that even after the President's effort, we are left with a broken immigration system. I will continue to press leaders in Congress to fix our broken immigration system so that all 11 million undocumented immigrants are able to come out of the shadows and are put on a pathway to citizenship."
* Illinois Business Immigration Coalition…
The Illinois Business Immigration Coalition (IBIC) released the following statement today. IBIC is co-chaired by Exelon Chairman Emeritus John Rowe, Crate and Barrel Co-Founder Carole Segal, former Corn Products International CEO Sam Scott, former Illinois Chamber of Commerce CEO Doug Whitley, Resurrection Project CEO Raul Raymundo, American Council of Engineering Companies of IL Executive Director Dave Bender and National Partnership for New Americans Executive Director Joshua Hoyt.

"The Illinois Business Immigration Coalition (IBIC) represents a growing and diverse set of businesses and business associations across the state. IBIC provides a voice for Illinois businesses in support of common sense immigration reform that supports Illinois' economic recovery, provides Illinois companies with both the high-skilled and low-skilled talent they need, and promotes the integration of immigrants into our economy as consumers, workers, entrepreneurs and citizens."

"Although we believe that legislative action is the best way to develop common sense, and permanent solutions to our large and complex immigration problems, executive action by the President is a welcomed relief to millions of families living in fear, businesses disrupted due to unnecessary deportations, and a national security compromised because we currently do not know who is in our country and for what purpose.

"IBIC remains committed to encouraging Congress to take up and pass immigration legislation that secures the border and enacts a tough screening process so we know who is in the country and for what purpose, creates a functioning visa system allowing safe, orderly, and legal immigration for the needed agricultural, high skilled and low skilled workers, and a legal status or path to citizenship for the 11 million undocumented immigrants already here.

"It is bad for the economy to have millions of people working in the shadows. It is bad for national security when we do not know who is in the country and for what purpose. It is bad for the country when families are kept apart. The President's Executive Order may help to bring millions of workers out of the shadow, legally entering them into the workforce, and strengthen our national security, but absent legislation, our country's immigration system remains broken."
* US Sen. Durbin…
Following an announcement by President Obama that he would use his legal authority to make improvements to the country's broken immigration system, U.S. Senator Dick Durbin (D-IL) stood with Senate Democratic leadership today supporting the President's decision. Durbin said that the decision is necessary due to the failure of House Republicans to pass a bipartisan comprehensive immigration bill, a bill that has languished in the House of Representatives for 511 days since the Senate passed it in June of 2013. Earlier this week, Durbin and Senate Democratic leadership sent a letter to President Obama supporting executive authority to improve the immigration system.

"Broadview, Illinois is a suburb outside of Chicago, and every Friday morning a bus pulls in and is filled with those who are about to be put on airplanes at O'Hare and sent out of this country. I've been there. I've been there with many people who stand in vigil as they're being sent away. It's a heartbreaking situation. These are not felons, these are members of families. These are not criminals, these are children," Durbin said.

"This president is going to use his executive authority to try and solve a problem the House Republicans refused to even address. It's the right move for America. It's a first step and we still have our responsibility to do something in Congress. But until we do, the President is doing the right thing for America."
* Democratic Congressman Bill Foster…
"We have ignored our broken immigration system for too long, and I am pleased that the President is taking action to improve our immigration system and provide temporary relief for some families. These actions which are long overdue, will prevent millions of families from being torn apart, provide visas for highly-skilled workers, and give many immigrants relief from the fear of deportation.

"Every day that leaders in Congress block comprehensive immigration reform, it costs taxpayers $37 million in lost revenue. The President's decision to issue work permits, so that immigrants with strong ties to America, who pass criminal background checks, can work legally and pay their taxes is a common sense solution that will benefit our economy.

"To those who say this should not be done with executive action, the answer is simple: bring comprehensive immigration reform up for a vote in the House. Like similar actions taken by his predecessors, including Presidents Reagan and Bush, President Obama's actions will provide temporary relief, but what we really need is comprehensive immigration reform. It's been nearly a year and a half since the Senate passed bipartisan immigration reform. Despite an outpouring of support from the business community, religious leaders, law enforcement, and people from all walks of life, House leadership refuses to allow a vote on comprehensive immigration reform.

"Any day, Speaker Boehner could wake up, listen to the teachings of his church, the business community, or the millions of Americans calling for action, and bring comprehensive immigration reform up for a vote – it would pass with strong bipartisan support, and become the law of the land. But we cannot continue to sit on the sidelines and wait for that day while families are being torn apart."

President Obama is not the first to take executive action on immigration reform. Every President since the Eisenhower administration has taken executive action for immigrants. President Reagan provided relief to immigrants who had been denied asylum and President Bush expanded the Family Fairness program to provide legal status for more than 1.5 million undocumented spouses and children.
* Democratic Congressman Mike Quigley…
"I applaud President Obama for using his legal authority to improve our broken immigration system and prevent the unnecessary deportation of millions of members of our community. The president's executive actions will prioritize our resources to remove those who pose a public safety threat instead of continuing our current ineffective, arbitrary and inhumane deportation policy, needlessly separating families in contradiction to our country's founding principles of fairness and justice. Every president since President Eisenhower has lawfully used executive authority to address immigration issues. President Obama's actions are consistent with his predecessors in both parties, who have routinely used their prosecutorial discretion to grant administrative relief to large categories of immigrants. This includes President Reagan's support for individuals fleeing political repression in Poland and President George H.W. Bush's expansion of the Family Fairness program that deferred the deportation of over one million people. While the president's actions are a crucial step in the right direction, it is important to remember that executive action is not enough, offering only a temporary remedy for a limited number of the undocumented immigrant community. Only Congress can provide the permanent solution necessary to fix our broken immigration system, and I will continue to fight for the bipartisan, comprehensive immigration reform supported by an overwhelming majority of the American people."
* Illinois Coalition for Immigrant and Refugee Rights…
A broad group of state-wide stakeholders will meet to discuss the implementation and implications of President Obama's executive action on immigration. After the meeting, the group will be available to comment on the White House action, which will provide millions of immigrants the opportunity to remain in the U.S. with their families and to continue to contribute to our nation's economy and society.

WHO: U.S. Senator Richard Durbin and leaders from faith, business, labor, and community coalitions including the Archdiocese of Chicago, American Jewish Committee, Latino Policy Forum, National Alliance of Latin American and Caribbean Communities (NALACC), National Immigrant Justice Center, Prayer Network, Undocumented Illinois, Organized Communities Against Deportations, United Auto Workers

WHEN: Friday, November 21st at 2:45 pm

WHERE: Casa Michoacan, 1638 South Blue Island, Chicago, Illinois
* I didn't receive anything from Sen. Mark Kirk, but he did speak with The Hill…
Kirk was quick to criticize both President Obama and his own party in the wide-ranging interview. He knocked President Obama's recent immigration moves, saying it was "incredibly condescending to hook all the rights and privileges of millions of would-be Americans to an executive order which could be changed at any time by any president," but blamed the stalling of immigration reform on House Republicans.
* I also didn't receive anything from Democratic US Reps. Cheri Bustos or Tammy Duckworth (although Duckworth just had a baby), or from any members of the African-American delegation (although I don't think I'm on their lists). Bruce Rauner avoided questions about the president's action yesterday.
* I can't stress this enough, but TAKE A DEEP BREATH before commenting, please. Don't go crazy on me - and I'm talking to BOTH sides here.
…Adding… I'm told I was inadvertently left off Duckworth's list…
Congresswoman Tammy Duckworth (IL-08) released the following statement on President Obama's new Executive Actions on Immigration.

"During my time in office I have consistently heard from individuals and groups throughout the political spectrum that believe we need comprehensive immigration reform that is practical, fair and humane and that will grow our economy. I was encouraged by the passage of bipartisan immigration reform last year in the Senate and am disappointed that the majority in the House of Representatives did not bring similar bipartisan legislation for a vote."

"Given the inaction of Congress, I support the President moving forward with executive actions that will improve security at the border while prioritizing deporting felons, not families. It is now time for Congress to work together to enact comprehensive immigration reform that will improve our immigration system for the long term."
- Posted by Rich Miller 70 Comments


[The following is a paid advertisement.]
Attention government affairs professionals!
If you are someone who works hard to stay up to date on active legislation, you probably spend too many hours of your life slogging through multiple antiquated government websites. Do you ever wonder how much time you could save if you didn't have to dig up this information manually?
TrackBill may be just the answer you are looking for.
TrackBill provides a platform that allows you to easily search, track, and report on legislation in all 50 states and the U.S. Congress. TrackBill's intelligent search technology updates you within five minutes of any changes in the status of bills you are tracking.
While browsing online or checking TrackBill's iOS/Android app, subscribers can use keywords to quickly find the information they need – anywhere, anytime. TrackBill will keep you up to speed with real-time alerts via email, text message, or push notification.
TrackBill also generates an automatic calendar of your committee hearings, ready to sync to your phone with the click of a button. If you need to keep stakeholders informed about your research, you can use TrackBill's Custom Reporting feature which creates personalized reports, branded with your logo.
Click here to learn more about TrackBill.
- Posted by Advertising Department Comments Off


* Unless a funding angel comes through very soon, a widely read online publication will cease to exist…
It is with a heavy heart that I have to report that Progress Illinois will be publishing its last article on December 31, 2014 due to a lack of funding.

With the goal of adding a progressive voice to Illinois political news, Progress Illinois launched back in March 2008 thanks to a founding sponsorship from the SEIU Illinois State Council.

Starting out as a small, unknown blog six-and-a-half years ago, Progress Illinois has blossomed into a major player in progressive news, shining a light on a plethora of relevant issues including: the battle to keep the Hartmarx factory open; the Republic Windows & Doors controversy; the offshoring of jobs at Freeport's Sensata Technologies; the Golan's Movers' fight for unionization; the mistreatment of Teamsters' workers at WaterSaver Faucet Co.; the firing of CPS parent and Whole Foods worker Rhiannon Broschat last winter; the push for marriage equality in Illinois; the Fight for $15; the Occupy movement; countless workers' rights and community actions; numerous elections; and the Chicago Teachers Union strike, which marked the start of the progressive community's formal push back against education reform. […]

With the exit of Progress Illinois, the Chicago online community will be dominated by outlets funded primarily by conservative sources. Barring the financial support of progressive institutions or individuals, PI will cease operations at the end of this calendar year, leaving a gaping hole when it comes to in-depth reporting on progressive issues and coverage of events important to Illinoisans. We hope to get some 11th hour support to keep the site going, so if you would like to see Progress Illinois continue, make some noise and help PI generate the funds needed to continue providing news that is underrepresented in mainstream media and relevant to the progressive community. Thank you for your years of readership and support, and please direct any questions regarding this matter to me, PI editor-in-chief Aricka Flowers, at Aricka@ProgressIllinois.com.
I actually have semi-regular contact with Fran Eaton over at Illinois Review, but for whatever reason I haven't interacted much with the PI folks. In retrospect, I wish I had.
Those of us who do this online thing can be fiercely independent and even more fiercely protective of our own perceived turfs. It's counterproductive, I think, but old habits die hard.
- Posted by Rich Miller 14 Comments


* AP…
The sponsor of legislation that allowed same-day voter registration for Illinois' Nov. 4 election is working to make the change permanent.

Sen. Don Harmon said Wednesday he's working with House lawmakers on an election law bill that could advance early next month.

The Oak Park Democrat says same-day registration was "an extraordinarily successful experiment and one that's worth continuing."
The provision expired after this past election.
* The Question: Should same-day registration be made permanent? Take the poll and then explain your answer in comments, please, particularly if you want some changes made.
online polls
- Posted by Rich Miller 88 Comments


* A controversial bill on behalf of firefighters passed overwhelmingly in the Senate today on a bipartisan rollcall. From the synopsis…
the case of fire fighter, and fire department or fire district paramedic matters, the arbitration decision shall be limited to wages, hours, and conditions of employment, including manning and also including residency requirements in municipalities with a population under 1,000,000. Effective immediately.
The "manning" aspect is the most controversial. It would mandate arbitration if contract negotiations failed to produce an agreement on staffing levels.
* Municipalities were steadfastly against it…
Mayor Larry Morrissey says his town has to pay more for firefighting than is necessary because contract language requires that it be negotiated. As a result, when Rockford faced a revenue squeeze during the recession, the town had to cut its police force and other services. […]

In some contract negotiations, the haggling comes down to exactly how many firefighters will be on each truck that is dispatched.

"Our fire chief always says it's not how many firefighters are on a truck, it's how many assemble at the scene," said Oak Lawn Mayor Sandra Bury, who is fighting to bring minimum-manning levels to three per truck to save taxpayer money. "Please don't tie our hands. It's expensive."
The Associated Firefighters of Illinois is one of the most effective lobbying organizations at the Statehouse. Legislators love them some firefighters, man.
The legislation now goes to the governor.
- Posted by Rich Miller 28 Comments


* Bruce Rauner today called on Gov. Pat Quinn's staff to "please put in place a hiring freeze, an appointment freeze and a reclassification freeze for all positions within state government." The Trib has more…
Rauner said he had "no reason" to believe Quinn is "doing anything inappropriate" regarding hiring, but Rauner noted past transitions have seen governors load up the state payroll with friends, appoint political allies to various boards and put vulnerable workers into better-protected jobs.

"We think it's good practice, it's good management practice, not at the tail end of an administration to put in people, friends, affiliates, into positions that are permanent or hard to change when we have a new administration," Rauner said.

Quinn spokeswoman Katie Hickey said the governor "has already directed all cabinet members to manage their agencies in a responsible manner to ensure that the basic operations of the state continue."
That's not exactly a "Sure thing, Bruce, anything you say" response.
* Raw video of Rauner's presser…
- Posted by Rich Miller 54 Comments


* From IDES…
The October unemployment rate in Illinois was 6.6 percent, unchanged from September, and down from 9.1 percent one year ago, according to preliminary data released today by the Bureau of Labor Statistics and the Illinois Department of Employment Security.

Private employers added +900 jobs in October, but government job cuts meant -2,000 fewer payroll positions than in September. Illinois employers still reported +39,400 more jobs than on year ago. The labor force grew by +31,800 in October, increasing the number of people working or looking for work to 6,531,100, the highest level since November 2008. The number of unemployed was 429,000, down -324,500 since Jan. 2010.
900 jobs is pretty darned light. Here is the chart…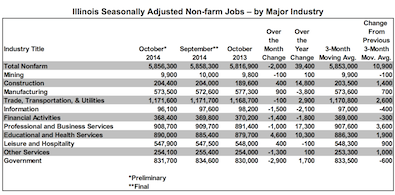 - Posted by Rich Miller 7 Comments


* This may be more a face-saver than a major compromise…
Two key lawmakers agreed Thursday to work on a new package of ride-sharing regulations that would require background checks of drivers and a minimum of $1 million in insurance coverage when carrying passengers.

The move means sponsoring Rep. Mike Zalewski and Sen. Tony Munoz will not seek an override of Gov. Pat Quinn's veto of legislation the two Democratic lawmakers passed in the spring. They have agreed to a craft statewide proposal for minimal regulations with an eye toward getting a vote in the current General Assembly before newly elected lawmakers take office in mid-January. […]

Along with background checks and the $1 million minimum when a passenger is aboard, the new legislation would also require ride-share drivers to be licensed and ride-share companies to dispatch only drivers with proper licenses. The legislation also would require service to underserved areas, wheel-chair accessibility and other safety and business provisions, according to the lawmakers.

Zalewski said in a statement he has led the discussions between the taxi and ride-share companies and that "both groups have respectfully agreed to work towards a compromise bill to be considered by the current General Assembly."
* Greg Hinz lays it out…
Zalewski said a little more at a Springfield press conference today, but it's pretty clear that he's settling for a tiny fraction of what he originally wanted.

He said he indeed will not move for an override, but is working toward "a compromise bill" that is still being negotiated, but which may come in the Legislature's January session.

The requirements for licensing "remain to be negotiated," according to a news release. On insurance, a $1 million liability clause will be required only when a passenger is in a vehicle or a driver is on the way to pick up a passenger, but coverage while a driver is 'on-app' but not has accepted a trip request will be limited to $100,000 "unless the personal policy expressly excludes coverage according to its terms."

Oh, and everyone agrees to serve underserved neighborhoods. But no agreement on how that would be enforced.

Like I said, Uber won the war.
- Posted by Rich Miller 11 Comments


* From the twitters…
Rauner: "The financial condition of the State of Illinois is stunningly bad. It's horrible." Says he'll have budget plan in February.

— Jon Seidel (@SeidelContent) November 20, 2014
A recognition of obvious reality or a setup for a "Jim Thompson moment"?
…Adding… Full quote and more from the SJ-R…
"The financial condition of the state of Illinois is stunningly bad. It's horrible," Rauner said. "Our financial condition is dire. We need to take strong action to fix it." […]

Lawmakers last spring passed a state budget based on the fact the temporary income tax increase would start rolling back January 1. Gov. Pat Quinn called the budget incomplete because it provided inadequate funding to state programs, would result in further delays in paying bills and add to the state's backlog of unpaid bills.

Rauner said some have referred to it as a "booby trap" budget.

"That's a kind term and it understates the situation," he said.
- Posted by Rich Miller 55 Comments


* I'm sure this has happened before, but I can't remember when…
Illinois Supreme Court has dismissed a challenge of Chicago's red light camera program after two justices "recused themselves and the remaining members of the Court are divided so that it is not possible to secure the constitutionally required concurrence of four judges for a decision," according to the opinion filed by the court.

The lawsuit, Keating vs. the City of Chicago, claimed the program was illegally enacted.
The two recusing justices were Karmeier and Burke.
* The Tribune has more on Justice Burke…
Burke is married to Ald. Ed Burke, 14th, the chairman of the City Council Finance Committee. Burke has been critical of how Chicago selected its first red light camera vendor, Redflex Traffic Systems Inc. The company was fired by Mayor Rahm Emanuel amid a $2 million bribery scandal exposed by Tribune reporting.

The Tribune reported last year that Ed Burke wrote letters to the administration of then-Mayor Richard M. Daley in 2007 questioning the way the city awarded the red light camera business to Redflex , calling the relationship "suspect since its inception." The veteran alderman is a friend and political ally of a longtime City Hall insider with ties to a Redflex competitor.

That rival, American Traffic Solutions Inc., also sought unsuccessfully to replace Redflex after they were fired. But the company, known as ATS, did win the contract to operate the city's speed camera program.
The appellate court had earlier unanimously upheld a trial court decision in favor of the red light cameras.
- Posted by Rich Miller 12 Comments


* I have no idea what this Wall Street Journal piece is supposed to mean…
Mr. Rauner faces perhaps the most daunting task of any governor in the country. Illinois has the nation's worst credit rating, most insolvent pension system and barely any job growth. A Democratic state legislature can override his vetoes, and its chief power broker, House Speaker Michael Madigan, has every incentive to undermine the new governor given that Mr. Rauner's likely Democratic challenger in 2018 will be the speaker's daughter, state Attorney General Lisa Madigan.

First, Mr. Rauner will need to peel off enough Democrats to phase out the state's 2011 "temporary" income and corporate tax hikes, which will begin to sunset at the end of this year. Democratic leaders want to force Mr. Rauner to break his campaign promise to roll back the tax increases and to sign onto a limited extension next year.

So the onus will be on Mr. Rauner to corral a dozen Democrats in the House and 10 in the Senate to support his tax plan. The good news is that the legislature includes a large faction of moderate Democrats who are fiscally conservative but culturally liberal. The bad news is that the legislators are in hock to Mr. Madigan, who's also the chairman of the state Democratic Party.
Am I reading this wrong or does the WSJ really believe that the Democrats will unanimously pass a tax hike bill and then override a Rauner veto?
Also, what's that about corralling a dozen Dems in the House and ten in the Senate "to support his tax plan"? What kind of math is that?
Maybe it's because I woke up late today, but I just don't get this at all and my brain really hurts.
A little help?
- Posted by Rich Miller 48 Comments


* When your smart phone is also your alarm clock, please make sure it's sufficiently charged when you go to bed. If you don't, your phone could run out of power and no morning alarm will sound.
Is there any "wisdom" you'd like to pass along today?
- Posted by Rich Miller 61 Comments


* The Senate appears poised to move ahead with a minimum wage hike despite GOP opposition…
As the Legislature reconvened Wednesday, Sen. Kimberly Lightford announced her plan to "fulfill the terms of the ballot question" approved overwhelmingly by voters in Republican and Democratic districts alike. Earlier this month, 67 percent of Illinois' voters approved a non-binding resolution that said the hourly wage should go up to $10 by Jan. 1.

Lightford, D-Maywood, said she filed legislation to raise the minimum wage to $10 by July 1.

Her proposal easily cleared a Senate committee Wednesday afternoon. But not before Senate Republican Leader Christine Radogno pointed out, "we do have a new governor." […]

Lightford's proposal would not only bump the minimum hourly wage for adults to $10 by July 1, it would continue to increase the wage to $10.50 in July, 2016 and $11 in July, 2017..
* But there's still a problem in the House…
Rauner's campaign has said he won't work against Quinn's efforts to solely raise the wage, and the voter response could be useful for reluctant lawmakers.

But political experts say the Democratic-controlled Capitol could have raised the wage earlier if there was political will, and lawmakers have little incentive to help shape Quinn's legacy on his way out, partially because of his frosty-at-times relationship with the legislature.

House Majority Leader Barbara Flynn Currie, who is a sponsor of the minimum wage bill, doesn't anticipate much movement.

"We didn't have the votes to do it in the spring, and I'm not sure even though there was good support for it," she said.
* More…
Business groups say they'll continue to fight the measure, as lawmakers are scheduled to return to Springfield in early December and also could come back for last-minute, lame-duck action in early January before a new crop of legislators is sworn in.

"That's a huge jump for small business owners to absorb," said Kim Clarke Maisch, Illinois state director of the National Federation of Independent Business. "Going all the way to $11 would again push Illinois toward having one of the highest minimum wages in the country at a time when our neighboring states are mostly at the federal rate. We believe strongly that this puts Illinois small business owners at a competitive disadvantage."

Lightford argues Illinois workers have been paid too little for years, and said businesses with fewer than four employees would only be required to pay the federal minimum wage of $7.25 an hour.

"The business community has had years of relief," Lightford said. "I think it's just that they don't want to do it because they don't have to do it."
- Posted by Rich Miller 27 Comments


* Umm…
Beyond that, prospects also appear to be dwindling for Democrats to push for an extension of the 2011 income tax increase, which rolls back next year and eventually leaves Illinois billions of dollars short in revenue. Quinn wanted to keep the 5 percent rate permanent instead of allowing it to dip to 3.75 percent as scheduled, claiming there'd be a major impact on schools and services.
No way were they ever gonna touch that hot potato if Rauner won.
- Posted by Rich Miller 27 Comments


* Let's do a quick roundup, starting with Bernie…
"We've tried to appeal to everyone, but what we're going to try to focus on now, after the course of a long campaign where we were fighting for votes, is not we'll be the treasurer for all 13 million people in the state of Illinois," Frerichs said. "Partisanship falls aside."

Frerichs, who plans to meet today with Gov.-elect Rauner, announced that his transition team would be headed by Michael Carrigan, president of the Illinois AFL-CIO, and U.S. Rep. Robin Kelly, a former deputy treasurer who lost the 2010 race for the post. […]

The Election Day narrative focused almost solely on Rauner topping Quinn, giving the GOP the governor's seat for the first time in 12 years. But Frerichs' triumph leaves Republicans with just one other statewide constitutional officer — re-elected Comptroller Judy Baar Topinka. That puts a damper on the postelection GOP glow, particularly combined with trends that show Democrats maintaining a veto-proof majority in the House, an advantage they hold in the Senate.
* Natasha…
Frerichs' spokesman, Dave Clarkin, said Wednesday that while the total was close, the provisional ballots counted in recent days had been trending in their favor. He pointed to "Rauner-Frerichs" voters, describing them as independents in the collar counties and downstate.

"This race was neck-and-neck in polling leading up to Election Day, but we have believed all along that if the trend continued of Mike Frerichs performing strong in downstate Illinois and the suburbs, we would win by an insurmountable margin," Clarkin said. "What we saw emerge [Tuesday] in the suburbs exceeded our expectations. This race is being decided by tens of thousands of Rauner-Frerichs voters: independents in suburbs from Winnetka to Orland Park, from Waukegan to Joliet in the collar counties, and from Rock Island to deep Southern Illinois."
* Rick and Ray…
Frerichs, a former Champaign County auditor who has served in the General Assembly since 2007, said congratulations were pouring in, including 142 text messages that he couldn't immediately respond to during his drive to Springfield for the start of the fall session.

With a win of "less than one vote per precinct, there are any number of people who can claim credit for that victory," Frerichs said. And he quickly joked that "lots of people have called to claim credit" ever since the numbers started breaking his way. […]

The results of the treasurer's race, along with locally contested state legislative races, indicate Rauner supplied little coattails in his victory over Democratic Gov. Pat Quinn. Instead, the results show the governor's race was decided more out of a desire for change among voters unhappy with Quinn's job performance rather than any Republican or Rauner-inspired wave.
* John…
In Chicago, some invalid absentee ballots were improperly mixed with valid ones, but the city's Board of Election Commissioners rebutted most of the charges even as Republican U.S. Sen. Mark Kirk sought intervention by the U.S. attorney in Chicago. A spokesman for the U.S. attorney would not comment Wednesday.

In suburban Cook County, the Cross campaign alleged it had examined 8,000 cases people requesting mail-in ballots and found 235 where voters appeared to have cast ballots twice.

But Cook County Clerk David Orr told the AP on Tuesday that his office didn't find any inappropriately tallied ballots. In 86 cases, mail-in ballots were unsigned, invalidating them, so election officials contacted each voter and they appeared on Election Day.

Orr said he appreciates activists' involvement in the process, but was irked that the Cross campaign publicized the concern in a news release before alerting authorities. That "hurts democracy," Orr said.

"I certainly know the old rumors associated with Cook County," Orr said. "But as we move into the future, we want to be careful about unsubstantiated allegations."
* Tom K…
As for his successor in the state Senate, a position that will be filled by the Democratic Party chairmen in Champaign and Vermilion counties in the next 30 days, Frerichs said, "It's not mine to fill."

Frerichs' term runs through 2016.

"If people want to hear from me, then we'll see who comes forward and offers to serve. I think I'm uniquely qualified to tell them what to expect in the office and the race," he said. "There are a lot of smart, good people in the 52nd District and we'll look forward to hearing from them soon."

Frerichs is the first state treasurer from East Central Illinois since Democrat William Ryan of Vermilion County was elected in 1913. And he's the first Democrat from Champaign County to be elected to any statewide constitutional office in the county's 181-year history.
Your thoughts?
*** UPDATE *** From the Frerichs folks…
As announced yesterday the co-chairs of Treasurer-elect Frerichs' transition team are Congresswoman Robin Kelly and Michael T. Carrigan, President of the Illinois AFL-CIO. The transition team's members will also include:

• Paul Miller, Director

• Zach Koutsky, Deputy Director

• Charise Williams, Deputy Director, Civic Engagement

The transition team is in formation and more details will follow.
- Posted by Rich Miller 26 Comments


* From US Rep. Tammy Duckworth…
My husband Bryan and I are thrilled to announce that we are the proud parents of a baby girl. Abigail O'kalani Bowlsbey was born on November 18. Bryan and I were deeply honored that Senator Akaka acted as Hawaiian elder and selected her middle name. We are grateful for the love and support of our family and friends. We also appreciate the respect for our privacy during this important moment in our lives.
- Posted by Rich Miller 16 Comments