* Dude. Really? Buzzfeed…
Rep. Aaron Schock owns what appears to be a fairly accurate replica of "The Falcon" — the internal White House nickname for one of President Obama's official podiums — and based on photos, uses it at times when speaking in his Peoria, Illinois, district.

USA Today reported last month that Schock spent $79,061 in federal money on furniture in 2009, and $5,123 of that went to Mulnix Industries, a firm that makes custom furniture for public speaking in a town 40 miles outside of Jefferson City, Missouri. Page 2563 of the 2010 Statement of Disbursements of the House of Representatives shows the outlay to Mulnix, but it doesn't say exactly what the money purchased.

Schock's office did not respond to USA Today about the expenditures. But multiple photos of Schock back home in his district — including this one taken March 6 by an AP photographer — show him standing behind The Presidential, a discontinued Mulnix model still listed in the company's online catalog of "Standing Podiums."

In an interview, Mulnix General Manager Phil Crane said it was "very likely" he sold a Presidential to Schock, though he said he'd have to laboriously go through old records to be sure. The model was pretty popular when Mulnix made it — the company sent four to the U.S. Consulate in Pretoria, South Africa — and Crane said it sold for "somewhere around" $5,000 a piece.
Even so, that's pretty small potatoes.
* And this doesn't appear to be against any Congressional rules…
After Rep. Aaron Schock R-Ill., dipped into a campaign fund to pay $73,896.96 for a Chevrolet Tahoe and put the SUV in his name, he later charged taxpayers for mileage, the Sun-Times has learned.

According to the latest House disbursement records, Schock was reimbursed $1,218 for what is listed in House records as "private mileage" between last Sept. 1 and Oct. 1. The money came from Schock's taxpayer-funded House member allowance.

The car is registered to the Peoria lawmaker, according to Illinois Secretary of State vehicle records, obtained by the Sun-Times through a Freedom of Information Act request. […]

The House Ethics Manual does not appear to address the issue of charging taxpayers for mileage when a campaign-purchased vehicle registered in the name of the lawmaker is used for official House purposes.
As long as those expenses were legit, no likely problem.
But there would be a problem if he didn't reimburse the campaign committee for personal use of the vehicle…
However, when a member drives a vehicle paid for from campaign funds for personal purposes, the House Ethics Manual notes that Federal Election Commission regulations call for reimbursement to be made within 30 days from personal funds.
…Adding… Sun-Times…
In the wake of stories raising questions about Rep. Aaron Schock, R-Ill., spending of taxpayer and campaign money, the Office of Congressional Ethics has begun to make inquiries, the Sun-Times has learned.

A spokesman for the OCE told the Sun-Times on Monday morning the organization will decline to comment on any Schock probe. The OCE can independently open investigations and does not need to be asked by a person or any entity to launch a probe.

A Schock spokesman so far has not responded to questions about the OCE. Under OCE rules, a subject of an investigation does get notified.

The OCE is an independent, non-partisan organization which reviews allegations of misconduct against House members. The OCE has no power to sanction a member and after its investigations refers matters to the House Committee on Ethics, which then continues with its own probe.
That could be the least of his potential worries.
- Posted by Rich Miller 46 Comments


* House Republican Leader Jim Durkin spoke at the City Club today…
"Republicans will not be supporting any new revenue this session" Leader Jim Durkin @CityClubChicago

— Leslie Corbett (@lcorbett_IEJF) March 16, 2015
From a reporter who was there…
Durkin promised that no Republican — either the governor or in the House or Senate — would support tax increases for FY 2015 or 2016.
You can listen to him talk about his speech with reporters by clicking here.
- Posted by Rich Miller 124 Comments


* Check out the date of the letter, the date of the appointment and then look at the expiration date…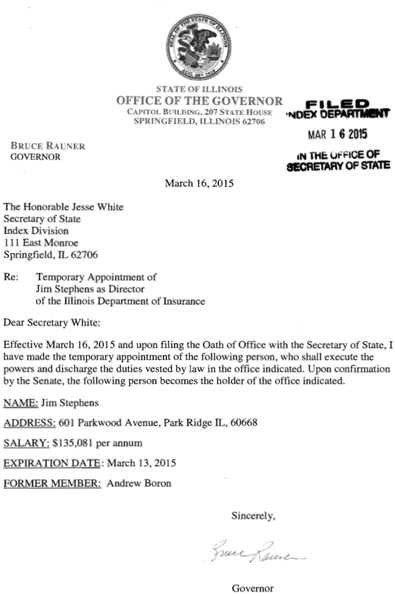 This is either the shortest gubernatorial appointment in history, or the governor is in possession of a magical time machine.
*** UPDATE *** They've resubmitted the appointment. It now concludes in January of 2017.
- Posted by Rich Miller 56 Comments


* From a press release…
Ogden & Fry conducted two polls for the Chicago Mayoral runoff contest. A 1-question poll with 920 respondents was run on Friday, March 13, 2015 without "undecided" as an option. The usual weekly 1-question poll was conducted on Saturday, March 14, 2015 with 957 respondents. Respondents were selected by random sampling of likely voters.
* The results…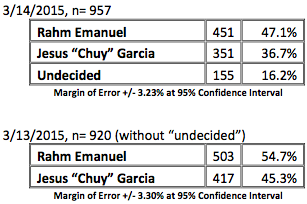 * From the pollster…
Despite an impressive roll-out of high-profile endorsements for Garcia, Emanuel has opened a lead on Garcia. Emanuel's financial advantage is starting to have an effect with his TV commercials.

Conventional wisdom is that undecideds usually do not break for a well-known incumbent. Garcia seems to hold around a 6% (53%-47%) advantage with the undecided voters at this point.
But that advantage with undecideds ain't enough.
Garcia got a nice bounce out of the first round. He was a fresh face and Emanuel clearly underperformed. But Garcia needed to sustain that bounce and build on it. So far, at least, he appears to be stalling out.
- Posted by Rich Miller 28 Comments


* From the RRStar…
Illinois requires doctors, lawyers, beauticians, teachers and judges to keep their occupational knowledge up to date. But the men and women who make our laws and ordinances aren't required to know anything at all.

State Sen. Dave Syverson, R-Rockford, wants to do something about that by requiring state legislators, aldermen and county board members to take economics courses after they win elections.
* The Question: If you had your druthers, what other areas of study would be required of newly elected legislators? Please explain your response. Thanks.
- Posted by Rich Miller 82 Comments


* But it's not a bad idea at all…
Illinois is on track to join nearly two dozen other states that forgo citations for underage drinkers who call 911 to get medical help for those who have had too much to drink.

Proponents say the measure, which passed the Illinois House this month and was recently introduced in the Senate, would help remove the fear of legal trouble that prevents teens from calling for help for a friend who has passed out after drinking too much. The state enacted similar legislation several years ago for drug overdoses after a spate of heroin-related deaths.

State Rep. Scott Drury, D-Highwood, said the law would not give all underage drinkers a pass but would help minors in dire need of medical attention get help. Drury relayed a story about parents in his district who said their teenager needed medical attention after drinking too much.

"People were reluctant to call for help, but someone did. And then both the teenager and the friend who called ended up getting a citation for the situation," Drury said. "The parents felt that was wrong, because we ought to be trying to protect kids rather than deter them from seeking medical help."
* In other "It's just a bill" news, this Illinois Policy Institute story leaves out a key fact…
A suburban legislator has softened his proposal to end a partial tuition waiver for the children of state university personnel, but influential unions remain opposed.

State Rep. Jack Franks, D-Oswego, is the sponsor of House Bill 403, which would end the 50-percent tuition waiver for children of university employees with seven or more years of service.

Franks this week amended his bill to delay elimination of the waiver until after the 2015-16 academic year and to allow students who now have a waiver to keep it until they graduate or have received the waiver for four years.

University Professionals of Illinois and the Illinois Federation of Teachers are among those who oppose the measure, and Franks said he understands their position.

"They're opinion is that this this is something they bargained for, this is something they worked for, and this is something they should be able to keep," Franks said.

"And they make a strong argument, certainly, but it's a different world than what we had just a few years ago, with the governor now talking about cutting almost $400 million from higher education."

One difference between Franks and the UPI is whether the estimated $10 million cost is a "real" expense or "hard" cost, as the state does not reimburse the universities for the waivers.
Unions aren't the only opponents. The U of I and other universities are also opposed, believing the benefit helps recruitment and retention efforts. With budget cuts, pension reforms, etc. all being bandied about, the schools will struggle to attract and hold people.
* Other stuff…
* Mautino wants to strengthen ethics laws for elected officials

* 'Zalazinski bill' sponsored in Illinois House, Senate

* Beiser Wants To Ease Conceal Carry Restrictions

* Wheeler: Human trafficking closer to home than you think

* House bill: Enough already with new plates
- Posted by Rich Miller 16 Comments


* My Crain's Chicago Business column…
The powers of an Illinois governor aren't unlimited, but they're pretty darned strong.

The governor can use a veto to rewrite legislation and reduce or eliminate individual legislative appropriations. The governor can issue executive orders, although that power is somewhat limited.

The governor also has more than 2,000 jobs and untold numbers of contracts that can be handed out to friendlies, and he or she can refuse to spend money on many grants, programs and projects to put pressure on unfriendlies.

It doesn't take a political science degree to comprehend that all those jobs, contracts and spending powers can be a real boon to the governor's political party. Just look at what happened to the Illinois Republican Party after the Democrats took over in 2003.

After controlling the governor's office for 22 straight years, the once-mighty Republican Party's infrastructure collapsed when George Ryan's single term ended. The GOP built its power in Illinois almost solely with state resources, and when those dried up, the party's organization imploded.

Because of rich patronage and contracting opportunities in Chicago and Cook County, the Democrats aren't solely reliant on the state to fuel their organization. So the party's recent descent into opposition won't be as disastrous for them as it was to the Republicans.

Even so, the Democrats have reason to worry. They won't soon lose their legislative majorities, but a Republican governor can help make their lives much more difficult.
Go read the rest before commenting, please.
- Posted by Rich Miller 19 Comments


* WBEZ…
For the first time ever, Cook County is sending a bill to the State of Illinois for the cost of holding state wards left waiting at the juvenile jail by the Department of Children and Family Services. […]

It comes after a recent WBEZ investigation found that the Illinois Department of Children and Family Services (DCFS) routinely leaves hundreds of kids stuck behind bars for weeks, or even months, after a judge has said they can go home. Because they are wards of the state, the kids can't leave the Cook County Juvenile Temporary Detention Center until the department finds them proper placement. […]

The invoice being sent to DCFS covers just two months—December and January—and it comes to $232,750.

The invoice is for 41 DCFS wards who spent a combined 665 days in jail after a judge told them they were free to go. […]

Along with the invoice is a letter from juvenile jail administrator Dunlap to DCFS Director George Sheldon. In it, Dunlap blasts the department for the "agency's willful disregard to juveniles' constitutional rights."
How can this happen?
Ugh.
Let's hope Gov. Rauner's new director can fix this inherited mess. His predecessors should be ashamed of themselves.
* Speaking of incarceration and impacts on the state budget, this is from a Treatment Alternatives for Safe Communities press release sent a few weeks ago…
Governor Bruce Rauner's $27 million cuts to drug treatment services undermine the very criminal justice reforms that he has been publicly championing.

Criminal justice reforms and cost savings simply cannot happen without drug treatment and coordinated case management upon which Illinois courts rely.

Last year alone, working with judges and community-based treatment providers, TASC diverted 2,080 people from prison and immediately saved Illinois $35 million. Under the governor's proposed budget for next year, millions of those savings would be wiped out.
* I followed up and asked for more details, but my e-mail has been a bit screwy lately. I finally found the source of the problem yesterday, so a ton of unsent e-mails were finally released from purgatory. Turns out, a whole lot of Mac users are having the same problem.
Anyway, TASC responded today…
Rich,

Thanks for reaching out. For the cost savings, we calculate the cost of TASC and treatment (both funded by DASA) vs. the cost of incarceration in IDOC. In FY14, 2,080 people were mandated to TASC as an alternative to prison — these were individuals with non-violent felony offenses that otherwise would result in a sentence to IDOC (usually about 12-18 months).

Cost of one year of prison for 2,080 people: 2,080 x 21,000 (IDOC average annual incarceration cost) = $43,680,000

Alternatively, average cost of TASC plus DASA-funded treatment: 2,080 x $4,200 (DASA average cost of treatment plus TASC internal average of client served) = $8,736,000

Difference to the state: $43,680,000 - $8,736,000 = $34,944,000

Our cost savings estimate is conservative. We used the IDOC average per capita cost from the IDOC FY13 annual report (p. 64), which is the most recent available.. If we calculate the cost of IDOC at $22,655, as per IDOC's Financial Impact Statement, the cost savings of alternatives to incarceration are even greater.
*** UPDATE *** Steve Schnorf makes a very valid point in comments…
So each time the IDOC prisoner census increases by one, the GA convenes and approps an additional $21,000, and each time a prisoner is released or dies, the approp goes down by $21,000. Those sorts of analyses are worth about the cost of the paper they're written on. Unfortunately, they are frequently used to justify this program or that.

When one future incarceree is diverted the savings are so infinitesimal as to be calculable. When several or many are diverted the savings are still quite small. Only when you reduce the census enough to close a unit (if we are fortunate enough that they all are of the same approximate classification, etc) would you begin to see savings of close to half of $21,000 per avoided inmate, and only when you have the right number and mix that you can close a whole prison if you can get rid of the prison) do you get up closer to $20,000.

These sorts of programs should be justified primarily on their intrinsic programmatic values, not on some cooked up savings numbers.
- Posted by Rich Miller 17 Comments


* Riopell reports on a particularly critical $5.3 million state budget shortfall…
A budget shortfall in the program that helps juvenile offenders re-enter the community is the latest addition to Illinois' list of urgent financial troubles.

Gov. Bruce Rauner's office says the money the state needs to run the Department of Juvenile Justice's Aftercare program will run out at the end of March. The program helps youth find jobs and housing after being released from a facility.

The agency's spokeswoman, Veronica Vera, says layoffs at youth centers including the ones in St. Charles and Warrenville aren't in the works and Rauner's administration hopes to shift money around to avoid an interruption in the program. […]

Rauner and top Democrats are working on a plan that would let the new governor move money around to try to plug some of those holes. A spokesman for House Speaker Michael Madigan said a vote could come [this] week, but nothing is finalized.
It's possible that we'll see a vote this week. Subscribers know more about the why and the what.
* The governor explained the delay on the FY15 fix…
Rauner says lawmakers are talking about sweeping funds from some programs into more "essential" ones.

"But they're arguing among themselves what's non-essential."

Rauner has said for weeks that he's close to resolving the issue with legislative leaders.

"Democracy is a horrible system except compared to the alternatives. It's just, it's a process."
* More…
Rauner said he is frustrated by how slowly Springfield is moving to address the deficit.

"I went to the legislature and said we better reallocate immediately money from non-essential buckets into essential buckets like court reporting and day care," Rauner said. "The legislature agreed with me but the process has taken five or six weeks." […]

"What I'm saying is, 'Guys, let's get it done,'" Rauner said. "If we sat in a room, we would have had it done in a few days. But I think they are close, they are in their caucuses arguing it through, and I am pushing them to get it done as fast as they can."
* His spokesperson was a bit more blunt…
"Many state programs are running out of money because majority party legislators knowingly voted for a budget that intentionally left our state with a $1.6 billion hole. The child care assistance program is already out of state money and state prisons soon won't have funds to make payroll," the statement said.

"As a result, the governor's budget office is taking actions necessary to address the fiscal crisis that the governor inherited. GOMB (Governor's Office of Management and Budget) has asked all affected communities to hold on construction and stop incurring costs if construction has started."
- Posted by Rich Miller 39 Comments


* My weekly syndicated newspaper column…
Buried deep within Gov. Bruce Rauner's proposed budget plan for next fiscal year is yet another claimed "savings" which may not actually save any money, and could easily wind up costing the state more.

The governor proposes to save a whopping $108 million by discontinuing child care services provided by relatives in the child's or relative's home.

At first glance, that cut might look prudent. Why should the state pay grandma to baby-sit her own grandkid? Is that some sort of scam? Go to any right-wing blog and you'll occasionally see stories bashing this whole idea.

But, in reality, by pulling those payments, which are designed to help low-income parents go to school and work their way out of poverty, "grandma" could lose her income and may very well have to find a different part-time job, meaning the parent then has to search for another provider and the state saves no money.

And because relatives who provide child care are exempt from all state licensing requirements, that child could end up at a licensed day care provider, which costs the state a whole lot more money.

It's simple math. The rate the state pays for relative care, care in the child's home and for license exempt day care homes is $16.22 per day.

But the rates paid for licensed day care centers varies from $33.53 per day in parts of Downstate to $46.49 per day in Chicago and the collar counties. So, we're talking about the potential of almost tripling the price per child in the region where most people live.

Licensed exempt day care centers and licensed day care homes are cheaper, but they're still substantially more expensive than relative care, ranging from $29.20 per day in parts of Downstate all the way up to $40.50 in Chicago and the suburbs.

And even if the state ends up paying for non-relative care in the kids' own homes or at a license-exempt home day care provider, it costs the state the exact same money as it's paying now. So why even bother with this?

"Simply by eliminating one class of care, we don't necessarily eliminate those children from the system," explained Megan Meyer, spokesperson for the Ounce of Prevention Fund, which just happens to be run by the governor's wife. "Some families certainly may opt out, but others may choose licensed home or center-based care, all of which are more expensive."

Emily Miller with Voices For Illinois Children was far more blunt. "Obviously I can't speak for the governor, but perhaps the governor thinks that someone else – like a child care [provider] – won't care for the kid, and the current child care provider will just continue to do it and not get paid. I don't see why that would happen. But there are a lot of magic assumptions in this budget."

Yes, there are a whole lot of "magic assumptions" in the governor's budget proposal. The thing is chock full of wishful thinking, like the $2.2 billion savings from a pension reform plan which must be implemented by this coming July 1st, but also can't be halted by a lawsuit, which is so unlikely there aren't enough decimal point zeroes in the world to give you the percentages of success. It's simply an impossible fairy tale.

Now, it's true that some relatives might very well volunteer to take care of the kids for free. That would be a great thing for the state, which wouldn't have to pick up the tab. But we're talking about economically distressed parents here, and they tend to come from poor families. So, while some money could be saved, it most certainly won't be $108 million.

The governor's proposal, by the way, would also phase out child care subsidies for kids six and older.

"Over time, the total number of children who would lose access is about 65,000," said Miller of Voices for Children. "That's how many kids there are age 6-12 who are currently enrolled. It's over time because children over 5 who are already enrolled will continue to be as long as they remain enrolled."

Whatever you think about that proposed cut, at least that will produce the savings intended, as well as more future savings as it's phased in. So kudos for accuracy. Maybe not so much for humanity.

I asked the governor's press office for comment on all of these issues, but never heard back.
- Posted by Rich Miller 40 Comments


* Friday afternoon, 1:48 Central time…
Rep. Aaron Schock (R-Ill.) will appear on a millennial panel at SXSW in Austin this weekend. It's called: "Millennials: The Unstoppable Force." […]

Generation Opportunity is proud to have him on board.

"GenOpp is proud to facilitate a meaningful conversation with Millennial leaders on both sides of the aisle at this year's South by Southwest Festival," said GenOpp President Evan Feinberg in a statement released Friday. "Whether it's jobs, healthcare, or criminal justice, our generation is interested in solving issues – and we're excited to engage in a discussion with members of both parties on the policies that set us up for the best future possible."
* Less than two hours later…
"Representative Schock's office has informed us that he will no longer be participating in the panel," David Pasch, a spokesman for Generation Opportunity, whose president is moderating the panel, told The Hill.
* Meanwhile…
Schock's staff has refused to respond to, or even acknowledge, days of repeated inquiries from NBC5 Investigates, about an entity known as Menards Peoria LLC, which was organized last April.

Incorporation papers filed with the Illinois Secretary of State list Schock as the "manager" of the company, which is headquartered in his Peoria home.

In those documents, the company's purpose is listed simply as, "The transaction of any or all lawful business for which Limited Liability Companies may be organized under this act."

Repeated calls to Schock's Capitol office, and each of his district offices in Springfield, Peoria, and Jacksonville, yielded no answers. Staffers refused to divulge the Peoria Republican's public schedule, referring all inquiries to his press spokesman, who did not reply to calls or emails seeking information.
- Posted by Rich Miller 31 Comments


* Kurt Erickson writes about a meeting between some Downstate lawmakers and Gov. Bruce Rauner last week…
According to accounts from Democratic lawmakers who met privately with the Republican businessman, the governor suggested that if his policies are adopted by the Legislature, union membership will be eliminated in Illinois within the next four years. […]

During last week's meeting with lawmakers, Rauner was told that he is wasting a lot of time and energy on an issue that likely isn't going to go anywhere. Democrats, after all, still control the General Assembly. […]

"We ought to be talking more about the budget. Instead of traveling around, he ought to be meeting with people about the budget," said state Sen. John Sullivan, D-Rushville.

State Sen. Andy Manar, D-Bunker Hill, also was in the meeting when Rauner predicted the eventual eradication of union membership in Illinois. He also said Rauner needs to focus on the state's budget problems. […]

"Actions speak louder than words. His actions have indicated that he's not pro-union," Sullivan said. "I came away from the meeting believing that he believes in what he's saying."
*** UPDATE *** An administration source with knowledge of the meeting pushed back hard…
He never said that. It is 100% false.
I talked to a Senator who was at the meeting. "Did Rauner really say union membership would be eliminated in four years?" His response, via text…
SENATOR: Not exactly, he said it has gone from a high of 30 to 40% down to 6% currently and soon it will be zero. At least that's how I recall the conversation going.

ME: Ok.

SENATOR: We came to talk about the budget, he spent 90% of the time talking to someone who has a 100% labor voting record about how bad labor is.

ME: So he was saying u were on the wrong side of history?

SENATOR: Lol. Yes. This is what's amazing about this to me: there is nothing he's going to say to me or do to me that is going to change my mind about collective bargaining and the rights of workers.

Somebody in that shop has to start realizing that's the sentiment of a whole lot of legislators. D's and R's both.
[ *** End Of Update *** ]
* It's little wonder why he he was booed at the South Side Irish Parade yesterday…
Union ties are strong in the Morgan Park and Beverly neighborhoods, where the parade ran down Western Avenue — and this year, it featured at least eight union floats and the Irish-American Labor Council, a committee of the AFL-CIO, as its grand marshal.

Rauner, who has made creation of union-weakening "right to work" zones in specific parts of the state a priority in his first few months in office, waved with a smile as people standing on the curb shouted, "No right to work!" and "You're no good!"

At one point, Rauner picked up the pace to a jog — and yells of "Keep running!" followed.

Brendan Nolan, a member of the International Union of Operating Engineers Local 399, clapped as people nearby booed the governor.

Asked about the booing, Catherine Kelly, a spokeswoman for Rauner said in an emailed statement: "While the protectors of the failed status quo will always make noise, Bruce heard from more people this weekend expressing support for his empowerment agenda."
…Adding… A friend who was at the parade (I didn't make it this year) sent me an e-mail today with the subject line "Rauner booed"…
Was he ever - sometimes it was union guys following him around shouting "No right to work!" Other times it was just spontaneous booing — near constant the two times I passed him. It was painful watching him walk up to groups of people trying to get them to shake hands. People are polite so sometimes they would, but so many people just looked away and tried to avoid eye contact.
There was most definitely an organized response to Rauner, but that part of the world has a whole lot of union members in it. So, much of the booing was quite spontaneous, according to other friends who were there.
- Posted by Rich Miller 107 Comments


* I've been getting some "complaints" lately that I haven't posted any Oscar the Puppy pics. So, here he is being cool with his shades and shaking hands…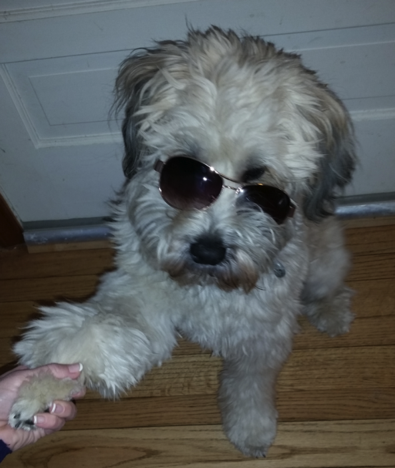 * And if you don't like this one, well I can't ever help you. Here's Taj Mahal rehearsing back stage with the Tedeschi Trucks Band and Jerry Douglas…
One said go, the other two said stay
- Posted by Rich Miller Comments Off


* From a press release…
Chief Justice Rita B. Garman and the Illinois Supreme Court have scheduled a special evening session of oral argument on Tuesday, March 17, and have invited Gov. Bruce Rauner and the entire Illinois legislature to observe the Court in session.

It is uncertain when an evening session was last held in the Illinois Supreme Court Building, but it is believed to have been more than a century ago.

The Court will hear oral arguments in a case involving an amendment passed by the legislature to the Illinois Juvenile Court Act. A portion of the amendment was ruled unconstitutional by a Circuit Court and the case is on direct appeal to the Supreme Court.

Chief Justice Garman explained that the special evening session is an opportunity for members of the General Assembly to observe first-hand the interaction of the functions of the three branches of government and the operation of the checks and balances essential to our system.

"The case involves an amendment that was debated and passed by the legislature, signed by the Governor, applied by the State in an individual case, challenged by a defendant, and declared un- constitutional by the Circuit Court," said Chief Justice Garman. "It affords a window into how our constitutional system operates and the balance among the executive, legislative, and judicial branches."

The case is People v. Richardson. It involves a defendant who was 17 years old when he allegedly committed the offenses charged. At the time, the Juvenile Court Act applied only to minors under the age of 17, making him ineligible for juvenile court. After the crimes were committed, but before Richardson was to be tried, the legislature amended the Act to raise the age limit for juvenile felony proceedings to 18. The amendment expressly provides that it is to be applied only to offenses committed on or after its effective date. The Circuit Court of DuPage County ruled that it would violate the constitutional guarantee of equal protection if the defendant were not given the benefit of the amendment.

"The State will be represented by an attorney from the Office of the Attorney General, and the defendant will be represented by the Office of the State Appellate Defender," Chief Justice Garman noted in her letter to the governor, legislative leaders, and members of the Senate and House. "Thus, you will have the opportunity not only to see the Court at work, but also to observe these valuable public employees performing their vital functions on behalf of the people of the State of Illinois."
I'm not sure how many legislators are gonna show. The Sullivan Caucus and the Black Caucus both have huge events that night. And Gov. Rauner has committed to attending the Sullivan Caucus event.
- Posted by Rich Miller 36 Comments


* From the twitters…
"A little regressive but it's something we're open to if Rauner wants to propose it" Cullerton-service tax @wlsam890 pic.twitter.com/Fn0ivvLbWc

— Bill Cameron (@billjcameron) March 13, 2015
* The Question: Should the Democrats wait for Gov. Rauner to propose a revenue increase, or should they do it themselves, or should they work with him behind the scenes and make a joint announcement, or should they forget about new revenues entirely?
Take the poll and then explain your answer in comments, please.
customer surveys
- Posted by Rich Miller 70 Comments


* From the Robinson Daily News…
Republican Gov. Bruce Rauner fired the first shot across the bow last month against the public sector labor unions by ordering an end to a requirement that workers pay dues even if they decide not to join a union.

"These forced union dues are a critical cog in the corrupt bargaining that is crushing taxpayers," Rauner said, adding that forcing non-union employees to pay union dues requires them to fund political activity they don't agree with."

But local union reaction suggests the executive order may have the opposite effect. […]

"We had approximately 8 to 12 fair-share members that this would have affected," [local AFSCME Steward Bryon Steadman] said. "Ironically, after these members saw what the governor was attempting to do they decided to become full-share members. Our local now has 100 percent full membership, something I've never seen before at our facility.
- Posted by Rich Miller 28 Comments


* Education Secretary Arne Duncan was in Chicago yesterday…
U.S. Secretary of Education Arne Duncan arrived at a South Side elementary school Thursday morning for an event — but his driver took a wrong turn down a dead-end alley, and Duncan was forced to walk half a block to the school amid protesters who'd been waiting for him to complain about standardized testing.

About 50 parents and children stood outside Ariel Community Academy so they could deliver their message to him about their opposition to the PARCC test. They chased his black SUV when it turned short of the school into an alley.
Heh.
* But then he was asked about the State Board of Education's threat to withhold all of Chicago's state school aid if it refused to implement the PARCC test…
Why is his U.S. Department of Education forcing a controversial standardized test — one many parents don't want and that Mayor Rahm Emanuel has argued is "not ready" for prime time — down the throats Chicago Public Schools?

"I'm not," Duncan said. "The state works it out without Chicago. . . . That's the state's decision."

But isn't the mandate being dictated by the federal government? Isn't that what's behind the threat to withhold $1 billion in funding that forced Chicago's hand?

"No. You're wrong. . . . You're making stuff up. You don't have your facts straight," Duncan said.
* From a letter written by an Assistant Secretary of the US Department of Education to the the State Board of Education inquiring about its options in dealing with Chicago's refusal…
Dear Superintendent Koch:

This letter is in response to your November 25, 2014 letter to Secretary Arne Duncan, regarding various inquiries that have arisen in Illinois about the requirements for State assessments under the Elementary and Secondary Education Act of 1965, as amended (ESEA) and, concomitantly, ESEA flexibility. Your letter was referred to the Office of Elementary and Secondary Education, and I am pleased to respond on behalf of Secretary Duncan. […]

Below, I have responded to each of the questions for which you have asked ED to confirm the Illinois State Board of Education's ( ISBE's) interpretation of certain provisions of Section 1111(b)(3), providing the statutory and regulatory citations, as applicable, and noting any differences between the statutory and regulatory requirements of the ESEA and ESEA flexibility.

1. Please confirm that, under the ESEA, a local educational agency (LEA) is not allowed to "take a year off" from assessing students.

The ISBE's interpretation is correct. […]

2. Please confirm that it would be inconsistent with ESEA requirements for a State to offer "a menu of assessments" from which local school districts could select to administer to students.

The ISBE's interpretation is correct.
Emphasis added.
- Posted by Rich Miller 11 Comments


* Dana Kozlov…
Patrick and Megan Esselman are thriving now. They're two of Kerry Esselman's three children who've taken part in the state's Early Intervention program, which screens children under the age of the 3 for many developmental delays and then provides therapy. […]

Patrick is proof, [her mom] says. As a toddler, he couldn't sit up and he was non-verbal, Kerry Esselman says.

More than 20,000 Illinois one- and two-year-olds were helped by the program last year alone. But now Rauner wants to change requirements, making it more difficult for toddlers with lesser delays to get help.

Advocates say the change would also cut 10,000 children, like Megan, from the program now.

A Rauner spokesperson says the governor had to make some difficult decisions to close a $6 billion budget hole. "Eligibility will be adjusted to prioritize the most vulnerable children," the spokesperson said.
But, hey, look on the bright side. It's only half.
- Posted by Rich Miller 49 Comments


[The following is a paid advertisement.]
Recently, ads on Capitol Fax have distorted the facts about the Illinois Low Carbon Portfolio Standard (LCPS) (HB 3293/SB 1585). Let's set the record straight.
Myth: "This is just a bailout for Exelon."
Fact: The opposite is true. The LCPS is a technology-neutral policy that rewards all low carbon resources equally within a competitive market framework. The LCPS is one of the market-based solutions identified in the HR 1146 Report issued by the State of Illinois to position Illinois to meet future energy and environmental goals, which includes preventing the early retirement of certain Illinois nuclear plants that would result in much greater costs and risks to Illinois.
Myth: "This LCPS will cost consumers $1.5 billion. Just let the nuclear plants close."
Fact: The LCPS includes consumer protections that limit the consumer impact to about $2 per month for the average Illinois residential electricity customer (the consumer protections apply to all customers). The cost to Illinois of allowing nuclear plants to prematurely retire are as much as 12 times greater than the actual cost of the LCPS, when fully considering increased wholesale power prices, transmission costs, adverse economic impacts, and adverse environmental impacts. (Source: HR 1146 Agency Report)
Myth: "The LCPS does not benefit Illinois in any way."
Fact: The LCPS will protect thousands of Illinois jobs, prevent economic destruction of Illinois communities, and make the state an environmental leader.
Members of the General Assembly: Support the Illinois Low Carbon Portfolio Standard and Include Zero Carbon, Reliable Nuclear Energy In Illinois' Energy Future.
- Posted by Advertising Department Comments Off


* From the twitters…
Chuy's financial plan–"will take all viewpoints under consideration…and make a decision." After the election. Disappointing.

— Mark Brown (@MarkBrownCST) March 13, 2015
* From Rahn Emanuel campaign spokesman Steve Mayberry…
"After four months of studying for the final exam, Chuy Garcia is telling Chicago voters he will hand in his homework after graduation. Today's stonewalling says zero about what Chuy would do to fund pensions and the budget, or where he would find new revenue. Chicagoans demand an honest framework to balance budgets and secure our workers' pensions, not an empty promise to appoint a commission on April 8. Chicagoans want a mayor who leads through us through tough times, not a politician who promises $1.9 billion in big spending and big borrowing but hides how will sock it to taxpayers later."
* The Emanuel campaign also sent this today…
Mayor Emanuel Lays Out Fiscal Framework

Rahm's plan follows the reform and revenue roadmap that helped balance last four city budgets and led to three landmark pension deals

Chicago – As the public waits anxiously for Chuy Garcia's much-hyped plan to pay for more than $1.5 billion in new spending promises while balancing the budget's $350 million deficit, Mayor Rahm Emanuel today outlined his framework to continue on the progress of the last four years.

"Chicago has come a far way in four short years, and now is not the time to risk that progress on empty promises. My budget and pension framework builds on our accomplishments of the last four years – four balanced budgets and three pension agreements with organized labor," said Mayor Rahm Emanuel. "Chicagoans have a clear choice: our honest budget that couples reform with revenue and creates a strong climate for job growth, or Chuy's promise to take us backward with $2 billion in promises that would wreck our finances, hike property taxes or force drastic cuts."
But go check out the actual "plan." It's almost laughable. There are a few small doable things, but for the most part it's a bunch of pie in the sky stuff or "stay the course" rhetoric.
- Posted by Rich Miller 44 Comments


* From March 11…
State utility regulators moved today to open a new investigation into Peoples Gas' massive and troubled gas-main replacement program in Chicago. […]

A pair of letters to the ICC last month from anonymous whistleblowers alleged that Peoples is badly mismanaging the program. That prompted the commission to open the special probe.

"We're pleased they're ordering the investigation," said David Kolata, executive director of the Citizens Utility Board in Chicago. "These are very serious allegations. We are concerned that perhaps a dual track has been set (to consider the merger and conduct the investigation separately). We think they are inextricably tied." […]

[Attorney General Lisa Madigan's] office has estimated that the average Chicago household's base gas rates will double over the coming decade if Peoples' program continues on its present course.
* Today…
A decade ago, Peoples Gas stood accused of ripping off Chicagoans under an arrangement with Enron to profit on cheap natural gas in storage that ratepayers had previously financed.

At the center of that scandal—which ended up costing the utility $100 million in customer rebates under a settlement with Illinois Attorney General Lisa Madigan and others—was an executive named Bill Morrow.

Morrow, then a vice president with Peoples, negotiated Peoples' arrangement with Enron, the Illinois Commerce Commission determined. Enron, the Houston-based energy trading giant, later collapsed in disgrace following revelations of deceptive accounting and manipulation of energy markets that helped cause extensive power blackouts in California. The mishandling of Enron's accounting eventually led to the fall of its auditor, Chicago-based Arthur Andersen, and sent Enron's CEO, Jeffrey Skilling, to prison in 2006.

At its heart, Peoples' deal with Enron in the early 2000s was a "shell game" that allowed Peoples' parent company at the time to profit "at consumers' expense," the commission found in its final order in March 2006.

Fast forward to today. Peoples Gas again is under fire, this time for its management of a massive program to replace 2,000 miles of aging underground gas mains in Chicago. A project that Peoples parent Integrys Energy Group said in 2009 would cost $2.2 billion over 20 years now is estimated to cost $4.6 billion, according to the Attorney General's interpretation of information provided by Peoples. […]

And the man who's been in charge of the gas-main program since its inception in 2009? Bill Morrow.
Sheesh.
- Posted by Rich Miller 7 Comments


* Not unexpected…
A bill that would have taken legal notices out of the newspaper will not be making its way to the House floor.

Rep. Joe Sosnowski's House Bill 261 would eliminate the requirement for local governments to post public notices in local newspapers. Instead, it would require governments to post notices only on their websites.

The bill failed in committee Thursday by a 5-6 vote. […]

"This was an initial litmus test at the committee level," he said. "I think, generally, the committee was open to the legislation. We've just got some fine-tuning to do."
All legislators have community newspapers in their districts. And all Downstate and suburban legislators have local newspapers which publish these required notices for a hefty fee. And pretty much all community newspapers have been struggling financially for years. Every dollar helps. And, not all, but just about all those newspapers are generally friendly toward their legislators, regularly publishing their press releases, having them over for lunch with the publisher, etc.
Dinging those papers could very well be the right fiscal move in trying times, but it's dangerous politics…
Rep. Don Moffitt, R-Gilson, said some of his constituents do not have access to the Web and rely on printed newspapers for their information. He voted for the bill on the condition that Sosnowski work with the Illinois Press Association and others to reach a compromise on how to reach individuals without computers or Internet access.
Yeah. That'll happen.
- Posted by Rich Miller 29 Comments


* Offered without comment. Lynn Sweet…
Heading into an expensive re-election campaign, Sen. Mark Kirk, R-Ill., is cranking up his fundraising, the Chicago Sun-Times has learned, with Gov. Bruce Rauner ready to unleash his network of super wealthy donors to help Kirk win a second term.

"Got to make sure you are long and you are strong," Kirk told me on Thursday. He said his next fundraising report will show contributions of $612,000 in the last few months for his 2016 race.
- Posted by Rich Miller 17 Comments


* The Illinois Policy Institute's Kristina Rasmussen has an SJ-R op-ed…
To hear critics of Gov. Bruce Rauner's budget proposal, you'd think he wants women to die from cancer, kids to wander in the streets and the poor to freeze in their homes. […]

Despite the claims of the so-called "Responsible Budget Coalition" – which tweeted Feb. 27 that "Rauner child care budget cuts mean 6-year-olds will have to take are of themselves" – the budget called for a current-year supplemental appropriation of $278 million for child care services to make up for the deliberate underfunding enacted by former Gov. Pat Quinn and the General Assembly last spring.

But instead, we see headlines such as "Rauner wants to seize utility funds for the poor to help balance budget." Never mind that 263,000 Illinois households are still in line to receive heating assistance in the coming year.

Yes, the governor is taking the heat for eliminating numerous programs, but the reality is many of these initiatives had been funded last year by Quinn at a perfunctory amount of $1. It doesn't compute that the guy who funded "homeless education" at $1 somehow is a saint, but the man who moves it to $0 is an ogre. […]

Contrary to the impression left by doomsayers, most core government services will be more than adequately funded under Rauner's budget proposal. The lights will not go off at the Stratton Building. People still will get help. Pension checks still will be cut. Even the politicians at the Statehouse would have a hard time spending $31.5 billion without covering the basics.
Yes, poor people. Look on the bright side. Rauner's budget would, indeed, eliminate all future child care assistance for any child 6 and over, but let's brush right past that cold, hard fact and look at the child care that he still wants to fund! All is well! Facts are sooooo inconvenient!
And while heating assistance - paid for with a surcharge on every Illinois residents' utility bills - is being cut in half, the federal government is still picking up the other half. Bright side, people! Bright side! And if you're a motorcycle rider, your education funding - like LIHEAP, paid for by motorcycle riders - is actually being increased! So, buy a Harley Davidson, poor people! Pull yourself up by your Durango boot straps, already! Maybe the governor will even let you ride with him. Ever think of that? Then you can talk to him about cutting your 6-year-old off of childcare assistance. Brilliant!
And, yes, Pat Quinn is most definitely a "saint." Yep. Everyone agrees on that, which is why he won reelection last year, right?
* Also, we just can't afford programs that aren't "core services," like anything which isn't funded by the federal government…
State grants that aren't eligible for federal matching dollars through the Medicaid program have been especially vulnerable to potential cuts in recent years as Illinois struggled through a recession and bumpy recovery, said Tony Paulauski, executive director of the Frankfort-based Arc of Illinois.

A $482,000 state grant on the chopping block in Rauner's budget is the sole source of funding for the Arc's unique Lifespan program. Lifespan provides free information, counseling and advocacy to people with disabilities and their families. […]

The elimination of state general revenue fund support for The Autism Program would be the second-largest cut among the non-Medicaid grant programs. The largest single cut — $8.9 million — would remove funding for respite services throughout the state.

Respite is provided to families of children with intellectual disabilities. Trained workers care for children for hours at a time while family members take care of chores outside the home or simply get a break to preserve marriages and the health of caregivers, said Greg O'Connor, chief executive director of Springfield-based Sparc. .
* But, she does have a point. Rod Blagojevich and Quinn both tried to cut those two programs mentioned directly above. And both did cut back this one over time…
Rauner has proposed eliminating a $390,000 Illinois Department of Human Services grant to the Humboldt Park-based Children's Place Association, which provides specialized preschool to about 65 toddlers of low-income Latino and African-American families who earn, on average, $5,000 per year. Approximately 50 percent of the kids are from HIV/AIDS-affected families. The others suffer from a broad range of medical disabilities.
They didn't, however, eliminate it.
* Look, this isn't about a few cuts that were also proposed earlier. It's about the width and breadth of the governor's proposed cuts. And that's clearly newsworthy and should be debated, not breezed past.
Bruce Rauner has the big chair now. He most certainly helped create this problem by demanding that the General Assembly allow the income tax hike to expire on January 1st. They bowed to his demands. If the tax hike hadn't expired, we wouldn't be in this fiscal mess. The current situation is what it is. Deal with it.
/counter-rant
- Posted by Rich Miller 113 Comments


* The AP looks at a different angle on Congressman Aaron Schock…
Schock's business career began early. In high school, he bought 107 acres of farmland near Peoria - property he sold to the local sewage district two years later for more than $100,000 in profit. As a college student, he bought three rental properties across the street from Bradley University, selling them to the school a few years later for a profit of more than $120,000. […]

In 2007, Peoria businessman Samuel Hoerr obtained permits to build a home on a Schock-owned vacant lot in the luxury golf course development called Augusta Estates. Schock and Hoerr - himself a financial contributor - have been both listed as owners in varying local real estate records. Sam Hoerr did not respond to a telephone message left at his business. Members of the Hoerr family - a prominent Peoria family with interests in real estate and construction - have donated nearly $80,000 to Schock's campaign and supporting political committees since 2007. Schock's sister and campaign manager, Tania Hoerr, married into the family. […]

His financial records show that Schock also earns between $50,000 and $100,000 each year in rental income from a Peoria apartment complex, once owned by an advocacy group that supports many conservative causes like opposing gay marriage. The National Christian Foundation received the stake in the apartments as a donation from a Schock contributor, then sold the investment to Schock and Hoerr family investments in 2007, according to tax filings reviewed by the AP. The foundation declined to comment on its role in the transaction.

Schock emerged from the deal with a 16 percent stake in the apartments, his share valued at $684,000 based on the purchase price. Financial disclosures show he borrowed more than $500,000 to pay for the apartment investments. Schock then switched that loan to Backlund's bank as well.
- Posted by Rich Miller 80 Comments


* Tribune…
The survey had Emanuel at 51 percent to 37 percent for Garcia with less than four weeks before the April 7 runoff election. Both candidates have gained around 5 percentage points since the first round of voting last month. Another 11 percent of voters remained undecided in the poll, which was conducted March 6 through Wednesday. […]

(T)he poll shows Emanuel's support rebounding among black voters, a group viewed by both campaigns as a major key to winning next month. Among African-American voters, 52 percent backed the mayor, 31 percent supported Garcia and 15 percent were undecided. […]

Among black voters, 50 percent have a favorable view of the mayor, up from 44 percent last month. But for Garcia, the percentage of black voters with a favorable view grew only slightly since last month, to 31 percent from 28 percent, while those who viewed him unfavorably more than doubled to 22 percent from 9 percent. […]

Overall, a third of the city's voters have no impression of Garcia, while 40 percent view him favorably and 24 percent look at him in an unfavorable light… Emanuel is now viewed favorably by 50 percent of all voters, while 32 percent have an unfavorable impression of the mayor.
- Posted by Rich Miller 69 Comments


* What could possibly go wrong?…
Daily Public Schedule: Friday, March 13, 2015

What: Governor Visits Sawing & Shearing Inc. to Discuss Turnaround Agenda
Where: 13500 S. Western Ave., Blue Island
Date: Friday, March 13, 2015
- Posted by Rich Miller 35 Comments


* The National Journal piles on…
[Congressman Aaron Schock] appears to have improperly accepted money from an outside group to cover travel expenses for a companion on a trip to India and failed to disclose it in a possible violation of House rules, according to a National Journal review of public records.

Schock traveled to India on official business in August 2014, a trip during which he met with Prime Minister Narendra Modi. The Global Poverty Project, an advocacy organization that seeks to alleviate extreme poverty internationally, footed the bill, according to a spokesman for the group.

But Schock's photographer and videographer, Jonathon Link, traveled with him on the trip, which was well-documented on Schock's Instagram account. The organization offered to pay for the costs of one staffer to accompany Schock as long as the staffer flew economy class, according to the spokesman. Another aide was originally going to come, but the organization noted they were looking for a photographer, and Schock suggested Link, with whom he has worked in the past, the spokesman said. The photos Link took were made available to both Schock and the Global Poverty Project.

The problem is House rules allow a member to accept private money for a companion's travel expenses only if the companion is a staffer, spouse or child. Link was none of those; he didn't appear on Schock's official or campaign payroll until September 2014.
Man, that must be one thick oppo book. Go read the whole thing.
More to come. Bet on it.
- Posted by Rich Miller 41 Comments


* From IDES…
The Illinois Department of Employment Security (IDES) announced today that Illinois' unemployment rate in January decreased 0.1 percentage points to 6.1 percent. The state's unemployment rate is slightly higher than the national unemployment rate reported for January at 5.7 percent. Nonfarm payroll employment, however, shed -7,100 jobs, based on preliminary data released by the Department and the Bureau of Labor Statistics (BLS). The unemployment rate identifies those individuals who are out of work and seeking employment. A person who exhausts or is ineligible for benefits will still be reflected in the unemployment rate if they actively seek work.

In January, three industry sectors posted large gains in employment: Leisure and Hospitality (+3,300); Educational and Health Services (+2,300); and Trade, Transportation and Utilities (+1,600). Four industry sectors reported large declines in employment: Professional and Business Services (-5,500); Government (-2,700); Construction (-2,500); and Manufacturing (-2,100).

"While a month-to-month decrease in nonfarm payrolls is not unusual, it's clear Illinois has more work to do to catch up with other states," said Director Jeffrey Mays. "Our economy is simply not yet firing on all cylinders."

Over the year, nonfarm payroll employment increased by +65,000 jobs with the largest gains in Professional and Business Services (+16,700); Educational and Health Services (+15,200); and Construction (+11,100). One sector posted a decline in January over the prior year: Financial Activities (-1,400).
The continuing manufacturing losses are worrisome. The government sector losses could increase if state funding starts drying up.
* Check out this part of the Illinois Policy Institute's react…
Some economic sectors such as education and hospitality added jobs in January, however, the business-services, construction and manufacturing sectors saw job losses. […]

These sectors lost jobs from December 2014 to January 2015:

Professional and business services: lost 5,500 jobs
Construction: lost 2,500 jobs
Manufacturing: lost 2,100 jobs
Notice something missing? Government job loss totals, even though they were the second highest on the list. But admitting that fact would screw up the meme.
- Posted by Rich Miller 23 Comments


* Riopell…
Time is running out for lawmakers and Gov. Bruce Rauner to find a budget fix that will allow the state to keep paying for court reporters across the suburbs.

The money for their salaries runs out at the end of the month, raising big questions about how courts will continue to operate without reporters tapping away during hearings the law requires them to attend.[…]

[Kane County Chief Judge Judith Brawka] says she remains hopeful Rauner and top Democrats will cut a deal before funding runs out. Deadlines, she says, and the "impending sense of doom" that come with them, tend to motivate deal-making.

"At a crisis point, they find a solution," Brawka said.
That's very true. Usually.
I think they'll probably get there, too. It just hasn't been very pretty, but it never is.
- Posted by Rich Miller 27 Comments


* Sun-Times…
The Rev. Willie T. Barrow, a direct link to some of the greatest civil rights leaders and protests, died Thursday at age 90.

She had been in the intensive care unit of Jackson Park Hospital, getting treatment for a blood clot in her lung.

"She was small in stature but she was a giant in character," said the Rev. Michael L. Pfleger of St. Sabina Church. "She was a person who was rooted in faith and who was a warrior for justice. The best way we can honor her is to live like her."
* From the President…
Reverend Willie T. Barrow was a Civil Rights icon and a Chicago institution, a "Little Warrior" in pursuit of justice for all God's children. In 1936, when she was just 12 years old, Reverend Barrow demanded to be let on to her all-white school bus in Texas, and the fight for equality she joined that day would become the cause of her life. She marched with Dr. King on Washington and in Selma. She stood up for labor rights and women's rights. She made one of the first pieces of the AIDS Memorial Quilt, and proudly welcomed LGBT brothers and sisters to the movement she helped lead.

Nowhere was Reverend Barrow's impact felt more than in our hometown of Chicago. Through Operation Breadbasket, the Rainbow/PUSH coalition, and her beloved Vernon Park Church, she never stopped doing all she could to make her community a better place. To Michelle and me, she was a constant inspiration, a lifelong mentor, and a very dear friend. I was proud to count myself among the more than 100 men and women she called her "Godchildren," and worked hard to live up to her example. I still do.

Michelle and I are deeply saddened by Reverend Barrow's passing, but we take comfort in the knowledge that our world is a far better place because she was a part of it. Our thoughts and prayers are with Reverend Barrow's family, and with all those who loved her as we did.
* From Mayor Emanuel…
"Today all Chicagoans mourn the passing of Reverend Willie T. Barrow.

"From a teenager who demonstrated for equality in the segregated south to a revered Chicago icon who helped to found Operation Breadbasket, Reverend Barrow spent her life on the front lines in the fight for justice. She marched in Selma and played a pivotal role in persuading Dr. King to take his fight for equality to Chicago.

"Known as 'The Little Warrior,' Rev. Barrow was small in frame but her voice was powerful, and contributed immeasurably to the cause of fairness, justice and opportunity in our community and the nation. We mourn her loss but give thanks for the impactful life she lived.

"I have ordered flags at all city facilities lowered in Rev. Barrow's memory, and offer our thoughts and prayers to her family and many friends."
* Attorney General Madigan…
"Reverend Barrow was a tremendous person, with a strong spirit and an unrelenting passion in seeking justice for all. While small in stature, this 'Little Warrior' never shied from a fight worth fighting. She was a true public servant in every sense. We have all benefited from her courageous work, and I am proud to have known her and learned from her example. I will miss her love and leadership."
* Congresswoman Robin Kelly…
"I am deeply saddened to learn of the passing of the Reverend Dr. Willie Barrow. Rev. Barrow's passionate pursuit of social justice and unwavering commitment to equality for African Americans, women and gay Americans will continue to inspire for generations. I am proud to have had such an esteemed icon of the civil rights movement as a fellow Sigma Gamma Rho Soror. After a lifetime of answering the call to justice, it seems somewhat poetic that she herself be called home only days after the nation celebrated the 50th anniversary of the Selma March. In her honor, we must follow her courageous example and continue the pursuit of justice and equality for all."
…Adding… Joint Black Caucus Chairwoman, Assistant Majority Leader Kimberly A. Lightford…
"Although the Reverend Dr. Willie T. Barrow was small in stature, she was mighty in her lifelong dedication to racial equality and social justice. We the members of the Illinois Legislative Black Caucus are deeply saddened at the loss of one of the mothers of the movement. I will personally miss her encouragement, kind words and fierce advocacy. We all stand on her shoulders as sons and daughters of the movement."
- Posted by Rich Miller 7 Comments


* Your one-word impression of yesterday's Illinois Supreme Court oral arguments on pension reform?
One word only, please. Thanks.
- Posted by Rich Miller 85 Comments


[The following is a paid advertisement.]
Editorial boards are sounding the alarm about the Exelon bailout bill.
Crain's Chicago Business: "THIS 'MARKET SOLUTION' ONLY BENEFITS EXELON"
You know you've got a good thing going when profitability is only a bailout away…

Bailouts for profitable enterprises? That's not the kind of juice that ratepayers should be shelling out for.
Chicago Sun-Times: "EXELON MUST MAKE CASE FOR BAILOUT"
Not so long ago, Exelon…was extolling the merits of an open market for power as its profits rolled in. Now, with power prices plunging, Exelon has lost enthusiasm for the open markets it championed in the 1990s and wants the Legislature to devise a new formula that will protect its profits, quite likely driving up utility bills for homeowners and businesses.

If Exelon is hard up, they can show us. The company should open its books to show how its nuclear fleet is performing.

What's good for Exelon doesn't much matter if it's bad for the rest of Illinois.
Belleville News Democrat: "DON'T FALL FOR EXELON BAILOUT"
Good old Exelon. The company has come up with legislation to subsidize its nuclear reactors, get electric users throughout the state to pay for it and claim it's in the interest of clean energy.

State lawmakers need to see this bill for the dirty trick it is and kill it.
- Posted by Advertising Department Comments Off


* From the SJ-R's coverage of yesterday's massive Statehouse protest over Gov. Bruce Rauner's proposed budget cuts…
The governor did make a brief appearance in the Capitol while the rally was beginning but did not actually attend. As he walked through the protesters on the first level, he said it looked like they were "having fun on a beautiful day."

They did not take kindly to the governor's description.

"That's incredibly condescending and irresponsible to say," Johnson said. "We're here on a mission. We are family, and so, yes, we're talking to each other, but that's how you build power."
- Posted by Rich Miller 59 Comments


[The following is a paid advertisement.]
The civil justice system give families of patients who have died or been injured by medical negligence an avenue to seek accountability. It also drives the development of patient safety systems that help prevent injuries before they occur. Hospitals, health systems, and even entire medical fields have reformed dangerous practices because of the civil justice system.
The civil justice system not only provides injured patients the ability to hold those responsible for their injuries accountable, but also encourages the adoption of patient safety systems that help prevent injuries before they happen. Specialties like anesthesiology have drastically improved patient outcomes by identifying system failures and implementing comprehensive practice changes. Individual hospital systems have also reduced errors after undergoing comprehensive safety studies. The civil justice system has served as a valuable deterrent to malpractice and a powerful motivator for patient safety.
Better patient safety is the key to lower health care costs. For more information, click here.
- Posted by Advertising Department Comments Off


* Um, dude. Really?…
While declining to comment on some of the reports, Schock's PR team has taken issue with the accuracy of others, like a Politico story on Monday that said Schock had reported on federal campaign finance documents that he spent more than $3,000 on software when in fact the money was part of the cost of a flight in a software executive's private plane to a Chicago Bears game and his district.
Oh, yeah, that's so much better. And, by the way, the rest of that cost was picked up by the taxpayers. Sheesh.
Congressman Schock is paying big bucks for a new PR firm and that's what they come up with? It was for a private jet flight to a Bears game?
I think he should demand a refund.
* Even so, if you click that link above, you can watch video of CNN's reporter asking a ton of blatantly loaded questions and then whining after Schock refuses to respond: "I've been polite to you."
DC reporters must have a different definition of the word "polite."
* Meanwhile, you may have heard that a couple of national right-wing bloggers have called on Schock to resign. Schock's response was on-point…
He said he wasn't taking seriously calls for his resignation coming from right-leaning outlets online. […]

"I would simply say these are the same groups who have called on (House Speaker) John Boehner and (Senate Majority Leader) Mitch McConnell to step down," the Peoria Republican said. "So they're people who fundamentally have never supported me and probably won't ever support me — and, unfortunately for them, I'm not going anywhere."

He implied that opponents to his political right were using the stories to make political hay at his expense.
- Posted by Rich Miller 45 Comments


[The following is a paid advertisement.]
Locally-owned credit unions return their earnings as a benefit to their members through services like free ATMs, better rates and lower fees. When credit unions exceed expectations, their members – including Illinois working-class families – share even more in those benefits.
Illinois credit unions gave back to their members in a big way during 2014. From CEFCU in Peoria, which delivered a record dividend more than three times the one it issued the previous year; to Gas & Electric CU in Moline; NuMark CU in suburban Chicagoland; and Catholic & Community CU and Scott CU in downstate Metro East – in the aggregate, nearly $43 million in bonus dividends alone.
This success is due in no small part to the continued loyalty of credit union member-owners – and can occur because credit unions are structured as not-for-profit, member-centric financial cooperatives.
Overall, Illinois' Main Street credit unions annually return $205 million in direct financial benefits to the savings accounts of almost three million members – your local constituents – not to the pockets of a select few Wall Street investors. No matter how much each credit union may return individually, there is one theme the movement agrees upon collectively: It's all about members!
That's the credit union difference.
- Posted by Advertising Department Comments Off


* From a press release…
Based on reports by members only, the Illinois Association of Rehabilitation Facilities (IARF) estimates 51,447 children and adults with intellectual/developmental disabilities and/or serious mental illnesses will experience limited access to, or lose access to, community-based services and supports under the Department of Human Services' proposed fiscal year 2016 budget.

"We find these conservative impact estimates on individuals with disabilities and mental illnesses and their families disturbing," said Janet Stover, IARF President & CEO. "Even with the Department making efforts to preserve core and essential services, every proposed cut will cut bone, and these estimates make that clear," continued Stover.

The Department's proposed budget cuts $193 million in funding from community-based services and supports for children and adults with intellectual/developmental disabilities and mental illnesses in the critical areas of residential services for individuals with high medical/behavioral support needs (ICFDD), psychiatry, housing supports, early intervention, respite, autism, dental and epilepsy services.

• 16,533 individuals with serious mental illnesses (SMI) will lose access to psychiatry, care coordination, evidence-based mental health services and housing supports – which will lead to increased hospitalizations and incarcerations;

• 808 adults with intellectual/developmental disabilities will lose residential and developmental services and supports in ICFDD settings – which will lead to increased utilization of state-operated developmental centers (SODCs);

• 1,798 individuals with intellectual/developmental disabilities and their families will lose access to respite services – which will lead families to seek out-of-home services, higher cost services and supports;

• 11,208 children ages 0-3 will lose access to early intervention services – which will lead to higher long term costs in special education;

• 21,100 individuals with epilepsy will lose access to case coordination, case management and outreach services;

"Again, these are estimates based on responses from IARF members. Given the number of service providers, individuals and families that would be impacted statewide, as well as statements made by the Department on proposed cuts in previous budget years, our estimates are only thumbnail sketches of the statewide impact," said Stover.

National and state studies, including data prepared previously by the Department of Human Services, show the efficacy, cost savings and preference of community care by individuals and families. The average cost of a nursing home placement in Illinois is $31,400; one year incarceration in a Department of Corrections facility is $38,268. Compare that to the average annual cost to serve an individual with a serious mental illness in the community, which ranges from $2,329 to $19,443 (intensive treatment and rental housing supports).

By cutting rates and eliminating grant-supported programs, individuals will be required to seek services in higher cost settings, such as state-operated developmental centers (SODCs), hospital emergency rooms, nursing homes and jails.

Further compounding the damage the budget would do to individuals and families, an estimated 1,539 would lose jobs under the proposal, removing tax dollars from state coffers and likely causing many to rely on public assistance themselves.

"Nearly 90 cents of every state dollar invested in community services is spent on the staff supporting individuals in programs," said Stover. "Providers are already challenged to hire and maintain quality staff with the wages they pay now due to years of lack of investment by the state in rates and reimbursements. Studies show the need for these staff positions in the community will continue to grow. We simply can't absorb the job loss, nor can Illinois," continued Stover.

"There will be no savings as a result of this proposed budget for community services…cutting these services will actually increase the state's costs almost immediately," said Stover. "Fifteen years ago, we launched an advocacy campaign with the message 'Don't Be Penny Wise and Pound Foolish' and here we are again. Fiscally, it makes no sense to allow these cuts - not to mention the emotional anguish of this vulnerable population having to regress to service settings that we have been working to modernize for the last ten years," she said.
* Meanwhile, I told subscribers about this yesterday…
In what state park district officials called an "unprecedented" decision, Gov. Bruce Rauner Wednesday indefinitely suspended all state grants for park district construction projects. […]

"These suspensions even cover construction projects that are currently in progress," noted a memo from the Illinois Association of Park Districts. "With construction season upon us, this decision could not come at a worse time. The suspension not only threatens jobs that are helping to grow Illinois' economy, it creates exposure to local taxpayers for existing contractual obligations and project costs."
* Mayor Emanuel weighed in this morning…
Mayor Rahm Emanuel today called on Governor Bruce Rauner to immediately reverse his decision to suspend Chicago park improvements that are planned or in progress after learning late yesterday that the Illinois Department of Natural Resources (IDNR) instructed the Chicago Park District to immediately freeze state grants awarded for park improvements.

"The Chicago Park District and I have worked to enhance the quality of life in Chicago by providing safe and inviting parks and facilities; and to create a park system that prioritizes the needs of children and families," said Mayor Emanuel. "Governor Rauner's decision to suspend grants for new parks across Chicago and the rest of the state will hurt every child who wants to swing on a swing set or play on the monkey bars, and a slight to every parent who wants their child to have a safe, community-oriented place to enjoy."

A total of 27 Chicago projects at 25 parks across Chicago stand to lose $28 million for improvements if this funding is not restored.
* And…
The impact of Gov. Bruce Rauner's proposed budget cuts on the CTA is even worse than the $105 million hit that the transit agency originally projected, CTA President Forrest Claypool said Wednesday. […]

The RTA initially calculated that the cuts to the Chicago-area mass transit system — the CTA, Metra and Pace — would total almost $130 million. In turn, CTA officials said a preliminary analysis of their agency's share of the cut came out to $105 million, which is roughly 7 percent of the CTA's operating budget.
* And…
Illinois' deepening budget problems could begin affecting the paychecks of nearly 5,000 prison workers starting in the coming weeks, an analysis of state payroll information shows.

According to records at the Illinois Comptroller's Office, at least five of the state's fleet of more than two dozen prisons do not appear to have enough money to meet payroll through the end of the state's fiscal year June 30.

The analysis by the Herald & Review Springfield Bureau shows prisons that will run short of cash include facilities in Vandalia, Taylorville, Mount Sterling, Sumner and Jacksonville.
* And, finally, Western Illinois University's president weighed in on the governor's proposed budget cuts today…
WIU's anticipated cuts are "on the backs of our students" Thomas says. Would mean 65% tuition bump, resulting in less access, more debt.

— IL Senate Democrats (@ILSenDems) March 12, 2015
WIU Prez: Almost half of WIU students are low-income and couldn't afford college with a tuition increase.

— Sarah Labadie (@sarah_labadie) March 12, 2015
He also says financial aid has been cut and wouldn't be able to make up the tuition difference #MAPmatters

— Sarah Labadie (@sarah_labadie) March 12, 2015
EIU next up in #SenAppr2; efficiencies with resources and effects of cuts are similar to those described by WIU officials.

— IL Senate Democrats (@ILSenDems) March 12, 2015
- Posted by Rich Miller 71 Comments


* SJ-R…
Sen. Kwame Raoul, D-Chicago, sponsored the pension reform bill in the Senate, even though he did not agree with all of its provisions. He attended the oral arguments Wednesday and didn't sound optimistic afterward.

"I think the indications are there won't be a remand (to the circuit court) and we'll be back to the negotiating table," Raoul said.
* Our in-house pension expert RNUG offered up a few ideas yesterday…
What is probably back on the table plus some previous ideas:

Normal cost shift for TRS

'Tier 3′ aka 401K type plan for new hires

Voluntary / optional 401K type plan for the systems that don't currently offer it. Devil will be in the details.

Voluntary higher contribution rate in exchange for an early retirement option (rule of 75 but at least 10 - 15 years of higher payments first?) for SERS

Voluntary trade of the 3% AAI for a straight CPI

A lot of other small items I can't remember at the moment.

Not saying any of these are necessarily good ideas or would even save any money but they would probably be legal.
Any other thoughts?
- Posted by Rich Miller 87 Comments


* Unsurprisingly, the Chicago Tribune editorial board sided with the state government on the pension law…
In [the Illinois Supreme Court's] July 2014 ruling in a case that said Illinois couldn't reduce retiree health benefits, the court majority offered a sentence that now looms over these proceedings — and over that chronic failure of Illinois pols: "(W)e have concluded that the provision was aimed at protecting the right to receive the promised retirement benefits, not the adequacy of the funding to pay for them."

The state has a much stronger argument in this pension case, in part because today's emergency — the enormity of the pension shortfall and its strangulation of spending on other state priorities — is more extensive and more dire than were the stakes in the health benefits case.

We hope the justices appreciate the distinctions between the two cases. They likely will rule this spring. When they do, they'll speak volumes about the future of a struggling state — and about the likelihood that its pension system will run insolvent.
* But the Tribune's reporters gave us the strongest rebuttals to that argument…
Justice Robert Thomas, a Republican from Wheaton, noted the state's pension problems were "arguably" created by the state itself. He asked Shapiro whether a ruling to uphold the law would allow the state to create a financial emergency, then attempt to resolve it by invoking its police powers to change pension benefits.

Thomas also asked Shapiro if it was "incongruous" for the state to allow the Illinois income tax rate to roll back 25 percent on Jan. 1, costing the treasury more than $4 billion a year, while at the same time claiming a financial emergency.
That's really hard to argue with. Not to mention this. And this. Etc.
Fleshing out Thomas' point…
He questioned whether the state could simply shortchange other areas of state spending and then walk away by claiming police powers.

"If the court holds that the state can invoke its police powers to violate core constitutional guarantees to respond to an emergency that at least arguably the state itself created, then aren't we giving the state the power to modify its contractual obligations whenever it wants?" Thomas asked.
* More…
Chief Justice Rita Garman to plaintiffs' lawyer Gino DiVito: "Does the police power ever allow [the state] to impair these pensions under any circumstances?"

DiVito: "Your honor, certainly not under these circumstances. Certainly not. It is absolutely clear that the intent of the drafters, when the General Assembly invoked fiscal problems, fiscal difficulties, not having enough money, it was absolutely clear that that was not a basis that could be relied upon."

…

Justice Lloyd Karmeier to Solicitor General Carolyn Shapiro: "If sovereign power resides in the people, and the people adopt a constitution which specifically provided for a pension clause having different wording than the contract clause . . . does that not indicate what the people, the sovereign, has given to the Legislature to act within?"

Shapiro: "The constitution restricts the state's ability to act. [But] it cannot give away certain absolutely core and fundamental attributes of sovereignty, and the ability to protect the public welfare in extreme situations is one of those."
OK, but how "extreme" is this situation? It's not like the state can't raise more revenues. Then again, here's the state's response……
"it's fair to say that the budget situation in our state is not yet fully resolved."

"Raising taxes alone can't always be the answer to a fiscal crisis when the state might otherwise want to use its police powers," Shapiro added later.
* But…
"I hesitate to say the Lizzie Borden defense, but I've killed my parents. Have mercy on me. I'm an orphan. This is a situation of the state's making," said union attorney Aaron Madugg.
* Then again…
Justice Thomas asked what the Court should do, then, with the clear evidence in the Constitutional debates that the delegates intended that there be no benefit cuts in trying times – wasn't reducing future benefits problematic then? Counsel [for the state] concluded by once again arguing that if the delegates to the Constitutional Convention intended that the clause be absolute in its protection for employee pensions, then the clause violated the Federal constitution.
* Also…
The sharpest questioning of Shapiro came from Thomas. At one point, he asked her why the state claimed it wanted an expedited hearing so that the court could rule before lawmakers' scheduled May 31 adjournment deadline, then asked for the case to be sent back to Belz where it would face months of hearings and another likely appeal.
Yeah. Kinda weak.
* Mark Brown, as usual, has some interesting observations…
The four Democratic members of the court, who form a controlling majority, said not one word during the 50-minute oral argument. Not a peep, which isn't necessarily a sign of anything either. Maybe the cat had their tongues. […]

In a signal of how important the case is, not only to the state but to all Illinois municipalities, Chicago Corporation Counsel Stephen Patton sat front and center in the Supreme Court chambers. […]

All that really matters, though, is what those four silent Democrats — Anne Burke, Charles Freeman, Thomas Kilbride and Mary Jane Theis — were thinking.
Three of those justices are from Chicago. An adverse ruling could easily drop Chicago's bond rating into junk status.
Discuss.
- Posted by Rich Miller 121 Comments


* The Tribune's headline writer got a little carried away today…

Quick! Somebody call a doctor! We're losing him! Oh, the humanity!!!
The actual story is pretty good, but we'll have more on the pension arguments in a bit. I just thought you might get a chuckle out of that screen grab.
- Posted by Rich Miller 37 Comments