* Greg Hinz…
Cook County Assessor Joe Berrios is weighing in on a dispute over a key element of Mayor Rahm Emanuel's proposed 2016 budget, and while City Hall is trying to pump up the news, it is, in fact, quite mixed for the mayor.

In a phone interview today, Berrios said that "personally, I believe" it is technically possible to reprogram aging county computers to implement the expanded homestead exemption that Emanuel wants. "This is the 21st century," even if the county's mainframe computer is programmed in the outmoded COBOL language, he said.

Mayoral aides applauded that, because yesterday, Cook County Board President Toni Preckwinkle said a technical tweak is not possible, and County Treasurer Maria Pappas said it "might" be possible only if outside computer experts came up with what could be an expensive solution.

However, Berrios added a lot of strings that definitely qualified his backing for the mayor's position.

For one, any reprogramming or other technical computer fix would have to be in place before the end of the year, "probably by around Dec. 1," Berrios said. Any delay beyond that could postpone the issuance of next year's tax bills, forcing local governments to borrow money to tide them over. "I'm not going to be responsible for that." Berrios said.
Everybody who thinks that the General Assembly will pass this bill and the governor will sign it into law in advance of that December 1st date, please raise your hands.
If the mayor wants this done, he's gonna have to figure out a way to break the Springfield gridlock.
Good luck with that, dude.
- Posted by Rich Miller 23 Comments


* Riopell…
As the most powerful politicians in the land feud over Illinois' budget — now for more than 100 days — a suburban mayor has set a summit next week to try to save his city's nonprofits that the state isn't paying.

Elgin Mayor David Kaptain says Illinois Comptroller Leslie Munger is planning to attend a meeting Tuesday aimed at finding out more about how Elgin agencies are suffering and whether the city can provide bridge loans to help them keep operating.

The move seems to be a relatively unique in Illinois, but Kaptain says the problems aren't.

"I think a lot of larger cities are having the same problems," Kaptain said. "It's more than the city of Elgin."
- Posted by Rich Miller 14 Comments


* From the Ottawa Times…
Many lawmakers in this part of Illinois were originally appointed to their offices and later won election in their own right. State Sen. Sue Rezin, R-Morris, was appointed in 2010 after Gary Dahl resigned, saying he wanted to spend more time with his family and trucking business.

John Anthony, R-Plainfield, was appointed as a state representative in 2013 after his predecessor, Pam Roth, announced her resignation because she was moving to Texas as the result of her husband's transfer.

Sen. Tim Bivins, R-Dixon, was appointed in 2008 after Todd Sieben became an ethanol lobbyist.

In 2013, Rep. Brian Stewart, R-Freeport, was chosen to replace Jim Sacia, who resigned.

Mautino himself was appointed in 1991 after his father, Richard Mautino, died.
They missed one. Rep. Roth was appointed to the House after then-Representative-elect Sue Rezin was appointed to the Senate.
* The Question: Should Illinois hold special elections when vacancies occur instead of appointments - perhaps depending on how much time is left in the terms? Take the poll and then explain your answer in comments, please.
polls
And, yes, I know there are rules about holding state Senate elections after vacancies happen, but there are still interim appointments. This question is about abolishing most appointments in favor of quick special elections.
- Posted by Rich Miller 50 Comments


* Press release…
ENDORSEMENT: ILLINOIS SENATE REPUBLICAN LEADER CHRISTINE RADOGNO HEADS KASICH FOR AMERICA'S ILLINOIS TEAM

Leader Radogno to serve as Illinois State Chairman
Dan Cronin, Dave Syverson, Ed Sullivan, Ron Sandack, Tom Demmer, David Harris, Randy Frese, Jim Schultz, Pat Brady and Sean Morrison to serve as State Co-Chairs
Team includes seven sitting IL legislators, the former Chairman of the Illinois Republican Party, three county party chairmen

Today the Kasich for America campaign announced that Illinois State Senate Republican Leader Christine Radogno will chair the Illinois presidential campaign for Ohio Governor John Kasich. In all, eighteen officeholders and party officials announced their endorsement of Kasich today, including seven current state legislators, the former Chairman of the Illinois Republican Party, three county party chairmen, and current and former public officials from across the state. […]

Said Leader Radogno, "As governor, John Kasich took over a state that was dying. Before he took office, Ohio had lost more than 350,000 private sector jobs, faced an $8 billion projected budget hole, and businesses were fleeing to other states. In four short years, he helped turn his state around, and under his watch, Ohio has created 347,000 private sector jobs, amassed a $2 billion surplus, and by cutting taxes by more than $5 billion, Ohio became business-friendly again. As a leader in a state very similar to Ohio, I understand the significance of his accomplishments. Kasich's record of success serves as a model for other Midwestern states, and it is little wonder that 62% of Ohioans approve of the job he's doing."
* Let's look at some Kasich history via an October, 2011 story in the very conservative National Review…
Kasich's reforms, like Gov. Scott Walker's in Wisconsin, have rattled government workers, who for decades have enjoyed cushy retirement and health-care benefits. Senate Bill 5 "is all about fairness," asking state employees to contribute 10 percent of their salaries toward their guaranteed pensions and pay 15 percent of their health-care costs, Kasich says.

The bill also outlaws public-sector strikes, bans binding arbitration, and gives cities and school boards bargaining flexibility. Schoolteachers will be given merit pay, not guaranteed automatic pay increases. Ohio's 360,000 government workers, like their peers in Wisconsin, have revolted. Thousands of them stormed the capitol when the legislation was passed by the GOP-controlled legislature in March — a sea of bright union T-shirts.

Those winter rallies were only the beginning. Once Kasich signed the bill, progressives pounced. Activists canvassed the state, petitioning for repeal. We Are Ohio, a potpourri of lefty-types, led the months-long campaign. According to state law, if 230,000 signatures were collected and certified by the secretary of state, a referendum would be triggered. By mid-July, over 1.3 million Ohioans had signed. Senate Bill 5 was suspended. And "Issue 2," a question of whether to keep the legislation, was added to the ballot.

Senate Bill 5's midsummer stall was a blow to Kasich. His approval rating at the time, according to a Quinnipiac University poll, sunk to 35 percent. Still, Kasich was buoyed that same month by the passage of his budget, which closed the state's $8 billion budget gap without raising taxes. But Kasich knew that beyond the budget, his entire economic agenda remained jeopardized by "Issue 2."And with Quinnipiac's July survey showing 56 percent of Ohioans favoring repeal, disaster loomed.

A month later, Kasich threw a curveball to the unions, which have long portrayed him as the bogeyman of Ohio politics. In a press conference at the capitol, he softened his approach and invited union leaders to "come to the table" and "talk" about potential "ways to reach an agreement." Sensing Kasich's political vulnerability, union brass ignored the offer, telling Republicans almost immediately that full repeal of Senate Bill 5 would be a prerequisite to any negotiations. Kasich, undeterred, decided to make his case across the state.
* The unpopular Kasich got his clock cleaned…
Ohio voters on Tuesday overwhelmingly rejected the law limiting the bargaining abilities of more than 350,000 teachers, firefighters, police officers and other public workers. More than 61 percent voted against the measure promoted by Republican Gov. John Kasich. Turnout was the highest ever for an off-year election in Ohio and poll numbers show voters rejected the law by wide margins in nearly every part of the state.
* So, what did Kasich do? Well, for one, he wised up and extended an olive branch to the trade unions…
Standing with a crowd of carpenters to accept their endorsement, Ohio Governor John Kasich acknowledged that it wasn't easy for union members to back a Republican.

"But we've gotten to know each other over time," Kasich said in Columbus, two weeks before winning re-election in November [of 2014]. "For too long, there's been a disconnect between people like me and organized labor." […]

After the repudiation of the Ohio law, he said that "the people have spoken" and took a less confrontational approach. His support for development initiatives, including $1.5 billion in debt backed by Ohio Turnpike tolls for infrastructure, won some union support for his re-election.

Those initiatives will mean billions in wages and benefits in coming years, said Matthew Szollosi, executive director of the 91,000-member Affiliated Construction Trades Ohio union.

"He's listened," Szollosi said. "He's learned a lot about us. Our leaders have learned a lot about him. And I think the relationship has grown close."

Resentment remains over the bargaining law: The Ohio AFL-CIO backed Kasich's Democratic opponent last year. Yet Szollosi's group gave the governor's campaign the maximum $12,156 in 2013, and Kasich also won the endorsement of engineers and carpenters unions, as well as the Ohio Laborers' District Council.
And people wonder why I've been shaking my head at Gov. Rauner's refusal to propose a capital bill.
Sheesh, man, this ain't rocket science.
* Kasich is still not exactly a friend to public employee unions…
However, just before this Memorial Day weekend, the Governor issued an executive order stripping away union rights from nearly 10,000 independent home health-care and in-home child-care workers. The move undoes a law implemented by former Democratic Governor Ted Strickland that extended the ability to bargain with the state to those overlooked and underpaid sectors. Unions that used to represent those workers in Ohio, including the AFSCME and the SEIU are calling it a "war on caregivers," warning that it will discourage people from pursuing those careers.

Somewhat ironically, Kasich credited the success of the President's Affordable Care Act — which he opposes and wants repealed — as part of his rationale for repealing those union rights. He said would have repealed his predecessor's law earlier, but held off out of concern that those independent workers would lose the health insurance provided by their unions. But "since that time," he wrote, "health insurance has become widely available through other means, such as the federal health insurance exchanges."
But keep in mind that the trade unions are historically more conservative than public employee unions, and smart, moderate Republicans try to work with those unions.
Gov. Rauner has so far refused to do this.
I suppose you could say that Rauner learned a little when he stopped calling for so-called "right-to-work" laws, but he's still demanding that collective bargaining rights should be gutted and he wants repeal of the state's prevailing wage laws.
* "Right-to-work" is popular if you word polling questions just so, as a recent poll of southern Illinoisans by the Paul Simon Public Policy Institute shows…
Some states have passed right-to-work or open shop laws that say workers have the right to hold their jobs in a unionized workplace, whether they join the labor union or not. If you were asked to vote on such a law, would you vote for it or against it? (If undecided the interviewer probed "which way are you leaning?")

Response

Percent (n=401)

Vote for 53.4%

Lean for 2.0%

Lean against 1.7%

Vote against 36.2%

Undecided (not read) 3.5%

Other/don't know (not read) 3.2%
Meh.
The point is, Rauner withdrew it for good reason. It wasn't going to pass and it probably wouldn't have been backed by the public once it was explained.
Now if he would only take more steps in that direction.
* Oh, and by the way, the Tribune had a little brief on another one of Kasich's Illinois backers today…
DuPage County Board Chairman Dan Cronin reported a $25,000 contribution from the national fund of the plumbers/pipefitters union.
Cronin leads his county so well because he is so inclusive. Same for Kasich in Ohio.
* For crying out loud, learn, man. Instead of constantly beating on all the unions, how about focusing on obtainable, doable reforms, and focus like a laser on solving this budget mess? Kasich did that and he eliminated his state's deficit.
- Posted by Rich Miller 73 Comments


* Riopell…
In remarks [last] week, Gov. Bruce Rauner publicly raised the idea that the outcome of Illinois not having a budget could be even more severe.

"Universities and community colleges will not receive state funding, causing some to wonder whether they will be open for the second semester. Outrageous. Should not happen," Rauner said.
Sigh.
He's such a helpless victim.
* But, at least in the suburbs, it's not true…
No local community colleges are talking publicly about drastic action, and how individual colleges will fare as the state budget impasse drags on could "vary widely," Berry said. Community colleges get a large share of their income from property taxes, and suburban districts tend to have higher property values than colleges elsewhere in the state. So the effects might be less serious in the suburbs.

Oakton Community College spokesman Paul Palian said he doesn't know of any class-cutting plans, but he said schools are "preparing to tighten our belts even further."
* Wordslinger has been saying in comments for months that the governor is using a "hostage-taking" model. For instance…
The governor feels entitled to certain things he can't achieve through traditional and conventional means (public support, legislative majorities, in this case), so he takes hostages and threatens great harm to them unless his demands are met.

In an attempt to demonstrate purity of motives and avoid a backlash of public opinion, some hostages are released (K-12, public employee salaries).

In hostage situations we're all familiar with from the past, the released are usually those who could be perceived as innocent - poor women, children, the old, sick or infirm.
Universities and colleges aren't quite on the list yet, although some will most certainly be harmed in the coming months.
* James Krohe recently wrote a particularly gruesome take on the same subject…
Rauner basically kidnapped state government last November, and, determined to show he means businesses, started cutting off his prisoners' ears and fingers and sending them to the General Assembly with his ransom notes.

But kidnapping only works if the threat of death alarms more people than the victim.

The museum closing stirred a furor in Springfield, and to a lesser extent in Fulton County, but outside these places the shutdown has had less impact than would closing a fish census station.

Rauner finds himself in the situation of the Italian thugs who kidnapped oil heir J. Paul Getty III in 1964; they demanded $17 million from his family but his rich grandfather thought the kid was worth only $2.2 million. In the end, the gang got paid only $2.9 million, and that only because dad took out a loan.
* That brings us to House Speaker Madigan's spokesman Steve Brown, who told the Illinois Policy Institute's news service this week that his party doesn't trust the governor to make a budget deal…
"The Governor is ultimately the person who spends the money regardless of the legislative actions, so there would have to be some ironclad understandings of how that money is gonna be spent."
Apparently, the idea here is to do what most did with the Illinois State Museum and simply ignore the hostages altogether until the ransom price is drastically reduced.
You gotta wonder how long that can last.
Your thoughts?
- Posted by Rich Miller 86 Comments


* Gov. Rauner on the sale of the Thompson Center…
The Republican governor, embroiled in a political dispute with the Democrat-led General Assembly, said his proposal was unrelated to what he has dubbed his "Turnaround Agenda" that includes seeking pro-business, union-weakening legislation in exchange for a state budget.
OK, well, it's good to know that he won't hold up a budget in exchange for legislative approval of the building sale.
* But the other party is another matter. Kurt Erickson writes about HB4313, which was introduced yesterday by House GOP Leader Jim Durkin regarding the proposed sale…
Durkin's plan would apparently bypass a lengthy public hearing process imposed by the General Assembly to keep governors from moving too quickly in shutting down state facilities.

Durkin's proposal calls for establishing a base price for the 16-story building through an appraisal process. It would then allow officials to either auction off the building for no less than the highest appraisal price or sell it through a sealed bidding process.

In the latter case, the proposal would allow the building to be sold for less than its appraised value. […]

Steve Brown, spokesman for House Speaker Michael Madigan, D-Chicago, said Rauner offered few details about the sale in an announcement Tuesday, including where current workers would be moved and how other services done at the building would be affected.

"That will all have to be examined," Brown said. "I'm not sure rushing is a good idea. Usually when you rush things, that's when you make mistakes."
On the bright side, using Brownie's logic, by January of next year we ought to get one incredibly fantastic state budget.
/snark
…Adding… Mayor Emanuel, however, supports the sale, saying it could add $20 million a year to tax coffers.
- Posted by Rich Miller 31 Comments


[The following is a paid advertisement.]
As locally-owned not-for-profit financial cooperatives, credit unions hold a strong belief in giving back to their communities. Twenty-three chapters across Illinois unite 303 credit unions and are integral to fulfilling the financial need for nearly three million consumer members.
The Rockford Area Chapter alone serves 11 credit unions and their 88,000 members in a four county area. Similar to other credit union chapters, Rockford strongly believes in supporting their communities and collaborates on a year-round marketing campaign to facilitate making a difference.
With October designated as National Breast Cancer Awareness Month, the chapter's latest community effort will be to sponsor the 4th Annual Pink Party/Bra Auction. This event raises money for Pink Heals of Winnebago County, a local non-profit organization that helps families dealing with cancer. All of the money donated to Pink Heals will stay local, just like credit unions. The chapter's sponsorship can also be seen in a Rockford firefighter calendar sale, with 100 percent of the proceeds donated to Pink Heals.
Giving back to their members, causes and the communities they serve – this is the credit union difference.
- Posted by Advertising Department Comments Off


* Former Gov. George Ryan spoke recently to Waukegan Township's Coalition to Reduce Recidivism…
Ryan was given standing ovations at both the start and end of his speech, during which he focused primarily on his transformation from a death-penalty advocate to an opponent who first imposed a moratorium on executions and then commuted all capital punishment sentences in the state before the end of his term. […]

"I want to make this very clear: Gov. Ryan, we miss you," [State Sen. Terry Link, a Waukegan Democrat] said, drawing applause. "(Ryan) knew how to get something done that would affect every person in this room and every person in the state of Illinois in a positive manner, and that's what we lack in Springfield today."

At one point, Ryan showed that he hadn't lost the politician's touch for engaging an audience when he remarked on an introduction that detailed his entire career.

"Thank you for that wonderful introduction," he said. "You know more about me than the FBI."
* Ryan's hometown paper effused praise…
Now, there are those who will have no use for Ryan's remarks, and their opposition is based on one of two factors, if not both.

Some will dismiss them because they believe anyone who commits a crime serious enough to draw a felony conviction should carry that label forever. And there are millions of ardent death penalty supporters out there, those who believe the punishment fits the crime.

Others will oppose Ryan's beliefs because he is a convicted criminal himself, and as such, his message doesn't carry as much weight as it would otherwise.

But, remember this. He served his debt to society, and amid the actions that got him sent to jail, he accomplished much to help this state. […]

Ultimately, those efforts [to reduce recidivism, abolish the death penalty, etc.] might get something done, which is more than you can say for what is happening in the state's current political climate.
* A good friend of mine and I drove to Kankakee this summer to have lunch with the former governor. It was off the record, but I can tell you that he remembered almost everything negative I ever wrote about him. Even so, we talked for four hours.
I've always been torn about George Ryan, and vice versa. I was born in Kankakee. My family used his pharmacy on Court Street. I never knew him growing up, but my grandfather and his Kankakee mayor brother were pals (although I never knew Tom either). Because I was a K3 guy, George always treated me well. At the same time, because I was a K3 guy, I was supposed to be on "the team," which I never was, and that irritated him to no end because I whacked him but good on many an occasion.
* But, it is undeniably true that he was the last governor who could actually get big things done on a consistent basis. Rod Blagojevich passed some major bills and so did Pat Quinn, as has our current governor (check out the amazing progress this year on criminal justice reform if you doubt me). But none of them had or has the deft touch of George Ryan. Part of that was because the Republicans controlled the Senate at the time (although Pate Philip and Ryan had many a go-around), but a lot of it was because he was a former House Speaker and knew how to pull the levers and the strings. His successors have had trouble even finding those levers and strings.
I remember sitting in Blagojevich's office one day and he asked me what I thought of a major bill of his that was stuck in limbo. His chief Senate sponsor was a disaster and the bill was going down hard. I told him his only hope was to call President Bush and ask him to pardon George Ryan and then put him on the payroll because he was the only man on Earth who could pass that turkey.
* Yeah, he made some mistakes, both criminally and governmentally. But, man, could he ever get stuff done. And even if you disagree with what he did accomplish, you have to admit that he was a success in at least that regard.
I've often said over the years that if we could just elect a governor who was both competent and not in danger of going to prison this state could do great things.
I somehow managed to convince myself toward the end of last year's campaign that Bruce Rauner could be that guy - that he had the skill set to be almost as good at governing as Ryan without the legal, um, downsides.
Instead, I'm still waiting.
- Posted by Rich Miller 75 Comments


* From the Simon Institute…
More than a third of southern Illinois voters (37.4 percent) say either they or someone in their immediate families have been affected by the current Illinois budget stalemate, according to a poll by the Paul Simon Public Policy Institute at Southern Illinois University Carbondale.
Another 56.6 percent said they have not been touched by it.

Among all southern Illinois voters, the largest group (10.0 percent) said they had experienced a job loss or threatened job loss from the budget impasse. The next largest group of responses were from those who said they had been affected by healthcare and health insurance cuts (3.7 percent). Also, there were 3.2 percent who said they had experienced social service cuts; 2.7 percent who said their city governments had experienced cuts; 2.5 percent who said they had experienced changes in child care costs or services, and 2.0 percent who said their impact had been through higher education cuts.

The remainder of the impacts of the budget conflict included a range of volunteered responses, which included impacts on the local economy (1.2 percent), cuts to utility assistance programs (1.0 percent), and mental health care (0.7 percent).

The poll of registered voters in 18 counties south of Interstate 64 was taken September 22-October 2. The survey was based on a random sample of 401 registered voters who responded to telephone interviews. It has a margin of error of plus or minus 4.9 percentage points. Thirty percent of the sample were cell phone users.

In the open-ended comments, respondents volunteered such specific answers as their family had to relocate because of loss of a state job, their health care had been adversely affected, respondent's husband was on disability and now can't get it, loss of meals for shut-ins, delayed payments on dental services, doctors want their payments up front now, proposed closing of the Hardin County Work Camp, and other generalized negative consequences.

"These responses show clearly that what's happening—or not happening—in Springfield is having a direct impact on a lot of people's lives in southern Illinois" noted John S. Jackson, a visiting professor at the Paul Simon Institute and one of the designers of this poll. "Decision-makers need to consider that their inaction is causing very specific harm, which people notice, and the negative effects are accelerating as time goes by" Jackson added.

But David Yepsen, director of the Institute, said "maybe one reason nothing's happening in Springfield is that a lot of voters don't feel the effect of this stalemate. Most people don't work for a government. Most people don't rely on safety net programs like day care or health care. If they did, perhaps the logjam would break because political leaders would be feeling more heat."

"It's also true some people might not feel it because the state is still spending money without a budget," Yepsen said. "Schools, for example, did get an appropriation. Other spending is directed by court-orders."
* The accompanying chart…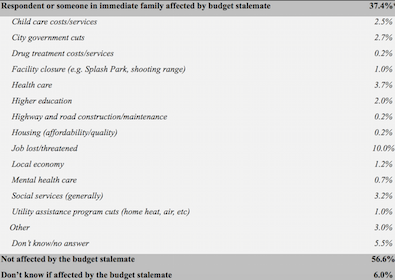 There's more to this poll and we'll get to it in a bit.
- Posted by Rich Miller 53 Comments


* I told you this was coming last week. From a press release…
Due to the ongoing budget stalemate in Springfield, the Illinois Lottery is announcing a change in winner payment policy. All winners over $600 will experience a delay in payments. Previously, this policy only applied to those winnings over $25,000. Once a budget is passed in Springfield, all outstanding claims will be paid.

Since July 1, 2015, Illinois Lottery winners over $25,000 have experienced payment delays, since the Illinois Comptroller has not had the legal authority to disburse their winnings. Those players who have won under $25,000 have continued to receive their winnings, as they were paid at Illinois Lottery claim centers.

Beginning on October 15, 2015, the Illinois Lottery anticipates its check writing account will be exhausted, as there is no legal authority to replenish it with funds. Players who win $600 and below can continue to receive their winnings at any of the Lottery's 8,000 retail locations statewide.
* More from the Tribune…
Two lottery winners whose payments were delayed last month filed a federal lawsuit against the Illinois Lottery, acting director B.R. Lane, its private management company Northstar Lottery Group and the Illinois Lottery Control Board. The suit is attempting to force the lottery to release prizes over $25,000 with interest and prevent the lottery from paying administrative and operational costs until winnings are released. The suit would prevent the sale of tickets for prizes over $25,000 until the money can be paid without delay.

"If I was the one selling raffle tickets and I didn't pay, I would be sued or in jail or both," Rhonda Rasche, one of the winners who filed the suit, previously told the Tribune.
Emphasis added because that seems to be a bit much.
- Posted by Rich Miller 41 Comments


* This has been a hot rumor for days…
FBI agents paid an early morning visit to the home of onetime mayoral candidate and longtime Circuit Court clerk Dorothy Brown, seizing her government-issued cell phone, sources told POLITICO.

The visit, which happened last week, is the clearest sign yet that a probe that initially scrutinized Brown's husband, Benton Cook III, has expanded to include Brown herself.

One source said the phone seizure was intended to allow investigators to review text messages on the device.

Sources with knowledge of the investigation tell POLITICO that clerk office employees have received federal subpoenas from the Chicago U.S. attorney's office.

Sources say one line of inquiry centers on Brown's relationship with employees, their contributions to her political fund and whether those who donated were rewarded.
- Posted by Rich Miller 43 Comments


* Greg Hinz…
Cook County Board President Toni Preckwinkle dropped a political bomb on Mayor Rahm Emanuel's proposed 2016 city budget today, saying it's technically impossible to implement a special break Emanuel wants in order to largely shelter city homeowners from the $588 million property tax hike he plans.

"We can't do it," said Preckwinkle, referring to an expanded homestead exemption Emanuel wants, a measure that would have to be administered by the county's property-taxing system. "There's no way we can get our computer software to do it."

Preckwinkle's comments, which came during a meeting with Crain's editorial board on her own proposed 2016 budget, followed a meeting this morning between her and other county officials, notably including County Treasurer Maria Pappas, whose office actually sends out the property tax bills. Preckwinkle said her understanding of what is and is not technically possible came largely from Pappas.

Pappas, in a phone call, complained that Preckwinkle is "using" her as part of a political feud with the mayor, but she did confirm that, indeed, the county's current, antiquated computer system cannot neatly divide properties and their tax rates between those located in and out of the city.

"They can't do it. I'm 95 percent sure they can't do it," said Pappas, noting that the county only recently began to move to replace its quarter-century-old mainframe computer.
Man, it just gets worse every single solitary day.
- Posted by Rich Miller 30 Comments


* The Illinois Policy Institute's Diana Sroka Rickert writing in the Tribune…
In the ongoing state budget battle, is the Roman Catholic Church taking sides?

No. But opponents of Gov. Bruce Rauner want you to think it is.

At the request of local unions, Chicago Archbishop Blase Cupich recently spoke at a West Side union hall about the church's teachings on work and workers.

After the speech, Democrat House Speaker Michael Madigan and government unions boasted that Cupich and the Catholic Church were on their side.

"The archbishop has said the same thing that we've been saying in Springfield," Madigan said.

Government unions in Illinois promoted their interpretation of the archbishop's comments online.

"Cupich today reaffirmed the Catholic Church's longstanding commitment to collective bargaining, to unions … a message a certain governor might want to consider," Service Employees International Union posted on its Facebook page.

The American Federation of State, County and Municipal Employees posted a picture of Cupich and wrote, "We couldn't agree more. LIKE and SHARE if you do, too!"

Here's the problem: Cupich didn't say he agrees with Madigan, SEIU, AFSCME or any other government union on any issues. In his remarks, Cupich referenced the debate over whether Illinois should become the nation's 26th right-to-work state — but was careful not to say where he and the church stood on the issue.

"The archbishop has not taken a position," said Susan Burritt, archdiocesan spokeswoman. "The archbishop never offered a judgment on any legislation." […]

As a Catholic, I'm all for solidarity: caring for others, respecting people as individuals, fighting against inequality and injustice. But Speaker Madigan, AFSCME and SEIU: We're not on the same team. Your version of solidarity has no place in the Catholic Church.
* OK, first of all, while the archbishop didn't take a stand on any particular legislation, his words were pretty darned clear…
I will also add my voice when it is prudent and helpful in egregious examples of injustice. The Church can't weigh in on every issue, on every dispute…it lacks the capacity or the competence. However, when the Church sees fundamental values being threatened or undermined, the Church will speak up—to offer basic moral principles, to defend the weak and vulnerable and to promote the common good.

For example in view of present day attempts to enact so-called right-to-work laws the Church is duty bound to challenge such efforts by raising questions based on longstanding principles. We have to ask, "Do these measures undermine the capacity of unions to organize, to represent workers and to negotiate contracts? Do such laws protect the weak and vulnerable? Do they promote the dignity of work and the rights of workers? Do they promote a more just society and a more fair economy? Do they advance the common good?"

Lawmakers and others may see it differently, but history has shown that a society with a healthy, effective and responsible labor movement is a better place than one where other powerful economic interests have their way and the voices and rights of workers are diminished. […]

My final point is that I hope that you and your members will see in the Catholic Church a consistent ally for economic justice and a partner in promoting the common good. First, I will personally support workers' efforts to secure their rights and adequate conditions to accomplish their work. In a talk last June, Cardinal Donald Wuerl of Washington observed that growing up in southwest Pennsylvania he learned early on that "one visible way that solidarity was manifested, both within the movement and in the larger society, was respect for the picket line. He also talked about the new "picket lines" that should not be crossed, like demonizing immigrants, racial profiling and wage theft, to name just three. In solidarity with you, I want you to know that the Archdiocese of Chicago will honor your picket lines.

Secondly, I will continue to encourage priests of this Archdiocese to be involved in the labor movement. They will continue the legacy of great priests such as Msgr. John Hayes, Msgr. George Higgins, and Msgr. Jack Egan and Fr. Clete Kiley.
* Whenever someone uses the phrase "so-called right-to-work laws," they oppose so-called right to work laws, like myself, for example. And when somebody declares they'll honor a picket line, well, that's pretty serious stuff.
* And speaking of Father Kiley, earlier this year Cupich appointed Kiley as his moderator of the curia for the Archdiocese of Chicago. Kiley is now responsible for day-to-day archdiocesan operations and administration. Thanks to an alert reader, I realized belatedly that Kiley left that position. He's now doing union ministry work.
Fr. Kiley is about as pro-union as a person can get, but he now has a very important position and is using that bully pulpit to back organized labor. He somewhat previewed the archbishop's speech back in June regarding so-called "right to work" laws…
"These laws fundamentally are an assault on solidarity. They are an attempt to break unions and a way to exclude more people from an active role in the economy."
Also, if you watch the video, make sure to stick around to the end when Kiley talks about "think tanks that still say you can be a Catholic and a libertarian. Real cafeteria Catholics. And I'd like to say the cafeteria is closed."
- Posted by Rich Miller 46 Comments


* From the Twitters…
.@SenatorKirk raises $1.05M in the third quarter, has $3.6M on hand. Raised less than Duckworth, but still has an $800K cash edge.

— Kevin Robillard (@PoliticoKevin) October 14, 2015
Oof. #ILSen https://t.co/HrmzVlhU75

— Ben Ray (@BenRay) October 14, 2015
Not good at all, Senator. Wow.
* Meanwhile…
A new video launched by the Illinois Republican Party, titled "Reversal," documents Rep. Duckworth's reversal of her stance on the Benghazi Committee's role in hearing testimony from Hillary Clinton.

"Rep. Duckworth's vote to disband the Benghazi Committee in order to shield Hillary Clinton from answering the tough questions about this tragedy is yet another display of Rep. Duckworth putting her party ahead of transparency," said Nick Klitzing, Executive Director of the Illinois Republican Party. "The simple truth is that Rep. Duckworth, even going back to her time working with former Governor Rod Blagojevich, has put the interests of her party before the public."

TIMELINE OF EVENTS

March 31, 2015:

During A Press Conference After Announcing Her Senate Bid, Duckworth Said That Clinton Needed To Go Before The Benghazi Committee And Testify. (Reboot Illinois Youtube, 4/2/15)

Duckworth Also Said That All Of Clinton's Emails While In The State Department Should Be Released To The American Public. (Reboot Illinois Youtube, 4/2/15)

May 22, 2015:

On May 22, 2015, The State Department Released 296 Of Hillary Clinton's Emails Related To Libya Policy And The 2012 Benghazi Attack. (Billy House and Mark Drajem, "Clinton E-Mails On Benghazi Attack Released By State Department," CNN, 5/22/15)

It Was Found That Clinton Received Information On The Deadly Attack In Benghazi In Her Private Email Server. (Lisa Lerer and Matthew Lee, "Clinton Got Now-Classified Benghazi Info On Private Email (Updated)," The Associated Press, 5/22/15)

June 26, 2015:

The State Department Informed The Select Benghazi Committee That They Are No Longer Certain About Clinton's Claim That All Her Work Emails Were Included In The 55,000 Pages Of Documents Handed Over To The Department. (Bradley Klapper and Matthew Lee, "State Dept.: 15 Emails Missing From Clinton Cache," The Associated Press, 6/26/15)

September 7, 2015:

In Early September Hillary Clinton Gave Duckworth Her Support For Her Senate Candidacy. (Kevin Robillard, "Clinton: Duckworth 'should be the next senator from Illinois'" Politico Pro, 9/8/15)

September 30, 2015:

At The End Of A Press Release on September 30th, Tammy Duckworth Calls For The End Of The Benghazi Committee. (Rep. Tammy Duckworth, "Congresswoman Tammy Duckworth Statement On Kevin McCarthy's Benghazi Comments," Press Release, 9/30/15)

October 7, 2015:

Tammy Duckworth Voted To Proceed With The Slaughter Resolution Which Would Disband The Benghazi Committee. (Motion To Table, Roll Call Vote #536: Motion agreed to 240-183: R 240; D 183, 10/7/15, Duckworth Voted No)
The video is here.
- Posted by Rich Miller 17 Comments


* Tribune…
Republican Comptroller Leslie Munger has scheduled an afternoon news conference, focusing on what her staff calls "significant cash flow constraints" as a result of the political impasse that has kept the state without a budget since July 1. Munger previously has warned of a balance of unpaid bills approaching $9 billion by the end of 2015, and her office has expressed concerns about making payments mandated by the courts and the state constitution.
* We'll be cranking up the ScribbleLive thingy at 1:30…
- Posted by Rich Miller 128 Comments


* Republican State Sen. Jason Barickman looks ahead to the GOP messaging in next year's legislative elections…
"Do you want a tax increase — period — or do you want reforms to the governance of the state? I think that's an easy question for voters to answer," he said.
- Posted by Rich Miller 54 Comments


* Tribune…
Following the announcement that Gov. Rauner will try to sell the decaying James R. Thompson government building in the Loop, his administration says it's considering ways to go around the normal facility closure process.

Usually, a series of public hearings must take place before a legislative panel votes on a proposed closure. The suggesting is advisory though, meaning Rauner could move ahead even if lawmakers oppose the plan.

A spokeswoman for the state's Central Management Services agency said the administration is considering "a path forward" that could circumvent the hearing process entirely if all employees are moved to another state building within 10 miles of the building.

Still, "no determinations have been made yet about job relocations," spokeswoman Meredith Krantz told the Tribune via e-mail.
* I sure hope they've thought this through…
Any redevelopment could wreak havoc on CTA passengers who access the Blue, Green, Brown, Orange, Purple and Pink lines via the Clark/Lake station at the Thompson Center.

More than 5.5 million passengers entered at Clark/Lake last year, making it the second-busiest station in the city, CTA spokesman Jeff Tolman said. In an email, Tolman said CTA officials are "reviewing existing contractual agreements to determine what impact the proposed sale/demolition would have on the Clark/Lake station — both the elevated and the subway stations."

The Illinois secretary of state's office has an office in the lower level where people can renew their licenses or get new plates and stickers. More than 226,000 people a year are served at the location, making it one of the 10 busiest in the state.
* Meanwhile…
"The reason this is happening is because Gov. Quinn let the building go the same way he let the governor's mansion go, by refusing to spend money on either building," [former Gov. Jim Thompson] told Sneed.

"That's the situation Gov. Rauner is now facing," said a calm, but obviously disappointed, former governor.

"During Quinn's entire term in office he refused to maintain the building properly," added Thompson. "Gov. Rauner is now faced with an accumulation of $100 million in deferred maintenance." […]

According to a close friend of Quinn's, "With the budget mess that he inherited, Quinn had different priorities when he was in office. When there's no money, you prioritize with what you've got. He chose to protect the state's most vulnerable citizens over buying new carpet and furniture in the governor's office." […]

Thompson also claims he tried to inform Gov. Quinn the commercial tenant of the building on the first two floors offered to pay "for restoration of that space himself, but I could never get an answer from Quinn!"
- Posted by Rich Miller 97 Comments


* From my old pal Kent Redfield…
Hi Rich,

I am just sitting around, looking for things to keep my mind off the Cards' early exit from the playoffs. Truth be told, I am not a Cub hater, so I will gladly root for them against any of the teams left in the playoffs.

I know this is not new and it occasionally gets reported in the press, but it drives me nuts that the Governor keeps talking about term limits and redistricting reform in the same breath that he talks about necessary reforms that will help the Illinois business climate and turn our economy around.

The Governor's constitutional amendment on redistricting (HJRCA 40 or 42) would not have any impact until the 2022 election and if the Governor gets elected to a second term and if he keeps his pledge to serve only two terms, then he would be leaving office just before the legislature elected under the new map would be sworn in.

The Governor's constitutional amendment on term limits (HJRCA 39 or 41) is a ten year limit for legislators, but it would not have any impact on the House elections until the 2026 elections since service before January of 2017 would not count against the ten year limit.

It is a little more complicated for the Senate because a Senator elected for a four year term in 2016 and a two year term in 2020 or a two year term in 2016 and 4 year term in 2018 would have 6 years of service toward the limit before the 2022 election. Senators in these circumstances that ran in districts that were 2-4-4 in 2022 would be limited to 8 year of service since running for a 4 year term in 2024 would give them 12 years. This would potentially be 1/3 of the Senate, but incumbent losses or decisions not to run for reelection would surely make the number smaller. For the Senators with 6 years of service going into the 2022 election who ran in districts that were 4-4-2 or 4-2-4 would be able to serve a 4 year term and get to 10 years of service. This would potentially be 2/3 of members of the Senate although the number again would not be that high due to losses and decisions to run for re-election. Since the sequencing of Senate terms is a random draw, the term limit proposal would have a random effect on a few incumbent senators every 10 years, limiting them to 8 years rather than 10 year of service depending on the luck of the draw.

The limit on 8 years of service in any executive office starting in January of 2017 would have some weird effects, but basically would not have any impact until the 2022 election where all the current incumbent constitutional officers and whoever is elected Comptroller next year could not run for any executive office, assuming they run and are reelected in 2018.

Bottom line, the Governor's term limit proposal would not have any impact until the 2026 election for the House, the 2024 election for the Senate and the 2022 election for constitutional officers.

I know I am probably being silly, acting like the Governor actually cares about the content or the impact of these proposals, but once a policy wonk, always a policy wonk.

I think I am reading these two proposals correctly. If I am, then holding the budget hostage for "reforms" that will not have any impact until 2022 for redistricting and 2022, 2024 or 2026 for term limits is beyond crazy and the worst kind of pandering. How about this for ad supporting the Turnaround Agenda?

"Turn the Illinois economy around. Tell your legislator to pass the Governor's term limit proposal and we can force Speaker Madigan out of office in January of 2027, just a few months shy of his 85th birthday"

Having vented, I will go look for some carb free, salt free, low cholesterol way to drown my sorrows that does not violate any of the Illinois Substance Abuse Laws.

Keep up the [cardio] rehab, it is really worth committing to.

Take care,

Kent
- Posted by Rich Miller 78 Comments


* Note the unmentioned conflicting statements here…
Rauner took time again on Tuesday to sell his agenda, offering a counterpoint to characterizations made by House Speaker Mike Madigan.

"When someone says to you that our requests or our recommendations are extreme, I hope you ask them what they mean by that," Rauner said. "The vast majority of the people in Illinois, Democrats and Republicans, support term limits — not extreme … support redistricting … vast majority of states Democrats and Republicans have taken things out of collective bargaining. Democrats in Illinois have done that. Not extreme.

"So don't buy the argument that it's extreme. People say, the governor is trying to hurt the middle class of Illinois … that is not the case. The middle class of Illinois is not helped by big government bureaucracy."

When asked how he explained his poll numbers dropping if Illinois residents were on board, Rauner laughed.

"All I can say is, I don't pay attention to polls," Rauner said. "Everywhere I go in the state I've got people coming up to me by the hundreds [saying], 'Stay strong, governor. Don't back down, governor.'"
So, on the one hand the governor says the "vast majority" of Illinoisans support term limits and redistricting, which indicates that the governor pays close attention to polls.
On the other hand, he says "I don't pay attention to polls."
And on the other hand (yes, I know I'm up to three hands, but so is the governor), Rauner's folks touted a favorable poll just days ago.
- Posted by Rich Miller 26 Comments


* Probably not a surprise…
Newly appointed state Sen. Chuck Weaver said he backs fellow Republican Gov. Bruce Rauner on his Turnaround Agenda, as he prepares for his first day of session next week.

Rauner's agenda has been a sticking point in the budget stalemate, which has lasted more than 100 days. He's calling for tort reform, changes to the way unions and the state negotiate contracts and a property tax freeze. Weaver, R-Peoria, called the items on the agenda "critical."

"If Gov. Rauner wasn't in Springfield, I would have never touched this job," Weaver said. "I think we all want to do things that impact our community, but you're not very smart if you try to do it in a way that can't be effective. If he wasn't there I don't believe my job would be effective."
I say this isn't a surprise because Sen. Weaver comes from one of the wealthiest families in the Peoria area, so his pro-business bonafides are impeccable. Weaver's late father built up a very large and thriving business, which included everything from one of the top angus beef operations in the world to a large string of KFC restaurants. The family farm has also hosted at least one US President.
* But this is a bit of a surprise…
Though he agrees with the governor's proposed reforms, Weaver thinks Rauner should spread his efforts out over a few years instead of asking for everything at once.

"I've never heard the governor say this, but if he could just get one or two of the items on his agenda every year, it's going to take three to four years to get them, and we're going to see big change in our state over the next five to six years as a result of that," he said.
Seems practical to me.
The Senator should probably expect a snarky phone call from Richard Goldberg in three… two…
- Posted by Rich Miller 17 Comments


* From John Gregory at the Illinois Radio Network…
U.S. Sen. Mark Kirk (R-Ill.) will have a primary challenger.

Oswego businessman James Marter is entering the race, claiming Kirk's stances against defunding Planned Parenthood and for gun control have made him little different than Democrats in the Senate.

Marter has heard it said that Kirk's moderate positions are what gives him a chance to win a statewide election, but he'd like to see firsthand if voters will back a more conservative candidate like himself.

"That's kind of the mantra out there, that you have to be a moderate to win in Illinois, but I think we need to run a conservative in Illinois to test that model and see if it's really true," Marter said.
In the history of Illinois, has a moderate Republican incumbent ever lost a statewide GOP primary to a completely unknown ultra-conservative challenger?
Indeed, Marter might actually turn out to be a good thing for Kirk if the incumbent tees off on Marter to reestablish his moderate bonafides for the fall campaign.
- Posted by Rich Miller 28 Comments


* Finke writes about a recent Senate GOP Leader Christine Radogno tweet…
"Sen. Radogno: Gov. Rauner offered two things today — reforms and compromise. Democrats have to compromise if we are to avoid their tax hike."

Really? Because Rauner has said he's open to revenue enhancements (also known as take hikes) to balance the budget. He wants the legislature to adopt his pro-business and anti-union proposals before he'll talk about it, but he hasn't ruled it out.

Someday there may be an end to the impasse, and tax hikes could well be part of the solution. Some Republicans may well be called on to support them. Until then, the GOP might want to show some restraint before dismissing any tax hike as something being foisted by the Democrats alone.
The tweet should've read: "Democrats have to concede to the governor's demand to whack unions if we are to pass a tax hike."
- Posted by Rich Miller 32 Comments


* Democratic US Senate candidate Andrea Zopp hasn't had a great few days in the earned media department. Laura Washington…
Outsider status is in vogue. Just ask Donald Trump, Carly Fiorina and Ben Carson, marquee disrupters in the GOP presidential primary slugfest. The New York Times recently mentioned Zopp in an article about the rise of "anti-establishment" Democratic candidates.

However, Zopp's resume includes a decidedly establishment stint as a member of the Chicago Board of Education.

In October 2012, she and the rest of the board voted unanimously to approve Barbara Byrd-Bennett as chief executive officer of the Chicago Public Schools. In June 2013, Zopp voted to approve a $20.5 million contract with SUPES Academy, to train the district's principals and administrators.

On Thursday, Byrd-Bennett was named in a 23-count indictment, charged with helping SUPES get CPS contracts in exchange for kickbacks. Byrd-Bennett had previously worked for SUPES.

Now Zopp must defend her support of what appears to be a felonious and costly deal at a time when CPS was in financial crisis. Today, the schools may be on the verge of bankruptcy.
The contract does appear to have been felonious, but others say it was still a good deal and the bankruptcy stuff is hyperbole, but that piece was not good at all.
* Carol Marin…
We, the public, did not learn of Barbara Byrd-Bennett's profiteering relationship with a private education company from CPS. Nor from the mayor. Nor from the Chicago Board of Education, which to this day is afraid to challenge him. No, it was thanks to Catalyst, an independent education newsletter and an intrepid reporter Sarah Karp who, two years ago, asked simple questions. Why did Byrd-Bennett's former consulting company get a no-bid $20 million contract almost immediately after she was hired? A company most educators knew nothing about? A company the Emanuel administration had worked with in hiring Brizard before firing him and hiring Byrd-Bennett? At a time when the board was so broke it was shuttering 50 schools?

People, Sarah Karp simply started with a Google search!

Did CPS' army of lawyers, staffers, and pinstripe board members — including Andrea Zopp who is now running for U.S. Senate — ever consider asking those questions? Or were they too afraid to cross the guy on City Hall's fifth floor?
* Tribune…
Former CPS board member Andrea Zopp, who is now running for U.S. Senate, visited the Tribune Editorial Board in August. Asked about the SUPES contract, she said the board was aware Byrd-Bennett had ties with the company and it did not raise red flags.

"That was a plus, not a negative because she had experience with them," Zopp said. "So being an employee in and of itself would not raise a bell. To me it was (Byrd-Bennett saying), 'I work there. I know what they do is good. I did it.' Me, at the time, I had a lot of respect for her and what she had done so that was a plus."

No alarms? Really? It's clear from the indictment that Byrd-Bennett sought to improperly leverage her position — and to hide her deal with SUPES from the school board. That doesn't excuse board members for making it so easy.
* So, as I told you on Friday, Zopp is going over the media's heads to voters during tonight's Democratic presidential debate with some ads on CNN. The first one touts her as "the new choice in the race for Senate"…
The ad also focuses on police misbehavior, without actually saying so.
* The second is a bio spot, describing her as a tough prosecutor and foe of corruption as well as a "community leader and mom"…
* The final ad is apparently designed to air just after the debate. Among other things, Zopp touts herself as "the great-granddaughter of a slave"…
- Posted by Rich Miller 21 Comments


* AP…
A lawmaker panel is expected to hear testimony on a measure that would automatically register Illinoisans to vote when they obtain or renew a driver's license or state identification card.

The director of elections for Cook County Clerk David Orr is among those due to testify Tuesday in Chicago.

The Springfield bureau of Lee Enterprises newspapers reports there are roughly 7.5 million registered Illinois voters, about 70 percent of those eligible
* Erickson…
Secretary of State Jesse White has not taken a position on the measure while awaiting more details, including whether the change would increase waiting times at driver's license facilities and boost costs to train employees to be election registrars. […]

State Sen. Dave Luechtefeld, R-Okawville, sits on the subcommittee that will debate the idea Tuesday at a hearing in Chicago.

He said he is not familiar with the proposal, but said he believes making registration automatic could result in uninformed voters going to the polls.

"If you have to go out of your way to register to vote, you usually have a larger stake in the process. I believe an uninformed voter can actually be harmful to the United States," Luechtefeld said.
Sen. Luechtefeld's belief goes all the way back to the founding fathers. It's been a constant source of tension in our political process.
By the way, California recently became the second state, after Oregon, to enact automatic voter registration into law. From the California Secretary of State…
"Citizens should not be required to opt-in to their fundamental right to vote," Padilla added. "We do not have to opt-in to other rights, such as free speech or due process. The right to vote should be no different," Padilla added.
Gov. Rauner has, in the past, supported laws that make it easier to vote or to register, so we'll see what happens this time around.
* Meanwhile…
Illinois' next election isn't until March, but you can go ahead right now and register to vote in it. More the procrastinating type? A new state law says you can now also register right up until, and on, the day of the election, at any precinct.

Republican Rep. Mark Batinick of Plainfield says that's expensive; judging by how many took advantage of a trail run last year, he says "it would be cheaper for us to send a limousine to the people who are too lazy to register to vote, bring them down to the clerk's office, have 'em vote, take 'em out for a steak dinner."

Batinick doesn't want to do away with same-day voter registration; rather, he proposes scaling it back, so there'd be set places for voters to register on election day. His proposal says that in places like the suburban collar counties only one, centralized same-day voter registration location would be required for every hundred thousand residents.
* Rep. Batinick must've missed what happened in Chicago last November…
Brett Phillips headed to the polls at Welles Park in the early afternoon on Tuesday, thinking he'd outsmarted the lunchtime crowd of voters.

The joke was on him.

"I got here at 3," said Phillips, as the clock ticked past 6 p.m. […]

At one point, the line of people waiting just to register — there would be another wait to vote — stretched outside the fieldhouse nearly all the way through the park to Montrose Avenue.
*** UPDATE *** From James P. Allen, the Communications Director at the Chicago Board of Election Commissioners…
Hi Rich,

In Chicago, 3,413 citizens used Election Day Registration at five sites at the Nov. 4, 2014 General Election.

We essentially extended by one day the time we used five early voting sites. Those were all in public buildings. The equipment was already in place. So the total cost was really staffing for an extra day. The staff downtown would have been here in either case, so there were no costs associated with this site. The approximate cost, if I calculate it on the high end, was $7,000.

That works out to $2.05 per voter who used Election Day Registration.

Best,
Jim
- Posted by Rich Miller 68 Comments


* Tribune…
As Cook County State's Attorney Anita Alvarez gears up for her first contested Democratic primary in eight years, she is trying to remind voters of her humble background, highlight her long history of prosecuting crimes and paint herself as a reformer concerned as much with justice as notching up convictions.

She plans to release a web video Tuesday that will serve as her formal campaign announcement for the March 15 contest. Preparing to challenge her are Kim Foxx, a former prosecutor backed by County Board President Toni Preckwinkle, and Donna More, also a former prosecutor now in private practice.

"I grew up in Pilsen — neither one of my parents had a high school education," Alvarez says, as video of her is interspersed amid older photos and background music that sets a dramatic tone. "My dad was a waiter, and my mom worked as a seamstress, after he passed away when I was 12 years old."

Alvarez goes on to note she's worked as a prosecutor for 29 years, saying it is "my calling … my passion" to make sure victims "get the justice that they deserve." Then, addressing criticism that she's not done enough to reform the criminal justice system and been too slow to probe some alleged wrongful prosecutions, she declares, "The role of a prosecutor is not rackin' up convictions. It's about getting to the truth."
* Yes, this is a web video, not a TV ad. But I don't know what sort of folks they believe will watch it for two and a half minutes…
- Posted by Rich Miller 25 Comments


* My weekly syndicated newspaper column…
Last year, gubernatorial candidate Bruce Rauner pledged to "crack down on waste" in government in order to save taxpayers more than $140 million.

He also vowed to cut $500 million from the Illinois Department of Central Management Services and find another $250 million in Medicaid savings.

Very little of that has happened to date, as the governor himself inadvertently admitted during a speech last week in the southern Cook County suburbs.

Instead of saving $500 million at CMS, for example, Rauner touted only $15 million in savings, mainly from grounding the state's fleet of airplanes – although that doesn't take into consideration the cost of paying mileage reimbursements for all those folks who can no longer fly.

The governor identified a grand total of $107 million in what he said are savings he's found this year, but most came from cuts at the Department of Healthcare and Family Services, and people I've talked to aren't buying those numbers because some major state cost controls have been allowed to expire. He also failed to mention he vetoed a bill the Democrats said would've resulted in $400 million in DHFS savings – far more than his own stated campaign goal and lots more than the $70 million he claims to actually have saved.

Rauner also bemoaned the lack of a budget and the myriad court orders which are forcing state spending at last fiscal year's levels.

"I can't control" the court orders, the governor said.

That's true, but the governor could try negotiating with the stakeholders and the courts to come up with more affordable orders. He's not a complete victim.

Of course, Rauner repeatedly complained that the Democratic General Assembly hasn't allowed votes on a single one of his Turnaround Agenda items.

He has a right to complain, but he's not a legislator. He needs to eventually realize he can't pass bills on his own.

Rauner also has to come to terms with the fact that "giving" the Democrats some Republican votes on a tax hike roll call in exchange for Democrats whacking unions isn't exactly a Democratic "win." To quite a few Democrats, that's a most definite lose-lose proposition.

For crying out loud, man, what about an infrastructure projects plan? How about finding anything that could help grease a victory instead of this unseemly whining about how the other side won't cave?

The Democrats, for their part, have got to get it into their heads that they have a Republican governor.

"I've stated all year that I will work with the governor cooperatively and professionally, but we will not devastate Illinois' middle class and struggling families by furthering an agenda aimed at driving down their wages and their standard of living," House Speaker Michael Madigan said shortly after the governor's speech last week.

OK, well, first of all, comparing Rauner to Rod Blagojevich earlier this year was definitely neither cooperative nor professional on Madigan's part, and his press secretary claimed the governor was acting like "a scared second-grader" when he skipped out of that south suburban speech without taking reporters' questions.

Apart from that, Madigan's two pension reform laws most definitely were designed to reduce the standard of living of retirees. Rauner was absolutely right last week to point out the various labor law exemptions Madigan has passed for Chicago. Even so, that doesn't mean the Democrats ever would accede to Rauner's demand teachers and local government employees should be stripped of their right to bargain over wages, benefits, overtime and working conditions. Ain't gonna happen, man.

Eventually, because the governor is so anti-union and won't talk about a budget until he gets some wins on that front, Madigan and the Democrats are going to have to do something that unions don't love or this impasse will never end.

The problem for the Democrats is intensely political. Rauner's horrible idea to spend the first four months of his administration touring the state demanding a so-called "right to work" law united unions like never before. Some major trade unions actively backed cuts in pension benefits for public employees, believing it would free up money for other state spending (a position encouraged by Madigan, by the way). Now, thanks to Rauner, they're all one big happy family.

The Democrats are so frozen in position they can't or won't budge until things get so bad they will have no other choice but to ding the unions at least a little bit, which may be the ultimate plan here.

It's just a mess everywhere you look.
* Even the Bloomington Pantagraph is catching on to Rauner's victim game…
Madigan needs to understand this budget crisis happened under his watch and that the practice of spending money the state doesn't have must end. He needs to fully grasp the fact that the state's voters elected a Republican governor, meaning citizens want some of the reforms Rauner is touting.

Rauner needs to understand that Democrats aren't going to give in to demands that weaken collective bargaining rights and take away power from labor unions. Rauner is correct that Madigan has in the past supported weakening collective bargaining rights, but that isn't going to happen in the current environment.

Rauner must grasp that governing involves more than complaining about Democrats in front of friendly crowds.

Both sides need to put a clamp on the trash talking.
* But he's on the road again this week. From the Quincy Area Chamber…
Please join Great River Economic Development Foundation and the Quincy Area Chamber of Commerce as we host Gov. Bruce Rauner for a Town Hall Meeting in Quincy to discuss the path forward for Illinois.

When: Thursday, October 15, 2015 | 2:00 p.m.
Where: John Wood Community College Workforce Development Center | 4220 Kochs Lane | Quincy, Illinois
- Posted by Rich Miller 81 Comments


* From Thom Serafin…
– Joseph Tybor, the longtime Chicago journalist and press secretary for the Illinois Supreme Court, died Saturday at his home in Countryside. He was 68.

Tybor's 30-year journalism career included comprehensive coverage of a broad array of subjects, including the Vietnam War, Notre Dame football and his must-read "On the Law" column that ran weekly in the Chicago Tribune.

For the past decade and a half he was a diligent advocate for the Illinois Supreme Court and spearheaded key changes to the Open Meetings Act, which allowed cameras into Illinois courtrooms for the first time.

"His relationships with reporters and his love and passion for the law made him such an absolute great fit at the Supreme Court," Tybor's son, Adam Tybor, said. "He was amazing at his job - he fought for his beliefs."

Tybor, who was born in Chicago and grew up on the near South Side, got his start at the Chicago bureau of The Associated Press in the late 1960s. He was then drafted into the U.S. Army and served from 1969-71. He continued reporting in the military and had an influential story about the transport of deadly nerve gas republished by the AP.

After his discharge, Tybor returned to the AP and began taking night classes to earn his law degree. He earned his Juris Doctor from DePaul in 1979, and two years later he was hired by former Chicago Tribune city editor Dick Ciccone to cover legal affairs.

"At the AP you cover a variety of things," said Ciccone, who later served as the Tribune's managing editor from 1982-95. "He could so easily move from a crime story to a weather story to a sports story. He was a very fast writer and very informed on a whole wide world of subjects."

In 1986, the Tribune nominated Tybor for a Pulitzer Prize for his coverage of Chicago's criminal justice system, Adam Tybor said.

His weekly "On the Law" column was a must-read for attorneys, judges, litigants and the general public.

After several years on the legal affairs beat he transitioned to coverage of Notre Dame sports, where he flourished as the foremost authority of all things Fighting Irish. Soon after taking over the beat he started his own side publication, Irish Eyes, one of the earliest online destinations for sports information.

Irish Eyes was a subscriber-based, bulletin board-style site where Tybor published inside information about Notre Dame.

"We just found a letter from Lou Holtz," Adam Tybor said, "saying 'Joe Tybor would be the only person I would consider letting write a book about me.'"

After a decade on the Notre Dame beat and as the newspaper industry began to change, Tybor transitioned to a communications role with the Illinois Supreme Court.

He served as the Court's press secretary until his death.

"Everyone who ever dealt with him regarded him as tough but fair," Ciccone said.

Tybor was also a nature lover, an avid camper, canoer and paddler. He earned his instructor certification from the American Canoe Association at age 65.
Tybor is survived by his wife, Sandra; daughter, Sarah Clark; son, Adam Tybor; siblings Julia Moore, Donna Siedschlag and David Tybor. He had several grandchildren, nieces and nephews.

Visitation will be held from 3-9 p.m. Tuesday at Hallowell & James Funeral Home, 1025 W. 55th St., Countryside. Mass will be held at St. Cletus Church, 600 W. 55th St., LaGrange, at 10 a.m. Wednesday.

In lieu of flowers, memorial contributions can be made to Block Integrative Cancer Center, Skokie, Ill., or the National Pancreatic Cancer Foundation.
* Joe and I talked often about his experience with his "Irish Eyes" site. He was a big help to me through the years and was a "hands down" winner of our 2012 Golden Horseshoe Award for best government spokesman…
The Supreme Court finally allowed cameras in the courtroom this year and Tybor has been everywhere working with media and judges to make the experiment work. He's getting good coverage for the court, but also helped develop a working cameras policy in Illinois. No one else has had as much influence as a spokesman.
* From the Daily Law Bulletin…
His background in both journalism and the law made him a "logical choice" for the role of high court communications director, then-Chief Justice Charles E. Freeman said when it was announced Tybor would step into the role for retiring press secretary John Madigan.

"His ability to move comfortably in both the legal and journalistic world will better enable the court to help educate the public about its vital role in protecting the rights of citizens according to the U.S. and Illinois Constitutions and the court's own precedent," Freeman said at the time.

From there, Tybor spoke about any and all court-related issues, from obscure rule changes to annual budget requests from the legislature. He was also instrumental in more sweeping high court policies, such as the push to allow cameras into trial courts around the state.

"In one simple phrase, Joe did the heavy-lifting," said Justice Thomas L. Kilbride, who worked extensively to promote the cameras in the courtroom initiative. "He really did a masterful job of researching other states and representing proposals to the Illinois Supreme Court. He was numero uno. He was the guy out in front."
He cannot be replaced.
- Posted by Rich Miller 11 Comments


* From the Paul Simon Institute's poll of southern Illinoisans…
Almost 80 percent of registered voters in the region think the state and the nation are headed in the wrong direction. Fewer than 15 percent think Illinois and the U.S. are on the right track.

"These results probably reflect some of Illinois ' current conflicts. Most polls show that more people feel their state is doing better than the nation. Not here. " said John Jackson, a visiting professor at the Institute. […]

Only 37.4 percent approve of Gov. Bruce Rauner's performance in office, while 50.7 percent disapprove. About one in eight ( 11.9 percent ) had no opinion about the Republican chief executive.

Senator Mark Kirk's job approval rating is 30.4 percent, with 22.9 percent disapproving. A plurality of voters in the region – 46.6 percent – don't know how they feel about the GOP lawmaker.

Senator Richard Durbin has approval ratings that exceed his disapprovals , but not by much. Half ( 50.6 percent ) approve of the Democrat' s performance and a third (33.5 percent) disapprove. There are 16 percent who don't know.
* Who was polled…
The Simon Institute's Southern Illinois Poll interviewed 401 registered voters across the 18 southernmost counties in Illinois. The counties are: Alexander, Franklin, Gallatin, Hamilton, Hardin, Jackson, Jefferson, Johnson, Massac, Perry, Pope, Pulaski, Randolph, Saline, Union, Washington, White and Williamson.

It has a margin of error of plus or minus 4.9 percentage points at the 95 percent confidence level. This means that if we were to conduct the survey 100 times, in 95 of those instances the results would vary by no ore than plus or minus 4.9 percentage points from the results obtained here.
* React…
"Voters here have been in a bad mood and they continue to be," said David Yepsen, director of the Institute.

"The only surprise is how many people don't have an opinion about Senator Kirk. For a statewide Republican incumbent to have such ambivalent ratings down here isn't a good sign for him as he heads into a tough re-election campaign. He needs to be running well in this area to offset Democratic strengths elsewhere in the state," he said.

Charlie Leonard, one of the Institute's visiting professors supervising the poll, said "though Democrats and Republicans are evenly distributed in our southern Illinois sample, this is still a conservative area, and one might have thought of it as fertile ground for Gov. Rauner. For his approval ratings to be 'upside down' in southern Illinois this early in his administration may not bode well for the pro-business agenda he's been trying to push."
Charlie is right. These are not good numbers at all.
Rauner won all of those counties last year, some by as much as 2-1 or better.
And Kirk? Yikes. He's almost an unknown quantity. The only elected official doing better than expected in this poll is Durbin.
- Posted by Rich Miller 74 Comments