* This story is ostensibly about the presidential race, but put that aside…
With trade and prosperity prominent in the campaign, Yahoo Finance analyzed economic data for each state during the last 10 years to determine which states seem to be feeling the most pain from globalization and the movement of jobs overseas. For each state, we calculated the change in manufacturing employment, total employment and income during the last 10 years. Then we ranked the states on their overall economic performance. (Full methodology is at the end of this story.) These 10 states are hurting the most
* We are, of course, in the top ten…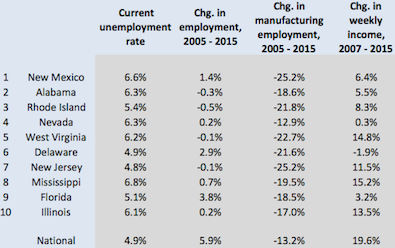 Ugh.
* Methodology…
We calculated 10-year growth in overall and manufacturing employment using statewide data for the month of December in 2005 and 2015. Income data is also from December of each year, though those numbers date to 2007, the first year the figures were available state-by-state. Income figures are not adjusted for inflation. The unemployment rate for each state is the most recent. In each of the four categories, we ranked the states (plus the District of Columbia) from 1 to 51, with 1 being best and 51 being worst. Then we added those 4 numbers together and ranked the states by the aggregate of the four rankings. We weighted all categories equally.
- Posted by Rich Miller 27 Comments


* Politico…
Donald Trump's Illinois campaign director has been sidelined after the national campaign grew furious over what sources described as a lack of organization in the state in the run-up to Tuesday's primary.

Instead, two others have assumed duties that were held by Springfield-area attorney Kent Gray, who is also running for state representative, a person intimately involved with Trump's political operation confirmed. […]

Sources told POLITICO that Gray was sidelined early last week after the Trump camp learned he made few inroads with get-out-the-vote efforts and organizing volunteers.

"One thing after another was bungled," said one source with knowledge of the discussions.
* But as the above story indicates, Gray denies it…
"It is an anonymously sourced and recklessly inaccurate story," Gray told The State Journal-Register via email on Monday.

"I have a six-month contract as Illinois state director that was always scheduled to conclude on Illinois' primary, March 15," he added.
I have no idea who's telling the truth here, but I do have one simple question: What kind of a goofy outfit waits until a week before primary day to discover they have a field organization problem in a huge state like Illinois? Election day operations take weeks, even months to build.
I mean, seriously, they don't have regular progress report deadlines?
…Adding… Trump also obviously has serious problems with his advance team and some of his supporters really are clueless…
Local firefighters from Bloomington and Normal teamed with other volunteers to repair gravesites and the grounds at East Lawn Memorial Gardens in Bloomington which were damaged by parked cars that turned the cemetery into a makeshift parking lot for the Donald Trump rally.

President of the Bloomington Firefighters Union IAFF Local 49 and Bloomington firefighter John Meckley said at least a dozen gravestones were damaged.

"There was trash everywhere, where they had driven over numerous stones," Meckley said. "Fortunately, not all were damaged, but there were rows and rows and rows of headstones that were driven over."

After pictures surfaced on social media, volunteers went to work with jacks, shovels, and rakes to re-level headstones and smooth out the grounds which were torn up by the cars and the rain.

"It was a community gathering of…. this is not tolerable, this is not acceptable," Meckley stressed.
Cue Fox News white-hot outrage. Oh… wait. It's Trump. Nevermind.
- Posted by Rich Miller 48 Comments


* Alton Telegraph…
The Loading Dock looked a lot different this time to Illinois Gov. Bruce Rauner who visited Sunday when he talked to voters, shared youngsters' birthday cupcakes and marveled at the venue's flood recovery.

Rauner and state Senate candidate Bryce Benton, an Illinois state trooper who is seeking to unseat incumbent Republican Sen. Sam McCann in the state's 50th Senate District, made a series of campaign stops Sunday in anticipation of Tuesday's primary election.

"Last time I was here, it was under about five feet of water. I'm glad to see it's recovered so well," Rauner said Sunday. "It was a brutal, brutal flood."
I really love that place. Listening to a live band on a sunny weekend next to the confluence of the Mississippi and Illinois rivers is about as good as a day can get.
But the venue floods on a regular basis. It's designed to withstand flooding and ownership appears to use the floods as a marketing tool. They have marks on a wall which show how high the floods rose every year back to the big one in 1993. It just adds to the charm.
* Anyway, from the event…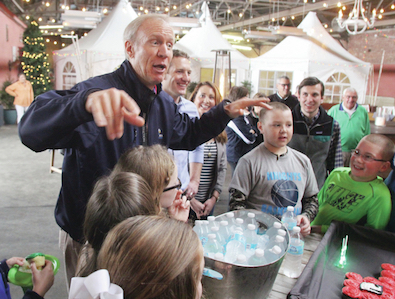 * The Question: Caption?
* For your added enjoyment, that's state Senate candidate Bryce Benton behind the governor's left shoulder. From the above story…
Rauner touted Benton as a "strong conservative" who was pro-Second Amendment, pro-life, supports term limits for elected officials, and wants to end legislative pensions.

"We have to change directions," Rauner said. "Mike Madigan and the Chicago Democratic machine has been controlling Illinois for decades and they've run us into the ditch. He's going to help me in the General Assembly standing up to Mike Madigan, that's why I'm strongly endorsing Bryce Benton for state Senate."
- Posted by Rich Miller 73 Comments


* GQ has posted a somewhat clueless interview of Rep. Ken Dunkin, but this is my favorite part…
GQ: Do you think that President Obama is doing the bidding of Speaker Madigan?

Dunkin: Yes. He. Is.
* Meanwhile, the fun continues in the 5th House District…
Ken Dunkin operatives mail false 3rd Ward Pat Dowell sample ballot to South Loop voters. I support @JulianaStratton. Let other SLoopers know

— Alderman Pat Dowell (@AldPatDowell3rd) March 11, 2016
* Mayor Emanuel on the Dunkin-Stratton race…
"We've had a standstill down in Springfield, and I think the Governor and Ken Dunkin have a partnership, and I think it's bad for Chicago, bad for Illinois. And the question is: Are we going to have somebody rewarded that, in my view, is not going to pass a budget that invests in Chicago and in Chicago's schoolchildren, or are we going to hold everything hostage?"
* And if you have the time, watch this video of Rep. Dunkin speaking to elderly constituents, many of whom won't look at him…
From the video…
"All I did, all I did was go around Mike Madigan and got the governor to release $2 billion. $2 billion for child care assistance, for the developmentally disabled and for senior services."
- Posted by Rich Miller 37 Comments


* A group of committed volunteers goes into the worst cell block in all of Cook County Jail and produces unheard of results. Wow…
The combined number of incidents prior to the implementation of Malachi Dads in September 2015 was 83.

"The numbers don't lie," says Dart. "As a group, they had incident after incident, fighting, fighting with correctional officers and exposing themselves. Now, it's zero. I'm not saying it went from whatever to zero and back up. It has stayed at zero. I was blown away."
- Posted by Rich Miller 20 Comments


* By far the single most underreported political story of the season is the involvement of Dan Proft's Liberty Principles PAC…
Spending in the 2016 Illinois Primary Election may end up a record-breaker as Super PACs take aim at incumbents and challengers who have either opposed or supported Governor Rauner's Turnaround Agenda.

One of those PACs - Liberty Principles PAC - has spent massive amounts of cash this year. As of Friday, the PAC, which is chaired and directed by radio talk show host Dan Proft, has spent over $4,835,000 on nine races throughout the state.

Starting with televison ads in late January, Proft's PAC has reported spending thus far over $3,075,400 on mailings, robo calls, television and radio ads to boost law enforcement officer Bryce Benton of Springfield, who is challenging incumbent Republican State Senator Sam McCann.
- Posted by Rich Miller 45 Comments


* Vasyl Markus on Facebook…
Words cannot describe this video.

Honestly, not a parody, but the attempt by Dorothy Brown to argue that she runs a modern court system. Never mind the outdated computers in the video, the piles of paper in the stock footage, and the incredibly low tech productions values of the video itself.

Whoever produced this has a brilliant future. . . . as a video producer for The Onion.
* It's hilariously anti-viral…
* From one of her opponents…
Jacob Meister, candidate for Clerk of the Court, who has been endorsed by all 3 major dailies, will hold a media availability and phone bank at his campaign office today (Monday 3/14) from 1 – 2pm. Meister will discuss the legacy of corruption and patronage Clerk Dorothy Brown and Alderman Michelle Harris offer voters.

Last fall the campaign season kicked off with the revelation that Brown was being investigated by the FBI for selling jobs. Now, just days before the election, Brown has released a bizarre re‐election campaign video​on social media containing footage filmed in the Clerk's office on government property, seemingly during business hours. Has Dorothy learned nothing from her past illegal behavior?
* OK, now let's move on to WUIS…
Illinois Gov. Bruce Rauner spent his Sunday trying to give a boost to a central Illinois Republican candidate for state senate. The race is seen as a key test of Rauner's own agenda, and power within his party.

Gov. Rauner stopped by a table of folks waiting for pancakes at Charlie Parker's diner in Springfield.

He gestured to the man by his side — Bryce Benton. He's a state trooper, and homeland security officer, Rauner told them. Vote for him on Tuesday.

"I need him in the legislature to help me battle Madigan. So. Bryce Benton for State Senate," Rauner said.

(Benton himself didn't say much; he told them to enjoy their breakfast).
Dude, you're the candidate. Yeah, I know you've raised almost no money on your own and are being almost totally bankrolled by Rauner, but for crying out loud take a little initiative.
* From a Tribune columnist…
Keep in mind: Even if Rauner-backed candidates win, one of Madigan's unique strengths is making friends of foes. Plenty of Democrats have joined the House as self-proclaimed Madigan rebels, only to fall politely in line. Why? They need Madigan. They need his staff. They need his campaign war chest. They need his attorneys to protect them on the ballot. They need his approval to pass legislation.

Stockholm syndrome is endemic among House Democrats.
There's nothing quite like an armchair mass diagnosis.
* Same message, but said less politely by someone else on Twitter…
@GovRauner ignore the haters gov. rauner.. they're just demo rat trolls. stay strong.. dictator madigan wants to bankrupt us..

— stephanie wilson (@stephaniew1978) March 13, 2016
*** UPDATE *** Oops. Forgot one…
.@RepKenDunkin "My colleagues don't want to be under the boot of Mike Madigan for the next 45 years." #Chicagotonight

— Paris Schutz (@paschutz) March 10, 2016
Um, so Dunkin thinks Madigan's gonna be Speaker when he's 119 years old?
Wow.
- Posted by Rich Miller 53 Comments


* As you already know, House Speaker Michael Madigan was the Grand Marshal in this year's Chicago St. Patrick's Day parade…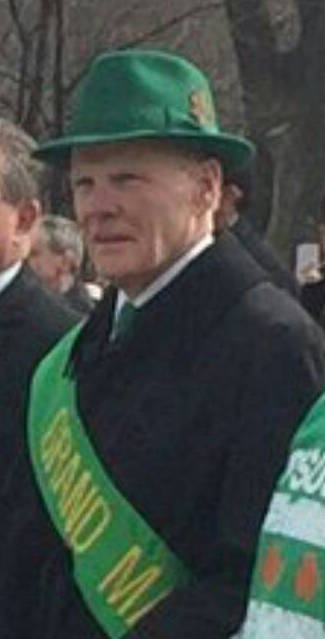 Not to get all Sneedly on you, but I'm told his hat was an exact replica of one worn by Richard J. Daley when he was Grand Marshal.
* And, just in case you'd like an optional second caption opportunity, click here.
- Posted by Rich Miller 50 Comments


* For as long as I can remember, the SJ-R's political columnist has made predictions the Sunday before an election. Here are Bernie's…
In the end, it looks like the Benton-McCann race could be very close. I'll guess McCann gets a slim win. […]

* In the 95th House District, I think Rep. AVERY BOURNE, R-Raymond, will remain the party's standard bearer despite a strong challenge from DENNIS SCOBBIE of Litchfield. CHRISTOPHER HICKS of Sawyerville is also in the race. The Democrat in the November contest is MIKE MATHIS of Gillespie.

* In the 99th House District, Jimenez will defeat fellow Leland Grove resident KENT GRAY, winning the right to take on Democrat TONY DelGIORNO of Springfield in the fall. And in the 96th, CINDY DEADRICK WOLFER, a Macon County resident, will defeat GARY PIERCE of Springfield for the GOP nomination, and the chance to challenge Rep. SUE SCHERER, D-Decatur, in November.
Your predictions in these and other races?
- Posted by Rich Miller 79 Comments


* My weekly syndicated newspaper column…
Illinois Republicans have long complained that House Speaker Michael Madigan's campaign organization doesn't just beat you; it destroys you. Madigan doesn't set out to merely win; he wants to make sure he doesn't ever have to deal with you again.

Madigan's own Democratic primary race was a good example. He posted yard signs all over his district urging his constituents to vote against "convicted felon Jason Gonzales," and his cable-TV and direct-mail ads ceaselessly pounded home that very same message. His captains also reportedly had volunteers holding those signs at the entrance to voting locations.

Gonzales was, indeed, a convicted felon. But that happened two decades ago, and he was pardoned by former Democratic Governor Pat Quinn. To hear the Madigan campaign tell it, however, you'd think the guy just walked out of prison.

Or take a look at what Madigan did to Katelyn Hotle. The House speaker's operation dropped at least nine negative mailers on the little-known, lightly funded candidate in the Quad Cities-area Democratic primary to replace retiring state Representative Pat Verschoore (D-Milan). The gist of the attacks was that Hotle, a Rock Island city-council member, profited personally from her shoddy government service, but none of it was true.

They also smeared Hotle in the media for being a "plant" of Governor Bruce Rauner. Why? The only real explanation is that she was the lone female in a four-way primary, so she could do well on demographics alone and they had to take her out. For good.

The Madigan operation reached way back into the past of Representative Ken Dunkin (D-Chicago) to find an arrest, some formal allegations of domestic abuse, and troubles paying his child support and then used that against him in his Democratic primary campaign. Dunkin started the fight by so closely allying himself with our Republican governor and thumbing his nose at his fellow Democrats, but he seems to have personally rehabilitated himself. Madigan and the people around him didn't care. It's a matter of public record, and Dunkin got whacked with it.

But as we've also discovered this year, Rauner's legislative-campaign operation is eerily similar to Madigan's. And while that's making some Republicans privately uncomfortable, Madigan's way has proven to work far more often than not over the years.

A good case in point is conservative activist Dan Proft's TV ads against Jim Acklin in the three-way 102nd House District GOP primary.

Proft's Liberty Principles PAC ran a blistering TV ad that claimed Acklin, as a school superintendent, "blamed the victim" and "did nothing" about a sexual predator in his school system who also happened to be a "family friend." The ad was based on a failed civil lawsuit – a very thin reed indeed – but it was brutal.

Rauner and his pals have pumped seven-figure contributions into Proft's PAC over the past few months. They've clearly been involved in several races through Proft.

Rauner and his people do not want Acklin nominated because he is backed by former Republican Governor Jim Edgar, a frequent Rauner critic. So they're supporting former state Representative Brad Halbrook (R-Shelbyville), despite the fact that they don't really love the guy. Keeping Edgar's fingers out of the House has been their priority.

So they launched a second killer TV ad to build on their theme. The new spot used Acklin's own videotaped comments at a candidates' forum where he claimed to have acted "quickly and decisively" to remove the predator teacher from his school.

But the second Proft ad claimed: "In his own words, it took him four years to act. Four years." A news clip on the screen indicates that Acklin said "he was aware of an incident involving [the predator] in 2008." That "incident" was an allegation that the teacher was texting a student, but the student denied at the time that anything inappropriate was going on. The teacher was warned, and that was the end of it until the predator's arrest four years later. The ad concludes: "Acklin touts his judgment. On March 15, make your own."

Acklin raised a decent amount of money compared to similar races in prior years, but times have changed. Both sides in Dunkin's race (including Rauner's allies) dumped well over $5 million into the contest. A Senate Republican primary race in the Springfield area where the governor opposed the incumbent saw spending top $3.5 million.

Acklin wasn't able to air a response ad until a full week after the initial Proft ad aired, and after he'd already been buried with Rauner's money.
Discuss.
- Posted by Rich Miller 11 Comments


[Reader comments are now open.]
* For context, the Tribune poll (March 2-6) had Donald Trump leading with 32 percent, Cruz at 22, Rubio with 21 and Kasich at 18 with 7 percent were undecided. The We Ask America poll (March 7-8) had Trump at 33, Cruz with 20, Kasich at 18, Rubio with 11 and 16 percent undecided.
* CBS…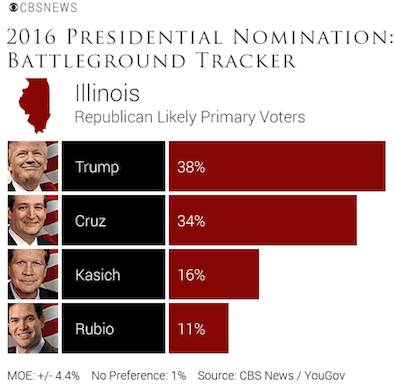 * Methodology…
This CBS News 2016 Battleground Tracker is a panel study based on 5,300 interviews conducted on the internet of registered voters in Florida, Illinois, Ohio. The poll was conducted by YouGov, an online polling organization.
It's difficult to say with certainty whether Cruz is surging because of our next poll result. But, hey, these races can and do turn on a dime, so nobody really knows what's going to happen. Friday night's UIC rally could make a difference, or not. Trump is clearly hoping it will, considering his remarks since then, but so do his opponents.
* NBC…

* Methodology…
In Illinois, the poll surveyed 1,968 registered voters (plus-minus 2.2 percentage points), 529 likely Democratic primary voters (plus-minus 4.3 percentage points) and 421 likely GOP primary voters (plus-minus 4.8 percentage points).
* Related…
* @moniquegarcia: State Rep. Cabello introduces Trump, defends his record on minorities. Points to his Mexican heritage but says above all, "I am American."

* @ChiTribCloutSt: At the Trump rally, a woman sang the Star-Spangled Banner. And now state Rep. John Cabello is endorsing Trump, citing gun rights support.

* Trump backlash swift and loud, but does it matter?: "Donald Trump created that hostile environment," said state Rep. Ed Sullivan, a Mundelein Republican and backer of Ohio Gov. John Kasich. He predicted a backlash against Trump. But if there isn't one, Sullivan said, "God help us."
- Posted by Rich Miller 17 Comments


[Reader comments are now open.]
* For context, the Tribune's poll (March 2-6) had this race at 67-25 for Clinton, while the We Ask America poll (March 7-8) had Clinton's lead at 62-25. Things can change fast in presidential primaries, so a Sanders surge wouldn't be a huge surprise, especially after what happened to Clinton in Michigan.
* With that out of the way, let's start with this new survey…
CBS NEWS POLL: Bernie Sanders is leading Hillary Clinton in Illinois, 48% to 46% https://t.co/9QVGJMkjUp pic.twitter.com/iMBAkD3Kta

— CBS News Politics (@CBSPolitics) March 13, 2016
* From CBS…
In Illinois [Sanders] is leading among white voters and is supported by almost one quarter of African Americans. In Illinois Sanders leads Clinton on the metric of being honest and trustworthy, and is helped by a majority of voters wishing to switch to more progressive policies than those of the Obama administration.
But keep this in mind…
This CBS News 2016 Battleground Tracker is a panel study based on 5,300 interviews conducted on the internet of registered voters in Florida, Illinois, Ohio. The poll was conducted by YouGov, an online polling organization.
Not loving that type of poll, but whatever.
Also, the high margin of error means this is still anybody's ballgame, but if Sanders is indeed surging, the trend is not Clinton's friend (and, yes, those are hack phrases, but I felt like using them anyway - it's the weekend).
* On to NBC…

She's above 50, but, again, that apparent Sanders surge must have her worried and is probably why I see Sanders' ads all over my teevee right now. Sanders has been smartly making the horribly unpopular Mayor Rahm Emanuel a major campaign issue, saying recently that he's happy Rahm didn't endorse him, telling reporters that if he lived in Chicago he'd be involved in the "Resign Rahm" movement and running ads blasting Emanuel. As we've already seen, numerous legislative candidates have attempted to tie their opponents to Emanuel in their Democratic primary campaigns this season.
* From NBC…
The size of Clinton's lead in all three states directly correlates to her advantage with African-American Democratic voters - 57 points in Florida (77 percent to 20 percent), 48 points in Ohio (72 percent to 24 percent) and 39 points in Illinois (67 percent to 28 percent).

Among Latinos, Clinton holds just a five-point edge over Sanders in Florida, 51 percent to 46 percent, while Sanders leads Clinton among Latinos in Illinois, 64 percent to 30 percent.
That huge Sanders lead over Clinton among Latinos here is somewhat unexpected, but he has the strong endorsement of people like Chuy Garcia.
* Methodology…
The NBC/WSJ/Marist polls in Florida, Illinois and Ohio were conducted March 4-10… In Illinois, the poll surveyed 1,968 registered voters (plus-minus 2.2 percentage points), 529 likely Democratic primary voters (plus-minus 4.3 percentage points) and 421 likely GOP primary voters (plus-minus 4.8 percentage points).
- Posted by Rich Miller 45 Comments


[Reader comments are now open.]
* Two completely polarized views of what happened in Chicago last night…
They didn't just cancel Trump's rally last night. They shut down speech. They spit on America. They awakened the silent majority.

— Joe Walsh (@WalshFreedom) March 12, 2016
The people of Chicago did not deny Donald Trump his right to freedom of speech, they just built a wall & made him pay for it. #TrumpRallyChi

— D (@Delo_Taylor) March 12, 2016
* Walsh is a Trump supporter, and he took what is usually the standard conservative line: Blame the black, brown and hippie protesters. But the right is split because Trump is still fighting off Republican presidential rivals. Some of Trump's GOP opponents pounced on him for inciting violence and Fox News at times seemed unsure about what slant to take last night. Also, check this out…
To: Illinois Media
From: Illinois Patriotic Veterans, Inc.
RE: Trump Hate Speech
Date: 3.12.2016

Illinois Patriotic Veterans, Inc. condemns the continued political hate speech of Donald Trump which last night resulted in discord and violence at Trump's Chicago rally which he cancelled.

The First Amendment does not protect Trump's speech when he suggests violence against those who have protested at some of his recent events.

Last night, Trump ran away from the violence which he himself created in Chicago, just as he ran away in 1968 from his military obligation to defend our Country.

Jim Nalepa, Illinois Chairman
Paul Caprio, Director
Paul Caprio ain't no leftie. At all.
…Adding… Caprio's group has a new radio ad which rips Trump a new one…
* Moving right along, as I noted on Friday, some early arrests were made at the rally. But the anti-Trump folks were there in force, and their chants appeared to halt further arrests.
* And speaking of arrests, a journalist for CBS was busted last night for no apparent reason…
Sopan Deb was on the floor of the arena as tensions built - raw emotions on both sides.

He interviews both protesters and Trump supporters.

Police clear the pavilion, and the streets outside are quickly blocked.

Tensions are high. Deb shoots video of an arrest. Police surround a man whose face is bloodied.

Protesters scream at police.

Deb says he was thrown to the ground and handcuffed, without notice or warning.

Illinois State Police charged him with resisting arrest although there is no sign of that on the video.
* But the Illinois State Police say they had no role in the arrest…
Hi Rich

The CBS reporter was not arrested by ISP. The officers in the video making the arrest are uniformed CPD.

M/Sgt. Matt Boerwinkle
Illinois State Police
Chief Public Information Officer
* As you probably saw elsewhere, Trump said he canceled the event after discussing things over with law enforcement…
"I spoke with law enforcement and made [the call to cancel] in conjuction with law enforcement, and I think we made a wise decision," Trump said in a phone interview on MSNBC.
* The Chicago Police Department said they had nothing to do with it…
However, CPD spokesman Anthony Guglielmi said the department never told the Trump campaign there was a security threat at the venue. He said the department had sufficient manpower at the scene to handle any situation.

Mr Guglielmi said the decision to cancel the event was made "independently" by the campaign.

Interim Supt John Escalante confirmed in a press conference that police became aware the event was being cancelled at 6:30pm, adding: "The Chicago Police Department had no role, we were not consulted or provided an opinion as to whether or not the event should be cancelled.
The U of I police claimed they were surprised at the "abrupt" cancellation of the event. The Illinois State Police's spokesman I quoted above told me "I'm not aware of any advice given to his campaign."
* And there is some speculation that Trump never actually even arrived in Chicago…
This!! Still asking if there's been any reported confirmation of Trump actually being in Chicago yesterday. Bueller? https://t.co/hX3vPYGjkF

— Ron Sandack (@RonSandack) March 12, 2016
* Mark Brown was supremely unimpressed with the anti-Trump crowd…
To be clear, I'm glad people came out to protest Trump. I was hoping for it.

But as I watched an elderly man with a walker trying in vain to return to his car because idiots were running wild through the parking garage where many of Trump's fans parked their cars, I was ashamed.

"This is what free speech looks like!" shouted a leader of the protesters on his megaphone while the old man asked the police if it was safe yet to get to his car.

I hope this isn't what free speech looks like.
Agreed, but when covering a big, fast-moving event like that, it's easy to become overwhelmed by the brief moments that you, yourself see.
* Related…
* Who is Jedidiah Brown, the pastor who stormed Donald Trump's rally in Chicago?

* @BYP_100: One of our beloved members was beat & hospitalized by police at anti-Trump protest in Chicago. Taken straight from ER to jail. #FreeTimothy

* Donald Trump, Chicago, and the Lessons of 1968

* @PhilipRucker: Loud boos at Cleveland rally venue when announcement instructs Trump fans not to physically harm protesters.
- Posted by Rich Miller 67 Comments


[Reader comments are now open.]
* The first ad was recorded off WGN TV last night by a subscriber using his mobile phone. The ad was paid for by Blair Hull's Illinois United for Change PAC. It hits House Speaker Michael Madigan on his property tax business, whacks him for not increasing the minimum wage "even though voters approved it," and says one of his "top lieutenants took bribes from the company that makes red light cameras." It's a pretty good ad…
If they had started running it a week or two ago and had lots more money behind it (from what I can tell, only about a hundred grand has been spent so far), that ad could've left a major mark.
* The second TV ad is somewhat unusual. This spot was also recorded by a subscriber using his mobile phone and it features Congressman Luis Gutierrez speaking Spanish. Check out how "soft" the ad makes Madigan appear as he speaks with his constituents…
…Adding… Helpfully translated by the original sender…
Gutierrez: "When it comes to protecting our working families, few work harder than Mike Madigan. Michael Madigan supported a tax on millionaires in order to create a billion dollar fund to guarantee a better education for our children and their success. He has also demanded that banks give homeowners more time to make their payments. March 15 is our opportunity to vote for Mike Madian."
- Posted by Rich Miller 2 Comments


[Reader comments are now open.]
* Pearson…
Lost in the coverage of Friday night's protests was the announcement that Republican U.S. Sen. Mark Kirk, viewed as one of the most politically vulnerable senators seeking re-election, said he would support Trump if he won the GOP presidential nomination. Kirk's comments came during an interview with WMAQ-Ch. 5 before the Trump event was called off.
* According to the Duckworth campaign, Kirk told Channel 5 "If he's the nominee, I certainly would," when asked about endorsing Trump.
The Duckworth campaign's response…
"Two men are making news in Illinois tonight. One of them recently said people 'drive faster through' black neighborhoods, called a U.S. Senator a 'bro with no ho,' and suggested President Obama's end goal for the Iranian nuclear agreement was to 'get nukes to Iran.' The other man is Donald Trump.
…Adding… The video clip…
* But Sen. Kirk's timing was unfortunate, to say the least…
Republican presidential candidates Marco Rubio and John Kasich suggested Saturday they may not support Donald Trump if he becomes the GOP nominee, as violence at the front-runner's rallies deepened the party's chaotic chasm.

Rubio told supporters that while he was currently sticking with his pledge to back the nominee if he wasn't the party's choice, "it's getting harder every day."

Kasich said the "toxic environment" Trump is creating "makes it very, extremely difficult" to support him.

"To see Americans slugging themselves at a political rally deeply disturbed me," Kasich said while campaigning in Cincinnati. "We're better than that."

Rubio and Kasich have previously committed to backing Trump should he win the Republican nomination, despite reservations about his qualifications. Their extraordinary shift came hours after clashes between Trump supporters and protesters Friday night in Chicago, and just a few days before Tuesday's elections in five delegate-rich states.
- Posted by Rich Miller 12 Comments