* AP…
Rauner agreed the [K-12 school funding] formula is unfair, but said two GOP school funding plans will allow time to negotiate a balanced budget and for schools to open as planned, something he's "very concerned" about.
* I asked CPS spokesperson Emily Bittner if the district supports the governor's latest proposal, which would hold all schools "harmless" but wouldn't provide any extra money for Chicago's school system. Her e-mailed reply…
Opposed. Doubled down on a broken funding formula that punishes the state's poorest kids.
* Meanwhile, the Illinois GOP sent this out on behalf of a Republican legislative candidate today…
Time for Springfield Politicians to Work Together
Legislators Need to Come Together, Compromise to Stop Nuclear Plant Closures

Last week, Exelon announced that it would begin taking steps to shut down the Quad Cities nuclear plants. Candidate for State Representative in the 71st District, Tony McCombie, issued the following statement:

"The culture in Springfield is toxic. Politicians continue to refuse to work together and compromise on anything. Eight hundred hardworking employees will lose their jobs if our legislators fail to immediately act. The closure of the Quad Cities plant will simply devastate the region and add to our decline in economic activity. It is time for our representatives put the future of Illinois first and work around the clock to come to an agreement on Exelon, our state budget, and much needed reforms before the damage is permanent."
Some good faith on helping CPS might go a very long way toward an Exelon agreement. Just sayin…
* By the way, Emily at CPS also sent me this…
Hey, Rich -

Thanks for indulging me on this. We tracked down the classroom featured in the photo you have (which I think comes from a 2014 DNAInfo story).

Goes without saying that CPS has issues with infrastructure and classrooms all over the system - which is what happens with a $3 billion deferred maintenance backlog. But in this particular case, repairs were made. Attached is a photo of what the classroom looks like today.

We've invested at least $1.6 million in capital improvements at Gale in the past five years, including repairs to steam leaks that caused peeling paint, as well as priming and painting the ceiling.

Thanks again for your time.
* She was referring to Kyle Hillman's photo that I posted yesterday. Here's the new pic…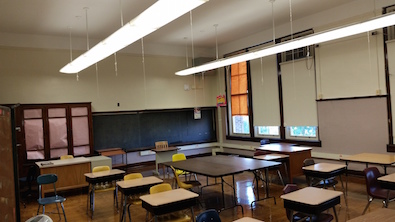 * That looks pretty good. Unfortunately, Hillman sent me another photo today along with this e-mail…
This was the hallway photo taken when I was given Congresswoman Jan Schakowsky a tour. (Whose mother once taught at the school). We let CPS know about this months ago, which was dismissed until "maybe this summer". It was asked if they could speed it up and do over Spring Break but they didn't. In the meantime, lead paint continues to fall on the kids.

Also if you look at one of the FOIA'd lead tests you will see they found maximum lead readings throughout the building - this was after they "fixed" the earlier classroom, and in another test they found lead dust on the handrails. They have a problem, but won't fix anything unless we go to the media.

We had a malfunctioning fire alarm for two years and it took Congresswoman Schakowsky, Sen. Steans and Rep. Cassidy to demand a meeting before CPS finally decided to fix it.

Would be great if CPS worked as diligently as the communications department does though.
The lead testing stuff is here. Truly scary.
* And here's the hallway ceiling pic, which according to Kyle is its current condition…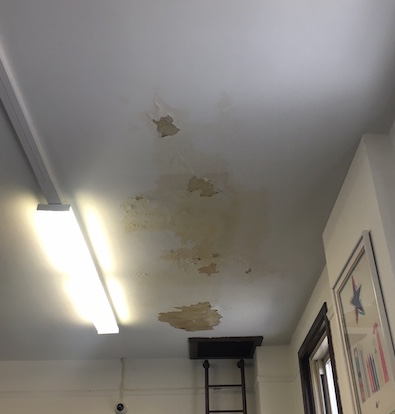 Ugh.
16 Comments















































Sorry, comments for this post are now closed.