* House Speaker Michael Madigan emerged from the leaders' meeting after about 90 minutes to say, "The House will vote today on the question of whether there should be a Rauner lame duck tax increase."
That means they'll vote on at least one of the resolutions moved out of committee today that would put members on record as being opposed to a tax increase during January's lame duck session.
* Madigan also shot back at those who criticized him for not attending yesterday's meeting. "I am available," he said. "I was available when Gov. Rauner was in Rome. I was available when Sen. Radogno was not available before Thanksgiving." He refused to answer questions about this week's Republican Party attacks.
Rep. Greg Harris said the governor's budget director gave a "very good review" of the work that was done during the working groups earlier this year. House Democrats, Harris said, sent a letter to the other three caucuses to suggest that the working groups be reconstituted and their recommendations updated.
*** UPDATE 1 ***  Leader Durkin emerged from the leaders meeting and said "Unfortunately, the Speaker isn't interested" in negotiating with the Republicans on the governor's reforms. He did say, however, that Senate President Cullerton was engaged on the topic.
Durkin said it was Madigan who had been demanding a tax hike, not the Republicans, pointing to Madigan's 2015 City Club address. But, he said the Republicans want a "true balanced budget."
But asked whether a budget could truly be balanced without a tax hike, Leader Radogno said, "I think the governor's said repeatedly that… it's an option" along with reforms. "The reforms are integral to the budget," Radogno said.
Asked whether term limits were integral to the budget, Leader Radogno said it had to do with the "perception of the state" by business owners in their decision to expand or locate here.
"Grow up," Leader Radogno said to a question about whether Madigan ought to be upset considering this week's Republican Party attacks.
Radogno said the leaders will meet again tomorrow and Friday.
*** UPDATE 2 *** The governor's office has told Republican legislators that if they want to vote for the anti-lame duck tax hike resolutions they should feel free to do so.
Meanwhile, some Democrats contend this memo from the governor's chief of staff means that Rauner has been plotting a lame duck tax hike in January, even though it basically just says the same thing that Rauner has been saying for two years…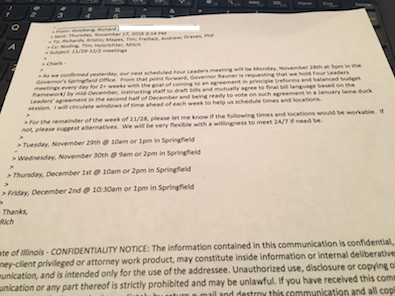 By the way, a top Rauner administration called the contention that this is evidence of some plot, "truly pathetic." The Democrats are, he said "devoid of new ideas. They can't get over the fact that they got their clocks cleaned in November."
Yeah, we're making tons o' progress here, campers.
67 Comments








































































































































































































Sorry, comments for this post are now closed.