* Sfondeles…
The budget bills came to a screeching halt because of no Republican support on a bill that would actually implement the budget, which included hundreds of millions of dollars in cuts. Republicans didn't support the measure because they want to further negotiate on taxes. A revenue bill wasn't called after that vote failed because the three — the spending plan, cuts and revenue — are intended to be passed together.

Senate Democrats on Wednesday night filed a motion to reconsider the bill that authorizes the budget.
* Sen. Daniel Biss on why he voted against the BIMP and the budget…
"Gov. Rauner expects lawmakers to give him unchecked freedom to overhaul the state's Medicaid program that insures the poorest Illinois children and senior citizens, but he's given us absolutely no reason to trust his judgment about what's best for the people of Illinois.

"Gov. Rauner has refused to do his job and introduce a balanced budget and instead has claimed in public to support bipartisan Senate negotiations while secretly torpedoing that same work. We have no reason to trust him with carte blanche authority to destroy our safety net and punish the most vulnerable.

"I am not willing to give Gov. Rauner emergency rulemaking authority to implement Trumpcare in Illinois or cause undocumented children to lose coverage.

"In the meantime, Gov. Rauner is doing his best to dismantle the Community Care Program that tens of thousands of seniors rely on to live in dignity in their homes, and I cannot support a budget that facilitates his efforts to do just that.

"Our state urgently needs a budget, and I will continue to do all I can to move us toward a fair budget resolution that adequately funds our priorities. I stand ready to work with anyone toward that goal, and I am prepared to compromise.

"But I will not accept the premise that we must balance our budget on the backs of senior citizens and the poor."
Subscribers know a bit more. The full roll call for SB 6 is here. The BIMP got 27 votes. Click here for the roll call and click here for the full text.
* Here's where the cuts/reductions/transfers are. SB 6 is the approp bill. All numbers are in millions. From the Senate Democrats…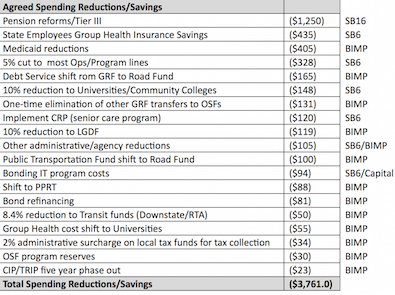 As you'll recall from yesterday, the Senate Democrats put out a statement saying: "Our side of the aisle can't, on its own, pass the list of cuts that Republicans brought to the table and we included."
15 Comments












































Sorry, comments for this post are now closed.