* As we discussed earlier, JB Pritzker appeared on WVON yesterday with Maze Jackson and Charles Thomas.
During the interview, Maze broached the issue of the building trades…
Maze Jackson: You got the endorsement of the… building trades. The building trades council. Now, we know that in the black community there has been systemic racism…

JBP: That's right

MJ: …within. Wait. What? Within the building trades.
* Jackson seemed stunned by Pritzker's possible candor (or just an admission that he was endorsed by them), but didn't follow up directly. Instead he asked how he was going to fix the systemic racial problems within the building trades. Charles Thomas cut Pritzker off to ask how he expected black peoples' support when Pritzker was being backed by unions that many blacks consider racist…
JBP: Here's what I would say. Building trades certainly are completely, there are not enough African-Americans in the building trades, in the apprenticeships…

CT: [Cross-talk] So, why would you accept their endorsement?

JBP: …or in pre-apprenticeship programs. Hold on. There are good people who are in the building trades who are not racists, who are trying to, yes, who are skilled labor, who want to make the building trades more diverse. But, here's the problem. The state of Illinois, when it contracts, when it has a capital bill, when it does any kind of construction, it actually doesn't live up to the obligation to make sure that there are [Thomas tries to interject], to make sure that there are African-American building trades working on these projects. [Cross talk as Thomas asks what he's going to do.] Listen, I have consistently said, all of them that are endorsing me, I have consistently raised this issue. By the way, some of them have raised it with me, their effort to make changes. But it's not good enough. The state of Illinois needs to require that the building trades, when they're doing business with the state, that they increase the number of African-Americans that are… [Cross talk] …

CT: Did you even consider not accepting their endorsement as an act of good faith to the black community?

JBP: Better I think to have a dialogue that increases their awareness, making sure that they're adhering to it. I think you have a governor who cares about it, who is influencing them at the state level, that is a better way to go.
Gov. Rauner has made an issue of this since the beginning of his administration. But without a capital bill, it's somewhat difficult to do anything about it.
- Posted by Rich Miller 30 Comments


* WTTW…
An Illinois legislator says striking seven words from the state's massive energy bill would clear the way for more than $2 billion in new wind energy projects.

State Sen. Don Harmon, D-Oak Park, filed a bill in January to remove language concerning wind projects from the Future Energy Jobs Bill, which passed in December and was hailed as one of the most significant pieces of state energy legislation in the U.S. in decades.

The bill included a provision that requires the Illinois Commerce Commission to develop certification and training standards for wind developers – a process that took the commission about two years when the state established similar standards for developers of solar installations and electric vehicle charging stations.

"The bill created significant uncertainty that prevented investment in Illinois by the wind industry, which makes no sense," Harmon said in a press release.
* Press release…
State Senator Daniel Biss' measure to bring small donor matching to Illinois to ensure government better reflects the people it serves advanced out of the Illinois Senate Tuesday.

"Everyone who is frustrated today by the influence that corporations and billionaires wield over politicians and the policy decisions they make should support the concept of small donor matching," said Biss, an Evanston Democrat.

"This is one way we can restore the balance of power in government and ensure that average people – those who represent Main Street America and middle-class values, not Wall Street and the corporate class – have greater influence over the decisions that are made in Springfield and elsewhere."

Senate Bill 1424 would establish a small donor matching system for statewide races in Illinois, including governor, attorney general, comptroller, treasurer, secretary of state, state senators and state representatives. The system empowers ordinary people to compete financially and ideologically with special interests and wealthy donors. It also opens up the playing field to more diverse candidates for office and leads to more options at the ballot box.

Senate Bill 1424 would weaken the influence of money in Illinois elections by doing the following:

Contributions between $25 and $150 from local donors would be matched 6:1 by public funds.
Limits would be set on the amount of public funds available to each candidate.
Candidates would not be able to accept contributions of more than $500 from a single donor.
Under the legislation, the General Assembly could appropriate money to a special fund in the state treasury. The funds would be either $1 per Illinois resident or 1/20th of 1 percent of the state's annual budget, whichever is greater.
* Press release…
Americans for Responsible Solutions (ARS), the gun violence prevention organization founded by former Congresswoman Gabrielle Giffords and retired NASA astronaut Captain Mark Kelly, applauded the Illinois House Judiciary Committee today for advancing the Gun Dealer Licensing Act (SB 1657) to help slow the flow of illegal guns in Illinois, and urged the full House to act to save lives. The bill would give state authorities and law enforcement the tools to encourage better business practices among federally licensed gun dealers and hold corrupt dealers accountable to slow the flow of illegal gun trafficking in Illinois and help keep guns out of the wrong hands.

The bill, which was passed by the Illinois Senate last month, would give state authorities and law enforcement the tools to encourage better business practices among federally licensed gun dealers and hold corrupt dealers accountable to slow the flow of illegal gun trafficking in Illinois and help keep guns out of the wrong hands.
- Posted by Rich Miller 22 Comments


* Tribune…
The head of the City Council Budget Committee on Tuesday sought to point the blame at Republican Gov. Bruce Rauner when it comes to finding a way to avoid a looming financial meltdown at Chicago Public Schools, saying in the often-blunt language she's known for that "somebody needs to take Rauner by his neck and wring it."

When asked about ways the city might be able to help the school district from going broke around the end of June, Ald. Carrie Austin toed the line of Mayor Rahm Emanuel's administration by trying to blame the governor, using rougher language in the process.

"Why won't anybody go after the governor?" asked Austin, 34th, who was referring to the prospect of further city tax increases or draining funds from special taxing districts to help CPS. "Why is it always a strain on us? Why? Nobody ever asks that question. You don't see this going on in any other school district, except for Chicago. Somebody needs to take Rauner by his neck and wring it."
* Sun-Times…
​Rauner's spokesperson Eleni Demertzis said Austin's "outlandish rhetoric can't paper over the years of fiscal mismanagement that triggered" the financial crisis at CPS.

​"Rather than throwing unnecessary insults, it would be helpful if all sides would come together and work on an agreement that balances the state budget along with property tax relief and job-creating reforms that will grow our economy," Demertzis wrote in an email.
* Back to the Tribune…
"Alderman Austin is a passionate and committed advocate for our schools, and while we all express exasperation differently, make no mistake, we're all exasperated by the governor's leadership failures," [Mayor Rahm Emanuel's] spokesman Matt McGrath said.
Twice in the past month or so, people have casually asked me why nobody has yet "taken out" Speaker Madigan.
Leaders need to realize that their words can be taken literally, particularly in this insane age.
- Posted by Rich Miller 29 Comments


* Back in 2014, it seemed like everybody was posting videos doing an "ice bucket challenge." You'll recall it was a big fad back then and it raised a ton of money for the ALS Association. Candidate Bruce Rauner posted a video featuring three helpers dumping ice water on his head. Gov. Pat Quinn did a video as well.
JB Pritzker's ice bucket challenge video is no longer online. A reporter pal brought up the subject last night. He said he saw the video back in the day, but he can't find it now. So, I reached out to a trusted opposition researcher last night. He told me he'd also heard about it, but, sadly, has come up empty time and time again. I asked the Pritzker campaign what happened to the video this morning and am still awaiting a reply.
* Pritzker is dressed as the Dr. Evil character from the "Austin Powers" movies in his video, stroking a toy cat and wearing one of those bald wigs. The reporter who watched the video says Pritzker talked in a Dr. Evil accent while cheesy, 70s style sound effects played in the background. From a story done at the time by Shia Kapos…
He appears in his video, above, dressed as Dr. Evil, the fictional character played by actor Mike Myers in the "Austin Powers" films — bald head, tipped pinky and all.

Seated in a chair "deep below the Merchandise Mart," he says he was nominated "by the techno geeks at 1871."

"Little do they know, I'll be turning the tables on them with 'operation ice bucket,'" he says with a sinister laugh. "I'll pour one million bajillion gallons of water over Chicago!"

The buckets drop with the help of two assistants, and a drenched Mr. Pritzker then peels off his mask to say he's giving $26,000 to the ALS Association — $100 for each of the 260 companies in 1871. He also challenged his "evil brother" Tony Pritzker, Graff CEO Henri Barguirdjian and professional poker player Phil Hellmuth.
Man, somebody really needs to find this thing.
* A person who hates the Pritzker family posted a screen capture, which is all we have to work with. Click the pic for a larger image…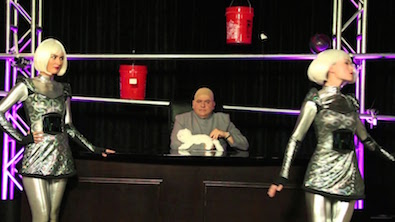 - Posted by Rich Miller 39 Comments


* Maze Jackson and Charles Thomas interviewed JB Pritzker on WVON yesterday. Click here for the full video.
A caller who said he owns a small company in the building industry asked whether Pritzker would consider making a commitment to putting a million dollars into a black-owned bank "so we can have loans and hire people." Pritzker's reply…
"As a matter of fact, I have made a commitment to do that. And we've met with a number of African-American faith leaders who were very encouraging about that and felt that's a very important way for us to help create employment in the African-American community. So, it's something I've already done."
* Um, remember when candidate Bruce Rauner deposited a million dollars into a black credit union? The Democratic Governor's Association was not amused…
Republican candidate for governor Bruce Rauner made good on a promise to deposit $1 million in a South Side credit union for small business loans.

Rauner arrived in his 20-year-old Volkswagen van. At the teller's window he made a $200,000 donation and an $800,000 deposit to help the African American-owned credit union make small business loans. […]

"Is he the kind of person who would rather buy votes in the community as opposed to being here all along?" said Rikeesha Phelon of the Democratic Governor's Association.
* Back to yesterday's interview…
Charles Thomas: I have talked to so many black people over the last several weeks, who say JB's my guy. Man, they got JB's personal cell phone number. Everybody's trying to get paid. These politicians and political operatives, it seems to me, by JB Pritzker because they know he's got three and a half billion dollars…

JBP: That's not happening in my campaign. Listen, we have gained a lot of support in the African-American community which I think is a direct consequence of my spending a lot of time in the black community.

CT: Not money.

JBP: No, no. I am spending time in the black community. You ask, people have seen me everywhere. I am going West Side, South Side, everywhere. I've spent time and I have a lot of friends in the black community for some time. So, I've been successful I think because I'm working hard.

CT: So, you're not being that guy who's buying, you say you're not buying…

Maze Jackson: Hold on. Look. In the interest of what's in it for black folks, and there's a half billion dollars being spent, find some black people to hire, because we need to participate in the economic part of this election process too.
So, on the one hand he's going to make a large deposit into a black bank. But on the other, he's spending time not money, which is either a good thing or a bad thing depending on your perspective.
* Watch a clip…
- Posted by Rich Miller 21 Comments


Asked Monday if he believed Democratic leadership was working against him and aligning behind Pritzker, Kennedy warned against creating a political party that won't allow dissent.

"I think there are elements within the Democratic Party that would like to have someone fight their battle for them. I'm not among them. I believe you look back at the great history of the United States and the progress that's been made, it always occurred when people fought for themselves," Kennedy told reporters. "I think we're at an impasse like that now in our state. And if people think that they can get somebody else to fight their battle for them and have a good outcome, they're wrong."

Kennedy pointed to Rauner's influence on the Republican Party, which the governor heavily funds, and the reluctance of GOP lawmakers and officeholders to break ranks.

"One of the worst things that Gov. Rauner has done is to silence his own party. None of the state reps, none of the state senators, none of the constitutional officers have spoken up against him. None have spoken out. And we don't want to replicate that system in the Democratic Party as well."
"I don't think this is about individuals. I think this is about a whole network that makes it nearly impossible to see integrity in the system for the average voter, the average taxpayer. Having faith in government, understanding that government can be an ally, understanding that government can function at a higher level is something that occurs in other states. We don't have that here because people don't believe that the system is just or rid of corruption. We need to rid it of corruption by changing the system."
- Posted by Rich Miller 8 Comments


* Press release…
J.B. Pritzker Lying to Reporters
Peddling in Alternative Facts about Uninhabitable Mansion Scam

Just weeks into his campaign for Governor, J.B. Pritzker is already lying to reporters about troubling tax breaks he took out on two of his Gold Coast Chicago mansions.

Asked about the questionable property tax appeal on his $3.7 million mansion on a radio show yesterday, the Associated Press reports that Pritzker says he "appealed only once in the nine years he has owned the property".

That is patently false.

According to the Cook County Assessor, Pritzker appealed his 2016 property taxes, again claiming his mansion was "uninhabitable".

This means that Assessor Joe Berrios reduced Pritzker's assessment by 83% for the second year in a row.

And as a result of his 2015 appeal, Pritzker also received huge refunds retroactively for years 2012, 2013, and 2014 – netting him a $132,000 check according to the Chicago Sun-Times.

Capitol Fax also reported yesterday that Pritzker appealed his property taxes on a third Chicago property - a condo near his Gold Coast mansions.

All of this means that Pritzker's claim that he "appealed only once in the nine years" is a lie. He's appealed twice and has received property tax breaks for five years.

Will J.B. Pritzker stop shortchanging Chicago schoolchildren, lying to reporters, and end his scam?
- Posted by Rich Miller 30 Comments


* Tribune…
In the long and raucous, altogether lively if recently beleaguered history of Chicago newspapers, Monday will rank as a "stop-the-presses" day after it was announced that, in short headline style: "Chicago Tribune Seeks To Buy Chicago Sun-Times."

Tronc, the parent company of the Tribune, has entered into a nonbinding letter of intent to acquire Wrapports Holdings, which owns the Sun-Times as well other assets such as the Chicago Reader alternative weekly, the Aggrego digital content business and the syndicated column The Straight Dope.

The announcement follows months of discussions between Wrapports and Tronc and after both organizations worked closely with the Department of Justice's antitrust division.

The tentative deal means Chicago would remain one of the last two-newspaper cities in the country, though those papers would operate under a single corporate owner. Terms of the potential deal were not disclosed.

"There are minor points still to be worked out, but we are confident that we will be able to move forward on this transaction and reach a definitive agreement," said Tronc CEO Justin Dearborn. "This is generally viewed as good for all Tronc shareholders."
* Sun-Times…
The Sun-Times is publishing a full-page advertisement in Tuesday's paper "seeking new ownership that will commit to preserving the Sun-Times as an independent news source in the city of Chicago," Wrapports officials said in a statement.

After that, the Sun-Times will be sold to Tronc "if no other viable buyer expressing substantial interest" within 15 days, according to the Department of Justice's Antitrust Division, which investigates newspaper mergers. Tronc also would acquire the alternative weekly Chicago Reader and Wrapports' stake in Aggrego, a digital content company.

Federal investigators "will closely monitor the sale process for the Chicago Sun-Times, including whether any other viable buyer expresses interest," according to a Justice Department statement.

In a memo to employees, Sun-Times Publisher and Editor In Chief Jim Kirk said the companies entered discussions several months ago and informed the Justice Department of the "possibility of a transaction."
* Robert Feder…
Assurances by both companies that the Sun-Times would remain editorially independent did little to quell fears of substantial cutbacks to the city's No. 2 daily. The Tribune's own account described the deal as "providing a lifeline to the scrappy but struggling tabloid." Others viewed it as the beginning of the end.

The man behind all the machinations is Michael Ferro, the Chicago tech entrepreneur who headed Wrapports until 2016 when he switched sides to become chairman of Tribune Publishing, later renamed tronc.

Ferro has never disavowed ambitions to take back the Sun-Times and combine its ownership with the Tribune. In an interview weeks after he took over the Tribune, Ferro said of buying the Sun-Times: "I do see that someday, and why not?"
* Crain's…
The structure for the two newspapers will not look like a joint operation venture, a setup that some rival newspapers have used in years past to share costs without blending their newsrooms. Knight didn't provide details on what exactly the infrastructure would look like, what costs would be shared and whether there would be new management. "We are working through all of that right now," he said. "The Chicago Sun-Times will continue to be operated as an independent newsroom, and that's where there's benefits for the readers and citizens of Chicago."
* Politico…
If there's any potential political winner here, it could be Gov. Bruce Rauner. Rauner was an early investor with Ferro when he first bought the paper in 2011. Under Ferro (and Tim Knight, who has now landed back at tronc) the Sun-Times stopped all political endorsements. That is until the governor's race in 2014, when it suddenly came out and endorsed its former investor, Bruce Rauner, for governor. The Sun-Times editorial board has just reestablished its independence, moving more to the left, recently laying the state's budget impasse at the governor's feet. That's in contrast to the Trib's editorial board, which is strongly pro-Rauner.
* Related…
* Tribune Media agrees to $3.9 billion sale to Sinclair

* New hires at WICS-TV; Sinclair content defended

* Sam Zell writes about his wins, losses — including Tribune deal
- Posted by Rich Miller 14 Comments


[The following is a paid advertisement.]
Illinois Civil Justice League President John Pastuovic warns legislators about the perils of HB 2774/SB 1502 & HB 3449 in a recent interview with the Madison-St. Clair Record:
"Internet privacy legislation making its way through Springfield is more in line with the interests of the trial bar than it is with consumer protection, critics say."
"John Pastuovic, president of the Illinois Civil Justice League, said that everyone would likely agree that reasonable guidelines are needed to ensure consumer privacy, but the current proposals in Springfield "are falling in the same old trial lawyer trap of using lawsuits to enforce the new standards."
"Pastuovic also said that legislators should keep working until they find a better way to protect consumer data. 'There has got to be a better way" than what is currently being proposed,' he said."
These bills are wrong for Illinois – VOTE NO ON HB 2774/SB 1502 & HB 3449.
- Posted by Advertising Department Comments Off


* From Gov. Rauner's SJ-R op-ed…
A bad deal for taxpayers is worse than no deal at all, because it preserves the broken system and continues our state's slow and painful decline.
I addressed this topic in a recent Crain's Chicago Business column.
Even if Rauner is right (and he may be) that a bad deal "continues our state's slow and painful decline," he completely ignores the fact that no deal would take that slow decline and jam it into overdrive.
No deal means $24 billion in overdue bills by January of 2019. No deal means junk bond credit ratings, which means Illinois won't be able to borrow in 2019 to pay off that mountainous backlog. No deal means an accelerated decline and even collapse of universities and colleges and more huge tears in our already ripped up social service fabric. No deal means more delays in funding for K-12 schools which are currently dealing with a billion-dollar backlog. No deal means higher unemployment. No deal means chaos.
* Meanwhile, this reader said he received an automated poll…
My wife answered a telephone poll yesterday (yes, we still have a landline) that tested Rauner against Pritzker and Kennedy, then had multiple questions about the "four and four" compromise – 4 year increase in income tax, 4 year complete property tax freeze along with multiple levels of cuts to Medicaid, higher ed, local government funds (10%), state operations, mass transit, etc. Wish I took notes on all the listed items and cut levels but we were finishing dinner at the time.

Pretty clear from the questions that the poll was by the Rauner camp.
- Posted by Rich Miller 57 Comments


* GOP Rep. Dave Severin was listed as having an excused absence (click here) on a recent House floor vote to prevent the layoffs of some Department of Corrections prison nurses. Here's his explanation…
"I did what I did for one reason and that is so people would ask me why I walked off," said Severin, R-Benton.

Severin said his decision April 6 to leave Springfield was specifically related to a pending vote that afternoon on Senate Bill 19, which would require the Illinois Department of Corrections to maintain staffing levels at what they were in January 2016 for registered nurses and medical technicians — affecting about 300 positions. […]

Severin said he wanted to support the nurses but faced pressure from Republican Party leaders for him to vote against the bill. Therefore, he decided to skip town that day instead of voting for or against the bill.

"I refused to vote against the nurses," Severin said. "I didn't think it was the thing to do but there also was pressure on me not to vote for it. I said, 'Here's what I'm going to do then. I'm walking off the floor because I refuse to vote against those nurses.'" […]

Severin said that it is a "fair question" for people to ask him why he didn't vote in favor of the legislation if he believed in the intention of the bill, regardless of what pressure he felt from his party leadership. Severin did not specifically say who in the Republican Party leadership pressured him to vote against the bill, or in what way they pressured him. He only would describe the pressure as coming from "the Republican Party."
Any guesses?
- Posted by Rich Miller 47 Comments


* From yesterday…
House Democrats seeking common ground with Gov. Bruce Rauner in order to end the budget stalemate and put the state on a path to fiscal stability will outline additional reforms they plan to present to the governor at a press conference Tuesday at 10 a.m. in the Capitol Blue Room.
* Monique Garcia offers up a preview…
Democrats declined to provide details of their plans in advance of a Tuesday morning news conference, but Madigan's previous proposals included cutting the corporate income tax rate by at least 50 percent but applying that rate across the board so that a vast majority of businesses that currently don't pay any income taxes will have to pony up.

He also called for keeping in place a sometimes controversial tax credit for businesses that create new jobs, and banning "any future tax incentives for corporations that ship American jobs out of our country." The speaker has also pushed for expanding the earned income tax credit for low-income families, raising the minimum wage and taxing those who earn over $1 million.

With only a few weeks to go before the end of the spring legislative session, Rauner's office said it was "skeptical" about Madigan's intentions.

"After two years of playing games and refusing to negotiate, call us skeptical that all we will see from Madigan Democrats is another set of phony reforms to disguise a massive tax hike and bailout for Chicago," spokeswoman Eleni Demertzis said.
*** UPDATE ***  From the House Democrats…
House Democrats seeking common ground with Gov. Bruce Rauner in order to end the budget stalemate and put the state on a path to fiscal stability are asking the governor to consider their reform proposals that will improve the business climate while lifting up the middle class.

"House Democrats believe the budget crisis demands immediate action, and it is our hope to show Governor Rauner that we stand ready to work with him," state Rep. Barbara Flynn Currie said. "We plan to seek common ground with the governor on his proposals, and present him with items we believe should be part of the bargaining in order to encourage economic growth while lifting up the middle class."

Last week, House Speaker Michael J. Madigan appointed Currie and House Leaders Lou Lang, Arthur Turner and Jay Hoffman to work with Rauner to find compromise on issues unrelated to the state budget.

The legislators plan to present the governor with House Democratic Caucus proposals that will improve the business climate while lifting up the middle class. While the governor has prioritized changes to the workers' compensation system, Democrats are pushing for additional reforms that would prohibit insurance companies in Illinois from eliminating an insurance policy due to a pre-existing condition and would also create an Insurance Rate Review Board to prevent insurance companies from unfairly gouging consumers.

The House negotiators also plan to ask Rauner to stand with Democrats in working to close corporate loopholes that allow large businesses to pay nothing in taxes. House Democrats have prioritized cutting the overall corporate income tax to level the playing field for small and medium-sized employers, while also cracking down on large corporations that game the system to avoid paying anything in taxes.

"House Democrats have put forward a number of reforms that address the governor's goals, and we will continue pushing ideas that will strengthen the economy while also lifting up the middle class," Lang said. "We believe we can create jobs without hurting the people who work in those jobs every day. We look forward to working with the governor to find common ground and move this conversation forward by discussing his ideas in depth, and presenting him with ideas of our own."
- Posted by Rich Miller 14 Comments


* From the ILGOP…
J.B. Pritzker is under fire this week for abusing vacancy laws to get massive property tax breaks on his two Gold Coast mansions totaling nearly a quarter million dollars.

And Pritzker is slated to get the same tax breaks this year.

But questions remain – such as why the Pritzkers felt it necessary to disconnect all the toilets in the home – allowing them to claim the home as uninhabitable.

Pritzker is taking money from Chicago Public Schools and other City services, and even liberals are taking note.

Mark Brown from the Chicago Sun-Times penned a column yesterday saying that Pritzker "is not paying his fair share of taxes".
* Mark Brown…
This is not about the commonplace practice of appealing property taxes on someone's principal place of residence. This is about a very unique situation of a homeowner buying an expensive property next door and being rewarded for being a lousy owner.

As explained by the assessor's office, this tax break is intended for someone buying a property to rehab it, the idea being they shouldn't be required to pay full price on their taxes if nobody can live there.

I can't speak to the exact condition of the home when Pritzker bought it, but I can tell you it was definitely habitable.

At some point afterward, however, all the toilets in the home were disconnected. The Pritzkers haven't explained when this happened or why it was necessary.
* Pritzker told reporters yesterday in Springfield that the photos shared yesterday by the Republicans didn't show the house's problems. He claimed, for instance, that the staircase was falling off the wall…
"It was in terrible disrepair. Actually, the stairs were coming off the wall, the basement is unfinished and has a dirt floor, and so there was nothing in good shape in that house at all, and there was nothing that we did other than we asked that our taxes be reassessed because it wasn't worth what we paid for it," Pritzker said. "The truth is we probably over paid for the house, and lots of people have done that, especially in the environment of falling home prices."
He also said he plans to rehab the house sometime in the future.
* Greg Hinz…
Pritzker paid $3.7 million for the building, below the original list price of $6 million. According to a Chicago magazine story by my colleague Dennis Rodkin, he became only the third owner in 118 years of a building designed by Holabird & Root with unique features. […]

It's unclear if the building declined with age or if there was internal demolition prior to a possible rehab, but in an appeal filed with Cook County Assessor Joe Berrios, the assessed value of the property dropped from $6.3 million to $1.1 million, saving Pritzker $230,000 in property taxes so far.
OK, so read between the lines a bit. Pritzker paid $3.7 million for the house, but it's assessed value remained at or above its original $6 million list price. Usually, you'd file for a reassessment right away if you bought a house for much lower than its assessed valuation, but Pritzker didn't, which cost him some bucks he didn't need to be paying.
Not defending him or anything, but on that point some of this isn't totally out of the realm of reasonableness.
Greg also reports that Pritzker claims to have used the mansion next door "as a staging area for the complete renovation of his home next door.
Still, this is all kinda weird to me.
* Meanwhile, Mark Maxwell reports that Pritzker's property tax appeals attorneys contributed $25,000 to Assessor Joe Berrios (no surprise in that county). He also has Chris Kennedy's reaction…
"It's an inherently corruptible system. We ought to reject it. Nobody is confident that the system yields a fair outcome either for individuals - but most importantly - for the kids who depend on the income to fund their schools."
And from Pritzker himself…
"This is an attack by Bruce Rauner and by the GOP because they really have nothing else to talk about, no accomplishments to tout, and so they're taking any shot they can take. Obviously they are taking a shot at me because they think I'm a threat to them."
* Sen. Daniel Biss gets the last word…
Right now, two billionaires running for #ilgov are fighting each other over who did the better job of getting out of paying their taxes.

— Daniel Biss (@danielbiss) May 15, 2017
…Adding… OK, one more. This ILGOP video compiles some of the TV coverage, which isn't flattering for Pritzker…
- Posted by Rich Miller 37 Comments


* Gov. Rauner writing in the SJ-R…
Everyone seems to have a powerful lobbyist in Springfield but you, the taxpayers. That's why you elected me. I'm here to fight for you and stop career Chicago politicians from squeezing you dry.

For the last two years, the career Chicago politicians who run the General Assembly have been focused on one thing: Raising your taxes without any fundamental changes to their broken system. No real spending reductions or hard spending caps to balance the budget for the long run. No economic reforms to grow our economy and bring high-paying jobs back to Illinois. No relief from skyrocketing property taxes or term limits on the career politicians. Just higher taxes to fuel more government spending and bailouts for Chicago. The Democrat majority has been in power for more than 30 years, and they've overseen our continuous deficits, frequent tax hikes, job losses and more than $180 billion in debt.

Plenty of powerful lobbyists are on their side. They're just fine with an insider-rigged system that raises your taxes and rewards their special interests. But for two years we've been your voice in the state Capitol — standing up for you to say enough is enough.

Two years into our state budget impasse, it's encouraging that some Democrats are finally willing to engage in serious negotiations to resolve our differences. But as we approach the end of the legislative session, many of them are buckling under enormous pressure from Speaker Michael Madigan, D-Chicago, powerful lobbyists and special interests who want to maintain the status quo.

That's what the column in Monday's edition of The State Journal-Register by Senate President John Cullerton, D-Chicago was really all about. Republicans are pressing for a good deal for taxpayers and the pressure is mounting on Democrats not to close the final gaps.
It's always a good idea to chastise Cullerton and his caucus for buckling to Madigan. Yep. That'll work wonders, I'm sure.
* The other day, I asked the Senate President's spokesman this question: Does Senate President Cullerton believe that Gov. Rauner really wants a deal on the budget and non-budget items?
He took the question to Cullerton and this is his answer…
Yes, because I refuse to believe that the governor of Illinois would desire otherwise.
- Posted by Rich Miller 38 Comments


* From a Chris Kennedy fundraising e-mail…
Politico reported yesterday, "There's mounting evidence" that "powerful forces within the Democratic establishment" are steering political support to get behind billionaire J.B. Pritzker.

In 1960, party insiders tried to push my uncle John Kennedy out of the race for president, but he took his message directly to the primary voters.

The thing about history is, if you don't learn from it, you are doomed to repeat it. If a group of political insiders think that they can bypass the voters and select a nominee, they have learned the wrong lessons from 1960 and from last year's presidential primary too.

I am going to take our message of radical change to the voters in Illinois.

Insiders don't want to hear the truth and they don't like me because I'm the one telling it. They want to silence us because we threaten the status quo. But that's not going to stop me from working to bring change to a system that hasn't been helping families and residents across Illinois for a long time — and I hope it won't stop you either.

We need a government that works for the people of this state: a property tax system that can't be abused by the wealthy and insiders, fair funding for our public schools, expanded voter access to include more people in our political process, and comprehensive tax reform that includes a progressive income tax.

Please contribute today to help spread our message of radical change across the state — and show the political insiders that we won't be intimidated or silenced.

The people of Illinois are angry about the current state of our politics, our government, our economy, and our leaders. For many, the politics of the establishment, the economy of the establishment, and the representatives of the establishment have become the enemy.

Our current leaders have a choice: they can bury their heads in the sand — or they can embrace the change needed to rebuild the future of our state and renew the promise of the American Dream.

I know where I stand, and I'm grateful you're with me.

Thank you,

Chris
The insiders don't want Kennedy out of the race because of his ideas or because he threatens the status quo. At least not yet, anyway (although that line about insiders abusing the property tax system is starting to come close). They want Kennedy out because dey want dat guy over by dere with the bottomless checkbook.
* From the above-referenced Politico story…
There's mounting evidence that powerful Democratic players in the state — from House Speaker Michael Madigan to Chicago Mayor Rahm Emanuel — are steering unions, interest groups or politicians to throw their support behind billionaire J.B. Pritzker, the brother of former U.S. Secretary of Commerce Penny Pritzker.

The subject isn't discussed in public. Kennedy's campaign says he hasn't explicitly been asked to get out, and officials in various state and county party groups insist they will remain neutral in the primary contest.

But there's no mistaking the political calculus at work. For all the nostalgia and political romance wrapped up in the Kennedy name, J.B. Pritzker has pledged to bankroll his own campaign against Bruce Rauner, the wealthy Republican governor with whom Illinois Democrats are engaged in an all-out war. Since 2014, Rauner and billionaire ally Ken Griffin have poured millions of dollars into winning the governor's mansion and cutting into the Democratic majority in the state legislature. In December, Rauner deposited $50 million into his own reelection account.

"I get it. A lot of the politicians are looking at the Rauner model, saying: 'We want that. We want the guy with unlimited resources,'" said Bill Daley, the former chief of staff to President Barack Obama who is supporting Kennedy. "It's an automatic, instant pot of gold. It's understandable from a raw, crass political standpoint. I'm not sure that it works in the long term."
Maybe, maybe not. I'm not sure I'd rely on Bill Daley for political advice these days, either.
* Speaking of Kennedy, Jim Dey writes something that I've been thinking lately…
The Kennedys are used to burying opponents under an avalanche of money and making light of it afterward.

Consider the laughs 1960 presidential candidate John F. Kennedy generated when he responded to accusations by his rivals that he was trying to buy his party's presidential nomination. "I have just received the following telegram from my generous father. 'Dear Jack: Don't buy a single vote more than is necessary. I'm not going to pay for a landslide,'" JFK joked.

He was, of course, referring to family patriarch Joseph P. Kennedy, who built the family's mammoth fortune through astute stock market investments and forays in the banking, movie, real estate and liquor businesses.

So it's more than ironic that Chris Kennedy, the son of the late U.S. Sen. Robert Kennedy and former chairman of the University of Illinois Board of Trustees, finds himself on the outside looking in at the party establishment.

Since necessity is the mother of invention, he's rebranding himself as an underdog who won't be pushed around by the big dogs.
Yep, but, like Jim writes, it's absolutely necessary. Kennedy has to get out of that old mindset. Whether he truly can or not remains to be seen.
- Posted by Rich Miller 28 Comments


* Ever since Mayor Emanuel said he would figure out how to keep classrooms open for the fullly scheduled school year, legislators have been privately predicting that he would dump the whole thing on their heads and then shift the blame blame to them for the resulting crisis…
Mayor Rahm Emanuel on Monday offered no clues on how he will attempt to come up with the cash locally to fund Chicago Public Schools, saying he will spend the next few weeks trying to pry education money out of Springfield.

Emanuel's comments were the latest example of his administration trying to keep the focus for CPS' financial problems on Republican Gov. Bruce Rauner and state lawmakers. […]

"Today's May 15th. The state of Illinois has two weeks till the end of the (legislative) session," Emanuel said while standing in a room festooned with images of famous children's book characters like the Cat in the Hat at the newly opened American Writers Museum downtown.

"My entire focus is making the best use of the time, in the remaining two weeks, that Springfield fulfills their obligation to the children of the state of Illinois and, therefore, the children of the city of Chicago, that the children of Chicago are not treated like second-class citizens," he added.
He's no Richard Daley, meaning he can't just clap his hands and make things happen. He doesn't have that sort of sway over legislators. But he does have a powerful bully pulpit and - like Gov. Rauner, Speaker Madigan and others - he has no qualms whatsoever about shifting blame.
- Posted by Rich Miller 9 Comments


* I'm not a fan of holding press conferences in front of candidates' homes, but such is life I suppose…
"It's one set of rules for people like J.B. Pritzker, and another set of rules for the rest of us. J.B. Pritzker is a typical Chicago politician who engages in a con game to benefit himself at the expense of Chicago schoolchildren." – Former ILGOP Chairman Pat Brady

Today, former ILGOP Chairman Pat Brady held a press conference at J.B. Pritzker's "uninhabitable" mansion in Chicago's Gold Coast neighborhood to highlight Pritzker's property tax scam.

This weekend, the Chicago Sun-Times ran a front-page story detailing how Pritzker is abusing vacancy laws to slash his property tax bill. The billionaire has gotten nearly a quarter million dollars back in property tax breaks and refunds, taking money from Chicago Public Schools and other city services by claiming that a $3.7 million Chicago mansion is "uninhabitable".

But interior photos from when Pritzker bought the $3.7 million mansion show a luxurious home that is far from uninhabitable.
Click here to see the pics, which were taken in 2007 when Pritzker bought the place. That used to be one seriously nice abode until Pritzker deliberately gutted it and then let it go to seed.
* The Pritzker campaign responded…
Today, the Illinois GOP held a press conference in front of JB Pritzker's home, in an attempt to highlight the fact that JB appealed his property taxes.

Given that Governor Rauner has failed to pass a budget for two and half years and has few successes to point to in office perhaps they think it a good use of their time to bring attention to a process used by over 50,000 Cook County residents yearly, including Governor Rauner himself.

A memo leaked today revealed how far Rauner and the GOP are willing to go to distract attention from his failures as Governor:

Press conferences at condos Rauner owns at 340 E. Randolph St where his property taxes were appealed 6 times.
Drive by visits to multiple parking spaces Rauner owns at 340 E. Randolph where his property taxes were appealed 16 times.
Meet and greets with the 50,000+ Cook County residents who appeal their property taxes yearly.
HOLD INDEFINITELY: Press conference celebrating the passage of a budget or social service agencies thriving under Governor Rauner's leadership.
As we've discussed before, Rauner's condo association made those appeals, not Rauner himself.
* But, wait. There's more. From a rival campaign…
To mitigate the damage from the property tax story, JB's campaign said:

https://capitolfax.com/2017/05/12/oppo-dump-pritzker-hit-on-huge-property-tax-appeal/

It's worth noting that unlike his neighbors and many residents of Cook county (including Bruce Rauner), JB's 2015 appeal is the only time he has appealed his taxes since he bought the property in 2006.

· Chris Kennedy has also appealed his property tax assessment for his Kenilworth home to the Board of Review and the Board ruled in his favor. (158 Melrose Avenue)
· In 2012, 2014, and 2015, Rauner appealed his assessment for his Randolph Street Penthouse. (340 E. Randolph Street, 61-PHE)
· In 2012, 2014, and 2015, Rauner appealed his assessment for his Randolph Street condo. (340 E. Randolph Street, #4103)
· In 2012, 2013, 2014, and 2015, Rauner also appealed his assessment for three parking spots (Space P1-28, Space P2-30, Space P2-36)

The problem with that is that Pritzker's Astor Street LLC which owned the side-by-side mansions also owns a condo and parking spot a block away at 1445 N. State (see links and attachments from Cook County Property Info - show ownership by Astor Street LLC, with a mailing address of Pritzker's office at 111 S Wacker #4000)

http://www.cookcountyassessor.com/Property.aspx?mode=details&pin=17031020421123

http://www.cookcountyassessor.com/Property.aspx?mode=details&pin=17031020421269

Recorder of Deeds records show that Astor Street purchased the condo & parking spot for $385,000 in December 2006.

Assessor and Board of Review records (attached) show that the taxes for the condo and parking spot were appealed in 2009, 2011, 2012, 2015, and 2016.

Therefore, they are being dishonest by bringing up Rauner's appeals of his condos and parking spots when JB has done it just as often.

In fact, unlike Rauner, who didn't get reductions, the Assessor and Board of Review reduced the Assessment for Pritzker's Condo and parking space multiple times.

The Assessor reduced the taxes in 2012 and 2015. The Board of Review reduced the taxes in 2009, 2012, 2015, and 2016.

Even if the appeals were carried out by the Condo Assn - that's what happened in Rauner's case, and JB used that as the basis to attack him for this.
Ouch.
* In response, the Pritzker campaign released this statement…
It seems that Bruce Rauner and JB Pritzker were two of the over 50,000 Cook County residents who appeal their property taxes each year.
And, just as an FYI, that raw oppo I posted wasn't from Team Rauner.
- Posted by Rich Miller 24 Comments


* Ted Slowik followed Gov. Rauner around Homewood-Flossmoor High School for an hour on Friday afternoon and finally got to ask him a question…
"One question, governor," I said. Rauner turned and looked at me for a moment.

Then an aide interjected and said Rauner wasn't taking questions.

"Please," I said, "just one question as we're walking." We were on a sidewalk outside the North Building and it was a good 100 feet or so to the parking lot.

The governor turned away, but I went ahead and asked about something Rauner told students moments earlier about increasing education funding by $700 million.

The governor's Twitter account also claimed, in a Tweet published at 11 a.m. Friday, "We've increased state support for K-12 education by $700 million, setting new records for funding levels."

I thought the claims were disingenuous, seeing as how the state owes more than $1 billion to public schools as part of the massive backlog in unpaid bills due to the budget impasse. […]

"How can you claim credit for increasing education funding by $700 million when the state owes more than a billion dollars to schools?" I asked Rauner.

The governor continued walking as I followed behind.

"No response?" I said to the back of the governor's head.
He never did get a response.
Governor, you need a budget.
- Posted by Rich Miller 21 Comments


* Laura Washington writes about an unusual march that kicked off at noon today in Chicago…
Nanton was among a group of activists announcing they will march from Chicago to Springfield, 200 miles over 15 days, to demand a "People and Planet First Budget." […]

Her coalition, Fair Economy Illinois, composed of immigrants, veterans, people of color, students and churchgoers aged 23 to 90, wants to eliminate corporate tax loopholes, install a transaction tax on La Salle Street trades, and ask wealthy folks to pay more. Those strategies could raise, they say, $23 billion in new dollars and end Illinois' stultifying budget crisis.

It's a welcome tactic. The marchers will hit town hall meetings, listening sessions, dinners and sleepovers, reaching out to suburban and rural residents to tout a budget "that puts people and planet ahead of corporations and billionaires," says their press release.

Nanton, 30, declared she will march for "hope."

"Young people in my community don't have to be dying," she exhorted. "Kids should be able to come home or be at after school programs, practicing an instrument that they love because we have fully funded music programs, instead of picking up a gun because they have no hope," she shouted as her fellow activists urged "Amen."
* And the marchers aren't just focusing on Gov. Rauner…
Rauner the focus of protesters' ire, but Mike Madigan not spared. "He's been screwing us over for 47 years!" says one of the speakers pic.twitter.com/GOMgNwEGuM

— Paris Schutz (@paschutz) May 15, 2017
A tax on La Salle Street trades is something that's been pushed for a while by the Chicago Teachers Union, among others. It's a way of avoiding taxpayer ire by focusing on someone else - a wealthy someone else. But it's just more magical fairy dust, like saying you'll cut unspecified "waste and abuse" to balance the budget. And neither is a graduated income tax as long as there aren't super majorities in both legislative chambers in favor of it.
- Posted by Rich Miller 13 Comments


* From the Illinois Policy Institute's news service…
The Illinois State Board of Elections could determine Monday what sanctions it will impose on Auditor General Frank Mautino's campaign fund from his time as a state lawmaker.

A year ago, the board ordered Mautino's campaign to clarify tens of thousands of dollars in spending at Spring Valley bank and a service station in his district. Mautino has taken no action on that order and has exercised his Fifth Amendment rights against self-incrimination.

Last month, it was formally determined at a hearing that Mautino was in violation of the board's order. The hearing officer has since recommended the elections board fine the Mautino camp for failure to amend campaign reports.
The board voted today to fine Mautino's campaign fund $5,000, but split 4-4 on party lines about whether to refer the matter to a state prosecutor.
* Mautino's campaign fund is closed and he can't re-open it without violating state law, which prohibits the auditor general from doing any campaign stuff…
For starters, any fines approved by the election board wouldn't be paid by Mautino personally, but by his campaign committee. Further, Mautino's campaign committee won't pay any fines because it was closed Dec. 31, 2015, and no longer exists.
* Meanwhile, this is from one of Dan Proft's newspapers…
Auditor General Frank Mautino needs to be fired by the same people who hired him, Rep. Jeanne Ives (R-Wheaton) told the House on Thursday.

"Make no mistake about this: Our auditor general should be removed from by this body," Ives said. "This body put him into the office and only can this body, with the Senate, take him out of office, and it is our duty to do so at this point."

Ives demanded the passage of House Joint Resolution, which calls for Mautino's ouster following controversies regarding discrepancies in his campaign spending. […]

"Specifically, [Mautino] willfully violated the board's May 18, 2016, order vis-à-vis failing to amend disclosure reports filed in 2014 and 2015 to one, reflect an accurate breakdown between gas and repair made to his account; two, identify the actual recipients of itemized expenditures; and three, identify the specific purpose for the expenditures," Ives said.
* And this is from the Illinois Policy Institute's radio network…
State Sen. Laura Murphy, D-Des Plaines, who upon taking office called for Mautino to resign, has since changed her tune.

"The only evidence that the state board of elections found was failure to file an amendment timely, that is not an egregious violation," Murphy said. […]

Murphy said if federal investigators had something, they'd act.

"If it is a significant crime and if they have evidence, [the feds] move right away, she said. "If there is nothing, then the process seems to be slowed down.
…Adding… Actually, if you click here, you'll see that Sen. Murphy didn't call on Mautino to resign, she said he should take a leave of absence during the probe.
…Adding More… Greg Bishop sent me the audio and Sen. Murphy did, indeed, say to him that she had wanted Mautino to "step down."
- Posted by Rich Miller 17 Comments


* Press release…
Americans for Prosperity-Illinois (AFP-IL) recently launched the "Freeze the Tax" multimedia effort to urge Springfield lawmakers to pass a permanent property tax freeze, legislation AFP-IL has championed for several years. Illinois homeowners already suffer under some of the highest property taxes in the nation, yet property taxes continue to rise at a faster rate than home values and income. "Freeze the Tax" features a web video, digital ad buys, and a direct mail campaign in addition to grassroots activity.

"With negotiations in the General Assembly ongoing and only three weeks remaining in the Legislature's Spring Session, now is the time for our elected officials to finally resolve this important issue," stated AFP-IL State Director Andrew Nelms. "We know, both anecdotally and through polling, that Illinois residents overwhelmingly support a long-term property tax freeze. We also know Illinoisans pay more, much more, in property taxes than residents of other states. Yet, the Legislature has failed to get the job done. So we're sending them a simple message loud and clear – enough is enough, freeze property taxes now!"

Digital ad buys and direct mail target districts of the following elected officials:

Senators: Sen. Scott Bennett (Champaign), Sen. Melinda Bush (Grayslake), Sen. Cristina Castro (Elgin), Sen. Thomas Cullerton (Villa Park), Sen. William Haine (Alton), Sen. Linda Holmes (Aurora), Sen. Julie Morrison (Deerfield), and Sen. Laura Murphy (Elk Grove Village).

Representatives: Rep. Daniel Beiser (Alton), Rep. Deb Conroy (Villa Park), Rep. Fred Crespo (Streamwood), Rep. Stephanie Kifowit (Aurora), Rep. Anna Moeller (Elgin), Rep. Martin Moylan (Des Plaines), Rep. Michelle Mussman (Schaumburg), Rep. Carol Sente (Vernon Hills), Rep. Katie Stuart (Collinsville), and Rep. Sam Yingling (Round Lake Beach).
* Video…
* Script…
"Illinois homeowners pay some of the highest property taxes in the nation and property taxes keep going up, faster than our home values and family incomes. For far too long, Springfield has failed to provide any relief. It's time to give homeowners a break. Tell Springfield to pass a permanent property tax freeze. Take action at FreezeTheTax.com."
- Posted by Rich Miller 12 Comments


* AP…
Illinois Attorney General Lisa Madigan says she's seeking a fifth term next year.

Madigan recently revealed her 2018 plans during an unrelated news conference in Chicago. The Democrat is already the longest-serving attorney general in the state's history.
* That little brief followed a deep-dive by the Tribune this morning entitled "Boxed in by father, Lisa Madigan seeks fifth term as Illinois attorney general"…
Madigan, now 50, has passed on a series of potential opportunities and once again will be staying put. And with that a central question resurfaces: perhaps the very thing that helped her first win election — being the daughter of veteran House Speaker Michael Madigan, who's also the state Democratic chairman — is what's now weighing down her political ambitions. […]

Rauner's attacks also have carried over to include Lisa Madigan. In March, he contended she was "clearly part of a coordinated activity, coordinated pattern" with the speaker to shut down government by seeking a court order to stop state worker paychecks amid the budget stalemate.

The Rauner-subsidized state Republican Party also released an Internet ad contending the attorney general's actions over state paychecks were designed to help her father raise taxes and "protect their power." The attorney general's office responded at the time by saying the governor "needs to stop the baseless finger-pointing and do his job." […]

"Admittedly, I'm pretty close to Speaker Madigan and on his leadership team, so I would say the answer to that question (of whether the brand is tarnished) is no," said [Rep. Lou Lang], a Skokie Democrat.
Well, of course Lou would say that.
But, then again, I waited all morning for a snarky ILGOP press release and never did see one. I suppose they have plenty of time, however.
* The Question: How do you see Lisa Madigan's future? Explain.
- Posted by Rich Miller 24 Comments


* From a press release issued on Mother's Day by the Cook County Sheriff…
Over 200 officers, 32% of those assigned to work the 7-3 shift at the Cook County Jail, have called in sick or FMLA, and not reported to work. 86 officers calls in sick and another 120 invoked the Family Medical Leave Act.

Despite this record number of call offs, the visitation schedule has not been affected. The jail has been placed on a lockdown with only essential movement, including medical and mental health, taking place.

The extraordinary number of call offs puts additional pressure on the men and women of the Sheriff's office who come to work as scheduled.
* Tribune…
"It's the perfect storm of situations: It's Mother's Day and there is beautiful weather,'' Smith said. "Unfortunately, it's devastating to the people who do come to work and for the taxpayers.''

Additionally, Smith said that as of about 3 p.m. Sunday, about 25 percent of staff for the second shift of the day also had called in sick. […]

Similar incidents have occurred in the past, including in January 2016 and on May 8, 2016, Mother's Day, when about 20 percent of workers called in. […]

A representative of the union that represents the staffers was not immediately available.
* Sun-Times…
Last year on Mother's Day, 420 officers called in sick. About a month later, more than 520 officers called in sick on Father's Day and the following Monday.

In May 2015, almost 640 correctional officers called in sick for shifts the same day that boxers Floyd Mayweather and Manny Pacquiao faced off.
That lockdown [last year on Mother's Day] cost the [county] $75,000 in overtime expenses to cover the employees who did show up for their shifts, the Tribune reported at the time. […]

The mass absences tend to "track suspiciously" with bad weather, holidays and major sporting events, read a Tribune editorial from last year.

In May 2015, more than 600 jail employees called out of work during a weekend that featured two major sporting events: the Kentucky Derby and the Floyd Mayweather-Manny Pacquiao boxing match, as local media reported. On Super Bowl weekend the same year, nearly 900 bailed on their shifts, according to the Tribune.

The situation has gotten so bad that the Cook County Jail came up with a name for it: "Super Bowl Fever."
Sheesh.
- Posted by Rich Miller 30 Comments


* Press release…
House Democrats seeking common ground with Gov. Bruce Rauner in order to end the budget stalemate and put the state on a path to fiscal stability will outline additional reforms they plan to present to the governor at a press conference Tuesday at 10 a.m. in the Capitol Blue Room.

"House Democrats believe the budget crisis demands immediate action, and it is our hope to show Governor Rauner that we stand ready to work with him," state Rep. Barbara Flynn Currie said. "We plan to seek common ground with the governor on his proposals, and present him with items we believe should be part of the bargaining in order to encourage economic growth while lifting up the middle class."

Last week, House Speaker Michael J. Madigan appointed Currie and House Leaders Lou Lang, Arthur Turner and Jay Hoffman to work with Rauner to find compromise on issues unrelated to the state budget. The legislators also plan to raise additional items that the House Democratic Caucus proposals believes will improve the business climate while lifting up the middle class.

Who: State Rep. Barbara Flynn Currie
State Rep. Lou Lang
State Rep. Arthur Turner
State Rep. Jay Hoffman

What: Press conference on negotiations with Gov. Rauner

When: Tuesday, May 16
10 a.m.

Where: Blue Room
Illinois State Capitol
Any guesses?
- Posted by Rich Miller 21 Comments


* From The Times of La Salle County…
Lawmakers in Central Illinois and elsewhere have long lamented how much money Chicago schools receive in state money compared with schools in their districts.

Sen. Jason Barickman, R-Bloomington, has introduced a bill that would remove Chicago's special block grant of $250 million, which is above and beyond what the state's standard funding formula for schools provides.

Barickman's legislation, Senate Bill 1124, would create an evidence-based formula that would mean gains in funding for every school district but Chicago. It is backed by Sen. Sue Rezin, R-Morris, whose district includes La Salle County.

Chicago would lose $62 per student. Locally, Streator High would get $1,254 more per student under the legislation, more than the other three major districts in the area. Following are Ottawa High, $1,119; Streator Elementary, $609; and Ottawa Elementary $499.

Passage of the bill could be difficult.
Ya think?
You gotta wonder what Downstate legislators would say if suburbanites and Chicagoans banded together to snatch away the vast majority of state money for road and bridge construction and repair.
- Posted by Rich Miller 15 Comments


* Brian Mackey…
After 22 months without a budget, all eyes have been on the state Senate. But after another failed attempt to vote on the "grand bargain" last week, it's reasonable to ask if anyone is thinking about plan B.

The answer from Senate budget negotiators is: not yet. Each says they're still trying to make a comprehensive deal both sides can live with.

"We are focused on getting an agreement on a budget that has cuts in it, that is balanced, that has reforms," says Sen. Dale Righter, a Republican from Mattoon.

Sen. Heather Steans, a Democrat from Chicago, say they're still negotiating: "I'm remaining really optimistic that we're actually going to get some Republicans to yes, and that's certainly my hope."
* Senate President Cullerton, meanwhile, penned an SJ-R op-ed…
More than 70 days passed with no action, just repeated promises that things are "really close." I tried to jump-start efforts last week because I have a calendar and I can see that we are running out of time.

We managed to pass one proposal, giving local governments greater financial flexibility when it comes to borrowing, something that should save local taxpayers money. But the governor still believes that, despite proposed cuts and reforms, the benefit system for injured workers is too generous. He continues to pull Republicans off the deal until those benefits are cut further.

It's a similar situation with a property tax freeze. A two-year freeze is waiting to be voted upon. It would pass if called for a vote, but the Republican sponsor won't do so because the governor wants a stricter, longer freeze on local governments' abilities with no consideration of the potential consequences.

And every day we turn another page on the calendar, approaching that May 31 deadline.

I'll keep negotiating, but at some point negotiating has to lead to a deal, and a deal has to result in votes to move forward.
- Posted by Rich Miller 30 Comments


* Tribune…
The Bellaires say their situation is evidence of a statewide shortage of caregivers known as direct support professionals who feed, bathe and perform other essential tasks for people with disabilities. After Gov. Bruce Rauner last year vetoed a bill aimed at increasing the minimum wage for these workers — who on average make $9.35 an hour — their turnover rate has grown from 40 percent in 2016 to nearly 56 percent in the first three quarters of this fiscal year at the state's six largest agencies, according to Kim Zoeller, president and CEO of the Ray Graham Association, an agency that serves 2,000 children and adults with disabilities in DuPage County. […]

Lawmakers in Springfield are now considering legislation that would raise the overall amount the state pays group home businesses so that caregivers are paid at least $15 an hour. The state Senate passed a bill Wednesday that representatives in the House will consider. With weeks left before the end of the legislative session, and lawmakers still at an impasse over the budget, advocates for people with disabilities say the worker crisis has gone from dire to potentially dangerous. […]

Running out of options to address the shortage of direct support professionals, a legal rights group for people with disabilities last month filed a motion in federal court hoping to convince a judge that current conditions are in violation of a 2011 ruling known as the Ligas consent decree. The decree ensures that, regardless of the state budget situation, funding continues for people with disabilities who want to live in community-based settings, and with the support needed, said Barry Taylor, vice president for civil rights for Equip for Equality, a legal services firm for people with disabilities.

If the federal court motion doesn't work, advocates say they're not sure what else to do. [Emphasis added.]
* From the group Avenues to Independence…
Today, Illinois ranks 47th nationally in its per capita fiscal spending on community developmental disability services. Combined with the current budget impasse, wages and benefits are far below the levels needed to attract and retain qualified individuals. Annual turnover of direct care staff can exceed 50% and many organizations have vacancies of 20% and higher.
* But it's a broader problem than that. Press release…
Child welfare advocates from across Illinois swarmed the capitol on Thursday and warned lawmakers that a workforce crisis has engulfed private sector child welfare agencies that provide care to 85% of the 14,700 youth in care with the Illinois Department of Children and Family Services.

"The private sector child welfare workforce in Illinois, which totals nearly 6,000 employees, is convulsed by an annual staff turnover rate of a staggering 40%," said Child Care Association of Illinois C.E.O. Margaret Berglind. "If the Chicago Cubs had turned over 40% of its players annually, they would not have been the 2016 champions. Period. The same goes for child welfare."

Dozens of Illinois child welfare agencies sent their CEOs and top staff to Springfield on Thursday to lobby lawmakers to support legislation, House Bill 2594, sponsored by State Rep. Sara Feigenholtz (D-Chicago), that aims to boost private sector financing by $100 million annually to reverse the workforce crisis. The legislation would increase the rates paid to child welfare providers and boost expense reimbursement rates paid to foster parents.

Berglind said that Illinois foster parents are being victimized by "obsolete, paltry" expense reimbursement rates.

"The state's reimbursement of foster parents for their expenses is so obsolete, so paltry that the average Illinois foster parent shells out of their pocket, on average, $359 per month," said Berglind. "The state is using foster parents as ATMs. Foster parents. Think about that."

Berglind also said that DCFS' current strategy of "nibbling away at problems" is failing to address the department's biggest challenge.

"We applaud DCFS for its multiple, micro initiatives and pilot projects, but nibbling away at problems whiling ignoring the biggest systemic challenge facing the agency, the 40% annual staff turnover of private sector agencies, is no longer sustainable," said Berglind. "By substantially investing in the rescue of the workforce, this legislation will move children to permanent homes more quickly, including reunification with birth parents."

The child welfare workforce challenge faced at the Lutheran Child and Family Services-operated Lutherbrook Child and Adolescent Center, a highly-specialized residential treatment center for youth ages 6-18, located in Addison, illustrates the workforce problem across Illinois.

"During the five-months from October 2016 through February 2017, Lutherbrook extended thirty-seven direct care staff job offers and twenty-three or 62% declined based on the starting salary," said Lutheran Child and Family Services of Illinois C.E.O. Mike Bertrand.

Bertrand noted that Lutherbrook recently had 16-beds open for intake, but the center was forced to decline referrals from DCFS until the agency could fill 17-direct care staff positions.

"That is about half our workforce since we are fully-staffed at 36," said Bertrand. "This paralysis leaves those youth to sit in psychiatric hospitals, detention centers or shelters or unable to receive the treatment services they need until an alternative placement can be found."

A joint rate study conducted by DCFS and the Child Welfare Advisory Council, comprised of private sector agencies, serves as the foundation of Feigenholtz's bill and reveals the workforce compensation problems faced by agencies.

"The study showed that residential treatment agencies should be paying front-line residential treatment workers at least $16.00 per hour, but struggle to pay them $12.00," said Berglind. "Foster care agencies should be paying caseworker $18.71 per hour but they hardly reach $16.50. The problem is obvious."
- Posted by Rich Miller 13 Comments


* The synopsis for SB 1647…
Amends the Judicial Privacy Act. Provides that "judicial officer" includes retired justices and judges. Effective immediately.

Senate Floor Amendment No. 1
Provides that "judicial officer" includes actively employed and former or deceased justices and judges (rather than actively employed and retired justices and judges)
The bill passed the Senate unanimously and is heading for a House committee hearing tomorrow.
* But check out who "lists" themselves as "opponents" on the GA's Dashboard system…

I'm kinda thinking that wouldn't have happened under the old paper system since signing the names of legislators would be considered forgery and it would be fairly simple to catch and prosecute violators.
And it also makes me wonder how many other electronically filed witness slips may be forgeries.
* So, perhaps Cook County should keep this in mind…
The Cook County Board of Commissioners is considering an ordinance that could transform access to and transparency of the legislative process in local government.

It's a brief proposal, but it could mean dramatically heightened public access to one of the largest units of local government in the nation.

Ordinance 17-3293, introduced by Commissioner Larry Suffredin representing the County's North Side 13th District, puts in motion the development of an online "witness slipping" system. Such a system would allow Cook County residents and advocacy organizations to easily weigh in on pending legislation as it moves through committee by registering their opinion and perhaps providing online testimony on specific pieces of legislation.
- Posted by Rich Miller 9 Comments


* If you go to about the 18:10 mark of Friday morning's WBEZ interview, you'll hear Gov. Rauner asked if he'd like to see Speaker Madigan challenged in the upcoming primary and whether he'd work to defeat Madigan. The governor's response…
"I'm not focused on the politics. I'm trying to get a balanced budget with structural changes to grow the economy, protect our taxpayers, properly fund our schools and our human services."
* After the interview, the governor visited a school in Bloomingdale and then attended a fundraiser for himself…
With less than three weeks left until the end of the legislative session, Governor Bruce Rauner is busy jamming both work-related and campaign events into his schedule.

After leaving a school in Bloomingdale Friday, Rauner headed to a midday fundraiser at Bentley's Pancake House in the northwest suburb. The flier for the fundraiser, which was emailed to supporters, asked for donations from $5 to $50.

Rauner again refused to discuss his re-election campaign during the event and has not formally announced that he's a candidate in the 2018 race.
* He refused to comment, but it wasn't for a lack of trying on Mary Ann's part…
Nice vest.
* Politico…
The anti-Rauner group, Illinois Working Together, is making hay about the exchange, complaining that Rauner made the campaign stop at the time the Illinois Senate was in session. "It is inexcusable for Gov. Rauner to be campaigning while legislators are trying to find a path forward on a budget," Jake Lewis, campaign director for the group told POLITICO in a statement.

It's a state SUV — NBC's camera shot shows Rauner entering a state SUV. Well, he is governor and has state police security detail. A Rauner campaign spokeswoman, Kirsten Kukowski, said this via text message: "Since the Governor's term in office, the party has reimbursed and will continue to reimburse the state of Illinois for the Governor's travel outside official state business." She added that "most executives are in this position and handle similarly."

Asked how his campaign stop squares with comments hours earlier that he's not thinking about politics, Kukowski said: "As far as your question goes, he made a stop to talk to people between official events and it's paid for by political funds as we've explained in the past. We will of course continue to do that."
* Related…
* Rauner celebrates 'innovative' program at Bloomingdale middle school
- Posted by Rich Miller 23 Comments


* From the Illinois Policy Institute…
I'm proud to announce that the Illinois Policy Institute received two Lisagor Awards from the Chicago Headline Club last night.

Senior Writer Austin Berg earned well deserved recognition for his groundbreaking storytelling work, winning for Best Individual Blog Post (independent) and Best Individual Blog (affiliated).

This was a banner year for our team, which received 14 nominations for the prestigious awards – a new record for the Illinois Policy Institute.

The Chicago Headline Club nominates talented writers, filmmakers and illustrators for its coveted Lisagor Awards each year, and the nominees represent the best of the best in Chicago journalism. With these nominations, our team is among the likes of the Chicago Tribune, Bloomberg News, NBC 5, WGN, NPR and more.

Here is a full list of Lisagor winners.

We have worked hard for years to position ourselves as one of the best sources for news and media throughout Illinois. The continued growth of our audience and recognition among the best in legacy media are steps toward achieving that goal.

The best part? We're just getting started. As our team grows, we're tackling new projects and reaching new audiences each day. To see our latest work, check out "Forgotten Illinois," a short documentary capturing the real life struggles facing small-town Illinoisans across the state.
According to the Headline Club, "The awards recognize the best of Chicago journalism and are named for Peter Lisagor, the Chicago Daily News' Washington bureau chief from 1959 to 1976."
Discuss.
…Adding… It wasn't without some dissent, apparently…
Creditting a dark money organization with journalism awards is very troubling toward the role of what journalism means at this time.

— Rick Pearson (@rap30) May 13, 2017
- Posted by Rich Miller 45 Comments


* The Illinois Review closely parses Gov. Rauner's appearance on WBEZ last week…
Before the measure was voted on in the Illinois House, Rauner's spokeperson Allie Bovis wrote Illinois Review in an email on April 14, "Governor Rauner does not support HB40 and will veto the bill if it reaches his desk." […]

Rauner told Sarabia's caller Friday that he was proud of Illinois being "progressive" on the issue of abortion.

"We're one of the more progressive states," Rauner said. "I support that. I want to protect that. But the bill goes further and expands taxpayer funding in a way that only two other states have. That's very divisive, it's very controversial. That part, I don't think makes sense to do now."

It doesn't make sense to do "now"? That comment raised concern among conservatives about just how committed Rauner is to abortion and how far he is willing to go to alienate pro-lifers that trusted pro-life leaders. Leaders that placed their reputations on the line, encouraging conservative Republicans to support Rauner in 2014 against Quinn, assuring them he couldn't be "as bad" as Quinn on the issue.

Rauner has, in effect, bought up Republican organization support with token checks to county and township groups - and appears to be either tone deaf or obstinate on the state Republican Party's platform and its importance to grassroots voters.
Well, the governor did say that the reason he was vetoing HB 40 was because it's divisive and the General Assembly needs to instead "focus" right now on a budget and economic reforms. That statement didn't preclude signing it if the state gets a budget and economic reforms. And that could be one reason why the Democrats put a parliamentary hold on the bill and kept it from getting to the governor right away.
Of course, they'll have to pass a budget and economic reforms, but if they do (still a big "if"), the governor might find himself in yet another trick bag.
- Posted by Rich Miller 4 Comments


* My weekly newspaper column…
The thin-skinned, strong-arm Statehouse partisanship of the past two and a half years reached out and infected the Illinois Conference of Women Legislators' annual fundraising gala last week.

COWL is a bipartisan organization which raises money every year to "assist mature women who wish to continue their undergraduate education," according to its website. "The goal of the scholarship is to focus on deserving, qualified women whose educations were interrupted due to family concerns and economic problems," the group says. Women who have shown "leadership promise through community service" are given preference.

Anyway, it's a good organization, and it's one of two events that I never miss each year — the other one being the House vs. Senate softball game. Both events allow legislators to do things together without partisan or leadership barriers. They help build relationships and trust. Plus, they're both a lot of fun. And after 21/2 years of watching politicians fight each other to a draw on a state budget and economic reforms, we all need the occasional good time.

Lately, COWL has also brought in professional comedians to set the mood. This year's comedian was Patti Vasquez, who has her own show on Chicago's WGN Radio and did an increasingly rare interview with House Speaker Michael Madigan last week.

The evening often has the feel of an old-time variety show staged by amateurs. It's not supposed to be perfect, and that can sometimes make things funnier. A legislator singing way off key would be unlistenable in another context, but at the COWL event, it can be hilarious.

Some legislators have lots of talent. Rep. Will Guzzardi, D-Chicago, stunned the audience with his exquisite piano playing abilities. That he chose to cover a Tom Waits song and sang it in Waits' gravelly voiced style made his performance all that much better.

Rep. David Olsen, R-Downers Grove, is a cheery and bright young man who generally speaks softly and is of, shall we say, slight build. But he sang a full-throated, a capella version of "Illinois," our state song. Olsen mesmerized the audience.

Come to think of it, the men kind of stole the show last week.

COWL always stages some sketches and songs that are drenched in political satire. Otherwise, what's the point?

Rep. Rob Martwick, D-Chicago, plays guitar and sings and wrote a parody of Otis Redding's universally famous "(Sittin' On) The Dock of the Bay."

"I'm sittin' here on the House Floor / Waitin' for a budget deal that I can vote for / I'm sittin' here on the House Floor / Wastin' time."

Martwick wrote several strong lyrics: "Sittin' here resting my bones / 'Cuz the lobbyists won't leave me alone / 200 miles I've roamed / Just to make this seat my own."

But I particularly enjoyed the bridge: "Looks like nothin's gonna change / Everyone keeps on passin' the blame / I can't do what the Governor tells me to do / This state's going down the drain."

He got a big howl of approval for that one.

COWL also produced a dance routine this year to a song by R&B singer Cupid called "Cupid Shuffle."

Legislators on stage were dressed in checkered, western-style shirts just like Gov. Bruce Rauner wears in his latest TV ads featuring him in a pristine work shop and talking about the Democrats' "duct tape solutions."

Some members held up large signs with "Do your job" written on them, which is a constant refrain of Rauner's critics. Some also carried signs featuring a large, menacing cartoon image of House Speaker Michael Madigan that was devised by the Madigan-hating Illinois Policy Institute.

Duct tape was supposed to be part of the routine, but the gimmick was scrapped at the last minute because the players didn't have enough time to remove the tape and change between songs. So, they wound up with extra boxes of the stuff.

But a freshman Republican House member reportedly took a video of the skit during rehearsal last week and sent it to a member of her leadership team. Republican legislators told me later they were then yanked out of the dance and by showtime last week only Democrats performed during the routine.

Unreal.

Some people just don't know how to laugh at themselves.

Let's hope the softball game survives intact.
- Posted by Rich Miller 21 Comments


* Press release…
Today, the JB Pritzker for Governor campaign released its second TV ad, "Incubate."

"Incubate" highlights JB's visionary work to grow Illinois into one of the top technology hubs in the world. Five years ago, JB brought tech leaders and entrepreneurs together to found 1871, a non-profit technology incubator. In the years since, Chicago transformed from a city falling behind in the tech economy, to a leading center for technology growth and innovation. Along the way, 1871 supported hundreds of startups and helped create over six thousand good paying jobs in Illinois.

"When Illinois was falling behind in the tech economy, I decided to think big, bring people together, and get results for our state," said JB Pritzker. "I'm proud of our work building 1871, and helping turn Illinois into one of the top technology hubs in the world, a center for creativity, innovation, and entrepreneurship. But there is more work to be done. Under Governor Rauner's failed leadership, Illinois is losing jobs and wasting opportunities. We need a Governor with big ideas, who knows how to bring people together and get things done."
* Tribune…
Encouraging start-ups is the prominent feature of the new ad, which contains testimonials from people largely affiliated with 1871. The candidate does not speak in the ad.

Instead, it features Suzanne Muchin, founder of Mind + Media Matter Studio, a multiplatform marketing firm and 1871 board member; Matt Moog, CEO of PowerReviews, a customer review technology firm who chaired 1871; Shradha Agarwal, president of Outcome Health, a consumer focused wellness website; Amanda Lannert, CEO of Jellyvision and a member of 1871's advisory board and Neal Sales-Griffin, CEO of CodeNow, a computer code mentoring firm and one of Encouraging 1871's first tenants.

In the ad, Moog touts that "Illinois is now one of the fastest growing and largest technology hubs in the world" after Muchin laments that a decade ago the state was far behind on high technology jobs.

"This is what's possible. When someone like J.B. puts forward a big idea and a big vision, that is exactly what our state needs right now," Muchin says to close the ad.
* Rate it…
…Adding… Script…
People don't realize that 10 years ago, Illinois was way behind when it came to tech jobs.

It was both hard to raise money and it was hard to hire the right employees.

JB Pritzker really saw the potential of being able to grow tech jobs right here.

He is the visionary and architect behind 1871.

JB created something unique, which was one of the first non-profit institution like 1871.

I've definitely seen first-hand how JB Pritzker has had an impact on not only my company but hundreds if not thousands of other people.

He honestly cares about others doing well and making a name for themselves in Illinois.

One thing I love about JB is that he's a visionary but he gets it done.

Illinois is now one of the fastest growing and largest technology hubs in the world.

This is what's possible when someone like JB puts forward a big idea and a big vision. That is exactly what our state needs right now.
- Posted by Rich Miller 34 Comments


* My aunt passed away last week. Janet Bollheimer was my mom's older sister. Her wake is tonight, so that's why I'm shutting the blog down a little earlier than usual.
Phyllis Hostmeyer posted this on Aunt Janet's tribute page. Everyone called her Jan, but I always called her Janet for some reason…
I owe so so much to Jan. I had to drop out of college when I was 19 and dreamed of returning one day. I didn't see any way possible for that to happen. I met Jan at a KC extension class at Central and within minutes she had me pegged. Soon she had everything lined up for me to return to college. She registered me full time at KC, introduced me to the financial aid people, lined up day care for my daughters, and I was on my way to an Associate's Degree. But Jan did't stop there. She then introduced me to Dr. Woods at McKendree who found me a full scholarship to finish my Bachelor's Degree. I became a teacher and sometimes I still work as an adjunct for KC. I am a published author and have had opportunities to travel around the world providing professional development for teachers. None of this would have happened had it not been for Jan's support, guidance, and positive attitude. She believed in me and encouraged me when no one else did. I can think of few people in this world that I admire more than I admired Jan. She has been a huge blessing to our community. My prayers are with the many loved ones she leaves behind.
She was always so active, so energetic, so positive, so fun. Even when she was sick, she powered through. Everyone looked up to her, but she never looked down on anybody. If you click here you'll see a House resolution passed when she finally retired after 43 years as an educator and an advocate.
I don't really feel like posting a song today.
- Posted by Rich Miller Comments Off


* Rick Pearson…
With early friction emerging in the 2018 Democratic race for governor, the Illinois Democratic County Chairmen's Association is urging the candidates to turn their wrath toward Republican Gov. Bruce Rauner instead of on one another.

The phone call this week raising concerns about the contest's tone among the campaigns and the group's leader came as billionaire entrepreneur and investor J.B. Pritzker has launched TV ads and begun amassing endorsements, prompting rivals for the nomination to criticize him. […]

Pritzker campaign manager Anne Caprara said it was "important for all Democratic candidates to focus their time and energy on getting (Rauner) out of office" and ensure he is not re-elected. Biss' campaign said the election isn't just about the governor's office, but also is "a battle for the soul of the Democratic Party." Kennedy's campaign suggested their candidate is the only one ready to "bring radical change to Springfield," while Pawar's camp said its effort was focused on the alderman's "vision" for Illinois.
* Pearson also took a look at an earlier report that the AFL-CIO could endorse Pritzker. He traced it back to the trade unions which endorsed Pritzker earlier this month…
Now those trade unions are pushing for the Illinois AFL-CIO, the umbrella organization of organized labor in the state, to make an early endorsement of Pritzker, union sources said.

The sources, who were not authorized to discuss union business publicly, said that while the trade unions want to move quickly, public sector and service unions want to move more slowly and deliberately. But trade unions carry more clout. A meeting has been set for next month to discuss the way forward.
- Posted by Rich Miller 15 Comments


* Gov. Rauner with his arm around our buddy Dave Dahl…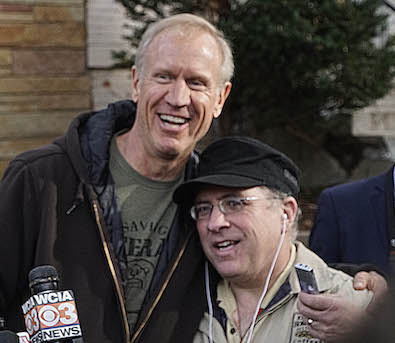 The pic was taken last fall. Dave just found it.
- Posted by Rich Miller 30 Comments


* From a memo sent this afternoon to House Republicans…
Dear Members,

It is with great displeasure that I read today's Capitol Fax with an article which, by all measures, memorializes yesterday's "confidential" caucus discussions with the governor's staff.

This has been an ongoing concern for many years and it is a violation that undermines the sanctity of our caucus meetings, particularly those with high-level members of the administration.

My question to the individual or individuals responsible for this is simple, why would you subvert the caucus, particularly at this time in session?

With few precious weeks before the end of session, we will need to meet more regularly and, most likely, with key members of the administration. How can we expect them to be candid with us ever again? Should I expect this message to show up on the "Blog" this afternoon?

Jim Durkin
House Republican Leader
People occasionally ask why they should subscribe to Capitol Fax. That memo is a pretty good reason.
- Posted by Rich Miller 97 Comments


* Bruce Rushton at the Illinois Times…
The state House of Representatives last week passed a bill designed to expedite the transfer of mentally ill inmates from county jails to state mental health facilities.

But a bill that would restrict the use of isolation cells in local jails appears dead. The measure remained in committee as an April 28 deadline passed for the House to take action on bills sponsored by House members. Under the proposal, inmates could not be placed in isolation for more than 10 consecutive days or for more than 10 days over a 180-day period.

The bill restricting the use of isolation cells also would have affected state prisons. But county sheriffs lobbied hard against the measure, arguing that there is little else they can do with mentally ill inmates, including many who are supposed to be in mental health facilities but instead languish in jail.

"If all things were perfect, it might be a good bill," said Greg Sullivan, executive director of the Illinois Sheriffs Association. "When you have inmates with mental health problems who you cannot put in general population for their safety and other inmates' safety, what do you do with them? You have to do something. … Quite frankly, the sheriffs contacted their state representatives and said, 'This is a bad bill, and here's why.'"

Randolph County Sheriff Shannon Wolff, who runs a 44-bed jail that sometimes has just one officer overseeing inmates, said that isolation cells and restraint chairs are an unfortunate necessity of running a small jail in a rural area.
* Marlen Garcia at the Sun-Times…
Here's a run-down on bills related to immigrants that could reach the governor's desk and one that won't thanks to Rauner. Rep. Elizabeth "Lisa" Hernandez of Cicero, who represents Latino and immigrant communities, is chief sponsor or co-sponsor of each bill […]

♦ School code amendment: Rauner killed this one early, while it was in committee. It would have eliminated confusion between a federal mandate on bilingual education and an Illinois law requiring all school instruction be given in English, she said. Hernandez says she sponsored the bill only because the Illinois State Board of Education asked her to. ISBE is run by Rauner's people, so she assumed the governor and Republicans would back it. But the bill got no votes from Republicans while it was in committee. Hernandez said she wouldn't proceed without Republican support. "If I do," she said, "it's going to die."

An ISBE spokeswoman says that small section of the law is obsolete. It should come off the books. But the governor's office questioned "why this bill was not included in the usual clean-up package from the State Board of Education," his spokeswoman, Eleni Demertzis, said by email.

The bill's synopsis says it repeals a section "requiring instruction in all public elementary and secondary schools to be in the English language." I have to wonder if that's too loaded for the Illinois GOP.
* Doug Finke SJ-R…
Another attempt is being made to move the date of school board elections in hopes it improves voter turnout.

The Senate Executive Committee Thursday unanimously endorsed a bill to move school board elections from the spring to general elections held in the fall.

Sponsoring Sen. Tom Cullerton, D-Villa Park, said the turnout in DuPage County for the April election was about 15 percent.

"When we talk about property taxes, the number one thing on your property tax bill is your schools, and we are having no voter participation," he said.

Cullerton also said moving the school board elections could get more people involved in running for the seats. He said there is a problem in some areas finding enough candidates. One reason for that is that filing for school board occurs right after a major general election, he said.
The Senate passed that bill before, but it didn't go anywhere in the House.
* Bob Reed at the Tribune…
A lively tussle is shaping up between a top Illinois official and the state's mighty insurance industry, and the Illinois General Assembly will pick the winner.

At the center of the dispute is legislation, supported by Illinois Treasurer Michael Frerichs, that compels life insurance companies to review their records going back to 1996 and confirm that death benefits have been paid to policyholders' beneficiaries.

Paying death benefits? Isn't that what life insurance companies are supposed to do?

If the answer were always a resounding "yes," there wouldn't be any need for Frerichs' bill.
- Posted by Rich Miller 4 Comments


* SJ-R editorial…
Thumbs Down: To the Illinois House lawmakers who cheered Wednesday upon learning the planned session scheduled for Friday would be canceled.

"I have an announcement. Perk up, perk up your ears, listen close. Friday's session has been canceled," House Majority Leader Barbara Flynn Currie, D-Chicago, announced Wednesday. She was met with immediate cheers and applause from some of the people in the chamber.

The state has been operating without a permanent budget for more than 22 months. Universities are laying off employees and students are seeking to complete their higher education studies in other states. Social service agencies are turning clients away, if not outright shutting their doors, because of late payments of state funding. The state's bond ratings creep ever-closer to junk status, which will mean higher interest payments for the borrowing we know is coming.

And that's just a few items on the long list of problems facing Illinois.

House members are paid to do what it best for Illinoisans — and they don't have to wait in line to get paid, like the people they aren't helping. They should be working every day they're scheduled to — we'd argue the weekends too — until a budget is approved. Cheering because they don't have to come in and work toward productive solutions that would benefit the people of Illinois is disgraceful.
* The Question: Your thoughts on this?
- Posted by Rich Miller 65 Comments


* OK…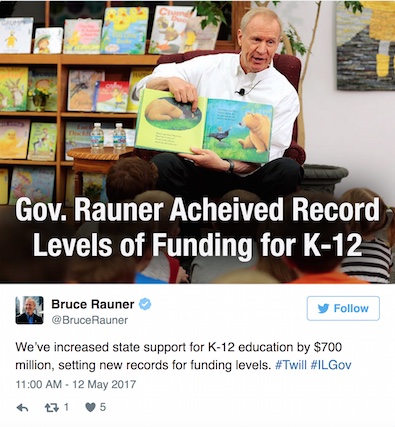 [They deleted it, but I saved a copy just in case.]
Might wanna make sure the education meme-maker uses spell-check from now on. Just sayin…
* But…
@BruceRauner #Actually the state owes school districts $1 BILLION —> https://t.co/1xBAVDyZro #RaunerDoYourJob

— IL Working Together (@IllinoisWorking) May 12, 2017
Appropriate all you want, but if there's no money in the checkbook because we don't have a real budget the bills can't be paid.
* Meanwhile, here's Finke…
And back to the Thompson Center for a moment. It sure seems like the numbers for that thing are all over the map.

In 2015, the Rauner administration said the building needed about $100 million worth of deferred maintenance. At last week's news conference, that number was at $326 million. Seems that place is really going somewhere in a handbasket.

Also, in his budget plan, Rauner estimated the state would net about $220 million from the sale. Last week, that was up to $240 million, a nice increase for a couple of months.

Maybe if the state holds onto it until the end of the year, there'd be no reason for a tax hike.
Nice catch by Doug.
- Posted by Rich Miller 19 Comments


* WCIA TV…
While Congress is determining the fate of the Affordable Care Act, Governor Bruce Rauner's administration is quietly preparing a massive overhaul to the state's Medicaid system.

Up to 3.2 million Medicaid patients in Illinois, including 1.4 million children, could be affected under a new plan set to take place on January 1, 2018. Industry experts expect many of the state's poorest patients would have to change doctors, while others could be forced to change prescriptions.

Rob Karr of the Illinois Retail Merchants Association says, "I think [Medicaid patients] will see some changes perhaps in who they can go to. Perhaps there will be changes on the margins in terms of what drugs they can use."

Some in Springfield are preaching caution… Comptroller Susana Mendoza, a Democrat, pointed to the fluidity on Capitol Hill as a prime reason to press pause on this plan. "I think it is important to wait just so that we have a little bit better as to what those estimates for the Medicaid population are going to be," she told WCIA.

Mendoza testified Wednesday before the House Human Service Committee, urging lawmakers to intervene and block the Rauner administration from making structural changes to consolidate Managed Care Organizations.
* They're running out of time, however. Crain's…
With bids due Monday for private insurers who want a piece of a key Illinois Medicaid program, one of the biggest health plans is in talks with potential buyers.

For Chicago-based Family Health Network, known as FHN, the effort to sell off its assets or enrollees to another health plan is a last-ditch effort to keep from suddenly shuttering. After all, there will be losers: Gov. Bruce Rauner's administration is revamping its Medicaid managed care program. Twelve insurers, including FHN, have to rebid to participate, but in an effort to squeeze out more savings, the state plans to award just up to seven contracts.

The reboot has whipped the health care industry into a frenzy. In April, the FHN board chairman said he feared the state was locking the insurer out of a new contract. Like vendors across the state, the insurer is owed money by the State of Illinois: Among a backlog of state bills that tops $12 billion, FHN's overdue tab comes to about $260 million.

As for FHN's discussion with potential buyers about selling off parts, if not all, of its business, "Essentially at some point that's what they're being forced to do," Illinois Sen. Omar Aquino says. Aquino's legislative district includes two of the five hospitals or health systems that co-own the insurer. "They would rather prefer to stay in business."

Aquino is among five Democratic sponsors of a resolution that seeks to suspend the bidding process and highlights the plight of FHN in particular. A spokeswoman for the health plan declined to comment.
* From the JB Pritzker campaign…
In response to Bruce Rauner's attack on Medicaid, which could strip over 3 million Illinoisans, including over 1 million children, of their right to keep their doctors and prescriptions, JB Pritzker released the following statement:

"While Donald Trump and Republicans in Congress work to gut the Affordable Care Act, Bruce Rauner is working to upend Medicaid coverage for millions of low-income Illinoisans," said JB Pritzker. "Over 3 million Illinoisans, including over one million children, could be forced to change doctors and even prescriptions if Rauner is able to shove through this overhaul. Illinois families have a right to quality and affordable health care and we need a Governor who will stand up to Donald Trump to protect that right. Instead, Bruce Rauner's failed leadership has left us without a plan to combat Trumpcare and without a balanced budget as Illinois families continue to pay the price."
- Posted by Rich Miller 8 Comments


* Unlike most rich Cook County residents, JB Pritzker never appealed his local property tax bills on his house - until 2015. And then he got a huge discount…
J.B. Pritzker, billionaire would-be governor, bought the historic mansion next door to his even bigger home on Chicago's Gold Coast, let it fall into disrepair — and then argued it was "uninhabitable" to win what so far have been nearly $230,000 in property-tax breaks, records show. […]

Arguing that the smaller mansion is "vacant and uninhabitable," those lawyers convinced Berrios to slash its assessed value last year from $6.25 million to just under $1.1 million.

That's allowed Pritzker to get the nearly $230,000 in property-tax breaks and refunds, a Chicago Sun-Times analysis found.

The drastically reduced assessment caused the mansion's property taxes to plunge 83 percent, leaving Pritzker with a bill for $19,719 last year, the analysis found. That was instead of the $117,087 he otherwise would have had to pay in property taxes, which fund the Chicago Public Schools, the city and other local governments.

The assessor's ruling also meant that Pritzker was due partial refunds on the taxes that he paid between 2012 and 2014. He got three refund checks last year totaling $132,747 — money that reduced the amount of property taxes that schools and other local governments expected to receive.

Separately, Berrios cut the assessment on the bigger mansion where the Pritzker family lives — from $14.1 million to about $12.1 million, resulting in a 16 percent lower property-tax bill last year — $221,287 rather than $264,221.
I always have a simple answer for people who ask questions like: Why would a guy with $3.4 billion care about saving a few hundred grand on his property taxes? My reply: It's Amorica, man. Nothing's ever enough here.
It looks like he bought the house next door to establish a buffer. He remodeled the outside so it looked nice, but apparently let the inside go to pot. (The appraiser was let inside that house, but not into Pritzker's actual residence, which also got a reduction, over security concerns.) Then apparently he got tired of paying taxes on a house that wasn't worth nearly as much as its appraised value.
* The full statement the Pritzker campaign gave the Sun-Times…
In 2015, JB was one of over 50,000 residents of Cook County to appeal his tax assessment and like 64% of appeals, the ruling was in JB's favor. It's unfortunate that in the context of a political campaign, there is now an attempt to use that routine appeal as part of a negative attack.
* More oppo from the campaign…
It's worth noting that unlike his neighbors and many residents of Cook county (including Bruce Rauner), JB's 2015 appeal is the only time he has appealed his taxes since he bought the property in 2006.

· Chris Kennedy has also appealed his property tax assessment for his Kenilworth home to the Board of Review and the Board ruled in his favor. (158 Melrose Avenue)
· In 2012, 2014, and 2015, Rauner appealed his assessment for his Randolph Street Penthouse. (340 E. Randolph Street, 61-PHE)
· In 2012, 2014, and 2015, Rauner appealed his assessment for his Randolph Street condo. (340 E. Randolph Street, #4103)
· In 2012, 2013, 2014, and 2015, Rauner also appealed his assessment for three parking spots (Space P1-28, Space P2-30, Space P2-36)
OK, but there are important distinctions. Kennedy only lowered his assessment by $10K. And Rauner's people point out that his condo association appealed those assessments, not him. And those appeals were denied.
* The other difference is that one of Pritzker's campaign themes is making rich people pay more taxes, as opposed to Rauner's goal of lowering their taxes…
"We've got to start by taxing the millionaires and billionaires first. We're not going to middle-class families until we get people to pay their fair share," Pritzker told reporters after his announcement.
Then again, the property taxes he was paying were "unfair," according to the assessor's office.
* From the ILGOP…
"It's clear that when it comes to gaming the system for tax breaks for billionaires, J.B. Pritzker thinks big. Real big. Pritzker's insider scheme to dodge taxes is shocking." - Illinois Republican Party Spokesman Steven Yaffe
* You can bet that "insider scheme" phrase will continue to be used. As some Rauner types have reminded me this morning, they beat the living heck out of state House candidate Merry Marwig last year for filing a couple of property tax appeals, and she didn't get nearly the reduction that Pritzker received…
Every second mailer emphasized two somewhat nebulous "Madigan connections." One was that Marwig moved into the 41st Ward from Wicker Park in 2013 and got her property taxes lowered twice; Madigan's law office handles such tax reductions.
And if, as expected, Berrios' Cook County Democratic Party endorses Pritzker, you'll definitely see the Republicans use that Pritzker-Berrios-Madigan connection over and over and over again.
…Adding… As pointed out in comments, Berrios' spokesman told the Sun-Times that his boss didn't know Pritzker got the assessment reductions. But, that likely won't matter to the ILGOP.
- Posted by Rich Miller 59 Comments


* Gov. Bruce Rauner should've maybe run for the United States Senate because he's such an expert filibusterer. Check out how he ran out the clock at the end of his WBEZ interview today…
Q: Before I let you go, I have to ask you, do you think you bear any responsibility for the impasse?

A: We all need to work together, Republicans, Democrats, everybody to get a truly balanced budget. It is very difficult because the General Assembly has never passed balanced budgets for decades. Their solution is always just don't pay pensions.

Q: [Interrupting] But do you think you bear any responsibility?

A: [Cross-talking] We all, we all have a job to do and that is to compromise and do what's right for the people of Illinois for the long-term, so our children and our grandchildren have a better future in Illinois. It is immoral what has happened in our state government for the last 35 years, we, it is wrong for us to leave a hundred and ninety billion dollars in debt [play-out music starts] to our children and grandchildren, we are not gonna let that happen.

Q: Gov. Bruce Rauner, we will see you back here in June. In the meantime, thanks for stopping by.

A: Tony, great to be with you. Thank you.
- Posted by Rich Miller 48 Comments


* I'm betting the audience wasn't booing "the system" yesterday…
Republican Gov. Bruce Rauner on Thursday was booed by Chicago State University students and their families during a commencement ceremony at the school, an outburst the governor called "negative feedback" while adding he'd "love to boo our system as well."

The university has been among those hit hardest by the ongoing state budget fight between Rauner and Democrats. The two-year impasse has left Illinois' public colleges and universities with diminished, infrequent state funding. About 400 Chicago State employees were laid off last year, which the school said was a consequence of the budget stalemate. […]

"When I was introduced and stood up to speak, there was clapping but there was also some negative feedback," Rauner said. "And you know what, I share their frustration. This system is broken. I am totally with them. I'd love to boo our system as well. I'm not going to boo it, I'm going to change it. We're going to make it right."
- Posted by Rich Miller 67 Comments


* Reuters…
May 11 Illinois faces costly consequences if it fails to pass a budget by the end of May and is hit with more credit rating downgrades, state lawmakers were warned this week.

John Miller, co-head of fixed income at Nuveen Asset Management, told a House committee on Thursday that reaching a balanced budget deal by May 31 is "absolutely critical" for the nation's fifth-largest state.

He said the move could stabilize or improve Illinois' triple-B credit ratings, which are two notches above junk and the lowest among U.S. states. Without a budget agreement, Illinois risks falling into junk, where the pool of investors willing or able to purchase its debt is much smaller, he added.

Miller said contagion from Illinois' shaky credit standing has spread to other municipal bond issuers in the state, resulting in an extra $930 million in annual debt service paid statewide. […]

Records from S&P, Moody's, and Fitch Ratings dating back about half a century or more show no states rated junk.
* Related…
* Illinois Issues: Fiscal Fantasy
- Posted by Rich Miller 34 Comments