* Um. What?…
A top, top GOP politico tells Sneed Republican state legislators are being indoctrinated with far-right ideology since the state budget limped into passage recently.

• Translation: "They are being called in to meet individually with the staff of the uber-conservative Illinois Policy Institute for questioning and/or indoctrination on its far-right ideology — now that Governor Bruce Rauner has moved many of its staff, including his new chief of staff, Kristina Rasmussen, from the institute's office into the actual office of the governor," the source tells Sneed.
I haven't been able to confirm that story today. I've seen Rauner's new chief at dinner with some members, but nobody's complained to me about any "indoctrination" effort. That doesn't mean it isn't happening, but I still have my doubts.
*** UPDATE ***  Sen. Chris Nybo (R-Elmhurst) told me earlier that the Sun-Times story above doesn't make any sense, so I asked him to send me a quick statement…
It stuns me that people would say Ms. Rasmussen is attempting to 'indoctrinate' Republican legislators. Just the opposite. In my meetings with her, I feel she does more listening than talking, and her focus has mostly been on operational (not ideological) issues. In fact, I've rarely been so impressed in such a short timeframe with what has been said and how it has been said. She's a clear, concise, and capable communicator.
[ *** End Of Update *** ]
* Meanwhile…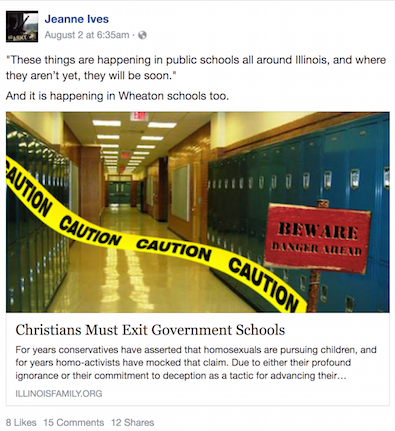 * From the shared article…
For years conservatives have asserted that homosexuals are pursuing children, and for years homo-activists have mocked that claim. Due to either their profound ignorance or their commitment to deception as a tactic for advancing their pernicious goal of normalizing homoeroticism, homo-activists misrepresented what conservatives were claiming.

Homo-activists falsely claimed that conservatives were worried that they would try to "turn children gay," when, in reality, most conservatives were claiming that homo-activists were feverishly working through every cultural institution to eradicate conservative views on the nature and morality of homosexuality. In other words, homo-activists were pursuing the hearts and minds of other people's children. […]

Unfortunately for the countless children and teens who attend public schools, the 2017/2018 school year is just around the corner, and like dirty old men in trench coats lying in wait to expose children to sordid things, so too await public school administrators and teachers to do likewise. Unlike perverts who lurk in darkness, however, these government employees have no shame. They do their dirty work of exposing children to wickedness openly and call it "love."
Whew.
* The Tribune followed up with an article entitled "Lawmaker shares op-ed comparing teachers who support transgender rights to 'dirty old men'"…
Ed Yohnka, an ACLU spokesman, said: "When people go to their corners and stop listening … we lose a moment that could be used for education."

"There is a fundamental misunderstanding of what it means to be transgender … a transgender boy is a boy; a transgender girl is a girl," Yohnka said.

And Amy Biancheri, a Batavia teacher who commented on behalf of the IEA, described likening public school teachers to "dirty old men" as "ludicrous."

"LGBT students in general and transgender students in particular are at greater risk of homelessness, suicidal ideation and completion, and harassment from other students — it's teachers' job to create a safe space for learning for all students, regardless of race, class or gender identification."
80 Comments















































































































































































































































Sorry, comments for this post are now closed.