* I posted a press release about this topic on late Friday afternoon. Here's the Deerfield Patch…
Illinois House Speaker Mike Madigan isn't just a factor in Democratic primaries, he's also coming into play on the Republican side. Upset at being linked to the leader of the state Democratic Party in his opponent's recent campaign literature, one of two Lincolnshire Republicans seeking to replace outgoing state Rep. Carol Sente in the north suburban 59th District filed a lawsuit in Lake County Court demanding a retraction and apology.

The ads in question were sent by the House Republican Organization on behalf of the campaign of Karen Feldman, a realtor and Lincolnshire trustee.

The mailers accuse her opponent, Marko Sukovic, a graduating senior at the University of Illinois with own political consulting firm, of taking "tens of thousands of dollars in cold hard cash from Mike Madigan's closest allies."

However, a look at Sukovic's campaign filings with Illinois State Board of Elections reveals that he's reported raising less than $10,000 – much of it from family members.

Nonetheless, according to the crudely photoshopped mailers, "Mike Madigan and his henchman are pulling Marko Sukovic's strings."
* Daily Herald…
When reached for comment about the suit, filed Thursday, Feldman wrote in an email: "I just received news of the lawsuit this afternoon. I am meeting with my attorneys this weekend and will have a better understanding of it next week. However, the lawsuit has nothing to do with me."

Sukovic, a 22-year-old graduating senior from the University of Illinois and owner of a public relations firm, is running to occupy the seat soon to be vacated by Rep. Carol Sente. […]

Joe Woodward, political director of the House Republican Organization, didn't directly address the lawsuit or the mailer in an email Saturday, but said that "Sukovic is upset that HRO vetted both him and Karen Feldman, and came to the conclusion that Karen Feldman is a much stronger candidate for the 59th district."

The initial hearing in the suit is scheduled for March 2.
* E-mail from Karen Feldman…
Marko's lawsuit, as it pertains to me, is without merit. I have retained counsel, and Friday morning we will be presenting a motion to dismiss me from the matter. Marko and his dad have filed a vexatious and frivolous lawsuit without making a good-faith inquiry into either the law or facts. They both know I had nothing to do with the political mailings sent out by House Republican organization. Adding me to the suit is nothing more than an attempt to distract the voters. I will have further comment after the court hearing this coming Friday.
* One of the mailers…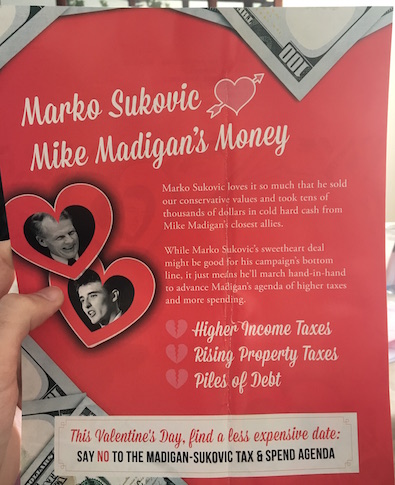 21 Comments






























































Sorry, comments for this post are now closed.