* This is a developing story. More when I know more…
Speaker Madigan about to talk with reporters in Blue Room after a lengthy caucus about sexual harassment complaints.

— Monique Garcia (@moniquegarcia) February 27, 2018
Here is a list of sexual harassment complaints in Speaker Madigan's office in last five years, which was just passed out to reporters. pic.twitter.com/MXiRQ5e5y5

— Monique Garcia (@moniquegarcia) February 27, 2018
…Adding… An original copy of the list is here.
Notice that no "unresolved" complaints are listed above. Also, lots of exclusions.
…Adding… Speaker Madigan said he sent the document to the other legislative leaders and constitutional officers and recommended that they do the same.
Reporters were told there are only a small number of unresolved complaints.
Madigan could not say when the above incidents occurred.
"What does this say about your office?" Madigan was asked about the volume of complaints. "Is there a culture within your office?" Madigan replied, "There's no culture with me… (The report shows) we don't tolerate this behavior."
Madigan was asked if any new allegations had emerged against his leadership team or members of his caucus. "Not to my knowledge."
According to Heather Wier-Vaught, the first allegation occurred in 2013, the last one on the list was "more recent."
Speaker Madigan also reiterated that he would not resign.
- Posted by Rich Miller 25 Comments


* Harsh…
Ra Joy: "Some people are on an apology tour; we are on a commitment tour" as @KennedyforIL receives Clergy endorsements today #twill #ILGov pic.twitter.com/sWcfuFCnlr

— Mary Ann Ahern (@MaryAnnAhernNBC) February 27, 2018
Kennedy ups the criticism on opponents: "Would you prefer a serial tax cheat like JB Pritzker?" Or "Dan Biss …epitomizes the brutality" of taking pension benefits away #twill #ILGov @KennedyforIL @JBPritzker @DanielBiss pic.twitter.com/hYrEvV8XWX

— Mary Ann Ahern (@MaryAnnAhernNBC) February 27, 2018
I don't have anything else on that event.
…Adding… Press release…
More than 20 pastors from throughout Chicago endorsed Chris Kennedy for Governor today at Quinn Chapel AME Church.

"Illinois needs someone who will not bow to the party bosses. I've listened attentively to Chris Kennedy, and this man has made a believer out of me," said Rev. Ira Acree of Greater St. John Bible Church on Chicago's west side. "He's not going to Springfield to be anybody's pawn, but he's going there to lead the system overhaul that's needed in Illinois."

The pastors cited Kennedy's character and contrasted it with JB Pritzker, referencing his comments on FBI tapes and his ties to the political establishment in Springfield.

"Chris Kennedy is a man of passion and compassion. Chris Kennedy has a passion to serve and a compassionate heart for the people," said Rev. Alvin Love Lilydale First Baptist Church in Chicago. "He is not afraid to make radical change. I stand with Chris Kennedy because I trust his character."

During the endorsement Kennedy reinforced his commitment to justice.

"We believe in the separation of church and state," Kennedy said. "But what we don't believe in is the separation of morality and politics. What we don't believe in is the separation of ethics and government."
* Meanwhile, put another zero behind that and we're talking…
Democratic Gov. candidate Chris Kennedy receives $245k in contributions, including $100k from nephew Joe Kennedy's Congressional campaign committee #twill #ilgov https://t.co/urDwuHjzkg

— ILCampaign (@ILCampaign) February 27, 2018
ADDING: It's his brother Joe, not his nephew, according to the campaign.
- Posted by Rich Miller 20 Comments


* Republican state Senate candidate Seth McMillan on school shootings…
To me, uh, the discussion should be about why do we have a generation of kids who are, you know, is it a, is it, is it the family, is it the decline in, in, in the family unit, do we have broken homes that these kids are coming from?

[Raising his voice] Why do we have a government bureaucracy of social workers that aren't doing their jobs?
* From Chronicle Media…
In fiscal year 2016, more than 20,000 Illinois youth — many of them elementary and high school students — were treated by a mental health agency, according to the federal Substance Abuse and Mental Health Services Administration. The agency reported that children from birth through age 17 made up 28 percent of the 72,826 people statewide who received treatment in the last fiscal year at a mental health agency.

Due to their overwhelming caseloads, school social workers, in some cases, will not see a student unless the individual is suicidal or an immediate danger to others. Students with mental issues deemed non-life-threatening are often given an appointment weeks away.

"If I could clone myself to make five more of me, I think I could be adequately handling my caseload," said Katie Smiley, a social worker at Larkin High School in Elgin. "The burden becomes heavier and heavier every day. We need more support. We need help." […]

Susan Hickey, a retired Chicago Public Schools social worker, noted before a hearing of the Mental Health Committee Oct. 2 that CPS has one social worker for every 1,250 students, [one fifth] the recommended ratio put forth by the School Social Work Association of America [of one per 250].

"I still hear from social workers at CPS and they are literally crying their eyes out," Hickey said. "They can't handle what they have to deal with."

Hickey noted that there are more security officers in the Chicago Public Schools than social workers and counselors combined.

"Security officers are not able to handle kids in crisis situations," Hickey said. "That is not their training."
…Adding… I forgot to mention that the new school funding reform law sets some targets to get to that 1:250 ratio.
- Posted by Rich Miller 23 Comments


* The ILGOP claims that Comptroller Mendoza won't be independent of Madigan on the sexual harassment issue…
#IL Comptroller @SusanaMendoza10 says she'll be "independent" of Madigan in combating sexual harassment in the Democratic Party, but her record shows nothing but loyalty to Madigan. Roll the tape. #twill pic.twitter.com/hHSsmWIxjg

— IL Republican Party (@ilgop) February 27, 2018
* Interviews during an investigation do not equal guilt, but this is an interesting point…
Why has @GovRauner been so silent on criticizing Speaker Madigan after Madigan had to dismiss 2 of inner circle for #sexharassment? Sources say EIOG Maggie Hickey has interviewed women about former Rauner General Counsel Dennis Murashko's behavior, will public see final report?

— Mary Ann Ahern (@MaryAnnAhernNBC) February 27, 2018
* Media advisory…
TUES, 7:30PM: Legislators and members of newly formed Campaign Workers Guild meet to discuss protecting political staff from abuse and harassment

WHO: State Rep. Kelly Cassidy (D-Chicago), State Rep. Will Guzzardi (D-Chicago), State Rep. Theresa Mah (D-Chicago) State Rep. Christian Mitchell (D-Chicago), other legislators, and the Campaign Workers Guild, a newly formed union representing political campaign workers

WHAT: Four Democratic Chicago State Representatives — Cassidy, Guzzardi, Mah and Mitchell will meet with the Campaign Workers guild on Tuesday to seek guidance to begin to address concerns arising from recent allegations about sexual harassment in the Democratic Party of Illinois. The meeting from 5:30-7:30 will be closed to the press but the legislators as well as a representative from the Campaign Workers Guild will be available for comment immediately after the meeting.

WHERE: Red Roof Inn (formerly State House Inn), 101 E Adams, Springfield, IL, in the Gallery Room
* Democratic candidate invokes a movement against sexual harassment called "Time's up!" in a campaign press release about petitions…
An expedited decision will be made today by Judge Robert Bertucci in the Circuit Court of Cook County—Room #1704 to determine if Andrea Raila, Candidate for Cook County Assessor will remain on the ballot.

Andrea Raila has been submitted to an unprecedented 73 days of a grueling and often dehumanizing petition challenge process and over $300K in an unchecked mix of taxpayer and private money thrown in every direction to keep her name off the ballot.

The war waged against Andrea Raila is led by self styled progressive Frederick "Fritz" Kaegi. As a result, Kaegi has allowed thousands of taxpayer's dollars to be spent to fight his war to remove a qualified woman with more than 37 years of experience in property tax assessments and appeals from the ballot.

An examination of Kaegi's unchallenged petitions reveals identical technical irregularities that he accuses Raila of with the slanderous term "pattern of fraud." In addition, petitions have surfaced belonging to the Kaegi camp that were circulated and notarized before the legally allowed date for petitions to be circulated along with affidavits from the circulators.

Up to now, the Kaegi camp has gone virtually unchallenged. Raila declares, "If Kaegi wants this office, he will have fight for it tooth and nail and come clean with the voters of Cook County. Time's up! We are not going to sit idly by while he makes arrogant decisions for the voters of Cook County. Our voices will be heard and our supporters will see their democratic right to vote for me realized."
…Adding… From Kaegi campaign manager Rebecca Reynolds…
"All the feigned outrage in the world doesn't change the fact that Andrea Raila personally engaged in an unprecedented level of fraud. The voters see right through this political charade."
* From Morning Spin…
State Sen. Ira Silverstein reports the Illinois Senate Democratic Victory Fund controlled by Senate President John Cullerton paid $50,000 for media production.
That $50,000 to Silverstein is part of three other contributions from Cullerton to his damaged member totalling well over $100K.
* Today's headlines from some of Dan Proft's papers…
- Posted by Rich Miller 7 Comments


* Last year, the GA passed a new law to increase the sentencing range for repeat gun offenders. But Cook County's bond court is taking an odd turn on accused gun felons.
Cook County Board President Toni Preckwinkle on Monday disputed Sheriff Tom Dart's recent assertion that public safety could be compromised because hundreds more gun suspects have been released from custody on electronic monitoring since bond overhaul measures took effect last fall. […]

"The types of cases addressed by Sheriff Dart (in his letter) are gun cases — but they are gun cases in which nobody was shot or killed," [Pat Milhizer, a spokesman for Chief Judge Timothy Evans] said. "That means the charge is not an inherently violent charge," he said. […]

In a letter to Cook County authorities last week, Dart expressed concern that bond changes had led to a dramatic increase in the number of gun offenders released from Cook County Jail on electronic monitors. In response, he said, his office has begun to make changes: shifting staff, conducting a more thorough vetting process and, if necessary, declaring detainees too risky for the anklets altogether.

But Preckwinkle's letter, citing Dart's own data, pointed out that out of 195 alleged gun offenders released pretrial since bond changes took effect, just five had picked up a new gun charge as of Feb. 1. And felony gun charges have remained constant, Preckwinkle said, indicating that no increased safety threat can be attributed to bond decisions about gun offenses.
The sheriff's original letter is here.
Look, most everybody wants bond reform to work. But the reform was specifically designed for non-violent accused offenders, not alleged gun-carrying felons. Dart's spokesperson says it's way too early to make a judgement on recidivism of those offenders. If she's right, there's gonna be heck to pay.
* From Sheriff's Dart report…
Before 9/18/17, D-Bonds [defendant has to post 10 percent] for felony gun charges were administered at a higher rate with higher bond amounts than after 9/18/17. Before 9/18/17, No Bonds, IEM [no cash, but electronic monitoring], and I-Bonds [released on own recognizance] were rarely administered for felony gun charges. After 9/18/17, the use of No Bonds, IEM, and I-Bonds increased dramatically.
* The accompanying charts…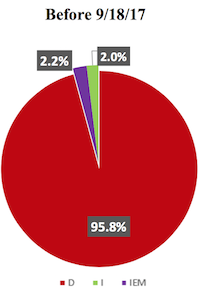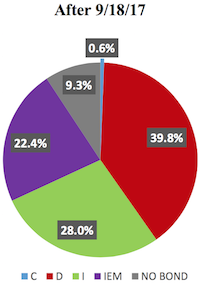 And that's not all. According to the sheriff, the median D-Bond before the change was $75,000. After the change, the median D-Bond dropped to just $10,000.
Sheriff Dart also says he simply doesn't have the resources to electronically monitor all these alleged gun felons because they require so much extra attention.
…Adding… OneMan is exactly right…
Also concerned that it will have a negative impact on the bond changes overall. If there is an issue with someone, it will be used as a reason to push back on all the changes.
The changes Dart trumpeted made sure that accused non-violent offenders aren't in jail just because they couldn't afford to post bond. The pendulum has swung too far and could swing back if something bad happens.
- Posted by Rich Miller 36 Comments


* From last September…
A lawsuit brought by a former primary challenger to Democratic House Speaker Michael Madigan can continue after [federal Judge Matthew F. Kennelly] ruled Wednesday he'd previously overlooked allegations that Madigan used his authority and influence to damage and discredit his opponent.

Jason Gonzales alleges that the veteran South Side lawmaker put up "two sham candidates with Hispanic last names to split up the Hispanic vote" in order to defeat him in the March 2016 primary, according to the ruling. […]

The decision also indicates an interest in digging into the time-honored tradition of placing sham candidates on a ballot. […]

Citing precedent set in a 1973 case involving a Democratic primary for a state Senate seat, Kennelly notes that, "Gonzales alleges that defendants registered these sham candidates to split up the Hispanic vote and prevent the election of a Hispanic representative. This is sufficient to allege purposeful discrimination."
Because of that ruling, I don't know of any other alleged Chicago-area put-up candidates this year, except in Rep. Rita's race.
* Last night…
A Democratic challenger in the race for the 28th House District — one of the most expensive in Illinois this primary season — is accusing incumbent state Rep. Robert "Bob" Rita of benefiting from election shenanigans straight out of House Speaker Michael Madigan's playbook.

Mary Carvlin, a Spanish teacher from Blue Island, Illinois, says the race's third contestant Kimberly Koschnitzky is a "ghost candidate" put on the ballot by Speaker Madigan's political organization solely to draw votes away from her campaign. Having a second challenger could split the vote between the two women and help Rita by default. […]

After Carvlin accused the Speaker of supporting the race's third candidate earlier this year, NBC 5 Investigates has confirmed several volunteers and donors from the 13th Ward Democratic Organization — Madigan's political operation — helped Koschnitzky gather petition signatures to get her onto the ballot.

The Illinois State Board of Elections documents reveal at least six of Koschnitzky's petition circulators — William Nambo, Ronald Crane, Steven Hensley, Frank Varnagis, Steven Szalko Jr. and John Grzymski — have been affiliated with Madigan's political operation. In addition, State Board of Elections campaign contribution reports show each of them has donated to the 13th Ward Democratic Organization between $200 and $2,900.

Nambo and Crane were confirmed by multiple sources in and outside of Madigan's political organization as having been precinct captains for the 13th Ward in the past.
Mary Carvlin reported having just $550 in the bank at the end of December and has reported nothing since then. The alleged ghost Koschnitzky has not filed any paperwork with the Board of Elections as of this writing.
- Posted by Rich Miller 18 Comments


* From the Champaign News-Gazette…
The best candidate in the race is party apostate Drury, who has committed the unpardonable sin of breaking politically and publicly with Democratic House Speaker Michael Madigan.

Other candidates may pay lip service to politics-as-usual. But Drury is the only one who, in both word and deed, made it clear that he is a new type of Democrat trying to build a new type of Democratic Party in Illinois.

As a former federal prosecutor, Drury is clearly suited to hold the position he seeks. As a sincere reformer, the liberal Drury represents a beacon of hope for Democrats, as well as independents and Republicans who are as sick of Illinois' corrupt and dysfunctional state government.

Being an ambitious Democrat in Illinois requires fealty to Michael Madigan in one way or another. All he asks is loyalty to doing things his way when he wants things to go his way. The cost to Illinois of his long, blinkered leadership has been high. […]

Michael Madigan & Co. are working hard to ensure Drury's defeat in the primary election. They did their best to knock him off the ballot altogether through a frivolous objection. But Drury is on the ballot, and Democrats won't go wrong in supporting him.

Illinois must change to survive. Business-as-usual is killing this state, and Drury is anything but business-as-usual.
* Drury's questionable ballot status was one factor in preventing early voting from starting in every county. But it's now underway all over the state…
The State Board of Elections says about 30 voting districts were not ready to sign off on all of the candidates when early voting started. Some were still dealing with ballot challenges, which meant they could have been pulled from the race at any time.

Early voting was supposed to begin nearly two weeks ago. The last real roadblock was a case against Democratic attorney general candidate Scott Drury, which was resolved last week.
* Drury, by the way, got name-checked by Republican Illinois House candidate Mike Babcock…
"Political operative Kevin Quinn's treatment of women is disgusting and the warning signs about his behavior were everywhere," Babcock said in the statement. "Speaker Madigan is out of touch and turned a blind eye. He should immediately resign as Speaker of the House and as head of the Illinois Democratic Party."

Babcock also challenged Rep. Monica Bristow, his Democratic opponent in the November election, to call for Madigan's resignation as well.

"Will she stand up for the victims of domestic violence and sexual harassment, or continue bowing to the pressure of Madigan and look the other way?" Babcock said. "I pledge to not vote for him as speaker if elected, and challenge Bristow to publicly commit to do the same.

"Democrat State Representative, Scott Drury, has demanded Madigan resign. Yet, Representative Bristow remains silent," said Babcock. "Monica's silence speaks volumes."
* Other stuff…
* AG candidate Fairley touts uniqueness

* Jesse Ruiz will fight opioid manufacturers

* Mariotti promises to fight for working class people
- Posted by Rich Miller 22 Comments


* Seems like a pretty good idea…
If a child disappears, an Amber Alert is issued. It's a Silver Alert if the person is elderly. But, what about those who are disabled?

Right now, there's no alert system to find those with intellectual disabilities, but that could soon change thanks to some work at the Capitol. Lawmakers are filing legislation hoping to give many families peace of mind.

Greg O'Connor is the director of Sparcs. The nonprofit helps those with disabilities lead productive lives. He says he doesn't think it's extremely common, but admits these people are extremely vulnerable and it could be a major help if they get lost.

The bill would change the Missing Persons Act and include those living with developmental and intellectual disabilities under the high-risk label. That way, caretakers and loved ones can request an alert to help locate them.
* These caseworker jobs are far more dangerous than most people realize…
Following the brutal beating and eventual death of a Department of Children and Family Services caseworker who was trying to take a child into protective custody, efforts are in motion to protect child welfare workers going out on potentially dangerous visits.

The measures are happening at both the agency rulemaking level, as well as in the state Legislature, where a pair of bills have been proposed to help thwart future attacks.

DCFS caseworker Pamela Knight was at the Carroll County home of Andrew Sucher's parents on Sept. 29 when Sucher allegedly kicked her in the head with such force that she suffered a fractured skull. Knight, 59, died Feb. 8. Sucher, 25, was indicted last week on first-degree murder charges.

The attack, along with a November report in The Chicago Tribune that found more than a dozen attacks against DCFS workers since 2013, have officials pursuing changes.

Senate Bill 2272, introduced by state Sen. Tim Bivins, R-Dixon, and co-sponsored by Sen. Melinda Bush, D-Grayslake, would give DCFS case workers the same protected status as police officers and firefighters harmed while performing official duties.
* Hmm…
Some Illinois lawmakers want to allow residents to bypass federal caps to state and local tax deductions by creating a program that could turn people away from the new private school scholarship plan.

Initially, lawmakers wanted to create the "Illinois Excellence Fund," a public charity that would allow a 100 percent state tax rebate and a deduction on federal taxes. This would, in theory, subvert the $10,000 cap on the SALT deduction in the federal tax overhaul, according to a University of Chicago professor.

State Rep. Jonathan Carroll amended the plan to call it the Illinois Education Excellence Fund. It would send money to local public schools for a 100 percent deduction on state taxes, more than the 75 percent deduction from the Invest in Kids program that helps students go to private schools. The Invest in Kids program was created last year as part of a partisan compromise that that also sent hundreds of millions of more state tax dollars to Chicago Public Schools.

Carroll said the change was made to be "more specific." The program could take donors – and dollars – from the Invest in Kids program because it would create a 25 percent more lucrative incentive for Illinois residents looking for state tax credits.
- Posted by Rich Miller 8 Comments


* A press release from Rep. Jeanne Ives points out that former Madigan aide Kevin Quinn, the younger brother of Madigan's alderman, spent years moving back and forth between state and campaign work…
In round numbers, alleged sexual predator Kevin Quinn is in line for a $750,000 payout from Illinois families.

Here's how the scam works. Political bosses like Madigan put political operatives on the state payroll in dubious jobs to accrue benefits. They roll on and off the state payroll based on their political campaign assignments throughout an election cycle. […]

Over 17 years, Kevin Quinn went on and off state payroll over and over again. He spent half the year– ostensibly– working for the state, and the other half working for Madigan's campaigns.

What exactly did Kevin Quinn do while working for the state?

In what kind of employment situation and for what kind of work can someone work half the year?

What kind of employer can maintain an employee who consistently works 50 percent of the time over 17 years?

No employer other than the State of Illinois.
* And then after a bit she goes off on her own House Republican Leader…
How about Rauner toady Jim Durkin? The House GOP Leader is another who likes to decry Madigan while behaving like him.

Denise Rotheimer has called out Durkin for being unresponsive to her call for help in her case of sexual harassment against State Sen. Ira Silverstein.

And the Daily Herald has been covering the hiring of Durkin's sister-in-law Laura for an $80,000 job in the engineering department at the Illinois Tollway, a traditional patronage dumping ground. Durkin's sister-in-law last worked in 2001 selling office furniture.

This bipartisan scamming of Illinois taxpayers has to end. And it will if I'm governor.
Circular. Firing. Squad.
- Posted by Rich Miller 33 Comments


* Press release…
After two years of an extensive privately-funded renovation, the Illinois Governor's Mansion will reopen to the public on July 14, 2018, Illinois' First Lady Diana Rauner announced today at the annual Illinois Governor's Conference on Travel & Tourism.

"Bruce and I made a promise to the people of Illinois to renovate the Governor's Mansion to restore the pride in this historic building," said First Lady Diana Rauner, chair of the Illinois Governor's Mansion Association. "With an all new visitor experience, expanded accessibility, and updated programming, we know the Governor's Mansion will be a must-see destination for tourists and Illinois residents to visit again and again."

The renovation, funded entirely with private dollars, makes the Mansion a usable residence for Illinois Governors. When it reopens this summer, the Mansion will also offer visitors a completely reimagined experience. It has a new look that is both stately and richly inviting in keeping with the Midwest hospitality of Illinois people.

The Mansion's new mission is focused on history education and appreciation and that is reflected in the newly renovated space. Visitors will be able to gather and learn from period art and exhibits featuring the 1893 Columbian Exposition. There is space to showcase Illinois fine and decorative arts. There a visitor's center and trained docents will lead tours 7 days a week. For the first time, the Mansion is ADA accessible.

"Our work to renovate the mansion focuses on so much more than just an updated façade and interior design," said John Bryan, Illinois Governor's Mansion Association board member. "I am very pleased to be part of a project that highlights the rich history of Illinois and brings art by local artists to the forefront of our state's capitol."

The Illinois Governor's Mansion Association received a grant from the Terra Foundation of American Art to support the inaugural art exhibit, 'Art in Illinois.' The exhibition brings together fine and decorative art from Illinois artists and features 102 works from mid-nineteenth century to present day. Twenty of the pieces have never been seen before and are on loan from private collections. 'Art in Illinois' will run through January 2019.
- Posted by Rich Miller 30 Comments


* Press release…
A new report shows that Illinois' education funding system provides 78 cents to a low-income student for every dollar spent on a non-low-income student and remains the most regressive system in the nation. Funding Gaps 2018, released today by The Education Trust, is an update to a report that was widely circulated by Advance Illinois and other partners as part of the effort to fix Illinois' school funding formula. The previous Funding Gaps report showed that Illinois spent 81 cents on a low-income student for every dollar spent on a non-low-income student.

"The Education Trust data has been instrumental in drawing attention to the inequity of Illinois' funding system and galvanizing action toward a solution," said Ginger Ostro, Executive Director of Advance Illinois. "Today's report underscores why the school funding formula needed to be fixed."

The report also features Advance Illinois and its campaign toward school funding reform, noting that the new formula went into effect for the 2017-2018 school year, after the education funding data reflected in this year's analysis were collected. Data in the analysis is from 2013-2015.

"It will be a number of years before these reforms are evident in the school district financial data used in these analyses," the report states. […]

In Illinois, the highest poverty districts receive 22 cents less in state and local funds per student than the highest poverty districts.
We're dead last in the country. Great. The full report is here.
According to the Illinois section of the report, the highest poverty districts receive $3,380, or 22 percent less per student than the lowest poverty districts. When the numbers are "adjusted for additional needs of low-income students," the highest poverty districts receive $4,281, or 29 percent less per student than the lowest poverty districts.
That funding reform bill couldn't have come too soon.
- Posted by Rich Miller 47 Comments


* Sneed…
Sneed has learned State Rep. Dan Burke will pay homage to the memory of slain CPD Commander Paul Bauer Tuesday by introducing a major piece of gun legislation named after him.

The Commander Paul Bauer Act, originally introduced in 2017 as House Bill 1469 — a piece of legislation with no substantive language — will include Burke's amendment banning the sale of body armor and high capacity gun magazines to anyone other than police officers, licensed security guards and members of the armed forces.

Sneed is also told the Bauer Act will have behind it the full weight of powerful House Speaker Mike Madigan. […]

Ald. Ed Burke, the state lawmaker's brother, said the bill "would be the first time that the legislature in Illinois been able to resist the forces of the NRA opposing any kind of reasonable gun control legislation."
Illinois already has a law on the books making it a crime to unlawfully use body armor…
Unlawful use of body armor. A person commits the offense of unlawful use of body armor when he knowingly wears body armor and is in possession of a dangerous weapon, other than a firearm, in the commission or attempted commission of any offense.
The new proposal…
A person commits unlawful use of body armor when he or she knowingly sells, transfers, purchases, possesses, or wears body armor.
Full disclosure: I purchased some body armor before going to Iraq. I think I got rid of it, but I suppose I'd better check around my house and garage just to make sure.
* Tribune…
Declaring that America is in the midst of a gun violence crisis, Mayor Rahm Emanuel on Monday urged state lawmakers and Gov. Bruce Rauner to approve a series of gun control bills and called on the public to hold officials' feet to the fire this week and in the upcoming elections.

Lawmakers could consider a group of bills on Wednesday that would require gun dealers to be licensed, raise penalties for the illegal use of body armor, address waiting periods for gun purchases, and ban "military-style" assault weapons high-capacity magazines and "bump stocks," Emanuel and Chicago police Superintendent Eddie Johnson said.

Johnson said he will travel to Springfield on Tuesday to testify in favor of the efforts, and Emanuel said he would be working the phones. The mayor on Monday repeatedly called on the public to get engaged in the maneuvering in Springfield and contended that a vote against the gun control bills was a vote against police officers.

"Watch this vote, and if the legislators do not back up the public safety, do not back up the police officers — in the primary and in this general election, you must hold them accountable," Emanuel said, pounding a podium as he addressed Chicago's latest class of police recruits. "Trust me, if they think they can get away without having any political pressure, they're going to do the bare minimum rather than what is the appropriate thing. This is not about their political safety, this is about our public safety. And don't let them get away with doing the bare minimum to take the issue off the table."
* ABC 7…
But the bill that bears Bauer's name is just one piece of a broad gun control bill that will go before state legislators this week.

"The Gun Dealer licensing Bill, which will allow us to encourage better business practices among gun dealers as well as holding corrupt dealers accountable. It will also require background checks for dealers and their employees, training to prevent straw purchasing, and enforce proper dealer security measures," Emanuel said.

As the national conversation about gun control has taken on a renewed urgency over the past few weeks, advocates are now hoping their proposal will get a better chance at becoming law.

"We're seeing more energy from young people than we've ever seen before, saying enough is enough," said Colleen Daly of the Illinois Council on Handgun Violence.

The bill also includes a waiting period for buying assault weapons, and a ban on bump stocks.
* Speaking of guns, Cook County Assessor Joe Berrios has a TV ad bashing his Democratic primary opponent Fritz Kaegi on the issue.
"To stop the NRA, follow the money," the ad begins, claiming that Kaegi "invested heavily in this NRA donor's company." Kaegi "got rich and the NRA got millions to spend blocking gun control."
*** UPDATE *** The campaign sent me a better copy…
Now that I can actually see it, the "NRA donor" in the TV ad is Clayton Williams, who made a reported $1.35 billion last year when he sold his company.
An interesting background piece on Williams and the NRA is here.
- Posted by Rich Miller 42 Comments