* Last year, the GA passed a new law to increase the sentencing range for repeat gun offenders. But Cook County's bond court is taking an odd turn on accused gun felons.
Cook County Board President Toni Preckwinkle on Monday disputed Sheriff Tom Dart's recent assertion that public safety could be compromised because hundreds more gun suspects have been released from custody on electronic monitoring since bond overhaul measures took effect last fall. […]

"The types of cases addressed by Sheriff Dart (in his letter) are gun cases — but they are gun cases in which nobody was shot or killed," [Pat Milhizer, a spokesman for Chief Judge Timothy Evans] said. "That means the charge is not an inherently violent charge," he said. […]

In a letter to Cook County authorities last week, Dart expressed concern that bond changes had led to a dramatic increase in the number of gun offenders released from Cook County Jail on electronic monitors. In response, he said, his office has begun to make changes: shifting staff, conducting a more thorough vetting process and, if necessary, declaring detainees too risky for the anklets altogether.

But Preckwinkle's letter, citing Dart's own data, pointed out that out of 195 alleged gun offenders released pretrial since bond changes took effect, just five had picked up a new gun charge as of Feb. 1. And felony gun charges have remained constant, Preckwinkle said, indicating that no increased safety threat can be attributed to bond decisions about gun offenses.
The sheriff's original letter is here.
Look, most everybody wants bond reform to work. But the reform was specifically designed for non-violent accused offenders, not alleged gun-carrying felons. Dart's spokesperson says it's way too early to make a judgement on recidivism of those offenders. If she's right, there's gonna be heck to pay.
* From Sheriff's Dart report…
Before 9/18/17, D-Bonds [defendant has to post 10 percent] for felony gun charges were administered at a higher rate with higher bond amounts than after 9/18/17. Before 9/18/17, No Bonds, IEM [no cash, but electronic monitoring], and I-Bonds [released on own recognizance] were rarely administered for felony gun charges. After 9/18/17, the use of No Bonds, IEM, and I-Bonds increased dramatically.
* The accompanying charts…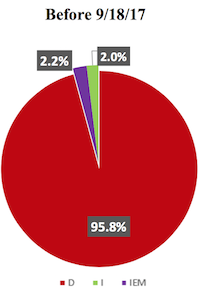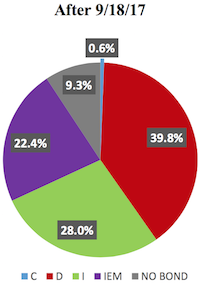 And that's not all. According to the sheriff, the median D-Bond before the change was $75,000. After the change, the median D-Bond dropped to just $10,000.
Sheriff Dart also says he simply doesn't have the resources to electronically monitor all these alleged gun felons because they require so much extra attention.
…Adding… OneMan is exactly right…
Also concerned that it will have a negative impact on the bond changes overall. If there is an issue with someone, it will be used as a reason to push back on all the changes.
The changes Dart trumpeted made sure that accused non-violent offenders aren't in jail just because they couldn't afford to post bond. The pendulum has swung too far and could swing back if something bad happens.
36 Comments











































































































Sorry, comments for this post are now closed.