[Reader comments are now open on this post.]
*** UPDATE *** From Speaker Madigan…
"Last week I was advised of inappropriate behavior by a volunteer toward a candidate and staff during the 2016 election. I quickly made sure the individual had no participation in any activities my committees are involved in. I offered to refer the matter to outside counsel and that offer was declined. The complainant and I met with the individual and the complainant assured me that the situation had been appropriately resolved. The individual will no longer be involved with any activities of my political committees. I reaffirm my commitment to change the culture. I do not tolerate inappropriate behavior or abuse of any kind and remain committed to ensuring all individuals can do their work without fear of harassment, abuse, or retaliation."
[ *** End Of Update *** ]
* You may have seen this bubbling up on Twitter today…
NEW: Hearing an additional well known, high ranking operative to Speaker Madigan has been quietly removed from organization for alleged complaints, Speaker's spox will only say "he has no current assignment" #twill

— Mary Ann Ahern (@MaryAnnAhernNBC) February 19, 2018
#Madigan. Shaw Decremer former field lieutenant to Speaker & successful lobbyist "has no current campaign assignments." Dem lawmakers say that is unusual in primary season. May be a firing.

— Edward Marshall (@edmarshallcbs2) February 19, 2018
Join us at 5p @nbcchicago, latest on new Dem operative quietly removed from campaigns after allegations of inappropriate behavior, and #ILGov Dem candidates react, louder criticism for Madigan, with the exception of @JBPritzker #twill

— Mary Ann Ahern (@MaryAnnAhernNBC) February 19, 2018
Pritzker needs to do so much better on this stuff.
* Anyway, I'm told that Decremer was abruptly removed from four House Democratic campaigns after complaints were made late last week by four campaign workers, who haven't yet come forward. The allegations at least partly involved Rep. Deb Conroy's 2016 campaign. I asked Rep. Conroy for comment (including whether she'd also been harassed) and she sent me this image via text…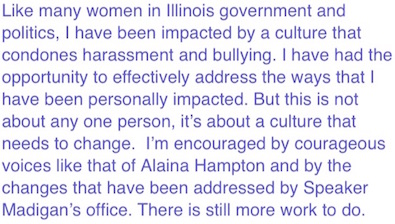 …Adding… Mary Ann Ahern's story is here.
* From the Biss campaign…
Today, Daniel Biss and Litesa Wallace released the following joint statement in response to the continued sexual harassment allegations within Mike Madigan's political operations:

"Time's up for Mike Madigan and the political machine he controls. After Alaina Hampton bravely came forward, Madigan had an opportunity to lead, and chose to make more backroom deals. These actions demonstrate he cannot and should not lead our party, and also cause us to seriously question his role as Speaker of the House.

"In the best interest of justice and truth, and to protect the women who have bravely come forward, Madigan should immediately resign from his position as Chairman of the Democratic Party of Illinois. And to ensure a truly independent investigation, we call on the Office of the Inspector General to conduct a swift and thorough investigation into these allegations."
I'm not sure how the state's Legislative Inspector General can investigate campaign behavior.
…Adding… From tonight's forum…
When asked if Speaker Madigan has done enough to address sexual harassment in the IL Democratic Party, JB Pritzker doesn't say Madigan's name but says "more needs to be done, there needs to be an independent investigation to look into allegations" pic.twitter.com/aWbswP4F8o

— Paris Schutz (@paschutz) February 19, 2018
…Adding… I think this is correct…
Three key questions that will dominate Illinois politics in the days to come. What did the Speaker know? When did he know it? What did he do about it?

— Dave Lundy (@DaveChgo) February 19, 2018
…Adding… Tribune…
For the second time in a week, Illinois House Speaker Michael Madigan has parted ways with a top lieutenant in his Democratic political organization, this time citing "inappropriate behavior by a volunteer toward a candidate and staff" during a 2016 campaign.

While Madigan's statement did not name the operative, sources familiar with the circumstances confirmed that it is Shaw Decremer. Democratic state Rep. Deb Conroy and several other staffers approached Madigan within the last week with complaints about Decremer's behavior, one of the sources said.

Reached late Monday, Conroy declined to detail the behavior, saying she is focused on moving forward.

"In this case, it was an abuse of power. That's all there is to it. It's not sexual harassment per se. I guess it's harassment, but I feel like it's been handled from my perspective," said Conroy, a three-term lawmaker from Villa Park. "We change the culture by calling out the bullies, by saying this behavior is not acceptable, and it needs to change."
- Posted by Rich Miller 80 Comments


[Reader comments are now open on this post.]
* The Liberty Justice Center is, of course, closely affiliated with the Illinois Policy Institute. The Center's President is Patrick Hughes, who works closely with Dan Proft at the Illinois Opportunity Project. The Institute is run by John Tillman. All those folks have been openly warring with Gov. Bruce Rauner and Proft is backing Jeanne Ives's campaign against Rauner.
Even so, they do make some interesting points here…
Liberty Justice Center president issues letter to Illinois Gov. Rauner regarding Janus v. AFSCME Supreme Court case

CHICAGO (Feb. 19, 2018) – The U.S. Supreme Court will hear oral arguments in the landmark labor case Janus v. AFSCME on Feb. 26. This is the most important case for workers' rights in a generation. It seeks to end the decades-old practice of requiring government workers to pay money to a union as a condition of employment. The case has implications for government workers in Illinois, as well as in 21 other states.

Liberty Justice Center President Patrick Hughes has sent the following letter to Illinois Gov. Bruce Rauner regarding his public comments about the case:

Dear Gov. Rauner:

As you know, the Liberty Justice Center is representing an Illinois state worker in the Supreme Court case Janus v. AFSCME. I am writing to request that you immediately stop misrepresenting the case and your role in it in public appearances and in the media.

This is the most important case for workers' rights in a generation. It seeks to end the decades-old practice of requiring government workers to pay money to a union as a condition of employment. This requirement is coercive and un-American, yet it has been in place for decades.

In Illinois and 21 other states, working in public service means paying money to a government union. More than 5 million government workers have no choice and no voice in the matter. But all of this could change if the Liberty Justice Center and our co-counsel from the National Right to Work Legal Defense Foundation are successful.

The stakes in this case are high, and that is why the manner in which you are discussing the case is so concerning.

You have made the Janus case a centerpiece of your re-election campaign. In numerous interviews, you are falsely claiming involvement in the case and making predictions about its success – even though the justices of the Supreme Court have yet to hear oral arguments. You appear to have an immense misunderstanding of what's really at stake in this case and what the implications would be. But perhaps most importantly, by touting this case in campaign-related events and interviews, you have recklessly politicized what's at issue in Janus.

Understand that Janus is not about right versus left, Democrats versus Republicans, or union jobs being better or worse than non-union jobs. Janus is about restoring government workers' right to decide for themselves whether to support a union at their workplace. And it is about more than Illinois. It is deeply personal to millions of American workers in almost two dozen states.

Here are examples of public comments that have been problematic.

In a recent campaign appearance before the Chicago Tribune editorial board, you said: "It's in the courts, and we're gonna win … we have a very high probability of winning the AFSCME lawsuit. From all indications, I believe it's very likely."

This isn't the first time you have spoken about the case in this manner. In an interview with the Hoover Institution in 2017, you stated: "We're in Federal Court. We are heading with that lawsuit to the U.S. Supreme Court this September. Nothing to do with any of the budget. Nothing to do with any of the reform agenda in the legislature. We are going to be in front of the Supreme Court, and there is more than a 90% odds that we win that case."

The problem: You are not a party in the case or participating in it in any way. Liberty Justice Center, as a 501(c)(3) organization, cannot and does not get involved in campaigns. Falsely claiming involvement in our activities, and linking the case to your reelection, could lead to false assumptions that our organization is involved in your reelection, which it is not.

The plaintiff in this case has been represented throughout the litigation by my organization, the Liberty Justice Center, and our partners at the National Right to Work Legal Defense Foundation. The federal district court dismissed you from the case in 2015, and since then you have played no role in it.

Ironically, there was an official role for you to play in the lawsuit. Elected officials from Michigan, Alabama, Indiana, Arizona, Florida, Georgia, Nevada and other states all submitted amicus briefs in support of the lawsuit. You could have filed an amicus brief or joined theirs, but you did not.

Unfortunately, Janus is not the only critically important case in which you are misrepresenting your role. You also have falsely claimed to be involved in our case defending the Village of Lincolnshire's right-to-work ordinance. Speaking of that case in your Hoover Institution interview, you said, "I'm advocating with them and helping them with that. We are now in Federal Court. We're heading to the Supreme Court in 2018."

But you have never had anything to do with that case, either. When the Village of Lincolnshire enacted its ordinance and unions sued to challenge it, the Liberty Justice Center stepped forward to defend the village free of charge. Neither you nor anyone in your office has ever assisted us in the case.

Claiming involvement in a case and then speaking unsolicited on behalf of those actually charged with winning the case is irresponsible and grossly misleading. It's also inappropriate to make predictions about a case's likelihood of success.

The real hero in the Janus case is Mark Janus, who has been willing to take his case to the highest court in the land, face public scrutiny and put his livelihood on the line.

Yes, you initiated the Janus case by issuing an executive order in 2015. But that's where your involvement ended. Saying otherwise and implying continued involvement is dishonest and harmful to the work of those trying to bring more worker freedom to Illinois and the country.

Sincerely,

Patrick Hughes
President, Liberty Justice Center
Emphasis added for obvious reasons.
The Circular Firing Squad is operating at full roar these days, campers. I'll open comments tomorrow.
*** UPDATE *** From a June 6, 2017 Illinois Policy Institute press release…
The case now called Janus v. AFSCME began on February 9, 2015. Illinois Gov. Bruce Rauner issued an executive order prohibiting state agencies from requiring nonmember state employees to pay union fees, and directed that instead any such fees deducted be put in escrow pending the resolution of litigation.

On the same day, Rauner filed a federal lawsuit in the U.S. District Court for the Northern District of Illinois against the collection of forced fees from state employees, asking for a declaratory judgment that the forced fee provisions violate the First Amendment and that his executive order was valid.

On March 23, 2015, staff attorneys from the Liberty Justice Center and the National Right to Work Legal Defense Foundation filed a motion for Mark Janus to intervene in the case. Janus's complaint requested not only a declaratory judgment but also an injunction and damages from the unions for the compelled fees.

Although the court then ruled that Rauner did not have standing necessary to pursue his lawsuit, the challenge continued because the judge granted Janus' motion to intervene. The case was renamed Janus v. AFSCME. On July 2, 2015, the Illinois Attorney General asked the district court to stay the case pending the Supreme Court's decision in a case with similar constitutional issues at stake, Friedrichs v. California Teachers Association. The district court granted a stay on July 8, 2015.
- Posted by Rich Miller 36 Comments


[Reader comments are now open on this post.]
* Somebody had to take on the frontrunner in the AG's race and Nancy Rotering has volunteered to be the first…
* Transcript…
Hi I'm Nancy Rotering. I'm running for Attorney General and I want to tell you a little bit about myself. I'm a mother of four boys, Mayor of Highland Park, and I've been an activist for progressive causes like gun control and women's rights.

When Pat Quinn failed to ban assault weapons to protect our cities, I took action and fought the NRA all the way to the Supreme Court and won.

You want an Attorney General unafraid to push a real progressive agenda? I'm your woman.
*** UPDATE 1 *** David Roeder, spokesman for Quinn for Illinois…
This is a false attack from Mayor Rotering, who should know better. As governor, Pat Quinn signed laws to toughen penalties for gun crimes. As attorney general, he will continue his work to ban assault weapons. In 2012, Governor Quinn received the Abraham Lincoln Award from the Illinois Council Against Handgun Violence for his work on preventing gun violence. It will take determined advocacy, not unwarranted attacks, to achieve essential, common-sense reform to protect communities across Illinois.

Please see the 2013 article linked below in which the NRA-backed gun industry assailed Governor Quinn for his efforts to ban assault weapons.


http://www.guns.com/2013/02/08/illinois-gov-pat-quinn-renews-effort-for-assault-weapons-ban-video/
[ *** End Of Update *** ]
* Meanwhile, Sen. Dan Biss is up on at least some Downstate stations…
That big $759k haul on Friday has apparently allowed @DanielBiss to go up on Downstate TV for first time. Saw an ad on @wandtv just now (#Olympics2018)

— Rich Miller (@capitolfax) February 18, 2018
*** UPDATE 2 *** From a rival campaign…
Biss is only doing 118 pts in Champaign, 116 in Peoria. 174 in Rockford.
* Pritzker reloads and picks up the endorsement of one of Biss' Senate colleagues…
.@JBPritzker puts another $7M into his campaign account. Brings him up to $56.2 million into his bid #ILgov #election2018 #twill https://t.co/cxvB2eVbeT

— Joseph Bustos (@JoeBReporter) February 18, 2018
"The problems we have are too big to think small." @ToiHutchinson as she endorses @JBPritzker for governor. #twill #ilgov pic.twitter.com/eqdnjl5Q6P

— Jordan Abudayyeh (@JordanAbudayyeh) February 18, 2018
* And the Kankakee Daily Journal has endorsed Rep. Jeanne Ives for governor…
To his credit, Rauner is trying to allow local governments to pass right-to-work laws, a big step in making us competitive with surrounding states who are flourishing with those laws.

Some of his critics feel Rauner has simply lost touch with his Republican base, and would be ineffective even if elected. One veteran Republican observer noted that he failed to distinguish between the public employee unions, which need reform, and the private sector blue-collar families who don't feel he cares about them. Their future support is crucial to a Republican future. Policies are great, but go nowhere without political skill.

Ives has no such baggage, and her military background, leadership experience, economics training, and overall grit and spunk, as displayed in the debate and other situations, give her the edge in leading our beloved state back to a hopeful future.
* Press release…
The Executive Board of the Illinois Democratic County Chairs' Association (IDCCA) has unanimously approved a zero-tolerance sexual harassment policy and pledge that they hope all Democratic candidates and campaigns will embrace and promote.

This morning, via e-mail, the IDCCA released the policy and pledge (attached) to Democratic candidates and campaigns running for the March 20th Primary Election. Campaigns are encouraged to sign the pledge and make an effort to let staff, interns, volunteers and the public know their operations are determined to maintain a zero-tolerance policy on sexual harassment.

"All Democratic candidates and campaigns should have a meaningful and legitimate policy on sexual harassment," said Doug House, President of the IDCCA. "This is a strong template that has already, as of this morning, been embraced and signed by a number of Democratic candidates throughout Illinois."

The recommendation for the policy and pledge comes from the IDCCA's Sexual Harassment Task Force. The committee has been advancing a variety of recommendations to the association including suggesting the recent name change and rebranding of the former Chairmen's Association.

Sangamon County Chair Doris Turner, Co-Chair of the Task Force, says the zero-tolerance pledge is the most important recommendation to come out of the group so far.

"Staff, volunteers, interns and other activists should know they the right to a safe, harassment-free experience in a campaign," Turner said. "I'm proud to have a part in crafting a unifying pledge that Democratic candidates and campaigns can support, sign and promote."

Another Task Force member, Lucy Moog of Chicago's 43rd Ward, says the IDCCA's pledge is a way to help spark increased awareness of sexual harassment among men and women alike.

"The IDCCA's policy and pledge against sexual harassment is timely and important," Moog said. "Not only is it an opportunity for every Illinois Democratic candidate to amplify our Party's serious stand against sexual harassment, perhaps it will help give someone pause in thinking about their behavior. I'm hopeful this effort will have a role in breaking the cycle of silence that victims too often have to live with."

State Senator Melinda Bush (D-31), a member of the Illinois Senate's Task Force on Sexual Harassment, said the IDCCA's work has already been noticed and appreciated among women in the General Assembly, including Republicans.

"Sexual harassment has no partisan preference - it is independent and thrives where silence helps to cover it up," Bush said. "Work that the IDCCA is doing is helping to strengthen the voices of women of both political parties. While this policy and pledge is a set of guidelines for Democrats, I think Republican campaigns will also recognize how important this effort is for them as well."

The IDCCA's zero-tolerance sexual harassment policy and pledge is being offered to Democratic Party candidates at all levels. Copies of the materials will be promoted via social media and will soon be available for download at the association's website, www.idcca.org – a direct link to the pledge is available at http://ildcca.org/2018/02/sexual-harassment-policy-and-pledge/.
*** UPDATE 3 *** I asked this on Twitter today about the new IDCCA policy…
Yeah. This is a very suspect passage: "The scope of the investigation shall be restricted to the specific allegation cited in the complaint."

— Rich Miller (@capitolfax) February 19, 2018
* From Toby Trimmer at the IDCCA…
Rich:

You ask a legitimate question, so I wanted to both consult with our legal team and ensure that our leadership understands any concerns. Be aware, the line you reference is language that is mined from other legally sound policies we've relied on to build our framework.

If a sexual harassment investigation exposes, uncovers, realizes or "stumbles upon" other allegations, an additional and/or supplemental investigation can certainly be undertaken and the IDCCA strongly recommends one be started without delay. The issue is too serious for us to restrict the investigation of accusations.

The ultimate point of that policy line is to ensure limitations to the powers from the unlikelihood of an overzealous investigator who may expand investigations without merit.

Thanks Rich.
Toby
[ *** End Of Update *** ]
* Rauner campaign…
How Many Presidents Have Come and Gone Since Mike Madigan Took Office?

In honor of President's Day, we put together a list of everyone who has served as President of the United States since Mike Madigan was first elected in 1971. We've had nine (9!) different presidents during that time and yet only one Speaker of the House for all but two years in Illinois since our own Ronald Reagan served in the White House.

Richard Nixon (1969-1974)
Gerald Ford (1974-1977)
Jimmy Carter (1977-1981)
Ronald Reagan (1981-1989)
George H.W. Bush (1989-1993)
Bill Clinton (1993-2001)
George W. Bush (2001-2009)
Barack Obama (2009-2017)
Donald Trump (2017-Present)
- Posted by Rich Miller 13 Comments