* On Friday, Speaker Madigan said his campaign operation had "retained an independent counsel who is available to receive and investigate harassment allegations. Kelly Smith-Haley of Fox Swibel Levin & Carroll, LLP will provide independent review of allegations, conduct investigations, and provide recommendations for updating policies and procedures, including clear rules for conduct and penalties for violations."
Smith-Haley's bio is very impressive. She specializes in employment law, including harassment issues. She co-edits the Illinois Employment Law Letter. She's a board member of the Chicago Foundation for Women. The list goes on and on. She's obviously very sharp and talented.
* But, here's Mary Ann Ahern…
Smith-Haley's two brothers, Mike Smith and Bill Smith, both work at Cornerstone Government Affairs - a public relations and lobbying firm that hired another top Madigan aide, Will Cousineau, eight months ago.

Cousineau worked for the speaker for 18 years, according to his biography on Cornerstone's website, and served as Madigan's political director for eight years. In that role, Cousineau oversaw legislative races across the state – including the 2016 campaign during which sources said allegations of misconduct surfaced against another high-ranking Madigan staffer Shaw Decremer, who was quietly dismissed last week. […]

Smith-Haley confirmed Tuesday that her brothers work with Cousineau, though she said she has "no ties to Cornerstone" and has met Cousineau "briefly" but "never spoken with him in a one-on-one setting."

"This is exactly what I do for all my clients," the employment attorney said, adding, "I would not have taken the assignment if I was not going to be independent."

Smith-Haley said Mike Kasper, Madigan's longtime attorney, asked her to take on the role. She said they know each other because their daughters attend school together, but she has never done any work for Kasper before.
I strongly believe a sister can be totally independent of her brothers. And finding a quality lawyer who has no connections to Speaker Madigan's empire would be tough. But this is probably gonna give plenty of people pause and I wouldn't blame them. The idea itself is good. The person he picked seems immensely qualified. But the rest of it is classic Michael J. Madigan.
…Adding… And for those who seem a bit unclear about what I meant, "classic MJM" is exactly the wrong way to go about things right now. Classic MJM is what got him into this position, it won't get him out. In fact, it could bring on the end.
* Meanwhile, as you already know, Rep. Kelly Cassidy and Sen. Melinda Bush have both called for an independent investigation of Madigan's operation…
Cassidy said she has reached out to Women Employed and the National Women's Law Center for recommendations on how to create a more independent process.
Rep. Cassidy told me earlier today that there may be some precedent in California.
* Cassidy and Bush were joined in their demand by another Democratic legislator…
State Sen. Toi Hutchinson of Olympia Fields said "the reason you don't have hordes of women running forward and telling their stories and naming names is because we are still not safe to do that."

"Independence has to be connected to fair and impartial, and I don't know if any of us know what that looks like right now," said Hutchinson.
…Adding… From earlier today…
Speaker Madigan spox on @RepKellyCassidy's call for NEW independent investigation to #Harassment "will fully cooperate and I will ask independent counsel Kelly Smith-Haley to assist." Cassidy says Madigan never mentioned Smith-Haley to her, so confusion persists #twill

— Mary Ann Ahern (@MaryAnnAhernNBC) February 20, 2018
Background is here.
* From Madigan's spokesman via e-mail with the subject line: "Clarification"…
Kelly Smith-Haley was asked to reach out to Rep. Cassidy as potential resource. I believe that has taken place.

Hope that helps.
*** UPDATE 1 *** Unlike, say, the Tribune, the SJ-R's editorial board has not been a knee-jerk Madigan hater, so this is interesting…
Organizations reflect their leadership. Even if Madigan was not initially personally aware of these allegations in his political operation, he has allowed an environment to flourish that allowed harassment and bullying.

His actions — telling House Democrats in a letter that he takes responsibility and promises to do better, or appointing U.S. Rep. Cheri Bustos, state Comptroller Susana Mendoza and state Rep. Carol Ammons to facilitate a discussion about the role of women in the state's Democratic Party — seem more about giving his own hide political cover than helping the people who have been hurt.

The concentration of power that Madigan holds isn't healthy for Illinois Democrats. They should no longer accept that the speaker can also be the party chairman. It's time for the state's Democrats to demand change. They can start by insisting Madigan step down as chairman.
I strongly disagree on Rep. Ammons. She's not about providing cover. But I'd bet you a dollar that there will be plenty more editorials like this in the coming days, even hours.
*** UPDATE 2 *** Rep. Kelly Cassidy on the Smith-Haley controversy…
It is hard, if not impossible, to find someone locally who can't be connected to someone in the organization. The question becomes how that's disclosed and handled.
*** UPDATE 3 *** JB Pritzker…
"I stand by Alaina and the women who have bravely come forward to share their story and as I've said, it's clear that not enough was done and there needs to be a completely independent investigation to get to the bottom of what took place and hold the right people accountable. I agree with Rep. Kelly Cassidy and believe the people investigating Speaker Madigan's operation should have no political or other ties to the Speaker. I am also glad that a task force has been set up and know that Congresswoman Bustos, Comptroller Mendoza and Representative Ammons will help make our party and our state stronger, just as they always have. In Juliana and my administration there will be zero tolerance for harassment of any kind and we will ensure there is an independent and external body to investigate all allegations in a timely fashion."
Well, he said Madigan's name. What next?
- Posted by Rich Miller 68 Comments


* The fourth since the start of last week, that is…
The Illinois Department of Veterans' Affairs (IDVA) and the Illinois Department of Public Health (IDPH) are reporting a fourth laboratory-confirmed case of Legionnaires' disease at the Illinois Veterans Home in Quincy (IVHQ). The positive test result was confirmed earlier today. The resident is in stable condition.

Representatives from the Centers for Disease Control and Prevention (CDC) returned to the home in Quincy last week, at the request of IDPH, to provide additional support and guidance. Staff from CDC are working with IVHQ and IDPH staff to:

- Conduct environmental and epidemiological assessments to identify potential exposure sources;
- Augment clinical testing protocols for individuals with respiratory symptoms to include not only testing for Legionella, but also influenza and other respiratory viruses;
- Conduct clinical and environmental sample testing at CDC;
- Identify important public health and infection control interventions; and
- Partner in communications with the local hospital to streamline testing.

In addition to infectious disease control and testing protocols, the teams will continue working to trace potential sources of Legionella bacteria and conduct additional environmental health testing.
Tell me again, why are we keeping those residents at that facility?
…Adding… Pritzker campaign…
Hours after Bruce Rauner's administration skipped a legislative hearing on Rauner's fatal mismanagement of the Quincy Veterans' Home, a fourth case of Legionnaires' disease was confirmed.

Outbreaks have plagued the home each year Rauner has been governor, and 13 Veterans and spouses have died on Rauner's watch. A report late Friday revealed that Rauner's Director of Veterans' Affairs hid the real cost of replacing the water system at the home, once estimating it at over $500 million when it actually costs $8 million.

"After 13 lives were lost in Quincy, Bruce Rauner and his administration are desperately trying to cover up his fatal mismanagement and inability to stop the crisis from spiraling out of control," said Pritzker campaign spokeswoman Jordan Abudayyeh. "Instead of just dodging questions, Rauner's administration is now ditching hearings altogether, failing in their responsibility to protect the health of our nation's heroes."
- Posted by Rich Miller 35 Comments


* Press release…
Today, the Sierra Club Illinois Chapter announces their endorsement of Daniel Biss for Illinois Governor.

"Daniel Biss is the bold leader Illinois needs at this crucial time, with Donald Trump taking America backward and Bruce Rauner putting polluters first," said Jack Darin, Director of the Sierra Club, Illinois Chapter. "Daniel Biss knows that clean energy is the right choice for our future, and that clean air and water are a basic right of all Illinoisans. We know Daniel Biss will put people over polluters as our Governor because that is exactly what he has done in the General Assembly. That's why Sierra Club is mobilizing our members and supporters in this race, to elect a bold champion for our future."

"I'm proud to receive the endorsement of the Illinois Sierra Club, especially in an election with such drastic consequences for the environment," said Daniel Biss. "Bruce Rauner, JB Pritzker, and Chris Kennedy all hold personal investments in dirty energy. We've seen how this financial stake has guided Bruce Rauner's decision-making as he's invited polluters to rewrite emissions standards, jeopardized funding for public resources, and failed to provide economic opportunity for communities that rely on the declining fossil fuel industry. We can't allow another businessman to line his own pockets at our expense."

"As a middle-class parent, community organizer, and progressive state senator, I've joined with the Sierra Club for years to fight for policies that prioritize our families and the future of our planet above corporate profits. We've organized around policies to support wind farm research, help local governments and businesses invest in renewables, and create clean energy jobs, and we've fought for the progressive revenue sources we need to do even more. It's an honor to welcome them to our team."

In endorsing Daniel Biss, the Sierra Club Illinois Chapter joins other progressive leaders and organizations including National Nurses United, MoveOn, BlackRoots Resistance, Reclaim Chicago, U.S. Congresswoman Robin Kelly, former Lieutenant Governor Sheila Simon, State Representatives Kelly Cassidy, Carol Ammons and Will Guzzardi, and many more.
* Celebratory tweet…
That purple and green looks good together, don't you think? #TeamBiss #ILGov #SierraVotes pic.twitter.com/TlVlAYQ8XQ

— Illinois Sierra Club (@SierraClubIL) February 20, 2018
* Meanwhile, I've never heard of this guy, but he has 3.1 million YouTube subscribers and 5.4 million Twitter followers…
New video: When Your Friend Runs for Governor, the story of my 15-year friendship with @DanielBiss. https://t.co/GkYT67T8ie

— John Green (@johngreen) February 20, 2018
* From Monday's forum…
Kennedy criticized Biss as a "career politician" after the forum, attacking him for taking donations from Illinois House Speaker Mike Madigan, who recently fired a top aide for making "unwanted advances" with a political consultant.

Kennedy's comments came minutes after the Biss campaign released a statement that called for Madigan to step down as chair of the Democratic party in Illinois.

Asked what else he wanted Biss to do, Kennedy said he should have been calling for Madigan to resign from the position last week. "To be part of the Springfield elite, to be a part of that system, and to promise change, I don't think that's possible," he said.

Both candidates clarified that they are not necessarily calling for Madigan to step down as speaker.

"We've seen now days of evidence of evasion, dodging the question, trying to hide the problem instead of solve the problem. It's time for him to step down," Biss said.
* Speaking of which, I'm not totally sure why this never got any traction…
Advocates and domestic violence survivors to ask @DanielBiss to return Blair Hull's $25K saying he has a history of domestic violence (Hull lost to Obama 2004 Senate primary) will hold press conf outside Biss office Tuesday

— Mary Ann Ahern (@MaryAnnAhernNBC) February 13, 2018
I think it got lost in the shuffle because it happened during the height of the Kevin Quinn scandal.
- Posted by Rich Miller 18 Comments


* Sen. Kwame Raoul has a new TV ad…
* Script…
I grew up right here in this neighborhood.
That's the apartment we brought our kids home to.
I've seen gun violence outside my home.
Like every parent, I worry about my two kids.
So when I was asked to fill Barack Obama's seat, I started our work.
Tougher laws for reckless gun dealers, keeping kids safe from online predators, and reforming the criminal justice system.
I'm Kwame Raoul.
This is the work of my life…and I'm just getting started.
* The Question: Your rating? Don't forget to explain.
- Posted by Rich Miller 26 Comments


* Belleville News-Democrat…
One candidate running for the state Senate has accused her primary opponent of hacking into her Facebook account.

Tanya Hildenbrand, who is running for the Republican nomination in the 57th State Senate District, filed a police report accusing Bob Romanik, a radio show host who is also running in the March 20 GOP primary, of hiring a private investigator to find incriminating evidence against her and of having someone hack into her Facebook account.

Romanik denied the accusations. […]

Hildenbrand said pictures were downloaded off of her page, altered and placed on Facebook pages supporting Romanik. Photos were altered to say she was supported by Black Lives Matter and that she received $500,000 in campaign funds. Hildenbrand said the statements are false. […]

Hildenbrand told police that a photo of her and Jason Madlock, a black Republican running for the state House of Representatives, was taken off her page and it later was posted to show support from Black Lives Matter. This was done on Martin Luther King Day, Hildenbrand said.
You don't necessarily have to hack into a Facebook page to download somebody's pics. Who knows what's really going on here. But, man, some of those Romanik Facebook posts are just… really way out there. You can find a link to them in the BN-D's story if you care to look around.
* In other Metro East weirdness…
A candidate seeking an Illinois House seat says his wife was followed from Troy to Fairview Heights by a private detective, and he suspects involvement by the incumbent, state Rep. Charlie Meier.

Meier said the accusation is nonsense.

Don Moore, of Troy, is running in the Republican primary March 20 against Meier, who is from Okawville and has represented House District 108 since his first election in 2012.

"I believe a distinct line has been crossed, whenever a private investigator is following my wife," Moore said in an interview Saturday. "As a husband and father, I take that personally and seriously."
- Posted by Rich Miller 29 Comments


* It started with this Dan Proft TV ad a few weeks ago…
* Script…
Announcer: For Norine Hammond, the "MeToo" movement means me-tooing Chicago Democrats. First, Hammond voted for Mike Madigan's massive 32 percent increase. Then Hammond tried to protect a Chicago Democrat state Senator from a sexual harassment investigation by refusing to let a whistleblower tell her story.

Denise Rotheimer: There's nobody in Springfield you can go to.

Announcer: That Chicago Democrat state Senator was later found to have broken the law. Norine Hammond protects the Chicago Democrats who prey on us.

Denise Rotheimer: I know these people don't care.

Announcer: Isn't it time we had someone in Springfield who did?
Hammond sits on the Legislative Ethics Commission and Rotheimer believed the commission should've allowed her to testify about her case.
* If you watch the ad, Rotheimer's segments are in black and white, so it might look like the two clips were taken from news footage. Rep. Hammond (R-Macomb) apparently thought so and took to Facebook to denounce her Republican primary opponent Josh Griffith…
"Using the experience of any survivor to get himself closer to winning an election is sickening, and I won't allow any victim to be used in that manner… No decent human being would use the sexual victimization of another for political gain… The 93rd District needs someone who represents its values, not someone who preys on victims and survivors.
* Well, Proft's organization then produced this ad featuring Rotheimer talking to the camera…
* Script…
Hi, my name is Denise Rotheimer. I'm a whistleblower who was the subject of a recent statement by Rep. Norine Hammond. Miss Hammond claimed that her opponent is using my experience of being sexually harassed for political purposes.

In fact, it's Norine Hammond doing that which she accuses her opponent of doing. The ad for Mr. Griffith has given me more of a voice than Norine Hammond ever did.

It was Norine Hammond who left the Legislative Inspector General's office vacant for three years while dozens of complaints, including mine, went uninvestigated. Hammond is lying about me, she is lying about her opponent and she is lying to you.

Norine Hammond is not in my corner. She never even allowed me to testify before her committee about my case.

Announcer: Time's up for Norine Hammond.
- Posted by Rich Miller 22 Comments


* AP…
The Senate Veterans' Affairs Committee plans a hearing Tuesday on a 2016 engineers' report that estimated an $8 million cost to replace plumbing at a veterans' home stung by Legionnaires' disease.

The Associated Press reported last week that the estimate is far below the $25 million to $30 million cost Gov. Bruce Rauner's administration had cited to lawmakers. Experts have said since the first outbreak at the Quincy home in 2015 that antiquated plumbing could house Legionella bacteria responsible for the deadly pneumonia-like malady.

Illinois Department of Veterans' Affairs Director Erica Jeffries initially told WBEZ Chicago that new plumbing could cost more than $500 million.
Not $500 million, not $25-30 million, but $8 million.
Also, the Senate has been trying to get that 2016 report for a while, but the AP finally obtained it late last week.
* The hearing didn't accomplish much because nobody showed up to testify…
Veterans Affairs Committee about to adjourn after @GovRauner's agency department heads didn't show up to answer questions about Quincy vets home. Republicans cry foul, say they weren't given enough notice of the hearing. Some GOP Senators say they got first notice this morning. pic.twitter.com/ZZzokiYhR5

— Mark Maxwell (@WCIA3Mark) February 20, 2018
* There was a lot of Democratic venting, though…
Three new cases of Legionnaires' disease were revealed last week. The legislative branch is willing to consider this issue an emergency. The executive branch's job is to ensure the job gets done.

— IL Senate Democrats (@ILSenDems) February 20, 2018
Hastings: they had report since 2016; delivered to us last Friday at 5pm; argument about notice is moot. Rauner admin is example of negligence, failed leadership resulting in 13 deaths. Their excuse of not being prepared is horrible.

— IL Senate Democrats (@ILSenDems) February 20, 2018
- Posted by Rich Miller 38 Comments


* Gov. Rauner appeared before the Northwest Herald's editorial board the other day and was asked how shifting the state's pension burden to school districts over four years will affect property taxes in a place like McHenry County. His response…
"I believe it'll help bring them down."
I kid you not. Go watch the video.
* The governor's explanation…
We're not only shifting pension responsibilities to where the decisions are made on what the pension costs will be in terms of deciding who gets what salaries, when they retire, what their terms are. We need to align responsibility for decision-making with responsibility for paying.

And other states have done this as well. Maryland Democrats did exactly the same thing. The Democrats in Maryland, a few years ago. If you look at the states that have deep financial trouble, and unfunded pensions and pension problems, the top twelve, I think states that have the biggest problems, they all have the state pick up pension payments, even though the decisions and responsibility for who's getting the pensions and how they're structured is done at the local level.

There's a disconnect. If we align the interests, there will be economic incentive to keep the pension costs reasonable.
* He said that needed to be combined with "tools to local school districts and local governments to bring their costs down." Those "tools" included more education funding, plus…
Local control of bargaining. Local control of bidding and contracting. Local control of consolidation. Local control of shared services. Local control of property tax levy. We will bring down our property tax burden and we'll align our interests and get more money for our schools and it'll be a win on every level. That's how we're gonna do it.
I agree that, over time, the state's pension costs should be shifted to school districts for all the reasons the governor mentioned.
But doing it so quickly will definitely put pressure on property taxes. Also, his budget proposal doesn't give K-12 schools much more money, he's not gonna get that local control of collective bargaining.
It's all a fantasy.
* Even the Belleville News-Democrat, which has been more supportive of Gov. Rauner than even the Chicago Tribune, has turned a big thumbs down on the cost-shift with an editorial entitled "Rauner's budget plan makes property taxpayers cringe"…
Gov. Bruce Rauner is asking Illinois to do as he says, not practice what candidate Rauner preaches.

He delivered a budget address Wednesday that would do things very differently than what he advocates as the Illinois ideal. The biggest concern for most of Illinois is what would happen to property taxes.
- Posted by Rich Miller 77 Comments


*** UPDATE 3 *** Speaker Madigan's statement…
"I spoke with Kelly Cassidy today. I told her I will cooperate fully and I will ask independent counsel Kelly Smith-Haley to assist."
*** UPDATE 4 *** I checked in with Rep. Cassidy via text about her chat with Speaker Madigan today. "I spoke briefly to him as a professional courtesy that I was releasing the statement," she wrote.
What did Madigan say? "He asked me how to accomplish the independence, and indicated he would be willing to cooperate."
Also: "He never mentioned the firm or the attorney."
[ *** End Of Updates *** ]
* Rep. Kelly Cassidy (D-Chicago)…
"The slow and steady drip of accusations and dismissals has turned into an endless cycle of lather, rinse, repeat, highlighting the culture of harassment in the legislature and political campaigns.

I am calling for an independent investigation into this culture that appears to pervade the organizations led by Speaker Madigan. Because of the unique interconnectedness of his Capitol and political operations, the investigation must not be hampered by organizational boundaries. The investigator(s) should not be Democratic elected officials, individuals or firms with pre-existing ties to the Speaker and should have demonstrated experience with investigations of this nature.

We must get to the bottom of this with confidence in the independence of the investigator. We need to force the very real culture change required to truly show that #timesup."
*** UPDATE 1 *** Tribune…
"We need a real, independent law firm, not someone that is hired by the chair of the party, and that's what's happened," said Sen. Melinda Bush, D-Grayslake. "Whether or not they are wonderful people, it doesn't matter. They've been hired by him. If you are going to do a true independent council, a true independent group, they have to be people that are clearly independent from the head of the (Democratic Party of Illinois)."

Bush said she did not believe the chair of the Democratic Party should serve as speaker of the House or president of the Senate. Bush stopped short of calling for Madigan to step down from his chairmanship of the party, but said "I think it's something he should seriously consider, however, for the good of the party going forward."

"I think there is an incestuous relationship that occurs there that is not healthy," Bush said.

Asked about the calls for Madigan to step down as head of the party, Madigan spokesman Steve Brown said "that's not going to happen." He pointed to comments Madigan made last week following calls to resign by Democratic Rep. Scott Drury, a frequent critic of Madigan who is running for attorney general.
* Meanwhile…
My full statement calling on Speaker Madigan to step down as Democratic Party Chair and as House Speaker: https://t.co/2fcvT0rMcJ #twill #TimesUp #MeToo

— Sharon Fairley (@FairleyForAG) February 20, 2018
Rep. Drury, who is now back on the AG Dem ballot, has written a letter to Speaker Madigan, calling on him to step down as speaker and agree to testify under oath about sexual harassment and abuse; also wants an independent special counsel to conduct a statewide investigation.

— Tina Sfondeles (@TinaSfon) February 20, 2018
*** UPDATE 2 *** Press release…
Today, Comptroller Susana A. Mendoza, Congresswoman Cheri Bustos and State Representative Carol Ammons issued the following joint statement regarding the sexual harassment panel they are in the process of developing:

"We agreed to serve on this panel because it is clear that institutionalized systems have perpetuated sexism, sexual harassment, and inequality in our state's political system. We thank the women who have come forward with their experiences for their bravery and courage.

"We recognize the importance and benefit to everyone when women are in positions of influential leadership and are active in all levels of our political system, from campaign staff to candidate. All women should be able to engage, achieve and excel in the workplace without fear of being excluded, harassed, discriminated, or retaliated against. It shouldn't matter whether you work in a restaurant, a factory, a board room, a state capitol or a political campaign.

"When any woman finds herself being sexually harassed, resources should be readily available for her to seek justice and hold the perpetrators accountable. Survivors of sexual harassment must feel that their claims will be taken seriously, addressed promptly and that they can report incidents without fear of retribution. The culture of the 'good old boy' network is not changing fast enough and our panel will seek to accelerate the change of that culture.

"Since the hashtag MeToo caught fire in 2017, we have seen a flood of sexual harassment victims come forward. This is a problem on all levels of government and in all parties. The only significant and sustaining solution will be to change the dynamics and composition of leadership in politics.

"We have begun discussions about how to structure this panel and define its mission to include the voices of women around Illinois and make recommendations. At its core, in order for this panel to be effective in presenting legitimate findings and effective solutions, it must be completely independent. We take this responsibility seriously and, in the coming days, we will be publicly outlining the scope of the panel's goals and our timeline after we have the opportunity to discuss the most effective path forward as a team."
- Posted by Rich Miller 50 Comments


* Tribune…
With a month to go before the March 20 primary, several statewide candidates are trying to ramp up their campaigns with a wave of television ads as voters start to tune in to the approaching election.

On Monday, governor hopefuls Jeanne Ives, a Republican, and Chris Kennedy, a Democrat, launched new TV spots […]

On the Republican side, in recent days Rauner has turned his attention away from Pritzker and toward his GOP primary challenger, Ives, a three-term Wheaton representative whom he earlier sought to dismiss as a "fringe" candidate. Now Rauner is employing his most-turned-to political attack, seeking to link Ives to Democratic House Speaker Michael Madigan, his chief political nemesis.

In response, Ives is up with a new ad in which a narrator calls her the only candidate for governor who "consistently fights for Illinois taxpayers."
* The Trib linked to an older Rauner ad, but here is a newer one that uses footage of Ives appearing to defend Speaker Madigan…
Ouch.
* Script…
Only one candidate for Governor consistently fights for Illinois taxpayers.

(Ives): Our economy is too weak for a tax hike, and you know it. You know we need jobs. You complain about it all the time. And you won't fix our job creation problems.

That's why the tax watchdog group, Tax Accountability, endorsed Jeanne Ives over Bruce Rauner.

And made her the first State Representative to earn a perfect score from the group.

Jeanne Ives: The consistent conservative for Illinois Governor.
That's his best ad yet.
Kennedy gave his campaign another $250K a few days ago. But he still trails the pack.
* Script…
I come from a family that has embraced the notion that we are all in this together. I'm Chris Kennedy. I'm running for governor because I've seen the potential of this state. Then I've seen the failings of the government.

The state needs to change. We have to make sure that education is paid for at the state level, and not through local property taxes.

I believe in building things up, not in tearing things down. I believe that compromise is not surrender.

I know this is doable, I know that we can do it. Let's go where we need to go.
- Posted by Rich Miller 24 Comments


* Press release…
IL Sen. Kwame Raoul released the following statement regarding the latest alleged reports of inappropriate behavior during a Illinois political campaign:

"Last night, I was troubled to read the latest reports of allegations of "inappropriate behavior by a volunteer toward a candidate and staff during the 2016 election." The details surrounding this situation remain unclear; however, what is clear is that we all must do more to prevent sexual assault, harassment and inequality in every workplace.

No single action or policy change will solve this problem. We all must work together to provide safe places for victims to come forward. In that same spirit, we also must commit to efficient and a just resolution of complaints. As Attorney General, I'll work every day to ensure every survivor of abuses of power has access to justice."

Last night, Raoul donated previous campaign contributions from Decremer to the TIME'S UP Legal Defense Fund. That fund will provide subsidized legal support to women and men who have experienced sexual harassment, assault, or abuse in the workplace while in pursuit of their careers.

Raoul also signed on to the Illinois Democratic County Chairs' Association (IDCCA) zero-tolerance sexual harassment policy and pledge yesterday. You can view his tweet here: https://twitter.com/KwameRaoul/status/965760862056337408 and learn more about the pledge here: http://ildcca.org/2018/02/sexual-harassment-policy-and-pledge/

"There is still more work to do," Raoul added.
Decremer didn't make many campaign contributions and he only reported giving Raoul $250. But in a crowded race like the AG contest where everyone is looking for a way to get noticed, Raoul's people made a smart move before a rival pointed it out.
…Adding… Decremer's firm made several contributions. Click here for that list.
* Other AG campaign stuff…
* Quinn, in Decatur, calls for utility rate cuts: Attorney general candidate and former governor Pat Quinn, known for elaborate public messages over the decades to draw attention to Illinois political issues, on Monday made a campaign stop in Decatur to bang the drum on a familiar Quinn topic: keeping utility companies in check. In the pouring rain outside Decatur's Ameren Illinois offices, the Democrat called for big utility companies to reimburse customers based on smaller federal tax bills for corporations that arose in Washington in December.

* As attorney general, Drury would fight corruption

* Raoul blasts prevailing anti-worker agenda in Springfield: Raoul said the new unit would focus on prevailing minimum wage, employment classification and wage theft. He characterized opposition to the new unit as support of wage theft. "We have a governor and legislators who turn a blind eye to this," he said. "In some cases, these (labor law) violations are slow walked (through the review process). We need to make sure the attorney general can go after these rogue contractors."

* Former governor Quinn says he'll fight for consumers as AG: Mr. Quinn said data collection and credit reporting companies, such as Equifax, were violating privacy laws. "Today, in the 21st century, your data is being taken from you without your compensation or permission," he said. "Illinois does have in its constitution a privacy provision which is unlike most states," he said. "Very few have an express provision of privacy, and it's not in the federal constitution. But we do.

* Quinn: State Attorneys General 'Last Line Of Defense' Against Trump: Quinn also expressed a willingness to pursue more public corruption cases through the Illinois attorney general's office. During Democrat Lisa Madigan's tenure as attorney general, most of the high-profile corruption cases have been brought by federal prosecutors. (Madigan is not seeking re-election.) Quinn said he's not afraid to confront other elected officials. He recalled his work on a legislative pay issue that upset some state lawmakers; Quinn said he was once booed during a trip to the Statehouse. "I'm not afraid to do that. If I get booed again, so be it," Quinn said.

* Democratic AG candidates all want to put Peoples Gas on trial: "When you talk about specific instances like what is happening here, I believe in fact the attorney general should take action," said former federal prosecutor Sharon Fairley. "When you have a polluter who has done harm to our community, you seek full remediation, you make sure they put in whatever preventive measures that need to happen to make sure it doesn't happen again and you put in penalties that are not just perceived as the cost of doing business."
- Posted by Rich Miller 8 Comments


* From yesterday…
This afternoon, WCIA-TV in the Champaign-Springfield-Decatur media market notified our campaign that they've officially decided to cancel their debate.

Somewhere in this state, hiding behind more than $30 million in TV ads, JB Pritzker is breathing a sigh of relief that he's no longer obligated to face voters during what was to be the only televised debate happening outside of the Chicago market.

Pritzker's decision that downstate voters aren't worthy of hearing his positions on issues so they can vet the candidates against each other ultimately led to the debate being canceled.

The good news is Chris Kennedy still cares about voters throughout our state and he isn't afraid to face them. Chris still plans to host a meet and greet in Champaign on Monday, March 5, the date this debate was to happen. He looks forward to hearing from voters and sharing his vision to bring radical change to Illinois.
* Also…
Campaign Manager Abby Witt released the following statement in response to WCIA's decision to cancel to only televised downstate debate.

"JB is borrowing a page from the billionaire playbook, avoiding debates and shunning reporters who ask tough questions.

"This is a critical election for middle class and working families. They are deciding who they trust to fight for them—and if he won't show up for a Democratic debate, how can we trust him to show up when they need him the most.

"Our campaign is focused on meeting with voters and reporters in every community, and that's why we'll be hosting our own town hall in Champaign on March 5."
* Public Radio…
Speaking on Illinois Public Media's daily talk show, The 21st, Pritzker said he's already done almost 50 forums and joint appearances.

"We actually have agreed back in December to do six debates, and that was very well known", said Pritzker. "This debate came up later."

A campaign spokesperson later reached out Monday evening to say Pritzker "misspoke" about the timing of the invitation for the Springfield debate, but did not provide another explanation for not participating.
* The official letter…
Our General Manager released this statement today explaining the company's decision not to move forward with the March 5th debate. pic.twitter.com/tNfsuA9Wyu

— Mark Maxwell (@WCIA3Mark) February 20, 2018
I'm told by a good source that "not one" reporter in WCIA's newsroom supports the station's decision to kill the debate. The decision was "made by Nexstar corporate in tandem with CBS2 and KMOV in St Louis," the source said. "Way above our heads."
- Posted by Rich Miller 42 Comments


* My weekly syndicated newspaper column…
Last year's state budget caused some real consternation among local government leaders because the General Assembly slashed their share of the state income tax by 10 percent for one year and skimmed 2 percent off the top of several local sales taxes.

Gov. Bruce Rauner vetoed that budget. His veto was overridden, but the governor's new budget recycles those same two ideas as well as the overall concept of off-loading state costs onto local taxpayers.

The biggest is Rauner's proposal to shift some teacher and higher education pension costs to the local and university/college levels. The governor would shift 25 percent of costs per year to school districts and universities over just four years. That means, in four years, taxpayers in downstate and suburban school districts would pay over $1 billion a year for pension payments that they don't pay now. And Chicago Public Schools would lose 100 percent of its state pension assistance in the first year, costing the city's taxpayers an extra $228 million.

I just don't see how the governor could ever pull this one off. And that means whoever drafts the final budget will have to patch a $591 million hole.

The budget proposal for next fiscal year also relies on an assumption that the General Assembly will pass an emergency $1.1 billion supplemental appropriations bill for this fiscal year by March. Much of that money is for the Department of Corrections. Now that a new budget is in place, creditors are demanding payment.

Not to mention that other creditors are going to be forced to wait in long lines until somebody can figure out how to reduce the state's current $9 billion backlog of unpaid bills because the governor's budget proposal almost totally punts that problem into the future.

Yes, the governor has lots of new money from the tax hike, so he should've been able to propose a far more balanced budget without all these gimmicks that probably won't pass (like the pension cost shift) and the deferrals (like the backlog problem) which have to be dealt with eventually.

Rauner also avoided making direct budgetary cuts with his tax reduction proposal that claims to cut the income tax rate by a miniscule quarter of a percentage point by relying on revenues from a pension reform idea that may be unconstitutional and has not yet been endorsed by House Speaker Mike Madigan.

We're now left with two major unanswered questions.

First, is the governor finally serious about negotiating the budget? He had the legislative leaders over to his office last week, which is the first time that's happened in 14 months. But it was just a quickie budget briefing.

Second, will the Democrats work with Rauner to solve those problems in an election year or will they wait to see if Rauner loses?

Senate President John Cullerton issued a statement last week that may answer both questions: "I met with the governor this morning. He said he wants to roll back taxes and put more money in education. Here's the problem. His budget does the opposite. He spends the entire tax increase. And he cuts money for education. It's almost like he doesn't know what his budget does. I can't explain the disconnect. It seems intentionally deceptive and it's troubling."

So, probably a "no" on both.
* Related…
* Finke: Don't spend that tax cut all at once: Being the fiscally prudent guy he is, Rauner will not proceed with the tax cut unless the latest reform plan is found constitutional. At the pace the court works, that should be around the year 2021, assuming the law is passed this spring. If the law is found unconstitutional, we'll probably hear more about the courts being under House Speaker MICHAEL MADIGAN's control. If the reform should stand, you, dear taxpayer, will see a cut of 25 cents on every $100 of your state income tax bill. Go crazy.

* Rauner's pension shift proposal 'financially devastating' to QPS: Quincy Public Schools Superintendent Roy Webb says a proposal by Gov. Bruce Rauner to shift pension costs to local schools would be "financially devastating" to the district. "It's not in our budget at all. It's not projected to be in our budget at all," Webb said. "It would be very tough for Quincy Public Schools to try to take that on."

* Editorial: School pension-cost shift still cause for concern: But if we try to fix what's broken by merely shifting those cost to local taxpayers it will add to the crippling property tax burden that has homeowners moving to Iowa and other neighboring states.

* Kacich: Pension-cost shift a 'nonstarter' for many lawmakers: The keystone of Gov. Bruce Rauner's 2019 budget — a plan to shift the cost of pension payments from the state to universities and local school districts over four years — is "a nonstarter," says state Rep. Chad Hays, R-Catlin. He's not alone in his assessment. Hays is among 46 House members (out of 118) who have signed onto a resolution (HR 27) sponsored by Rep. David McSweeney, R-Barrington Hills, that says that "an educational pension cost shift is financially wrong and would only serve to shift pension burdens from the state to the status of an unfunded mandate."

* Opponents: Rauner insurance changes would hurt state workers, retired teachers: Rauner said his budget recommends "right-sizing employee health insurance plans so that government compensation is more in line with what the taxpayers have who are paying for it. Today, we pay almost 90 percent of the premiums for government employee health insurance policies that are way more expensive than plans in the private sector." Rauner wants the split between the state and workers to be closer to 60/40. The American Federation of State, County and Municipal Employees, which represents about 38,000 state employees, said the governor's numbers are misleading. The union says the state pays 76 percent of health care costs and employees pay 24 percent, which is the national median according to a 2014 study on state employee health plans by the Pew Charitable Trusts.
- Posted by Rich Miller 38 Comments


* The House isn't in this week, but there are some Chicago committee hearings scheduled. The Senate convenes at noon. Watch it all in real time with ScribbleLive…
- Posted by Rich Miller Comments Off


[Reader comments are now open on this post.]
*** UPDATE *** From Speaker Madigan…
"Last week I was advised of inappropriate behavior by a volunteer toward a candidate and staff during the 2016 election. I quickly made sure the individual had no participation in any activities my committees are involved in. I offered to refer the matter to outside counsel and that offer was declined. The complainant and I met with the individual and the complainant assured me that the situation had been appropriately resolved. The individual will no longer be involved with any activities of my political committees. I reaffirm my commitment to change the culture. I do not tolerate inappropriate behavior or abuse of any kind and remain committed to ensuring all individuals can do their work without fear of harassment, abuse, or retaliation."
[ *** End Of Update *** ]
* You may have seen this bubbling up on Twitter today…
NEW: Hearing an additional well known, high ranking operative to Speaker Madigan has been quietly removed from organization for alleged complaints, Speaker's spox will only say "he has no current assignment" #twill

— Mary Ann Ahern (@MaryAnnAhernNBC) February 19, 2018
#Madigan. Shaw Decremer former field lieutenant to Speaker & successful lobbyist "has no current campaign assignments." Dem lawmakers say that is unusual in primary season. May be a firing.

— Edward Marshall (@edmarshallcbs2) February 19, 2018
Join us at 5p @nbcchicago, latest on new Dem operative quietly removed from campaigns after allegations of inappropriate behavior, and #ILGov Dem candidates react, louder criticism for Madigan, with the exception of @JBPritzker #twill

— Mary Ann Ahern (@MaryAnnAhernNBC) February 19, 2018
Pritzker needs to do so much better on this stuff.
* Anyway, I'm told that Decremer was abruptly removed from four House Democratic campaigns after complaints were made late last week by four campaign workers, who haven't yet come forward. The allegations at least partly involved Rep. Deb Conroy's 2016 campaign. I asked Rep. Conroy for comment (including whether she'd also been harassed) and she sent me this image via text…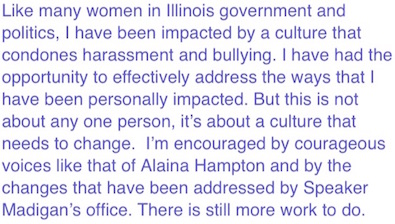 …Adding… Mary Ann Ahern's story is here.
* From the Biss campaign…
Today, Daniel Biss and Litesa Wallace released the following joint statement in response to the continued sexual harassment allegations within Mike Madigan's political operations:

"Time's up for Mike Madigan and the political machine he controls. After Alaina Hampton bravely came forward, Madigan had an opportunity to lead, and chose to make more backroom deals. These actions demonstrate he cannot and should not lead our party, and also cause us to seriously question his role as Speaker of the House.

"In the best interest of justice and truth, and to protect the women who have bravely come forward, Madigan should immediately resign from his position as Chairman of the Democratic Party of Illinois. And to ensure a truly independent investigation, we call on the Office of the Inspector General to conduct a swift and thorough investigation into these allegations."
I'm not sure how the state's Legislative Inspector General can investigate campaign behavior.
…Adding… From tonight's forum…
When asked if Speaker Madigan has done enough to address sexual harassment in the IL Democratic Party, JB Pritzker doesn't say Madigan's name but says "more needs to be done, there needs to be an independent investigation to look into allegations" pic.twitter.com/aWbswP4F8o

— Paris Schutz (@paschutz) February 19, 2018
…Adding… I think this is correct…
Three key questions that will dominate Illinois politics in the days to come. What did the Speaker know? When did he know it? What did he do about it?

— Dave Lundy (@DaveChgo) February 19, 2018
…Adding… Tribune…
For the second time in a week, Illinois House Speaker Michael Madigan has parted ways with a top lieutenant in his Democratic political organization, this time citing "inappropriate behavior by a volunteer toward a candidate and staff" during a 2016 campaign.

While Madigan's statement did not name the operative, sources familiar with the circumstances confirmed that it is Shaw Decremer. Democratic state Rep. Deb Conroy and several other staffers approached Madigan within the last week with complaints about Decremer's behavior, one of the sources said.

Reached late Monday, Conroy declined to detail the behavior, saying she is focused on moving forward.

"In this case, it was an abuse of power. That's all there is to it. It's not sexual harassment per se. I guess it's harassment, but I feel like it's been handled from my perspective," said Conroy, a three-term lawmaker from Villa Park. "We change the culture by calling out the bullies, by saying this behavior is not acceptable, and it needs to change."
- Posted by Rich Miller 80 Comments


[Reader comments are now open on this post.]
* The Liberty Justice Center is, of course, closely affiliated with the Illinois Policy Institute. The Center's President is Patrick Hughes, who works closely with Dan Proft at the Illinois Opportunity Project. The Institute is run by John Tillman. All those folks have been openly warring with Gov. Bruce Rauner and Proft is backing Jeanne Ives's campaign against Rauner.
Even so, they do make some interesting points here…
Liberty Justice Center president issues letter to Illinois Gov. Rauner regarding Janus v. AFSCME Supreme Court case

CHICAGO (Feb. 19, 2018) – The U.S. Supreme Court will hear oral arguments in the landmark labor case Janus v. AFSCME on Feb. 26. This is the most important case for workers' rights in a generation. It seeks to end the decades-old practice of requiring government workers to pay money to a union as a condition of employment. The case has implications for government workers in Illinois, as well as in 21 other states.

Liberty Justice Center President Patrick Hughes has sent the following letter to Illinois Gov. Bruce Rauner regarding his public comments about the case:

Dear Gov. Rauner:

As you know, the Liberty Justice Center is representing an Illinois state worker in the Supreme Court case Janus v. AFSCME. I am writing to request that you immediately stop misrepresenting the case and your role in it in public appearances and in the media.

This is the most important case for workers' rights in a generation. It seeks to end the decades-old practice of requiring government workers to pay money to a union as a condition of employment. This requirement is coercive and un-American, yet it has been in place for decades.

In Illinois and 21 other states, working in public service means paying money to a government union. More than 5 million government workers have no choice and no voice in the matter. But all of this could change if the Liberty Justice Center and our co-counsel from the National Right to Work Legal Defense Foundation are successful.

The stakes in this case are high, and that is why the manner in which you are discussing the case is so concerning.

You have made the Janus case a centerpiece of your re-election campaign. In numerous interviews, you are falsely claiming involvement in the case and making predictions about its success – even though the justices of the Supreme Court have yet to hear oral arguments. You appear to have an immense misunderstanding of what's really at stake in this case and what the implications would be. But perhaps most importantly, by touting this case in campaign-related events and interviews, you have recklessly politicized what's at issue in Janus.

Understand that Janus is not about right versus left, Democrats versus Republicans, or union jobs being better or worse than non-union jobs. Janus is about restoring government workers' right to decide for themselves whether to support a union at their workplace. And it is about more than Illinois. It is deeply personal to millions of American workers in almost two dozen states.

Here are examples of public comments that have been problematic.

In a recent campaign appearance before the Chicago Tribune editorial board, you said: "It's in the courts, and we're gonna win … we have a very high probability of winning the AFSCME lawsuit. From all indications, I believe it's very likely."

This isn't the first time you have spoken about the case in this manner. In an interview with the Hoover Institution in 2017, you stated: "We're in Federal Court. We are heading with that lawsuit to the U.S. Supreme Court this September. Nothing to do with any of the budget. Nothing to do with any of the reform agenda in the legislature. We are going to be in front of the Supreme Court, and there is more than a 90% odds that we win that case."

The problem: You are not a party in the case or participating in it in any way. Liberty Justice Center, as a 501(c)(3) organization, cannot and does not get involved in campaigns. Falsely claiming involvement in our activities, and linking the case to your reelection, could lead to false assumptions that our organization is involved in your reelection, which it is not.

The plaintiff in this case has been represented throughout the litigation by my organization, the Liberty Justice Center, and our partners at the National Right to Work Legal Defense Foundation. The federal district court dismissed you from the case in 2015, and since then you have played no role in it.

Ironically, there was an official role for you to play in the lawsuit. Elected officials from Michigan, Alabama, Indiana, Arizona, Florida, Georgia, Nevada and other states all submitted amicus briefs in support of the lawsuit. You could have filed an amicus brief or joined theirs, but you did not.

Unfortunately, Janus is not the only critically important case in which you are misrepresenting your role. You also have falsely claimed to be involved in our case defending the Village of Lincolnshire's right-to-work ordinance. Speaking of that case in your Hoover Institution interview, you said, "I'm advocating with them and helping them with that. We are now in Federal Court. We're heading to the Supreme Court in 2018."

But you have never had anything to do with that case, either. When the Village of Lincolnshire enacted its ordinance and unions sued to challenge it, the Liberty Justice Center stepped forward to defend the village free of charge. Neither you nor anyone in your office has ever assisted us in the case.

Claiming involvement in a case and then speaking unsolicited on behalf of those actually charged with winning the case is irresponsible and grossly misleading. It's also inappropriate to make predictions about a case's likelihood of success.

The real hero in the Janus case is Mark Janus, who has been willing to take his case to the highest court in the land, face public scrutiny and put his livelihood on the line.

Yes, you initiated the Janus case by issuing an executive order in 2015. But that's where your involvement ended. Saying otherwise and implying continued involvement is dishonest and harmful to the work of those trying to bring more worker freedom to Illinois and the country.

Sincerely,

Patrick Hughes
President, Liberty Justice Center
Emphasis added for obvious reasons.
The Circular Firing Squad is operating at full roar these days, campers. I'll open comments tomorrow.
*** UPDATE *** From a June 6, 2017 Illinois Policy Institute press release…
The case now called Janus v. AFSCME began on February 9, 2015. Illinois Gov. Bruce Rauner issued an executive order prohibiting state agencies from requiring nonmember state employees to pay union fees, and directed that instead any such fees deducted be put in escrow pending the resolution of litigation.

On the same day, Rauner filed a federal lawsuit in the U.S. District Court for the Northern District of Illinois against the collection of forced fees from state employees, asking for a declaratory judgment that the forced fee provisions violate the First Amendment and that his executive order was valid.

On March 23, 2015, staff attorneys from the Liberty Justice Center and the National Right to Work Legal Defense Foundation filed a motion for Mark Janus to intervene in the case. Janus's complaint requested not only a declaratory judgment but also an injunction and damages from the unions for the compelled fees.

Although the court then ruled that Rauner did not have standing necessary to pursue his lawsuit, the challenge continued because the judge granted Janus' motion to intervene. The case was renamed Janus v. AFSCME. On July 2, 2015, the Illinois Attorney General asked the district court to stay the case pending the Supreme Court's decision in a case with similar constitutional issues at stake, Friedrichs v. California Teachers Association. The district court granted a stay on July 8, 2015.
- Posted by Rich Miller 36 Comments


[Reader comments are now open on this post.]
* Somebody had to take on the frontrunner in the AG's race and Nancy Rotering has volunteered to be the first…
* Transcript…
Hi I'm Nancy Rotering. I'm running for Attorney General and I want to tell you a little bit about myself. I'm a mother of four boys, Mayor of Highland Park, and I've been an activist for progressive causes like gun control and women's rights.

When Pat Quinn failed to ban assault weapons to protect our cities, I took action and fought the NRA all the way to the Supreme Court and won.

You want an Attorney General unafraid to push a real progressive agenda? I'm your woman.
*** UPDATE 1 *** David Roeder, spokesman for Quinn for Illinois…
This is a false attack from Mayor Rotering, who should know better. As governor, Pat Quinn signed laws to toughen penalties for gun crimes. As attorney general, he will continue his work to ban assault weapons. In 2012, Governor Quinn received the Abraham Lincoln Award from the Illinois Council Against Handgun Violence for his work on preventing gun violence. It will take determined advocacy, not unwarranted attacks, to achieve essential, common-sense reform to protect communities across Illinois.

Please see the 2013 article linked below in which the NRA-backed gun industry assailed Governor Quinn for his efforts to ban assault weapons.


http://www.guns.com/2013/02/08/illinois-gov-pat-quinn-renews-effort-for-assault-weapons-ban-video/
[ *** End Of Update *** ]
* Meanwhile, Sen. Dan Biss is up on at least some Downstate stations…
That big $759k haul on Friday has apparently allowed @DanielBiss to go up on Downstate TV for first time. Saw an ad on @wandtv just now (#Olympics2018)

— Rich Miller (@capitolfax) February 18, 2018
*** UPDATE 2 *** From a rival campaign…
Biss is only doing 118 pts in Champaign, 116 in Peoria. 174 in Rockford.
* Pritzker reloads and picks up the endorsement of one of Biss' Senate colleagues…
.@JBPritzker puts another $7M into his campaign account. Brings him up to $56.2 million into his bid #ILgov #election2018 #twill https://t.co/cxvB2eVbeT

— Joseph Bustos (@JoeBReporter) February 18, 2018
"The problems we have are too big to think small." @ToiHutchinson as she endorses @JBPritzker for governor. #twill #ilgov pic.twitter.com/eqdnjl5Q6P

— Jordan Abudayyeh (@JordanAbudayyeh) February 18, 2018
* And the Kankakee Daily Journal has endorsed Rep. Jeanne Ives for governor…
To his credit, Rauner is trying to allow local governments to pass right-to-work laws, a big step in making us competitive with surrounding states who are flourishing with those laws.

Some of his critics feel Rauner has simply lost touch with his Republican base, and would be ineffective even if elected. One veteran Republican observer noted that he failed to distinguish between the public employee unions, which need reform, and the private sector blue-collar families who don't feel he cares about them. Their future support is crucial to a Republican future. Policies are great, but go nowhere without political skill.

Ives has no such baggage, and her military background, leadership experience, economics training, and overall grit and spunk, as displayed in the debate and other situations, give her the edge in leading our beloved state back to a hopeful future.
* Press release…
The Executive Board of the Illinois Democratic County Chairs' Association (IDCCA) has unanimously approved a zero-tolerance sexual harassment policy and pledge that they hope all Democratic candidates and campaigns will embrace and promote.

This morning, via e-mail, the IDCCA released the policy and pledge (attached) to Democratic candidates and campaigns running for the March 20th Primary Election. Campaigns are encouraged to sign the pledge and make an effort to let staff, interns, volunteers and the public know their operations are determined to maintain a zero-tolerance policy on sexual harassment.

"All Democratic candidates and campaigns should have a meaningful and legitimate policy on sexual harassment," said Doug House, President of the IDCCA. "This is a strong template that has already, as of this morning, been embraced and signed by a number of Democratic candidates throughout Illinois."

The recommendation for the policy and pledge comes from the IDCCA's Sexual Harassment Task Force. The committee has been advancing a variety of recommendations to the association including suggesting the recent name change and rebranding of the former Chairmen's Association.

Sangamon County Chair Doris Turner, Co-Chair of the Task Force, says the zero-tolerance pledge is the most important recommendation to come out of the group so far.

"Staff, volunteers, interns and other activists should know they the right to a safe, harassment-free experience in a campaign," Turner said. "I'm proud to have a part in crafting a unifying pledge that Democratic candidates and campaigns can support, sign and promote."

Another Task Force member, Lucy Moog of Chicago's 43rd Ward, says the IDCCA's pledge is a way to help spark increased awareness of sexual harassment among men and women alike.

"The IDCCA's policy and pledge against sexual harassment is timely and important," Moog said. "Not only is it an opportunity for every Illinois Democratic candidate to amplify our Party's serious stand against sexual harassment, perhaps it will help give someone pause in thinking about their behavior. I'm hopeful this effort will have a role in breaking the cycle of silence that victims too often have to live with."

State Senator Melinda Bush (D-31), a member of the Illinois Senate's Task Force on Sexual Harassment, said the IDCCA's work has already been noticed and appreciated among women in the General Assembly, including Republicans.

"Sexual harassment has no partisan preference - it is independent and thrives where silence helps to cover it up," Bush said. "Work that the IDCCA is doing is helping to strengthen the voices of women of both political parties. While this policy and pledge is a set of guidelines for Democrats, I think Republican campaigns will also recognize how important this effort is for them as well."

The IDCCA's zero-tolerance sexual harassment policy and pledge is being offered to Democratic Party candidates at all levels. Copies of the materials will be promoted via social media and will soon be available for download at the association's website, www.idcca.org – a direct link to the pledge is available at http://ildcca.org/2018/02/sexual-harassment-policy-and-pledge/.
*** UPDATE 3 *** I asked this on Twitter today about the new IDCCA policy…
Yeah. This is a very suspect passage: "The scope of the investigation shall be restricted to the specific allegation cited in the complaint."

— Rich Miller (@capitolfax) February 19, 2018
* From Toby Trimmer at the IDCCA…
Rich:

You ask a legitimate question, so I wanted to both consult with our legal team and ensure that our leadership understands any concerns. Be aware, the line you reference is language that is mined from other legally sound policies we've relied on to build our framework.

If a sexual harassment investigation exposes, uncovers, realizes or "stumbles upon" other allegations, an additional and/or supplemental investigation can certainly be undertaken and the IDCCA strongly recommends one be started without delay. The issue is too serious for us to restrict the investigation of accusations.

The ultimate point of that policy line is to ensure limitations to the powers from the unlikelihood of an overzealous investigator who may expand investigations without merit.

Thanks Rich.
Toby
[ *** End Of Update *** ]
* Rauner campaign…
How Many Presidents Have Come and Gone Since Mike Madigan Took Office?

In honor of President's Day, we put together a list of everyone who has served as President of the United States since Mike Madigan was first elected in 1971. We've had nine (9!) different presidents during that time and yet only one Speaker of the House for all but two years in Illinois since our own Ronald Reagan served in the White House.

Richard Nixon (1969-1974)
Gerald Ford (1974-1977)
Jimmy Carter (1977-1981)
Ronald Reagan (1981-1989)
George H.W. Bush (1989-1993)
Bill Clinton (1993-2001)
George W. Bush (2001-2009)
Barack Obama (2009-2017)
Donald Trump (2017-Present)
- Posted by Rich Miller 13 Comments


[Reader comments are now open on this post.]
* The Chicago Reader has been suffering serious turmoil since its new executive editor Mark Konkol took over. Konkol fired the paper's editor by phone just after the editor got off a plane returning from his honeymoon, killed the transportation writer's respected column, nixed a couple of columns by longtime Reader columnist Ben Joravsky and lost another columnist after publishing a racist front page cartoon featuring JB Pritzker sitting on a black lawn jockey ornament. Word from inside was that the paper itself could be in peril.
Sun-Times Media owns the Reader and here's its CEO Edwin Eisendrath…
I am announcing today the departure of Mark Konkol from the Reader. Mark came to the publication bringing great hope for a new direction and a new life to a storied brand. Sometimes things don't work out as planned. A tumultuous ten days culminated in the publication of a Reader cover that we believe was not in line with either our vision for the Reader or that storied history. We wish Mark well.

While controversy is sometimes seen as part and parcel of the alternative weekly world, we believe it's necessary in this instance to apologize to anyone who was offended by this week's cover. The published cover in my view distracted from the publication as a whole.

The reporters at the Reader work hard to be great journalists. They can and will take on the toughest stories — including issues of race, injustice and people struggling to be heard.

We will put in place interim leadership and plan for the future.
* From the Reader's own Twitter feed…
Ding dong the witch is dead! https://t.co/Npx1zAehpR

— Chicago Reader (@Chicago_Reader) February 18, 2018
Ouch.
- Posted by Rich Miller 5 Comments


[Reader comments are now open on this post.]
* The Sun-Times broke a story earlier today about Speaker Madigan's new letter to members of his state party's central committee. Most of the letter restates what he told his own House members on Friday (click here to see a copy of that letter). The new Madigan letter is at the bottom of the Sun-Times story (click here). What's new is in the excerpt below…
Dear Members of the Democratic State Central Committee:

I am writing to address the recent situation and call your attention to the issue of harassment and gender equality in the workplace. […]

As a first step, I have asked Congresswoman Cheri Bustos, Comptroller Suzanna Mendoza, and State Representative Carol Ammons to take the lead on facilitating a statewide discussion about the role of women in the Democratic Party of Illinois, both as elected officials and campaign personnel (including contractors, employees, interns, and volunteers), and how we can work to change the culture of politics. Their mission is to develop a plan for elevating the status of women in the party and a strategy for making the party and campaigns more inclusive. This requires changing the culture and recognizing we can no longer employ the "business as usual" mentality with our campaigns or our political offices. Persons within our party should be rewarded for their value and contribution, regardless of gender, race, religion, or sexual orientation. It's time to move beyond our current way of thinking. I recognize this change must start at the top, which means it starts with me and with each of you.

I am committed to working to find ways to change the culture and move the Party forward. Please reach out to me if you have any questions or need further information.

With kindest personal regards, I remain

Sincerely yours,

MICHAEL J. MADIGAN
Chair, Democratic Party of Illinois
* Rep. Ammons is an independent progressive Democrat who earlier this week called on the state party to come up with anti-sexual harassment procedures and "have a conversation about this issue." She also said this, which likely got Madigan's attention…
Ammons said all accusers need to come forward.

"Wherever they are, they need to come forward," Ammons said, "so that we can clean the complete house of this issue of sexual harassment."
* Comptroller Mendoza had this to say about the sexual harassment issue…
"Yeah, the state central committee should look into that," Mendoza said, "but so should every single elected officer, whether they're a statewide constitutional [officer], or just someone at home running for state [representative] to make sure there's a policy in place for any of your employees, male or female, to be able to seek a thoughtful ear and know that there's going to be a path to a resolution, one way or the other. I think that's the biggest issue that's failing right now."
* US Rep. Bustos helped introduce the "Congressional Accountability and Hush Fund Elimination Act."
…Adding… Chris Kennedy's running mate responds…
Step one, elect new Chairman #Twill #ILGov https://t.co/mBfOtOK9ml

— Ra Joy (@Ra_Joy) February 18, 2018
* Related…
* Speaker Madigan: 'I take responsibility' for not doing enough on sexual harassment issue

* Harassment allegations roil Illinois politics
- Posted by Rich Miller 2 Comments


[Reader comments are now open on this post.]
* Arguments to keep the Quincy veterans' home residents at the facility just make less sense with every new revelation…
These residents need to be relocated. https://t.co/UDBBc8kCOY

— Susana A. Mendoza (@susanamendoza10) February 17, 2018
The daughter of Gov. Rauner's Legionnaires'-stricken State of the State guest from the Quincy veterans' home: "If something is not done, I feel that I need to move him." https://t.co/nOpnZC9mUA

— Dave McKinney (@davemckinney) February 16, 2018
* Meanwhile, a couple of big hauls were reported Friday after business hours…
Democratic gubernatorial candidate Daniel Biss reported $759k in contributions, including $250k donations from Charles Ashby and Stephen Schuler, and a $100k donation from Steve Silberstein. https://t.co/AqbJoSq9ad

— ILCampaign (@ILCampaign) February 16, 2018
$308,682 A1 to Raoul for Illinoishttps://t.co/t0CVS0XzSA

— Illinois Sunshine (@ilsunshine) February 17, 2018
* Meanwhile, that Chicago Reader cover could've been even worse. From the Reader's own transportation columnist John Greenfield…
A credible source told me that @Konkolskorner's original plan for this week's @Chicago_Reader cover was to show @JBPritzker in blackface. He also pressured columnist @Public_Ade to write out the N-word in a headline. pic.twitter.com/K6Pymr9S8U

— John Greenfield (@greenfieldjohn) February 16, 2018
I confirmed the "blackface" idea, by the way. Reader columnist Adeshina Emmanuel claims he has written his second "and last" column for the publication because of the cover and other issues. He explained on Facebook…
If I had known my first articles in the Chicago Reader were going into an issue with a black lawn jockey on the front, I would have bailed. Quick, fast, and in a hurry, as my mom says. But I was not consulted about this cover. I would have said I don't like it. I would have said more than that.

I would have said reducing black people to an inhuman object, a racist trope, propping up a white man could easily be interpreted as racist, aside from being a bit too on the nose. I would have said this isn't effective satire. I would have said this was a great opportunity to give an artist of color, not a white man, the opportunity to visualize what my articles addressed — the indignities African-Americans suffer in an unequal partnership with the Democratic establishment, and the coded racial language that reflects that racist power dynamic.
And longtime Reader columnist Ben Joravsky called the cover "a disgrace" in his own Facebook post.
* Other stuff…
* Estranged Wife of Ex-Madigan Aide Says She Warned of Alleged Abuse: In it, she wrote that she was contacting Mapes because she believed she was "out of options" when it came to their divorce proceedings that began roughly three months earlier. "I don't think anyone knows the severity of the current situation within our family," McKay wrote. "There have been 3 domestic situations at my home since February, the last on July 5, 2017, resulting in Kevin's arrest." … "The speaker did not receive letter," Madigan's spokesman's Steve Brown said in an emailed statement late Friday night. "A review of possible locations where letter might be sent did not locate it."

* Candidate says GOP Rep. Charlie Meier hired private eye to tail his wife; Meier says no way

* By State Rep. John Cabello and State Rep. David McSweeney: We must enact a bipartisan infrastructure plan now: Gov. Bruce Rauner should be quarterbacking our efforts. However, sadly for political reasons, Rauner has refused to meet with President Donald Trump and has shown no leadership on Illinois infrastructure. Unlike Rauner, we both have treated the president with respect.
- Posted by Rich Miller Comments Off