* From the Blagojevich wiretap…
"(White)'s totally, he's totally, you know, uh, he's Senate material in a way that Emil Jones isn't, if I may say," Pritzker says, referring to former Illinois Senate President Emil Jones Jr., a Blagojevich ally who is now serving as a Kennedy surrogate in the 2018 governor's contest.

"OK," Blagojevich says.

"I mean, you know. He's just, I don't know how to say it exactly, but Emil's a little more crass," Pritzker continues.
* The Sun-Times has Sen. Jones' reaction…
"He's been running around the black community talking about all the things he's gonna do. Blah, blah, blah. … He's trying to buy the black vote. He's like a one-eyed jack. But, those tapes show you the other side of his face. This is what he really thinks about black folks," said Jones, who has endorsed Chris Kennedy for governor.

"What he meant by 'crass' is that I'm an uppity black. I fight for my people and, sometimes, that ruffles feathers. What he was saying in comparing me to Jesse White is that Jesse White is a safe black. Jesse White is not gonna do what Emil Jones does. Dr. King was a crass black. Harold Washington was a crass black. It was said in a derogatory manner." […]

"Look at the other side of his face. The other side of his face is that he does not accept strong black leadership. He likes acceptable blacks who are meek and won't say anything," Jones said.

Jones was not impressed when told that Secretary of State Jesse White, City Treasurer Kurt Summers and Aldermen Pat Dowell (3rd), Michael Scott Jr. (24th) and Walter Burnett (27th) all stood with Pritzker on Tuesday as the candidate offered his public apology.

"I expect that from them. They are all safe blacks. A safe black is not gonna challenge or do anything," Jones said.
Oof…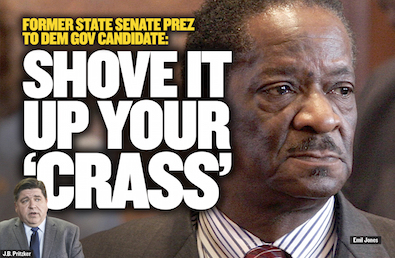 The Tribune has video.
* ABC 7…
"This is a slap in our face, taking our community for granted, playing our community against each other, this is not the kind of leadership we need at this time," said 9th Ward Alderman Anthony Beale.

Pritzker had recently been invited to speak at Sweet Holy Spirit Church, but Bishop Larry Trotter has now dis-invited him.

"For Pritzker to refer to (Emil Jones) as 'crass' is a slap in the face to every African American in Illinois. Just to think we are six days into Black History Month and a candidate for governor thinks it's funny to join in on such derogatory discussions about our leaders," Trotter said.
* Meanwhile…
Campaign fallout. @JBPritzker campaign worker resigns in the wake of latest FBI recordings of Pritzker and Blagojevich. @ABC7Chicago pic.twitter.com/L8LppRGIX5

— Craig Wall ABC 7 (@craigrwall) February 7, 2018
Pritzker campaign spokeswoman Galia Slayen told me: "We certainly respect Kina's feelings on this matter and are sad to see her go from the campaign. She was a field organizer."

— Craig Wall ABC 7 (@craigrwall) February 7, 2018
…Adding… I changed the headline and deleted a tweet because of this…
Organizer who said Pritzker rally who posted on FB postponed, has deleted that post, Pritzker team said "postponement had nothing to do with today" and asks me to take down original tweet, "miscommunication with the venue" #ILGov @JBPritzker (I'd rather hear from the organizer)

— Mary Ann Ahern (@MaryAnnAhernNBC) February 7, 2018
* Related…
* Pritzker Apologizes For 'Regrettable' Remarks On Black Politicians In Call With Blagojevich: "He insulted my whole community," Jones said, pounding on a lectern at a South Side church.
- Posted by Rich Miller 86 Comments


* The JB Pritzker campaign's latest press release covered a bunch of the same ground as his Chicago press conference. Pritzker's running mate wasn't at the event because she's in Springfield for session. Here's the portion of the release with her statement…
State Representative Juliana Stratton said, "I joined this campaign because of JB's values, his record of helping people, and his compassion. All along, JB and I have had countless frank conversations about race, the challenges we face as a state and a country, and the path forward. He is someone who really listens and seeks to understand.

"I know JB wishes he had pushed back more on that call and I know he wishes that certain things were not said. While I am in Springfield and was unable to join him at today's press conference, I remain proud to be on this ticket with someone I know is a better man than who he was on that tape. This is a critical election for so many of our communities and the question in front of us is who can we trust to show up for us, who has the record of lifting people up, and who has demonstrated a commitment to equity and justice. I am confident that leader is JB and I look forward to continuing our work together to move this state forward."
* And Rep. Christian Mitchell (D-Chicago) sent me this a few minutes ago…
J.B. Pritzker is a good man with a good heart, and real experience solving big problems. He is committed to a better future for all Illinoisans, especially those currently struggling. All of us, if every conversation we had was recorded, would have some embarrassing moments. But J.B.'s track record in the African-American community far surpasses that of the other contenders. He has supported the Center on Wrongful Convictions and invested both his time and hundreds of millions of dollars in early childhood education and school breakfast programs, because justice and opportunity are more than just words to him. And unlike the other candidates, J.B. has spent real time in our communities, has listened to our voices, and has a plan for supporting our businesses and our schools. I'm proud to support his candidacy for Governor.
Both legislators are African-Americans.
- Posted by Rich Miller 42 Comments


* From an e-mail announcing Equality Illinois' endorsement of JB Pritzker for governor…
"Whichever Democratic candidate advances to the general election, the Equality Illinois PAC Board knows that it will have a supporter for LGBTQ equality."

The Equality Illinois PAC is proud to endorse JB Pritzker for Governor and his running mate Juliana Stratton for Lieutenant Governor.

"JB Pritzker has been a strong and public champion of the LGBTQ community since long before support for LGBTQ equality was the norm among Democratic political leaders," said John Litchfield, Equality Illinois PAC Board Chair. "Going back decades, he has marched in Pride parades, worked to elect LGBTQ people to office, and supported civic organizing efforts of LGBTQ community groups to broaden support for LGBTQ equality. There are few leaders in our state who have served as courageously and consistently for LGBTQ equality over recent decades as JB Pritzker."

Litchfield added, "We endorse JB Pritzker and Juliana Stratton in the Democratic primary with the expectation that as Governor and Lieutenant Governor they will meet us at our table as active participants in the conversations and issues facing the LGBTQ community in Illinois now and in the future."
* Greg Hinz…
For the second time in two weeks, a major Illinois rights group has endorsed only one Democratic candidate for governor, J.B. Pritzker, bypassing other contenders who appear to be equally strong backers of the group's agenda. […]

The endorsement is reminiscent of last month's decision by Personal PAC, an abortion rights group, to back only Pritzker. As was the case with Personal PAC, Pritzker is a major financial backer of Equality Illinois: He was a gold-level, $15,000 sponsor of its annual fundraising dinner last month and chaired the event two years ago, with $30,000 donated then. […]

[Equality Illinois Executive Director Brian Johnson said] "the board felt he had the best chance to bring the pro-LGBTQ message" to success in the November election. That's similar to what Personal PAC officials said in arguing that Pritzker alone in the Democratic field has the financial resources needed to battle the likely GOP victor, incumbent Bruce Rauner. […]

Biss' spokesman called the endorsement "disappointing." The campaign of a third candidate who backs the group's policy goals, Chris Kennedy, did not immediately have a comment.
* Biss' spokesman vented on Facebook…
As a queer person who served on the Equality Illinois PAC Board and have supported the organization since the day I moved to Chicago, I am sorely disappointed by their decision to endorse JB Pritzker.

Daniel Biss and Litesa Wallace have been champions of LGBTQ Equality bills in Springfield, including the bill to legalize same-sex marriage, the bill banning conversion therapy for minors, the bill banning the "gay/trans panic" defense, the birth certificate modernization bill, the bill to guarantee PrEP for Medicaid recipients, a Foster Children's Bill of Rights, a bill to reduce youth homelessness, the TRUST Act, and the Equal Rights Amendment.

But Equality Illinois chose to endorse JB Pritzker, saying his support of the LGBTQ community is "unprecedented" because he held a gay marriage in his home 25 years ago, marched in gay pride parades, and donated $45,000 to the group in the past three years.

This endorsement suggests that my beloved #LGBTQ rights organization cares more about making their donors happy than supporting the lawmakers who carry their bills.

There's no reason they couldn't have endorsed both Daniel and JB… and that question still remains unanswered.
- Posted by Rich Miller 39 Comments


* SJ-R…
The Democrats vying to succeed Attorney General Lisa Madigan fought it out at a forum in Springfield Monday night, agreeing on most of the substantive issues while sniping at one another over campaign contributions and perceived conflicts of interest.

The mood at the forum, hosted by the Illinois Democratic County Chairs' Association at The Hoogland Center for the Arts, was cordial for most of the night but grew heated as the crowded field sought to differentiate themselves from one another.

Chicago Park District board president Jesse Ruiz was on the defensive for admittedly accepting donations from utility companies such as Exelon, ComEd and People's Gas. Ruiz, who said his job reading meters for the latter company helped put him through college, said he's "glad they have faith and confidence in my leadership."

However, Ruiz said that he's "never pulled a punch on anybody" because of a campaign contribution or past political support, pointing to his calls for then-Chicago Public Schools CEO Forrest Claypool, an ally of Chicago Mayor Rahm Emanuel, to resign.

Highland Park Mayor Nancy Rotering, who also has accepted donations from utility companies in the past, said she needs to raise funds to get her name out, but the money has never affected a decision she's made.
* The Question: How important to you are these debates about fundraising sources? Make sure to explain your response.
- Posted by Rich Miller 15 Comments


* Video of today's JB Pritzker press conference is here. As I told subscribers this morning, this particular response is a big problem for Pritzker…
Pritzker can NOT say if there are more damaging FBI tape recordings with Blago #ILGov @JBPritzker pic.twitter.com/oKQlj5LDv5

— Mary Ann Ahern (@MaryAnnAhernNBC) February 6, 2018
Uncertainty is a support killer.
Pritzker did say, however, that Blagojevich never asked him to fund a not-for-profit group on Blagojevich's behalf. Creating that group to pay himself a big salary was one of Rod's weirder pipe dreams. So, at least that revelation isn't coming down the pike (as long as he's telling the truth, of course).
Pritzker also called on the Tribune and the feds to release all recordings related to him right away.
* Sun-Times…
With Illinois Secretary of State Jesse White at his side, Democratic governor candidate J.B. Pritzker apologized Tuesday for portions of a newly revealed wiretapped conversation with former Gov. Rod Blagojevich in which he pitched White as the "least offensive" choice to fill then President-elect Barack Obama's Senate seat.

"I regret some of the things I didn't say and some of the things that I did," Pritzker said of the Nov. 14, 2008, phone conversation with Blagojevich in which he described then-Illinois Senate President Emil Jones as too "crass" for the job and joked along with the governor when Blagojevich suggested appointing Obama's controversial pastor, the Rev. Jeremiah Wright, to fill the vacancy. […]

Pritzker didn't specifically say which parts of the call he regretted but admitted he was "not my best self" on the call and that he should have "pushed back" against some of Blagojevich's comments. […]

"I know where his heart is," said White, who described Pritzker as a friend of nearly four decades.
* Pritzker said he thinks now as he did back then that White "would have made a great United State's Senator." Pritzker was indeed heard saying on the FBI tape that White was "totally… Senate material."
But Pritzker also said this to RRB about elevating White…
…And it opens up the secretary of state spot, which is the key spot that controls jobs, etc.
Two years earlier, of course, the US Attorney's office had announced it was taking over a state investigation into "very serious allegations of endemic hiring fraud" by Gov. Blagojevich's administration.
* Press release…
Ald. Roderick T. Sawyer (6) issued the following statement on Tuesday in response to reports of new recordings of gubernatorial candidate JB Pritzker discussing the U.S. Senate seat left vacant by Barack Obama after his election to the presidency with former Gov. Rod Blagojevich:

"I was disheartened to hear JB Pritzker's deeply problematic comments. JB is relying heavily on the support of the Black community and elected leaders like myself to carry him to victory in March. It is my hope that he will act to demonstrate, both through words and action, that he does not simply view African Americans as one-dimensional 'things' to be manipulated for political expedience. JB–and all white political leaders–must stop looking for 'safe' or 'palatable' Black figureheads–as he apparently sought to characterize Jesse White to be.

"I continue to believe JB is the best positioned to beat Bruce Rauner in November, and I will maintain my support for his candidacy. But I will also look for clear assurances that his thoughts around matters of race and equity have evolved substantially since those calls were recorded in 2008. And I will continue to speak out and demand dignity and justice in the treatment of our community by all political leaders–Democrat or Republican."
* More…
Former State Senate President Emil Jones says he resents @JBPritzker calling him "crass" "he owes our community a huge, a huge apology" calls Pritzker a one-eyed jack who just showed the other side of his face. @ABC7Chicago pic.twitter.com/8E79ejgGdU

— Craig Wall ABC 7 (@craigrwall) February 6, 2018
Jones is a Chris Kennedy supporter and there was significant push-back against his possible appointment to Obama's Senate seat, not just from Pritzker. However, this is the definition of "crass"…
lacking sensitivity, refinement, or intelligence.
Sen. Jones may be lacking in some "refinement," particularly to a billionaire, but the man is smart as heck.
* Biss campaign…
Today, at a press conference in Springfield, Daniel Biss and Litesa Wallace delivered the following remarks in response to the Chicago Tribune's story revealing inappropriate conversations between J.B. Pritzker and former Governor Rod Blagojevich.

"Last night we heard more from the FBI tapes of conversations between JB Pritzker and former Governor Rod Blagojevich," said Daniel Biss. "This latest conversation represents all that is wrong with our politics: powerful white men, totally unaware of their privilege, horsetrading people of color to gain more power. The conversation, including phrases like "least offensive" or "a little more crass", personally I found it disgusting.

"It is past time that we lift the veil on the ugly imbalance of power between the wealthy and well-connected, and the people who have for too long been taken advantage of by our broken system. We need to address these systemic inequalities in our politics and in the services we provide as a state. We have inequities in education, in employment and in the criminal justice system. Inequities born out of a system that is rigged to benefit a few at the expense of all the rest of us, and these tapes are another example of it.

"We see this in boardrooms and backroom deals all the time. Where wealthy white men with power that pit black and brown people against each other, using people as pawns in a game for profit or political gain. What we've seen in the past is a broken political system, and in order to have a future that is just and fair, we need transformational change. We need a politics built on co-governing that views all people as equals. And we have to acknowledge our privilege and build a government that reflects the people it represents."

"As a woman of color, a Black woman in particular, a mother and a lawmaker," said Litesa Wallace. "When I heard the sentiments expressed on those FBI tapes it revealed to me that we're still not seen as complex, educated, talented human beings. We were simply seen as objects; our racial background are simply used as something that can be a checked off a long list of the least dynamic characteristics for political candidates.

"My role as a legislator and in this campaign is more than just being a face. I've been an advocate; I will continue to be an advocate; and I will do what I believe is right. I will continue to work hard on behalf of middle-class and working families like mine. And I am reminded after hearing those tapes as to why Daniel. The first reason why I endorsed him initially is that he is the most qualified person to enter the race. The second reason was because he actually believes in the kind of politics he just described. A type of politics that no longer depends on those backroom deals, one that actually depends upon co-governing, creating a shared democracy amongst others. And making sure that the voices of those that are intentionally silenced are actually amplified. So, I'm here proudly as his running mate and I'm also here to say that it's time out, and time up, for the type of pandering that we've seen in terms of identity politics in the State of Illinois and across our nation."
* Related…
* Gay rights group backs Pritzker: Giving Pritzker the nod this time is the political action committee of Equality Illinois, the state's largest and most prominent LGBTQ rights group. "There are few leaders in our state who have served as courageously and consistently for LGBTQ equality over recent decades as J.B. Pritzker," said PAC Board Chairman John Litchfield in a statement.
- Posted by Rich Miller 45 Comments


* Background is here. Pretty predictable…
JB Prtizker spoke to Jesse White by phone last night, White "is very comfortable with him, good conversation, connecting as friends" but White spokesman won't say if Pritzker apologized after calling White "least offensive" African American choice to replace Obama in Senate

— Mary Ann Ahern (@MaryAnnAhernNBC) February 6, 2018
Latest: Secy of State Jesse White will be standing with @JBPritzker at his mea culpa newser "least offensive" flap #ILGov

— Mary Ann Ahern (@MaryAnnAhernNBC) February 6, 2018
*** UPDATE *** Monique…
A spokesman for Jesse White's campaign says the Secretary of State "is absolutely standing by" his endorsement of Pritzker. "This is his guy."

— Monique Garcia (@moniquegarcia) February 6, 2018
"I think that Jesse has been in politics long enough to know that there is a context for everything, and sometimes that may be bigger than what is obvious," said Rocco Claps, political director for White's campaign. https://t.co/55GQ5G5Fly

— Monique Garcia (@moniquegarcia) February 6, 2018
…Adding… You can follow the press conference on our live coverage post.
- Posted by Rich Miller 46 Comments


* The SALT work-around is a pretty interesting idea. From a press release…
In an effort to put more money in the pockets of Illinois taxpayers and infuse funds into the Illinois economy, State Representative Peter Breen (R-Lombard) has launched the Illinois Tax Reform Plan. The plan, consisting of three taxpayer-friendly bills, was unveiled today at a press briefing in Springfield. Each bill has the potential of lowering taxes on Illinoisans and Illinois businesses.

The cornerstone of Breen's package is HB 4563, which expands Illinois' current Invest in Kids Act tax credit model to allow Illinoisans to make fully deductible charitable contributions to 501(c)(3) foundations supporting public school districts, while receiving tax credits to reduce their partially deductible state and local income tax (SALT) payments. The new federal tax law provided a $10,000 limit on deductions for SALT payments, while placing no limit on charitable deductions. "While changes to the federal tax code are providing many opportunities for taxpayers to keep more of their hard-earned money in their own pockets, folks in states where property taxes and income taxes are too high need relief. The Congress left intact the full deduction for charitable contributions, and my Illinois workaround to the new SALT deduction cap relies on the very successful education tax credit model upheld by the Tax Court and IRS, and used by states across the country. This plan has the potential to put over $1 billion every year back into Illinois taxpayers' wallets. Rather than sending this money to Washington bureaucrats, these dollars can be pumped into the Illinois economy, to help our state grow and prosper."

Through Breen's SALT workaround, the current Invest in Kids Act, which allows taxpayers to make donations to private schools in exchange for a tax benefit, would be expanded to include contributions made to K-12 school district foundations. Taxpayers can make annual contributions to school district foundations up to the total amount of their state income taxes and residential property taxes, in exchange for a tax credit equal to 100% of their donation. The bill would ensure little to no cost to the state by amending the school code to ensure that state payments to the K-12 districts benefitted by the program would be reduced by the amount of the total contributions received by the districts.

The second bill in the package, HB 4376, would allow parents who choose to send their children to K-12 private or parochial schools in Illinois to use their Illinois Bright Start program funds (529 Plan) to help offset those costs rather than only using those funds for college.

"Today's Bright Start Program does not provide the flexibility provided by the recent changes in federal tax law, to allow families the ability to use their own 529 plan account for K-12 educational expenses," said Breen. "My bill expands the Illinois Bright Start Program's definition of 'qualifying expenses' so that families may enjoy the full tax benefits newly available through the revised federal tax law. Expanding the use of these tax-free funds will help hard-working Illinois families save for their kids' education."

HB 4376 also provides for a rollover of 529 plan funds into an Achieving a Better Life Experience (ABLE) account to help individuals living with significant disabilities. Whereas 529 plans may only be used for education, ABLE accounts may also be used for housing, transportation, employment training and support, assistive technology, personal support services and health care expenses. "These types of accounts really help folks living with disabilities to maintain their independence and quality of life," Breen said. "Individuals with disabilities and their families often rely on public benefits for income, health care, housing and other assistance, and eligibility is largely based on meeting an income threshold. ABLE accounts allow families to create a long-term plan with defined tax benefits for covering the significant costs associated to living with a disability."

The final bill in Breen's Illinois Tax Reform Plan is HB 4562, a measure to support the small businesses that will start or grow as a result of the Tax Cuts and Jobs Act. HB 4562 will lift the requirement that individuals who operate a small business where they are the sole employee be in the unemployment insurance system. "This is a common sense issue. Individuals who operate a business where they themselves are the only employee certainly can't really 'fire' themselves in the traditional sense of unemployment insurance, so they shouldn't be forced to pay for this insurance," said Breen. "There are thousands of single-employee businesses in Illinois, and while these entrepreneurs are contributing greatly to the Illinois economy, they're being nickel-and-dimed through laws that force them to pay for services from which they would never benefit."

Breen is hopeful he will have wide bipartisan support for all three bills and will be pushing for prompt consideration of the legislation in Springfield.
* Daily Herald…
In wake of Des Plaines Elementary District 62 paying more than $127,000 in severance to its former superintendent accused of sexual harassment, a pair of suburban lawmakers are co-sponsoring legislation requiring local governments to provide public notice of similar payouts in the future.

State Rep. Marty Moylan, a Democrat from Des Plaines, filed the bill with Rep. David McSweeney, a Barrington Hills Republican, in response to the payout given former District 62 Superintendent Floyd Williams Jr. in November.

The legislation would require any unit of local government, including school districts, to provide public notice within 72 hours of approving a severance agreement with an employee or contractor accused of sexual harassment or discrimination.

Under the bill, the government would have to publish on its website and in a local newspaper the name of the employee, the amount of the payment, and that the person was accused of sexual harassment or discrimination.
* Wall St. Journal editorial…
Democratic politicians in left-leaning states have been brainstorming ideas to avoid serious pension and tax reforms. The creative financial geniuses in Illinois have come up with a doozy: a magic bond that would save the state as much as it borrows.

Democrats in the state House have proposed issuing $107 billion in bonds to backfill the state's pension funds, which are short $129 billion. Annual state pension payments are projected to increase to $20 billion in 2045 from $8.5 billion—not including interest on $17 billion in debt the state previously issued to pay for pensions.

At the request of state retirees, a University of Illinois math professor performed a crack analysis showing how the state could use interest-rate arbitrage to shave its pension costs. Under the professor's math, the state could sell 27-year, fixed-rate taxable bonds and invest the proceeds into its pension funds. This would supposedly stabilize the state's pension payments at $8.5 billion annually, save taxpayers $103 billion over three decades and increase the state retirement system's funding level to 90% from 40%. Can the mathemagician make House Speaker Michael Madigan disappear too? […]

Republican Gov. Bruce Rauner won't fall for this ruse. But if a Democrat defeats him this fall, unions may pull this magic bond out of their bag of political tricks.
So far, Martwick has no co-sponsors, so I'm not sure that "Democrats in the state House have proposed" anything of this nature. Not yet, anyway.
- Posted by Rich Miller 17 Comments


* SJ-R reporter…
State Rep. Peter Breen (R-Lombard), an Ives supporter, says controversial ad should be taken down: "I don't like the ad. The points made could and should be made in a much less incendiary way … It's not an ad that really helps to advance the conversation." #twill

— Brenden Moore (@brendenmoore13) February 6, 2018
That's at least two legislative Ives supporters who are saying this. Rep. David McSweeney came forward yesterday.
…Adding… I missed this yesterday. Many thanks to a commenter for the link…
Add House Rep. Tom Morrison to the list of pro-Ives Republicans who opposes the ad. "I thought it was jarring. It's not the ad I would run if I was a candidate," Morrison says. Wouldn't say if he would take it off air. https://t.co/7V6jGaYSyj

— Mark Maxwell (@WCIA3Mark) February 5, 2018
- Posted by Rich Miller 21 Comments


* Gov. Rauner was at the Sun-Times today…
Asked what he would do if he could have one "do-over" from his first term, @GovRauner says he would have spent far more time communicating directly with the people of Illinois. (He says he'd do that by spending far more time with "you guys" - the media.)

— Chicago Sun-Times (@Suntimes) February 6, 2018
Rauner was asked about what he would "do-over" in first term. One: "I would have spent far more time communicating directly to the people of Illinois and explaining what's going on." Two: Would work on trying to get Democrats to see his view, citing Ken Dunkin as an example.

— Tina Sfondeles (@TinaSfon) February 6, 2018
There's that "story-telling" stuff for the kabillionth time - also known as his "unhealthy obsession with media and messaging." He's never understood (to this day, apparently) that it wasn't the messaging, it was all the unpopular stuff he was trying to do that hurt him. He couldn't have spun his way through a two-year impasse. No how, no way.
Also, Dunkin is his template for success with legislators?
Sheesh.
* More from the interview…
Rauner asked to react to two words: President Trump. His reaction: "President of the United States." Pressed further, says he doesn't have a "particularly close relationship with him." But re Medicare overhaul: "I need the White House's help."

— Tina Sfondeles (@TinaSfon) February 6, 2018
"My biggest concern is the rhetoric," Rauner says of President Trump. "The rhetoric, the tone, the words." #twill

— Tina Sfondeles (@TinaSfon) February 6, 2018
That initial reaction is one of the most hilarious dodges I've seen a very long time. Mad props.
But the president's rhetoric and tone are the biggest problems? This analysis from the same guy who calls most members of the General Assembly and the judiciary crooks? From the same man who just last week blasted an auditor general's report as fake news even though his own agency had agreed to the recommendations? From the… oh, forget it. I ain't got all day.
- Posted by Rich Miller 28 Comments


* ABC 7…
Ives called her ad a parody of Governor Bruce Rauner's "Thank You Mike Madigan" ad. […]

Dan Proft, a radio host and conservative strategist who used to work with the Rauner campaign but defected to Ives, defended the ad.

"Not everybody's tone or sensibility is the same, so people are going to take things differently. But in terms of the veracity of the statements in the ad and the representations, the characterizations of issues and issue positions the governor has taken, that's all factual," Proft said.
* After Ives' speech, Proft was asked by at least three reporters if he wrote the ad. He didn't answer that question, but he did attempt to explain the ad to Mary Ann Ahern…
* One take I've heard a lot about this ad is it probably kills Ives' chances of winning more than a tiny handful of newspaper endorsements. She might've actually received the Trib's nod, but even though the mother ship hasn't yet weighed in, it's tough to see how they can go with her now.
The Alton Telegraph, which is not exactly a liberal bastion, doesn't like the spot…
It's hard to tell who Republican state representative and gubernatorial candidate Jeanne Ives is going after in a new ad that has mouths dropping across party lines — incumbent Bruce Rauner or anyone in Illinois who doesn't fit a narrowly defined conventional conservative mold.

In one of the more over-the-top political ads to hit the state's airwaves in a long time — and that is saying a lot — Ives's campaign goes for the political throat. While it would be easy to dismiss it simply as sexist, transphobic and slightly bigoted, it just might be a sign of the tone of things to come in a super-heated gubernatorial primary race.
* And Amanda Vinicky makes a good point here…
But arguably, the ad speaks most to the conservatives who were already backing her, while turning off moderate Republicans who had been looking for an alternative to Rauner.
* From the Tribune's coverage…
Ives continued: "That's exactly — the fat cat Exelon guy, that's exactly who he bailed out. Hello. The teacher from Chicago Public Schools, that's whose pension you just bailed out. The transgender man, that's exactly what typically a transgender man looks like."

At that point, an audience member shouted out, "no, it's not," to which Ives replied, "with all due respect, look, I've had him show up at my door."

Later, Ives told reporters the she encountered a transgender lawyer when she was in a court battle involving a death threat she'd received in connection with her position on same sex-marriage legislation that passed the General Assembly in 2013. The laywer was representing the person who had allegedly made the death threat and showed up at her door, Ives said.

Attendance at the City Club event was more sparse than many political events hosted by the group. Ives delivered a wide-ranging speech that included her biographical background, policy positions and critique of Rauner.
*** UPDATE *** Go read this piece…
Trans attorney: "Dangerous" Jeanne Ives "hurt my feelings" over controversial ad https://t.co/EGsbDsNFaN pic.twitter.com/8AE7LK9brL

— Chicago Tribune (@chicagotribune) February 6, 2018
- Posted by Rich Miller 33 Comments


* From a Rauner campaign source…
It's a targeted statewide TV and digital ad on Representative Ives' poor record on taxes and her unwillingness to take on Mike Madigan. We will continue highlighting JB Pritzker's record and we're able to walk and chew gum at the same time. But Representative Ives has already proven herself to be a completely unelectable candidate in the general election, and we're going to make sure Republicans know how wrong she is on the issues of taxes and failing to fight the status quo.
* Here's the ad…
* Script…
Jeanne Ives took thousands from a shady labor union tied to Mike Madigan.

She voted against increasing your property tax exemption.

Now, she's criticizing Bruce Rauner for calling Mike Madigan a crook, brags about Madigan voting for her bills and complains Rauner is "picking on Madigan."

Let's recap. Jeanne Ives was for higher taxes, took shady money from Madigan's cronies and now defends and defers to Madigan.

Jeanne Ives might just be Mike Madigan's favorite Republican and Illinois' worst nightmare.
*** UPDATE 1 *** Ives campaign…
Rauner Responds to Ives The Only Way He Knows How: With Lies.

At the Tribune editorial board meeting, Governor Rauner bragged about playing golf with Madigan and knowing him very well.

As Governor, it's been more like Rauner caddying for Madigan.

It was Rauner who abdicated during last year's budget debate, and let 15 House Republicans pass Madigan's tax hike.

In fact, Ives has actually taken on Madigan and won as she did in preventing a Chicago teachers pension holiday backed by CPS and Madigan that would've skipped three years of pension payments.

This ad is consistent with Rauner's character. He is an unrepentant liar. If he'll lie to Cardinal Cupich, he'll lie to anyone about anything. And in his three years as Governor, he has lied to everyone about everything.

As State Representative and House Republican Floor Leader Peter Breen (R-Lombard) said after the last of Rauner's many betrayals, HB 40, "Rauner's promises were just flat out lies."

As Rep. David McSweeney (R-Barrington Hills) said, "Rauner has been completely ineffective - other than the TV ads and press releases he hides behind - in attempting to actually pass something. He could be the most ineffective politician in the country."

Ives expects Rauner to lie about her and to lie to Illinois families. That's just what he does. And so it begins.
*** UPDATE 2 *** DGA…
Incumbent Governor Rauner Forced to Turn Attention to Republican Primary

Nation's Most Vulnerable Incumbent Begins Running Ads Against Primary Opponent after Failing to Avoid Serious Challenge

It was never supposed to get this far. Today, news broke that Governor Bruce Rauner will air an attack ad again his primary opponent, State Representative Jeanne Ives. Rauner tops most national lists as the "most vulnerable incumbent" running for reelection, and spent months ignoring Ives in the hope she could not put together a serious primary challenge. For her part, Ives has rung up a string of bad press stores: she's cancelled a fundraiser with a white supremacist, had to refund a $1,000 donation from a neo-Nazi, and put on air one of the most offensive ads ever.

Yet, Rauner now finds himself wasting time and resources running ads in a Republican primary.

Thanks in part to Rauner's unpopularity and ineptitude, Ives has kept rolling along. She racked up endorsements from numerous sitting legislators and county parties. She absolutely walloped Rauner in their only debate together. And Ives received $2.5 million from a Midwestern mega-donor that used to be a strong Rauner ally.

Now, she's got Rauner's attention.

"Bruce Rauner's been looking over his shoulder all winter and now he's officially sounding the alarm," said DGA Illinois Communications Director Sam Salustro. "Rauner was already suffering from Trumpian-level approval ratings and today's news that he'll air attacks against State Rep. Jeanne Ives shows just how weak his position really is. Rauner failed the voters of Illinois, regardless of their party, and now he's paying the price."
- Posted by Rich Miller 53 Comments


* Let's go back to the Tribune story on the latest tape release…
Shortly afterward, Pritzker offers the name of one candidate he doesn't want to see get the Senate job: then-U.S. Rep. Jesse Jackson Jr., who was angling for the appointment and later pleaded guilty to federal charges of illegally siphoning campaign funds for personal use.

"Oh God, please," Pritzker says of Jackson Jr. "I mean, what a, I mean it would be a nightmare. I hope you don't do that." […]

"[Secretary of State Jesse White is] totally, he's totally, you know, uh, he's Senate material in a way that Emil Jones isn't, if I may say," Pritzker says, referring to former Illinois Senate President Emil Jones Jr., a Blagojevich ally who is now serving as a Kennedy surrogate in the 2018 governor's contest. […]

"I mean, you know. He's just, I don't know how to say it exactly, but Emil's a little more crass," Pritzker continues.
* Natasha Korecki literally wrote the book on the Blagojevich case. She was a top notch reporter at the federal courthouse, so here's her take…
My first reaction was that it reminded me of a piece my colleagues and I wrote for the Sun-Times on Jan. 4, 2009. The story (and I'd link to it if the Sun-Times hadn't taken down all of its online archives) centered on then-Senate Majority Leader Harry Reid's phone call with Blagojevich about the Senate seat. Like Pritzker, Reid called to urge Blagojevich against appointing Jesse Jackson Jr. or Emil Jones. At the time, the powers-that-be were worried Blagojevich might do just that and were hoping to persuade him toward one of their picks.

The Sun-Times story at the time: "Days before Gov. Blagojevich was charged with trying to sell a U.S. Senate seat to the highest bidder, top Senate Democrat Harry Reid made it clear who he didn't want in the post: Jesse Jackson Jr., Danny Davis or Emil Jones. Rather, Reid called Blagojevich to argue he appoint either state Veterans Affairs chief Tammy Duckworth or Illinois Attorney General Lisa Madigan, sources told the Chicago Sun-Times. Sources say the Senate majority leader pushed against Jackson and Davis — both Democratic congressmen from Illinois — and against Jones — the Illinois Senate president who is the political godfather of President-elect Barack Obama — because he did not believe the three men were electable. He feared losing the seat to a Republican in a future election. Blagojevich spokesman Lucio Guerrero confirmed that Reid (D-Nev.) and Sen. Robert Menendez (D-N.J.) — the new chief of the Senate Democratic political operation — each called Blagojevich's campaign office separately Dec. 3. Sources said they think that at least portions of the phone conversations are on tape. The calls reveal the varying forces directed at Blagojevich as he weighed the appointment."

It's with this in mind that I read the Tribune piece in which Pritzker was advocating for an African American (who was not Emil Jones or JJJ) in the post. At the time we wrote the Harry Reid piece, he was criticized for not including a black candidate on his list to Blago.

In the recording the Tribune published, Pritzker describes White as the "least offensive," which is, well, offensive. Tough to tell if that was Pritzker trying to manipulate Blagojevich into choosing his guy without seeming to pressure Blagojevich, which was a tactic used by many people calling Blago then.

As someone who sat through both Blagojevich trials and wrote a book about it, the Pritzker call sounded like yet another power player trying to exert influence on Blagojevich over what was a major appointment. Recall that Rahm Emanuel called Blagojevich during this period asking him to appoint his congressional successor and brought up Forrest Claypool. And on the eve of his election as the first African American president, Barack Obama himself called SEIU leader Tom Balanoff, giving him the go-ahead to talk to Blagojevich about appointing Valerie Jarrett to the seat Obama was vacating. In this context, Pritzker wasn't all that different.
- Posted by Rich Miller 29 Comments


* WIXN Radio…
Saturday at the Annual Stupor Bowl held at Reagan Middle School the best and brightest at the art of answering questions and knowing trivia came to battle it out to see who will be the 2018 Stupor Bowl Champion.

However, everyone at the event received a big surprise when Governor Bruce Rauner made an unexpected visit to the event. The Governor had been in town the night previous for the Lee County Republican event, a Night to Remember Reagan.

At the Stupor Bowl the Governor made a time to give a few remarks, shake some hands and pose with participants for several photos. After the Governor left the Stupor Bowl got down to business.

Moderator Tom Wadsworth said they had 21 teams participate in this year's event. Wadsworth said he and his team work all year on the questions and he felt the quality of questions appealed to a broad spectrum of topics.
* From WIXN's Facebook page…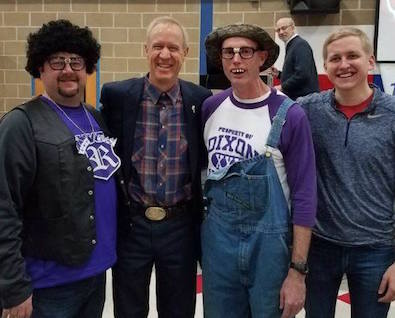 - Posted by Rich Miller 48 Comments


[Bumped up to Tuesday morning for visibility.]
* The Tribune reports on a Nov. 14, 2008 FBI surveillance recording of a phone conversation between then-Gov. Rod Blagojevich and JB Pritzker discussing options for filling President-elect Barack Obama's US Senate seat…
"I'm sure you thought of this one, but Jesse White," Pritzker tells Blagojevich. "Even though I know you guys aren't like, you know, bosom buddies or anything, it covers you on the African-American thing." […]

Pritzker notes that elevating White to the Senate would open up another appointment for secretary of state, an office coveted for its patronage jobs. "It'd be a lot less pressure on you. You don't have to put an African-American in that spot," Pritzker says. […]

"All I would say is I think that there need to be more, you know, people of color that serve in public office," Pritzker said. "I mean, I think that's something, I've supported a lot of candidates over the years who are people of color and Jesse White's, I think, a beloved person in the state of Illinois, so I can only imagine that's what I had in mind."
Interesting how Pritzker would point out to Blagojevich the immense patronage benefits of elevating White to the Senate and appointing his replacement. It's not inconceivable that Pritzker could appoint White's replacement if he wins.
* MAA's take…
Newly released Blago-Pritzker FBI tapes, @chicagotribune reports @JBPritzker refers to Secy of State Jesse White as "LEAST OFFENSIVE" in discussing African American candidates for open senate seat with Blago #ILGov https://t.co/nfkiMvuvRy

— Mary Ann Ahern (@MaryAnnAhernNBC) February 6, 2018
In listening to the recording again, it sounds to me that Pritzker's main goal for this particular conversation was to dissuade Blagojevich from appointing then-Congressman Jesse Jackson, Jr. to the open seat. Blagojevich and Jackson had been close at one time, but they'd had a huge falling out and Pritzker could've saved his breath.
* OK, for this next part, you may have to first click here for some background information on Rev. Wright and click here for background on Bill Ayers. Here's my transcript of the rest of the tape about possible Senate appointments…
Blagojevich: And how about this one? God, if I knew for sure I wasn't running again…

Pritzker: Yeah.

Blagojevich: How about Rev. Wright?

Pritzker: Oh, my God! [Both laugh] Bill Ayers!

Blagojevich: How about f-ing sending Rev. Wright there? I'd bet ya he'd take it.

Pritzker: Hilarious.

Blagojevich: Huh? Would that be f-ing funny?

Pritzker: Hilarious. Oh my God. [Both laugh]

Blagojevich: Yeah. [Laughing] Right there on the Senate floor. It's not 'God Bless America,' it's 'God Damn America!'

Pritzker: God damn America.

Blagojevich: 'Well now, when Barack was in Sunday school, I used to tell him'…

Pritzker: That's funny.
The guy had better get out the checkbook again.
* From Galia Slayen at the Pritzker campaign…
On the same day Bruce Rauner released a new attack ad in the Democratic primary with edited audio of illegally leaked calls, the Chicago Tribune has now released portions of calls they've chosen to sit on for nine months. JB has always made clear how much he admires Jesse White and believes he would have made a great Senator for Illinois. Bruce Rauner should spend less time colluding with a newspaper on how to play politics in another party's primary and more time figuring out how to be in charge and stop failing this state.
*** UPDATE 1 *** Rauner campaign…
"The Pritzker campaign must be panicking because now they're just making things up."

https://capitolfax.com/2017/06/01/trib-reporter-denies-pritzker-story-was-a-rauner-leak/
*** UPDATE 2 *** Biss campaign…
On Monday, the Chicago Tribune published a never before released recorded phone conversation between J.B. Pritzker and former governor Rod Blagojevich revealing an inappropriate and ongoing conversation regarding Pritzker's requests to be appointed to office by Blagojevich in 2008, after Barack Obama was elected president.

"The recorded conversations between JB Pritzker and Rod Blagojevich represent everything that's wrong with the connection between money and power," said Daniel Biss. "For too long our broken system has allowed the wealthy to have unfettered access to the decision-makers in our government. That's what breeds corruption. And when that access involves two influential white men making political calculations based on skin color, that's what perpetuates a racist system."

"People shouldn't be reduced to their race," said Litesa Wallace. "Like anyone else, black people have individual strengths and weaknesses, and none of those are predicated on the color of our skin. When I hear conversations between the rich and powerful that minimize anyone based on race, or gender, or any other characteristic, it reminds me of the work that remains for all of us. We must stop treating people like commodities and build a world where we have co-governance and a true representative democracy."

"JB Pritzker owes us all an apology," continued Biss. "What JB said is racially insensitive at best and at worst reveals an attitude that is disrespectful to African Americans. He needs to stop blaming others and take responsibility for his actions, not hide behind statements issued by a campaign spokesperson."
*** UPDATE 3 *** Kennedy campaign…
Ra Joy:
"To hear JB Pritzker say the words 'least offensive' to describe black men in America, black elected officials from Illinois, is beyond offensive. We are more than a 'thing.' We are leaders, we are voters, we are parents, we are sons and daughters, we are neighbors, and we are trying to overcome generations of racism. Structural inequities make that difficult, if not impossible, and JB Pritzker's demeaning language unravels the progress we've made."

Chris Kennedy:
"Our true character shows when we think no one is watching. JB's conversations with Blagojevich are disqualifying and they're a reflection of his integrity. The language he used to marginalize the African-American community is unacceptable. To use the term 'least offensive' to describe anyone, particularly one of our state's longest-serving African-American leaders, is dismissive and disrespectful. JB Pritzker should apologize instead of blaming others."
- Posted by Rich Miller 138 Comments


* Rauner campaign…
During Governor Rauner's State of the State address, Mike Madigan's corruption was on full display.

As Governor Rauner was explaining the need for term limits, supported by 80% of Illinoisans, he quipped that the remaining 20% must be in the chamber. The remark was not only met with laughter from elected officials in the audience, but also a telling nod from the Speaker of the House.

Madigan's nod shows he is more interested in maintaining his hold on power than in doing what's right for the people of Illinois. He knows that a vast majority of Illinoisans want term limits, but he doesn't care — because term limits would put an end to his 47-year political career.

The Madigan Machine is not hiding in the background, it's out in the open for the people to see.
* Watch the video…
* I made a GIF of the moment after Rauner says "the other 20 percent, it seems, are seated in this chamber"…
- Posted by Rich Miller 40 Comments


* Rep. Jeanne Ives at the City Club of Chicago…
What the commercial that is generating the expected hysteria from the expected quarters attempted to do — admittedly, provocatively — was to properly and truthfully characterize the extreme issue positions Rauner took and their implications. The commercial does not attack people. It tackles issues by truthfully illustrating the constituencies Rauner has chosen to serve to the exclusion of others.
* Rep. David McSweeney endorsed his fellow Republican state Rep. Ives for governor back in January. He is a solid Ives supporter, but he now wants her to take down her new TV ad…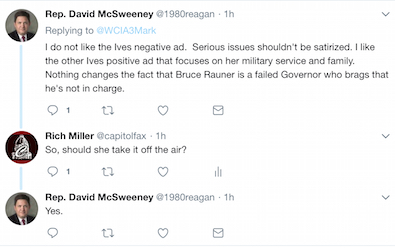 - Posted by Rich Miller 25 Comments


Biss hopes to use the resulting revenue in areas where he said Illinois has struggled, including K-12 education, higher education and infrastructure.

"The issue's not that we don't have the money to solve problems. The issue is the money's going somewhere else because of who's making the decisions, and this is a campaign about taking power back for the rest of us," he said.

Biss frequently criticized Pritzker during the meeting, calling him "Madigan's hand-picked candidate" and pointing to his efforts to avoid paying taxes. Biss defended his own record of both working with and standing up to the speaker.

"The amount of opportunity that Rauner has to attack Pritzker is, frankly, flabbergasting," Biss said. "(Rauner) wants to have an ugly, nasty … campaign that will be dispiriting to the entire state, and he wants to run against Madigan's candidate who has ties to (former Gov.) Rod Blagojevich."
* Biss campaign…
Late last week, JB Prtizker launched two attack ads in two days against Daniel Biss following two polls - including his own - showing Biss surging and Pritzker faltering.

The Pritzker panic rolled over into this week, with his campaign spokesperson posting five straight tweets targeting Biss this morning alone.

Judging by his campaign's growing preoccupation with, and repeated attacks on, Biss, it's fair to say JB Pritzker woke up this Groundhog Day weekend and saw nothing but a giant Daniel Biss-shaped shadow.
* Tweets…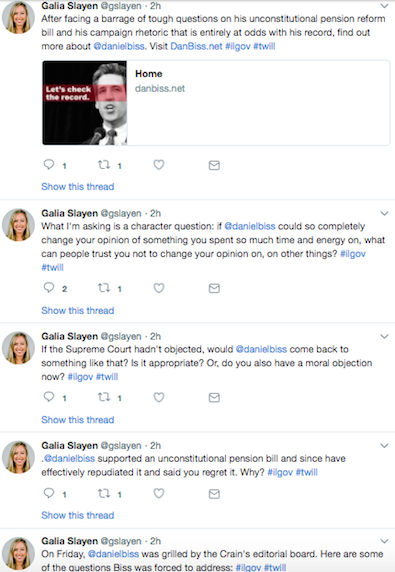 * Meanwhile, the Belleville News-Democrat is hoping for a Biss-Ives matchup…
Illinois politics could be so much more interesting were it to act more like a fantasy sports league, where we pick our players and create our own match-ups.

The clash of the billionaires for Illinois governor is too predictable to be very interesting, and who really trusts the political machines that handed us the current system. How much more interesting the race would be between the folks positioning themselves farther right and farther left of the party heirs apparent.

In this corner, Republican state Rep. Jeanne Ives. And in the opposing corner, state Sen. Daniel Biss.

Now that would be a clash of ideals.
* Biss at DePaul: "I tell people that Bruce Rauner has been a horrible governor for the state of Illinois, but one of the best governors the University of Wisconsin has ever had," Biss said.
* Biss calls for education reform, criticizes Rauner at campus discussion: Following the discussion, much of the audience stayed to make phone calls for Biss' campaign. Allie McRaith, a field organizer for the campaign, said she believes the enthusiasm and excitement Biss has been building among volunteers will help him as the primary campaign enters the stretch run.
- Posted by Rich Miller 24 Comments


* You'd think Rep. Jeanne Ives would be doing everything she could to get the President involved in her primary. Yeah, it won't help her in the general election, but you win one election at a time and that new TV ad of hers isn't gonna help in the general, either. Donald Trump received over a half million primary votes here last year and Rauner consistently dodges questions about him. From the City Club's question and answer period today…
Question: Rauner distanced himself from President Trump. Is there communication with President Trump for support in your campaign?

Ives: Not that I know of.
Ives went on to say she voted for Trump in the primary and had his sign in her yard.
She also praised Trump's handling of the military, "and restoring conference in their commander in chief." She said she had "full confidence" in the President.
*** UPDATE 1 *** As mentioned above, Ives was specifically asked today how she voted in the Republican presidential primary and she said she voted for Trump. Click here for the video clip which was provided by a certain helpful someone who also passed along a link to this press release from March of 2016…
Today, the Cruz for President campaign announced the endorsement of Illinois State Representative Jeanne Ives.
That certain helpful someone also said this: "What happened to 'I don't lie cheat or steal or tolerate those that do'?"
*** UPDATE 2 *** From the Ives campaign…
Rich,

Jeanne simply misunderstood the question about who she supported in the primary.

She has really only ever been asked if she supported Trump in 2016. For some reason, she is rarely asked about who she supported in the primary.

Not a lie, just a misunderstanding.

Thank you.

Best,

Kathleen
[ *** End Of Updates *** ]
* This might make the headlines, however…
Audience member says the transgender depiction in ad was offensive. Ives says it is an "accurate representation." #twill

— Tina Sfondeles (@TinaSfon) February 5, 2018
"What's so offensive about the ad?" Ives asks, calling it an accurate "visual representation" of the policies Rauner put in place. "The transgender man, that's typically what a transgender man looks like." Man in audience says "no it's not" She says yes, they've showed at my door

— Amanda Vinicky (@AmandaVinicky) February 5, 2018
This began a short back-and-forth exchange between Ives and some members of the audience, with one man saying something like "you ask what's offensive," that inaccurate portrayal of a transgender man in a dress is offensive https://t.co/GauN7SYC3s

— Amanda Vinicky (@AmandaVinicky) February 5, 2018
Told by an audience member that it was, specifically, the representation of the transgender woman in the ad that was offensive, Ives responds: "That is an accurate representation of what the policy looks like on the ground."

— Kim Janssen (@kimjnews) February 5, 2018
…Adding… Zorn has a transcript.
- Posted by Rich Miller 34 Comments


* Hmm…
Hearing officer rules Democratic assessor candidate Andrea Raila should be removed from ballot based on pattern of fraud in nominating petitions.

— Mark Brown (@MarkBrownCST) February 5, 2018
Assessor Joe Berrios started with two Democratic primary opponents, Raila and the well-funded Fritz Kaegi. Not having a woman in the race and a head-to-head primary are most definitely not in Berrios' best interests.
*** UPDATE 1 *** Sun-Times…
Raila immediately said she would challenge the ruling, first with the Cook County Electoral Board, and if necessary after that, by filing suit in circuit court.

She and her attorney, Frank Avila, denied there was fraud and accused the hearing officer of bias in favor of Kaegi.

It was Kaegi who pressed the petition challenge against Raila after incumbent Berrios dropped his own challenge.

Kaegi has the backing of much of the Democratic Party's progressive establishment, including Cook County Clerk David Orr.
*** UPDATE 2 *** Kaegi campaign…
-A Cook County Electoral Board hearing officer concluded on Monday that Assessor candidate Andrea Raila has not met the legal threshold of valid petition signatures to qualify to appear on the March 20 Democratic primary ballot. As such, progressive Democrat Fritz Kaegi is preparing to challenge embattled incumbent Assessor Joe Berrios head on.

"The Cook County Electoral Board conducted a professional, thorough and fair process that culminated in the decision this morning, based on what they viewed as 'clear and convincing evidence,'" said Rebecca Reynolds, campaign manager for Kaegi. "We look forward to continuing to focus squarely on defeating Joe Berrios, because the voters deserve an Assessor who operates fairly, transparently and professionally–and that's what's at stake in this election."
- Posted by Rich Miller 18 Comments


* Forwarded e-mail…
…(T)he appellate court has granted Scott Drury's motion to stay the circuit court's judgment pending appeal, and has also granted his motion for expedited consideration. The briefing will be completed by February 9, with no extensions granted.
The ruling is here.
All the guy had to do was file the same disclosure form he'd already filed and he would've had no problems staying on the ballot. It just makes no sense to me.
* Meanwhile…
A Democratic state lawmaker from Lake County said Sunday that he believes House Speaker Michael Madigan once thought he was "wearing a wire" during a meeting between the two.

A Madigan spokesman said he didn't have any information to verify that state Rep. Scott Drury's story was "accurate." Drury has long been at odds with Madigan, who also is the state Democratic Party chairman. The former federal prosecutor was the only Democrat who did not vote for Madigan for speaker in the current General Assembly.

Drury's tale dates back to 2016. He recounted an effort to advance legislation involving protection of children's data on computers used in schools. The three-term lawmaker from Highwood said he got a call from Madigan saying, " 'Hey, we should go to dinner.' "
You should really go read the whole thing. Quite a story.
- Posted by Rich Miller 17 Comments


* For whatever reason, the Republican Party decided not to field a candidate in Democrat Dan Lipinski's 3rd District. And now, a white supremacist is the only GOP candidate on the ballot….
Arthur Jones — an outspoken Holocaust denier, activist anti-Semite and white supremacist — is poised to become the Republican nominee for an Illinois congressional seat representing parts of Chicago and nearby suburbs.

"Well first of all, I'm running for Congress not the chancellor of Germany. All right. To me the Holocaust is what I said it is: It's an international extortion racket," Jones told the Chicago Sun-Times.

Indeed, Jones' website for his latest congressional run includes a section titled "The 'Holocaust Racket'" where he calls the genocide carried out by the German Nazi regime and collaborators in other nations "the biggest blackest lie in history."

Jones, 70, a retired insurance agent who lives in suburban Lyons, has unsuccessfully run for elected offices in the Chicago area and Milwaukee since the 1970s. […]

Tim Schneider, chairman of the Illinois Republican Party, said in a statement to the Sun-Times, "The Illinois Republican Party and our country have no place for Nazis like Arthur Jones. We strongly oppose his racist views and his candidacy for any public office, including the 3rd Congressional District."
* Tribune…
Most recently, in 2016, Jones ran unopposed on the Republican ballot but was removed for flagrant disregard of the election code. Jones said his candidacy was challenged by members of the Illinois Republican Party, who questioned the legitimacy of his signatures.

In 2017, Jones said he went door-to-door stumping for signatures, and after his paperwork was reviewed, Republicans did not attempt to remove him from the ballot.

"Well, it's absolutely the best opportunity in my entire political career," Jones said. "Every time I've run it's been against a Republican who follows this politically correct nonsense. This time they screwed up." […]

The lack of a GOP challenger means Jones will likely face off against Democratic incumbent Rep. Dan Lipinski or challenger Marie Newman on Nov. 6 in the 3rd District, a traditionally Democratic district.

"I'll have nine months to campaign for the general election," Jones said. "I think I have a good chance."
* Haaretz…
He will not, however, be reaching out to the Republican president for support. Newsweek quotes Jones as saying he regretted voting for Donald Trump in the 2016 presidential election, because Trump has "surrounded himself with hordes of Jews."
The guy is so horrible even Breitbart News refused to link to his website.
* The first outlet to report on Jones' candidacy was Riverside-Brookfield Landmark back in December…
"If you want to describe my philosophy it's populist-slash-National Socialist," Jones said.

Jones said he was a registered Republican, even though he doesn't consider himself a dedicated follower of any specific political party.

According to Jones, "Donald Trump has come closest to my beliefs, except for his position on the Middle East. I think he made a tragic error in recognizing Jerusalem as the capital of Israel. It's going to cause more doggone trouble than he can possibly imagine."

Jones also criticized incumbent Congressman Danial Lipinski (D-3rd Congressional District) for being too supportive of Israel.
* From a 2012 interview…
A member of the Nationalist Socialist Party in his younger days, Jones took part in the Nazis' march on Chicago's Marquette Park in 1978. While he doesn't deny nor repudiate his "past affiliations," he says he votes Republican "90 percent of the time."

"Philosophically, I'm a National Socialist," Jones said. "Officially, I don't belong to any party except my own, the America First Committee."

Jones hopes three's a charm after blowing his retirement savings on two prior congressional runs. He hopes to win the Republican primary and go on to challenge Lipinski this November. The 3rd District covers portions of Chicago's South Side and a large swath of the south suburbs.

Part of the reason he's jumping in again is what he describes as Lipinski's strange affiliation with the American Israel Pro Israel Affairs Committee.
*** UPDATE *** Press release…
Governor Rauner released the following statement regarding Arthur Jones' candidacy in Illinois' 3rd Congressional District:

"There is no room for Neo Nazis in American politics. I condemn this man in the strongest possible terms."
- Posted by Rich Miller 52 Comments


* More from Tom Kasich's interview of Rep. Jeanne Ives…
She said she was willing to go into Champaign-Urbana — into what she called "the belly of the beast" — and say that "we're going to tell higher ed that you either bring your tuition and fees in line with your conference peers or we're going to bring your state spending in line with your conference peers. We're No. 3 in terms of state support for higher education. It's just that one-half of it goes to pensions.

"But the truth is that higher education in Illinois is unaffordable and it's forcing our best students and our middle-class families to choose another place. That is wrong. We're going to reverse that trend."
The plural of anecdote is not data. I get that. But I was in Walgreen's Sunday afternoon and a couple of employees were talking about going to another state for graduate school. One of them was my cashier. He told me that after what happened the past few years, he just couldn't depend on a MAP grant and was looking elsewhere.
* With that in mind…
The pace at which Illinois high school graduates are leaving the state to attend college is accelerating at the same time most public universities are struggling to maintain enrollment — and that has state higher education officials worried.

"It's deeply troubling and I choose those words carefully," said Al Bowman, executive director of the Illinois Board of Higher Education and former president of Illinois State University. […]

"Illinois has had a history of out-migration for many, many years," said Bowman. "The difference is it has accelerated during recent years, particularly during the budget impasse" when the state went without a full-year budget in fiscal years 2016 and 2017 and higher education saw significant funding cuts. […]

The pool of 18-year-olds in the Midwest is shrinking and the composition of the pool has changed. There are more students from underrepresented groups with historically lower college participation rates than the general population, he said.

"It's a highly competitive marketplace," added Bowman. "Some universities have learned how to compete in that environment. For others, it's a learning curve."
* And…
There was a bit of role reversal last week at a meeting of the Illinois Senate Higher Education Committee. Instead of college and university officials being told by senators what they should be doing or what they're doing wrong, there were appeals for ideas, information, suggestions from two senators who are on a separate higher education working group.

"Our purpose truly at this point is to consider ways to help Illinois and higher education thrive again," said Sen. Pat McGuire, D-Crest Hill, who chairs the Senate Higher Education Committee. "We're asking now what are you doing to recruit, retain and graduate Illinois students? And it's been a fascinating conversation."

Separately, Sen. Chapin Rose, R-Mahomet, practically begged for feedback on his legislation, introduced last October, that includes a wide-ranging reorganization of public higher education in the state. But the idea behind SB 2234, he said, was "to start a conversation" about the higher ed system.

"We need your help. It's been 3 1/2 months. Please start giving us your ideas," he said.

The early reaction to Rose's legislation was skeptical, with many higher education leaders viewing it as an attempt to eliminate programs and downsize particular institutions. That's not his goal, Rose insists.
- Posted by Rich Miller 54 Comments


* Politifact…
Details contained in a lawsuit brought against Gov. Bruce Rauner by a former business associate have called into further question the governor's insistence that he no longer plays a role in his business investments.

Appearing before the Chicago Tribune's editorial board Monday, Rauner was asked to address an account from former associate Harreld "Kip" Kirkpatrick III describing how the two discussed the business investment on which Kirkpatrick's case centers.

"No private business was conducted on public property," Rauner told the Tribune during a mini-debate with his rival in the March Republican primary, state Rep. Jeanne Ives of Wheaton. "That issue is a contract dispute, contract dispute. It's not an investment decision. A contract dispute that stemmed from before I was governor."

Pressed on whether he spoke with Kirkpatrick at all about that dispute, the governor doubled down: "I was not doing private business on state property," he said.
* The governor was asked again by KWQC TV…
Gov. Rauner: Yeah, so that's just, that's just false, I did not do that, um, did not have any business meetings on public property, I wouldn't do that. And there's, a lot of people have raised that question, it's just, there's no there there, there's no, no business meetings on public property.

Reporter: But the public schedule said it was a former private business partner, correct?

Gov. Rauner: Um, yeah. Uh-huh. We weren't discussing any, anything about old business.

Reporter: He says otherwise, correct?

Gov. Rauner: [Laughs] He said a lot of things that were not true.

Reporter: So this isn't true?

Gov. Rauner: Yep. That's right. It's not true.
* DGA…
"Bruce Rauner has a problem being honest with the Illinois public," said DGA Illinois Communications Director Sam Salustro. "Rauner was caught meeting with a business associate on state property despite promising a blind trust from his business interests. Now that he's failed the public, Rauner's trying to lie his way out of the scandal. Rauner needs to fess up and be honest with voters for a change."
Anybody can sue anybody for anything and say whatever they want in the process. So, maybe they didn't talk about a private business deal at the mansion. It's one person's word against another's at the moment.
- Posted by Rich Miller 26 Comments


* My Crain's Chicago Business column…
Illinoisans "want a government where people come together to solve problems and get things done," Gov. Bruce Rauner said during his 2015 State of the State address. "They don't want partisan bickering, political infighting or personal conflict to get in the way of serving the needs of the families of Illinois."

"Together, we will do great things for the people of Illinois," he said. "The task ahead of us is daunting, and we have no time to waste."

A wasted year later, after months and months of hardheaded, partisan gridlock and no state budget, the governor delivered his second State of the State address.

"I understand that union leaders and trial lawyers are putting pressure on you to keep the status quo," Rauner told his audience of state legislators, many of whom (particularly the Democrats) didn't react so well. They believed (and still do) that they were legitimately resisting Rauner's attempts to bust unions with "right to work" laws and other proposals that went against their own principles.

"We must fix our workers' comp system, labor regulations, liability costs and property taxes that make us uncompetitive and push job creators out. . . .Let's get it done!" Rauner implored.

"If each of us commits to serious negotiation based on mutual respect for our co-equal branches of government, there's not a doubt in my mind we can come together to pass a balanced budget alongside reforms," Rauner told the General Assembly in January 2016.

A year later, with no budget passed and the Democratic-controlled Legislature continuing to resist his pro-business, anti-union agenda, Rauner delivered his third State of the State address.
Go read the rest before commenting, please.
* Meanwhile…
"Abraham Lincoln once said: 'The best way to predict the future is to create it,'" said the Republican governor.

But there's a problem.

Lincoln never said that, according to three top Lincoln scholars.

And with that gaffe, Rauner became an unwitting circulator of fake history, committing a cardinal oratorical sin for the chief executive of a state called the "Land of Lincoln."
Oops.
One can only wonder why the governor's people didn't check in with somebody over at the Abraham Lincoln Presidential Library and Museum down the street.
- Posted by Rich Miller 22 Comments


* Rep. Jeanne Ives will speak at the City Club today. Click here to watch the live video, which usually starts sometime after noon. If you miss it, you can click here for the club's video archives.
* Tom Kacich at the News-Gazette…
"When you look at the ad, it's a policy ad. It's not a personal attack on Rauner," she said. "I don't go after his character or anything like that. It is a policy ad that in a new way takes what he has done and signed into law and puts it into a visual measure." […]

"I guess the visual was necessary to raise awareness to Republican primary voters that have been asleep for a while. That's what the ad was about. We needed to still alert Republican primary voters to the policies he put in place," Ives said at what was billed as a "meet and greet" at Houlihan's restaurant in Champaign. About 50 people attended.

"Honestly, if they played this in a 'Saturday Night Live' sketch as a spoof on the worst Republican governor in America, people would laugh at it," she said.

She said she would not take down the ad, and said that Harold and the others criticizing it "are bought and sold by Gov.Rauner. Rauner is funding Erika's campaign. Rauner is funding the GOP establishment. That's all that is. This is all going to die down. You know what? People needed to see the results of his policies."

Asked how she could attract Democratic voters in a general election by attacking parts of their constituency, she said that "I have Democrats who messaged me and said they liked the ad.
* From John McGlasson, 16th Congressional District Republican State Central Committeeman…
As a member of the Illinois Republican State Central Committee, I wish to voice my concern about the Illinois Republican Chairman Tim Schneider taking sides in the primary for governor by objecting to the recent campaign advertisement issued by Representative Jeanne Ives.

It is up to the voters to decide whether this ad is good or bad. In my opinion it addresses important issues in the race. It hits them head on and without ambiguity. The voters deserve to know where the candidates stand in order to make an informed decision when they cast their ballot.

Chairman Schneider's job is to serve all Republicans and support the eventual nominee.
* From the Ives campaign…
The bills cited in the video are HB 1785, SB 31, HB 40 and SB 2814. According to polling data, HB 1785 and SB 31 are opposed by a supermajority of Illinois GENERAL election voters. All are opposed by a supermajority of GOP primary voters as they were a supermajority of GOP legislators.

* HB 1785, Transgender Birth Certificates: 6 of 73 House and Senate Republicans voted for it (0 in the Senate). Ives voted 'No.' Rauner signed it.

* SB 31, Sanctuary State: 6 of 73 House and Senate Republicans voted for it. Ives voted 'No.' Rauner signed it.

* HB 40, Taxpayer-Funding of Abortion: 0 of 73 House and Senate Republicans voted for it. Ives voted 'No.' Rauner signed it.

* SB 2814: 27 of 73 House and Senate Republicans voted for it. Ives voted 'No.' Rauner signed it.
* But…
'Thank you for signing legislation that lets me use the girls' bathroom,' an actor, dressed as a transgender woman, with a visible five o'clock shadow, said, referring to the House Bill 1785.

In fact, that bill does not refer to bathroom rights but allows transgender people to change the gender on their birth certificates, with a doctor's approval.
*** UPDATE *** Forgot to post this…
The Republican candidate challenging Gov. Bruce Rauner vowed Sunday to return a financial contribution after a campaign staffer retweeted a supportive message from a Twitter account that also contains Nazi propaganda.

Republican gubernatorial candidate Jeanne Ives' campaign removed the message Sunday from her Twitter feed. Later, it tweeted the following note: "We had a staffer re-tweet this message without realizing who this individual was. It has been removed. We repudiate him. Disavow any endorsement and are returning any contribution."

The campaign had retweeted a note that read, in part, "I don8d $1k 2 @JeanneIves 2 defeat @BruceRauner in illinois gubernatorial race." It also said, "luv this campaign ad" and included a link to Ives' controversial new spot targeting the transgender community and illegal immigrants, among others.

That message came from an account containing anti-Semitic messages and a cover photo of a man holding out his hand in what appeared to be a Nazi salute. The owner of the account could not immediately be reached for comment.
- Posted by Rich Miller 34 Comments


* They're not yet going after Ives and are sticking to their basic messaging. Press release…
Today, the Rauner campaign launched the latest in the series of ads featuring JB Pritzker and the infamous Rod Blagojevich FBI wiretaps.

JB Pritzker's voice is not featured in this newest ad, but money talks and Blagojevich was listening. The ad features Blagojevich talking about raising millions of dollars from Pritzker and giving him Barack Obama's Senate seat in return.

Blagojevich closes the conversation saying, "incidentally [Pritzker] asked me for it. Don't repeat that."

Pritzker may claim he did nothing wrong, but Blagojevich's implications are clear: Pritzker was asking for the Senate seat and could match the price tag.

Don't repeat that.
* Rate it…
I don't think Pritzker asked Blagojevich for the Senate seat. He wanted the treasurer's job if Alexi Giannoulias got a White House gig as was rumored at the time.
*** UPDATE *** The ad claims the audio is "The unedited FBI wiretap of Rod Blagojevich talking about JB Pritzker." It's not unedited. From the full transcript with the quotes used in the Rauner ad highlighted…
BLAGOJEVICH: "501(c)(4) issue advocacy, 10, 15, 20 35 million dollars in an organization like that. But, I, we can get goin' with an ind-, you know a board that, you know I'm comfortable with and then when I'm no longer governor I go over there. What about that?"

SCOFIELD: "I think it's worth explorin'."

BLAGOJEVICH: "I betcha JB can raise me money like that."

(UI)

BLAGOJEVICH: "For a Senate seat. Huh?"

SCOFIELD: "Yep."

BLAGOJEVICH: "If I can get JB to do somethin' like that is it worth, ah, givin' him the Senate seat? Incidentally, he, he asked me for it. Don't repeat that."

SCOFIELD: "He did?"

BLAGOJEVICH: "Yeah."

SCOFIELD: "Huh. Okay."

(PAUSE)

SCOFIELD: "Man I don't know. That's a hard one to do."

BLAGOJEVICH: "What's that? JB?"

SCOFIELD: "Yeah."

BLAGOJEVICH: "Huh?"

SCOFIELD: "Yeah."

BLAGOJEVICH: "Yeah you're darn right it's hard. But if you have an organization that, you know you go out and advocate and, and he'll help fund it by getting some of his billionaire friends to, to invest in it. Huh?"

SCOFIELD: "Tempting."

BLAGOJEVICH: "Um, you, you, look, I really believe you can do more good than just putting Valerie Jarrett there and get nothin' back."

[BREAK]

BLAGOJEVICH: "(Sighs) 501(c)(4). How's that sound to you? $10 million dollars, $15 million dollars."

SCOFIELD: "Ah, it sounds good to me."

BLAGOJEVICH: "Issue advocacy that will last beyond me bein' governor. Somethin' I can work on. Try to do other things. What do you think of that?"

SCOFIELD: "I think it's a good place to land."

[PAUSE]

BLAGOJEVICH: "Okay. JB, he can do it, couldn't he?"

SCOFIELD: "Ah, sure, JB could do it."

BLAGOJEVICH: "Who knows him, that we know that's close to him? Mmm, that I don't know."

[PAUSE]

SCOFIELD: "I don't know, Greg from my office knows him, but is not real close to him. But you know I could ask Greg who's close to him. I can find out."

[PAUSE]

BLAGOJEVICH: "I mean I don't wanna be the one to ask somethin' like that. Alright. No I can find out."

SCOFIELD: "I'll find out who's close to JB."
- Posted by Rich Miller 55 Comments


* Sun-Times…
In another wild election year in Illinois, the race involving Joe Berrios has produced the most bizarre whodunit tale — and what may have been the dirtiest trick of this political season.

Soon after announcing he would take on Berrios for the Democratic nomination for county assessor, challenger Fritz Kaegi says he noticed someone had set up websites purporting to represent him and his rage-against-the-machine campaign.

But Kaegi says he had nothing to do with the new FritzKaegi.org website. Nor, he says, did he set up other accounts that supposedly communicated on his behalf on Twitter, Facebook and a political fundraising site. […]

The GoDaddy domain registrar and website-hosting company has identified the man behind the fake Kaegi campaign site as Quenton Galvin, according to court records.

According to his LinkedIn profile, Galvin is owner of Non Stop Web Design of Grayslake — a company that has done campaign work for many years for Berrios, who's chairman of the powerful county Democratic Party.
* Hillman adds some much-needed perspective…
Remember that time Forrest Claypool campaign registered Joe Berrios' web domain and we all laughed at Berrios campaign for not securing his name. I do. https://t.co/hKFo7pxAjh #Twill @Suntimes

— Kyle Hillman (@kylehillman) February 4, 2018
* From the linked story…
Forrest Claypool, who's running as an independent for Cook County Assessor, launched www.joeberrios.com on Monday, to "highlight the abysmal record of Cook County's most notorious insider politician." In a statement to the press, Claypool campaign manager Tom Bowen said "voters can see the complete record of Joe Berrios in all its infamy. Whether it's tax breaks for politically-connected insiders, investigations for corruption, massive tax increases, or lobbying for the liquor and gaming industry, Joe has done it all while we pay the price." Bowen notes that "over the course of more than 20 years of public office, Berrios has endured countless investigations for corruption, ghost payrolling, improper hiring, and sweetheart contracts," while giving property tax breaks to campaign donors and backing Todd Stroger's tax hikes in Cook County.
* Progress Illinois…
"You've got to get your domain name registered early, long before you consider running for office. … If you don't do that, it is inevitable that someone is going to grab the domain name and make your life difficult." That was Democratic strategist Kari Chisholm talking to The Hill earlier this year about the phenomenon of political campaigns snatching up opponents' internet domain names. The latest example of this inevitability can be found right here in Illinois, where independent Cook County assessor candidate Forrest Claypool's team apparently beat Democratic nominee Joe Berrios to the following domain: www.joeberrios.com.

Oops. Now the Claypool campaign is using the site to slam Berrios' record as chair of the Cook County Board of Review. It doesn't show up yet in the Google search results for "Joe Berrios," but you can bet that will change in the coming weeks.
JoeBerrios.com is currently available, by the way.
- Posted by Rich Miller 13 Comments


* Ugh….
Election officials in Chicago say the start of early voting is likely to be delayed because of so many candidate ballot challenges.

Early voting is slated to begin statewide [this] week on Thursday.

Chicago Board of Election Commissioners spokesman Jim Allen said Friday that with rulings pending on which candidates are going to be on the ballot, voting equipment won't be programmed, tested and ready for ballots in several languages by Thursday.

Allen declined to offer further details, saying the board would issue more information Monday.
I don't know if there are more challenges than usual this cycle, but resolutions to these cases do seem to be taking far too long. They went back and forth on Sen. Silverstein's case so many times I lost count.
We need a better system if we want to start voting this early.
*** UPDATE *** Press release…
Although Feb. 8, 2018 was the new statutory starting date for Early Voting, there remain ongoing cases involving objections to candidates' petitions. As a result, ballots are not ready, and the programming and testing of voting equipment cannot be completed by Feb. 8. The Board of Election Commissioners anticipates that balloting systems will be fully tested and available by Feb. 21, if not sooner.

Objections to certain countywide and statewide candidates' nominating petitions were resolved recently or still are being resolved. Programming and testing of the equipment in the city's more than 1,000 ballot variations in four languages is still under way.

The Board will update the Early Voting schedule at chicagoelections.com as soon as possible. Any voters who arrive at the Chicago Election Board to use Early Voting in the meantime will be provided with an application to Vote By Mail. Chicago voters also may apply online to Vote By Mail at chicagoelections.com.
* Speaking of challenges…
On Friday, Scott Drury, Democratic candidate for Attorney General, filed his Notice of Appeal, beginning the process of contesting the decision of a Circuit Court of Cook County associate judge who ordered Drury's name removed from the Democratic ballot for Illinois Attorney General. In the Notice, Drury asks the appellate court to reverse the decision of the circuit court and affirm the original decision of the State Officers Electoral Board which found that Drury's name should remain on the ballot. Drury also asks the court to order that his name be printed on every ballot issued during the pendency of the appeal in order to avoid any prejudice.

On Friday, Drury also filed an emergency motion to expedite the appeal and stay the circuit court's order, pending completion of the appeal. In the motion, Drury contends that, absent a stay, a new election may be necessary because of the potential taint of ballots being issued without his name. Drury further contends that a stay is necessary to protect his rights and the rights of voters.

The circuit court's decision has already begun to wreak havoc on the election process. The Chicago Board of Elections has indicated that it is going to delay the start of early voting, in part, because of the pendency of Drury's case. "The fact that Mike Madigan would rather taint the election for Illinois' chief legal officer than have an attorney general he cannot control, demonstrates how little he cares for Illinois residents and how much he cares about his self-preservation," said Drury.

The appeal and related motions are pending before the Illinois Appellate Court – First Judicial District in Chicago, Illinois. The court has not yet ruled on Drury's motion.

Drury is being represented by Casey Westover of Reed Smith LLP and Patrick Dwyer, III of Dwyer & Coogan, P.C.
- Posted by Rich Miller 16 Comments


* Click here for the A-1. Press release…
The Ives for Illinois campaign is pleased to announce it has received a $2 million donation from businessman Dick Uihlein. These funds will support and ensure that Jeanne Ives is able to introduce herself to the GOP primary electorate and present a clear choice for those voters between the crony bailouts and extreme Left social policy agenda of Gov. Rauner's and the conservative reform policy record and vision of Ives.

Ives has now raised more than $3.5 million in the few short weeks of her insurgent campaign against Gov. Rauner.

"Mr. Uihlein's commitment to a conservative reform policy revolution is humbling as is the commitment of of every donor and volunteer to our campaign," said Ives. "People doing what they can with what they have is how we win this race for the people who play by the rules and do their part to make Illinois a great place to live, work and raise a family. A state government aligned with their interests is long overdue in Illinois."
- Posted by Rich Miller 72 Comments


[Comments are now open on this post.]
* Background is here in case you need it. ILGOP…
Illinois Republican Party Chairman Tim Schneider released the following statement on State Representative Jeanne Ives' recently released campaign advertisement:

"There is no place in the Illinois Republican Party for rhetoric that attacks our fellow Illinoisans based on their race, gender or humanity. Representative Ives' campaign ad does not reflect who we are as the Party of Lincoln and as proud residents of our great and diverse state. She should pull down the ad and immediately apologize to the Illinoisans who were negatively portrayed in a cowardly attempt to stoke political division."
* And…
Republican Attorney General Candidate Erika Harold released the following statement on new Ives campaign ad:

"This ad denigrates, mocks and marginalizes groups of Illinoisans and cannot represent our Republican Party. I call on the Ives campaign to immediately take it off the air. The Republican Party must be about fighting for the ideals and values that have made our country the envy of the world and promoting the dignity and value of every Illinoisan."
* OK, but keep in mind that Gov. Rauner's campaign never once mentioned Ives' ad in his official statement yesterday…
Governor Rauner is the only candidate in either party who will take on Mike Madigan, cut taxes, and reform our state. Representative Ives has already admitted that she's not willing to take on Mike Madigan and will keep his 32% tax hike — not surprising given her history of opposing property tax reductions. Looks like JB Pritzker has some competition as Mike Madigan's favorite candidate.
Whether it's refusing to comment on a cartoon that was deemed racist, or saying "What doesn't matter is definitions" when asked if a Neo-Nazi attack was domestic terrorism, or when he wouldn't call David Duke a racist, the man has real trouble with stuff like this.
This Ives ad is a meatball right over the plate. But instead of taking a swing himself, he's making everybody else - from fellow Republicans, to the news media, to activists, to Democrats - do his work for him.
* The governor will have the perfect opportunity to say something this evening. From tonight's Equality Illinois fundraising gala schedule…
8:00 p.m. - 8:20 p.m. Introduction of Elected Officials and Candidates, featuring brief remarks by First Lady Diana Rauner, Gov. Bruce Rauner, and Chicago Mayor Rahm Emanuel
If he doesn't say something tonight, then he'll probably again have to be dragged into reacting and that won't be a good look.
* Meanwhile, one of the weirdest things about the controversy surrounding Ives' ad was that some of her supporters were apparently so freaked out by the spot that they took to social media to accuse others of fabricating the ad to make Ives look bad. For instance, here's somebody claiming I made the ad myself…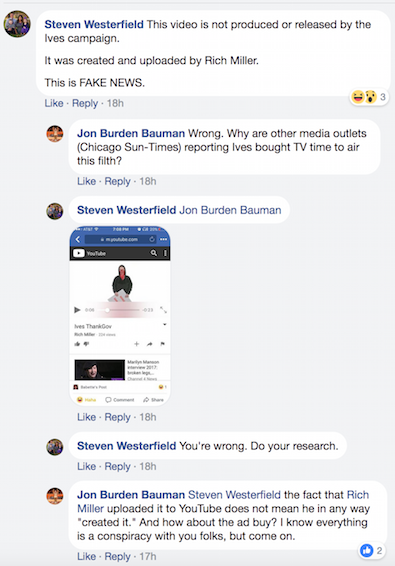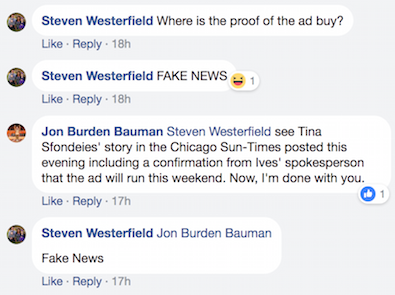 * This guy posted several tweets accusing the CS-T of fabricating the story…
the whole video looks poorly fabricated, still waiting for a confirmation from Ives Camp HQ that this is her ad or is it another fabricated ad.

— Ric Riebold (@ricriebold) February 3, 2018
The Ives campaign had confirmed it was her ad hours before he wrote that tweet.
* But other Ives supporters are taking this route…
A bit of political analysis from @AllenSkillicorn's Facebook page. He admits this ad was designed to "offend those that will never vote for us anyways." It's right out of the Milo playbook — the guy Breitbart fired. pic.twitter.com/zxvEr8XsTO

— Mark Maxwell (@WCIA3Mark) February 3, 2018
Also, to those on the left side of the equation who said the ad was merely a PR ploy by Ives and would never actually air, Chicago-area folks are telling me they've been seeing the ad on their teevees today.
*** UPDATE *** Here you go…
Full quote: @GovRauner "I think that just shows how unelectable @JeanneIves really is."

On if her ad hurts the Illinois Republican Party:
"Rep. @JeanneIves has associated herself with questionable individuals that really don't represent the views of the people of IL."

— Baylee Steelman (@bayleeasteelman) February 3, 2018
* Related…
- Posted by Rich Miller 37 Comments