[The following is a paid advertisement.]
TrackBill CEO, Steven Marciniak, and his team are coming to Springfield to show off the latest features of their legislative tracking platform.
Together with Rich Miller, we'll be hosting a happy hour reception at the Sangamo Club, 227 E Adams St, on Tuesday, February 13th from 3:30 to 6:30pm. They'll have a computer set up, so you can see first-hand how TrackBill can work for you.
Stop by for cocktails and light appetizers, and feel free to bring a friend!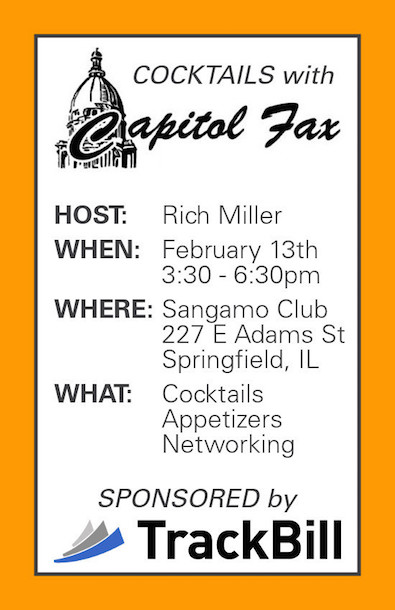 - Posted by Advertising Department Comments Off


* Gov. Rauner was asked by the Decatur Herald & Review today about his comment yesterday that his administration had handled the situation at the Quincy veterans' home "exceptionally well and we would not do anything different." Rauner's response…
Gov. Rauner: I feel horrible. These are our heroes, I feel devastated. It's heartbreaking that a veteran would pass away. Goodness gracious. in my whole life, as a private citizen and as governor, I've worked hard to support our veterans and do everything possible to help them, protect them, keep them healthy. My point is, there's a lot of false political attacks right now, second-guessing. The reality is, we brought in as soon as we found somebody got infected we actually found the cause… And we brought in the national experts immediately and we immediately implemented every one of their recommendations. […]

Reporter: So, you stand by your comment that you don't regret any of your handling or your administration's handling of the situation in Quincy.

Gov. Rauner: We've done everything that experts have recommended and we've gone beyond what the experts have recommended.
They've "immediately" implemented "everything" the experts recommended? Hmm.
* Earlier this week, the Capital Development Board released its "Legionella Response Plan" for Quincy. There are several references to an August, 2016 report submitted to CDB by BRiC Partnership, LLC…
August of 2016, BRIC was asked to develop additional measures that could be taken to further reduce the likelihood of reoccurrence, knowing that not all measures were taken in the initial response. BRiC produced a report, entitled IVHQ Legionella Response Plan 2016, Proposed Project Elements, dated August 5, 2016.
So, does the highlighted text mean they didn't do everything they could in 2015?
I dunno, but whatever the case, BRiC's 2016 report was never made public. The AP tried to obtain information about any capital plans for the Quincy facility last month after WBEZ broke its big Quincy veterans' home story in December, but its FOIA was denied.
* The secret report also appears to have been shelved without much action taken. In January, the month after the WBEZ investigation became big news, the Rauner administration went back to BRiC and asked for a new report. From that aforementioned CDB report this week…
In January of 2018, the Capital Development Board asked BRiC to update the August 5, 2016 document, with particular focus on replacing all site and building piping and any other work item we believed would present synergistic benefit.
* From BriC's memo within the CDB report…
We have been tasked with updating our cost estimates from the August 5, 2016 study and to provide a construction cost estimate to replace building piping in all buildings on campus.
…Adding… Man, if I knew the DGA was putting together a complete transcript and a video snip from the Decatur newspaper appearance, I might've saved myself some time and energy. Click here.
…Adding More… The governor's office claims that Rauner was referring to the Centers for Disease Control when he talked about the experts. He never said that today, but that's what they're saying now.
- Posted by Rich Miller 19 Comments


* Press release…
Chris Kennedy's Campaign Fact Checks JB Pritzker

Today, JB Pritzker failed to answer issue-based questions from the Crain's Chicago Business editorial board. Instead, he said lie after lie to deflect from the downward spiral of his campaign.

It's too bad that we already have to call out Bruce Rauner and Donald Trump for their lies, but if we have to do it for JB Pritzker, so be it.

Allow us to fact check:

JB: "I think I was the first candidate to talk about this in the race - legalizing marijuana in the state. I know that's a point of difference between me and Chris Kennedy."

Truth: Chris Kennedy supports legalizing marijuana. In fact, reinforced that point yesterday on WBEZ's "Morning Shift." The difference isn't around "legalizing marijuana," as JB said. The difference is that Chris doesn't think lobbyists should lead this effort. He thinks third party experts at a research university like the University of Illinois should recommend the legislative package. So, what's the difference? JB thinks lobbyists should determine how we legalize?

JB [when trying to explain away his relationship with House Speaker Mike Madigan]: "Chris Kennedy, who, you know, decided he wanted to run for Congress, for a little while. He chased Mike Madigan around–asked for his support. Decided he wanted to run for Senate. Chased him around, asked him for his support. And as we all saw, I think in 2016, he did the same thing, asking Mike Madigan for his support to run for Governor."

Truth: Unlike JB Pritzker who has a history of running for office and asking Rod Blagojevich for political appointments, Chris Kennedy never "decided to run" for any office besides the one he's running for right now.

JB: Multiple times throughout the interview, JB said he's the "only" candidate to put out a jobs/business plan.

Truth: Chris Kennedy released an 23-page jobs and economy plan that can be found here. Crain's even wrote about it here.
- Posted by Rich Miller 22 Comments


* Press release…
Representative Jeanne Ives, the conservative reform Republican for Governor, has released a new campaign ad that will run statewide. The :30 second television spot, Lead the Charge, focuses on two of Governor Rauner's many betrayals:

(1) Signing the sanctuary state legislation that 67 of 73 Republican legislators voted against, including Ives.

(2) Abdicating the leadership responsibility attendant to his office – "I'm not in charge" – and sitting by while 15 House Republicans not named Jeanne Ives bolted and supported the 32% permanent income tax increase, the largest structural tax increase in Illinois history.

Bruce Rauner surrendered. Jeanne Ives will fight back. Bruce Rauner isn't in charge. Jeanne Ives will lead the charge.
* The ad…
- Posted by Rich Miller 20 Comments


The AIDS Foundation of Chicago (AFC) is deeply concerned by the Rauner Administration's unilateral decision to not spend $9.7 million in approved HIV funding that was appropriated by the Illinois state legislature in FY 18, without any public disclosure or notification of this decision. In its response to a recent Freedom of Information Act request filed by AFC, the Illinois Department of Public Health (IDPH) confirmed that the department only spent $15.7 million of the approved $25.4 million of funds for HIV services.

Read the state's response to AFC's Freedom of Information Act request

Read selected pages of Illinois' FY 18 budget

"AFC is alarmed that the provision of lifesaving resources has been frozen by bureaucrats and that such a vital decision impacting vulnerable Illinoisans has been made without any transparency," explained John Peller, AIDS Foundation of Chicago's president and CEO. "Have other budget priorities appropriated by the legislature been underfunded to such a significant degree? Or was HIV spending singled out for a 38 percent spending cut?"

"Republicans and Democrats in the General Assembly worked in a bipartisan manner to intentionally increase HIV funds during an exceptionally tough budget year," Peller continued. "The Rauner Administration appears to have ignored the spending priorities of their own party members."

These vital funds should have been distributed to strengthen the existing foundation of HIV prevention, health care and housing services in Illinois. AFC demands that Gov. Rauner release the remaining $9.7 million in HIV funding, and we implore members of the General Assembly to investigate why these critical resources were not deployed to combat the HIV epidemic in Illinois. The state's FY 19 budget is due to be released by the governor on Wednesday, Feb. 14; it is imperative that this investigation take place ahead of that budget's implementation.

Illinois is already making great strides in HIV prevention; new HIV cases have dropped statewide by 28 percent from 2006-2015. In fact, the state is at a pivotal moment in the HIV epidemic, when the technology, knowledge and policies are in place to dramatically impact the course of the epidemic. Ironically, IDPH has fully embraced the goal of the statewide Getting to Zero Illinois project, which would eliminate new cases of HIV in the state by 2027, but expanded funding for treatment, prevention and supportive services are still needed to achieve that goal. Nearly 1,400 people are diagnosed with HIV every year in Illinois, most of whom are members of Black and Latinx communities, which are most impacted by the epidemic.

"It is beyond disappointing to see that the Rauner Administration has left almost $10 million on the table, which could have been used to achieve a goal that will save Illinois untold millions of dollars and improve the lives of thousands of people living with and vulnerable to HIV," Peller explained. "For example, these funds could have been spent expanding routine HIV testing in health care settings and community-based HIV testing to identify individuals who don't know they have HIV and link them to care."
* Biss campaign…
Daniel Biss today responded to Bruce Rauner's decision to withhold nearly $10 million in funding for HIV services that was appropriated by the Illinois legislature. Rauner made the decision unilaterally and without public disclosure or notification.

"Bruce Rauner is continuing his abysmal record on healthcare related issues," said Daniel Biss. "These funds were approved, and were supposed to be spent on funding HIV prevention, testing, and treatment services. While Illinois is making great strides in HIV prevention and treatment, Rauner is ignoring lawmakers from both parties who passed this funding bill in an exceptionally difficult budget year because completely eliminating HIV is a priority. For the governor to deny vital public health programs and then attempt to hide that fact, is immoral and insensitive."

The report comes amid continuing fallout from Governor Rauner's failures in handling the Legionnaires Disease outbreak at the Quincy veterans home. Upon taking office in 2015, one of Rauner's first acts was to halt a program created by HB4554, under which the state provided financial support for Truvada, or PrEP, coverage.

Daniel Biss sponsored HB4554, which guaranteed coverage of PrEP and HIV testing, treatment, and counseling for individuals who qualify for Medicaid. He also supported expanding Medicaid eligibility, and is the only candidate for governor who supports a Medicare-for-All single payer healthcare system.
* From the Illinois Department of Public Health…
HIV related activities make up the largest single funded IDPH program. While IDPH commends the work of the AIDS Foundation of Chicago, with whom it works closely, it is singling out only one of the funding sources for the IDPH HIV program.

Approximately $91M in total was appropriated for the HIV program this current fiscal year. IDPH anticipates spending approximately $80M before the end of the fiscal year and is in the process of issuing grants from the Quality of Life fund and the African-American HIV/AIDS Response Act fund. Having a reserve in the budget is common and is not something that began with the Rauner administration.

IDPH is committed to HIV services in Illinois, which includes a very robust launch of PrEP demonstration projects, an open ADAP formulary, expanded harm reduction and syringe exchange services to combat the Opioid epidemic, and expansion of curative treatment of HCV among dually infected HIV patients.
- Posted by Rich Miller 12 Comments


* Press release…
Our Revolution Illinois/Chicago released a new poll by Public Policy Polling on the Democratic race for Cook County Assessor in the March 20th primary election. The poll is the first to be publicly released in the race for Assessor. Since June 2017, Our Revolution Illinois/Chicago has made fixing the assessment process a key priority.

The polling memo shows that Our Revolution-endorsed candidate Fritz Kaegi with a large 44-27 lead over incumbent and Cook County Democratic Party Chairman Joe Berrios. After voters are informed about both candidates, Kaegi's lead jumps to 51% while Berrios' support shrinks to 20%.

Berrios has overseen a property tax assessment system that unfairly overassesses homeowners in working and middle-class neighborhoods—especially in Black and Latino communities—while giving tax breaks to billionaires and owners of downtown skyscrapers.

"Voters are tired of pay-to-play and corruption by Joe Berrios and are ready for new leadership," said Our Revolution Illinois/Chicago co-chair, Clem Balanoff. "Fritz will fix the broken system that punishes working and middle-class families, Blacks and Latinos, and will bring fairness and transparency to the Assessor's office."

"It is long past time for the Democratic Party to keep attempting to prop-up and cover-up for Joe Berrios. Institutional racism is not acceptable. Joe must go." concluded Balanoff.

Joe Berrios was recently fined $41,000 for violating the Cook County Ethics Ordinance by taking political contributions in excess of legal limits. Joe Berrios has raised over $5 million for political committees he controls, over half of which comes from those who do business with his office. Joe Berrios has taken pay-to-play to a whole new level.

PPP surveyed likely Democratic primary voters in Cook County from February 6-7, 2018.

Our Revolution Illinois is dedicated to building on Bernie Sanders' core set of values — the values and agenda that electrified Illinois voters in the March 2016 primary and won Bernie Sanders 24 of 50 wards in Chicago, 79 of Illinois' 102 counties, 11 of 18 congressional districts and almost a million votes across the state.
* Polling memo…
From: Anniken Williams, Public Policy Polling
To: Interested Parties
Subject: Fritz Kaegi Has Big Lead For Cook County Asssessor
Date: February 8, 2018

A new Public Policy Polling survey finds that Democratic candidate Fritz Kaegi has a big lead in the upcoming Democratic primary election for Cook County Assessor. Kaegi is getting 44%, in contrast to Joseph Berrios who only receives 27% of the vote. After voters are informed about both candidates, Kaegi's lead increases from 17 points to a 31 point lead over Berrios. 51% of voters say they will vote for Kaegi in the March election for Cook County Assessor, while Berrios' support shrinks to 20% on the informed ballot.

Key findings from the survey include:

- Cook County voters are impressed by Kaegi's promises to clean things up. A majority (52%) say they are more likely to vote for Kaegi after learning that he will clean things up by making tax assessments fair and ending pay-to-play policies currently in place in the office.

- When voters learn that Joe Berrios has been fined $41,000 recently by the Cook County Ethics Board for taking political contributions from those who do business with his office, fully 69% say they're less likely to support him.

PPP surveyed 757 likely Democratic primary voters in Cook Co., IL from February 6-7, 2018. The margin of error for the poll is +/- 3.6%. This poll was conducted by automated telephone interviews for Our Revolution Illinois.
- Posted by Rich Miller 17 Comments


* Press release…
Today, in front of the Crain's Chicago Business editorial board, Democratic candidate for governor JB Pritzker talked a big game about addressing corruption and conflicts of interest among elected officials but he failed to name names. That deficient approach won't fix our problems in Illinois. Governor Rauner released the following statement in response:

"For too long, corrupt politicians like Mike Madigan and Joe Berrios have profited off a rigged property tax system while hardworking families have been left holding the bill. JB Pritzker claims that he opposes conflicts of interest for elected officials, but his loyalty to Mike Madigan is so strong that he refuses to call him out by name. You can't fix a corrupt system without naming those who lead it."
* Video…
* Rauner campaign transcript…
CRAINS: I'm struck that you are the only candidate who has, if I'm wrong tell me I'm wrong, who has not said that the problem is that the system itself is corrupt, that people in key legislative positions are conflicted because they're protecting a system they make their living on, that in the Cook County level, that absolutely is broken, it doesn't work. Taxes are not equitably distributed. You have no thoughts on any of that?

PRITZKER: I do, I think there is corruption in the system. I think what my opponents have done is try to localize it around one person or another person. I think there are big challenges. I think that we oughta make sure, for example, the question of what conflicts of interests that legislators have are called out, that they're not allowed to vote on the issues. That are, you know, if you're in one business in particular you shouldn't be voting on issues that effect your business and what your income level is. I think that happens at every level of government, or at least it should happen at every level of government. And, when you've got a citizen legislature the way that we do here in the state of Illinois, where you allow people to have a job and to have a part-time legislature, which is what we have, you know those are challenges that you have to meet. And so making sure that the laws are commensurate with people calling out those conflicts of interest.

CRAINS: Should it be legal for a legislator to work as a property tax lawyer?

PRITZKER: I think it should not be legal for someone who is working in one industry to vote on things that effect that industry.

CRAINS: But you don't have a problem with that person being able to work in that capacity?

PRITZKER: I think that you got to, again, make sure that their job as a legislator is separated from their private job so that it's not effecting the public's business, and that's why I say once again that you need to make sure that we know the person's conflict, what that job is, whatever it may be, and if they don't get to vote on it…
Emphasis added because, the argument for making something illegal that probably can't be made illegal aside, Pritzker completely fails to understand what a "citizen legislature" is.
Farmers shouldn't vote on any agriculture-related bills? Teachers shouldn't vote on any education and education funding bills? Cops shouldn't vote on crime bills?
That's just goofy.
The conflict of interest rules should prevent legislators from voting on bills that specifically benefit themselves or their companies or their employers, etc. If a bill is specifically designed to increase funding for one school's teachers, then a legislator who teaches at that school should not vote on the bill.
* Also, I'd like to see Crain's or somebody else publish a piece from a respected state legal scholar outlining how legislators can constitutionally be barred from practicing property tax law before we start making candidates pledge to outlaw it. This has the same feel of the ultimately doomed pension reform frenzy to it.
- Posted by Rich Miller 23 Comments


* Press release from the ALPLM…
The Abraham Lincoln Presidential Library and Museum launched its celebration of Lincoln's birthday by announcing two major acquisitions: an angry letter the future president wrote to a colleague and a painting that shows the young Lincoln reading while he takes a break from chopping wood.
* Explanation from the ALPLM…
Letter to Andrew McCormack

Andrew McCormack was one of the "Long Nine," an alliance of Whig legislators from Sangamon County whose average height was 6 feet. The Long Nine were instrumental in moving the state capital to Springfield, and McCormack (whose family later changed the spelling of the name to "McCormick") would go on to become mayor of Springfield in 1843.

The letter does not include a date. It most likely was written in January 1839, when the new General Assembly was convening after the election of the previous fall. It may have been hand-delivered during the House session to McCormack, who had been a captain of volunteers in the Black Hawk War.

The issue in dispute was the job of state printer. Abraham Lincoln wanted his friend and Whig ally Simeon Francis to get the post. He feared that McCormack was supporting Democrat William Walters, editor of the Illinois State Register newspaper.
* Lincoln's letter…
Dear Captain:

I have just learned, with utter astonishment, that you have some notion of voting for Walters. This certainly can not be true. It can not be, that one so true, firm, and unwavering as you have ever been, can for a moment think of such a thing. What! Support that pet of all those who continually slander and abuse you, and labour, day and night, for your destruction. All our friends are ready to cut our throats about it. An angel from heaven could not make them believe, that we do not connive at it. For Heaven's sake, for your friends sake, for the sake of the recollection of all the hard battles we have heretofore fought shoulder, to shoulder, do not forsake us this time. We have been told for two or three days that you were in danger; but we gave it the lie whenever we heard it. We were willing to bet our lives upon you. Stand by us this time, and nothing in our power to confer, shall ever be denied you. Surely! Surely! You do not doubt my friendship for you. If you do, what under Heaven can I do, to convince you. Surely you will not think those who have been your revilers, better friends than I. Read this & write what you will do.

Your friend,
Lincoln
Man, that guy could write. That "pet of all those who continually slander and abuse you, and labour, day and night, for your destruction." Hilarious.
* Also, here's some background on Lincoln's relationship with the Illinois State Register, which later merged with the Illinois State Journal…
By 1854, Illinois was home to more than 150 newspapers, including the Illinois State Journal and the Illinois State Register. Like most papers of the day, they were political organs, preaching the importance of allegiance to party ideas and leaders. Newspapers and their editors held a great deal of power, power to help an aspiring politician like Lincoln

As a member of the political community in Springfield, Lincoln was associated with city newspapers. Since the press was the primary means of communicating to the electorate the views of office holders and office seekers, it was important for Lincoln the politician to develop a working relationship with the Whig-Republican organ, the Illinois State Journal. The paper became an outlet for Lincoln's opinions through letters to the editor, reports of his speeches, and editorials he wrote.

Lincoln's association with the Journal was more than political; it was friendship too. Lincoln knew Simeon Francis, the editor, perhaps better than he knew anybody else in Springfield except his law partner, John T. Stuart, and his close friend Joshua Speed. The Journal supported Lincoln throughout his rise in politics. In 1864, Lincoln wrote: "The Journal paper was always my friend; and of course its editors the same." […]

On February 11,1861, the day Lincoln left Springfield, the Journal stated its belief in the president-elect's courage to do what was necessary to protect and defend the Constitution. The Register was not as optimistic. It expressed fear that Lincoln was now in a position to make true his declaration of 1858: "This Union cannot permanently endure part slave and part free." The editor hoped "that he may prove less ambitious to be considered a prophet than a patriot." […]

Throughout 1863 the Register continued to attack the president. The Register portrayed Lincoln as a "babbling township politician," "Czar Abraham," and "the obscuring lawyer of Springfield" who by political accident had become president. In its October 8,1863, editorial the Register directed itself to the president: "We have all the time been giving you 'honest counsel,' to which you have paid no attention. We have been unceasing in our efforts to point out your errors, as unceasingly have you persisted in them."
- Posted by Rich Miller 11 Comments


* From the far left…
The mind of Pritzker… pic.twitter.com/DaEiq12y5O

— Mike Klonsky (@mikeklonsky) February 8, 2018
* From a former African-American politician who fought Speaker Madigan, et al for years and was called "crass" by Pritzker on the FBI tapes…
African American pastors called a private emergency meeting Thursday with Democratic gubernatorial candidate J.B. Pritzker in Hyde Park to address concerns raised by newly released FBI recordings from 2009. […]

Emil Jones also had a lunch meeting in the same hotel. He said he had no idea Pritzker was holding a meeting with pastors at the same time.

"I guess they're getting their checks," Jones said.

Asked whether Pritzker could rehabilitate his image, Jones added, "let me just say this, all he said is what he thinks and believes. He should apologize for thinking that way about black leadership."
* Fox 32…
Activist Jedidiah Brown demanded Thursday to join African-American ministers meeting in Hyde Park with Democratic candidate for governor, J.B. Pritzker.
A highly edited version of that event is making the rounds on social media, but if you click here (profanity warning), you'll see there was a physical scuffle and shouted threats of violence against the gathered ministers.
* Also from Brown…
* From an African-American Tribune columnist…
There are three things we can take away from former Illinois Gov. Rod Blagojevich's and J.B. Pritzker's 2008 wiretapped conversation about who to appoint to Barack Obama's U.S. Senate seat.

No. 1: Both men knew that a debt was owed to African-Americans.

No. 2: Both men knew that African-Americans knew they were owed a debt.

No. 3: Both men knew that if that debt wasn't paid in a way that appeased African-American voters, Blagojevich could kiss the governor's job goodbye come re-election time.
* From a Downstate newspaper editorial…
Pritzker has not been accused of wrongdoing in the recorded conversations he had with Blagojevich. We have all probably said things we wish we wouldn't have. And we're not naive; we know politicians look at the optics of just about any decision they are about to make.

But these comments were despicable. Jones and White are accomplished men who have served the public. Pritzker's words — whose wealth gave him the ear of those in power — attempted to marginalize their hard work and abilities. We appreciate that Pritzker admitted he was not his "best self" during that conversation and has apologized. His challenge now is whether his words and actions going forward will show he was sincere in his mea culpa.
* Pritzker gave a pretty sincere speech last night. Mary Ann…
Strong remarks Thursday night from @JBPritzker as he holds West Side Rally and apologizes #ILGov
Pritzker at Stone Temple Baptist Church https://t.co/hkfgRVqWmH via @YouTube

— Mary Ann Ahern (@MaryAnnAhernNBC) February 9, 2018
* It's just a speech. Words on a page. But it was well-written and well-delivered and worth a look…
* I've posted the full text, but here's the essence of his apology…
I'm sure that many of you have now heard about the report that was in the Chicago Tribune of a conversation with me and the former governor. That conversation does not represent who I am and it doesn't represent what is in my heart. But that doesn't change the fact that nine years ago, it happened. And for that, I am truly and deeply sorry.
* A bit more…
Black and brown communities are still shut out of equal access to jobs, of affordable housing, healthcare, and education at rates far disproportionate to any other communities.

Real opportunity is so often reserved for a group that is too small and too white.

Systemic disinvestment maintains the cycle of poverty and keeps so many minority communities from moving forward.

People of color are disproportionately targeted by our criminal justice system.

The greater conversation ought to be about the foundation of our institutions, the wealth that has never been shared, and the theoretical opportunity that exists on paper but that is never realized.

This exclusion is not just our history, it's our present. And if we don't talk about it, and if we don't take real, concrete steps to address it, it will be our future too. […]

There are individuals in this room, I know, who live in communities impacted every single day by systemic racism and disinvestment. There are families whose lives have been forever altered by the broken systems of the state. There are no solutions without your input and there is no path forward unless you are at the table.

These are difficult conversations, but ones that I want to tackle head on. We can't settle for the conversation about race to only be had every four years when the politicians show up looking for votes. It's a conversation we need to have every day and it's a conversation that I'm committed to having every day as your governor when I'm in office.

I know I can't promise you that I will get it right all the time. I know I won't. But I can promise you this.

When I get it wrong, I will take responsibility.

I will hold myself accountable - and I'll hold others accountable when they get it wrong.
- Posted by Rich Miller 54 Comments


* From the SJ-R's coverage of Gov. Rauner's Sangamon County Lincoln Day Dinner speech last night…
Rauner said he was confident that 2018 would be successful.

"All of us worked hard last year. 2016 — even though President Trump, unfortunately, lost Illinois by over 16 points — we in Illinois picked up six seats in the General Assembly for the Republicans in 2016," he said.
* Jeanne Ives campaign…
"All of us" worked hard, Governor?

By our scorecard, at least one of "us" wouldn't even mention President Trump's name:

* Per the Chicago Tribune, Rauner "spent the better part of a year refusing to discuss the eventual GOP presidential nominee and wouldn't even speak Trump's name."

* During the 2016 primary, the Republican governor said he would support whoever the voters chose, including Trump. He also noted that he would do everything he could "to work with that nominee." Rauner reversed course in a May 2016 interview, announcing that he wouldn't back Trump if he became the party's nominee or attend July's Republican National Convention.

* Rauner refused to attend the national convention

* Rauner refused to endorse Trump.

* Rauner refused to comment on the national race, even after Trump's primary victory over Ted Cruz in Illinois.

* The day after the general election, his office issued a statement that didn't even mention the president-elect and said only that after "a long, grueling campaign cycle, both nationally and locally," it was time to "put the election behind us" and "come together."

"The truth is, Governor Rauner's refusal to mention President Trump's name is just a symptom of the larger problem," said Jeanne Ives, a conservative reform Republican for Governor. "Governor Rauner ran as a conservative, without understanding conservatives, which is why – to him – I am a 'fringe' candidate. Rauner ran as a conservative, without respecting conservative values, which is why – to him – Trump and his supporters are 'deplorable.'

"He doesn't understand us. He doesn't respect us. That is why it was so easy for him to betray us. No matter what he says now that he has a real conservative challenge in this race, it is just more lies and 'fake news' from Governor Rauner."
- Posted by Rich Miller 45 Comments


* Doug Finke…
Ahead of Gov. Bruce Rauner's budget address next week, the Civic Federation is again calling for taxing some retirement income and extending the state sales tax to some services as part of its proposal to stabilize state finances. […]

The Civic Federation compiled a list of 11 steps it believes the state should follow to reestablish the state's financial health. Number one on the list is limiting annual spending growth to 2.1 percent for the next five years at a minimum. The group recommended other cost control measures like cutting the interest rate the state pays on overdue bills, consolidating government units and creating a commission to explore consolidating governance of state universities.

Other recommendations will be more difficult, Msall acknowledged. The organization said the state should impose the income tax on the same retirement income that is taxed at the federal level. For example, there is a federal income tax on 401(k) distributions, but Illinois does not tax them. Imposing that tax has been a third rail in Illinois politics.

Also, the report calls for a constitutional amendment to be placed on the ballot "to clarify the pension protection clause." That clause prevents lawmakers from enacting cuts to pensions of current public employees.
The report is here. Maybe one day the right people will start listening to some of this stuff.
* Greg Hinz…
All those are disliked by some, but potentially even more unpopular is the federation's call to create a bipartisan commission "to rationalize the state's higher education system."

The federation notes that six of the state's 12 university campuses have seen their enrollment drop since 2008, with only two up since 2015: The University of Illinois campuses at Urbana-Champaign and Chicago. With the population of high school students also dropping, the federation says, "The commission should consider the elimination of duplicative higher education programs, reallocation of resources across programs and campuses and the closure or consolidation of campuses." Particularly weak have been Northeastern, Southern, Western and Eastern Illinois Universities, and Chicago State University.

As a first step, the Civic Fed adds, the state should concentrate management of the schools under fewer boards.
While the state's finances have begun to stabilize in the months since lawmakers passed a major income tax hike over Rauner's veto, the group says tough choices must be made to fully dig out of the hole. […]

Also on the group's list is establishing a rainy day fund and approving a major infrastructure construction program. It would be paid for by an increase in the gasoline tax, as well as congestion taxes and levies based on how many miles a vehicle has traveled.
- Posted by Rich Miller 44 Comments


* I asked all attorney general campaigns in both major parties this question yesterday…
What is your candidate's reaction to FBI wiretaps of JB Pritzker's discussion with then-Gov. Rod Blagojevich about potential African-American US Senate appointees?
I asked them this because I hadn't seen many of them asked about it and, frankly, I was curious what they had to say.
* Their deadline was 11 this morning. All candidates except Rep. Scott Drury provided an answer (I even reminded Drury about it this morning). ADDING: Drury says he was out shoveling snow and missed the deadline. I've granted him a one-time, weather-related extension.
Responses are in the order they were received. Mayor Nancy Rotering…
"There's no place for this kind of commentary. I was surprised and saddened to hear JB's comments but appreciate his commitment to 'doing better.' Now more than ever, we need a leader who prioritizes inclusive government, making sure all voices are heard, and that civil rights are supported and respected."
* Gov. Pat Quinn…
"I'm very disappointed in JB Pritzker's comments. I know Senate President Emil Jones very well, and he has been a drum major for justice during his entire public life.

"In our democracy, everyone has the duty to promote a more perfect union in word and deed. The Governor of Illinois and every aspirant for Governor must treat every single person with civility and respect at all times.

"As President Barack Obama said in his Farewell Address in Chicago on January 10, 2017, 'Democracy does require a basic sense of solidarity — the idea that for all our outward differences, we are all in this together; that we rise or fall as one.'"
* Renato Mariotti…
"Pritzker's comments were disappointing and disrespectful, and he was right to apologize for them. One problem with Illinois politics is that insiders decide the future of our state and party in private phone calls amongst themselves. We should have more decisions made by people, not by insiders and billionaires."
* Gary Grasso…
"This is another example of typical Cook County Democratic insider politics, the type that destroys people's lives and property values. This behavior and lack of leadership must end for Illinois for prosper again."
* Jesse Ruiz…
"In his apology, JB said the conversation caught on tape did not reflect his "best self" and I agree with that assessment. Those comments certainly don't reflect the guy I've gotten to know over the past 23 years. I think his work in the African American and Latino communities, especially on behalf of children, speaks far louder about who he is."
* Erika Harold…
"The released FBI recorded conversations between J.B. Pritzker and Governor Blagojevich are yet another example of why Illinoisans have lost faith in our state government. Government cannot be for sale and government officials and candidates for office cannot marginalize groups of Illinoisans whether they believe anyone is listening or not. I am running for Attorney General to be a voice for the people and not the powerful political class."
* Aaron Goldstein…
The JB Pritzker recording is a sad reflection of our politics. The African-American community is not taken seriously by politicians except when election time comes, because the Democratic Party only sees African-Americans as a means to political victory. But when it's time to stand up for justice, the Party cowers. This happens all the time and this conversation is just a reflection of what happens every day. "Give us your vote" but when the election is over, the African-American community is abandoned. The political powers are so cynical that they believe that all that matters is having a certain number of African-Americans in power satisfies the needs of the community. We must look beyond this cynicism and focus on what all politicians will do for the African-American community.

I have spent my life and legal career fighting for the liberation of all African-Americans. Rarely is it a popular position but I do it because it is right. When my colleagues graduated law school and chased the money at corporate law firms, I worked for the Cook County Public Defender's Office because I knew the criminal justice system was racist and I wanted to be on the front lines defending the victims of this racist system. As a candidate for attorney general, I am the only candidate who will obtain a consent decree against the Chicago Police Department and give the community enforcement power. I am the only candidate who will form a racial justice division within the office. I am the only candidate who will fight against this racist drug war and mass incarceration. All the other candidates refuse to attack the root causes of this unfair system. This entire campaign has been about fighting for racial justice for all of Illinois. I am fighting for racial justice because that is what I believe in publicly and privately.

As a Democratic Committeeman I strenuously objected to endorsing JB Pritzker for governor and advocated for an open primary to let democracy play out and let the people decide. I was overruled because the Party was overwhelmed with the money that Pritzker had. I was told that Pritzker "was the only one who could win." Our democracy is flawed if we as a party believe we have to force a candidate down the voters' throats. I unfortunately saw this in my race. Just a few weeks into the race for Attorney General, the Cook County Democratic Party, without vetting any candidates, and not believing in democracy, endorsed a seriously flawed candidate. I believed so much in the democratic process that I voted to not endorse any candidate.
* Sen. Kwame Raoul…
"The exchange between former Gov. Blagojevich and JB Pritzker was deeply disturbing. Unfortunately, this exchange is an unfiltered look at the conversations that take place daily about the black community without black voices in the room. Over the course of this campaign, I've asked Illinoisans to speak out against injustices being committed on their watch and JB failed to do that during his conversation with the former Governor.

"To his credit, JB personally called me to apologize and understood my unique perspective on this issue - not just as a black man who was appointed to fill an Obama vacancy but as someone who fought alongside Senate President Jones on behalf of the black community. During our conversation, JB expressed regret that he didn't push back on the tone and substance of the exchange. He also acknowledged that he should have done more than simply laugh it off. His call was an appropriate gesture but in no way diminishes his actions."
* Sharon Fairley…
"The content is deeply concerning and inappropriate. Negative campaigning is why so many Illinois voters don't believe in our political system. Studies show that negative campaigning adversely impacts black voter turnout. We must bring back integrity, reform and transparency to Illinois government so that it works for everyone and not just the state's powerful and elite. As a black woman running to be the people's lawyer I find all of it very insulting."
…Adding… Scott Drury…
Mr. Pritzker's comments were disturbing and disrespectful, and I'm glad that he has publicly apologized. However, this conversation — and these tapes — show the ugly side of Illinois politics. Mr. Pritzker's conversation was caught on tape, but how many similar conversations between other insiders take place on a regular basis without any repercussions? We all know the answer to that — a whole lot. This recording is a real-life example of why so many people in Illinois don't trust politicians. The tone is set at the top. As we saw with the #MeToo movement in the Capitol, those at the top largely turn a blind eye to issues like these until they get caught.
Your thoughts?
- Posted by Rich Miller 21 Comments


* Press release…
Today, the JB for Governor campaign released a new television ad, "My Choice," to air in markets across the state. The ad features U.S. Senator Dick Durbin direct to camera highlighting why JB is his choice to bring Illinois together and move our state forward.

"Senator Durbin is fighting for our families every day in Washington and it's time he had a partner in the governor's office," said JB Pritzker. "I know that we can unite Illinois and bring people together to put Springfield back on the side of working families. I'm so proud to have him standing with me in this campaign as we work to tackle the challenges that communities across our state face and build a better future for Illinois."
* The ad…
* Transcript…
Those of us from Downstate know we have special challenges, things that people in the other parts of the state may not realize. JB Pritzker knows that, and he's focused on that, and he's also shown that he's listening. He's not just visiting, he's listening. JB has tried to unite our state and unite our Democratic party. When I listen to JB talk about what he wants to do as governor, I know he's in touch with working families and their priorities and their values. You gotta make a choice, and my choice is JB Pritzker.
- Posted by Rich Miller 41 Comments


* Excerpts from a recent Sen. Ira Silverstein campaign mailer…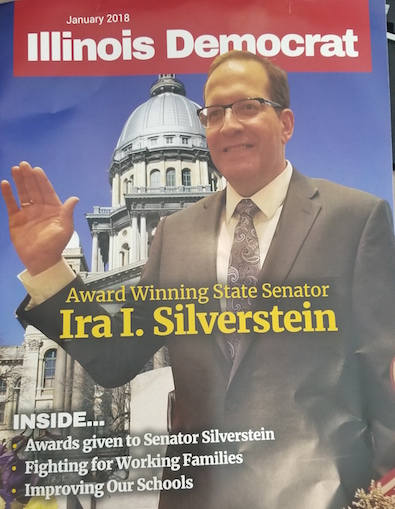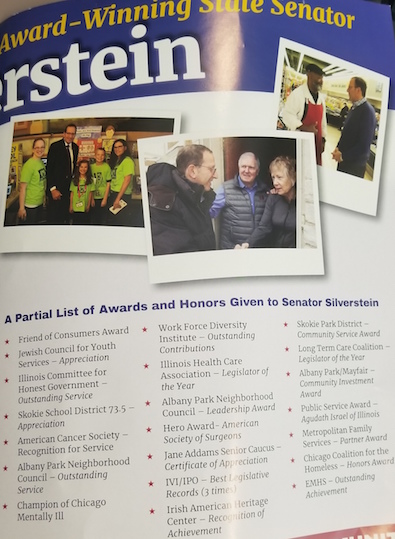 * The Question: Your own award for Sen. Silverstein?
- Posted by Rich Miller 54 Comments


* Rolling Meadows resident Ann Mednick writing in the Sun-Times…
Pain defines my life.

It starts in my hip and flows from there like from a leaking faucet. The pain dominates my thoughts and my time, as I think about how to lessen it. It forces me to sit on and sleep with ice packs. It keeps me from doing things I love.

But if pain is the thief that stole my quality of life, the state of Illinois is its accomplice. A remedy exists that would significantly lessen my pain — and do so without damaging side effects. It works but the state won't let me have it.
She has sacroiliac joint dysfunction and osteoarthritis.
* Mrs. Mednick would like access to medical marijuana for her intractable pain. She doesn't want the opioids her doctors are prescribing…
Since my pain became acute, I have seen numerous doctors and received countless prescriptions and shots. Doctors have given me fentanyl patches without hesitation. Fentanyl, of course, is an opioid — a class of drugs that is killing people in record numbers. In 2016, some 64,000 Americans died from drug overdoses, the overwhelming majority from opioids.

Opioids have wreaked havoc on my life and I want nothing to do with them. On fentanyl, I became a prisoner — even more of one than I am now. I could not leave my house for fear of being more than a few steps from a bathroom. I lost 80 pounds. The drug made me horribly sick and worse, it clouded my mind. There were days where I didn't know if I could get out of bed.
The Illinois Medical Cannabis Advisory Board voted 10-0 to add intractable pain to the approved list of conditions for medical marijuana. But Illinois Department of Public Health Director Nirav Shah struck it down. A Cook County judge then overruled Shah.
* Mednick concludes…
Dr. Shah seems to think that if I want to reduce my pain, I should use opioids. I don't know what else to conclude. I feel the state of Illinois is forcing me toward opioid use when a better alternative exists. For my sake, and for the sake of chronic pain sufferers across Illinois, I hope Dr. Shah will reconsider.
Too late. IDPH and Director Shah filed a notice to appeal the judge's decision a few hours before Mrs. Mednick's op-ed was published.
- Posted by Rich Miller 32 Comments


* Gov. Bruce Rauner at Crain's Chicago Business yesterday morning about avoiding yet another stalemate during the upcoming session and state budget talks…
"I will negotiate in good faith, make compromise, find common ground in every way that I possibly can. And I've done that so far."
* Gov. Rauner speaking at the annual Sangamon County Lincoln Day Dinner last night…
Rauner said the main goal for Republicans this year is to defeat longtime Democratic House Speaker Michael Madigan, calling him a machine politician who was destroying the state.

"It is a cancer that is eating us from the inside, sucking our vitality, sucking our quality of life to enrich himself and his friends inside government," Rauner said.
…Adding… This is what the governor told the Sun-Times earlier this week about President Trump…
"I'd say my biggest concern is the rhetoric. The rhetoric, the tone, the words."
Perhaps he could take his own advice for once?
- Posted by Rich Miller 34 Comments


* Tribune…
Another wedge came as Rauner decided to sign legislation to expand taxpayer-funded abortion for state workers and low-income women. Around the same time, the governor and Rasmussen parted ways.

It was the abortion legislation that fueled the rise of state Rep. Jeanne Ives as a primary challenger to Rauner.

And now Ives has won the backing of former Rauner donor Dick Uihlein, who's given her $2.5 million. Uihlein also has been a major donor to the Illinois Policy Institute and the Liberty Justice Center.

Asked Thursday to comment on his relationship with Uihlein, Rauner said he "can't say there is one."

"We all make our choices," he later added.
- Posted by Rich Miller 13 Comments


[Bumped up from Thursday night to Friday morning for visibility.]
* I was trying to get caught up on stuff tonight so I watched the rest of Gov. Rauner's Crain's Chicago Business editorial board meeting. At about the 44-minute mark, the governor was asked: "How could your administration have better handled the Legionnaires' outbreak in Quincy?" His response…
"We handled it exceptionally well and we would not do anything different."
*** UPDATE 1 *** Democratic Rep. Stephanie A. Kifowit, who is a military veteran…
It is clear that there are things that should have been done differently. Legionella is preventable and 13 people have died and over 60 sickened. That is not a record he should be proud of. One thing that should have been done differently is that residents, their family and staff should have been properly notified.

This is another reason why the administration needs to release all the emails regarding the Quincy Veterans home.
*** UPDATE 2 *** From September of 2015…
Illinois officials admit they were caught off-guard by the wave of Legionnaires' at their veterans' home in Quincy.

With 12 dead among 54 who contracted the disease in the past few weeks, the death toll now equals the number of fatalities during New York City's worst-ever Legionnaires' outbreak this summer. […]

"What we did discover is that we need to have an increased amount of treatment in our water. Um, we did not have, um, we were not aware of the level of vulnerability," said Erica Jeffries, director, Illinois Dept. of Veterans Affairs. [Emphasis added.]
*** UPDATE 3 *** Chris Kennedy campaign…
It's horrifying to hear the leader of our state say he wouldn't have done anything differently to prevent the loss of 13 lives at the Quincy Veterans Home. Bruce Rauner's operating principle of self-preservation above all else has no place in our state government.

He needs to cooperate with an independent investigation so our Veterans and their families can get the answers they deserve. Unfortunately, his lack of humanity and his lack of morality are preventing that from happening.
*** UPDATE 4 *** Rep. Dave McSweeney…
It's outrageous for Governor Rauner to say that his Administration did exceptionally well and wouldn't do anything differently. There are 13 dead veterans and spouses. Instead of patting himself on the back, the Governor should be working to secure funds to construct a new facility at the Quincy site. If he were a real leader, he would have met with President Trump and legislative leaders to develop an immediate action plan. The Governor's comments are disgraceful.
*** UPDATE 5 *** Pritzker campaign…
"Thirteen Illinoisans died because of Bruce Rauner's fatal mismanagement in Quincy, but this failed governor refuses to take responsibility," said Pritzker campaign spokeswoman Jordan Abudayyeh. "After three years of constant crises and services decimated for over a million people, Illinoisans are suffering while Rauner continues to fail this state."
*** UPDATE 6 *** Ives campaign…
"Rauner is a press release, photo-op Governor," said conservative reform gubernatorial candidate Jeanne Ives. "He would've never made it in the military, where you are charged to take care of the people under your charge and held accountable for what happens on your watch."

"The only thing more shameful than the disastrous results of his absentee governorship is his complete unwillingness to answer to the Illinois veterans, and their families, whom he failed," said Ives.
*** UPDATE 7 *** The DGA sent this out yesterday and I neglected to post it…
"Bruce Rauner's refusal to acknowledge mistakes is exactly why he's a failed leader," said DGA Illinois Communications Director Sam Salustro. "Thirteen people died at a state-run facility and Rauner refuses to admit his administration should have done better. And now, Rauner's administration is hampering an investigation instead of working to find out what went wrong. Rauner needs to be honest and transparent with the public about how his government can function better, not hide behind empty statements."
*** UPDATE 8 *** Sen. Tom Cullerton has been chairing joint committee hearings on Quincy veterans' home…
"I am truly disappointed and saddened by the governor's comments about his mishandling of a situation that resulted in 13 deaths. I'm disappointed because the governor is completely unaware, entirely out of touch and willing to turn a blind eye to serious issues within his own administration. I'm saddened for the families that continue to have to listen to the governor's ignorant and callous comments. For the sake of Illinois it's way past time for the governor to do better."
*** UPDATE 9 *** Sen. Michael Hastings is a military veteran…
"Thirteen people dying over three years is a leadership failure in my humble opinion. Since the Governor is not in charge, he should re-evaluate who he puts in charge. However, when a task is "over-broad and burdensome," he chooses to do nothing.
- Posted by Rich Miller 75 Comments