* We've discussed much of this stuff before (click here and here for background), but Kristen McQueary's new column is about the appointment of Helene Miller-Walsh to replace disgraced former Rep. Nick Sauer on the ballot…
Mark Shaw, Lake County GOP chairman and co-chair of the Illinois Republican Party, and Chris Geissler, Barrington Township GOP committeeman, interviewed nine candidates to replace Sauer, according to Shaw. They selected Helene Miller Walsh. She is now the representative of the 51st District and faces Democrat Mary Edly-Allen on the ballot. […]

So when Lake County Republicans announced that his wife secured the seat appointment, it took Democrats about five minutes on her Facebook page to find a series of strongly worded posts too — not the N-word but charged posts on Muslims, immigration and Chicago violence, to name a few. […]

For its part, the Illinois Republican Party shifted questions about her appointment to the "local committee" that made the decision to choose her. That committee was made up of two people. One of them is Shaw, co-chairman of the state party.

No, this is not a hands-off moment for Illinois GOP leadership. This belongs to them. It's going to be a fiasco.
* So, why would Illinois Republican Party Co-Chairman and Lake County GOP Chairman Mark Shaw appoint Miller-Walsh? There are a lot of reasons, but one is that he may also be a fan of conspiracy theories. Check out this Lake County Republican Party Facebook post…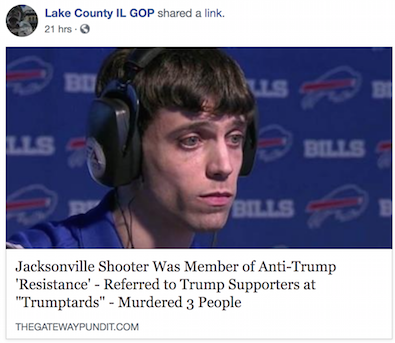 Um, no…
A day after a competitive video gamer shot and killed two people, wounding 10 others, at a Madden video game tournament in Jacksonville, Florida, a group of far-right news outlets announced that they had found the Reddit account used by the shooter, who they said used the pseudonym "Ravenchamps."

But the groups were wrong.

"Ravenchamps" did not belong to the shooter, who the police say was a Baltimore resident named David Katz and who killed himself in the shooting. And the announcement caused considerable trouble for the real person who owned the account. […]

This is not the first time Gateway Pundit has misidentified someone who committed an attack or mass shooting. The site said the Charlottesville car attack was conducted by an "anti-Trump protester" who in reality was hundreds of miles away at the time of the attack. The site also named the wrong person in the Las Vegas mass shooting, and spun an elaborate conspiracy based on an anonymous Twitter post which identified the wrong person in a mass shooting at the airport in Ft. Lauderdale, Florida, in January 2017.
* And the original GP story's headline has finally been changed to reflect reality with this little notation at the bottom…
UPDATE: An anonymous Reddit user was mis-identified in an earlier post.
…Adding… The Lake County GOP has removed the Facebook post.
27 Comments
















































































Sorry, comments for this post are now closed.