* From the Secretary of State's Index Division…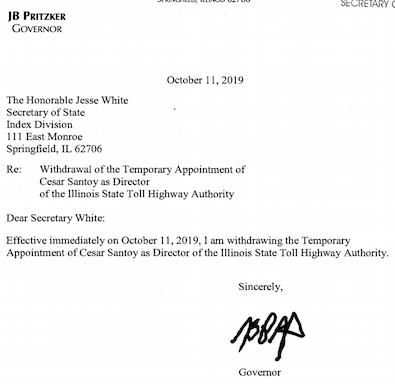 Santoy's name and company are listed in the federal search warrant of Sen. Martin Sandoval's Statehouse office. Santoy's attorney claimed his client is not a target. The governor called on Santoy to step aside earlier today.
*** UPDATE 1 *** From the Pritzker administration…
Cesar Santoy has agreed to step down. His appointment has not been confirmed by the Senate, so our administration has withdrawn the appointment.
*** UPDATE 2 *** Hmm. Well, this is interesting. Santoy's campaign committee has received $4,250 in two contributions from Sen. Martin Sandoval.
Also, there's this…
Six intersections will be studied and additional red-light cameras are on the way for Berwyn after the City Council approved the contract with SafeSpeed, LLC Tuesday.

The discussion became heated at times as Third Ward Alderman Marge Paul initiated the conversation, discussing the tie of Michael Del Galdo to SafeSpeed. Del Galdo, a Berwyn attorney, had done work for the city earlier this year. […]

Fifth Ward Alderman Cesar Santoy voted to approve the contract after reading the submission from Deputy Police Chief Joseph Drury earlier this month.

"I was impressed he did some research and was able to find an alternative to save the city some money and increase the revenue, and at the end of the day improve public safety," Santoy said.
15 Comments












































Sorry, comments for this post are now closed.