* I know it's Oak Park, and I know this may look innocuous because it's the LWV and all…

But if you click the link, you're taken to this page…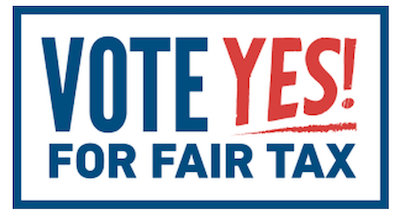 Not good.
Also, you're a public library. Proofread your copy.
Seeing any other foul play or dirty pool out there?
- Posted by Rich Miller 17 Comments


* My initial, private reaction to this announcement would not be allowed on this website…
Tony La Russa, a member of baseball's Hall of Fame, the third-winningest manager in baseball history, a three-time World Series champion and a four-time winner of the Manager of the Year Award, has been named the new manager of the Chicago White Sox. pic.twitter.com/RKP24rleHP

— Chicago White Sox (@whitesox) October 29, 2020
* The Question: Your own thoughts?
- Posted by Rich Miller 88 Comments


* Three days in a row of a positivity rate at or above 8 percent leads to IDPH mitigation, and Region 3 has hit that point. The region runs from eastern Sangamon County over to the Mississippi River and as far south as Calhoun County.
* Press release…
The Illinois Department of Public Health (IDPH) today reported 6,363 new confirmed cases of coronavirus disease (COVID-19) in Illinois, including 56 additional deaths.

- Adams County: 1 male 70s
- Christian County: 1 male 80s
- Clark County: 1 female 80s
- Clay County: 1 female 70s
- Clinton County: 1 female 90s, 1 male 90s
- Cook County: 1 male 40s, 3 females 60s, 1 male 60s, 1 female 70s, 1 male 70s, 1 female 80s, 2 males 80s, 1 female 90s, 2 males 90s
- DeKalb County: 1 male 80s
- DuPage County; 1 female 40s, 1 female 80s
- Edgar County: 1 male 70s
- Ford County: 1 female 70s
- Kane County: 2 males 60s, 1 female 70s
- Lake County: 1 female 80s, 2 females 90s, 1 male 90s
- LaSalle County: 2 females 90s
- Livingston County: 1 female 70s
- Macon County: 1 male 30s
- Marion County: 1 male 70s, 1 female 80s, 1 male 80s
- McDonough County: 1 male 60s
- Morgan County: 1 male 60s
- Ogle County: 1 male 60s
- Rock Island County: 1 male 70s, 1 female 90s
- St. Clair County: 1 female 60s, 1 female 80s
- Tazewell County: 1 male 70s, 1 male 90s
- Wabash County: 1 male 70s
- Wayne County: 1 male 90s
- Will County: 1 male 70s, 1 female 80s, 2 males 80s
- Winnebago County: 1 male 70s, 1 male 80s, 1 male 90s

Currently, IDPH is reporting a total of 395,458 cases, including 9,675 deaths, in 102 counties in Illinois. The age of cases ranges from younger than one to older than 100 years. Within the past 24 hours, laboratories have reported 83,056 specimens for a total 7,542,098. As of last night, 3,030 people in Illinois were reported to be in the hospital with COVID-19. Of those, 643 patients were in the ICU and 269 patients with COVID-19 were on ventilators.

The preliminary seven-day statewide positivity for cases as a percent of total test from October 22 – October 28 is 6.9%. This is the number that IDPH has been consistently reporting in its daily releases and is calculated using total cases over total tests. Similar to the Centers for Disease Control and Prevention, IDPH has been using test positivity for regional mitigation metrics on its website since mid-July. Test positivity is calculated using the number of COVID-19 positive tests over total tests. Beginning October 29, 2020, IDPH is reporting the statewide test positivity in its daily releases. The preliminary seven-day statewide test positivity from October 22, 2020 – October 28, 2020 is 8.2%.

Case positivity and test positivity rate are both relevant and offer insight into the bigger COVID-19 picture. Case positivity helps us understand whether changes in the number of confirmed cases is due to more testing or due to more infections. Whereas, test positivity accounts for repeated testing and helps us understand how the virus is spreading in the population over time.

*All data are provisional and will change. In order to rapidly report COVID-19 information to the public, data are being reported in real-time. Information is constantly being entered into an electronic system and the number of cases and deaths can change as additional information is gathered. For health questions about COVID-19, call the hotline at 1-800-889-3931 or email dph.sick@illinois.gov.
…Adding… Press release…
Governor Pritzker and the Illinois Department of Public Health (IDPH) are announcing COVID-19 resurgence mitigations will be implemented in Region 3—West-Central Illinois—beginning at 12:01 a.m. on Sunday, November 1, 2020. The region has seen a 7-day rolling average test positivity rate of 8 percent or above for three consecutive days, which exceeds the thresholds set for establishing mitigation measures under the state's Restore Illinois Resurgence Plan. Region 3 includes Hancock, Adams, Pike, Calhoun, Jersey, Greene, Scott, Brown, Schuyler, Cass, Morgan, Macoupin, Montgomery, Christian, Sangamon, Logan, Menard, and Mason counties.

The administration continues to provide relief for small businesses impacted by the ongoing pandemic. Today, the administration announced that through both the historic Business Interruption Grants (BIG) program and Local CURE funding, a total of $94 million has already been deployed to Illinois businesses and communities to help offset costs and losses due to the pandemic. In Region 3 alone, nearly $40 million in emergency grants and assistance has been awarded via both programs. Moving forward, businesses in Region 3, as well as other regions currently under additional mitigations, will receive priority consideration for the current round of BIG. These programs are guided by an equity framework and seek to address the hardest hit communities with emergency relief dollars.

"As of this morning, Region 3 – which encompasses Quincy, Springfield and much of West-Central Illinois – has now sustained an average positivity rate of 8 percent or higher for three days, today hitting 8.8 percent – meaning that, starting Sunday, they will join the majority of the state in operating under resurgence mitigations," said Governor JB Pritzker. "Something has got to give, and these mitigations aim to cut down on those high-risk activities until we bring down the positivity rate in an area once again. Because let's be clear: well-meaning and reasonable people can have fair disagreements about how and where to draw lines and connect dots – but when every single metric in every single corner of the state is trending poorly, we have to take meaningful action to keep our people safe."

"This is the first time a central Illinois region has needed to implement mitigation measures because of increasing positivity," said IDPH Director Dr. Ngozi Ezike. "For those residents living in regions and communities where the virus didn't seem to be 'that bad,' things are changing with positivity rates steadily increasing. We've seen regions move into and then out of mitigation, so we know the measures work. The more people adhere to the measures, the quicker we can move out of mitigation."

Mitigation measures taking effect November 1 in Region 3 include:

Bars

No indoor service
All outside bar service closes at 11:00 p.m.
All bar patrons should be seated at tables outside
No ordering, seating, or congregating at bar (bar stools should be removed)
Tables should be 6 feet apart
No standing or congregating indoors or outdoors while waiting for a table or exiting
No dancing or standing indoors
Reservations required for each party
No seating of multiple parties at one table

Restaurants

No indoor dining or bar service
All outdoor dining closes at 11:00 p.m.
Outside dining tables should be 6 feet apart
No standing or congregating indoors or outdoors while waiting for a table or exiting
Reservations required for each party
No seating of multiple parties at one table

Meetings, Social Events, Gatherings

Limit to lesser of 25 guests or 25 percent of overall room capacity
No party buses
Gaming and Casinos close at 11:00 p.m., are limited to 25 percent capacity, and follow mitigations for bars and restaurants, if applicable

These mitigations do not apply to schools or polling places.

From the onset of the pandemic, support for small businesses has been one of the central features of the Pritzker administration's COVID-19 response. Since March, the administration has launched a menu of small business and community relief programs – with over $500 million in grants and programs launched by the Illinois Department of Commerce and Economic Opportunity (DCEO), including emergency hospitality grants, a downstate small business stabilization program, Fast Track Capital, and more. For more information on programs available for businesses and communities, please visit DCEO's website.

DCEO is also actively processing reimbursements for local governments impacted by COVID-19 via the state's Local CURES program. To date, more than $8.5 million has been awarded to governments in Region 3 to help cover the costs of the emergency response, with eligible costs including PPE and other public health expenses. All eligible governments in Region 3 can submit their certification to the department and begin submitting reimbursement requests. For more information on programs available for businesses and communities, please visit DCEO's website.

Region 3 is currently seeing an 8.8 percent positivity rate, an increase from 4.6 percent in September, a summer peak of 6.2 percent in August, and a low of 0.9 percent in June. While most regions are seeing sustained increases in both positivity and hospitalization rates, today Region 3 is experiencing triple the amount of COVID-related hospital admissions since early September.

In the coming days, IDPH will continue to track the positivity rate in Region 3 to determine if mitigations can be relaxed, if additional mitigations are required, or if current mitigations should remain in place. If the positivity rate averages less than or equal to 6.5% for three consecutive days, then the regions will return to Phase 4 mitigations under the Restore Illinois Plan. If the positivity rate averages between 6.5% and 8%, the new mitigations will remain in place and unchanged. If the positivity rate averages greater than or equal to 8% after 14 days, more stringent mitigations may be applied to further reduce spread of the virus.

As of today, including Region 3, a total of nine of the state's 11 regions have triggered one of the state's failsafe state-action metric. Regions 4, 5, 7, 8, and 9 will all soon operate under Tier 1 mitigation measures given that these regions continue to report a 7-day rolling positivity rate above 8 percent. By tomorrow, Regions 10 and 11 will both operate under Tier 1 mitigations given that these regions triggered additional mitigations based on sustained increases in both positivity and hospitalization rates. Region 1 is currently operating under Tier 2 mitigation measures after continuing to see a rise in positivity, even under the Tier 1 mitigation framework, with the highest rolling positivity average in the state.

As part of the administration's robust response to the pandemic, the state continues to strengthen its nation-leading testing operation, given that testing remains a critical step to reduce further spread of the virus. Testing is readily available throughout Illinois, with the state now averaging more than 72,000 tests per day. For a more targeted approach, the state provides mobile testing allowing testing to be directed toward communities most impacted by COVID-19. In Region 3, mobile sites will be at the Sangamon County Health Department this weekend. To find the nearest testing center, please visit DPH.Illinois.Gov/Testing.

IDPH will continue to work closely with local health departments in Region 3 to provide education to the public and offer information to businesses and organizations on safe ways to reopen. The significance of face coverings, social distancing, and hand washing have been consistently emphasized by the administration throughout the pandemic.

A full list of mitigation measures pertaining to some businesses and industries may be found on the DCEO website at www.dceocovid19resources.com/restore-illinois.
- Posted by Rich Miller 28 Comments


* The Gaming Board badly botched the rollout of video poker. And now…
Developers and mayors vying for the chance to break ground on new casinos — including two in Chicago's suburbs — will have to wait at least another six months to find out if they're holding a winning hand.

Illinois Gaming Board administrator Marcus Fruchter blamed the COVID-19 pandemic for pushing back his agency's timeline for handing out the first round of casino licenses as part of Gov. J.B. Pritzker's massive statewide gambling expansion.

"Like all government agencies and private businesses, the board's work has been impacted by COVID-19," Fruchter said at a special Gaming Board meeting held virtually Thursday. "This is not an excuse or a crutch. It is simply a recognition of the realities that work and life are different in a global pandemic." […]

Under state law, the Gaming Board was required to issue new licenses within a year or else give a written explanation for the holdup.
This isn't like cannabis where the government was dealing with a brand new industry and was flooded with applications. They have zero excuses.
- Posted by Rich Miller 24 Comments


* Ameya Pawar and Ted Cox…
According to the Federal Deposit Insurance Corp., over 80 million Americans are underbanked or unbanked — about a quarter of the country.

Consider that many people who received $1,200 COVID-19 relief checks under the CARES Act then had to pay a fee just to cash them because they didn't have a bank account — government checks with no chance they'd bounce. So payday lenders and currency exchanges continued to extract money from the people who can least afford to lose that extra cash.

We've mentioned before that the U.S. Postal Service could conceivably step in and offer those basic banking services — check cashing, money orders, bill payments, and even short-term loans — in a bid to fill a basic need and undercut predators like payday lenders.

The federal government moves slowly, however, and there's something similar we could do more immediately on the state level in Illinois to fill the same void.

Have Secretary of State offices, like driver's license facilities, offer those additional banking services as well.

They already handle cash; they have vaults. Their frontline workers already handle incredibly sensitive information, even dealing with the U.S. Department of Homeland Security, so you're talking about a pretty sophisticated workforce. The Secretary of State Office has its own fleet of vehicles — and own police. It has the scale to deal with the assignment — with license facilities in urban areas and rural communities, both of which have been hard hit by consolidation in the banking industry. The Secretary of State has dozens of locations across the state, and while some are closed in the pandemic, the vast majority are open and dealing with driver's licenses and tests.

According to banking expert Mehrsa Baradaran, low-income households spend up to 10 percent of their annual income drawing on financial services. This extraction reduces incomes and robs them of future wealth.

The alternative financial services industry extracts $100 billion annually, with payday lenders commonly charging what ends up being multiple times whatever small loan was originally taken out as fees and interest accumulate. This is money that's not going to rent, food, consumer goods, or flowing through the local economy.
Thoughts?
- Posted by Rich Miller 49 Comments


* From a CDC Morbidity and Mortality Weekly Report last month…
Findings from a case-control investigation of symptomatic outpatients from 11 U.S. health care facilities found that close contact with persons with known COVID-19 or going to locations that offer on-site eating and drinking options were associated with COVID-19 positivity. Adults with positive SARS-CoV-2 test results were approximately twice as likely to have reported dining at a restaurant than were those with negative SARS-CoV-2 test results.
* ABC 7
All across Kane County, like much the rest of the region, bars and restaurants are once again shut down to indoor dining and limited to patio seating, takeout and delivery only.

But not Geneva's FoxFire. The steakhouse is serving its patrons indoors, after a judge ruled they can keep their dining room open for now — going against Governor Pritzker's executive order.

"We're not suing to be maskless," said K.C. Gulbro, owner of FoxFire Tavern. "We're not suing to fill the whole restaurant to door to door. But we feel we have the right to be open."

The judge's ruling only applies to FoxFire. That's why the Illinois Restaurant Association is expected to vote as early as Thursday on whether to file a lawsuit on behalf of all of the state's 25,000 restaurants.
* Also, have a look…
Can't say enough about how smart and accessible and clear this El Pais explainer is…

Airborne transmission of Covid-19: A room, a bar and a class: how the coronavirus is spread through the air https://t.co/pCva6rKgYC

— Stephanie Nolen (@snolen) October 29, 2020
- Posted by Rich Miller 21 Comments


* Every election around this time we get flooded with first-time commenters who just want to leave drive-bys and whine about the rules. From last night…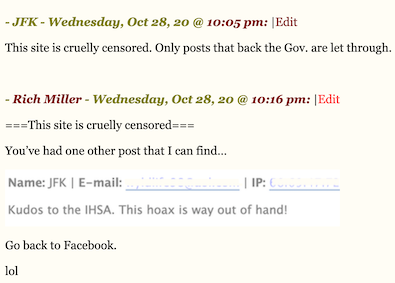 - Posted by Rich Miller 53 Comments


* I do not for the life of me understand why people sit on numbers this long. The poll of 895 registered voters was taken September 26 through October 4. The surveys were conducted both on the phone and online. Margin of error was +/- 3.28 percentage points…
While Chicagoans share many concerns over the city's policing practices, 79% want the police to spend the same amount of time or more in their neighborhoods. That's one of the key findings of a new Wirepoints/Real Clear Opinion Research poll that looked at a range of attitudes in Chicago on policing, race and Mayor Lori Lightfoot's performance.

The desire for more police holds true across the city's North (76%), South (80%) and West Sides (85%), as well as across whites (79%), blacks (77%) and Hispanics (87%). Only 15% of blacks and 10% of Hispanics citywide said they want the police to spend less time in their neighborhoods.

The poll surveyed 895 registered voters in Chicago from September 26th through October 4th using a mixed phone and online methodology.

Over three-quarters (76%) of surveyed Chicagoans reported they strongly support or somewhat support Black Lives Matter. However, that support has not translated into a desire for cutting down the number of police or abolishing the Chicago Police Department (CPD). Instead, Chicagoans strongly indicate they want more and better-quality policing instead.

When asked directly if they supported defunding the police, over half (51%) of Chicagoans were opposed, with only 39% in favor. Among black residents, opposition (46%) to defunding slightly exceeded support (45%).

And while 26% of Chicagoans would be more likely to vote for city council members that support disbanding the police – a larger 37% would be less likely to vote for them.

"George Floyd's death and the subsequent protests expanded the influence of Black Lives Matter across the country, including in Chicago," says Ted Dabrowski, President of Wirepoints. "However, while a vast number of Chicagoans support BLM, a majority of residents – black, white and Hispanic – want more police in their neighborhoods."

Those surveyed were also very clear in their desire for better-quality policing. Half (51%) of all Chicagoans polled said they believe the Chicago Police Department is currently handling its job badly. More than six out of ten black residents (63%) held that view.

Finally, the poll found that while Mayor Lori Lightfoot continues to hold a high overall approval rating (61%), her performance rating drops considerably on issues relating to race and public safety.

Some of the main poll results include:

• Nearly 80% of respondents wanted the police to spend the same amount of time or more in their neighborhoods. The desire for more police held true across the city's North (76%), South (80%) and West Sides (85%), as well as across whites (79%), blacks (77%) and Hispanics (87%).
• Black Chicagoans are the most supportive of Black Lives Matter (86%), followed by whites (74%) and then Hispanics (61%).
• Only 39% of Chicagoans said they supported defunding the police, while 51% were opposed. Opposition to defunding exceeded support in the North, South and West Sides, with North Side residents expressing the most opposition (57% oppose/ 36% support)
• By race, whites and Hispanics were most opposed to politicians supporting disbanding the CPD, with 43% and 41% saying they would be less likely to vote for a council member that pushed disbanding, respectively.
• More than half of citizens from the North Side (54%) and the West Side (51%) said the CPD was doing a good or excellent job, while only 32% of voters from the South Side said the same.
• 61% of respondents approve of the job Mayor Lightfoot is doing. Chicago's white residents gave her the highest marks (68%), followed by blacks (63%) and then Hispanics (48%).
• Lightfoot's approval numbers drop on individual policy issues related to race and public safety: public safety (46%), racial justice (44%), police reform (39%) and gun violence (31%).
* The poll of Chicagoans found Gov. JB Pritzker's job approval at 63 percent and disapproval at 31 percent, which is basically the same as Mayor Lightfoot's. Toplines are here. Lightfoot is not doing well on budget and tax issues, either. Crosstabs are here.
- Posted by Rich Miller 16 Comments


* Thoughts?…
With new COVID-19 mitigation measures announced, my colleagues and I are continuing to advocate for the small bars and restaurants that make up an integral part of our districts. Read our letter to Mayor Lightfoot and Governor Pritzker below: pic.twitter.com/KsmoFW7SG7

— Rep. Ann Williams (@RepAnnWilliams) October 28, 2020
*** UPDATE *** The governor has sent a letter in response…
Thank you for your October 28, 2020 letter regarding the impact of the second COVID-19 wave on independent businesses, especially restaurants. We agree that small businesses are the lifeblood of our economy and COVID is having a devastating impact on them and the entire economy.

The restrictions are necessary as cases, hospitalizations and deaths are rising and will not subside without mitigations. We are glad to have created the Business Interruption Grant ("BIG") program to support small businesses through these difficult times. We have already expedited BIG grants to businesses affected by resurgence mitigations with $220 million available in the latest round. We have already distributed 1,900 grants to taverns and restaurants across the state and 630 of those grants in Chicago. Of those 630 Chicago grants, 195 were granted in your respective districts, totaling over $3.4 million dollars of direct state investment.

We have been a vocal and active in our advocacy for more support from the federal government directly to bars and restaurants. None of the Republican U.S. Representatives have indicated a willingness to support any new resources to support the impacts of COVID on bars and restaurants- let alone any other industry in Illinois.

Sincerely,
Governor JB Pritzker
- Posted by Rich Miller 18 Comments


* Christine Herman for NPR…
In Winnebago County, at the north end of the state, public health administrator Sandra Martell has been threatened with lawsuits from bar owners who want to continue to offer indoor service in violation of the governor's orders for that region. At a press conference this week, she pleaded with businesses to spare her agency from spending precious resources trying to police the contentious mandate. […]

Sandra Martell faces a dilemma. She can order a bar closed, for example, but if law enforcement doesn't back her up, nothing more will happen. And the local sheriff and local politicians have publicly encouraged businesses to defy the state's orders. Meanwhile, COVID cases, hospitalizations and deaths continue to rise. Two hundred miles south, in Champaign County, public health administrator Julie Pryde's experience is night and day.

JULIE PRYDE: This job is tough enough in doing it in Champaign, where I have a ton of support. I can't imagine doing it where you're fighting against your - the people in your community. It's horrible. And we're losing public health people all over the country. […]

The death rate in Champaign County is now less than a quarter of Winnebago's.
* Meanwhile…
North Dakota has the most new Covid-19 cases per 100,000 population this week, per the White House coronavirus task force. The states in the top ten for new cases per 100,000 population are largely in the Central and Northern US: SD, followed by MT, WI, ID, WY, UT, NE, TN, and IA pic.twitter.com/DJyVKOGHGW

— Betsy Klein (@betsy_klein) October 28, 2020
* Related…
* Libertyville mayor: We won't enforce state ban on indoor dining
- Posted by Rich Miller 19 Comments


* As subscribers have known for almost two weeks, Vote Yes for Fairness' own polling has this nip and tuck. Here's Dave McKinney and Tony Arnold…
Outside the presidential election, there arguably isn't any bigger outcome Tuesday than whether Illinoisans vote to change the state constitution to set up a new way of taxing workers' paychecks based on how much they make.

But there's a debate now as to when voters actually will have an idea of whether their income taxes will change.

Thanks to a potential flood of uncounted mail-in ballots and Illinois' latest-in-the-nation deadline to count them, one of Democratic Gov. JB Pritzker's top political strategists said it likely will be well past Election Day before it's clear whether the ballot question is a winner or loser.

"I think the odds are pretty high," said Quentin Fulks, Pritzker's former deputy campaign manager and chairman of the political committee pushing for the graduated income tax, Vote Yes for Fairness. "I'm anticipating probably a week to two weeks for us to know." […]

Fulks says his committee's polling shows the battle for changing the taxing structure in the state remains incredibly tight. Survey results his group released from mid-October found 55% of the Illinois electorate supported the graduated tax amendment, with 40% opposed.
…Adding… The antis think fears about a long wait are overblown…
"With historic numbers of voters turning out early, we anticipate clerks across the state will count the vast majority of these early ballots on Election Day, giving us a clear direction on the outcome of the tax hike amendment," said Lissa Druss, a spokeswoman for the Coalition To Stop The Proposed Tax Hike Amendment.
- Posted by Rich Miller 45 Comments


* Yeah? Well, I did things during the pandemic, too. Not like this. But things…
During the 18 months of the Great Plague (1665-1666), Isaac Newton conceived calculus, set foundations for his theory of light and color, worked on laws of planetary motion, and legend has it, experienced his inspiration of gravity with the falling apple https://t.co/lytNlAbpMI pic.twitter.com/cd8GRQPWGb

— Massimo (@Rainmaker1973) October 28, 2020
Keep it local, keep it polite. Thanks.
- Posted by Rich Miller 32 Comments