* Tribune editorial…
When the coronavirus pandemic hit hard in March, it prompted shutdowns of schools, businesses, sports venues, national parks and other sites. Legislatures across the country halted sessions, the Illinois General Assembly among them. The suspensions were a justified response to a grave public health emergency.

But a crisis of this severity is no time for lawmakers to stop doing the public's business altogether. More than two dozen legislatures across the country quickly moved to let members vote or participate in floor deliberations or committee meetings by virtual means. In Vermont, legislators have used Zoom for most of their business since March. New York's lawmakers approved a budget remotely. But the Illinois House voted down this approach.

In May, it met at a Springfield convention center to allow members to socially distance in the interests of safety. But it canceled its fall veto session rather than meet in person or figure out a way to meet virtually. Senate President Don Harmon and House Speaker Michael Madigan said face-to-face contact would be too hazardous at a moment when the pandemic is surging across the state.

Have they not heard of this thing called Zoom?
* Has the Tribune not looked at the remote legislating roll call?…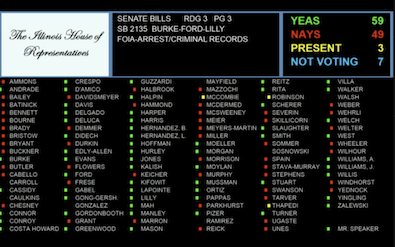 * Speaking of which…
It's HAPPENING!!! Time to #RescueIllinois☀️

🗓️December 5th
🕐1:00
🌆Daley Center Plaza, Chicago (Loop)

Speakers include @Paulvallas @AmyJacobson @DarrenBaileyIL @deannemazzochi @janthonyspeaks & others!

Residents of all states welcome!!! 🥳 pic.twitter.com/YHXl7p8LoP

— Emma Woodhouse (@EWoodhouse7) November 25, 2020
So, Mazzochi has gone full Darren Bailey. Interesting.
Reps. Mazzochi and Bailey both voted against the remote legislating bill, but I assume they believe it's safe to gather again, notwithstanding the coronavirus spike in the state and the likelihood of things worsening in the wake of Thanksgiving.
* Also, it's a bit surprising that Rep. Mazzochi is demanding the General Assembly get back to work considering she missed 285 floor votes in 2019, mostly during the crucial month of May.
35 Comments








































































































Sorry, comments for this post are now closed.