* The DuPage County Democratic Central Committee has been paying this person $500 a month for the past three years. It was definitely not money well spent…
After Sunday's Christmas parade horror in Waukesha, Wisconsin, an Illinois Democrat appeared to portray the tragedy as a form of payback for Friday's acquittal of Kyle Rittenhouse in Kenosha.

"It was probably just self-defense," read one of a series of mocking social media posts from Mary Lemanski, who is listed as the social media director for the Democratic Party in DuPage County, Illinois.

Lemanski also describes herself as an acting student with the famed Second City comedy group.

"Living in Wisconsin, he probably felt threatened," read another post attributed to Lemanski, referring to the SUV driver in the Waukesha case.
* After the pushback began…
The DuPage Democrat then offered onlookers her own perspective on the Sunday attack.

'I'm sad,' Lemanski shared later that night. 'I'm sad anytime anyone dies.'

'I just believe in Karma and this came around quick on the citizens of Wisconsin.'

Then, in another, more judgmental, message directed to the citizens of the state that saw both of the contentious attacks, the staffer proclaimed, 'You reap what you sow, Wisconsin.'
Her tweets are now deleted, but you can see them all at the links above.
* Facebook…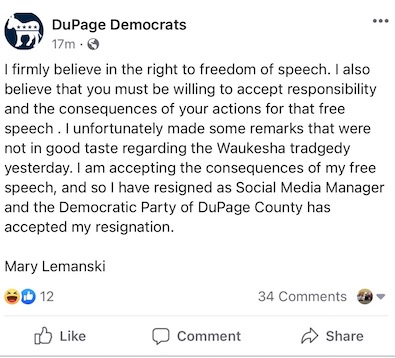 The DuPage Democrats deleted that post, and rightly so. She shouldn't have been using the official site to announce her resignation.
* Twitter…
We are deeply saddened by the tragedy in Waukesha.We are aware of statements made by a former member of our organization and find them to be incredibly insensitive and not in alignment of who we are as an organization. Our organization does not support hate in any form

— DuPage Democrats (@DuPage_Dems) November 22, 2021
* So much has been written about the Rittenhouse case nationally and in Illinois, but I've avoided it because it was a Wisconsin court case. Various Illinois pols reacted after the verdict, but I'm ignoring them, too. Do yourself a favor and read Mark Brown…
Many people are going to have trouble accepting the Kyle Rittenhouse not guilty verdict, but I think there would be fewer of them if they'd watched the trial, beginning to end, as a jury does.

It bothers me deeply that Rittenhouse killed two people with a gun a 17-year-old shouldn't have had in a fight he shouldn't have been anywhere near.

But, as I wrote before the jury began its 26-plus hours of deliberations, it's the correct verdict based on all of the evidence and the law.

It really was self-defense. Rittenhouse wasn't the aggressor in the chain of events that led to the shootings. […]

I certainly pray people won't be emboldened by this verdict to show up with their guns every time there is a protest over a matter of public dispute. But I fear some will.

Despite what people are saying, Rittenhouse's acquittal should not be seen a victory for white supremacists (though I'm sure that crowd is celebrating) any more than a guilty verdict would have been a victory for antifa.

On the other hand, if those redneck clowns in Georgia get away with the shotgun lynching of Ahmaud Arbery, now, that would be a victory for white supremacists.
Take a very deep breath or three before commenting, please. There are plenty of other websites that encourage you to spew anything that comes to mind. This ain't one of them. Also, remember that you're often being manipulated…
Divide & conquer: A sample of 32,315 pro-Rittenhouse hashtag tweets, Nov 19-20, showed 29,609 with disabled geolocation. Of those, 17,701 were listed as "foreign", but a deep scrub revealed most of those were in Russia, China, and the EU. @Tara_Writer @TAPSTRIMEDIA #Rittenhouse

— Frank Figliuzzi (@FrankFigliuzzi1) November 21, 2021
Of these tweets, we conducted manual validation (yes, manual) - including confirmation of other indicators (language, location reference, self id, etc). The original data set was a representative sampling, and searched for key hashtags - #rittenhouse #FreeKyle and more

— Tara Lemieux, Writer (@Tara_Writer) November 21, 2021
…Adding… Press release…
"The Democratic Party of DuPage County immediately severed all ties with Mary Lemanski once became aware of her callous and reprehensible posts. She does not speak for us and we unequivocally reject her statements about the tragic events that occurred yesterday in Waukesha. We as a party denounce violence of any kind. Our thoughts and prayers are with the families impacted by this heinous act, which shocked and saddened us all."

- Democratic Party of DuPage County Chair Ken Mejia-Beal
70 Comments

















































































































































































































Sorry, comments for this post are now closed.