* CNN…
Donald Trump's closest Hill allies are privately lobbying the former President to get involved in a Republican-on-Republican matchup in Illinois, a potentially messy scenario that has sparked internal strife in the party and prompted GOP leaders to launch a counter-campaign aimed at keeping Trump on the sidelines.

At the center of it all is freshman Rep. Mary Miller, a member of the hard-line House Freedom Caucus who has been left without a seat after redistricting. Now she's deciding whether to challenge fellow Illinois Republican Reps. Rodney Davis or Mike Bost. Hoping to boost Miller's political prospects, Rep. Marjorie Taylor Greene of Georgia — another controversial firebrand who is close with Miller — has been talking her up to Trump and encouraging him to throw his weight behind Miller, according to multiple GOP sources.

A Trump endorsement would turbocharge the intraparty battle and potentially make things even stickier, something GOP leaders are eager to avoid. So House Minority Leader Kevin McCarthy has worked behind-the-scenes to head it off: he has urged Trump to stay out of the primary race, telling the former President that Bost and Davis — who are poised to become committee chairmen if Republicans reclaim the House after next year's midterms — are both good members, sources said. […]

And Miller has created other heartburn for McCarthy and the party. In particular, Republicans are upset that Miller has spread disinformation about a bipartisan bill that passed the House to bolster how vaccination records are maintained and shared. Miller attacked the 80 Republicans who backed the measure, and later told the conservative outlet Breitbart News that the bill would "track" unvaccinated Americans who "will be targeted and forced to comply with Biden's crazy 'global vaccination' vision."
* And Mark Maxwell points out that Miller voted against a pre-Christmas pay raise for members of the US Armed Forces…
* Meanwhile, Miller is sure to be asked about Darren Bailey's new running mate Stephanie Trussell and her myriad anti-Trump posts on her social media accounts, so they've been busily posting this pic to prove she came around…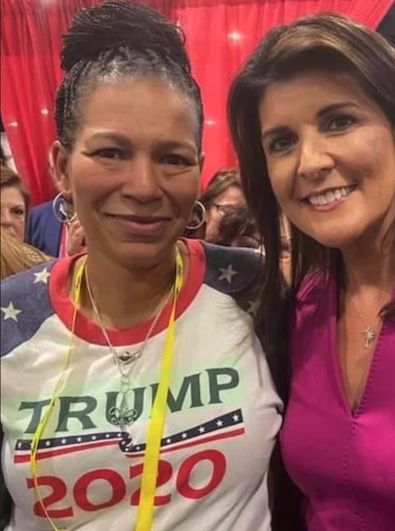 Indeed she did. There's also this from just a few months ago in praise of Democrats pushing the vaccine…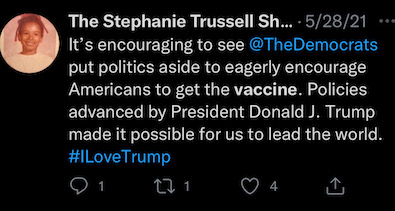 *** UPDATE 1 *** Looks like Rep. Miller just upped the ante…
Rep. Miller: The January 6th commission hates President Trump because he exposed the corruption of the DC establishment here in the swamp. pic.twitter.com/OmjSxSEllM

— Acyn (@Acyn) December 14, 2021
*** UPDATE 2 *** Rep. Miller is listed as not voting on the Jan. 6th "Commission" legislation. Hilarious.
*** UPDATE 3 *** US Rep. Rodney Davis' comms director points out that there is no such thing as a "January 6th Commission" and obliquely accuses Rep. Miller of being "misinformed"…
Hey Rich.

Saw your updated post. I just wanted to point out that there's no "1/6 Commission," which some misinformed people often conflate with the 1/6 House Select Committee initiated by Speaker Pelosi. The makeup and powers of the proposed bipartisan 1/6 Commission versus the currently-active, partisan 1/6 Select Committee are very different. The proposed 1/6 Commission, styled after the 9/11 commission, never made it into law after it failed to advance in the Senate. There were individual votes on both the commission and the select committee.

As we have seen, the sham 1/6 House Select Committee has been a partisan circus, which is what Congressman Davis expected to happen with a Select Committee, and that's why he voted against it. You can find the roll call of that vote here. The only Republicans to vote in support of the 1/6 Select Committee were Reps. Cheney and Kinzinger. I will note that according to the House Clerk, there were 19 Republicans who are listed as "Not Voting" on the 1/6 Select Committee resolution, including Rep. Miller.

One other thing I will note, Rep. Miller and nearly every House Republican (there were six listed as not voting) voted for the creation of a 1/6 commission in a procedural motion earlier this year. The vote occurred in a motion to immediately bring the bipartisan 1/6 Commission legislation to the House floor for a vote. A no vote on the procedural motion is basically a vote to advance the 1/6 commission bill, i.e. support the bill. You can find a roll call of that vote here.

More than happy to provide additional info if you need.

Thanks!

Aaron
19 Comments
























































Sorry, comments for this post are now closed.