* From Thom Serafin…
Richard L. Duchossois, a native of Chicago, a decorated war hero, renowned businessman and horseracing icon, passed away peacefully at his home in Barrington Hills, Illinois on January 28, 2022.

Duchossois was known for his top-down management style, his exacting business principles, his customer service-oriented philosophies and his commitment to quality as evidenced in every workplace with his oft-repeated admonition, "Don't expect what you didn't inspect." His meticulous attention to detail was applied with military precision across all aspects of his life, down to his double-breasted suits and pocket scarves. Sightings of an impeccably dressed "Mr. D," as he was affectionately called, walking the halls of his businesses were a common occurrence.

Duchossois was the embodiment of perseverance. Of the many organizations in Duchossois' business portfolio over the period of his professional career, many would come to associate him most with Arlington Park, the thoroughbred racetrack located in Arlington Heights, Ill. After an electrical fire destroyed the entire facility in 1985, the rebuild Duchossois championed set Arlington apart from other racetracks globally, with its striking cantilevered roof, world-class facilities and international stakes races. While a typical response to the complete devastation of the fire would have been to walk away, in a tour-de-force, Duchossois galvanized his employees to hold the famed Arlington Million race just days after the fire. This feat would go down in horseracing legends as the "Miracle Million" and it marked the first time a racetrack was ever awarded racing's highest honor, the Eclipse Special Award.

Born Oct. 7, 1921, to Ernestine and Alphonse Duchossois in the south Chicago neighborhood of Beverly, Richard Louis Duchossois was destined to lead a life that personified what Americans define as "The Greatest Generation." In his 100 years of life, Duchossois left an indelible impression on the world as a veteran, entrepreneur, philanthropist, husband, father, uncle, grandfather, great-grandfather and friend.

The second of four siblings, Duchossois attended Morgan Park Military Academy during his formative years.

"I learned (at Morgan Park) discipline of the mind and that you have to try to win," Duchossois explained in a family business retrospective book, Riding the Rails, published in 2016. "We had a professor of military science and tactics. He always said if we're going to get ahead, we must be second to none."

Duchossois credited this philosophy, combined with the leadership, honor and integrity that he learned in his year and a half at Washington and Lee University, as having laid the foundation for his ability to not only survive, but thrive under pressure. These moments would be far from few in his century-long life.

Duchossois was just 20 years old when he was called to service with the U.S. Army following the United States' entry into World War II. He was assigned to the 610th Tank Destroyer Battalion and served as commander of a Tank Destroyer Company throughout five European campaigns under General George S. Patton.

Although once feared for dead from a gunshot wound, Duchossois survived, recovered and returned to the front, leading his company through famed operations such as The Battle of the Bulge. Duchossois was awarded a Purple Heart and a Bronze Star for his sacrifice and, decades later, continued to garner recognition for his service. He received the Order of St. Maurice medallion, an honor that acknowledges both wartime distinction and ongoing character standards and accomplishments, as well as the distinction of the Legion d'Honneur, France's highest award, presented to him by the French government in Normandy on the 70th anniversary of D-Day in 2014. As a trustee, Duchossois participated in several oral history projects for the National WWII Museum in New Orleans.

In July of 1943, Duchossois married his sweetheart Beverly (nee Thrall), who gave birth to their first son Craig in 1944 while Duchossois was on the frontline in Europe. The couple went on to have three more children, Dayle, Bruce, and Kimberly. They settled in Flossmoor, a southwest suburb of Chicago.

Upon his return home from the war, Duchossois was invited to join Beverly's family's business, Thrall Car Manufacturing Company - a modest railcar parts and repair company with 35 employees, and a rudimentary yard, based in Chicago Heights, Ill. Despite lacking in business experience, it was at Thrall Car that Duchossois honed his intuitive business instincts: He relentlessly strived for growth and improvement.

By 2001, when it was acquired by Trinity Rail Group, Thrall Car Manufacturing Company had a production capacity of 16,000 rail cars per year and 3,000 employees. Duchossois diversified his company over the years with the purchase of Chamberlain Manufacturing Group, broadcast outlets, Arlington Park and a number of other businesses.

Duchossois lost his wife Beverly to cancer in 1980. Her care and treatment received at The University of Chicago served as the catalyst for Duchossois' first major philanthropic gift to UCMC in 1978. This gift supported world-renowned experts in lymphoma, Dr. John Ultmann as the first director of the cancer research center at the University of Chicago. The establishment of The Duchossois Family Foundation soon followed. Beverly's death became the vehicle for the family to support cancer research in partnership with the University of Chicago, as well as initiatives such as Patient Navigation Services with the American Cancer Society, among others.

During his tenure in horseracing, Duchossois brought the 2002 Breeders Cup to Arlington Park, owned one of the leading breeding farms in Illinois, and actively worked to influence and shape the racing industry and its legislation. In 2019, Duchossois was inducted into the National Museum of Racing and Hall of Fame. In 2000, Arlington Park merged with Churchill Downs Incorporated.

"Dick sets a personal standard to which we should all aspire," said Washington and Lee President Will Dudley in 2018. "His leadership, humility, generosity and dedication to the service of others are an inspiration to all those who know him. We are indebted to him for his ongoing commitment to W&L."

Among his survivors is wife Mary Judith (nee McKeage) of Barrington, Ill., who he married in 2000 and who has lovingly stood by his side for all business, philanthropic and family endeavors. He is also survived by his son Craig J. Duchossois (Janet) of Chicago, daughter Dayle Duchossois-Fortino (Ed) of Chicago, daughter Kimberly Duchossois of Barrington, Ill., and step-sons Steve Marchi (Sherrie) of Palatine, Ill., and Paul Marchi (Judy) of Palatine, Ill. Duchossois had seven grandchildren (and spouses), two step-grandchildren, and fourteen great-grandchildren. Duchossois' first wife, Beverly, and their beloved son, R. Bruce Duchossois, predeceased him in 1980 and 2014, respectively.

Up to his final days, Duchossois could be found at his desk planning his next venture, legal pad and pen in hand. To use the Miracle Million team's motto - which Duchossois loved and had printed on post-cards - "Quit? Hell No!"

No doubt Duchossois is marching on to his next tour. We salute you, soldier.

As a result of COVID-19, to ensure the health and safety of others, there will be no visitation. The funeral and burial services will be immediate family only. In memory of Dick, and in lieu of flowers, you may want to consider a donation to a favorite organization of your choice, the National WWII Museum, 945 Magazine Street, New Orleans, LA 70130 (https://www.nationalww2museum.org/give), or Advocate Good Shepherd Hospital, 450 West Highway 22, Barrington, IL 60010 (https://advocategiving.org/).
…Adding… Illinois Thoroughbred Horsemen's Association…
On behalf of Illinois thoroughbred owners and trainers, we extend our deepest condolences to the family and friends of Dick Duchossois.

Mr. D served our nation with distinction and thereafter brought his enduring tenacity and exceptional work ethic to the helm of Arlington Park — a track he worked to build into a world-class destination for thoroughbred horse racing.

As we mourn his loss, we are reminded of his immense contributions to thoroughbred racing in North America, most especially here in Illinois. His imprint on the sport and industry was vast and will not be forgotten.
…Adding… Leader McConchie…
State Senator Dan McConchie (R-Hawthorn Woods) released the following statement following the death of Richard L. Duchossois:

"My thoughts and condolences are with the Duchossois family. Richard lived his 100 years of life to the fullest and will be remembered for his many accomplishments. The 26th Senate District was fortunate to have Richard as a constituent. His dedication to his country and community should forever be honored."
* Kelsey Landis at the BND…
Gov. J.B. Pritzker said Illinois lawmakers will consider whether there should be statewide standards for warehouses following a tornado that killed six people at an Amazon facility in Edwardsville. […]

The General Assembly plans to hold hearings to explore what can be done in the upcoming session, said state Rep. Jay Hoffman, D-Swansea. He said he has discussed the issue with state Rep. Katie Stuart, D-Edwardsville, and state Sen. Rachelle Crowe, D-Glen Carbon.

"It was actually in their districts, not mine, but it doesn't matter. We have warehouses throughout Illinois and throughout the metro-east," Hoffman said. "We need to figure out whether the codes were followed and if the codes were followed, are the codes strong enough?" […]

"It would seem to me there should have been more safe zones for the workers that were actually safe zones," Hoffman said.
* WCIA…
An Illinois Lawmaker wants to empower judges to remove guns from the hands of those accused of domestic violence.

"I believe this bill, specifically, this part of the bill will have an impact and remove firearms from many volatile situations, preventing intimate partner homicide," Representative Denyse Wang Stoneback (D-Skokie) said.

When a domestic abuse victim asks for an order of protection, there is a two week period before the hearing. A judge will often issue an emergency order of protection during that time. Right now, courts often wait to suspend a suspect's FOID card after that emergency order is over. But Stoneback's bill would allow judges to suspend FOID cards during the emergency order of protection period as well.

According to Stoneback, Some have the power to suspend somebody's FOID Card along with issuing the emergency order of protection. Stoneback's bill would ensure that the judge's understand they have that power in law.

"Judges in Illinois have interpreted sometimes a lot in both directions," Stoneback said. "Sometimes they have removed firearms, with ex parte hearings due to imminent dangerous or volatile situations, and in light of the fact that the respondent will have notice of hearing at a later date, and other other judges have chosen not to remove firearms during this period."
* Press release…
With a focus on protecting victims of violent crime and their families, Illinois House Republican Leader Jim Durkin (R-Western Springs) introduced legislation on Thursday to overhaul Illinois' Prisoner Review Board (PRB) and provide greater weight to the interests of victims of violent crime, rather than criminals.

"Today, I am here to give hope to the forgotten voices in our present criminal justice system, the victims of crime. The despair and anguish felt by crime victims and the futility they experience seeking closure for the tragic and brutal loss of a family member, loved one, or friend cannot be discounted," said Durkin. "That pain and torment is only fueled by the decisions of Governor Pritzker's Prisoner Review Board."

According to Durkin, there are a number of recent examples of violent offenders being released by Pritzker's PRB over the objections of victims, their families, law enforcement, and judges.

Paul Bryant has a long history of violent crimes, including numerous convictions for murder, rape, home invasion, burglary and more. Bryant was convicted of killing a 59-year-old woman whose throat he slashed during a robbery in 1976 and the murder of a 19-year-old woman who he raped, beat, strangled and set on fire in 1977. Another woman was held at knifepoint, robbed, and raped in her home.

Ultimately, Bryant was caught after breaking into a woman's home, robbing and raping her, and returning several days later to rape her again. The repeat victim was able to identify Bryant as the man who repeatedly violated her. The judge who sentenced Bryant to 500 to 1,500 years for just one of the murders he committed said at the time he wanted to send a message to future parole boards that Bryant should never be released. On July 14, 2020, Pritzker's PRB voted to release him.

Ray Larsen, a man convicted of murdering a child and deviant sexual behavior, made headlines last year when, just days after being released, he absconded from the state, violating the terms of his parole and becoming a fugitive. It wasn't the first time that Larsen had proven himself a risk.

In May of 1972, while on a 3-day furlough, Larson entered the home of an older woman sexually assaulted and robbed her. Following the assault, he went to Schiller Woods Forrest Preserve "Looking for something to shoot" when he came across 16-year-old Frank Casolari, who was fishing. Larson shot the boy 23 times and left his naked body in the woods. He was caught the next day in a stolen vehicle with an underage girl who had been missing overnight.

Ultimately, Larson was released by Pritzker's PRB on May 13, 2021, over the objection of Attorney General Kwame Raoul, whose office tried to delay the decision for 90 days so Larson could be evaluated as a possible sexually violent person. Ultimately, the PRB was forced to rescind Larson's parole.

In July of 1970, Chicago Police Sergeant James Severin and Officer Anthony Rizzato volunteered for the "walk and talk" community outreach program, which aimed to reduce crime. On July 17, Severin and Rizzato were murdered in cold blood while crossing a baseball field as part of a coordinated sniper attack planned and executed by a local gang. Johnny Veal was an integral part of planning and carrying out this attack on law enforcement and bragged about his involvement to rival gang members.

Testifying before the PRB, Sgt. Severin's nephew said he remembered his uncle saying how much he loved working with the kids at the local baseball field the week before he was brutally murdered on the same baseball field. Even Cook County State's Attorney Kim Foxx voiced opposition to Veal's parole, calling the officer's murders a "cold blooded execution," while also pointing out that Veal bragged about the crimes. Nevertheless, Pritzker's PRB voted to release Veal on February 21, 2021.

Durkin's legislation, House Bill 5126, makes a number of reforms aimed at protecting victims of violent crime and ensuring dangerous offenders remain behind bars.

Under Durkin's proposal, victim-focused reforms would be instituted to the Prisoner Review Board. Durkin's legislation does the following:
· Codifies the mission statement of the PRB:

o The PRB is to protect the rights of victims of crime, their families, and the citizens of Illinois by ensuring that the rule of law is upheld and justice is carried out. The Board has the responsibility to give voice to the victims, their family members, and public safety officials when an inmate's situation is being reviewed.

· Requires five members of the board to have experience as a law enforcement officer or prosecutors.
· Increases transparency by:

o Making En Banc hearings available for viewing via live stream.
o Making clemency recommendations from the board to the Governor available to the public with appropriate redactions to protect the victim's identity.

· Requires a higher 2/3 vote threshold for parole of people convicted of 1st-degree murder.
· Outlines those who may present testimony at the parole hearing:

o One representative of the person under consideration for parole.
o One representative of law enforcement from the county of conviction.
o One family member of each victim.

· The Governor has to grant or deny the decisions of PRB to release an inmate on parole or to revoke their parole or aftercare release in cases of 1st degree murder. These decisions are subject to FOIA.
· In regards to clemency hearings, the legislation:

o Requires the board to give victims registered with the Board written notice of the application for clemency within seven days of the filing of the application.
o If the victim does not file a witness statement 30 days prior to the clemency hearing date, the board shall send a second written notice to the victim.
o The victim can ask for an extension of 45 days to submit their victim's statement. If an extension is requested, the board cannot proceed with a hearing until after the extension has expired.

"The state of Illinois must change. This administration is placing criminals above victims, and are disregarding the voice of victims across the state, said Durkin. "There is no reason that cold blooded murderers are released back into society against the wishes of the people they hurt so profoundly. Governor Pritzker gave Veal, Larson and Bryant got the second chance that their victims and loved ones will never get."
* Hospitalizations are down 25.12 percent in the past week. Good stuff. The lagging indicators will eventually catch up. Press release…
The Illinois Department of Public Health (IDPH) today reported 123,812 new confirmed and probable cases of coronavirus disease (COVID-19) in Illinois, including an increase of 843 deaths since January 21, 2022.

Currently, IDPH is reporting a total of 2,897,174 cases, including 30,688 deaths, in 102 counties in Illinois. The age of cases ranges from younger than one to older than 100 years. Since January 21, 2022, laboratories have reported 1,310,730 specimens for a total of 50,798,837. As of last night, 4,533 individuals in Illinois were reported to be in the hospital with COVID-19. Of those, 800 patients were in the ICU and 460 patients with COVID-19 were on ventilators.

The preliminary seven-day statewide positivity for cases as a percent of total test from January 21 – 27, 2022 is 9.4%. The preliminary seven-day statewide test positivity from January 21 – 27, 2022 is 12.0%.

A total of 20,423,100 vaccines have been administered in Illinois as of last midnight. The seven-day rolling average of vaccines administered daily is 36,787 doses. Since January 21, 2022, 257,512 doses were reported administered in Illinois. Of Illinois' total population, more than 75% has received at least one COVID-19 vaccine dose, 66% of Illinois' total population is fully vaccinated, and more than 46% boosted according to data from the Centers for Disease Control and Prevention (CDC).

All data are provisional and will change. Additional information and COVID-19 data can be found at https://dph.illinois.gov/covid19.html.

Vaccination is the key to ending this pandemic. To find a COVID-19 vaccination location near you, go to www.vaccines.gov.
* More on the stealth omicron subvariant…
Why is it called stealth omicron? You cannot identify the type of variant through a PCR test like you can with omicron. Genomic sequencing has to be conducted in a specialized lab to identify the variant, which takes longer.

In Denmark, where stealth omicron cases are rapidly increasing, it went from 20% of cases in December, to 45% of cases two weeks ago, and now it's about 65% of cases. […]

Early studies in Denmark indicate stealth omicron doesn't create a higher risk of hospitalization compared with omicron.

Denmark recently found that stealth omicron is as much as 1.5 times more transmissible than omicron.
* The federal government really needs to step up, and not just for restaurants. Omicron has been devastating. Just because there are no government shutdowns does not mean there haven't been business problems. Wall Street may have done well, but this president has repeatedly said he was more concerned with Main Street. Well, it's bad…
In Illinois, 4,524 restaurants received federal grants totaling more than $1.4 billion. But 15,674 applied for nearly $3.5 billion, meaning more than 71% of Illinois restaurants did not receive funds, according to SBA data. […]

The Independent Restaurant Coalition, a grassroots group that sprung up as the pandemic took its toll on the industry, found 42% of businesses that did not receive a restaurant grant are in or on the verge of bankruptcy, according to a nationwide survey conducted this month. […]

The coalition has been pushing for Congress to replenish the restaurant fund. Such a measure was not included in President Joe Biden's $1.75 trillion Build Back Better Act, which was approved by the House in November but stalled in the Senate. Several other stand-alone proposals, however, are gaining traction.

The clear front-runner is the $48 billion Cardin-Wicker bill, Polmar said. The bipartisan proposal, introduced in the Senate in August, would provide funding to the nearly 180,000 applicants that did not receive grants during the initial Restaurant Revitalization Fund awards last year.
* Press release…
The Illinois Department of Public Health (IDPH) is announcing the availability of 225,000 free, rapid COVID-19 self-administered test kits through Project Access Covid Tests (Project ACT) to residents in certain zip codes in 14 Illinois counties. Project ACT is a new direct-to-consumer mail order program in partnership with the Rockefeller Foundation, health care technology company CareEvolation, test manufacture iHealth Labs, Inc., and logistics provider and distribution leader Amazon.com.

IDPH encourages eligible residents in vulnerable communities in 14 counties to order these free COVID-19 tests. Counties include Cook, DuPage, Henry, Jackson, Jefferson, Kankakee, Lake, Macon, Madison, Marion, Peoria, St. Clair, Will, and Winnebago counties. Residents living in specific zip codes [click here] can go to AccessCovidTests.org to sign up for a free home delivery. These tests are available on a first-come-first-served basis. Each household will receive five tests within one to two weeks after ordering. In this initial phase, there is a limit of one kit per household and each kit will include five tests. The tests and shipping are free to eligible residents.
* From The Atlantic…
Though many clergy are pro-vaccine, they often feel paralyzed or confused talking with congregants about their own stances, according to Curtis Chang, a consulting professor at Duke Divinity School. Chang also runs Christians and the Vaccine, a project dedicated to helping pastors use biblical principles to encourage congregants to get their COVID shots. While about 90 percent of evangelical faith leaders say they would encourage others to get inoculated, less than half of evangelical congregants are in favor of it. "What's happening is that the base is actually taking their cues on social and political issues not from their pastors primarily," Chang told me, "but from Fox News." He believes that as some conservative politicians continue to push the idea that vaccine mandates strip the populace of its civil liberties, faith leaders are losing their influence over their congregation.
* Daily Herald…
On Thursday, 37,652 more COVID-19 shots were administered. The seven-day average is 36,787.

The state's positivity rate for COVID-19 cases is 9.4% based on a seven-day average.

So far, 8,357,859 people have been fully vaccinated or 66% of Illinois' 12.7 million population, according to the U.S. Centers for Disease Control. The CDC defines fully vaccinated as two doses of the Pfizer or Moderna vaccine, or one dose of Johnson & Johnson's.

Of those people who are fully vaccinated, 46.5% have received a booster shot.
* House media rules for next week were just distributed. No real surprises. But it was mentioned that Senators will not be allowed onto the House floor for what is usually a joint session. They can watch from the gallery or elsewhere. House members are being allowed to watch from their offices and there will be no committee of escorts.
…Adding… Meant to post this and forgot…
Centenarian Holocaust survivor Margot Friedlaender urged the young generation on Thursday to always remember the Nazi genocide and denounced the use by some anti-COVID vaccination protesters of the yellow star Jews were forced to wear.

"Today, I see the memory of what happened being abused for political reasons, sometimes even derided and trampled all over," she told EU lawmakers in Brussels at a ceremony marking the 77th anniversary of the liberation of the Auschwitz concentration camp in Poland.

"Incredulous, I had to watch at the age of 100 years how symbols of our exclusion by the Nazis, such as the so-called 'Judenstern', are shamelessly used on the open street by the new enemies of democracy, to present themselves - whilst living in the middle of a democracy - as victims," Friedlaender added.

She was referring to some demonstrators at anti-vaccination protests who have pinned yellow star badges to their clothes, reminiscent of the cloth badges the Nazis forced Jews to wear to mark them as outsiders.
People who do such things are beneath contempt.
* I am in dire need of a haircut and I made an appointment for lunchtime. But, when I did, I forgot that Sangamon County Judge Reylene Grischow could issue an order or decision today on the Tom DeVore case(s). Too late to back out now, so if something breaks while I'm gone, you can use this post to discuss. Keep a close eye on the live coverage post. Otherwise, it's just another open thread.
…Adding… MD 2020 is called "Mad Dog" for good reason. Stay away from that stuff…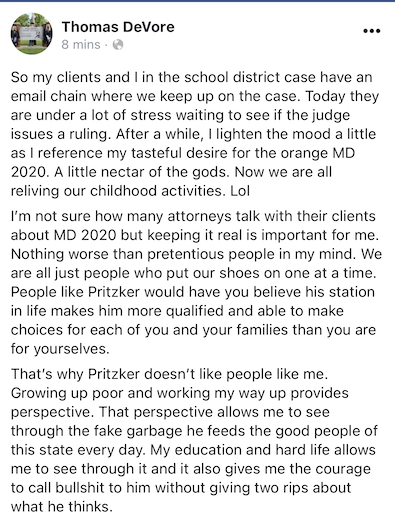 * Greg Hinz…
He's in.

Chicago businessman Jonathan Jackson has filed federal paperwork to run for the congressional seat being vacated by U.S. Rep. Bobby Rush, D-Chicago, almost certainly a sign that the son of civil rights leader, the Rev. Jesse Jackson, and the brother of former congressman Jesse Jackson Jr. will enter the race. […]

An official announcement is expected next week.

Several other candidates already are in the race, including Chicago Ald. Pat Dowell, 3rd; state Sen. Jacqueline Collins, D-Chicago; and county workforce development official Karin Norington-Reaves.
* Press release about the same district…
Pat Dowell, Alderman and Committeeman of Chicago's Third Ward, and candidate for Democratic Nomination for Congress in the First District of Illinois, this week announced endorsements from major political players supporting her campaign.

"I am very humbled by the growing support for our campaign. There is a lot of work to be done on this campaign and in Congress. I am so grateful to have the help of so many folks," said Pat Dowell.

Dowell announced endorsements from:

Former Ambassador and Senator Carol Moseley Braun
State Senator and Committeeperson Mattie Hunter
State Representative and Committeeperson Bob Rita
State Representative Lamont Robinson
State Representative Kam Buckner
Cook County Commissioner Bill Lowry
Alderman and Committeeperson Howard Brookins
Alderman Carrie Austin
Alderman and Committeeperson Sue Sadlowski Garza
Alderman Maria Hadden
Alderman Brian Hopkins
Alderman Michele Smith
Alderman and Committeeperson Tom Tunney
Alderman and Committeeperson Scott Waguespack
* Fundraising appeal…
Friend,

I have a big announcement to share.

I've mentioned before that Illinois Policy plans to take on government union bosses this year. And we've finalized our strategy, the Full Slate Strategy.

What does the Full Slate Strategy look like?

Recruit pro-free-market candidates who will fight for taxpayers.
Illinois Policy will identify and support candidates who care about their neighbors and community, not special interests and government union bosses.

Give voters real choices.
Voters deserve candidates who aren't tied in with the corrupt establishment. On average over 50% of house seats are uncontested. Incumbents run unopposed and voters' voices go unheard. We'll give voters options in 2022.

The 2022 elections are pivotal - Inflation is the highest it's been in 30 years, emergency powers are slowing economic progress, and government union bosses continue to fight parents on public education.

In order to successfully launch the Full Slate Strategy, I've set a goal to raise $625,000. I am personally asking for your support to take on government union bosses and the special interests.

Will you donate $25, $50, $100, or any generous amount to recruit pro-free-market candidates? Click here to donate >>>

We are recruiting, thoroughly vetting, and training pro-free-market candidates to run for office where the current incumbent lawmaker faced no opponent in 2020.

To date, our team has interviewed and vetted qualified candidates to run in 37 of these districts.

Once completed, we are then asking potential candidates to sign a commitment form.

This shows that they are steadfast in ending "business as usual" in Springfield and Chicago.

Donate $25 >>>
Donate $50 >>>
Donate $100 >>>
Donate $250 >>>
Donate $500 >>>
Donate $1,000 >>>
Donate $2,500 >>>
Donate Any Amount>>>

In less than a year, Illinoisans have seen two tremendous victories that many believed were politically impossible:

The decisive defeat of the progressive tax.
The long-awaited end to Mike Madigan's tenure as the nation's longest-serving legislative leader.

These are major wins, but this is only the beginning. With your continued support, we will recruit better legislators and local leaders who will continue Illinois' comeback story.

Thank you,

Matt Paprocki
President
Illinois Policy
* Politico…
Democratic Rep. Marie Newman, who's also running in the IL-06 congressional primary, has been endorsed by the Cook County College Teachers Union Local 1600, an AFT/IFT local. Newman also won the support of the National Organization for Women PAC, Feminist Majority, and the National Women's Political Caucus.
* More…
* Kaegi botched COVID tax relief: The Cook County assessor cut values based on jobs he thought neighborhoods would lose due to the pandemic. It was a wild miscalculation that worked out well for some, including Mayor Lori Lightfoot, not so well for residents of a poor South Side neighborhood

* ADDED: Kaegi responds
…Adding… Press release…
Today, the International Union of Operating Engineers Local 150 and the Mid-America Carpenters Regional Council have endorsed Sam Kukadia for Cook County Board in the 9th District. Mr. Kukadia is a business owner and member of IUOE Local 150 seeking the Democratic Party nomination for the Cook County Board. These endorsements, coupled with Mr. Kukadia's raising more than $50,000 in one week, shows he is gaining early momentum in a race that could get crowded in the coming weeks.

"Brother Kukadia as a member and Local 150 contractor, not just talks the talk but walks the walk when it comes to protecting working families. He understands workers deserve fair wages and benefits for an honest day's work. He will ensure that the men and women in Organized Labor have a seat at the table while serving as a Cook County Board Member," said President Business Manager James Sweeney of IUOE Local 150.
Madison County State's Attorney Tom Haine filed a lawsuit Friday in an attempt to block what he called a "dubious" new Illinois law that requires judicial elections to be decided by voters in new sub-circuits rather than countywide.

Illinois GOP leaders have called the new law a judicial "power grab" in the Metro East county where much of the nation's lucrative asbestos litigation is filed but voters have lurched to the right in recent elections.
Madison County State's Attorney Tom Haine announced today that a Sangamon County judge has granted a temporary restraining order (TRO) halting the implementation of the recently-enacted legislation creating new judicial subcircuits in Madison County.

The TRO was in response to a lawsuit Haine filed on January 21 on behalf of Madison County which challenges the constitutionality of the subcircuit legislation. Judge Ryan Cadagin of Illinois' Seventh Judicial Circuit issued the ruling on January 24, 2022 after an in-person hearing in Springfield, and the text of the order was released today, January 25.

The four-page TRO prevents the Governor, the State Board of Elections, and the Clerk of the Supreme Court "from taking any steps to enforce or institute the Judicial Circuits Districting Act of 2022." Specifically it orders the Clerk of Supreme Court to "recertify the original vacancies of the Honorable David Dugan and the Honorable Richard Tognarelli, as they were before the passing of the Act." The order also mandates that "Any petitions collected on or between January 22 and January 24 for a sub-circuit election [for the above vacancies] shall be accepted by the State Board of Elections for the reinstated county wide residency election." And it states that it "shall continue in full force and effect until the court conducts a hearing on Plaintiff's Motion for Preliminary Injunction."

The preliminary injunction hearing is set for February 15.
First, the circuit court did not preserve the status quo of a duly enacted law taking effect but rather upended the status quo.

Second, the circuit court committed an error of law and abused its discretion when it entered an overly broad TRO that invalidates the Act not just in Madison County, where respondents sought the injunctive relief based on section 2f-13, but statewide. Respondents never sought this relief.

Third, the TRO improperly orders the Illinois Supreme Court Clerk to recertify two judicial vacancies in Madison County, which currently are allocated to a new judicial subcircuit created under the Act. But the Clerk has no such authority. Only the Chief Justice of the Illinois Supreme Court may make such certifications.
* Bloomberg…
At the end of 2020, Illinois risked a downgrade to junk-bond status after taking emergency loans from the Federal Reserve to allay revenue losses from the pandemic. The state had almost no rainy day fund, paid an ever-higher penalty to borrow in the $4 trillion municipal bond market and Pritzker's plan to collect more taxes from the wealthy was rejected by voters.

"The state has done a lot in recent years to right its fiscal ship," said Amanda Kass, associate director of the Government Finance Research Center at the University of Illinois in Chicago. "Is that a blip in a long-term trend or is this the start of an upward trajectory in the state's finances?"

The state has a history of financial missteps. Its unfunded pension liability had ballooned because it didn't contribute enough for decades, leading it to take on billions in debt. An impasse between former Governor Bruce Rauner, a Republican, and the Democrat-controlled General Assembly resulted in the state having no budget from 2015 to 2017, sending unpaid bills soaring and creating more debt. […]

The penalty Illinois pays compared to benchmark 10-year municipal securities has remained under 1 percentage point for the last nine months, after reaching more than four percentage points in May 2020, but it's still the highest among peers.
Yeah, well, I'll take it.
* The Illinois Criminal Justice Information Authority commissioned a study on the effect the 2015-17 Rauner impasse had on rape crisis centers (RCCs) in Illinois. It wasn't as bad as I might've expected, but that's not to say that we should ever let this happen again…
Study findings showed RCCs' service delivery was negatively affected by the budget impasse, with criminal justice advocacy and individual counseling significantly decreasing after 24 months of the budget impasse. Aggregate telephone counseling hours rose sharply at first but resumed a normal pattern after 12 months of the budget impasse. This suggests a direct relationship between state funding and service delivery.

Rural RCC services were more affected by the budget impasse than those of their urban counterparts. Rural centers saw a statistically significant reduction in group counseling hours at 12 and 24 months. Medical advocacy hours also significantly decreased at 24 months. However, telephone counseling showed significant increases at six, 12, and 24 months into the budget impasse. It is not surprising that rural RCCs, to which clients face perennial transportation barriers, would increase their telephone counseling hours while decreasing in-person counseling.

Overall, RCCs were negatively affected by the budget impasse with decreases in service hours for some categories yet no centers closed their doors during this time. This survival is a testament to the hard work and resilience of Illinois RCCs amid a period of fiscal uncertainty and instability. More research is needed to assess the qualitative and long-term effects of the impasse and should take into account any new funding made available in state fiscal year 2018, including increased VOCA funds. Long-term financial sustainability is not easy to accomplish with few sources of unrestricted funds. This study suggests RCCs are good at planning for financial uncertainty and coming up with solutions when finances are tight.
* From the OEIG…
An OEIG investigation relating to the administration of Employee Benefit Funds (EBFs) at the Illinois Department of Corrections (IDOC) was recently released. EBFs exist at all of the IDOC Correctional Centers and at its central administrative office in Springfield. Although EBFs serve a purpose in boosting employee morale, the EBFs at each facility operated independently, with little to no oversight, whether through audits, implementation of clear policies and procedures, training, or otherwise.

The investigation revealed that although IDOC's Administrative Directives limited the primary source of the EBFs' revenues to profits from vending machines and employee commissaries, most of the EBFs had expanded their revenue streams by generating large sums of money from fundraising. These expansive fundraising efforts, in turn, led to various problematic practices, such as soliciting donations from local businesses without ensuring that they were not State vendors, improperly holding raffles, selling merchandise in a way that evaded statutory and IDOC limitations, and devoting large amounts of State time to EBF activities. In addition, the investigation discovered that the EBFs spent much of the funds they raised on employee entertainment; in some cases they spent their funds in ways that benefitted only a select few employees. The EBFs also improperly used inmate labor for their fundraisers.

In response to the report, and at the direction of the prior and current gubernatorial administrations, IDOC undertook an extensive review and overhaul of EBF procedures. A senior IDOC employee was also suspended for 15 days. A copy of the report, In re: John Baldwin and Edwin Bowen (OEIG Case #17- 01266), is available on the OEIG website.
* From that report…
The investigation also revealed that many EBFs use inmate labor for fundraising events such as car washes and shoe shining events [contrary to state law.] […]

IDOC [Identifying Information Redacted] [IDOC Senior Staff Employee] told investigators that previously, the EBFs kept all profits from the fundraisers they held that used inmate labor, but 12 to 18 months ago there was a policy decision with IDOC Chief of Staff Edwin Bowen that required the EBFs to split the profits from such fundraisers equally with the Inmate Benefit Fund and the institution's 523 fund. Nevertheless, [IDOC Senior Staff Employee 1] said he felt that using inmate labor to raise funds for the EBFs is "bad optics," "bad ethically," and "bad morally." He added: "It's really hard for me to just honestly stomach the idea that … employees benefit from offender labor."
Sheesh. Using inmates for a shoe-shining event to pay for staff parties and gifts. That goes beyond "optics." What is this, Mississippi?
*** UPDATE *** The governor's office insists that doing things like using inmates to raise money is no longer happening under their watch. Gov. Rauner's administration agreed to implement the OEIG's recommendations.
* Meanwhile…
An Illinois Department of Corrections (IDOC) employee has pleaded guilty to two of the charges against him.

Michael S. Williams, 52, of Auburn, was facing 25 counts of custodial sexual misconduct and eight counts of official misconduct.

Williams served as an IDOC Correctional Food Service Manager before he was charged in 2019.

Allegations first came to light in April 2019. He was arrested by Illinois State Police in September of 2019 at the Decatur Correctional Center.
* On to WICS…
In Illinois, 34 prisons are on lockdown because of COVID-19 outbreaks.

These lockdowns come just two weeks after the Illinois Department of Corrections (IDOC) stopped taking inmates from county jails due to outbreaks.

This has impacted Sangamon County Jail.

The number of inmates Sangamon County Jail has to transfer to Department of Corrections has doubled in just two weeks.
* Capitol News Illinois…
In mid-January, 3,300 incarcerated people and nearly 1,100 staff members at Illinois prisons were infected with the disease. While hospitalizations have been rare during the latest wave, according to the state, one person in custody and two staff members have died.

With the pandemic fast approaching its third year, state prison officials are facing difficulties containing the virus once again because of the lagging vaccine rate of prison staff, the main conduit of COVID-19 into the prisons.

In August, Gov. JB Pritzker ordered all guards to be vaccinated, but their union protested the mandate and took it to arbitration. The governor prevailed in late December. Now, all prison workers must have their first shot by the end of January.

By the end of December, 65% of prison staff had been vaccinated, according to department officials who nevertheless remain confident that nearly all staff will meet the January deadline, citing markedly improving vaccination rates since the end of October, when only 49% were vaccinated.

But the slow rollout means very few of them — only 12% — have had booster shots, which are administered six months after the first round of vaccines but are crucial to warding off the omicron variant. By comparison, 44% of Illinois prisoners had received boosters by the end of the 2021.
* Mike Miletich…
Illinois Gov. JB Pritzker was recognized Tuesday during a national summit discussing solar energy. Pritzker and Washington Gov. Jay Inslee talked about efforts in both states to get closer to 100% clean energy.

The Chicago Democrat noted that the massive clean energy law passed and signed last year gave a boost to the Solar for All allocation for low-income communities. Pritzker also said $20 million will go directly to low-income community solar pilot projects.

"My vision for community solar is that it works as designed by supporting low-income communities who want to participate in growing clean energy and our clean energy economy and that it continues to expand," Pritzker said.

Pritzker says states need additional funding from the federal government to help support community solar programs. He explained renewable energy procurements are funded by customers. Pritzker believes the more federal funding Illinois receives, the less ratepayers with have to pay upfront.

Inslee and Pritzker also talked about the importance of equity in the goals to address the climate crisis. Pritzker said 5% of the Solar for All funds are directed to community-based groups and other qualifying organizations that can help with general education and outreach efforts.
He attended virtually.
* The governor won't be attending the in-person NGA confab this weekend…
he National Governors Association (NGA) will host the nation's Governors in person for the first time in two years, as the leaders of states and territories discuss best practices and bipartisan collaboration on leading policy issues including infrastructure, computer science education and cybersecurity, as well as the importance of bipartisan leadership.

NGA's 114th annual Winter Meeting is scheduled for this weekend, Jan. 28-31 in Washington, D.C.

Governors will join Cabinet secretaries and leaders from business, academia and philanthropy for solutions-driven conversations around the top issues in states and territories, including those raised or underscored during the public-health challenge that began in early 2020.
A Pritzker spokesperson says the governor is still working on his budget address and busy with other things.
Open thread
Friday, Jan 28, 2022 - Posted by Rich Miller
* Yep…
Presenting lack of proper moderation as if it's a virtue that protects free speech, when actually it just drives out anyone who doesn't wanna be surrounded by the most toxic hateful abusive people.

— FuchsiaShock 🏳️‍⚧️ (@ThatSabineGirl) January 27, 2022
OK, I got that off my chest. What's on your mind today?