* You may recall that, based on his campaign kickoff video, I asked Richard Irvin not long ago why he thinks kids are being indoctrinated in Illinois…
What I said is students should not be indoctrinated and that parents should have a voice in their education in the state of Illinois. We should make sure that we give parents the opportunity to to participate in their youth's education.
Hannah Meisel followed up to ask if he thought kids were being indoctrinated here. Irvin ignored her question.
Well, here's a new Richard Irvin Facebook ad…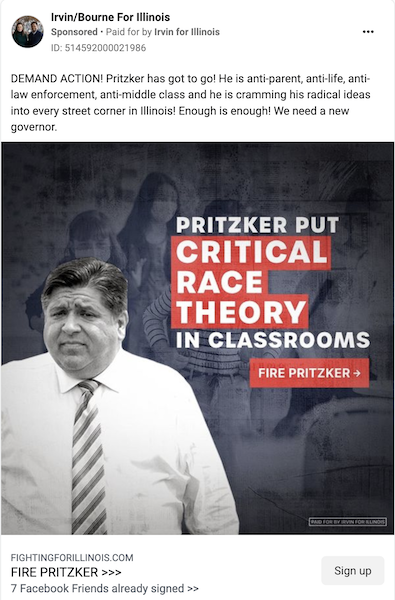 * Politico…
— Lobbyist reform: Ald. Silvana Tabares (23rd) has 15 aldermen on board for an ordinance that would clamp down on lobbying in city government. As we mentioned yesterday, the move was prompted by reports that City Clerk Anna Valencia failed to disclose her husband's income as a lobbyist.

Valencia called the ordinance "a political stunt" since Tabares has endorsed her opponent for the secretary of state race, Alexi Giannoulias. Hanah Jubeh, Giannoulias' campaign manager, responded that Valencia is "finger-pointing" instead of "taking responsibility." NBC 5's Mary Ann Ahern has more
It's clever. You gotta give 'em that.
* US Rep. Mary Miller has been endorsed by the Club For Growth. Here's the Rodney Davis campaign's response…
Carpet-bagging politician Mary Miller is touting the endorsement from a Washington, DC, group opposed to the Farm Bill, even as her family businesses have raked in over $1 million in government subsidies from Farm Bill programs over the years. The Club for Growth is the most prominent advocate for defeating the Farm Bill, calling it in 2018 "…nothing less than socialism with a Republican seal of approval on it." Why would Mary Miller tout an endorsement from a group so hostile to her own constituents? Does Mary Miller agree that the Farm Bill is nothing less than Socialism?

"Like a true politician, Mary Miller has mastered the art of saying one thing and doing another. She has personally profited off Farm Bill programs to the tune of $1 million even as she touts the endorsement of a group who opposes the Farm Bill. By bragging about receiving the endorsement of Club for Growth, Miller is telling Illinois farmers that she wants to go back to Washington and work with a group who is actively opposed to the interests of the Illinois agriculture community. Miller should be ashamed for aligning herself with a group so outwardly hostile to our way of life. She should renounce her endorsement from Club and publicly reject any financial support they may be willing to offer." - Davis campaign spokesperson Aaron DeGroot

Club for Growth, a DC based dark money organization, has been one of the leading opponents of the Farm Bill, federal legislation with vital programs that support the American farmer, agribusiness, and rural America as a whole. Club for Growth opposed the Farm Bill in 2018 and 2014 and is expected to oppose it again next year.

Club for Growth also runs a DC-based Super PAC that will be one of Miller's biggest backers in her campaign for Congress. Miller said she was "honored" to be endorsed by Club for Growth. They are opposing Rodney in part because of his support for legislation like the Farm Bill, which delivers for Illinois Farmers.

Meanwhile, Mary Miller's family business has received over $1 million in government subsidies from Farm Bill programs over the years. Mary Miller and her husband Chris are officers and co-owners of Miller Bros Farms, which is incorporated in the state of Delaware, a domestic tax shelter.

Chris Miller, has received $942,419 in USDA subsidies. Mary's businesses Miller Bros. Farms, Inc. and Miller Bros Inc, have received $104,742 and $34,871 in USDA subsidies, respectively.

Rodney Davis is a strong supporter of the Farm Bill and the benefits it provides to Illinois farmers. As a member of the House Ag Committee, Rodney served as a Farm Bill conferee in 2013 and 2018, negotiating a successful Farm Bill and improving its programs twice. Rodney regularly meets and talks with Illinois farmers and members of the Illinois Farm Bureau and advocates for their concerns in Congress. He knows how vital Farm Bill programs are to farmers in Illinois and across the country. He is a proud recipient of the Illinois Farm Bureau ACTIVATOR endorsement for the 2022 Primary election.
* More Schneider oppo…
Democratic Rep. Brad Schneider of Illinois violated a federal conflicts-of-interest law by disclosing two personal stock trades about two months past a federal deadline, according to financial records reviewed by Insider. […]

"Representative Schneider inadvertently did not hit the 'submit' button when entering a stock transaction in December," spokesperson Maggie Harden told Insider in a statement. "He discovered the error last week and immediately submitted the data and paid the associated late fee. The mistake has now been fully resolved."
* I told you yesterday that it looked like US Rep. Mike Quigley is testing the waters for the 2023 mayor's race with a new poll. From Greg Hinz's subsequent report…
Lightfoot shrugged off news of the polling by Quigley. "What I focus on every day is doing my job. The politics will take care of itself," she said when asked about the polling at a press conference. "I'll make my case to the people. The voters will be the ultimate decision makers."
Quigley floated his name in 2018 as well.
* Press release…
Today, Alderman Gilbert Villegas announced the endorsements of four new members of Congress from across the country. U.S. Representatives Salud Carbajal (D-CA 24), Joe Neguse (D-CO 4), Kai Kahele (D-HI 2), and Richie Torres (D- NY 15) released the following statement in support of his campaign.

"In an uncertain world with ordinary people facing tremendous economic challenges, voters need a proven fighter like Gilbert Villegas in Congress. Gilbert's service in the Marine Corps, leadership in the Teamsters union, and service to the people of Chicago in the City Council give us confidence he'll focus on the right priorities and get things done for the people of Illinois. We're proud to support his campaign," said U.S. Representatives Carbajal, Neguse, Kahele, and Torres.

Villegas released a response in reaction to the endorsements.

"It's incredibly humbling to receive the support from so many incredible public servants from across this great country." said Alderman Gilbert Villegas."Our campaign is gaining momentum every day because we're staying focused on the issues that matter most to the voters."
41 Comments


























































































































Sorry, comments for this post are now closed.