* Background is here (scroll down) and here (/snark) if you need it. Illinois State Board of Elections…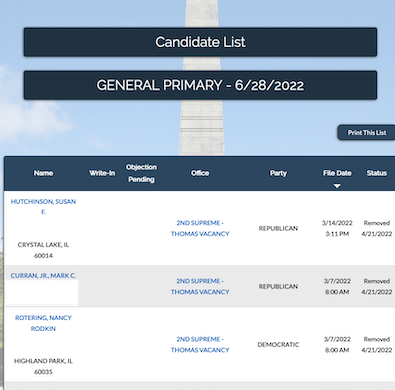 Awaiting reaction.
*** UPDATE *** Rotering campaign yesterday…
Illinois Supreme Court candidate Nancy Rotering and the other candidates affected by yesterday's Illinois State Board of Elections' ruling will be filing an appeal in court today. They will request an expedited hearing and stay of the electoral board decision. We are disappointed that the Illinois State Board of Elections acted contrary to its own Candidates' Guide and the recommendations of its Hearing Officer and General Counsel that Nancy Rotering's name appear on the ballot as a candidate for Supreme Court Judge. We believe the courts will ultimately support the right of the voters to choose their Supreme Court candidates in the June 28 primary election.
No Comments
Be the first to comment.
Sorry, comments for this post are now closed.