* This is legal, but the Chicago FOP president is still gonna have to explain to his members why he spent their cash to help a losing candidate pay back a loan to herself after the election…
This is also one reason why the Chicago FOP funneled $50,000 through a newly formed PAC "United Working Taxpayers" to run negative campaign mailers against Jones' opponent.

— The People's Fabric (@peoplesfabric) July 11, 2022
Jones was clobbered by Sen. Rob Martwick (D-Chicago).
* WMBD…
Bailey made national headlines after his comment on the Highland Park mass shooting that left seven dead. Bailey said, "let's move on and celebrate the independence of this nation". He later apologized for his comments.

"No, I apologized for that and as a matter of fact that was taken out of context," said Bailey
Then why apologize?
* Really old news…
THIS RACE IS GETTING WEIRD: Democrat Alexi Giannoulias and Republican Dan Brady may face another opponent on the ballot for secretary of state. His name is (drum roll) Jesse White, a Libertarian, who shouldn't be confused with Democrat Jesse White, who has held the job for 20-plus years.
We discussed a State Journal-Register story about the Jesse White development way back in January.
* Tom Kacich…
Democrat Paul Lange, running for Congress in a district that gave Donald Trump 72 percent of the vote in 2020, knows he's something less than a longshot against incumbent U.S. Rep. Mary Miller, R-Oakland, who bulldozed another incumbent Republican two weeks ago.

"I think I have a chance," said the Quincy man who last ran for public office (and lost) as a candidate for state representative in 1994 and 1996. "Is it a large chance? No. But you know, I grew up a fan of the Baltimore Colts and the Baltimore Orioles." […]

Lange said he isn't relying on state or national Democratic committees to support his campaign.
He's not "relying" on them because they're not going to give him any money. Donald Trump won the district by 38.6 percentage points in 2020 and 38.1 percent in 2016. Bruce Rauner won it by 26 percent. The only statewide Democrat to eke out a victory was Jesse White (the real one, not the Libertarian). JW won by 3.2 percentage points in 2018. All of this reliable data is easily accessible online.
* This is the most Dan Lipinski thing ever. Gin up lots of favorable news media coverage, allow volunteers to collect thousands of signatures and oops…
UPDATE: Turns out, Lipinski couldn't run as an independent anyway because he said he took a Democratic primary ballot last month https://t.co/ml968uR0dv https://t.co/j19b1tooXt

— Rich Miller (@capitolfax) July 11, 2022
Lipinski said the law didn't play into his decision not to run. "I was told a challenge would very likely prevail," he told Playbook. "And challenging the law would demonstrate how the system is rigged by the two parties against independents."
* You really can fool some of the people all of the time with nonsense…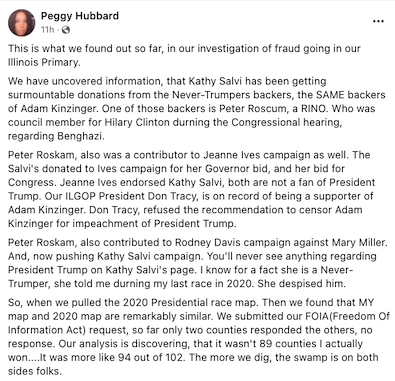 * Related…
* Major fundraising underdogs among challengers to unseat incumbents: "You know, I don't want to say, well, Madigan would have won it and Welch didn't sort of thing," Redfield said. "Because you can't ever go back. Madigan, a couple of cycles ago, you'd be shocked."
33 Comments


































































































Sorry, comments for this post are now closed.