* We've been talking about all of these things and more for quite a while here, but the Tribune finally put some of them together in one piece headlined "GOP attorney general candidate Thomas DeVore has record of taking critics to court, including his girlfriend's mom and Gov. J.B. Pritzker"…
While running for a downstate school board seat five years ago, Republican Illinois attorney general candidate Thomas DeVore complained in a Facebook post about students who struggled to make correct change at a concession stand during a basketball game.

"Lord help us with the window lickers, I mean special children," DeVore, a civil attorney from Sorento, wrote.

People critical of DeVore's post shared it more widely and in one case urged area residents to contact his law office. DeVore proceeded to file a libel lawsuit in Montgomery County against three people, including a local special education teacher, alleging they had falsely accused him of ridiculing "children with 'special needs.'"
* Speaking of DeVore, he highlighted this button on his Facebook page yesterday…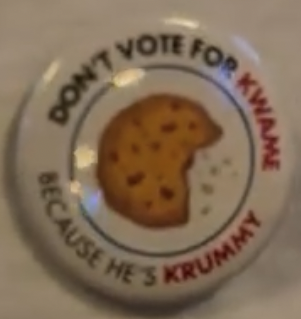 I kinda think I want one.
* Here we go again…
Last edition alleged Pritzker planned to release criminals of color into white neighborhoods. New edition alleges Pritzker plans to populate your schools with perverts. Coordinated with Bailey campaign text. #twill pic.twitter.com/b2×4dM5iT6

— Beachwood Reporter (@BeachwoodReport) September 10, 2022
* CD8 oppo dump!…
Chris Dargis, Republican candidate for Congress in Illinois, was a key advisor to PAR Technology, a New York-based "global provider of restaurant software" which has sourced products from a factory using alleged Uyghur forced labor.

Dargis is taking on Raja Krishnamoorthi, three-term sitting Indian American Democrat in Illinois's 8th congressional district, in the Nov. 8 midterm election.
* Catalina Lauf has scrubbed her campaign website of abortion references. Up until very recently, this was on the 11th Congressional District Republican nominee's "Issues" page, via the WayBack Machine…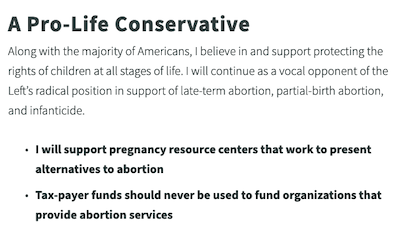 If you click here and go to her Issues page now, that passage no longer exists. A search of her website shows no mention of her stance. Scrubbing campaign sites of all references to anti-abortion stances has lately been something of a national trend.
* We talked last week about a Democratic ad whacking 17th Congressional District Republican nominee Esther Joy King. A TV news fact-check of the ad found one attack misfired because Politico made what turned out to be a false claim. Another fell through because the Democratic PAC didn't look far enough back in the records. And two were true.
* IL AFL-CIO…
Alyssa Goodstein has joined the Illinois AFL-CIO as Communications Director, effective September 1. Alyssa will focus on building the organization's statewide and federal strategic communications efforts, while working with local affiliates to develop public affairs programs.

"We are excited to have Alyssa leading our communications team, bringing a creative eye and breadth of experience to the table," said Tim Drea, President of the IL AFL-CIO. "Most recently, Alyssa served as Deputy Chief of Communications to Chicago City Clerk Anna Valencia. In this capacity, she advised on message development, managed media relations and crisis communications for a citywide office serving 2.69 million constituents."

Previously, Alyssa was Chief of Staff to Illinois State Senator Sara Feigenholtz (D-6), running Feigenholtz's district and Springfield operations. She was also one of the ten original staff members on Mayor Lori Lightfoot's primary campaign, developing outreach and field strategy that contributed to the mayor's historic victory. In addition to her work with the federation, Alyssa is the LGBTQ+ Caucus Director for Young Democrats of Illinois, building relationships with stakeholders throughout the state to enhance LGBTQ+ advocacy efforts.

A native Californian, Alyssa holds a Bachelor of Arts in History from UCLA and earned her Master of Arts from the University of Chicago in 2018.
* PPIA…
Today, the Planned Parenthood Illinois Action (PPIA) Board of Directors, the non-partisan political and advocacy arm of Planned Parenthood of Illinois, announces its endorsement of Alexi Giannoulias for Illinois Secretary of State.

"We are endorsing Alexi Giannoulias because we must remain vigilant to keep abortion safe and legal in Illinois," said Jennifer Welch, President and CEO of PPIA. "Giannoulias has been a long-time champion of this fight to preserve and expand abortion access. Giannoulias recognizes that abortion bans disproportionately impact the people who already face the greatest barriers to health care, including Black, LatinX, Indigenous folks, disabled people, young people, people in rural areas and immigrants. He will work tirelessly to protect the right and access to care for those already having difficulty making ends meet."

Giannoulias said, "I am honored to receive Planned Parenthood Illinois Action's endorsement. I have always been pro-choice and have always supported access to reproductive health care. Now more than ever, I am committed to defending everyone's freedom to make their own reproductive health care decisions. I want to make sure that no politician or government agency has the power to interfere with the right to obtain an abortion in the state of Illinois."

Since the SCOTUS ruling that overturned Roe v. Wade, Giannoulias has worked with state Rep. Ann Williams (D-11) and Rep. Kelly Cassidy (D-14) to develop legislation aimed at protecting the privacy of people who travel for reproductive health care.

PPIA endorses candidates based on their reproductive health care policies and their commitment to protecting the health and rights of all Illinoisans. A full list of PPIA endorsements and more information is available at ppiaction.org.
* Rep. Wheeler…
Representative Keith Wheeler today announces a coalition of job creators endorsing his candidacy in the 83rd District House race. The Illinois Chamber, Illinois Farm Bureau-Activator, NFIB Illinois, and the Associated Builders & Contractors (ABC) endorse Wheeler over Hanson for the Illinois House in the General Election on November 8.

"Our members support candidates who support small business. Representative Keith Wheeler has shown that he understands the challenges facing Illinois' job creators," said NFIB State Director Chris Davis. "Our members believe Keith Wheeler will continue his good work to create, protect, and maintain an environment where small businesses can thrive and create jobs."

"Small business owners and job creators here in the Fox Valley and all across Illinois are doing incredible work to grow our economy," Wheeler said. "As a state representative and a business owner, myself, I feel a special connection with these folks and an obligation to do everything I can to redirect state policies to make it easier for small businesses to do what they do best - create Illinois jobs for Illinois families."
* DuPage…
DuPage County Clerk Jean Kaczmarek announces that the DuPage County Fairgrounds' main parking lot will be completely repaved in 2023 thanks to a $585,000 polling place accessibility grant from the Illinois State Board of Elections. A portion of the parking lot was already repaved in 2022 thanks to an initial state grant of $149,000. The Fairgrounds serves as DuPage County's most popular polling place during Early Voting and Election Day.

"Nearly 34,000 people voted at the Fairgrounds during the 2020 General Election. Voters returning in 2022 will already notice a night-and-day difference in the condition of the main parking lot from funding from the first grant," Kaczmarek says. "Many of the bumps, potholes, gravel and puddles near the polling place are already gone. We're pleased that this latest grant was approved so the lot can be completed."
I was pretty skeptical when I first started reading that, but it sounds like a win/win.


Click here to help buy presents for LSSI foster kids!
15 Comments












































Sorry, comments for this post are now closed.