* Club For Growth pouring it on for Catalina Lauf, which is probably why Bill Foster has a new ad up…
Club For Growth Action now at over $1 million in the Biden +15% #IL11 backing Republican Catalina Lauf against Democrat Bill Foster https://t.co/GnQInplFgC pic.twitter.com/s2OLj36bWM

— Rob Pyers (@rpyers) October 26, 2022
…Adding… This is wild. Delia Ramirez? Really?…
NEW FEC F24
RESTORATION PAC
$767,050-> #NHSEN #AZSEN #NVSEN #IL10 #IL06 #IL03 #IL11 #IL14https://t.co/2jobogzP5p pic.twitter.com/TQV4gK3fVu

— CATargetAlt (@CATargetAlt) October 27, 2022
NEW FEC F24
DEFENDING THE REPUBLIC PAC INC.
$228,750-> #IL13 #IL11 #NC01 #IL17 #OH09https://t.co/fPHYWuoxbt pic.twitter.com/m0Qexf9cLI

— CATargetAlt (@CATargetAlt) October 27, 2022
* ABC 7's Craig Wall…
"If your daughter, at age 13, had become pregnant, would you not have wanted to be notified of it, so you could process it with her and work through this with her?" Craig Wall asked Pritzker.

"Sure, but my daughters' going to come talk to me if that happens and most daughters will," he answered. "It is those under threat by family; victims of incest are a perfect example of that." […]

"I do make the exception, always, when the life of the mother is at stake," Bailey admitted, but he wouldn't say the same for cases of rape or incest. "Personally, in my heart, I don't. But regardless of what I think, nothing is going to change in Illinois because of the makeup of the legislature." […]

"Amendment One is a hostile, liberal, it's a takeover by special interests, because now, teachers unions, instead of bargaining just for wages and benefits, see, that's not under threat in Illinois, but teachers unions now can begin to bargain for curriculum," Bailey said.
* I cannot believe they let Bailey get away with saying this without so much as a mention that he pledged to "roll out the red carpet" for Trump in 2024 earlier this year…
Bailey, who appeared with Trump at a rally prior to the June primary, says he is proud of the endorsement, but does not know whom he'll support in the 2024 election.
C'mon. Here's what Bailey said the day he was endorsed by Trump…
Friends, I've made a promise to President Trump that in 2024 Illinois will roll out the red carpet for him because Illinois will be ready for President Trump.
He locked himself in. But, down the memory hole it goes since the candidate doesn't wanna talk about it.
* But NBC 5 did solve a mystery about those "Bailey Endorsed by Trump" signs that have been popping up…
Recently, the Pritzker campaign has paid for yard signs noting former President Donald Trump's endorsement of Bailey in the primary.

"Are they embarrassed because Darren Bailey is supporting Donald Trump?," [Pritzker] asked.
* Dan Proft-funded yard sign…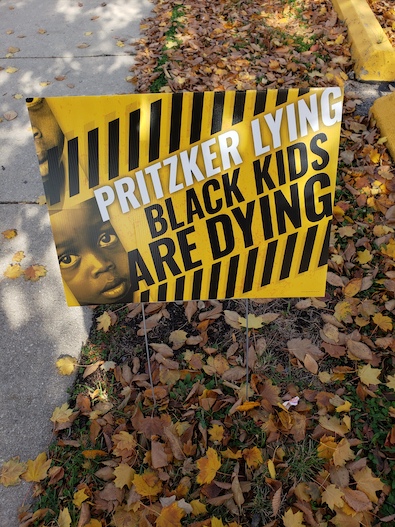 * Going strong in DuPage…
DuPage County Clerk Jean Kaczmarek announces a record-breaking start to voter turnout for the Nov. 8th election, with 2022 nearly doubling 2018 so far. At the start of today, voter turnout was 49,177 voters out of 615,626 registered voters for a turnout percentage of 8.0 percent. At the same point in 2018, two weeks out from the General Election, total voter turnout stood at 27,915 voters out of 639,752 registered voters for a turnout percentage of 4.4 percent. Total voter turnout in 2018 ended up at nearly 58 percent; turnout in 2014 was 49 percent.

The expansion of mail voting has made a significant difference. So far, 82,060 voters have requested mail ballots.

Of those who have voted so far in the 2022 election, 12,370 voters have voted early in-person and 36,807 vote-by-mail ballots have been returned. At the same point in 2018, 15,986 voters had voted early in-person and 11,929 vote-by-mail ballots had been returned.

"I'm pleased with the numbers, but not surprised," Kaczmarek says. "My top priority as county clerk was to increase voter turnout. To achieve this goal, I had to increase voter access. Promoting mail voting and doubling the number of Early Voting locations has us off to a strong start, and voters also will have the option to Vote Anywhere on Election Day."

Voters who have applied for a mail ballot are urged to complete it and return it via mail or drop box as soon as possible.

"Voters who have not yet applied for a mail ballot can still do so, but should not wait until the last minute," Kaczmarek says. "It takes times for a mail ballot to be processed, printed and delivered to a home. After this week, voters should instead consider voting in-person at one of our 22 Early Voting locations or any of our 269 polling locations on Election Day."
* By comparison, Chicago's vote totals are abysmal…
The most up-to-date Early Vote and Vote By Mail totals in Chicago, night of Wednesday, October 26, 2022.

The Early Vote total stands at 25,829 ballots cast.

Additionally, 44,142 Vote By Mail ballots have been returned to the Board – total VBM applications stands at 196,958.

The grand total is 69,971 ballots cast so far in Chicago for the November 8th General Election.
And then on election day, most Chicago voters are gonna have to deal with the fact that the board just recently moved their polling places.
…Adding… Statewide…
The @illinoissbe has updated early vote totals (10/27/22):
Total VBM requested: 826,189
Total VBM returned: 336,511
Total VBM outstanding: 489,678
Return Rate: 41%
Total Early Vote: 182,316
Total Grace Period: 2,588
Total Already Voted: 521,415https://t.co/44ga6AxRbY

— IL Election Data (@ILElectionData) October 27, 2022
* Candidates will often go to train stops during busy times to show their faces to as many people as possible…
This morning we had an awesome, early stop at the Fullerton CTA station meeting with voters on their commute alongside Tommy Hanson! Friends, I promise you we are working hard every dayto meet new people no matter where they are at. We will #firepritzker on November 8th! pic.twitter.com/hiBCpsCXRc

— Darren Bailey for Governor (@DarrenBaileyIL) October 27, 2022
* Isabel's roundup…
15 Comments












































Sorry, comments for this post are now closed.