*** UPDATE *** The bill will head to the governor…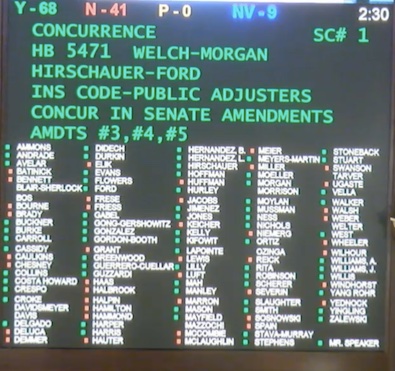 That's more "Yes" votes than last time.
…Adding… Press release…
Today, Protect Illinois Communities Chair and President Becky Carroll released the following statement on the House's passage of the Protect Illinois Communities Act, sending it to Governor Pritzker for signature:

Thanks to the tireless efforts of the legislature and leadership in both chambers, including Speaker Welch, President Harmon, and original bill sponsor Representative Morgan, along with the voices of hundreds of survivors and advocates who bravely shared their stories, and the work of numerous organizations that worked to advance gun reform, Illinois is now poised to have one of the strongest gun safety bills in the country.

The Protect Illinois Communities Act will help save lives and reduce the trauma inflicted upon communities across our state. That's something we can all be proud of, and we look forward to seeing Governor Pritzker sign this historic bill into law.
…Adding… Press release…
Statement of Mayor Nancy R. Rotering Regarding the Passage of the Protect Illinois Communities Act

Highland Park, Illinois – As we continue to mourn the horrific aftermath of last year's mass shooting in Highland Park and the gun violence losses in so many other Illinois towns and cities, we applaud the sponsors of the assault weapons ban and all ILGA members who took action to save lives, making Illinois the 9th state to ban assault weapons.

Banning assault weapons has proven to be effective at curbing gun violence, as shown by the ten-year Federal Assault Weapons ban that expired in 2004. While we know that no town or county is an island and appreciate that this state-wide ban will make it that much harder for someone with horrible intentions to obtain a combat weapon, neither is a state. This important step taken by our IL legislators sends a clear message to other states and the Federal government that we need continued bold action to address mass shootings across our nation. We urge them to continue their work towards protecting all Americans' rights to live free from fear of gun violence.
…Adding… Press release…
Following is a statement from State Rep. Bob Morgan in response to the Illinois House's passage today of HB 5471, a sweeping gun reform bill that includes an assault weapons and high-capacity magazine ban:

"For decades, the residents of Illinois have demanded common sense gun reforms to reduce the ripple of firearm deaths, and this week, the legislature met the urgency of the moment.

"This firearm reform legislation is among the strongest in the nation, and can serve as a model for other states looking to protect their residents and end the carnage in their communities.

"I thank my colleagues on the Firearm Safety and Reform Working Group, Reps. Ford, Gong-Gershowitz, Harper, Barbara Hernandez, Hirschuaer, Hoffman, Smith, Stoneback, Willis, Yednock, and staffers Kat Bray, Fallon Sellers, Hank Strickler, John Webb. This bill simply would not have passed without the steadfast leadership of Speaker Welch, Senate President Harmon, and Governor Pritzker as we navigated this complex but vitally important issue.

"Above all, I am in awe of the countless victims and survivors and family members who sat with us, told us their stories, and refused to give up until they got the change we all needed. This victory is a testament to their strength and resilience in the face of unimaginable pain, and I am forever grateful to them."
…Adding… Press release…
Following the passage of the assault weapons ban by both the House and Senate, Governor JB Pritzker issued the following statement.

"For a long time now, I and many other leaders in the Illinois General Assembly have prioritized getting the most dangerous weapons off our state's streets. Today, honoring the commitment we made, we passed one of the strongest assault weapons bans in the nation, one I will be proud to sign.

No Illinoisan, no matter their zip code, should have to go through life fearing their loved one could be the next in an ever-growing list of victims of mass shootings. However, for too long people have lived in fear of being gunned down in schools, while worshipping, at celebrations or in their own front yards. This legislation will stop the spread of assault weapons, high-capacity magazines, and switches and make our state a safer place for all. I look forward to signing this bill immediately, so we can stop the sale of these deadly weapons as soon as possible.

My deepest thanks to Speaker Welch and Senate President Harmon for championing this historic legislation, and to Representative Morgan for his leadership on this issue."
…Adding… ISRA…
Dear Gov. Pritzker, President Harmon, and Speaker Welch,

Challenge accepted. The Illinois State Rifle Association will see the State of Illinois in court.

Best Regards,

Richard A Pearson
Executive Director
Illinois Rifle Association
[ *** End Of Updates *** ]
* More background is here if you need it. Patrick Keck…
The Illinois Senate on Monday passed an amended version of the assault-style weapons ban. The Protect Illinois Communities Act now heads to the Illinois House of Representatives for a concurrence vote Tuesday.

The matter was discussed on the Senate floor in a relatively short debate with several Republicans rising in opposition to House Bill 5471. The final tally at 6:15 p.m. was 34-20 with four Democrats, including state Sen. Doris Turner of Springfield, voting against it.

Senate President Don Harmon introduced five amendments to PICA filed under HB 5471. Harmon detailed what they would entail on the Senate floor Monday evening.

The bill would prevent the sale, manufacture, possession and purchase of assault-style weapons, assault weapon attachments, and .50 caliber cartridges in the state of Illinois. It would also keep standards set in earlier versions of the act, such as maintaining the age to get a Firearm Owner Identification Card at 18.
* CBS Chicago…
The vote came down after almost four full days of backroom discussions and debate. The clock had been ticking to pass the ban before current lawmakers leave office and newly-elected ones are sworn in Wednesday.

The bill must now go back to the Illinois House of Representatives for reconciliation, but this is really just a formality. The House passed its own version of the bill, called the Protect Our Communities Act, on Thursday night into Friday morning. […]

The bill would in addition expedite the implementation of universal background checks, but would not change the age range for Firearm Owners Identification cards.

Illinois Senate President Don Harmon (D-Oak Park) introduced the bill in committee Monday morning. On Sunday, state House Speaker Emmanuel "Chris" Welch said the House would not accept a watered-down version of the bill.
During debate, Republican senators argued the legislation is unconstitutional and punishes legal abiding gun owners in the state.

"All of you that are thinking about voting for this today, you should resign," state Sen. Neil Anderson, R-Moline said. "This is a blatant disregard for the United States Constitution."

Sen. Chapin Rose, R-Mahomet, said the state should focus on enforcing the laws that already exist, instead of creating new ones.

"We're going to make felons out of taxpayers. Why don't we go after the bad guys, put hem being bars and actually keep them there?" Rose said. "Put the bad guys behind the bars, not the taxpayers, not the citizens."
* WBEZ…
The breakthrough on the gun package came after dramatic testimony earlier in the day in the state Senate from Highland Park mother Ashbey Beasley, who was at the July 4th parade with her 6-year-old son, Beau.

She played a jolting phone recording of screams from another child who was trying to escape the chaos that ensued as a rooftop gunman sprayed the crowd with bullets. Neither Beasley nor her son were shot.

"What's happening? What's happening? What's happening?" the boy screamed as senators sat stoically while Beasley played the recording of the boy's shrieks in committee.

"This is what it sounds like when a child runs from an assault weapon. This is what happens when a child goes to a parade in our country. This is the sound of the loss of innocence," Beasley told the panel in urging support for the gun ban.
* NBC Chicago…
If approved, Pritzker has said he would sign it into law.

Mayor Lori Lightfoot praised the progress on the bill.

"I haven't read the bill, like I said the devil's in the details, but at least in the broad strokes, I think this is significant and important progress," Lightfoot said.
* More…
79 Comments












































































































































































































































Sorry, comments for this post are now closed.