* It seems that almost all candidates for local offices in Chicago are talking about crime these days. Even Chuy Garcia put the crime problem at the center of his campaign TV ad.
So, while I don't agree with everything in this blog comment from the other day, I think it's pretty insightful overall…
I think there are a few answers to why the crime rate from 25 years ago is so disturbing to modern day Chicagoans.

First, many Chicagoans moved there during the 2000s when things were better. They don't remember the 80s. They wouldn't have moved in if things were like the 80s.

Second, like it or not, we are now in a position to read every detail of every attack on the red line or Logan Square or anywhere else. If it bleeds it leads has always been a thing, but the media back in the day would pick one or two stories, not deluge their audience with a full hour of crime stories. Social media, however, can. I think that's for the better, too much was hidden back in the day, and social media makes for a better telling of full scope of the crime (not just the primary but secondary and tertiary victims).

3rd where the crimes happen has changed a bit. Violent crime on the CTA was low even in the 80s. Crime didn't happen in wealthier neighborhoods in the 80s. It was limited to places like Uptown and other poorer neighborhoods. Here I would say that Preckwinkle was both correct and impolitic in her observations about violent crime and wealthier neighborhoods.
* And while folks like the governor and others have been saying that crime is going down, check out these year to date numbers and historical comparisons from the Chicago Police Department…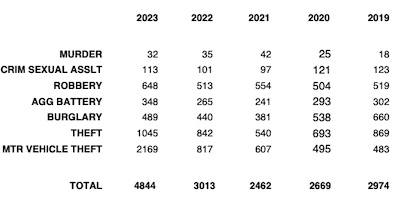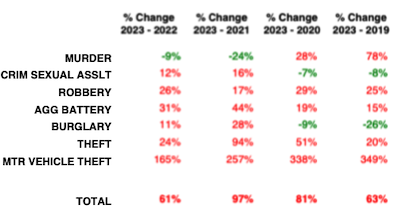 Yes, it's only a few weeks of data, but it doesn't look good. And the election is coming up fast.
…Adding… The vehicular hijacking data for this month is here.
53 Comments »






























































































































































This is not Facebook, so uncivil comments, profanity of any kind, rumors and anonymous commenters will not be tolerated and will likely result in banishment.