* The Hill…
A federal judge in Texas struck down a key provision of the Affordable Care Act (ACA) that requires insurers and employers to cover preventive services for free, including cancer screenings and HIV drugs.

The ruling by Judge Reed O'Connor of U.S. District Court for the Northern District of Texas — who previously struck down the entire ObamaCare law before it was upheld by the Supreme Court — applies nationwide.

It immediately jeopardizes access to treatment for the approximately 100 million Americans who use free preventive services annually, and it leaves the door open for insurers to impose deductibles and copays for potentially life-saving screening tests.

The ACA requires insurers to cover, without cost-sharing, more than 100 preventive health services recommended by the U.S Preventive Services Task Force. Cost sharing will likely deter patients — particularly those of limited means — from scheduling mammograms, colonoscopies and other procedures.
More…
Other preventive care mandates under the ACA remain in effect. The decision applies to Task Force recommendations issued on or after March 23, 2010 – the day the Affordable Care Act was signed into law. While the group had recommended various preventive services prior to that date, nearly all have since been updated or expanded.

It is likely the case will be appealed, and the Justice Department has the option to ask that O'Connor's ruling be put on pause while the appeal is litigated.
* React…
— Governor JB Pritzker (@GovPritzker) March 30, 2023
* From the governor's press conference today…
Q: Legislation you signed, the Gun Dealer Certification Act, tucked into that was a provision that required ISP to collect a bunch of data on gun crimes in the state. They're supposed to report it to the General Assembly and to you every year, put it up on, for the public to see. ISP said in a report last month that they've been unable to compile that data. How can policymakers like you and Rep. Scherer make good, comprehensive statewide gun policy when we don't have a full picture? And what's your administration doing to address some of these?

Pritzker: I think it's an excellent example for all of us that just passing a law by itself isn't going to get the job done if there is a problem with implementing the law. That's not the fault of the General Assembly, I think good intentions, and the general and the administration, good intentions, to be able to gather that data.

Here's what ISP has discovered, which is, as you go county by county, and law enforcement agency by law enforcement agency, it turns out the systems are, some range of, on paper to, you know, to something that's, let's say, somewhat modernized. And so collecting that data year in and year out, or even month in and month out, has just been very difficult. The ISP has found they can't get the data from some places. And so it's incomplete. ISP is not able to deliver what the law wants it to deliver. And I think we all realize that there are maybe some adjustments that need to be made, and support for the modernization of law enforcement systems at the local level.

Again, it depends on where you go, right? Chicago has systems that allow them to report on a very regular basis. You probably know Jeremy better than I do. I think it's on a weekly basis, they're able to deliver stats in every category. I won't name places, but let's just say local law enforcement in some smaller jurisdictions really can't deliver that stuff in a timely fashion.

So we need to make a change in the law, is likely a need. And then we need to make sure that we have systems that regularly pull the data, and it isn't a human interaction that is required for every one of these jurisdictions. We just have too many local law enforcement agencies to be able to do that.
…Adding… React…
"We continue to work with the Illinois State Police to bring this goal to reality," said Harmon spokesman John Patterson. "We want to make sure the State Police makes available to the public the gun violence information it has, while also working on the bigger issue of how to get more agencies across this state to share that information in a way that's useful to the public and public policy makers."
* IDES…
Total nonfarm jobs increased in thirteen metropolitan areas and decreased in one for the year ending February 2023, according to data released today by the U.S. Bureau of Labor Statistics (BLS) and the Illinois Department of Employment Security (DES). Over-the-year, the unemployment rate decreased in seven areas, increased in five areas and was unchanged in two.

"Today's data is further indication that job growth continues to trend in the right direction with expansion throughout every corner of the state across sectors," said Deputy Governor Andy Manar. "Job expansion creates new and growing career opportunities for jobseekers and the demand for employers to invest in and retain the talented and diverse Illinois labor force."

The metro areas which had the largest over-the-year percentage increases in total nonfarm jobs were the Bloomington MSA (+4.8%, +4,500), the Peoria MSA (3.9%, +6,400), and the Champaign-Urbana MSA (+3.4%, +4,000). Total nonfarm jobs in the Chicago Metropolitan Division were up +2.1% or +77,500. Total nonfarm jobs were down in the Illinois section of the St. Louis MSA (-0.4%, -1,000). Industries that saw job growth in a majority of metro areas included: Mining and Construction and Leisure and Hospitality (fourteen areas each); Education and Health Services, Other Services and Government (thirteen areas each); Manufacturing and Wholesale Trade (eleven areas each); Transportation, Warehousing and Utilities (ten areas).

The metro areas with the largest unemployment rate decreases were in the Chicago Metropolitan Division (-0.9 point to 4.1%), the Rockford MSA (-0.8 point to 6.3%), and the Decatur MSA (-0.6 point to 5.9%). The largest unemployment rate increases were in the Lake County-Kenosha County Metro (+0.4 point to 5.4%), the Davenport-Moline-Rock Island IA-IL MSA (+0.3%, +4.6%) and the Elgin Metro (+0.3 point to 5.9%). The unemployment rate was unchanged in the Bloomington MSA (4.0%) and the Champaign-Urbana MSA (4.1%).
* G-PAC…
Today, the Gun Violence Prevention PAC (G-PAC), the state's leading gun safety organization, released a statement from its CEO Kathleen Sances, responding to an anti-public safety protest orchestrated by gun lobby supporters, including state lawmakers. The event comes two days after a mass shooting at the Covenant School in Nashville left six dead, including three children.

"It is incredibly disturbing that several lawmakers protested our state's much-needed assault weapons ban just two days after six people were shot and killed in a school in Nashville with similar weapons.

"Make no mistake, this kind of behavior directly fuels our state and country's gun violence epidemic, which is now the number one cause of death for children in Illinois and the entire country.

"Elected officials are public servants. Their energy should, first and foremost, be directed towards centering the needs of their constituents. However, it is clear from this demonstration that members of the Illinois Freedom Caucus are more concerned with filling the coffers of the gun industry than they are protecting the lives of the most vulnerable in our state.

"The people of Illinois deserve to live safe and secure lives. We deserve lawmakers who are dedicated to keeping our families safe. Lawmakers who abuse their platforms to carry the gun lobby's water will be voted out."
* Press release…
Chicago City Council members today voted overwhelmingly to make Chicago history and create an independent and co-equal branch of city government. The votes to approve a wide range of rule changes signals a seismic shift for the City Council, establishing its independence and removing power from mayors who in recent decades have determined everything from legislative agendas to committee chairs.

As part of the approved changes, members can now make their own committee chair assignments, which were unveiled today. Vice chairs and new members of each 11-member committee will be chosen after the runoff election April 4. This process will provide new council members a significant say in the composition of the committees for the first time.

The rule changes also increased the number of committees from 19 to 28, allowing for more diverse voices in leadership positions. Members agreed to divide committee chairs in an equitable process that created the most diverse council leadership structure in Chicago history. Under the new committee structure there will be:

• Increased percentage and total number of committees chaired by Latino Caucus members from four (21%) to eight (28.5%);
• Increased total number of committees chaired by Black Caucus members from nine to 12;
• Black and Latino members accounting for 71% of committee chairs in total;
• Two Latinas chairing council committees for the first time in the council's history;
• A record nine women serving as committee chairs, an increase from 26% to 32% of committees; and
• A record three members of the LGBTQ community serving as committee chairs.

The rule changes not only increase council independence, but also minimize mayoral influence over council deliberations, provide for increased transparency of committee business, and provide new ways for committees to operate.

The budget for the new committees is estimated at $700,000 for the remainder of 2023.

With today's vote, the council joins other legislative bodies across the country as an independent, co-equal branch of city government. The resolutions detailing the rule changes can be found here and a full list of committee chair assignments can be found here.
* It's a big hit…
From the grand opening pic.twitter.com/MEAZymbe9z

— Capitol Fax (@capitolfax) March 30, 2023
…Adding… Tribune…
A Will County judge dismissed an election fraud case Thursday filed by the losing candidate in the 2022 race for Will County clerk that claimed mathematic formulas showed the final vote count was fraudulent.

Republican Gretchen Fritz filed the lawsuit Dec. 28, claiming she believes "mistakes and fraud have been committed in the casting and counting of ballots" in the race because her opponent, Democratic Will County Clerk Lauren Staley Ferry, received more votes than Democratic Gov. J.B. Pritzker. […]

Odelson, who has been an election law attorney for 50 years, said in court Thursday he had "never ever" seen a case like this one, which he said was not based on facts or presented specific allegations but seemingly came from a "cosmic ray from Mars."
* Isabel's roundup…
* WSIL | $200 million to improve freight routes throughout Illinois: "For the last four years, we've invested billions of dollars in communities across Illinois to restore and renew all modes of transportation throughout our state: roads, bridges, airports, and transit, as well as pedestrian and bike routes. And today, I'm proud to announce yet another leap forward — nearly $200 million for the freight routes that have defined Illinois for generations," said Governor JB Pritzker. "These funds will be used for 22 port, rail, and highway projects in Illinois to address bottlenecks, increase mobility, and improve the supply chain up and down the state."

* Crain's | Peoples Gas breaks another earnings record amid a pending request for a massive rate hike: The natural gas utility serving the city of Chicago earned $209 million, up from $205 million the year before, which also was a record, according to a report made public today. … Peoples has a record $405 million rate hike request pending before the Illinois Commerce Commission, which would take effect at the end of this year. The commission must rule on that by year-end.

* Crain's | Illinois lawmakers look to tighten hospital merger rules amid pricing, quality concerns: The new policy, which originated at Illinois Attorney General Kwame Raoul's office, would amend the Illinois Antitrust Act, State Finance Act and the Illinois Health Facilities Planning Act in ways that would require health care organizations to notify the AG's office within 30 days of a proposed merger or acquisition. The legislation, called House Bill 2222, would also give the AG an opportunity to request additional information about a deal that would help determine whether a proposed transaction warrants further action.

* ProPublica | Sweeping repatriation reform bill unanimously passes Illinois House of Representatives: If signed into law, the legislation would create a protected cemetery for the reburial of repatriated Native American ancestors and establish a committee of tribal leaders to review state projects that may disturb culturally significant sites.

* CBS Chicago | University of Illinois Medical Center nurses protesting Thursday: They're fighting for increased security measures after several nurses have been attacked by patients while on the job. The nurses will gather outside of the UIH emergency room at 10 a.m.

* WIFR | Illinois Tollway decreases toll violation fines with new program: Starting in April, motorists with multiple unpaid toll invoices will see a final notice resulting in $20 fines on top of each invoice. "The Illinois Tollway will no longer issue escalated $50 fines," Cassaundra Rouse, executive director of the Illinois Tollway states. "It is our hope that every customer takes advantage of all the ways the Tollway offers to pay tolls and avoid fees."

* Bloomberg | At UChicago, Northwestern and other elite private schools, sticker shock is hitting students: Full costs at elite private colleges now stretch well into the $80,000s, or upward of $320,000 for four years and well above what the typical U.S. household earns. At UChicago, the cost of attendance — tuition, room, board and fees — is just over $81,000. At Northwestern, it's roughly $84,000.

* Shaw Local | Thanks in part to Illinois innovation, 'range anxiety' won't hamper electric cars for long: Mohammad Asadi, an assistant professor at the Illinois Institute of Technology, last month co-published a paper in the journal Science with Larry A. Curtiss and other Illinois colleagues about their work on a novel lithium-air battery that has a solid electrolyte made with a mix of polymer and ceramic.

* Crain's | City Council moves toward independence after raucous meeting: The rules overhaul was eventually approved after a lengthy debate where those opposed to the deal accused their colleagues of working up a "backroom deal" that was more about securing chairmanships than creating an independent body.

* Block Club | Englewood's Long-Awaited Nature Trail Will Cost $72 Million To Build, City Says: Dreams to develop the nature trail were ignited more than a decade ago by neighbors and leaders at the local community organization Grow Greater Englewood. ​​The city obtained the abandoned railroad line in 2014 from Norfolk Southern Railway, a company that in recent years has gained attention for its role in tearing down homes in Englewood to expand its intermodal yard and the freight train derailment in Ohio that sent toxic fumes in the air.

* WREX | A look inside the planned $22 million renovation of The Rockford Register Star building: The local solar company's CEO Teague Dickey says the Iconic Energy is about 90 days away from kicking off a $22 million renovation that's close to his heart. "Yes it's old and in disrepair, 93-years-old, but it's important to me being a Rockford person," Dickey said. "I'd rather have this building than some new thing."

* KFVS | Wienermobile coming to southern Ill. this weekend; driver, Carbondale native: Keagan Schlosser, who calls herself Chili Cheez Keagz, competed against thousands of applicants to become one of 12 Hotdoggers nationwide. "I feel fortunate to represent southern Illinois as I criss-cross America–I've seen 21 states since June," Schlosser said.

* Tech Crunch | Twitter is dying: The value that Twitter's platform produced, by combining valuable streams of qualification and curiosity, is being beaten and wrung out. What's left has — for months now — felt like an echo-y shell of its former self. And it's clear that with every freshly destructive decision — whether it's unbanning the nazis and letting the toxicity rip, turning verification into a pay-to-play megaphone or literally banning journalists — Musk has applied his vast wealth to destroying as much of the information network's value as possible in as short a time as possible; each decision triggering another exodus of expertise as more long-time users give up and depart.
* New York Times…
Ms. Ostaszewski, a 32-year-old energy efficiency consultant, has accumulated a modest following of more than 36,000 TikTok followers for her posts about affordable houses and things to do in Peoria.

She first moved to Peoria from Bloomington, Ill. about a decade ago to be with her partner. She purchased her first home for $33,000 in 2017, when she was 27. "I didn't know if I would ever achieve homeownership, let alone before I turned 30," Ms. Ostaszewski said.
Then she started to wave other people in: her brother, her sister and an estimated 300 strangers from across the country.

"I'm trying to show people that they can move here and actually have a reasonable mortgage, while building on the progressive community that is here," Ms. Ostaszewski said.

Her pitch is attracting people who didn't believe they could ever own property. "For a lot of people of color and queer people, there is this generational poverty that continues to get passed down. They don't have family that can pass down housing or other assets," said Ms. Ostaszewski, who is of Filipino and Polish descent. "I'm bisexual, and I'm a woman of color. I've been able to find a lot of community here through both of those aspects of my identity."
* Buzzfeed reported on Ostaszewski last year…
Though she doesn't work for the town itself, Ostaszewski sets potential transplants up with job boards, moving resources, real estate agents, and lenders, and she has also organized a Facebook group for new residents that is "400 members strong." Members have organized a kickball team, crafting clubs, and Dungeons & Dragons meetups. They have regular "transplant parties," too.

She rebuked any concerns of gentrification by noting that Peoria doesn't currently have enough residents to support its vast infrastructure. Bringing in more people would "grow the tax base," and she said she would stop recruiting future Peorians if data suggested that residents were being displaced.
The Times article provided a history of Peoria's housing market, explaining why the median home price, $128,100, is considerably lower than the national average of $328,600. The story also delved into the city's political leanings, pointing out the fact that the population is more liberal than those of surrounding communities. Two local politicians weighed in on the fact that Ostaszewski's efforts may be making the city even more liberal.

"I don't care what side people are leaning to. If they're going to come in and help rebuild neighborhoods and be good neighbors, I think that's great," former Peoria City Councilman Jim Montelongo told the Times.

Republican state Rep. Ryan Spain also said he's not worried about a wave of liberal transplants.

"I think Peoria is an attractive place, whether you're a Republican or Democrat, a conservative or progressive. … Really, an ideal community is one that you would have people of diverse views."
*** UPDATE *** He's really trying hard…
Democratic mayoral candidate Paul Vallas is releasing the following statement reacting to the indictment of former President Donald Trump:

"This unprecedented and historic news begins the process of proving once and for all that no one is above the law and everyone must be held accountable for their actions. A grand jury has reviewed the evidence and found that a crime was committed by a former President — that is unprecedented and must be taken seriously. Donald Trump repeatedly and shamelessly violated the rules and norms that govern the Office of the President, cheapening the most widely respected elected position in the world and demeaning our democracy. He must be held accountable and I'm grateful the first step towards justice has been taken.

The threats of retribution and violence that have been made recently by Donald Trump are dangerous and irresponsible. Our nation is still grappling with the devastation of January 6th and just how close the peaceful transfer of power came to being cast aside, and we must always do whatever is necessary to protect the integrity of our democracy."
…Adding… This just in over the transom. When talking about the Trump impeachment, Vallas said on February 16, 2021 while substitute co-hosting for Dan Proft, "I always felt that it was a witch hunt." 1:05:11…
For those wanting to put Republicans on the spot, if he would have been censured, it would have put much more pressure on them. And, you know, I always felt that it was a witch hunt. I mean, it doesn't mean that they didn't make mistakes and that Trump has acted irresponsibly and I've certainly been a critic of what he's done. But at some point it is time to move on because what do we need for years of people chasing Kamala Harris? At the end of the day, the country needs to move forward and you know, Biden's talked about unity and here's an opportunity. So I just think that, you know, they need an enemy.
…Adding… The Vallas folks point to this…
Trump directly responsible for violation of our capital & deaths of four people. But so are political cowards in Congress like Ted Cruz & others who gave credence to Trump's claims that election was stolen. Damage done to our democracy will be lasting. They should all resign.

— Paul Vallas (@PaulVallas) January 7, 2021
But a month after that, he's calling the impeachment a witch hunt. Go figure.
[ *** End Of Updates *** ]
* We're gonna do a little "dueling oppo" today. To set up the first one, here's Crain's…
After weeks of jostling between Brandon Johnson and Paul Vallas over whether Vallas really is a Republican, the horse's mouth of sorts has something to say about it: Word from the Chicago GOP is that Vallas is not one of them.
Huh. OK. But check out this video taken of the Chicago GOP's Lincoln Park office…
Did you catch the end of it?…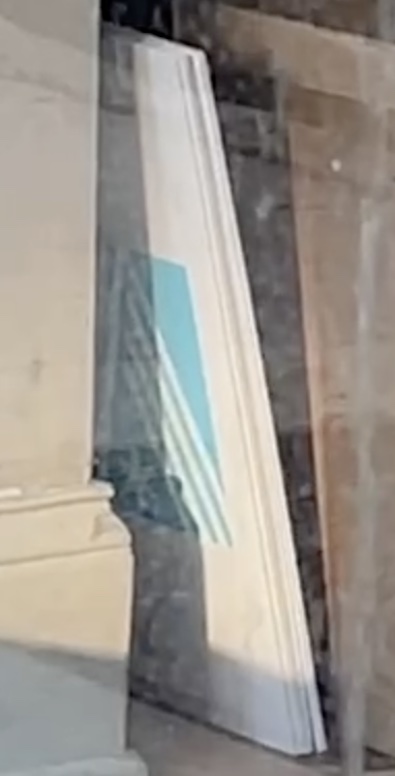 Does that logo look familiar?…

Imagine that.
Isabel has been trying to reach that office since early this morning, but nobody's answering.
* And now, this…
Brandon Johnson Currently Owes The City Of Chicago $3,357.04 In Unpaid Water And Sewer Charges. (Chicago Department of Finance Records, Accessed 3/21/23)

• Johnson's Payment Of $91.08 On February 13, 2023 Was The First Time He Had Paid His Water Bill Since June 22, 2022. (Chicago Department of Finance Records, Accessed 3/21/23)
• Since 2010, Johnson Has Accrued $6,661.70 In Fines And Penalties Due To Nonpayment. (Chicago Department of Finance Records, Accessed 3/21/23)

Johnson Also Owes The City Of Chicago A Combined $1,044.58 In Unpaid Traffic Tickets From 2014 And 2015. (Chicago Department of Finance Records, Accessed 3/21/23)

Illinois Law Would Prevent Johnson From Being Sworn In As Mayor If His Debts To The City Remain Unpaid

Under Illinois Law, A Person Who Owes An Unpaid Debt To A Municipality Is Not Eligible To Take The Oath Of Office For An Elected Position In That Municipality. "(b) A person is not eligible to take the oath of office for a municipal office if that person is, at the time required for taking the oath of office, in arrears in the payment of a tax or other indebtedness due to the municipality or has been convicted in any court located in the United States of any infamous crime, bribery, perjury, or other felony, unless such person is again restored to his or her rights of citizenship that may have been forfeited under Illinois law as a result of a conviction, which includes eligibility to hold elected municipal office, by the terms of a pardon for the offense, has received a restoration of rights by the Governor, or otherwise according to law. Any time after a judgment of conviction is rendered, a person convicted of an infamous crime, bribery, perjury, or other felony may petition the Governor for a restoration of rights." (65 ILCS 5/3.1-10-5, Accessed 3/29/23)

Johnson Currently Earns A Combined Salary Of Over $175,000 Per Year

Cook County Commissioners Earn $93,500 Per Year. "Under the plan, the board president's annual salary will be bumped to $187,000 from $170,000, while commissioners will see a hike to $93,500 from $85,000 a year and the board's finance chair salary will increase to $99,000 from $90,000. (Alice Yin, "Cook County Board Members Vote Themselves 10% Raises, With Automatic Future Pay Bumps," Chicago Tribune, 5/24/22)
In 2022, The Chicago Teachers Union Reported Paying Johnson $85,906. (Chicago Teachers Union Form LM2, U.S. Department of Labor, 11/1/22)
The oppo is from a FOIA. Click here for the documentation.
I can't believe he didn't pay that off before getting into the race.
* Another press release from the 43rd Ward runoff…
Aldermanic candidate Brian Comer is once again playing shell games with his finances. This time, Comer broke campaign finance laws by taking several contributions over the legal limit and failing to report several high-dollar donations within the required two-day window.

"Brian Comer is breaking the law and continuing a pattern of hiding information about his finances from voters," said Alex Hanns, Knudsen's campaign manager. "Comer previously refused to tell voters any information about his clients from his last nine years as a 'consultant,' and now he's taking illegal contributions and failing to disclose his donors as required by law. Voters deserve better than a shady candidate who is trying time and again to deceive them."

Two donors, including Comer's campaign treasurer, donated above the $6,900 limit for individuals. A total of 13 contributions of $1,000 or more were filed past the two business day window that is required by law.

Two donors gave an aggregate of $10,000 each to Comer's campaign — $6,200 over the limit — both of which included at least one late filing:

* Condron, Michael - $2,500 - received 3/28/2023, filed 3/28/2023 1:58:27 PM

* Condron, Michael - $2,500 - received 3/28/2023, filed 3/28/2023 2:20:16 PM

* Condron, Michael - $2,500 - received 3/25/2023, filed 3/28/2023 2:37:46 PM

* Condron, Michael - $2,500 - received 3/16/2023, filed 3/28/2023 2:42:22 PM

* Tordella, Paula - $5,000 - received 3/20/2023, filed 3/25/2023 8:32:15 AM

* Tordella, Paula - $5,000 - received 3/24/2023, filed 3/25/2023 8:29:55 AM
There's more, but you get the idea.
* Isabel's roundup…
* Block Club | The New Stop And Frisk? Chicago Police Make Millions Of Traffic Stops While Searching For Guns: Chicago police pulled over hundreds of thousands more drivers than they previously reported, but they found guns in fewer than one of every 150 stops, according to a new data analysis.

* Sun-Times | Dollars vs. decentralization: Johnson's and Vallas' vastly different fixes for CPS: Paul Vallas plans drastic changes to CPS structure, bolstering principals and local leaders' power over spending and programming — and even the ability to let a charter school take over their campus. He would prioritize standardized testing and make it easier to hold students back a grade so they don't graduate without necessary reading and math skills. […] Brandon Johnson would rather the school district's central office end per-pupil funding and guarantee a baseline of resources for every school — such as art teachers, social workers and librarians. This would reduce the role enrollment plays in whether a school can afford staff and, he says, help ensure every neighborhood can offer a quality education. He would focus on addressing poverty and trauma.

* Sun-Times | Betsy DeVos-founded, Republican-funded school choice group backs Vallas campaign for Chicago mayor: A Vallas spokesman said his campaign "would strongly reject any endorsement from Betsy DeVos." "Our campaign has not been in contact with this organization, we have certainly not sought its support," the spokesman said in a statement. "Campaigns cannot coordinate activities with independent expenditure committees by law and we have no control over this group's actions." … The American Federation for Children created its Illinois Federation for Children PAC as an independent expenditure committee in March 2022 to support and oppose candidates for statewide office, all with the mission of advancing school choice. The political committee spent over $700,000 toward those efforts last year on Republican candidates for the Illinois Legislature. The PAC lists a Washington, D.C., address. … The Illinois Federation for Children PAC is chaired by Nathan Hoffman, who was a registered American Federation for Children lobbyist in Springfield until January. He has tweeted from Vallas' February election night party and fundraising events since then.

* Sun-Times | Young voters explain low turnout in Chicago elections: John Cook, 21, said he has noticed excitement about politics declining since 2020. Cook, a student at the School of the Art Institute of Chicago, said he did not vote in February. "Our first election in 2020, it was like, everything is the most important that could possibly be, and so I think everybody was up on that. It's been like a big deflation in political activism," Cook said. "Even people who were engaged before have dwindled off."

* Jewish Insider | Chicago's Jewish community could swing mayoral race: In February's nine-way mayoral election, Vallas, 69, performed best in some of the city's most heavily Orthodox areas, winning two precincts in the 50th Ward with more than 80% of the vote. Across the entire ward, where the majority of Chicago's Orthodox community is concentrated, he claimed 50% of the vote, defeating Johnson, a Cook County commissioner and outspoken union organizer who has embraced a progressive platform, by more than 30 points. … Meanwhile, Johnson's close affiliation with the Chicago Teachers Union, which endorsed him even before he announced his candidacy, has fueled speculation that he is beholden to its interests. He has rejected those claims. The union, from which Johnson is on leave as a paid organizer, has opposed the continuation of a tax credit scholarship program that has benefited low-income students who attend Jewish day schools. In alignment with Orthodox leaders, Vallas has expressed support for the state legislation, which is set to expire this year.

* Alisa Kaplan | With an increase in dark money, Chicagoans have a right to know who's trying to buy their vote: The U.S. Supreme Court says we can't limit super PAC money, but it has consistently upheld efforts to illuminate it. Our organization, Reform for Illinois, worked with state Rep. Maurice West this year to introduce House Bill 3804, a bill that would require big donors to disclose the original source of their funds no matter how many secretive groups the money passes through. Alaska, California, Massachusetts, Rhode Island and Minnesota have all enacted laws aimed at unveiling hidden political contributors, and last fall, 73% of Arizona voters approved a referendum requiring comprehensive donor disclosure. If they can do it, we can too.

* CBS Chicago | Lightfoot, City Council gathering for special meeting Thursday: Several aldermen are calling for a vote on the new rules and committees for City Council members during the 2023 to 2027 term. The timing is considered unusual as council members typically vote on these matters *after the election.

* Tribune | West Side incumbents fending off challengers in 24th and 29th ward runoffs: In the 24th Ward, which includes North Lawndale, challenger Creative Scott received only about 15% of the vote to Monique Scott's 45%. In the 29th Ward, which includes parts of Austin north to Montclare, former Chicago police sergeant Taliaferro was forced into a runoff by just a few dozen votes, though community activist CB Johnson received nearly 40% of the vote in the first round.

* ABC Chicago | Chicago mayoral candidates break down how they would manage city budget: In his $800 billion tax plan, Johnson proposes bringing back the city head tax, where large corporations who do most of their work in the city will pay a 1-4 dollar tax for each employee. Johnson also pitches increasing the hotel tax, jet fuel tax, a tax on securities trading and increasing the transfer tax on property sold for more than a million dollars.

* Sun-Times | 6th, 21st Ward candidates discuss future of South Side ahead of runoff: Time to 'resurrect dreams of residents: Hall, 38, lead pastor at St. James Community Church in Chatham and a field director for the Rainbow PUSH social justice organization, narrowly came in first place with 23.82% of the vote during the Feb. 28 election — only about 70 votes ahead of Wooten, an Army veteran and retired police officer.

* NBC Chicago | 3 Former Chicago Police Superintendents Join NBC 5 For Conversation About Public Safety, Crime: "Without question, public safety is top of mind for many Chicagoans," said Holt. "It's clear, we need to figure out how to make the city safer. This show is a unique opportunity to sit down with three men who have been at the forefront of tackling this crisis. It's a chance to learn from the mistakes of the past, figure out new ideas, and try to forge a new path toward a safer city."

* NBC Chicago | Chicago Department of Transportation Plans 150 New Miles of Bike Paths as Part of Cycling Program: The biggest part of the plan includes adding 150 additional miles of bike lanes. Other parts include adding low-stress options like concrete curbs separating the bike lanes from vehicular traffic, making bicycles like Divy more accessible to everyone.

* Block Club | Workers At Peggy Notebaert Nature Museum, Chicago's Oldest Museum, Are Voting To Unionize: "We're forming our union because we want to work with our colleagues and leadership to ensure that our institution is always becoming an equitable, inclusive and safe workplace," said Anabel Hirano, a member of the union organizing committee who is a volunteer and intern coordinator at the Nature Museum. "That can't happen unless we have an equal say in the decisions that affect us."
* Hannah Meisel's story shows yet again how important it was for the General Assembly to finally mandate lobbyists to disclose their "consultants"…
But a little over two weeks after Mapes' firing, Anne Pramaggiore told one of her most trusted deputies within electric utility ComEd that she kept "thinking about how we can be helpful to him."

Pramaggiore was less than a week into her new job as CEO of Exelon Utilities – a promotion after six years as CEO of ComEd, where she'd gotten to know Mapes after years of pushing for legislation in Springfield. […]

"I was talking with Anne and she told me that she's looking at…doing something for the enterprise and governmental stuff and bringing Mapes on," Hooker told Marquez. "Now Mapes would work with her, cause she says, 'I wanted to kinda, well let's pay him but hide his contract in someone else's.'"

Hooker told Marquez he'd suggested putting him on as a consultant with Mike McClain, a longtime contract lobbyist for ComEd who was also one of Madigan's closest friends and confidants.
McClain was no longer a registered lobbyist at that time, but, if memory serves, Mapes did eventually land at a lobbying firm as a consultant. Look, hire who you want to hire, but disclose it.
* These guys were relentless…
In multiple emails, McClain made it clear that Madigan had inquired repeatedly about making sure that the law firm of Morgan Murphy, a former congressman, would keep getting legal business from ComEd.

A tranche of emails were introduced as McClain pushed for Kathleen Laski, the wife of the former city clerk who went to prison for corruption, to get a position with the utility company even though she didn't want to work extra hours during storms.

"Kathy doesn't want to work storm duty?? Really?" a ComEd human resources official wrote in one email, asking who sent her. Marquez wrote back: "Laski came to us from the Speaker."
* True…
Marquez says McClain told him what mattered most to Madigan was organized labor, the Illinois Trial Lawyers Association and, most importantly, staying speaker.

— Jon Seidel (@SeidelContent) March 30, 2023
* Also true…
Also, he agreed that the "single most valuable, important, most reliable source of information or intelligence about what Madigan's position might be on any issue was Mike McClain."

— Jon Seidel (@SeidelContent) March 30, 2023
* Rent-a-pastor is an old tradition among utility companies and others…
We're now reviewing McClain's proposed strategy for defeating the so-called Harmon-Burke energy bill, which ComEd feared in 2017 would undo parts of FEJA.

McClain wanted to bring in ministers, the Black and Latino caucuses, local governments, vendors and others.

— Jon Seidel (@SeidelContent) March 30, 2023
* Isabel's roundup…
* WCIA…
The Democratic Party of Illinois has accused three Champaign School Board candidates of pursuing "extremist political agendas." But, they all deny promoting radical platforms and want to know why they're being singled out.

In a news release from last week, the party described its $300,000 plan to "prevent extremist conservatives from implementing regressive platforms on school and library boards throughout the state." To do that, they're recommending candidates they believe share their values, and steering voters away from those they think have an extremist agenda.

"I am flabbergasted, to say the least," candidate Jeffrey Brownfield said. "There is no need and there is no room for politics when we're talking about our children."
* The local Republican Party has been pushing these three candidates for weeks and months, so the "politics" thing has already been breached…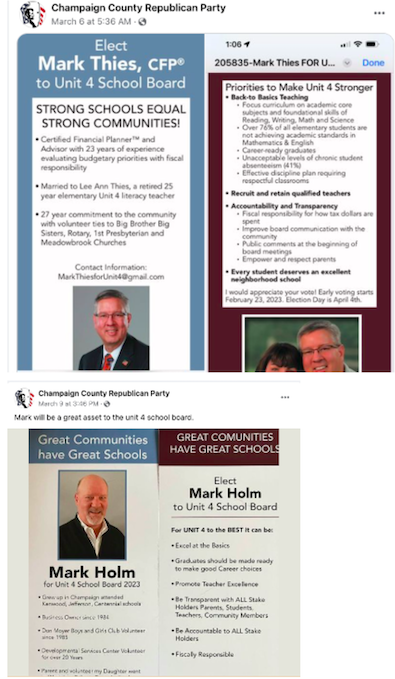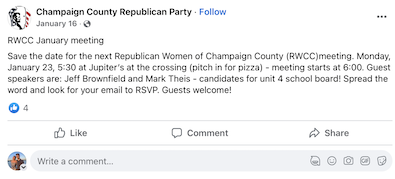 The party has done things like call out a local school district for the apparent crime of supporting inclusive language and griped about a bill to regulate all-gender restrooms…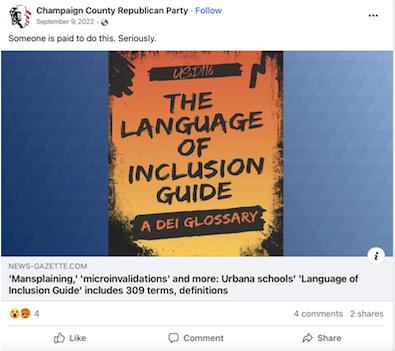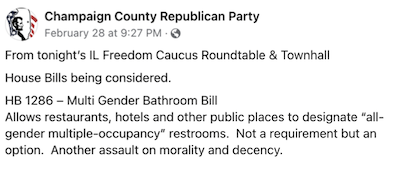 Also from the Champaign GOP's website…
HB 5188 – MANDATED COMPREHENSIVE SEX ED. Over 70% of school districts have made public their intent to not serve up comprehensive sex education curricula to minor children after the legislator passed a requirement that those schools that do teach comprehensive sex ed must align their standards with the pornographic National Sex Education Standards. So, what was the response in Springfield by the radical Democrats? MAKE IT MANDATORY. It is an affront to parents, local control, and common decency. As of Jan 7, Bill before Illinois Senate would make sex ed mandatory in public schools, but allow students to opt out
* Let's move on. As noted above, the three candidates deny they want to ban books, or ban sex ed.
I asked DPI how they came to be involved in the race. Their executive director told me this…
As to how we came to this point with these three candidates in Champaign County, across this whole program, we've been very thoughtful about sourcing local feedback and very deferential to understanding of nuances from our stakeholders on the grounds. And from the start of this program, our stakeholders in Champaign County have made it clear that these three candidates are running with bad intentions and are very much in support of that same framework that some of these other extreme organizations are.
I asked if the stakeholders were teachers unions…
Yeah, our party stakeholders. So if across this program and across the state in any instance where we've identified a candidate that we had an inkling was running for and in support of this extreme right wing agenda, we worked hard to source information from our apparatus at the local level. So precinct captains, township committees, county chairs any of our our most engaged Democratic grasstops folks on the ground. Because you can't know everything when you're operating statewide, so we've just been very deferential to local information.
* And DPI also sent me this…
These candidates all emphasize teaching the "basics"- commonly used language by those who support limiting the scope of inclusive curriculum. It's a dog whistle employed by known extremist candidates and organizations including Darren Bailey ("I believe we need to back up and start teaching reading, writing and math skills"). This is their playbook for implying that schools/teachers are pushing a social agenda by teaching LGBTQ+ inclusive curriculum or certain discussions of historical racism that they label "CRT."

Censorship of Books

When asked "Do you support censoring books or topics pertaining to racial justice, critical race theory, or LGBTQ issues?" each candidate gave caveats for removing certain books. While they state they wouldn't support "banning books" they point to scenarios in which books should be evaluated for context or age appropriateness- the same arguments that extreme groups use to justify censoring books they disagree with.

Mark Thies: Expresses concern about "age appropriateness" of books

Mark Holm: Supports a committee to review books for "age appropriateness"

Jeffrey Brownfield: Says that if people have concerns about books that should be elevated and evaluated and sometimes we should keep them and sometimes we shouldn't
Thoughts?
* Capitol News Illinois…
The Illinois Senate unanimously passed a bill Wednesday that gives financial protection to children whose parents make money posting videos of them on social media. […]

Senate Bill 1782 was introduced by Democratic Sens. David Koehler, of Peoria, and Linda Holmes, of Aurora, but it underwent significant amendments before passing the Senate. Koehler said if the bill is signed into law, Illinois would be the first state in the nation to enact such legislation.

The final version would provide that if a minor is featured in at least 30 percent of a vlogger's revenue-generating video during a 30-day period, then the minor is entitled to a share of the revenue. That money would have to be set aside in a trust fund that the minor could access after they turn 18.

It would also require the vlogger to report periodically to the Illinois Department of Labor the names and ages of any minors engaged in the work of vlogging, the number of vlogs that generated compensation, and the number of minutes each minor was featured in the vlogs. It would also give minors the right to sue if a vlogger knowingly or recklessly fails to set aside the minor's earnings in a trust account.
* Senate Bill 1508 also passed unanimously out of the Senate. WAND…
The Illinois Senate approved a plan Wednesday to help people who may become addicted to mobile sports betting.

Senate President Pro Tempore Bill Cunningham (D-Chicago) said his proposal requires sports betting companies to display a message to people at least once every hour noting how much money they have wagered since logging on.

The alert would also include a hyperlink to websites and phone numbers for assistance with gambling addiction.

Cunningham noted that the state is making roughly $1 billion per year off betting.

"I think we would all acknowledge that that brings with it some responsibility for those of us who are policymakers," Cunningham explained. "And I think that we need to ensure that part of that responsibility is making sure people who have problems with gambling can easily get help."
* Sen. Robert Peters…
To address employment barriers for individuals impacted by the justice system, State Senator Robert Peters passed legislation to help those previously convicted of a felony to seek an occupational license to perform non-gaming related services at a casino.

"The amount of financially realistic employment opportunities for individuals impacted by the justice system are few and far between," said Peters (D-Chicago). "Connecting those with prior justice system involvement with employment by allowing them to perform functions in a casino that do not involve gaming ensures financial stability and decreases the likelihood of backsliding into the justice system."

Senate Bill 1462 also allows the Illinois Gaming Board to consider an applicant's criminal record, reputation, associations and activities that could potentially threaten the integrity of the gaming institution. […]

Senate Bill 1462 passed the Senate Wednesday and will now head to the House floor for further consideration.
* HB2401 is in Rules. Fox Chicago…
The Pierce twins, Phallon and Kyra, wrote legislation last year that passed the Illinois House but failed in the Senate. […]

The twins have teamed up with state Representative La Shawn Ford to introduce House Bill 2401, which would require school districts to include authors from all ethnicities and backgrounds in reading assignments for grades kindergarten through 12th.

"We want to make sure that everybody knows that it's not a book ban. It's simply adding books and adding context with books that kids are reading in schools," said Phallon and Kyra.

In addition to writing "The Pierce Twins Bills", the young ladies have started "Positive Change Charities" which has donated more than 2,000 books over the last two years to underfunded school libraries.
* SB1909 will head to the Senate floor for further consideration…
In continuing the fight for reproductive rights for women, State Senator Celina Villanueva passed legislation that prevents crisis pregnancy centers from using deceptive practices that interfere with women's health care decisions.

"We must ensure that women who are seeking reproductive health care are protected from deceptive and misleading practices," said Villanueva (D-Chicago). "At a time when they are already vulnerable, they must have peace of mind that they won't be taken advantage of. Health care – in all forms – should be safe and transparent."

Senate Bill 1909 prohibits the use of deceptive practices to interfere with an individual seeking to gain entry or access to the provider of an abortion or emergency contraceptives, induce an individual to enter a limited services pregnancy center, in advertising, soliciting, or otherwise offering pregnancy-related services, or in providing pregnancy-related services.

While crisis pregnancy centers may advertise themselves as health care clinics, many of these facilities provide very limited services, such as basic ultrasounds and counseling intended to discourage and limit access to abortion. Some centers are located near clinics that provide comprehensive reproductive health care and use names similar to these clinics in order to misdirect patients. Many provide misleading information overstating the risks associated with abortion, including conveying false claims that abortion causes cancer or infertility.
* Sen. Dave Koehler…
State Senator Dave Koehler led a measure through the Senate to create awareness of the history of the Underground Railroad in Illinois.

"Our state has a lot of history with the Underground Railroad," said Koehler (D – Peoria). "Illinois played a huge role in the path toward freedom. Through a new task force, we will map the search for freedom and justice for African Americans throughout the 1800s."

Senate Bill 1623 would create the Underground Railroad Task Force. The group would develop a statewide plan to connect existing local projects and new projects to create a cohesive statewide history of the Underground Railroad in Illinois, while developing new educational and tourism opportunities.

The task force would identify where historical sites are located, connections they may have to one another, and will paint a picture to recognize the history of the Underground Railroad in Illinois. It would also introduce educational and tourism opportunities throughout the state. […]

Senate Bill 1623 passed the Senate Wednesday. It now heads to the House for further consideration.
* Patch…
After an Illinois Republican lawmaker recently introduced a bill that would lower the state's legal drinking to 18, an overwhelming number of Patch readers who responded to a poll last week on the subject opposed the measure.

Illinois State Rep. John Cabello (R-Freeport) introduced House Bill 4021 earlier this month. The bill would amend the Liquor Control Board's Act of 1934, which established the legal drinking age at the end of prohibition.

More than 4,000 Patch readers responded to a poll last week which simply asked if the state's legal drinking age should be lowered from 21 to 18. Of the 4,044 readers who responded to the non-scientific poll, 86.2 percent voted that the state's drinking age should not be lowered, while the remaining 13.8 percent responded that 18-year-olds should be able to partake in alcoholic beverages.
* Bill-related…
State Rep. Cyril Nichols, D-Chicago, will be joined by House colleagues La Shawn K. Ford, D-Chicago and Barbara Hernandez, D-Aurora, at a press conference in the State Capitol Blue Room at 11:30am on Thursday, March 30 to discuss the new Higher Education—Procurement Subcommittee, of which Nichols has been appointed Chairman.

"Equity and inclusion need to be at the heart of everything we do, especially in an area like higher education, which is so fundamental to equality of opportunity and access to upward mobility," Nichols said. "The work of this subcommittee will be instrumental in ensuring that procurement practices and programs throughout Illinois' public institutions of higher learning are consistent with 21st century values of justice and fairness."

"I'm glad to join this subcommittee and push for a more equitable procurement process in our higher education community," Hernandez said. "Illinoisans are committed to our state being a nationwide leader in promoting diversity and fairness, and the formation of this subcommittee is another step in the right direction."

"Rep. Nichols has a strong committee to push our colleges and universities to increase diversity in contracts for professional services and other procurement opportunities," Ford said. "As Chairman of the Appropriations-Higher Education Committee, I'm setting this subcommittee and naming Rep. Nichols as chairman to meet with colleges and universities in Illinois so that we can lead the nation in contract opportunities to Black, Brown and women-owned businesses."

Nichols said he expects the subcommittee's work to focus at least initially on improving the collection and use of demographic data to examine existing procurement practices and uncover areas where change may be needed.
* The mystery shirt arrived early for committee today…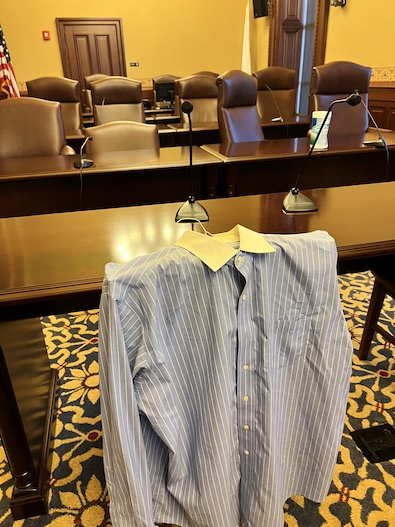 What a weird thing this is.
*** UPDATE 1 *** On the move again…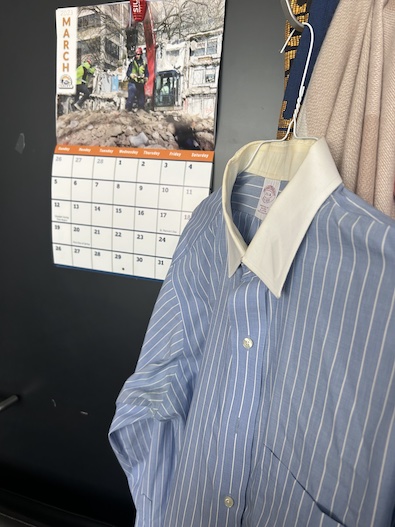 *** UPDATE 2 *** Part of the mystery has been solved. From comments…
I saw this shirt on the sidewalk two nights ago and hung it on the construction fence outside of Stratton. The shirt really is on the move!
The commenter included an email that only I can see. So, I reached out. The person is an intern for a legislative communications staff.
The shirt was on the hanger when the staffer found it.
*** UPDATE 3 *** This is the Capitol's blue room. So maybe a press conference is coming?…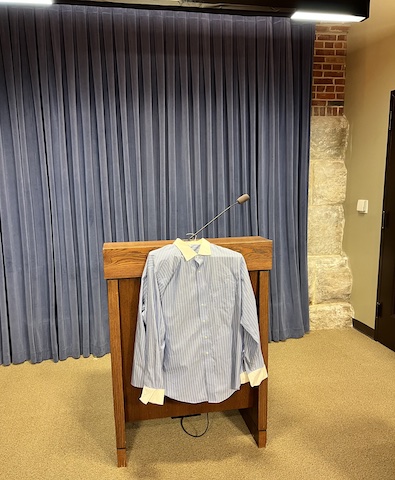 …Adding… FYI, it's a Brooks Brothers shirt, size 17 1/2 - 36.
*** UPDATE 4 *** Post-presser meeting with Senate President Harmon…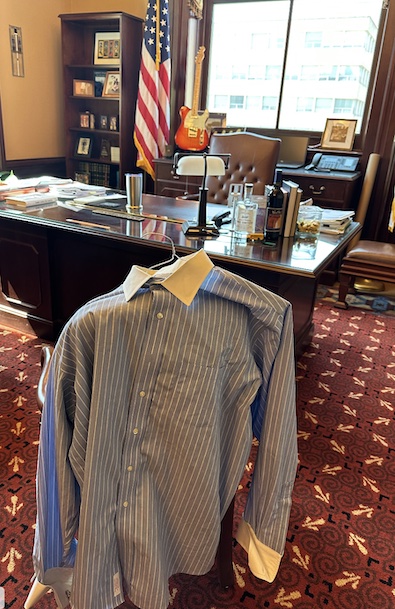 *** UPDATE 5 *** OK, a prominent lobster is actually wearing it now, which is kinda hilarious but also a bit yucky, if you ask me…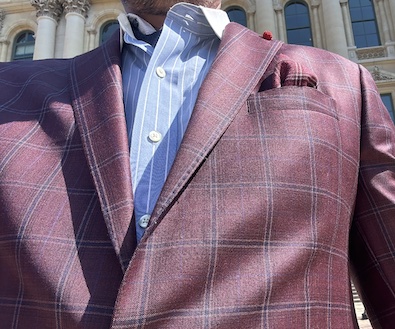 I mean, check out the collar staining…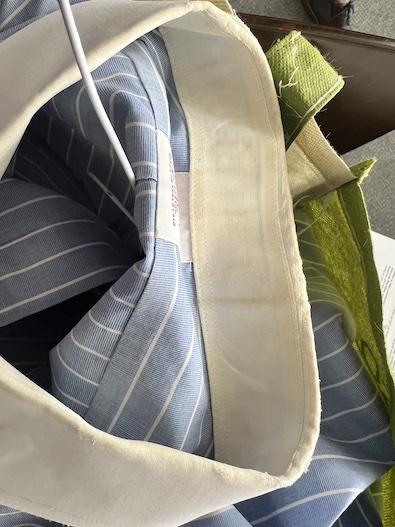 *** UPDATE 6 *** I hope it's not driving…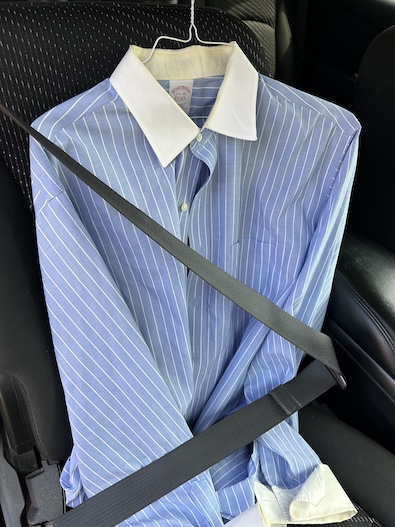 …Adding… I think the shirt is heading north for spring break.
*** UPDATE 7 *** Rep. Kelly Cassidy took the shirt to Wally's…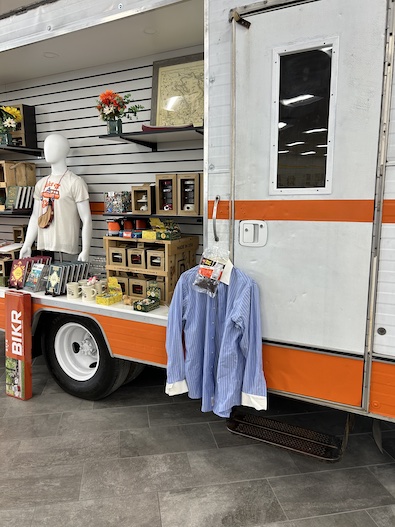 Rep. Marty McLaughlin happened to be at Wally's at the same time, saw what was going on and said, "Hey, that's my shirt." He apparently dropped it the other night while helping a fellow legislator. It's now back in the rightful owner's hands…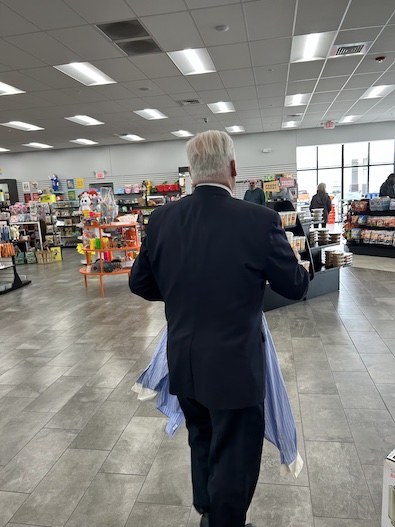 -30-
…Adding… OK, one more…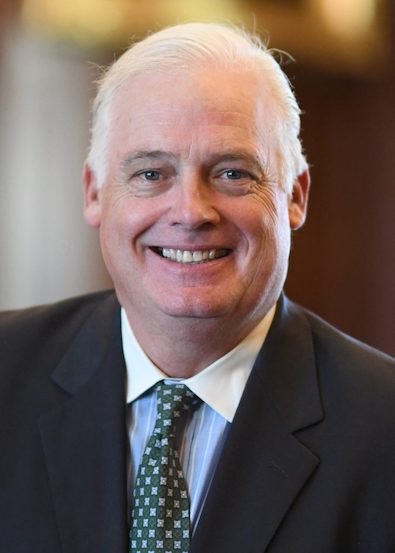 Open thread
Thursday, Mar 30, 2023 - Posted by Isabel Miller
*Good morning! What's goin' on in Illinois today?
* Here you go!…
* Tribune | Jurors see undercover videos of Michael Madigan associates in 'ComEd Four' trial: Fidel Marquez's hidden recorder captured a conversation with Michael McClain, John Hooker and Joe Dominguez on March 5, 2019 at ComEd offices.

* Patch | IL House Progressive Caucus Supports Key Legislation in Springfield: The Caucus is endorsing more than 20 House Bills that cleared the House last week and are now headed to the Illinois Senate for further consideration. If they pass the Senate, they only need Gov. JB Pritzker's signature to become law later this year.

* Tribune | Gun rights advocates rally in Springfield, deride the 'insanity' of weapons ban passed by Democrats: Two days after an assailant gunned down six people at a school in Nashville, a couple hundred gun rights advocates were joined by a number of Republican lawmakers outside the Illinois State Capitol on Wednesday to protest gun control measures such as the one passed by the Democratic-controlled legislature earlier this year.

* Crain's | With a $150 million infusion, Illinois' rainy day fund hits a record: Even as political pressure to boost spending grows, Illinois has taken another step to build up its cash reserves. Comptroller Susana Mendoza reports she transferred $150 million today into the state's Budget Stabilization Fund, more commonly known as the rainy day fund. With the new money, the fund now has $1.22 billion set aside for a recession or other downturn — a new record.

* Sun-Times | Chicago won't have clear winner on election night, Vallas team predicts: Veteran Democratic political strategist Joe Trippi, advising the Paul Vallas campaign, said the number of mail-in ballots is almost certain to be bigger than the margin separating Vallas and Brandon Johnson Tuesday.

* Tribune | Joliet prepares for Election Day amid warehouse boom, city hall turmoil, neighborhood concerns: As another massive warehouse complex takes shape in the area, Joliet's courting of the booming logistics industry and the repercussions of those developments on formerly rural areas south of town loom large among the myriad issues facing Illinois' third-largest city as its residents vote next week to decide a hotly contested mayoral race.

* WBEZ | Chicago's next mayor needs to change this police PR 'strategy': WBEZ's recently completed Motive podcast season tracked the lives and efforts of anti-violence workers on Chicago's West Side. In the early stages of the project, WBEZ made multiple requests to CPD to also shadow police officers in their fight against violent crime. Those requests, repeated over the course of many months, went nowhere.

* Block Club | $3.8 Billion Bronzeville Lakefront Megadevelopment Breaks Ground At Former Michael Reese Hospital Site: Mayor Lori Lightfoot, outgoing Ald. Sophia King (4th) joined developers Zeb McLaurin and Scott Goodman, Plan Commissioner Maurice Cox and Transportation Commissioner Gia Biagi for the milestone event at Prairie Shores, 2937 S. King Drive. The hospital, which closed in 2009, once was eyed as a site for the athletes village when Chicago bid for the 2016 Summer Olympics.

* Sun-Times | Congress to consider new no-fly list for unruly passengers: Proposed legislation would let the Transportation Security Administration ban people convicted or fined for assaulting or interfering with airline crew members.

* Tribune | Officer Rex Engelbert, Chicago native and 'gentle giant,' was part of team that took down school shooter in Nashville: Engelbert, an officer with the Metropolitan Nashville Police Department, was part of the five-person team that entered the small, private Christian school just south of downtown Nashville after receiving an active shooter call about 10:15 a.m., police spokesperson Don Aaron told The Associated Press. Hearing shots being fired on the second floor of the building, two officers opened fire in response, killing the shooter about 10:27 a.m.

* Tribune | 4 things to watch for as the Chicago White Sox begin the 2023 season, including fresh faces on the roster: "Our expectations are extremely high, and that doesn't change based on whether we're sitting here now coming off a year where we underachieved or a year ago when everybody throughout baseball is picking us to run away with the division and potentially make some noise deep into October," general manager Rick Hahn said after the workout.

* Sun-Times | Baseball quiz: Starting the season in style: Is there a better way to welcome back baseball than with a quiz about Opening Day? We don't think so, and the quizmaster is here to do the honors.