* Background is here if you need it. Federal prosecutors have released their witness list for next week's Jimmy Weiss trial…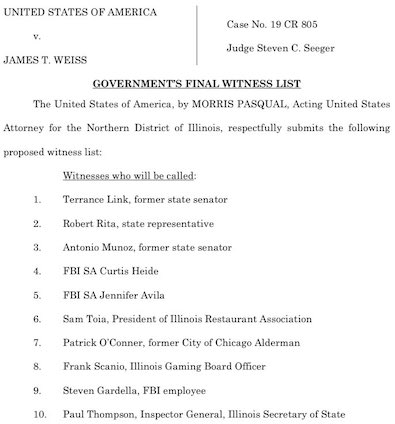 *** UPDATE *** The attorney who sent me this wrote, "In 25 years of practicing law, I have never seen this before." A minute entry today from the judge in the Weiss case, Steven C. Seeger…
During the continuation of the final pretrial conference yesterday, defense attorney Ilia Usharovich behaved in a disruptive, disrespectful, and contemptuous manner. The inappropriate conduct was on full display from the outset of the hearing, and devolved from there. Usharovich was disruptive and disrespectful - in speech, tone, content, body language, etc. - the whole time. For example, at one point, he announced that he was withdrawing, and proceeded to grab his bag and head toward the exits (before this Court directed him to stay). He suggested at one point that this Court had somehow put him under arrest. He later declared that he had just vomited in his cup, and offered to show the Court. And so on. Frankly, the display that this Court witnessed tests this Court's ability to put the conduct into words and fully capture what transpired. For whatever reason, Usharovich was unable to control himself, and was unable to follow repeated admonishments from this Court about how to comport himself. That conduct will not be repeated. His performance was not matched by anyone else in the courtroom. The other defense attorney, Sheldon Sorosky, had no trouble behaving in an appropriate manner, and he comported himself appropriately and professionally throughout the hearing. So did counsel for the government. The Court issues this Order to remind all counsel of the importance of behaving appropriately in the courtroom at all times. Counsel must show respect to the Court, to opposing counsel, and to witnesses at all times. Counsel must not interrupt the Court, or anyone else. Counsel must maintain a respectful tone, and must avoid any belligerent speech or conduct. Counsel must not engage in any disruptive behavior. Counsel must obey orders and comply with this Court's directives. Counsel must comply with professional standards about civility. Counsel must keep their cool. And counsel must behave like a lawyer at all times. The Court requires all counsel to comply with this Order. All counsel must file a statement on the docket by the end of the day today confirming that they have read and understood this Order. The Court expects full compliance, and expects trial to go smoothly. Everyone has a right to counsel, but no lawyer has a right to behave however they please in a courtroom. If any attorney violates this Order, or engages in any future misconduct of any kind, this Court will issue appropriate relief. That relief can include surrendering the ability to participate in the trial, and other possible remedies.
Whew.
[ *** End Of Update *** ]
* Alton Telegraph…
Dry conditions continue to worsen in Illinois as drought spreads across the state, according to Illinois State Climatologist Trent Ford at the Illinois State Water Survey.

The U.S. Drought Monitor now shows the Chicagoland area, much of central Illinois, and areas along the Missouri border from Quincy to St. Louis are in moderate drought. The northern two-thirds of the state are characterized as abnormally dry.

"Forecasts for the next seven days show continued drier weather with only a few chances of rainfall, and near to above normal temperatures," Ford said. "Without significant rain in the next week, conditions will likely worsen, and more drought impacts may occur." […]

Outside of a few areas of heavy rain, most places have had only 25 to 60 percent of normal precipitation in the past 30 days, Ford said, and parts of northeast and western Illinois have had less than 25 percent of normal precipitation since the start of May. Chicago had its fourth driest May on record, and April and May total precipitation in Quincy was the third lowest on record.
* This was in the BIMP. From Crain's…
[Choose Chicago] and the Metropolitan Pier & Exposition Authority — the agency that owns and operates McCormick Place — also recently got some breathing room on using up the nearly $10 million that remains in an incentive fund to help recruit conventions. The fund, which the state legislature approved during the pandemic to help McCormick Place compete with rival cities, previously needed to be used only on conventions that would be coming by 2026. The group recently won approval to dole out those funds for events that would come later than that, though all the money must be used by the end of 2026, according to a Choose spokesman.
* Wait. According to Rep. Martin McLaughlin, these pre-school deserts would be wiped out by pro-business legislation, or something…
Even though Gov. JB Pritzker has yet to sign the budget bill lawmakers just passed, the Illinois State Board of Education is seeking applicants for some of the new money contained in that bill.

ISBE is looking for new providers to offer preschool programs in areas of the state designated as "preschool deserts," with the goal of creating 5,000 new preschool slots in the upcoming school year.

The $75 million in new funding available for new preschool slots this year is part of Pritzker's $250 million "Smart Start Illinois" initiative, a four-year effort that seeks to make early childhood day care and preschool available and affordable to every family in the state who needs it.
* Listen to learn more…
Freelance workers face challenges such as timely pay and contract disputes.

HB1122 creates legal protections to ensure that these workers are properly compensated and hold contracting entities accountable.

Listen to @WBEZreset for the full story.https://t.co/i4Pc8X0OQd pic.twitter.com/1GSFphz3p1

— Illinois AFL-CIO (@ILAFLCIO) June 2, 2023
* Todd Maisch arrangements…
A Memorial Visitation will be held on Thursday, June 8, 2023 from 4:00 until 7:00 p.m. at Bisch Funeral Home West, 2931 South Koke Mill Road, Springfield, Illinois 62711. At 7:00 p.m. family and friends will share memories and tributes.

In lieu of flowers, those interested may donate to Share The Spirit Foundation, PO Box 78, Sherman, Illinois 62684 or the Todd Maisch Memorial Fund at INB Bank.
* Isabel's roundup…
* Illinois Newsroom | Alert issued for unhealthy air quality throughout all of Illinois on Friday: The problem is ground-level ozone. According to a statement from the Illinois EPA, "Ground-level ozone is formed when emissions of nitrogen oxides and volatile organic compounds from vehicles, power plants, and other industrial sources, react in the presence of sunlight." People with respiratory or pulmonary disorders are encouraged to take special precautions and follow the regimen prescribed by their doctors.

* WTTW | Chicago Just Had One of Its Driest Mays in History, How Serious Is This Drought?: Lake Michigan isn't at any risk, but smaller streams and ponds are drying up, and drought-sensitive shrubs and plants, as well as young trees, are likely to be feeling stress too, said Ford. Thanks to irrigation systems and drought-resistant seed strains, so far agricultural crops, particularly commodities like corn and beans, haven't been impacted.

* Washington Post | Journalists at country's largest newspaper chain will walk off the job: Hundreds of staffers for 24 Gannett newspapers, including the Arizona Republic, Austin American-Statesman and the Palm Beach Post, say they will not report to work for a day or two starting Monday, forfeiting pay and forgoing assignments ranging from city council meetings to high school sports championship games. At some papers, the strikes begin Tuesday.

* WCIA | Illinois may receive up to $76 million in federal grants to restore land affected by coal mines: As a part of the Bipartisan Infrastructure Law, Illinois is one of 22 states and tribes eligible for parts of $725 million this fiscal year to clean up polluted lands affected by coal mines. The federal government will offer $11.3 billion in funding over 15 years to clean up across the country.

* Shaw Local | Eminent domain bill passed by state to help McHenry County with Randall Road project: The project is the last piece of the Randall Road expansion, which first saw construction in 2009 and is slated to wrap up next year, McHenry County Division of Transportation spokesperson Darrell Kuntz said.

* Sun-Times | Ex-priest, who left after sex abuse accusations, settlements, not among 451 predatory clergy Kwame Raoul's investigation turned up: John D. Murphy, a former Augustinian priest, isn't on any public list of abusers. The attorney general's investigation didn't name him. The Archdiocese of Chicago settled claims over Murphy but doesn't include him on its list. And his Catholic religious order refuses to name abusive clergy.

* Crain's | Chicago Housing Authority sued over deal to lease public land to Lightfoot's billionaire donor: A "no-bid deal" for the 23-acre site was made with Morningstar Inc. Chairman Joe Mansueto, owner of Major League Soccer's Chicago Fire, even though the land has long been earmarked for public housing to replace units torn down decades ago, according to a suit filed Thursday in federal court.

* Daily Herald | After 2nd bicyclist hit, Batavia asks IDOT to speed up Route 31 safety work: "In light of the recent serious accidents, the city plans to request IDOT (Illinois Department of Transportation) to expedite their review for the road diet so that we may get that implemented as soon as possible," city administrator Laura Newman announced in a news release Thursday.

* Tribune | City officials, community discuss proposal to transform Diplomat Motel in Lincoln Square into transitional housing for homeless residents: Through the proposal, the Diplomat Motel at 5230 N. Lincoln Ave. would be redeveloped following in the steps of a pilot project in 2020 by which a handful of downtown hotels, including Hotel One Sixty-Six in the Gold Coast, were transformed into supportive housing for 259 individuals.

* Daily Herald | Lake in the Hills bakery that drew protests over drag brunch closes its doors 'forever': "I want to be abundantly clear, this is not goodbye," she wrote. "I promise you will be seeing A LOT of our faces and good outcomes will sprout from the hideous actions of so many against us here. This will not continue to happen to people, not while I have a voice and a beating heart."

* CNBC | Payrolls rose 339,000 in May, much better than expected in resilient labor market: Payrolls in the public and private sector increased by 339,000 for the month, better than the 190,000 Dow Jones estimate and marking the 29th straight month of positive job growth.

* Crain's | McDonald's shareholders veto proposal for DEI policy audit: A proposal from a conservative think tank demanding McDonald's commission an audit analyzing the effects of its diversity policies was voted down by shareholders. […] The proposal asked the company to analyze the effects of those policies on civil rights, non-discrimination and returns to merit, and the impacts of those issues on McDonald's business.

* Pantagraph | Moms Demand Action to hold 'Wear Orange' event in Bloomington:  The sixth annual event will be held at the Western Avenue Community Center, 600 N. Western Ave. in Bloomington. The free family-friendly event will feature more than 15 community partner tables, kids games, art activities with the Illinois Art Station, music and entertainment, 10-11:15 a.m.

* WGN | A few Chicago pro sports teams continue an alliance in 2023: The Chicago Bears, Blackhawks, Bulls, Cubs, and White Sox are continuing the Chicago Sports Alliance which they started in December 2017 in which they are giving financial support and resources to find solutions to gun violence.

* Tribune | Chicago's favorite barbecue sauce titan makes it into Hall of Fame: Raymond started out in the pharmacy business but was lured into the barbecue game after a salesman came in boasting about his barbecue. "He told me, 'I make good ribs,' so I told him that I make great ribs," Raymond said.

* Tribune | Dale Earnhardt Jr. test drives NASCAR's Chicago course: "We want to put drivers through some of the toughest challenges we can and I think this track will do that," said Earnhardt, 48. "There'll be some guys that really like it. There will be some guys that find it really challenging and miserable."

* AP | Some trans people turn to crowdfunding to leave Florida after anti-LGBTQ+ laws: For Sage Chelf, the decision to leave hardly felt like a choice, but she didn't have the funds to cover a move. The 30-year-old trans woman, who lives in the Orlando area, was nearly out of one medication when she found out the clinic that had been prescribing her hormone therapy was ending all treatment for trans patients. […] Chelf hopes to move to Illinois and move in with her girlfriend. The donations to her GoFundMe have restored her faith in humanity.
6 Comments

















Sorry, comments for this post are now closed.