* US Rep. Underwood turned 36 a couple of months ago. Here's Lynn Sweet…
Rep. Lauren Underwood, D-Ill., poised to start a third term after a big November win, was elected to a spot in House Democratic leadership Thursday, the first Black female to win an elected position on the team since Rep. Shirley Chisholm, D-N.Y., back in the 1970s.

Underwood snared one of three co-chair positions on the House Democratic Policy and Communications Committee, known as the DPCC. Other winners in the field of seven who sought the posts were Rep. Veronica Escobar, D-Texas., and Rep. Dean Phillips, D-Minn.

Underwood is now on a path paved by Chisholm, who in 1969 became the first Black woman in Congress, embracing a motto that became famous — "unbought and unbossed." Underwood often cites Chisholm, who ran for president in 1972, as a role model. From 1977 to 1981, Chisholm was secretary of the Democratic Caucus — and that's the last time, Underwood noted, that a Black woman was in an elected position — not appointed — at the House leadership table.
More from Lynn's story…
The centrist New Democrat Coalition in the House on Thursday elected Rep. Brad Schneider, D-Ill., of Highland Park, to be a vice chair and freshman Rep.-elect Nikki Budzinski, D-Ill., from Springfield, to be the representative of the freshmen members who joined the group.
* Bummer…
The office lottery drawing didn't go so well, okay it went terrible but in the words of a future colleague the most important office is the elected office my district send me to represent… looking at the bigger picture lol 🙄

— Delia Ramirez (@DeliaCRamirez) December 2, 2022
She did better than Rep. Jackson, though…
There are 74 members of this year's freshman class, but Rep.-elect Jonathan Jackson of Illinois was a no-show, meaning he defaulted to the last pick. (Members could send aides in their stead, but no one piped up for Jackson during the roll call.) The real work began later Friday morning, with each member-elect choosing an office space from whatever options were left. That happened during designated 5-minute slots, like a slower, less exciting version of the NBA draft being held immediately after the draft pick lottery.
* News…
So proud to pass the baton to @RepLCollins to lead the Illinois House Legislative Black Caucus forward. pic.twitter.com/eH8W89kKZf

— Rep.Kam Buckner ✶ ✶ ✶ ✶ (@RepKamBuckner) December 1, 2022
* Fran Spielman…
United Working Families is launching a fundraising campaign to prevent what it calls "Chicago's corporate donor class" from becoming an outsized influence in next year's aldermanic elections.

The Chicago Sun-Times reported earlier this week that Mike Ruemmler, who managed former Mayor Rahm Emanuel's 2015 reelection campaign, is chairing an independent expenditure committee bankrolled by business leaders to elect alderpersons who want to "be part of the solution and not lob bombs from the sideline."

Ruemmler said he hopes to raise "into the seven figures" — enough money to "play in … somewhere between 17 and 23" wards. Former Sun-Times investor Michael Sacks, CEO of Grosvenor Capital Management, has agreed to be one of the donors. During Emanuel's eight years in office, Sacks was his chief fundraiser and all-purpose adviser.
* Tim Novak and Frank Main…
More than a decade ago, then-Mayor Rahm Emanuel issued an executive order that prohibited him and future mayors from taking any campaign money from lobbyists.

This year, Mayor Lori Lightfoot has accepted more than $53,000 in 39 individual campaign contributions from 14 companies owned by Carmen A. Rossi, a registered city lobbyist.

Rossi — who is also a city contractor and restaurateur and nightclub owner and who holds the liquor license for the Lollapalooza music festival — didn't make any of the contributions to Lightfoot in his own name.

It isn't clear whether Lightfoot's taking the contributions from his companies would violate the ban Emanuel imposed on mayors taking political money from lobbyists.
…Adding… From Gary LaPaille's widow…
Hello friends. Gary passed away today from complications due to ALS. He was at peace and surrounded by his family. I want everyone who took the time to post a note to him to know that he really enjoyed hearing from all of you. We read every message to him, some of them multiple times. We were astounded by the heartfelt voices from his past; so many of you wanted to reach out to share your memories of him from years ago. We tend to get caught up in the day-to-day of our lives and forget that we are shaped from the people, places and experiences of our past. I know Gary treasured his time in Illinois politics and government. Your names were not unfamiliar to my kids, who heard the stories many times over the years.

Gary was the ultimate people person. His friends in Maryland and DC who visited with him these past few days said things about him that will sound very familiar to those of you who knew him back in another life: He was the most generous guy I ever met; he was the life of the party; he took care of everyone on the block; I owe my career to him. That is the Gary we all knew. I am blessed beyond measure that through him I also experienced the joy of knowing all of you.

On behalf of Joe, Sam and Grace and my daughters-in-law Ally and Irina, thank you for sharing your remembrances of your time with Gary. Thank you for your prayers. We are forever grateful.

Love,

Chris LaPaille
LaPaille was Speaker Madigan's chief of staff, chair of the Democratic Party of Illinois and a state Senator.
* Isabel's roundup…
* My Journal Courier | Legislative tool has its place, experts say: The Illinois Freedom Caucus said it wants to do away with the consent calendar that allows bills to be bundled and voted on in a single roll call. However, a longtime observer of Illinois politics thinks the consent calendar has a place in the General Assembly and that doing away with it would make the legislative process more cumbersome.

* St Louis Public Radio | Rural America is getting older, with a fifth of the population now over the age of 65: The U.S. Department of Agriculture's annual Rural America at a Glance report shows more than 20% of rural residents are over age 65 compared to 16% in urban areas. "The aging of the baby-boom generation will continue to contribute to the loss of working-age adults through the end of this decade," the report from the USDA's Economic Research Service stated.

* CBS Chicago | Illinois Secretary of State-elect Alexi Giannoulias brings opponent Dan Brady onto transition team: Brady: "I was pleasantly surprised. I thank the Secretary-elect, and I look forward to helping him in every way I can. People say: 'Wow – that's a great idea! That's novel!' We went as Illinoisans – we have people who are going to try and find a common ground. We know there are issues we disagree on – but how about the common things that we can come together on; the things that we can help improve in office, and efficiency?"

* Patch | Outgoing State Rep Denyse Stoneback Introduces 'Truth In Politics Act': "The voters have the ultimate authority to hold politicians accountable for what they say and do, exactly as it should be. Free and open elections are the foundation of our democracy," said Plummer, the assistant Senate GOP leader.

* NBC Chicago | At Over $500 Per Ticket, Some Are Questioning This Chicago 'Foodie' Tour — Which Includes a Donut and Hot Dog: According to the tour description, the event includes five food items — a Portillo's hot dog, a small Garrett's popcorn, a six-inch Al's Italian beef sandwich, a slice of deep dish pizza and a Do-Rite Donut — along with bottle of water, and an Uber ride.

* Block Club Chicago | 242 Cars Towed On First Night Of Winter Parking Ban, Highest Number Since 2019: Violators face a minimum $150 towing fee, a $60 ticket and a storage fee of $25 per day their car remains at the auto pound, according to city officials. That means the unlucky car owners will spend at least $56,870 in penalties and fees to retrieve their cars. Many Chicagoans call the practice "predatory" as the mistake can set people back over $200, but city officials have continuously argued the ban ensures plows can quickly respond to unexpected snow on major roads.

* Patch | 5 Illinois Local Heroes Show Bravery, Selflessness, Compassion: When times are tough or there's a community in need, we see them emerge: Compassionate local heroes who go above and beyond to help, serve and give back. Here at Patch, we've launched an initiative to help recognize these heroes making a difference in their communities. And we're working to tell the stories of these outstanding people.

* Illini Inquirer | Will they stay or will they go?: Several Illini face NFL Draft decisions : Several Illinois players are valued by the NFL and have big decisions to make of whether to make the leap to their professional dreams now or to return for another season at Illinois.

* Sun-Times | Chicagoan Brenda McKinney to see the world after retiring from the Illinois Urban Fishing Program: Brenda McKinney went fishing once before she was hired for the Illinois Urban Fishing Program. "Idlewild, Michigan," McKinney said. "Gentleman named Pops, back then, took me. I caught nothing. I never had a problem with fish or worms, I wasn't that kind of young lady."

* Sun-Times | Proposed IHSA rule would attempt to crack down on transfers: Schools around the state are set to vote on a new Illinois High School Association rule involving transfers and the hiring of high school coaches.
18 Comments


Click here to help buy presents for LSSI foster kids!
* Tribune…
The nation's employers kept hiring briskly in November despite high inflation and a slow-growing economy — a sign of resilience in the face of the Federal Reserve's aggressive interest rate hikes.

The economy added 263,000 jobs, while the unemployment rate stayed 3.7%, still near a 53-year low, the Labor Department said Friday. November's job growth dipped only slightly from October's 284,000 gain.
* WBEZ…
So far, just three years after Gov. JB Pritzker signed legislation legalizing recreational marijuana use, Illinois cannabis workers have voted in 30 elections and reported a healthy 88% win rate, much better than the 61% of elections won by unions across the country in fiscal year 2021. […]

Illinois is one of the nation's most lucrative cannabis markets, with about 110 dispensaries grossing $160 million in sales each month. Until recently, it has been growing at a frenetic pace, with another 192 dispensaries and 77 small growers — all licensed under the law's "social equity" provisions — in the pipeline. […]

A second union — Teamsters Local 777 — has joined the party, winning 15 elections in a row and signing contracts with a company that owns two Chicago dispensaries.

"We can't keep up with all the calls," said Teamsters Local 777 President Jim Glimco said. At his union hall in suburban Lyons, bus drivers now mingle with budtenders.
* Meanwhile, Fox 32…
The city's transit authority plans to fill 650 positions for bus operators and mechanics, and they say thousands have applied.

CTA President Dorval Carter says the key to improving service on the CTA is more employees. There has been a shortage since the pandemic. The agency hopes to fill 30 positions every two weeks to bring staffing up to normal levels.

Candidates got to hear from CTA employees talk about the jobs, benefits and increased wages. A full time driver can make $28.42 per hour, while a mechanic can make $39.42 per hour.
At that rate, hiring all 650 people will take almost 11 months, if the CTA can keep up the pace. And last month , and also back in September, the CTA said it had about 1,000 vacant positions. So, that hiring won't solve the problem, even if they follow through.
Speaking of the CTA…
Yesterday, the blue line only ran 68% of its scheduled trains. Riders deserve more accurate schedules.

— Commuters Take Action (@ctaaction) December 2, 2022
* Crain's…
Illinois' public health departments are receiving a funding infusion from the federal government, a move aimed at strengthening the state's public health workforce and infrastructure.

The Centers for Disease Control & Prevention is providing $86 million to the Illinois Department of Public Health through the American Rescue Plan Act, according to a statement from Gov. J.B. Pritzker's office and IDPH. Some of those funds will be shared with other local health departments in Illinois. Chicago's Department of Public Health got its own allotment: $28 million.

The money will be used to recruit, retain and train public health workers, like epidemiologists, contact tracers, laboratory scientists, community health workers and data analysts. The grant is intended to address public health needs in economically depressed areas, as well as in communities with people from racial and ethnic minority groups.
1 Comment


Click here to help buy presents for LSSI foster kids!
* Known for buying the Tribune and slashing news rooms, Alden Global has turned to acquiring mobile home parks. Julie Reynolds Martínez…
While mostly focused on gutting your local news outlet, during the pandemic [Randall Smith, co-founder of the hedge fund Alden Global Capital] moved into one more investment area that's having a devastating effect on working people's lives: mobile home parks.

While Smith enjoys flitting between mansions in places like West Palm Beach and the Hamptons, his low-income tenants face rent hikes and evictions.

Smith Management, under names like Big Oaks MHP LLC, has acquired some 20 mobile home parks in North Carolina, where it immediately raised rents and threatened evictions. […]

Tenants at Big Oaks Mobile Home Park in North Carolina were immediately hit with 90-day rent increase notices during the height of the pandemic.

Smith's company offered to buy tenants' homes if they couldn't afford the 60% increase. Worse, owners are prohibited from selling their homes to any other buyer, allowing Smith to set the price.
* NPR interview with Julie Reynolds Martínez…
SIMON: And Alden uses other companies to buy up these properties, according to your reporting.

REYNOLDS: Yeah, I have discovered scores of these around the country. I'm still counting. And they were bought up last year by a company called Homes Of America LLC. It's an Alden affiliate. In all of these communities, I saw the same pattern. There were stories in local media. They were raising the rents 40 to 60%, putting up eviction notices. They were even evicting people in quite a few cases where the rent had already been paid. And I've seen the bills. I've seen the proof of payment. And these park managers are also refusing to do repairs. And a couple of weeks ago, the water was shut off at Massie's Mobile Home Park in Virginia because they didn't pay the bill.

SIMON: Does Alden want to be in the mobile home park business, or do they have another plan, best as you can tell?

REYNOLDS: It's a little hard to tell. They bought most of these parks in 2021 using these LLCs that belong to other LLCs. They're all under Homes Of America, and its financing arm in turn is actually owned by an entity called Tribune 2 Finance 1 LLC. And this led me to wonder if they're actually using the Tribune newspaper money to pay for all of this. This follows Alden's pattern of buying distressed businesses.

SIMON: Their interest is real estate, not the actual business.

REYNOLDS: Well, it's also ringing out the cash until the business itself gets to the failure point, and then they can also profit from the real estate. I worked for an Alden paper for 10 years, the Monterey County Herald, and it was a similar situation. The hot water went off, they never fixed it - things like that. So this is a pattern for them.

SIMON: And can you tell how many properties, mobile home parks, they've purchased?

REYNOLDS: My count is up in the 80s, but I'm still counting. So I wouldn't be surprised if it's more than 100.
* Cardinal News reported early last month on the acquisition of another mobile home park…
Many residents of a Montgomery County mobile home park, which has been purchased by a company linked to hedge fund Alden Global Capital, have received notices to vacate, or notices to face eviction unless back charges are paid. Some of the tenants are disputing the charges. A tenants' meeting has been scheduled for Saturday at Belview United Methodist Church, according to a tenant organizer. […]

The new owner is listed in county records as Massie MHP LLC, care of Homes of America LLC, care of Tom Del Bosco, located in Englewood, New Jersey.

A 2008 U.S. Securities and Exchange Commission notice of sale of securities, found online, identified Alden Global Capital as a division of Smith Management LLC. Thomas Del Bosco and Randall Smith are listed among the executive officers of Alden.[…]

"And when you look at the letter, it's not an eviction letter, it's a notice to quit," Rupp said. "And it said, you basically have to pay up … $700 by Oct. 28, or you will be evicted. And she didn't owe any money. She had been paying all of her rent on time." The next day, another aide told Rupp that three other students' families had also received similar notices.

Rupp provided Cardinal News with two documents. One is a "Notice to Quit" that requires the tenant to vacate the premises within 30 days due to an "incurable lease violation" described as an account delinquency of $20.

Another tenant received a "Material Noncompliance Notice For Failure To Pay Rent" stating that the tenant owed $713.49 in rent for the period Aug. 1 to Oct. 18. The tenant was given five days to pay in full or face termination of the lease.
* Cardinal News reported today that residents are suing over a water shutoff…
After water was briefly cut off to residents by the new owners of Massie Mobile Home Park in Montgomery County, some tenants are suing the park with the assistance of Southwest Virginia Legal Aid Society.

A hearing is set for Jan. 6 in Montgomery/Christiansburg General District Court. At issue is a shutoff of water to park residents for a few hours on Nov. 15 by the county's Public Service Authority due to nonpayment. The bill was owed by the park management, not by the individual residents.

Kristi Murray is a staff attorney with Southwest Virginia Legal Aid Society. She specializes in housing and is based in the organization's Christiansburg office.

"We started getting some phone calls from residents that morning that they had no water service. So we started calling our other tenants that we were already assisting … and we found that most all of our residents there did not have water service that day," Murray said. […]

It is not clear why the park's owner, Massie MHP LLC, delayed paying the bill. Creasy did not return a message requesting comment.
Nearly a year after Homes of America, LLC began buying mobile home parks in Minot, the issues and complaints being raised by residents remain the same. Communication remains a problem, with some waiting weeks or months for a response to their queries and requests. […]

Despite making contact with past and present employees of Homes of America, none were willing to speak on the record. Further attempts to contact Homes of America leadership directly were not responded to.

While Homes of America LLC was formed in Delaware, its filings with the North Dakota Secretary of State lists a New Jersey address that it shares with the firm Smith Management LLC, the parent company of the hedge fund Alden Global Capital. The COO of HOA is a man named Bryon Fields Jr. of Charlotte, North Carolina, according to Fields' Linkedin page. Based on public records scraped by the website corporatewiki.com, Fields is also an officer of three other mobile home park LLCs located in Florida. His fellow officers include Alden President Heath Freeman, Smith Management Executive Vice President and CFO Tom Del Bosco, and Alden CFO Joshua P. Kleban.

A call to Alden Global Capital's New York City office was answered, with the receptionist offering to direct the call to those overseeing Homes of America. After being transferred, no speaker announced themselves, and promptly hung up.
* More…
* From the bird app…

The Tribune had $250m in savings when the "destroyer of newspapers" Alden Global Capital bought it, then saddled it with heavy debt. One guess how Alden used that $, from @NPR: https://t.co/UnVX1tvi1F

— Chicago Tribune Guild (@CTGuild) December 1, 2022
Stand strong, NYT journalists!!

The Chicago Tribune has been at the negotiating table with @tribpub even longer than 20 months and we've hit headwind after headwind with our hedge fund owners …🤔 https://t.co/TKFEQfS7XF

— Josh Noel (@hopnotes) December 2, 2022
14 Comments


Click here to help buy presents for LSSI foster kids!
* The 2022 Golden Horseshoe Award for Best State Senate Staffer - Non Political goes to Policy and Budget Analyst Meredith O'Brien…
Meredith O'Brien is the gold standard when it comes to staffers who know their issues and how to get things done.

She handles some of the most complex issues in human services, including the sometimes dreaded Behavioral Health and Addiction bills that are never easy to write or pass. She has multiple groups and lobbyist in her ear from the first day of session until adjournment.

Everyone from her members to advocates to other staffers and lobbyist know if you have a human service related bill in the Senate, you had better have had a conservation with Meredith long before you try moving the bill.

Like most staffers, she works ridiculous hours during session but always has time to answer questions or provide input.
* The 2022 Golden Horseshoe Award for Best State House Staffer - Non Political goes to Deputy Legal Counsel Kendra Piercy…
She is smart (without being condescending), self-aware, calm and can be counted on to handle many major issues for the House Dems. She was recently promoted to Deputy Counsel and is a strong asset to her caucus.
Congratulations to both winners!
* Let's move on to today's categories…
Best campaign staffer - Illinois House Democrats

Best campaign staffer - Senate Democrats
Please nominate in both categories if you can. Also, make sure to explain your nominations. Thanks!
* And here's your friendly reminder to click here and help buy presents for Lutheran Social Services of Illinois foster children. Here's a holiday greeting from one of those kids…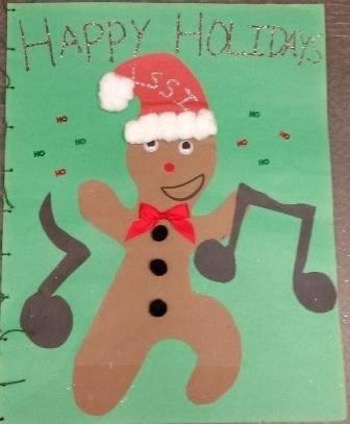 35 Comments


Click here to help buy presents for LSSI foster kids!
* Winnebago County State's Attorney J. Hanley (R) in a September Rockford Register-Star op-ed…
On Jan. 1, 2023, it is estimated that more than half of the inmates in the Winnebago County Jail will walk out the door. Approximately 400 criminal defendants will be released back into our community because our Illinois legislators passed the "SAFE-T Act" back in 2020. […]

Let's hope that action can be taken during the post-election "veto session" in early December. Please call your legislators and advocate for such action — but don't call me — or the sheriff.

We aren't responsible for letting over half the jail population walk out the door on Jan. 1.
* Earlier this week, before the SAFE-T Act revisions were passed…
[Winnebago County State's Attorney J. Hanley] wrote an op-ed in September stating that beginning January 1, "about 400 criminal defendants will be released back into our community."

Hanley said both parties have delved into misinformation and acknowledged his role.

"I regrettably probably contributed to this in a way that I do regret," Hanley said. "It's not going to be a purge."
And then he talked about the money aspect…
[Hanley] said counties throughout the state will face hard times financially with the loss of cash bond.

"If I'm arrested for a crime, I post my $5,000, I end up pleading guilty, and let's say I get probation, my fines and costs might equal $3,000," Hanley said. "That's taken from the bond that I posted. And so, it's almost more of a collection issue."
35 Comments


Click here to help buy presents for LSSI foster kids!
* Tribune…
Though Illinois is considered to have some of the strongest gun laws in the country, national researchers are recommending additional steps to ensure the public is safe from firearm violence.

A 16-page report by Johns Hopkins Center for Gun Violence Solutions, released Thursday, recommends barring gun permits — even with parental or guardian sponsorship — for those younger than 21,banning large-capacity magazines and strengthening the state's red flag law.

The report comes five months after a mass shooting in Highland Park, in which a man with a history of threatening violence and posting violent gun-related images online allegedly opened fire with a military-assault-type weapon, killing seven people and wounding dozens of others at an Independence Day parade. Three 30-round magazines were recovered.

The report also lands as the Illinois legislature is set to consider gun safety laws.
The report is here.
* HB 5855 was introduced yesterday by Rep. Bob Morgan…
Amends the Illinois State Police Law of the Civil Administrative Code of Illinois. Provides that the Division of Criminal Investigation of the Illinois State Police shall conduct other investigations as provided by law, including, but not limited to, investigations of human trafficking, illegal drug trafficking, and illegal firearms trafficking. Provides that the Division of Criminal Investigation shall provide statewide coordination and strategy pertaining to firearm-related intelligence, firearms trafficking interdiction, and investigations. Amends the Firearm Owners Identification Card Act. Eliminates provisions that permit a person under 21 years of age who is not an active duty member of the United States Armed Forces or the Illinois National Guard to obtain a Firearm Owner's Identification Card with parental consent. Amends the Wildlife Code. Provides that when a person under 21 years of age is hunting under the supervision of a adult, the adult must possess a Firearm Owners Identification Card. Amends the Firearms Restraining Order Act. Provides that the State's Attorney of the county where the petition is filed may act as a friend of the court in any action filed under the Act. Provides that a petitioner may request a one-year (rather than 6-month) firearms restraining order. Amends the Criminal Code of 2012. Makes it unlawful to manufacture, deliver, sell, or purchase or cause to be manufactured, delivered, sold, or purchased or cause to be possessed by another, an assault weapon, assault weapon attachment, .50 caliber rifle, or .50 caliber cartridge. Makes it unlawful for any person to knowingly possess an assault weapon, .50 caliber rifle, or .50 caliber cartridge 300 days after the effective date of the amendatory Act, except possession of weapons registered with the Illinois State Police in the time provided. Provides exemptions and penalties. Prohibits the manufacture, delivery, sale, purchase, or possession of large capacity ammunition feeding devices. Defines terms. Provides exemptions and penalties. Makes other changes. Effective immediately.
* From Rep. Morgan…
Illinois Democrats today introduced the Protect Illinois Communities Act into the state House of Representatives; HB5855 is a comprehensive legislative package that they hope will set a national standard for gun safety laws.

The package, introduced by House Firearm Safety & Reform Working Group Chair, State Rep. Bob Morgan (D-Deerfield), will:

Ban assault weapons immediately, require registration of existing weapons, prevent future sales of ammunition magazines with 10+ rounds, and prohibit rapid-fire devices that turn weapons into fully automatic guns;

Hold gun manufacturers or retailers responsible who market firearms products through deceptive marketing practices;

Establish an interdisciplinary state-wide strike team within the Illinois State Police, in concert with the Department of Justice and the Bureau of Alcohol, Tobacco, Firearms and Explosives, to combat the influx of illegal guns across state lines into Illinois;

Remove the ability for people under 21 to own firearms and ammunition, with exception for those serving in the U.S. Military or the National Guard, as well as allowing hunting and sports shooting for minors with guardian supervision;

Strengthen Firearm Restraining Order laws to keep firearms from dangerous persons.

Rep. Morgan, who represents Highland Park and several other northern suburbs, led the Illinois State House Firearm Safety and Reform Working Group, which met with gun violence survivors, policy experts, faith and community leaders, and law enforcement officials across the state in crafting the legislative package.

"Gun violence is destroying families and communities from East St. Louis to Highland Park to Chicago, and this moment demands urgency," said Rep. Morgan. "It is time that we had the political courage to admit that guns are a problem, and that we can do something about it. This gun reform package will reduce gun deaths in Illinois, and it is long past time for us to step up and reform the laws which have enabled this gun violence to continue."

"Whether you're in the city, or the suburbs, or in a rural area, the reality is gun violence is affecting every corner of our state," said Rep. La Shawn K. Ford, who serves as part of the working group. "Particularly when it comes to our youth, we are losing an alarming number of our children every year. Every loss is a lasting tragedy that permanently scars families, friends and communities. We have to take action."

The legislation will be discussed at several subject matter hearings, and will first be heard in early December, more details to follow. Those interested in supporting the legislation are encouraged to submit witness slips in support in advance of the hearing. Status updates on the bill and steps supporters can take can be found at: https://www.repbobmorgan.com/firearm-safety-and-reform-working-group/
* Press release…
Today, the Gun Violence Prevention PAC (G-PAC), Giffords, and Brady released the following statements in response to the introduction of a new bill that would ban the sale of assault weapons and large-capacity magazines in Illinois. The introduction of the possible new measure comes five months after the devastating July 4th tragedy in Highland Park. Illinois has experienced about 55 mass shootings this year, so far, according to the Gun Violence Archive.

"Today's announcement is the culmination of the tireless work being done by Illinois' gun safety advocates, who continue to lead the fight for the future of our communities," said Kathleen Sances, President and CEO of G-PAC."We applaud Representative Bob Morgan and the working group for stepping up to address the gun violence epidemic. In the absence of a federal ban, Illinois is long overdue for a statewide ban on weapons that continue to kill so many, not only in Chicago or Highland Park, but in Crest Hill, Decatur, East Saint Louis, Elgin, Joliet, Peoria, Rockford, Romeoville, Wheeling, and Yorkville. We don't have to live like this, and we certainly don't have to watch our neighbors die senselessly. We look forward to reviewing the bill and continuing to work in support of needed gun safety solutions – too many lives are on the line."

Earlier this year, G-PAC launched #HaltTheAssault, a new campaign dedicated to calling on Illinois state lawmakers to ban the sale and possession of assault weapons and large-capacity magazines. The initiative hopes to make Illinois the eighth and ninth state, respectively, to enforce these measures.

"Months after the nation watched a small community's 4th of July parade end in a senseless and horrifying mass shooting, the Illinois legislature is finally acting to prevent more tragedies," said Sean Holihan, state legislative director for Giffords. "Giffords stands with the people of Highland Park, GPAC, and Rep. Bob Morgan, who are working towards banning assault weapons and large capacity magazines - the same weapons of war that were used on the 4th of July."

"Brady applauds the introduction of these common-sense, comprehensive policies that will better protect communities across Illinois," said Brady President Kris Brown. "Illinois already has some of the strongest gun laws in the country, and the policies in this bill, including new age restrictions and extended restraining orders, will add to that strong record. Most importantly, an assault weapons and large capacity ban would help prevent tragedies like Highland Park from occurring again. Weapons of war have no place in our communities, and every day we wait to renew and reinstate the Assault Weapons Ban, more lives will be lost. Brady thanks Representative Bob Morgan for his leadership on this important issue."

Assault weapons and large-capacity magazines make mass shootings deadlier in Illinois. Research finds that in shootings where assault weapons or high-capacity magazines are used, 155 percent more people are shot, and 47 percent more people are killed.

Studies on both the lapsed federal assault weapons ban and state-level assault weapons bans show that such laws help prevent mass shooting deaths and decrease the diversion of assault weapons to criminal use.
I'll post opposing viewpoints if/when I receive them.
*** UPDATE *** Richard Pearson with the Illinois State Rifle Association…
With the filing of HB5855 it seems Christmas has come early for G-PAC and other groups that are committed to taking away the Second Amendment rights of law-abiding Illinois Citizens. We have consistently heard from anti-Second Amendment legislators that they "don't want to take away your guns, we only want common sense gun reforms." Under HB5855 their first step is to take away your magazines and force law-abiding citizens to register their firearms. The legislation goes beyond magazines used in semi-automatic rifles to also include magazines used in millions of commonly owned handguns. Their next step is to use that very registry to take away your firearms. The anti-gun crowd's agenda has always been to incrementally peal back the Second Amendment rights of law-abiding Illinois citizens. The Illinois State Rifle Association will not be entering into any negotiations on this piece of legislation. Elections have consequences. We will see the State of Illinois in court should this bill be enacted into law.
78 Comments


Click here to help buy presents for LSSI foster kids!
* Yep…
Still a hell of a view. pic.twitter.com/p8bRf1S4y4

— Hannah Meisel (@hannahmeisel) December 1, 2022
* Here you go…
* Sun-Times | Crossing their SAFE-T's? State lawmakers pass criminal justice law fixes — no overhaul, but 'good move forward' to prosecutors: Among the most overt changes in the legislation approved by both the House and Senate is that those charged with crimes before Jan. 1 would be able to remain in the old cash bail system — or request to be moved to the new system.

* Tribune | Democratic state legislators approve changes to SAFE-T Act, GOP still blasts law as a 'misguided, confusing scheme' : An amendment that codifies the changes to the sweeping legislation, also known as the SAFE-T Act, passed along party lines in both chambers: 71-40 in the House and 38-17 in the Senate. The amendment now goes to Gov. J.B. Pritzker, who issued a statement late Thursday saying he was pleased with the legislators' work.

* WTVO | Illinois Senate tweaks SAFE-T Act weeks before it becomes law: The Senate Democratic Caucus says any person charged on or after January 1st will have their pre-trial release determined under the new system. Anyone charged prior to then will remain under the current system, but they can try to have their case heard under the new rules.

* WCIA | Law enforcement, state's attorneys, justice reform advocates agree to negotiated SAFE-T Act amendment: State's attorneys and law enforcement were opposed to the original law while coalitions to end cash bail supported it. In the end, both groups said they are neutral to the new proposal and that they can live with the changes made to the SAFE-T Act.

* Daily Herald | Legislation would create safe spaces for using opioids: State Rep. La Shawn Ford, a Chicago Democrat, introduced the measure last year, before the country's first injection sites opened in New York City. At a news conference Thursday in Springfield, Ford insisted that setting up safe spaces and bolstering other overdose prevention strategies would "save taxpayer dollars while saving lives."

* Tribune | Illinois House Democrats unveil proposal to ban assault weapons, high-capacity magazines in response to Highland Park mass shooting: The legislation, filed on the final legislative session day of 2022, is a response to the mass shooting at the Fourth of July parade in Highland Park, where seven people were killed and dozens of others injured by a shooter using an assault-style rifle and high capacity magazines.

* WQAD | Illinois lawmakers advance $1.8 billion unemployment fund bailout: On the final day of their fall veto session, Illinois lawmakers on Thursday advanced a pair of bills that would infuse $1.8 billion into the state's unemployment trust fund, which was depleted during the economic shutdown brought on by the COVID-19 pandemic.

* Crain's | Bill boosting EV incentives is headed for Pritzker's desk: Under a measure approved by the House this evening and sent to Gov. J.B. Pritzker, both the amount and length of payroll tax credits for eligible employers will be increased, lasting as long as 30 years.

* Politico | Biden's first state dinner brings out glamour and guests galore : Biden's first state dinner comes nearly two years into his first term, after Covid put such pageantry on pause. The president's selection of France as the guest is a testament to Biden and Macron's close relationship — on full display Thursday as the two leaders referred to each other as "friend" in their chummy interactions, which included the French president frequently patting his U.S. counterpart on the back and referring to him as "Dear Joe."

* FOX 32 | CPD whistleblower: 'I did what was right and I got screwed.': In his second day on the stand in a whistleblower case against CPD, Lambert choked up several times as he described his reaction to being "dumped" from his hard-won position as a detective sergeant and sent to work the midnight shift in patrol division after he refused to alter reports to list Officer Khalid Muhammad as a victim in an off-duty shooting of 18-year-old Ricardo Hayes.

* Tribune | Chicago police leaders say applications have increased in 2022 amid national cop staffing shortage: So far this year, more than 630 members of the Chicago Police Department have retired and collected their pension, according to data from the Policemen's Annuity and Benefit Fund of Chicago. In 2021 that number was around 660, after about 560 left in 2020.

* Tribune | National report released 5 months after Highland Park shooting makes gun safety recommendations for Illinois: A 16-page report by Johns Hopkins Center for Gun Violence Solutions, released Thursday, recommends barring gun permits — even with parental or guardian sponsorship — for those younger than 21,banning large-capacity magazines and strengthening the state's red flag law.

* Sun-Times | A list of every known Illinois resident charged in the U.S. Capitol breach: About 900 people have been arrested in connection with the breach in nearly all 50 states. That includes Illinois, where at least 34 known residents face charges for their role.

* Illinois Times | Is this the best use of prime farmland?: What should be grown on central Illinois' prime farmland, seeds or solar panels? That's the quandary facing central Illinois and other areas of the nation that grow the majority of the country's crops. A new solar energy installation, labeled the Double Black Diamond Solar project, is now being built and takes up more than 4,000 acres of land in Sangamon and Morgan Counties. That land, until now, has been used to grow corn and soybeans.

* Chronicle Media | Current rural health care environment 'not sustainable': "It's a terrible marketing line … but a great elevator speech when trying to communicate the uniqueness of rural communities," said Alan Morgan, chief executive officer of the National Rural Health Association.

* Chicago Mag | HBO's South Side: Finally, a Chicago sitcom that actually feels like Chicago. South Side, originally on Comedy Central and now streaming on HBO Max, is returning December 8 for its third season. (Keep an eye out for Chicago magazine's cameo in episode 5.) Hyperspecific settings and insider references make this show a celebration of not just Chicago but Black Chicago. It's also hysterically funny. Here's a catch-up in case you missed the first 20 episodes. But, to paraphrase the CliffsNotes disclaimer, you are only denying yourself by not watching them.

* The Guardian | Largest LGBTQ+ health center in US midwest to lay off 15% of staff: Howard Brown Health, a nonprofit community health center in Chicago that is the largest provider of health and wellness care for the LGBTQ+ community and people living with HIV in the midwest, has announced it wants to lay off at least 100 employees, or about 15% of staff.

* Southern Illinoisian | Gallatin County native helps decorate the White House: York is from Equality, a small village in Gallatin County. He was selected as one of more than 150 volunteers chosen from across the nation to assist in the three-day process of decorating the White House as part of a "We the People" theme, which features 77 Christmas trees, 25 wreaths and more than 83,600 lights, according to the office of first lady Jill Biden.

* PJ Star | Illinois eighth-grader hits miraculous full-court buzzer-beater to win game: The eighth-grader from Marseilles, Illinois, sank a running left-handed buzzer-beating shot from nearly full court to lift his Milton Pope team to a 34-32 victory over Marseilles.
3 Comments


Click here to help buy presents for LSSI foster kids!