* The Southern…
Most of the grandstand music lineup for the 2019 Du Quoin State Fair was announced Monday morning.

Here's what we know so far: […]

Tuesday, Aug. 27: Confederate Railroad, Shenandoah and Restless Heart. Confederate Railroad has been a hit-making force in Southern rock since the 1990s, with two releases going platinum in the '90s.
A band named Confederate Railroad. In Illinois. The Land of Lincoln. Playing at a state-owned facility.
I've never heard anyone claim that the group has Confederacy-loving song lyrics or anything (although there is this). It's just… well… Allow me to turn this one over to you…
* The Question: Appropriate or not? Don't forget to explain your answer.
…Adding… As pointed out by a commenter, the group's latest album features Confederate flags on the cover.
- Posted by Rich Miller 56 Comments


* I totally agree with this Tribune editorial…
If the prospect of Illinois wildly expanding gambling doesn't make you nervous, this should: Gov. J.B. Pritzker and lawmakers evidently are considering stacking the state's oversight agency with friendlier gatekeepers.

State Sen. Terry Link, D-Waukegan, a longtime sponsor of gambling legislation, recently predicted a push for more "pro-gaming" influence at the Illinois Gaming Board, the agency that regulates casinos and video gambling.

Pritzker's office declined to answer our questions about his plans. But if Pritzker allows a shift away from the strict protocols that have kept Illinois casinos corruption free, he'll be the third governor — after George Ryan and Rod Blagojevich — to make the colossal mistake of meddling in gambling oversight. This is no time to appoint regulators in a hurry to please lawmakers. With so much gambling expansion imminent, Illinois should double down on vetting, transparency and deliberation. […]

Pritzker's team has only released a statement on the prospective shake-up: "All of the governor's current appointees will all comply with the language contained in (the bill). We look forward to having a skilled and diverse board that will both regulate and effectively support gaming in Illinois."

"Effectively support?" To what extent?
As I wrote just the other day, that would not be a smart move. At all.
Also, that Link quote was reported by the Sun-Times. Credit where credit is due.
* And while they're right about avoiding friendly gatekeepers, where's the Tribune been the past four years? From 2014…
Springfield lawyer DON TRACY is doing advertisements on the radio again, this time to promote BRUCE RAUNER for governor.

And he says he's using "a more pro-Springfield message" for the local crowd than the "shake up Springfield" slogan that Rauner ads feature.
* 2015…
Judge Aaron Jaffe will not be re-appointed to head Illinois' Gaming Board. Instead, Governor Rauner is looking to Springfield corporate attorney Don Tracy to fill those shoes. […]

"Don is a friend and he and his family have done a lot of good things for the State of Illinois, for the citizens of Illinois, and for the Republican Party," said Jason Plummer, who won the lieutenant governor spot over Tracy in 2010.
Judge Jaffe was a Tribune hero.
* Tracy even served as Rauner's attorney while chairing the Gaming Board…
Gov. Bruce Rauner's office ended a monthslong fight over details about his workday Friday, releasing more complete appointment calendars in response to an attorney general's decree that he was withholding more information than allowed under state records-access law.

A lawyer for the first-term Illinois Republican disclosed fresh versions of his calendar from early 2015, nearly four months after the state public access counselor's ruling. The new versions revealed little new information.

The issue over what Rauner is doing, when and with whom has been contested by The Associated Press, the Chicago Reader and the Illinois Times, whose staff writer, Bruce Rushton, filed a lawsuit over the matter, an action Rauner lawyer Don Tracy of Springfield blamed for the delay in disclosure.
* And then there was the Y Block fiasco…
As a $15 million renovation of the Illinois governor's mansion nears completion, a fight over a piece of land across the street has taken Republican Gov. Bruce Rauner's long battle with organized labor to his front lawn.

At issue is nearly 2.5 acres owned by the city of Springfield that lies just north of the mansion's gated grounds. The block has sat vacant for more than a year after the city demolished a YWCA building there. Since then, a nonprofit group backed by Rauner was picked to turn the lot into a park, featuring mounded hills, a sidewalk cafe and pools of water that could feature light shows in the summer and ice skating in the winter.

"They are renovating the mansion and this would provide a Washington Mall-type vista in front of it," said Don Tracy, an attorney long involved in Republican politics who Rauner recruited to lead the effort. "We hope it would be a destination park to sort of help rejuvenate downtown Springfield, which needs lots more people." […]

"I didn't realize it was this hard to give away money, that's what we are trying to do, and every time we turn around there is some new obstacle or objection," said Tracy, who also works as Rauner's Illinois Gaming Board chairman. "But that's Springfield, and that's Illinois."
What we need at the Gaming Board are independent-minded members who are neither explicitly pro- nor anti-gaming and who don't work directly with or for the governor.
- Posted by Rich Miller 11 Comments


* Sun-Times…
The White Sox make their latest visit up north to Wrigley Field to face the Cubs this week, but their former longtime announcer appears happy he's not joining them.

Hawk Harrelson, when asked by local television reporters whether he'd miss covering games at one of baseball's legendary stadiums, told reporters he's got no plans to step back in the Friendly Confines again anytime soon because "that place sucks" for visiting teams.

"You couldn't give me a $5,000, $10,000 bill to put another foot in that place," Harrelson, who covered White Sox games for 33 years until his retirement in 2017, said Monday. "I'm telling you what, that place sucks, for the visiting team." […]

"Now for the fans, it's great," Harrelson said of Wrigley. "The venue is great. You can walk from Wrigley all the way downtown if you want, you can walk from downtown to Wrigley. So the venue is beautiful, and once you get on the field it's great. […]

So when is Harrelson going back? "Never again."
I haven't been to Wrigley Field in almost 20 years. I refuse to step foot in that place. I won't even go to a rooftop event. Sports makes you weird, I guess.
* Video…
Hawk Harrelson is ready for #Cubs & #WhiteSox rivalry to reach new heights

But don't expect to see him at Wrigley anytime soon

"That place sucks" pic.twitter.com/tzFKWxIslc

— Rick Tarsitano (@RickTarsitano) June 17, 2019
- Posted by Rich Miller 47 Comments


* Sun-Times…
Mayor Lori Lightfoot said she tried for the city-owned casino her predecessors favored, but ultimately agreed to a privately owned facility more than triple the size of existing Illinois casinos to get the help Chicago desperately needs to bankroll police and fire pensions.

"It's not that I didn't [insist on municipal ownership]. We tried, but it was very clear that was a proposal that wasn't going to make its way through the General Assembly," she said. […]

"Chicago is the economic center of the state. But the dynamics built up over many decades [that] Chicago can't be treated differently or in a special way by members of the General Assembly. … Particularly for people Downstate, they've got to go home to their constituents," Lightfoot said.

"The legislative process is about compromise. We were able to get an important marker down to start the process for a Chicago casino. … People have been talking about a Chicago casino since casino gambling came to this state almost 30 years ago. This is the first time we've actually got concrete steps in the right direction to make that hope a reality."
* WTTW…
Unlike previous proposals, this will not be a city-owned venture (though Chicago is set to get a third of the casino's adjusted gross receipts, so it's in the city's interests for any eventual operator to succeed).

Gov. J.B. Pritzker said Tuesday that's at the city's request, though he backs the decision because he believes a "business-oriented partner" will "make it a more effective endeavor."
* The Reader's Deanna Isaacs tried to get to the bottom of this discrepancy…
So I called Lightfoot's office to ask for an explanation. Deputy communications director Lauren Huffman responded with a written statement that ducked the question but made the point that a casino "will create a new revenue stream and will allow us to shore up underfunded police and fire pensions." She thought maybe I should ask the bill's sponsors.

In the Illinois House, that would be 28th District rep Robert Rita. His answer came from spokesman Ryan Keith, who told me Rita himself had proposed a city- or state-owned casino in the past, but, in this instance, "I think they just decided it was cleanest and simplest to do it the way they do all the other casinos"—that is, with private owners.

Who decided? "The negotiators," Keith said, "representatives from all the different legislative caucuses, the governor's office. The city obviously was involved."

Northeastern Illinois University economics professor Michael Wenz, who studies gambling as an economic development strategy, says that, compared to past Illinois casino deals, the city did well. "A third of AGR [adjusted gross revenue] is a good deal," Wenz told me. "They can do that without having to worry about the costs, without having to worry about anything. And it'll be wildly profitable."

Casino revenue has been flat or even down recently, cannibalized by the spread of video gambling, but Wenz says it's reasonable to expect that a well-located city casino could do three times what Rivers Casino in Des Plaines does in volume. Figures from the Illinois Gaming Board show that Rivers's AGR in 2018 was $441 million.
- Posted by Rich Miller 8 Comments


* Press release…
State Rep. Michael McAuliffe (R-Chicago) today released the following statement announcing his retirement from the Illinois House of Representatives, effective today:

"I have had the honor of representing the families and businesses of the 20th District in the Illinois House of Representatives for 23 years. While I never set out to spend 13 terms in Springfield, I felt a higher calling for public service and responsibility to my community. I've worked extremely hard to represent my constituents and bring their minds and hearts with me on every 200-mile drive to Springfield, but I've decided it's time to yield to an even higher calling, my family. While this decision did not come easy, I've offered my resignation as State Representative of the 20th District effective today.

My family has always been the most important thing in my life, which was instilled into me by my parents, Roger and Judy. Now that my children, ages 7 and 9, are more active in and out of school, I realize that I have already missed too many of their milestones.

Throughout my career, I've been proud of the work we've done championing for healthcare by making breast cancer screenings more accessible to women, raising awareness for Hepatitis C, and improving life-saving disease-screenings for newborns. And I've always worked to ensure that those who need our help the most, the elderly and disabled, have access to the care and support services they need.

As spokesperson for the House Veterans Affairs Committee, we worked collaboratively to enact legislation to better protect our veterans and ensure that the state's veterans homes have the resources they need to ensure the health and safety of our nation's heroes.

I know that our neighborhoods are better when our schools and teachers have the support they need, so I was proud to back the landmark school funding reform legislation that put more money into the classrooms while expanding education options for children from low-income families. And I have always, always fought for our first responders, the men and women keeping our neighborhoods safe, and their families. We can never thank them enough for what they do for us, each and every day.

I am proud of our accomplishments and will continue to be an active part of this community. It has truly been an honor serving the wonderful people the 20th District."
McAuliffe insisted that he does not have a replacement in mind. He's obviously been thinking about retiring for a while, and he said he made the final decision when he received a letter about nominating petitions. "I'm done," he said. "My dad was there 23 years, I was there 23 years," he said about his father, the late Rep. Roger McAuliffe (R-Chicago).
McAuliffe's Senator, John Mulroe, announced last week that he was stepping down to accept a judgeship. The other House member in the district, Robert Martwick, might be replacing Mulroe. So, it's conceivable that all three slots in that Senate district might change hands in the coming days.
…Adding… Leader Durkin…
For the first time in 45 years, there won't be a McAuliffe representing the Northwest side communities of Chicago. It has been an honor to serve with Mike McAuliffe in the Illinois General Assembly for almost twenty years together. Mike has seen Illinois in its best and worst of times - and he has been a part of making this state, and his district, a better place for Illinois residents. Throughout Mike's tenure in Springfield, he fought resiliently for the priorities of the families in the 20th district and hard-working men and women who would turn to Mike for solutions to their community issues. Mike is a symbol of the Illinois House of Representatives and has been a respected leader of the House Republican caucus. He will be sorely missed by all under the dome in Springfield and throughout Illinois.
…Adding… Hmm…
Updated with most recent retirements (and to correct an error in my spreadsheet). Only three House Republicans have served for 10 years or longer. pic.twitter.com/kWqBx57Yp9

— John Amdor (@JohnAmdor) June 17, 2019
- Posted by Rich Miller 38 Comments


* GoPride.com…
Illinois Gov. J.B. Pritzker, a Democrat, issued an executive order Monday stating that the rainbow flag will be flown over the state Capitol building in recognition of Pride month.

The rainbow flag is a symbol of the LGBTQ social movement and is widely displayed during Pride month. […]

According to the Illinois Secretary of State's office, this is the first time ever Illinois has flown the rainbow flag over its Capitol.
* A pic from Twitter…
Our State Capitol is flying a Pride Flag by order of @GovPritzker. This flag is very special, since it came from The Phoenix Center–the LGBTQ Community Center for Central Illinois🏳️‍🌈🇺🇸 #twill #Pride2019 pic.twitter.com/8OzfMQEThq

— Rep. Greg Harris (@repgregharris) June 16, 2019
Most of the comments under that tweet were ridiculously negative.
* A different perspective from the Secretary of State's office…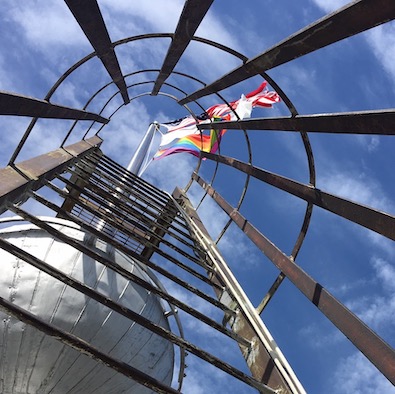 - Posted by Rich Miller 25 Comments


* Bernie…
COLLEEN CALLAHAN, director of the Illinois Department of Natural Resources, has taken on another role — as a member of the Democratic State Central Committee.

Democratic county chairs from the 18th Congressional District last month unanimously picked Callahan to take the place of SHIRLEY McCOMBS of Petersburg, who died in October at age 81.

The Democratic committee includes one man and one woman from each of the state's 18 congressional districts. The man elected to represent the 18th is BILL HOULIHAN of Springfield, and he told Sangamon County Democrats at a recent meeting that Callahan will be a "great partner." He noted she is a cousin of U.S. Rep. CHERI BUSTOS, D-Moline, and niece of Bustos' late father, GENE CALLAHAN of Springfield.

Colleen Callahan, 68, lives near Kickapoo, and in 2008 was the Democratic candidate for Congress in the 18th. She lost that year to then-state Rep. AARON SCHOCK. […]

"I am happy to step up to the plate as it relates to communicating the issues," she said of her new party post.
I dunno about this. IDNR has been known as a patronage dumping ground. So, a director who is also a state Democratic Party official who has to run for election could become a problem.
Your thoughts?
…Adding… For those defending this in comments, let's go back to 2016…
A bipartisan pair of state senators are introducing legislation that would ban directors of state agencies and other high-level gubernatorial appointees from using their "official authority or influence" to sway elections.

Announcing the proposal Wednesday at Statehouse news conference, Sens. Andy Manar, D-Bunker Hill, and Sam McCann, R-Plainview, touted it as an important expansion of the state's ethics laws.

Manar said the measure will close "a gaping hole" in existing law and is similar to restrictions at the federal level and in other states.

"I'm of the opinion that agency directors should not spend their time campaigning," he said. "They should spend their time managing the agencies that they have been entrusted to run and to manage when the Senate confirmed their appointments."
…Adding… Sen. Manar just told me "My position hasn't changed" regarding his 2016 legislation.
…Adding… A commenter makes an excellent point…
Every time a grievance is filed, someone might claim that whatever slight they experienced was because the director is a dem party official who dislikes them because they voted republican in the past
I'm told the governor's office was not informed of this. I can't believe they're going to allow this to stand.
- Posted by Rich Miller 34 Comments


* Dean Olsen has written a highly informative story about MCOs. Yes, it's a complicated issue. Eyes tend to glaze over when you even mention Medicaid managed care. But try to take a little time to read his piece…
Years of finger-pointing by Illinois hospitals and managed-care organizations about what the hospitals said were high denial rates for Medicaid claims ended last month with legislation that both sides hope will reduce friction between the two and benefit low-income patients.

"This is a really good step forward," said Jay Roszhart, president of Memorial Health System's ambulatory group. "I'm fairly optimistic that the intent of the bill will resolve these issues."

Samantha Olds Frey, executive director of the Illinois Association of Medicaid Health Plans, said Senate Bill 1321, if signed into law by Gov. J.B. Pritzker as expected, would lead to hospitals sharing more information with companies hired by the state to carry out the state's Medicaid managed-care program, HealthChoice Illinois.

The legislation, Olds Frey said, would make sure hospitals and the managed-care organizations, or MCOs, "are talking to one another instead of at one another … to ensure cohesive care-coordination and discharge planning with a focus on the Medicaid members."

Illinois' managed-care system covers 2.1 million Medicaid beneficiaries, or more than two-thirds of the state's 3.1 million population in Medicaid.
The folks who put that truce together did an excellent job.
- Posted by Rich Miller 8 Comments


* Mark Maxwell…
Governor J.B. Pritzker, a first-term Democrat, "surprised the heck out of everybody" when he struck a series of pro-business compromises as the clock ran out in his first legislative session at the statehouse, Illinois Chamber of Commerce President Todd Maisch said on Capitol Connection.

"It's really kind of a tale of two sessions, and almost a tale of two governors over the last several months," Maisch said. "[Pritzker] came out of the gate with a huge minimum wage increase that small businesses are not going to be able to pay. He went straight to the graduated income tax. But then at the end, [he] came around and said, 'you know what, the elimination of a lot of these taxes, a capital bill, a new economic development incentive that is really important for a lot of people.' There it was. Like, bam. Surprised the heck out of everybody. It is a much, much more balanced assessment than it would have been two weeks before the end of session."

Maisch, who represents business interests spanning the state, said "the jury is still out" on whether or not Pritzker qualifies as a pro-business governor, but also acknowledged that the new governor "certainly made some real substantial movement over the last three or four days of session. No doubt about that."
- Posted by Rich Miller 12 Comments


* My weekly syndicated newspaper column…
Back when this state was fairly well-run — meaning, before Illinois voters elected three anti-Springfield "populist" governors in a row — the general rule of thumb was that for every two dollars appropriated to K-12 education, higher education received one dollar.

The split wasn't based on any sort of scientific study, as far as I know. It was just the tradition, but the tradition seemed to work pretty well. Even in lean years, everybody got something, and our state's higher education institutions appeared to thrive.

But that all started to change with Gov. Rod Blagojevich, who believed, with some evidence, that universities were more interested in building fiefdoms than educating kids. The spigot began to dry up.

Add in two world-wide recessions which hit Illinois particularly hard (post-9/11 attack and the 2008 financial meltdown), then toss in a steep mandated increase in annual state pension fund payments, and higher education funding, like pretty much everything else, dried up.

State higher education appropriations peaked in Fiscal Year 2002 at $2.4 billion. Adjusted for inflation, that would be almost $3.5 billion today. In the current fiscal year, which ends June 30, higher education (including MAP grants) received $1.79 billion, barely more than half of where we were at our peak.

Universities have made up for much, but not all, of the deficit by raising their tuition rates. And that, in turn, has priced several of the "directional" schools out of reach because other states like Missouri and Iowa have been aggressively recruiting our high school graduates with attractive financial deals.

All of this, combined with the state government's chronic fiscal uncertainty, has driven Illinois college students to other states in droves. In 2002, about 23% of high school students chose out-of-state colleges. By 2017, that was up to almost 50%.

As a result, Northern, Western, Southern (Carbondale) and Eastern Illinois universities saw enrollment dive 30-40% between Fiscal Years 2008 and 2018. The damaging exodus accelerated during Gov. Bruce Rauner's term in office, when Illinois went two years without a budget.

The good news is that higher education funding will rise $150 million to $1.94 billion next fiscal year. The feat was hailed as "arguably the best [legislative] session for higher education in a generation," by the Illinois Board of Higher Education's interim executive director. But, overall, the appropriation is still almost $1.6 billion shy of where the state was at its peak.

When you break down education funding as a whole, K-12 received 76% of new state money in the operating budget, while higher education received 24%.

So, I asked Gov. J.B. Pritzker the other day if he was aware of the old two-thirds/one-third split and whether it might be time to return to that formula.

Pritzker didn't directly respond. He said he wanted to "restore our higher education institutions" because they're "the best economic investments you can make" for the state and doing so would slow the overall exodus of Illinoisans from the state. He's said that countless times, however.

One reason the old two-thirds/one-third split wasn't all that great for K-12 education was because the state's antiquated school funding formula wasn't distributing money to where it was most needed. The state addressed that problem a couple of years ago with a new "evidence-based" funding model, but that means state funding for the new formula must now rise by at least $350 million a year for ten years. Pritzker put in $375 million for next fiscal year and added other funding upgrades totaling $491 million. The governor said he wanted to continue making those sorts of investments in K-12 in the future.

Asked whether higher education needed its own "evidence-based" funding model, Pritzker said he'd heard the concept was kicking around, but couldn't commit to something that wasn't a reality as of yet.

Money isn't everything. Some of our universities are much better led than others. And higher education is getting a big and sorely needed boost from the state's new infrastructure program, which will allow the institutions to fix up their dilapidated campuses and finally move some of them into the 21st century.

Has Illinois started to turn the corner here? I would say it has taken a step in that direction. The first rule of getting out of a hole is to stop digging the hole. But solving this problem by making the state more competitive with those who love poaching our students is still a very long way off. We need more than platitudes.
- Posted by Rich Miller 30 Comments