* Two items of late business today.
Former House GOP spokesman David Dring qualified for the Boston Marathon this year. His time of 3:15:13 in the Chicago Marathon got him in. Amazing. Just amazing. Way to go, Dave!
I would normally give Dringy a further video shout-out, but I saved that for Bethany Jaeger, who is leaving Illinois Issues' Statehouse bureau today for a management consultant position with Kerber, Eck & Braeckel in Springfield. I posted this about Bethany in comments today, but it's worth repeating…
Her departure is a huge loss for the Statehouse. She is an amazingly hard worker, a top notch reporter, is firmly committed to online and multi-media and has helped drag Illinois Issues into the 21st Century.
Replacing her won't be easy at all.
I gave Bethany her choice of songs and she picked Superstition by Stevie Wonder. This is probably the best version ever done. Turn it way, way up…
Keep me in a daydream
Keep me goin' strong

- Posted by Rich Miller Comments Off


* Democratic US Senate underdog Jacob Meister begins running his first radio ads next Tuesday. Click here to listen. The Spanish language ad is here. From the campaign…
Person-on-the-street interviews were conducted in English and Spanish. English-speaking constituents can be heard in ads on Illinois Radio Network, WBBM, WXRT, WCPT, WMBD and WSMT. Spanish-speaking constituents can be heard on an ad, which is airing exclusively on WLEY.
Meister has put a million bucks of his own cash into the race.
* Democratic state treasurer candidate Robin Kelly finally filed her nominating petitions yesterday. The Green Party slate filed its petitions today.
* I told subscribers about this yesterday…
Jesus "Chuy" Garcia, a former independent alderman and state senator, is attempting a political comeback, gathering signatures to run for Cook County Board against Commissioner Joseph Mario Moreno.

Garcia was a leader of the independent bloc early in Mayor Daley's administration, fighting for affordable housing programs, then he was elected to the state senate.
Moreno is in real trouble. He's proudly voted with Todd Stroger so often that his more conservative Democratic base will despise him, and he's a "regular" so the independents won't love him, either. If Garcia can raise the cash, he has an excellent shot.
This is part of a broader Latino battle, by the way. The Sun-Times touches on that today…
Garcia is part of a slate Ald. Ricardo Munoz (22nd) is running to oust Regular Democrats on the Southwest Side. Another is Rudy Lozano, Jr., son of the slain community activist, who is running for state representative. Garcia is godfather to Lozano's brother.
* Republican gubernatorial candidate Andy McKenna is getting a lot of press for his online "Hair" video and TV ad. From the Pantagraph…
If McKenna's goal was to stand out from the crowd and attract more attention to his campaign, he at least partially succeeded: He got us to write an editorial about it.
MSNBC's Countdown featured the video last night…
The vid was also spotlighted on MSNBC's Morning Joe…
But rival Dan Proft is not impressed…
This may be unorthodox for a rival candidate to say, but I urge you to watch [the McKenna video]. In doing so, after the entertaining intro, you will discover that not one policy position is offered, not one specific solution is advanced or even alluded to by McKenna. Lots of gauzy images of him in imaginary board rooms, strolling down Chicago streets, and winding down the day at his deluxe apartment in the sky in front of a crackling fire.

McKenna offers only poll-tested buzzwords.

In 2006, Rod Blagojevich's re-election theme was, "Getting Things Done for People". The details of what things and for which people were purposely absent. It was all about Rod.

Andy McKenna has borrowed that template. He touts himself as "the quiet cure". What specifically is the cure and who gets it? Why, of course, Andy is the cure. It is all about Andy. Don't fret about the details.
* We already talked about Republican US Senate candidate Mark Kirk's new radio ad. But if you want to listen to it, just hit the play button…
The Plum Line comments…
But it seems striking that Kirk is denouncing the public option in such harsh terms in one of the bluest states in the country, and Dems are likely to jump on this as another sign of just how far to the right the GOP base has drifted.
* The staff of Republican gubernatorial candidate Adam Andrzejewski didn't see my e-mail the other day, so they didn't respond to our questions. Here is the campaign's response…
Q: If national health care includes an opt-out option for states, and the decision came down to you, would you opt-out Illinois?

A: While it's hard to say exactly what we would do until we see what "option" we are deciding upon, our administration would probably lean in favor of "opting out" of a national system. Of course, as one of the comments alluded to, if an "opt-out" is gamed so that no state would do so, this becomes a moot question. That said, an opt-out would be more likely if the Federal Government gave the states a set of guidelines, provided states with a per capita block grant, and left it to the states to decide upon the best way to meet the guidelines.

Under this scenario, it would not be difficult to determine which deal was better for Illinois Citizens. If we thought we could do better, we would opt-out. If the Federal Deal was better for Illinois citizens, we wouldn't.

Specifically, an Andrzejewski Administration would lean in favor providing citizens with as much flexibility as possible in choosing their health insurance and giving them control of as much of the allocation of their health care dollar as possible. We would also make sure that for any hospital ,health insurance company, or health firm doing business with the "state sytem," it would have to open up its entire cost structure. For more details on the direction we would like to take, go to http://www.adamforillinois.com/Health-Care/.

In a specific answer to Palos Park Bob, that fits inside this answer, Yes, we would strongly consider "requiring Illinois Health Insurance companies doing business in Illinois to create an unsubsidized catastrophic care pool for small companies and uninsured indivivuals."

Our state (and nation) is rich enough to provide access to health care for its citizens with out moving toward the failed policies of "single payer." Single payer nations are moving away from that model (out of economic necessity), and there is no reason for America, or Illinois, to move toward it.

Q: What are you willing to do to modify current public pension policy to bring public pensions and pension benefits into line with what the legislature is willing contribute?

A: The main problem with pensions is that the state's contribution is done through the appropriations process in the General Assembly. While the state constitution requires that pensions be paid, it does not require that pensions be funded.

The General Assembly has underfunded the pensions for decades and has thus shown that it isn't up to the task of paying the pensions, though it sure has enjoyed expanding benefits. Unfortunately, there is no legal recourse to cut existing vested payouts. The only solution is to restructure the pension system.

This is the direction an Andrzejewski Administration would take.

Pension payments should be the obligation of the employing agency directly out of their own budgets. Saddling future taxpayers with unknown liabilities is immoral.

The employing agency's contribution to worker pensions shall be paid at the same time employee contribution is taken out of the checks.

All pension benefits will be negotiated directly with the employing agency with no ability of the state to "add" benefits across the board.

A legal "cause of action" will be created so any employee, union, or pension system could sue the employing agency for non-payment of pension contributions and compel payment.

Pension benefits and calculations can be modified for future employees as economic circumstances dictate.
Of course, those rules should apply to every other governmental body in Illinois, to the extent that they don't already.

Lastly, our transparency policy, which puts every dime of taxpayer spending online, ensures that every obligation is calculable, and is met. This augments the necessary reforms above because it opens up access for press and public scrutiny.
Rate it, please.
* Related…
* Senate candidate Hoffman meets with Axelrod

* Democratic primary shaping up in Quad-Cities House district:

* Southland no Bore for 2010 election

* Karl Rove to appear at fundraiser for Rutherford

* Suburban reaction divides along party lines

* Illinois Senate Unanimously Overrides Gubernatorial Veto of HB 723
- Posted by Rich Miller 24 Comments


* It's Friday, the GA is in session, it's been raining for what seems like an eternity, so let's have us a little distraction…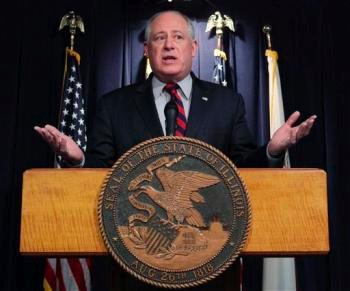 Caption?
- Posted by Rich Miller 62 Comments


* 11:52 am - Subscribers won't be surprised by this development…
All senior citizens will continue to get free mass transit bus rides after a plan to restrict the rides to poor seniors was scrapped.

Sen. Rickey Hendon, D-Chicago, said today a bill to restrict the free rides would not be called in the Senate. Without a Senate vote, the plan cannot pass, even though bills to restrict the rides are pending in both the House and Senate. […]

Hendon said lawmakers were "pretty sure" Gov. Pat Quinn planned to reinstate free rides for all seniors even if the restrictions passed the General Assembly. Quinn's office had no immediate comment.
As I told subscribers this morning, Quinn has been signaling for the past few days that he had changed his mind yet again on free rides. First, he was for free rides for all seniors, then a few weeks ago he said the freebie should be limited to poor seniors, then he signaled this week that he wanted that limitation removed. There was a strong suspicion that Quinn would use his amendatory veto power to kill off the free ride limits - a la Rod Blagojevich.
* Meanwhile, Senate President John Cullerton and Senate GOP Leader Christine Radogno got into it a bit this morning…
[Cullerton] dismissed Republican complaints that rank-and-file lawmakers would be controlled by the party bosses who dump big money into their campaigns.

Cullerton cited how Radogno received more than $1 million from former Senate GOP leader James "Pate" Philip when he ruled the chamber. Cullerton said that Radogno was not controlled by Philip when she was a rank-and-file member.

In turn, Radogno said she accepted the money as part of an entire political system that needs changed because it is "flawed." She said the free-flow of money in politics needs to be curtailed and that party bosses would be empowered under the legislation because the Democrats wanted it that way.
More from the hearing…
Senate President John Cullerton, D-Chicago, said Republicans are opposing the campaign finance legislation in an attempt to gain a political advantage. But it will backfire because Democrats will argue that the Republicans opposed reform, he said.
The mail writes itself - for both sides.
* Also, Illinois Review runs down (literally) the "cleanup" bill for gaming expansion…
HB 607 lets the Governor "select" a private manager for the total management of the Lottery. Was this written for one political insider? With all of the scandals in Illinois and Pay to Play politics, this is outrageous.
- Posted by Rich Miller 9 Comments


* This looks like an interesting idea…
One of the handful of Republicans running for Illinois governor says he doesn't want to shame Illinois into paying some of its three-billion dollars in unpaid bills.

But Bill Brady says if that's what it takes, then so be it.

Brady has introduced a piece of legislation that would force the Governor and Comptroller to list all of Illinois' unpaid bills on line, so vendors and tax payers know who's waiting to be paid.

Brady says the list would insure against clout and mismanagement.
More…
Brady said Thursday that the governor and comptroller now have too much control over the order in which bills are paid. He argues that opens the door to favoritism.
Those seem to be good points. But here's the catch…
the state would be required to pay the bills in the order they're received.
As Greg notes, this idea would "limit the ability of the state to prioritize." He's right.
* Another Republican gubernatorial candidate has some ideas…
Schillerstrom's law would require spending, budget and tax legislation to be posted online a full three days in advance of a vote in the General Assembly, thus allowing for public and media scrutiny.

Schillerstrom's platform also calls [for] zero-based budgeting, in which state agencies "must account for every single dollar"; a cap on spending using a formula based on population growth and inflation; and independent budget certification, separate from the comptroller's office, in which the governor would return any budget he or she determines is not balanced back to the General Assembly.
In my opinion, spending caps tied to inflation are not a good idea because too many things like health insurance rise far above the CPI. It's basically just death by slow strangulation. But that idea for independent budget certification is worth a look.
However, it's important to keep in mind that while these may be good ideas, they don't solve the problem.
* Republican gubernatorial candidate Andy McKenna sent out a press release this morning which once again compares Pat Quinn's budget-making to Rod Blagojevich's…
In light of Pat Quinn's latest assault on future generations by seeking to borrow another $1 billion, family businessman and gubernatorial candidate Andy McKenna today stood by his comments that when it comes to taxes and spending, Pat Quinn is just like Rod Blagojevich "with a little less hair."

"Pat Quinn's quest to borrow another billion dollars to feed his hungry appetite for more government spending only confirms he's just like Rod Blagojevich," said McKenna.
I asked for clarification on this slam because the latest Quinn borrowing idea is short-term. It has to be repaid by the end of the fiscal year, so it's not really an "assault on future generations."
"The point of the release is to highlight the fact that his answer for everything is borrowing and spending and taxes," explained a McKenna spokesman. "It's more borrowing to feed that spending habit… Whether it's short term, it still keeps all these programs alive down the road." He also claimed that the more borrowing the state does, the more expensive borrowing becomes because of our lowered credit rating.
* Sen. Kirk Dillard also piled on…
Republican candidate for Illinois governor Kirk Dillard today tried to console Illinois residents who may be frightened by Democratic control in Springfield. "Don't be fooled by the masquerade party in the governor's office or the Legislature," said Dillard on the eve of Halloween.

"We have a guy dressed up as Governor who can't decide which the way the wind blows on any given day," said Dillard. "He and another goblin running for governor are ready to rip out the wallets of taxpayers and take more of their money. If I'm scared of what they'll do next, you can imagine the average voter," Dillard continued.

Dillard noted the steady exodus of jobs from Illinois during the past eight years. "It's no wonder companies are leaving the state. They're frightened by the poor business climate, fearful of higher taxes and scared off by the lack of innovative thinking," Dillard said. "They're also afraid of the ethical cesspool in Springfield and what monster might crawl out next."

Noting the Democratic Party's inclination to give out "treats" in the form of new programs and higher spending, Dillard said he would take out his budget chainsaw if elected governor and make sure the state lives within its means. "We don't need any more tricks in Springfield," Dillard said.

Dillard and his wife Stephanie will be trick-or-treating with their two daughters this weekend.
That was the emptiest press release I've seen in a very long time.
* Dan Proft has posted a video of GOP gubernatorial rival Sen. Bill Brady in which Brady claims that last year's state budget deficit was just $2.5 billion.
"Pat Quinn, the Democrats and some others want to inflate it so you're scared to death and believe the only answer is tax increases," Brady says. Watch it…
I asked Brady about this yesterday and he said there's a difference between the "deficit" and the "debt" that the state is carrying over from year to year. I didn't quite get his gist and asked for more info, but haven't received it yet. I'll pass it along when I get it.
* Organizers say two thousand people will show up for this event…
The Homer-Lockport Tea Party group will host its third event — a forum featuring five Republican candidates for Illinois governor — Wednesday, Nov. 4, in Homer Glen.

The forum, planned to begin at 7 p.m. at DiNolfo's Banquet Hall, will include a question and answer session with the Republican candidates running for the gubernatorial primary on Feb. 2, 2010. According to Steve Balich, an organizer of the event, Republican candidates Adam Andrzejewski, Bill Brady, Kirk Dillard, Dan Proft and Bob Shillerstrom have confirmed their attendance to the event. Balich added that the Democratic candidates, notably Dan Hynes and current Gov. Pat Quinn, have declined to attend. Those not with the two main parties were not invited, he said.

"This event will be about the issues we are facing in the state of Illinois and will give people a chance to hear what these candidates have to offer," said Balich, also the Homer Township clerk. "This isn't going to be a formal event — it's going to be tea party-style… People will be bringing signs in protest and will be able to ask candidates questions on the spot."
Discuss.
- Posted by Rich Miller 22 Comments