* TPM looked at the difference between US Senate polls…
When only Giannoulias and Kirk are involved, the TPM Poll Average gives the edge to Giannoulias, 42.4-41.8

When Jones is added to the mix, Kirk gets the edge in the TPM Poll Average, 44.6-42.0-4.8

With all four candidates, the TPM Poll Average swings once again to Giannoulias, who barely leads over Kirk 40.4-39.7. Jones comes in at 5.0, with Labno at 3.6
Seven polls have tested just the two top candidates since August, ten have asked about just three of the candidates and twelve have asked about all four.
* However, five of those 12 polls which tested all four contestants are Democratic candidate polls (one was taken for the DGA and included Giannoulias). Take those out and you've got a 2.5-point average lead for Kirk…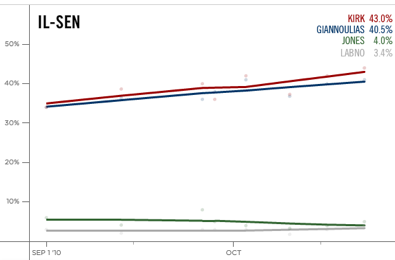 So, go figure.
* Well, 538 actually did the figuring and came up with a significant advantage for Kirk…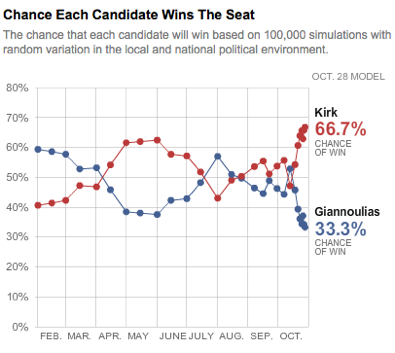 But the likely election results are still very close…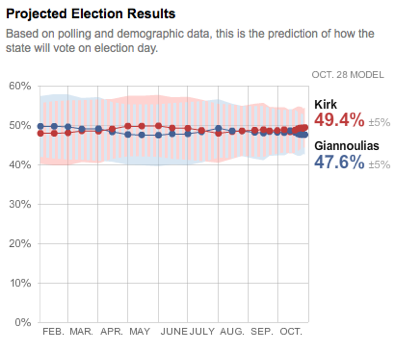 Nate has Bill Brady's chances of beating Gov. Pat Quinn at 76.2 percent, by the way.
* Meanwhile, some outlets may play this up, but I really don't think it's all that newsworthy…
The state's highest ranking Republican, Christine Radogno, the GOP leader in the Illinois Senate, tells WLS a tax increase most certainly wouldn't happen any time soon after the election, but then she left the door open.

"I've never been one to say no, never on any kind of a tax increase. And there are others that believe absolutely under any circumstances, no. But I think we need to wait and see. I'm willing to be convinced we don't need a tax increase," Radogno said.
From February 23rd of 2009…
While calling for a look first at cutting state programs, both Radogno and Cross said Monday that spending cuts alone can't fix the problem, which threatens education and health-care funding.

Many expect Quinn, a Chicago Democrat, to propose tax hikes, perhaps even an income tax increase, in his budget plans set to be delivered March 18.

Radogno and Cross bristle at the notion.

"A major tax increase is not the first place to look," Radogno said. But they concede more tax dollars are needed.
From Greg Hinz today…
But her timing is pretty awkward for Mr. Brady, who's having lots of trouble convincing lots of voters that his unspecified spending cuts add up to a balanced budget.

Ms. Radogno's comments won't help. Incumbent Democratic Gov. Pat Quinn has called for an increase.
That's true. But, other than that, this is nothing new at all.
*** UPDATE *** From the Quinn campaign…
"Today, the Illinois Senate's GOP leader Christine Radogno revealed that Republicans are talking about a tax increase.

'I'm willing to be convinced we don't need a tax increase,' Radogno said.

Sen. Brady has said for months we'll have to wait until after Election Day to see his budget plan—did Sen. Radogno—his leader in the Senate—just reveal it? Apparently, she didn't get the memo: the GOP is isn't planning on revealing their secret tax increase plan until AFTER the election—just as Gov. Edgar and Gov. Thompson did.

What does it mean when Sen. Brady's leader in the Senate, and one of his biggest allies, raises doubts about his position on one of this election's biggest issues?"

-Mica Matsoff, campaign spokesperson
* From the Brady campaign…
Republican gubernatorial candidate Bill Brady today released the following statement in response to eleventh hour assertions about future tax increases in Illinois:

"Despite Pat Quinn's desperate political assertions and wishful thinking, let there be no mistake – a Brady Administration will not raise taxes," said Brady. "Period."

"A Brady administration will force state government to live within its means, cut taxes, and raise long term revenue by enacting pro-growth economic policies that help create real jobs for families across Illinois."
- Posted by Rich Miller 4 Comments


* Looking back over the past year, what were the campaign moments that will most likely stick with you as you get older?
- Posted by Rich Miller 70 Comments


* A quick read of a CBS Evening News story seems to clear up the mystery surrounding those mailers that promoted a Libertarian US Senate candidate here…
Never perhaps have there been stranger political bedfellows. In Nevada, a pro-Harry Reid group — he's the Senate's lead Democrat — promotes a little-known Tea Party candidate running against Reid: Scott Ashjian.

Illinois Democrat Alexi Giannoulias is running for Senate, yet funding ads propping up his Libertarian opponent. […]

Democrat Giannoulias helps a long shot Libertarian to try to take votes from Republican opponent Mark Kirk.

Some Democrats openly disclose their efforts. But for others, the tie is harder to find. You'd think this one flyer was put out by conservatives: it calls Iowa's Republican candidate for Governor Terry Branstad "liberal" like "Clinton, Obama and Pelosi."

But IRS filings show it's the Democratic Governors Association behind the ads. They're hoping to split Republican votes.
Turns out, this may just be sloppy writing. The DGA copped to the Iowa mailer when I called them today, but their communications director emphatically denied that the group had anything to do with the Illinois mailings, saying they don't involve themselves in Senate races.
I've left a message for Pete Giangreco, who was quoted in a Politico story about the mailers, to see what he says. He's at a friend's funeral, so I'll let you know what he says later.
*** UPDATE 1 *** So, apparently, I missed this one from the Sun-Times…
After the debate, Giannoulias admitted his campaign, in coordination with the Democratic Party, funded a mailer to Downstate conservatives touting Libertarian Senate candidate Mike Labno as the "pro-life, pro-gun" alternative to Kirk, who supports abortion rights like Giannoulias and who at least previously favored restrictions on handguns.

The Democrats hoped to divert votes from Kirk to Labno. Is that deceptive?

"No," Giannoulias said.
[ *** End Of Update *** ]
* Meanwhile, the Kirk campaign has been pushing this story for a while now without success until yesterday…
(T)he Kirk campaign suggested Mr. Giannoulias is overstating his claim that he saved Hartmarx and its jobs by leaning on its lender, a division of Wells Fargo, in his current post as Illinois treasurer.

In fact, it says, the California bank was paid only about $96,000 a year by Illinois at a time when Mr. Giannoulias says he threatened to yank $8 billion in bank business.

Team Kirk also points to a TV ad by Sen. Charles Schumer that focuses on the New York Democrat's work to save a Hartmarx subsidiary in his state.

Team Giannoulias replies that the Kirk folks have been trying to peddle this story for a while; that Wells Fargo indeed was "custodian" of $8 billion in Illinois funds, investing that money at the treasurer's direction, and that lots of people worked to save Hartmarx.
The Giannoulias campaign has said repeatedly that it worked closely with organized labor and others, but freely admits that the treasurer didn't speak more than a few minutes with the company's former president. The factory's union rep is fully behind Giannoulias, which greatly undercuts the Kirk claims that Giannoulias wasn't sufficiently involved. A Politico blogger posted a story on the topic today…
I spoke to a former Hartmarx official, who agreed to speak on background and suggested that Giannoulias was making more of his role in the crisis than may have been the case. The official said that Giannoulias had just one contact with the company and heavily credited other officials, including Schumer and Rep. Louise Slaughter (D-N.Y.), with working to get the bank to agree to a plan to save the jobs. […]

"I can't say he did nothing," the source added of Giannoulias but insisted that much of the work came from elsewhere.

I reached out to a Giannoulias spokesman, who told me that the campaign had never claimed that Giannoulias was the only force involved in saving Hartmarx, and that it was an effort of labor groups, elected officials and others.
*** UPDATE 2 *** Joe Costigan of UNITE-HERE just called to insist that Giannoulias played an "essential" role in keep the Hartmarx plant open. Costigan said Giannoulias was instrumental in making sure that this just wasn't another anonymous factory closing in Chicago and worked hard with his union and others to make sure it stayed open. He also sharply criticized the Kirk campaign for attempting to minimize Giannoulias' role.
…Adding… Kirk's latest TV ad…
* And Kirk can't even get off his tight talking points when making a YouTube video in front of his campaign volunteers…
Loosen up a bit, dude. It's the Internet.
* Related…
- Posted by Rich Miller 33 Comments