* From a press release…
Illinois Republican Party Chairman Pat Brady is calling for a Federal investigation of the acceptance of nearly a quarter of a million dollars in labor union money by Illinois House Speaker/Illinois Democratic Party Chairman/Father of the Illinois Attorney General Mike Madigan and Illinois Senate President John Cullerton just before a Special Session of the Illinois General Assembly called primarily to address the state's pension crisis.

Illinois State Board of Elections records show that on Aug. 17 – the same day as the Special Session – Service Employee International Unions (SEIU) gave $47,000 and another $50,000 to the Democratic Majority (a committee chaired by Madigan to elect Democratic State House members); on Aug. 13 it contributed $50,000 to Cullerton; on Aug. 10, $45,000 to the Senate Democratic Victory Fund, and on Aug. 6, $50,000 to the Democratic Party of Illinois (chaired by Madigan).

"Mike Madigan might as well hang a 'For Sale' sign from the Dome of the State Capitol," said Illinois Republican Party Chairman Pat Brady. "This clearly does not pass the smell test and it merits investigation by federal authorities."
* I asked SEIU for a response. Here it is…
The allegations levied today by the GOP are baseless election year rhetoric.

The facts are that the SEIU contributions coincide with our July 23rd endorsement session.

The contributions reported are in line with our political donations over the past decade.

These contributions have no relationship to the special session called by Governor Quinn. Fewer than 10 percent of our 170,000 members statewide have pensions administered by the State of Illinois.
* OK, so let's look back two years to see how the giving went. Cullerton got his SEIU money around this very same time in 2010…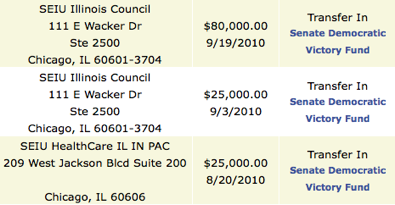 * Madigan's Democratic Majority fund didn't exist two years ago, but here are his other two funds…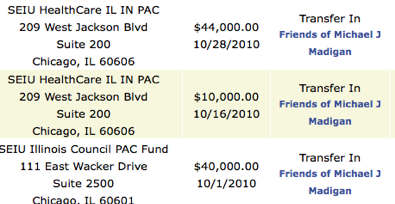 Those contributions to Madigan came a bit later in the cycle, perhaps because public employee unions in general were quite upset at Madigan two years ago. AFSCME and others boycotted giving to his fund altogether. Whatever the case, since the endorsement session was in July, the union makes a pretty good argument that there was no direct quid pro quo here.
* Is this really worthy of a federal probe? House Republican Leader Tom Cross thinks something smells bad. From WJOL radio…
It was this past Friday that state legislators accomplished ABSOLUTELY NOTHING during a special session called by Governor Quinn to deal with the "pension reform issue."

But House Minority Leader Tom Cross announced Monday morning on 1340 WJOL that it was discovered over the weekend that INTERESTING POLITICAL DONATIONS WERE MADE…..on THURSDAY….the day before the special session. With the "48 hour rule" concerning how quickly political donations need to be reported, it was on SATURDAY that Cross and others noticed that 100 thousand dollar contributions were given last week to House Speaker Mike Madigan, and Democrat Senate President John Cullerton. Cross says these contributions were made by the SERVICE INDUSTRY EMPLOYEES UNION, one of pension reform's BIGGEST OPPONENTS. Cross says that EVEN IN ILLINOIS, with its corrupt reputation, this should have looked AWFULLY BAD.

When no progress was made on pension reform Friday, Cross says he simply thought….WELL….Madigan once again GETS WHAT HE WANTS…..or in this case DOESN'T GET what he DOESN'T WANT.
The House Democrats dismissed the allegations as pure politics.
* Sun-Times…
Her union represents 2,450 employees in Secretary of State Jesse White's office and 525 toll collectors and other workers employed by the Illinois State Toll Highway Authority, all of whom had pensions that would be affected by the outcome of Friday's special session.

A union spokesman late Monday insisted that the contributions actually were given to Madigan's fund several weeks ago but that the campaign committee merely got around to reporting them to the State Board of Elections last Friday.
…Adding… From the Senate Democrats…
This is just political theater from the Republicans.
33 Comments


































































































Sorry, comments for this post are now closed.