* The photo is a little difficult to see because it was taken with a mobile phone kinda far away, but the photographer inadvertently caught a moment during David Vite's retirement party last night when it almost appeared as if House Speaker Michael Madigan was bowing down to new House Republican Leader Jim Durkin…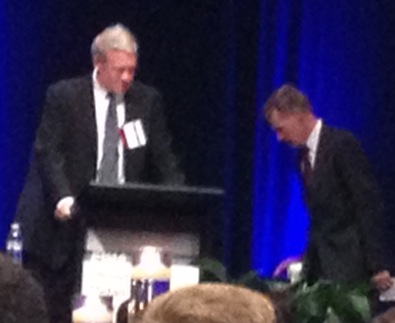 Funniest commenter wins a free state legislative mobile app that I'm getting ready to roll out.
Our last winner was "Dirty Red" for this caption of a Bill Daley pic…
"Attention fair goers: would the owner of a green and white campaign tour bus please report to gate two. You're parked on top of my crowning achievement……Green and white tour bus parked on top of my crowning achievement."
Heh.
50 Comments





















































































































































Sorry, comments for this post are now closed.