* Politico's Alex Isenstadt says Bill Enyart could be dumped soon…
Despite the GOP's troubles, Democrats remain anxious that the political environment could deteriorate still further before Election Day. They say two of their vulnerable incumbents, New Hampshire Rep. Carol Shea-Porter and Illinois Rep. Bill Enyart, may soon be lost causes and are scrambling to prevent that list from growing.
We'll see. That's certainly a tough district for Enyart in an off year with Pat Quinn's numbers in the tank. But only one occupation polls lower than a sitting congressman: Illinois state legislator. Mike Bost has taken lots and lots of votes over the years.
* By the way, Bost is airing his first TV ad…
* Back to the Politico article. Most of the chatter I heard over the weekend was about Ann Callis…
Democrats have gradually narrowed their focus to protecting jeopardized incumbents and are likely to seriously invest in only the dozen or so candidates seen as realistic contenders for Republican-held seats. At the start of the cycle, for instance, national Democrats had been talking up the candidacies of Ann Callis, a former county judge running for an Illinois seat, and Amanda Renteria, a former Capitol Hill aide seeking a California seat. Neither candidate is now seen as likely to win, and neither is receiving as much attention.
The DCCC's only evidence that they haven't yet jettisoned Callis is their media buy reservations haven't been canceled. Kinda thin soup.
* Meanwhile…
Katie Prill, a spokeswoman for the National Republican Congressional Committee, said the GOP's Illinois strategy has changed from defense to offense. The NRCC has spent a half million dollars on television ads to support Dold against Schneider, and a total of $1.4 million to support Mike Bost, who is facing the Democrat Enyart, and Davis in their races.

Prill singled out the Dold-Schneider race as a "huge pickup opportunity" for Republicans. Dold lost to Schneider in the independent-leaning district by about one percentage point in 2012.

The Democratic Congressional Campaign Committee has spent $800,000 on ads so far in the Dold-Schneider race, and about $3.5 million in the other two districts. U.S. House Minority Leader Nancy Pelosi recently appeared in Chicago to rally with Callis and Schneider, and push the Democratic campaign themes of equal pay for women and raising the minimum wage.
- Posted by Rich Miller 21 Comments


*** UPDATE *** As noted above, Marleen Suarez has now produced evidence which indicates that her ad is, indeed factual. Click here to read her response and see her evidence.
[ *** End Of Update *** ]
Remember that brutal campaign video I posted a month ago about the Madison County Treasurer's race? The ad, by Democrat Marleen Suarez, alleged that all sorts of bad things were discovered at Republican incumbent Kurt Prenzler's daycare center, including "rat droppings and roaches."
Well, Suarez's campaign is at it again, but this time they've missed the mark, to say the least. Watch…
Oof.
* But the allegations don't appear to be true.
A Google search for the phrase "Meanwhile, there is sex in the barracks and the U.S. Navy has transformed itself into a floating brothel" turned up a cached result of a deleted comment on the Madison County Treasurer's Facebook page.
That comment appears to have been written by somebody named Edward Hartmann, not Prenzler. Here's a screen capture…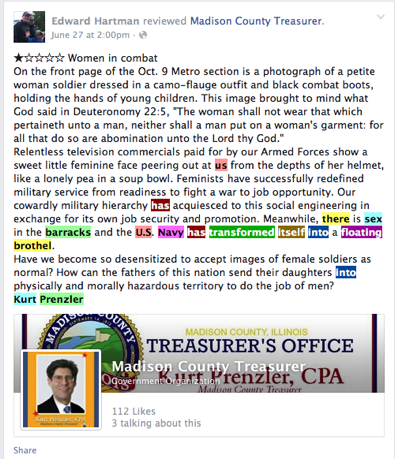 Oops.
Amazingly enough, Prenzler doesn't appear to have responded. Also, keep in mind that we're talking Madison County here, perhaps best known nationally for its lawsuits. Stay tuned.
- Posted by Rich Miller 10 Comments


* As we've already discussed, outside groups have bought over a million dollars worth of TV ads attacking freshman Democratic Congressman Brad Schneider. Today, Schneider launches his own TV buy. From a press release…
U.S. Congressman Brad Schneider (IL-10) launched his first campaign television ad this election, highlighting his Democratic values and commitment to stand up to the Tea Party.

The ad features Schneider explaining what it means to be Democrat, including his support for marriage equality and protecting a woman's right to choose. In contrast, former Republican Congressman Bob Dold makes no reference to his party affiliation in his most recent ad.
* The ad…
* The script…
Here's the thing.

To me, being a Democrat means we can't let "We the People" turn into "We the Few".

It means tea party obstruction has to stop.

Being a Democrat means we should lower the tax burden on the middle class.

It means we have to protect a woman's right to choose and every person's right to choose whom to marry.

I'm Brad Schneider and I approve this message because we're all in this together, accountable to each other.

We can still accomplish great things.
Discuss.
*** UPDATE *** Dold campaign response…
At a time when voters have had it with do-nothing politicians and the bitter partisanship that has paralyzed Washington, Congressman Brad Schneider is demonstrating just how out of touch he is by doubling down on his record of serving his party leaders rather than the people of the 10th District.

No need to take our word for it, Congressman Schneider says it all himself in his new campaign ad while taking himself out for a coffee break.

After voting with Nancy Pelosi 90 percent of the time, Congressman Schneider's own ad reminds everyone how enthusiastically he embraces blind partisanship and rejects the independent-minded leadership the 10th District enjoyed under Mark Kirk and Bob Dold. As if anyone needed a reminder.

But what Schneider deliberately leaves out in his first ad is 1) any record of accomplishment on anything at all from his time in office 2) the fact that he is the 10th District's current sitting member of congress.

Why would the Congressman leave important details like these out?

"After amassing a record as a hyper-partisan politician who's earned a toxic 28 percent approval rating and has been ranked as one of the least effective legislators in all of Washington, it's no wonder that Congressman Schneider makes no mention of his abysmal record or even the fact that he's a member of Congress," said James Slepian, Dold for Congress campaign manager. "Congressman Schneider has demonstrated that he knows how to hide from his constituents, but the voters won't let him hide from his record at the ballot box."
- Posted by Rich Miller 48 Comments


* From a press release…
Featuring Governor Quinn's 63-year-old push mower, Quinn for Illinois released a new ad today showing the Governor trimming his lawn and recounting the steps he has taken to rein in government spending and restore fiscal health to Illinois. The ad, which features the Governor mowing the lawn in front of his modest Georgian home in Chicago's Galewood neighborhood, went up on the air this morning.

"I'm working to fix the mess and I'm not finished," Governor Quinn concludes in the ad.

Governor Quinn inherited a mess, but he's been making the tough decisions and getting the job done to move Illinois in the right direction.
* The ad…
* Transcript…
Governor Quinn: "When I became Governor, state government needed to be cut, just like my lawn. So I got to work. I cut state spending by $5 billion, cut over 2 million square feet of office space, closed 50 state properties, and we're selling 9 state airplanes. I suspended legislators' pay along with my own. We balanced the budget in a fiscally responsible way. I'm Pat Quinn, I'm working to fix the mess and I'm not finished."
…Adding… As you'll recall, Quinn got some bad publicity not long ago when one of his neighbors complained that his lawn was too long. That could be seen as a negative metaphor here. Yeah, he's cutting his lawn now, but he should've been cutting it all along… or something.
* The Rauner campaign is out with a "fact check"…
Quinnocchio Alert: New Ad Misleads on Quinn's Record of Higher Spending, Higher Taxes, Unbalanced Budget

"Taxes in Illinois are a lot like the weeds in Pat Quinn's yard – out-of-control and hurting his neighbors. The only thing Pat Quinn knows how to cut is education funding to the tune of $500 million." – Rauner Spokesperson Mike Schrimpf

Quinn Claim: "I Cut State Spending By $5 Billion"

Reality: The Budget Has Grown Under Pat Quinn, And He Raised Taxes By $25 Billion

Spending From Illinois' General Funds Has Increased From $32.23 Billion In FY2010 To $35.76 Billion In FY2015. (State Of Illinois Budget Summary - Fiscal Year 2015, Commission on Government Forecasting & Accountability, p.26)

Quinn's Tax Increase Has Taken $25.7 Billion From The Pockets Of Illinois Families. "From an aggregate perspective, it is estimated, then, that a cumulative total of approximately $25.7 billion has been generated from the increases in the personal and corporate tax rate so far thru FY 2014." (State Of Illinois Budget Summary - Fiscal Year 2015, Commission on Government Forecasting & Accountability, p.17)

Reality: Quinn Cut Education By $500 Million

Pat Quinn Has Cut Education Funding By $500 Million. ("State of Illinois Budget Summary - Fiscal Year 2014, Illinois Commission on Government Forecasting and Accountability, 8/19/13; "New Details Emerge on FY2015 Budget, Civic Federation, June 5, 2014)

Reality: Quinn Is Under Federal Investigation For His 2010 Slush Fund That Wasted $55 Million In Taxpayer Money

Pat Quinn's Administration Is Under Federal Criminal Investigation For His 2010 Neighborhood Recovery Initiative. "Federal prosecutors and Illinois lawmakers are investigating a troubled state anti-violence program, creating a growing headache for Gov. Pat Quinn, who is locked in a tight re-election race. A legislative audit commission held a hearing Wednesday on the Neighborhood Recovery Initiative after subpoenaing members of Mr. Quinn's administration. But the proceedings were hampered by federal prosecutors who recently confirmed that a criminal probe is under way into the program and warned lawmakers that public testimony could hurt their efforts." (Mark Peters, "Illinois Gov. Pat Quinn's Re-Election Hampered by Criminal Investigation," The Wall Street Journal, 7/16/14)

The Neighborhood Recovery Initiative Wasted $55 Million In Taxpayer Funds. "The Neighborhood Recovery Initiative was launched in 2010 after Chicago community leaders called on Mr. Quinn to declare a state of emergency to address violence. The program, which had $55 million in funding in its first two years, focused on such areas as mentoring and assistance for those leaving prison. Earlier this year, the Illinois auditor general found 'pervasive deficiencies' in the program's operations, including a lack of monitoring of expenses." (Mark Peters, "Illinois Gov. Pat Quinn's Re-Election Hampered by Criminal Investigation," The Wall Street Journal, 7/16/14)

Quinn Claim: "We're Selling 9 State Airplanes"

Reality: Much Like His Lawn, Quinn Only Did Something About Illinois' Wasteful State Airplanes When People Started To Complain

Quinn Only Cut His Lawn After The Press Reported That His Neighbors Were Complaining. " My own guilt made it hard not to cringe when the pictures showed up in my inbox. The snapshots of a forest of dandelions — those hated flowering weeds that choke front lawns and spread their seeds on puffy white pillows caught in the wind — showed every homeowner's landscaping nightmare. Even though the photos were not of my front yard, I was hit with pangs of guilt because I should have weeded my own front lawn garden weeks ago. 'Footlong dandelions all over,' wrote the unhappy neighbor who sent the pictures. 'Worst on the block. … I don't know what's worse, the front yard or the back.' The dandelion tattletale said he sent the pictures because the dandelions and tall grass grow on the front lawn of a prominent Chicagoan who prides himself on regular-guy sensibilities — Gov. Pat Quinn." (Mark Konkol, " Gov. Quinn's Front Yard Dandelion Forest Frustrates Neighbor," DNAinfo Chicago, 5/22/14)

Bruce Rauner Proposed Selling Illinois' Wasteful Air Fleet On June 12. "Republican gubernatorial hopeful Bruce Rauner on Thursday laid out the first specific cost-cutting proposals of his candidacy, saying Illinois could save hundreds of millions of dollars, including by selling most of its airplanes, merging the comptroller's and treasurer's offices, and reforming the agency that oversees state property and purchasing." (Tammy Webber, Rauner Details Cost-Cutting Ideas For Illinois," The Associated Press, 6/12/14)

Quinn Said He Would Seek To Sell Nine Of Illinois' State Planes On June 30. " Illinois Governor Pat Quinn made $250 million in budget cuts and put nine airplanes up for sale as the lowest-rated state in the country struggles to improve its finances." (Elizabeth Campbell, " Illinois Governor Quinn Cuts Budget, Sells State's Planes," Bloomberg, 6/30/14)

Quinn Claim: "I Suspended Legislators' Pay, Along With My Own"

Reality: Quinn's Stunt Was Unconstitutional, And Slapped Down By The Courts

Quinn's Move Was Ruled Unconstitutional By A State Judge And Lawmakers Were Paid Their Salaries, With Interest. "A Cook County judge decided Thursday that Gov. Pat Quinn's move to stop paying lawmakers was unconstitutional and ordered Illinois Comptroller Judy Baar Topinka to pay them immediately — plus interest. Cook County Judge Neil H. Cohen ruled that Quinn violated the section of the Illinois Constitution that holds that state lawmakers' salaries must not be changed during the term in which they were elected." (Dave McKinney, Jon Seidel and Mitch Dudek, "In Blow To Gov. Quinn, Judge Rules State Lawmakers Must Be Paid," Chicago Sun-Times, 9/26/13)

Quinn Claim: "We Balanced The Budget In A Fiscally-Responsible Way"

Reality: Quinn's FY2015 Budget Is "Grotesquely Out Of Balance"

The FY2015 Budget Signed By Pat Quinn Is "Grotesquely Out Of Balance." FOX 32 POLITICAL REPORTER MIKE FLANNERY: "I can't recall seeing as irresponsible budget as was just approved… You'd think that the whole General Assembly was on medical marijuana when they were passing this thing. It's grotesquely out of balance. It doesn't have nearly the revenue that they claim. They emptied their whole dirty bag of tricks to make it look balanced." (Fox 32 Chicago, 6/15/14)

Illinois Is At Risk Of Having Its Credit Rating Downgraded Yet Again Due To Quinn's Unbalanced Budget. " A top Wall Street bond-rating agency Wednesday raised the prospect of a downgrade on state bonds because of concerns over the newly implemented state budget and a recent court ruling on retiree health benefits. Standard & Poor's lowered its outlook on the state's general obligation bonds to negative, though it retained its existing A- rating on state bonds. 'The outlook revision follows the enactment of Illinois' fiscal 2015 budget, which in our view is not structurally balanced and will contribute to growing deficits and payables that will likely pressure the state's liquidity,' Standard & Poor's credit analyst Robin Prunty said in a prepared statement." (Dave McKinney, "Bond-Rating Agency Shifts State Financial Outlook To Negative," Chicago Sun-Times, 7/23/14)
- Posted by Rich Miller 62 Comments