* We Ask America released some new congressional polling this week…
Illinois 10:

Brad Schneider (D) 45.09%
Bob Dold (R) 47.16%
Undecided 7.75%

Our numbers in the hotly contested 10th District race illustrate why it's considered one of the nation's most competitive. This week's report of a large TV buy for Dold from former New York Mayor Michael Bloomberg could tip the scales, but this one should still be considered a toss-up.

Illinois 11:

Bill Foster (D) 51.64%
Darlene Senger (R) 40.32%
Undecided 8.04%

Incumbent Bill Foster has taken a decided double-digit lead on Darlene Senger in the redrawn 11th District. Foster's background as a scientist and wealthy entrepreneur has made it difficult for Republicans to peg him as anti-business. Unless the GOP can prove he's the one responsible for all of Jay Cutler's interceptions, Foster should be safe on Election Day.

Illinois 12:

Bill Enyart (D) 41.83%
Mike Bost (R) 43.50%
Paula Bradshaw (G) 5.79%
Undecided 8.89%

Along with IL-10, the 12th District falls within the margin of error and is really anyone's race. State Rep. Mike Bost holds a slight lead in this Democratic leaning district, despite efforts from the left to portray him as a loose-cannon.

Illinois 13:

Rodney Davis (R) 52.83%
Ann Callis (D) 35.63%
Undecided 11.53%

In what was once thought to be a swing district under the new map, House freshman Rodney Davis appears in good shape to hold on to his slightly Democratic central Illinois District. Davis' lead may inch towards single digits on November 4th with a big Dem GOTV effort, but he should be safe.

Illinois 17:

Cheri Bustos (D) 54.98%
Bobby Schilling (R) 38.94%
Undecided 6.08%

In a rematch from 2012, many have felt from the beginning that incumbent Cheri Bustos would be tough to beat. Barring anything unforeseen, Bobby Schilling will continue wishing it was 2010.
* Meanwhile…
The Mike Bost for Congress campaign released the following statement announcing its latest ad, "The Ballot," today:

"'The Ballot' reminds Southern Illinois voters of what's at stake on Election Day: whether they should reelect Beltway Bill Enyart given his lockstep support for the failed policies of the Obama Administration and Nancy Pelosi," said Bost campaign spokesman Jim Forbes.

"Instead, voters can support Mike Bost, who will be a passionate, independent fighter for Southern Illinois – a leader who will put the 12th District ahead of everything else and who isn't afraid of straight talk."

The ad highlights Enyart's support for a wide array of failed Obama Administration policies, including Obamacare and the War on Coal.
* Moving right along…
U.S. Rep. Rodney Davis' (R-Ill.) campaign has released its eighth commercial of the 2014 general election.

The ad, titled "Better Way" features Davis talking directly to the voters about the struggles facing today's families with the rising costs of items such as healthcare, groceries and fuel. Davis, recently recognized for his bipartisan work by the group No Labels, says in the ad that there is a better way forward through working together to find solutions.
Script…
Rodney Davis: I'm Rodney Davis.

Like you, I'm frustrated by the dysfunction in Washington.

Costs are up for everything, from gas to groceries to health care.

Forcing families to do more with less.

There's a better way forward.

Let's make our economy healthy again, balance the budget and govern together.

As your Congressman, my commitment to finding solutions has never been stronger.

I'm Rodney Davis and I approved this message because we can make Washington work for all of us.
- Posted by Rich Miller 2 Comments


* From the Bruce Rauner campaign…
Bruce Rauner's campaign today released a new TV ad featuring a labor leader and former union official explaining why he supports Rauner and not Gov. Pat Quinn.

"Tell me what you've gotten done – I see zero," says Ron Wilson, former president of AFSCME Local 993. "Bruce will get the job done. I trust that man – I trust him with everything I've got."
* The ad…
* From AFSCME Council 31's Anders Lindall…
Bruce Rauner's latest phony ploy shows just how desperate he is to mislead Illinois voters in the last days of this campaign. After running for more than a year on an anti-worker platform of weakening union rights and slashing the minimum wage, now he wants us to forget the real Rauner and believe the fiction of his TV ads instead.

Rauner's newest commercial features a so-called "labor leader" who in fact represented a single local union of fewer than 300 people more than five years ago, and was forced to resign after just 18 7 months by union members disgusted by his failure to represent them. On the other hand, unions representing more than 1 million Illinois families are backing Pat Quinn, including the AFL-CIO, AFSCME, auto workers, fire fighters, mine workers, pipe fitters, police, steel workers, teachers and more.

Pathetic, insulting stunts like this are exactly why the more voters learn about Bruce Rauner, the better they know that Rauner's wrong for Illinois.
Thoughts?
…Adding… AFSCME now says that Wilson resigned after less than 7 months.
- Posted by Rich Miller 76 Comments


* AG Madigan's new ad is called "Powerful"…
* And Madigan's GOP opponent Paul Schimpf is upset at Planned Parenthood…
ATTACK DIRECT MAIL PIECE ON PAUL SCHIMPF SHOWS LISA MADIGAN'S DESPERATION

WATERLOO, IL – Lisa Madigan's left wing cohorts sent out an attack direct mail piece and have broken the number one rule for an incumbent candidate – never acknowledge your opponent by name. This, along with the millions spent on prime time TV ads, proves that Lisa Madigan realizes voters are ready to place their trust in another candidate.

Unfortunately, instead of running a positive campaign, Lisa Madigan's supporters have chosen to join the mudslinging this election year by recycling standard progressive falsehoods that accuse Republicans of waging a war on women. As our Attorney General, Paul Schimpf will fight corruption, not make economic or social policy for Illinois. Furthermore, Paul will abide by all Supreme Court rulings including Roe v. Wade and Hobby Lobby (protecting an employer's First Amendment Right not to pay for certain forms of birth control).

This attack piece illustrates, yet again, Lisa Madigan's status as a fierce partisan who is unable to run on her dismal anti-corruption record.
* The mailer…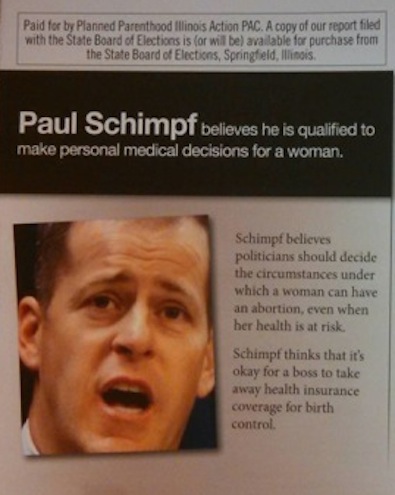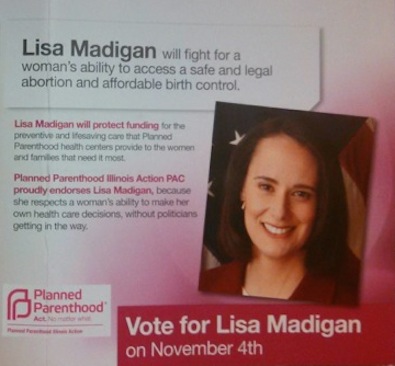 - Posted by Rich Miller 23 Comments


* Rate it…
* Script…
He's taken more than two million dollars from big utilities and corporate polluters, and Republican House Leader Tom Cross has been their man.

For two decades Tom Cross took their money and pushed their agenda to raise electric rates on us. And it was Tom Cross who voted to allow sludge plants to dump chemicals like mercury near Lake Michigan.

For Treasurer, Senator Mike Frerichs, a reformer, auditor, and public finance officer to stand tall for middle class families.
- Posted by Rich Miller 21 Comments


* Let's do something a bit more energetic today. My Morning Jacket…
If we holler loud and make our way
We'd all live one big holiday
- Posted by Rich Miller 14 Comments