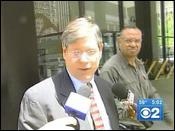 Fox News Chicago is calling around asking for comments from people about Mike Tristano pleading guilty today and allegedly implicating Rep. Lee Daniels. Tristano is Daniels' former chief of staff. More details later.
UPDATE: I just called the US Attorney's office and they said they'll fax me the agreement in about a half hour. I'll post it then. So check back sometime before noon.
UPDATE 2: The Sun-Times story is up.

Michael Tristano, who was the top aide to former Illinois House Minority Leader Lee Daniels, pleaded guilty this morning to diverting at least $128,000 in state resources for political purposes.

Tristano, 58, is certain to get jail time under a plea deal with the government and the feds cut that deal on the basis that he cooperate with them in other investigations. He'll get a break on jail though if he cooperates - up to 20 months instead of up to 37 months, prosecutors said. […]

Daniels has never been charged but Tristano's plea agreement indicates: "In both his capacities as Chief of Staff and Executive Director, defendant reported to and took direction from Lee Daniels."

Tristano used state employees from Daniels' staff to do political work on targeted campaigns, according to the plea agreement.
UPDATE 3: The plea agreement is posted here.
19 Comments
























































Sorry, comments for this post are now closed.