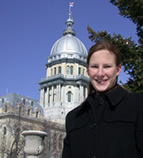 Illinois Issues Statehouse bureau chief Bethany Carson has a new blog. No comments yet, but she promises to turn on her RSS feed as soon as possible (update: feed is now on). Check it out.
Use this post to report new blogs you've found, or a new blog you've started.
UPDATE: Bethany has an update on how the budget negotiations went.

There's likely an agreement on the governor's college tuition tax credit, but there's no telling whether a slew of pet projects will prevent the overall budget from being ready next week.

The three top Democratic leaders finished their third consecutive week of budget negotiations. This afternoon, Sen. President Emil Jones gave promising comments about getting closer, but how close, he said, depends on whom you're talking to. "There's a few minor issues that we're trying to get taken care of." […]

He did say adjourning next week is possible. Budget staffers will continue to meet, but the House and Senate won't get back to business until May 2.

The anything-can-happen attitude was echoed by House Majority Leader Barbara Flynn Currie. Her promising sentence was capped off with a "but" and a courtesy smile that hinted she wouldn't bet her money on it.
13 Comments






































Sorry, comments for this post are now closed.