For the second time in a row, Constituent Dynamics has released a poll on the 10th CD that doesn't jibe with any other numbers.
Two weeks ago, they had Congressman Mark Kirk ahead of Dan Seals 46-44. Nobody believed it. They also had Melissa Bean in a tough race and nobody believed that, either, until the Daily Herald poll suggested she was in trouble.
This time, they've got Dan Seals ahead of Congressman Mark Kirk 48-46. Gitcher crosstabs here. Click below for a larger image.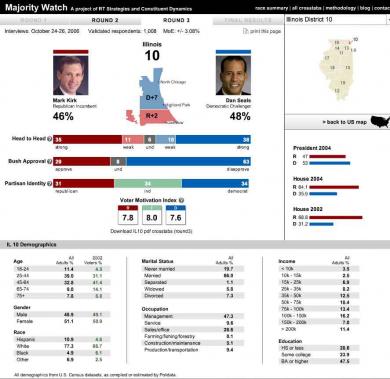 [Hat tip: ArchPundit]
*** UPDATE *** I posted this in comments, but thought it should be elevated to the main page. Here is the methodology this outfit uses:
Majority Watch, a project of RT Strategies and Constituent Dynamics, comprises telephone surveys conducted using interactive voice recognition (IVR) technology.

In each of 30 contested congressional districts, a representative sample of 5,000 likely voters based on previous vote history was selected from state voter registration files. 1,200-1,300 interviews were completed in each district […]

Completed interviews were compared to the voter registration file to validate results. Interview were discarded when the surveyed demographic responses did not match the voter file information of the sampled likely voter. In this manner, approximately 1,000 interviews were validated for each district.

Final results were weighted to represent the likely electorate by demographic factors such as age, sex, race and CD geographical subarea. No more than one time in 20 should chance variations in the sample cause the results to vary by more than 3 percentage points from the answers that would be obtained if all voters in a CD were polled.
24 Comments







































































Sorry, comments for this post are now closed.