* As I told subscribers today, this appearance by Rev. Sen. James Meeks on Fox Chicago Sunday may explain a whole lot about the special session for education funding next week and the governor's announcement yesterday that he may call special sessions up to four days a week, every week starting after Labor Day until the General Assembly comes up with an education funding reform package and passes a capital bill.
"If he runs again, I'll definitely run against him," Meeks said of Gov. Blagojevich, adding that Blagojevich "has failed in the area of education."
Click the pic to watch the segment…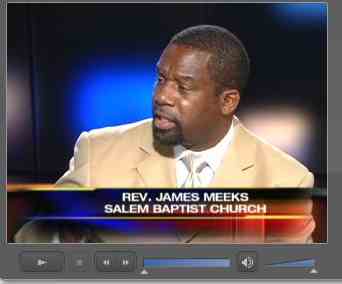 The only "base" the governor has left is the African-American community (and that's not solid any longer), and particularly African-American ministers. If he has any hopes at all of winning a multi-candidate primary in 2010, he has to make sure that no viable black candidate runs, particularly a black minister.
Thanks to commenters and readers for the tip about the Meeks interview. And thanks to Fox for posting the video on the Intertubes late yesterday.
* Meanwhile, Meeks' rally in the Loop yesterday drew about 2,500 people. Meeks is organizing a boycott of the first day of school and led the crowd in a chant of "No way first day!" CLTV has more…
* On boycott day, several children will travel north in an attempt to enroll CPS students in New Trier. There's another step after that…
Then, from Sept. 3-5, Meeks plans to have kids descend on corporate offices. The idea is to force big business to back equal education funding, they way they've backed a Chicago Olympics.

"It became an idea, and the entire business community got behind it," Meeks said of the city's Olympic bid. "School funding is a problem and everyone's ignored it."

Downtown workers agree the tactic will draw attention.

"It would be very disruptive but they'd make a point. They'd make a point," Hallie Page said.

Suzanne Hamilton said it was, "Real life, in your face awareness. It's important to do things like that. It has an impact."
There are supposedly seven steps in this thing. Stay tuned.
* You can listen to an excerpt of the governor's comments about the autumn spcial sessions at Chicago Public Radio…
"I am, in fact, thinking about the possibility of whether or not we discuss with the legislative leaders after Labor Day scheduling maybe 2, 3, 4 days a week throughout the fall for education funding and job creation."
* More from the Daily Herald…
Blagojevich said Thursday he's considering ordering lawmakers back to the Capitol in September and keeping them there until they fix education funding - a move that most believe would require some kind of tax increase.

The catch is Blagojevich would then veto any such increase.

"If it increases income taxes, yeah," said spokesman Lucio Guerrero. "Any kind of taxes."

During an unrelated appearance Thursday, the governor mentioned the September special sessions. Afterward, Guerrero said they remain only an option.
39 Comments




















































































































Sorry, comments for this post are now closed.