NEW: City Club speakers are traditionally given a coffee mug for their efforts. Gov. Blagojevich reportedly quipped today when he was presented with the cup that he guessed a mug was better than a mugshot.
The man has no internal editor. But the wisecrack got a big laugh, as you might imagine.
There's no real "news" to report from the speech, apparently.
* The governor is speaking at a City Club luncheon today. I'm hearing of a planned protest by Lt. Gov. Pat Quinn outside the venue. Quinn's gonna demand that the Senate reject the legislative pay raises this week. He already has a website on the topic.
…Adding… Comptroller Dan Hynes has apparently decided not to rule on whether the pay raise clock expires this week (I'm not sure it does, by the way). Instead, he just sent out a press release saying that the raises won't be paid because there is no appropriation…
"We cannot implement the pay raises without an appropriation. But more importantly, I am of the opinion that this is no time for pay raises," Hynes said, pointing out the drastic cuts to health care providers and social service programs in the FY09 budget.
The raises could legally kick in before the election, and then be retroactively funded in a future budget (that retroactive funding happened last time), but Hynes is apparently refusing to make a ruling on that point. Instead, he's saying that nobody will get a bigger check until there's an appropriation. True, but they'll all get a lump sum check in the future when these raises are included in a budget.
Courageous, no?
No.
…Adding more… The comptroller just called, and after much back and forth, I finally just asked him to tell me when the clock expires. He said he'd get back to me. I'll let you know.
…Adding still more… From the AP…
Quinn says he doesn't have a ticket for the City Club of Chicago event Blagojevich is headlining. But he's outside handing out information alongside a staffer holding a sign that reads "Vote Now, Vote No."
* Here's a brilliant, must-see parody ad by Joe Fournier. Click the pic to watch…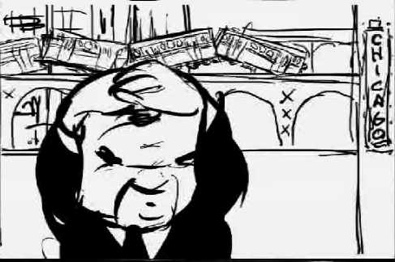 * A YouTube person who goes by the name Altgeld's Ghost created quite a racey pro con-con video last week that I never posted. AG's latest pro con-con effort is here.
* You may have seen Attorney General Lisa Madigan's recent outrage over "Meth Coffee"…
The back of the package for Meth Coffee suggests drinkers "chew them whole, snort the powder dry, cook it over a lighter and huff. . . ."

But Illinois Attorney General Lisa Madigan is having none of it.

Madigan is demanding a San Francisco company stop what she calls the misleading marketing and sale of the coffee.

"Parody or not, it's still glorifying drug use and it's sending a terrible message," said Madigan's spokeswoman Robyn Ziegler.
But Scott Reeder thinks AG Madigan is being a bit of a prude, and digs up a New Yorker cartoon drawn by Madigan's husband, Pat Byrnes…
[Byrnes] drew an office worker with a meth lab set up on his desk telling a co-worker with a cup of Joe, "Meth doesn't upset my stomach the way coffee does."
Gee, I hope she doesn't sue her own husband.
See her husband's toon here. Watch the Meth Coffee ad here, and Zorn's take is here and here.
* Not fun…
A 2006 survey by Response Insurance, a national car insurer, found that 57 percent of American drivers don't signal when changing lanes. Men are less likely to signal than women, and drivers under 25 are less likely to signal than older drivers. Their reasons were a bit scary:

• 42 percent said they didn't have time,

• 23 percent said they were lazy,

• 17 percent said they don't because they forget to turn it off,

• 12 percent said they changed lanes too frequently to bother,

• 11 percent said it was not important,

• 8 percent said they don't because other drivers don't. And, most disturbing of all,

• 7 percent skipped the signal to "add excitement" to their trip.
* And, now, your moment of Zen.
44 Comments



































































































































Sorry, comments for this post are now closed.