Yesterday, we talked about your use of online social networks. Let's continue in this technology vein today.
Question: Do you have a basic cell phone or one of those "smart" phones? If you have a smart phone (iPhone, Blackberry, Treo, etc.), which one? Besides calls and texts, how do you use your device during a typical work day? What do you like most and least about your smart phone? Explain fully, please. Thanks.
*** UPDATE *** Inspired by some of the comments today, I've decided to give Web-Alerts.com a test run. The service tracks my RSS feed, and then every time a new post is added to this blog Web-Alerts.com sends you a text message.
This is a free, easy-to-use Internet service, but standard text messaging rates from your own carrier apply, of course.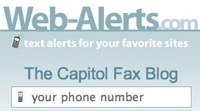 53 Comments






























































































































































Sorry, comments for this post are now closed.