* 1:32 pm - I told subscribers about this earlier today…
Gov. Pat Quinn says the state's massive budget hole could be bigger than $9 billion by next year, creating a crisis unlike any Illinois has ever seen.

Quinn, in an impromptu discussion with reporters after a Wednesday meeting at the Capitol with Senate Republicans, said the state's budget picture could get worse as the world's economy continues to falter. That could mean very difficult budget decisions facing him and lawmakers, although Quinn wouldn't commit to pushing tax increases or other solutions.
The deficit could be as bad as $11.5 billion.
More…
"It's no fun to talk about taxes, but we have to have a fair fiscal system that pays its bills," Quinn said he told Republicans.

The governor said he's skeptical of raising the state's motor fuel tax or fees on driver's licenses and vehicle titles to help solve the financial problems but can't rule anything out at this point.
That "can't rule anything out" is quite telling.
*** 1:48 pm *** Nick Hurtgen pled guilty today. He's looking at 22.5 months behind bars and is cooperating. Hurtgen may provide a lead to a couple of different people, for instance, there was that infamous plane ride…
Levine said he spoke to Gov. Blagojevich about state boards only once: while on a flight back from New York. A fundraising trip, Levine had again footed the bill for the private jet. On board the plane to New York on Oct. 29, 2003, had been Blagojevich, Levine, lawyer and fundraiser Joseph Cari, Bear Stearns financier Nick Hurtgen, Deputy Gov. Bradley Tusk, Blagojevich friend John Wyma, fundraiser Chris Kelly and Blagojevich bodyguard Joe Morrero. On the way back, said Levine, it was just Kelly, Levine and the governor as passengers.

Levine thanked the governor for his reappointment to the Health Facilities Planning Board.

"The governor said … 'Never discuss any state board with me,'" Levine said. Instead, Blagojevich told Levine to talk only through Rezko or Chris Kelly. But he did add, "But you stick with us and you'll do very well for yourself," Levine testified. "I took it to mean that I would have an opportunity to make a lot of money."

"Mr. Kelly (then) changed the topic of the conversation," Levine said.
- Posted by Rich Miller 25 Comments


* The Republicans do not currently allow voters to elect state central committeepersons. The Democrats do, and quite a few Republicans, particularly the "insurgent conservatives," want the same democratic rights. The GOP powers that be fret that the elections could open up all sorts of nasty wounds and further divide the party.
A bill to mandate open elections can be found here.
* The Question: Should the General Assembly pass that bill? Explain why or why not.
- Posted by Rich Miller 84 Comments


* AG Madigan is getting some political heat…
Illinois Attorney General Lisa Madigan is being threatened with political retribution if she insists on washing her hands of torture cases tied to former Chicago Police Cmdr. Jon Burge.

Chicago Alderman Ed Smith said Tuesday sending five of the 25 Burge cases back to the Cook County state's attorney's office as Madigan requested will mean they will not prosecuted.

Smith warned Madigan will pay a price in a race for governor or for re-election, if she insists on passing the cases back to the state's attorney's office.
Smith lost his countywide race last year, but he has a powerful local organization and his political retribution threats cannot be taken lightly.
* A little background…
Burge and officers under his command were accused of torturing many into confessions through beatings, electric shock and other odious acts. He was terminated by the Chicago Police Department in 1993 and indicted in October 2008 on perjury and obstruction of justice charges. Federal prosecutors have expanded the investigation to include officers under the former commander's command when the alleged torture acts took place.
* More background…
The [five cases Madigan wants to give back to the state's attorney] were among 21 turned over to the state attorney general in 2003 after a judge ruled that then-State's Atty. Richard Devine had a conflict of interest because he once represented Burge in private practice.
* Devine is gone, so the conflict no longer exists, according to Madigan…
"Given the fact that there has been no activity and the fact the conflict no longer exists, we have asked Judge Biebel to consider assigning them back to the state's attorney, where they would have been if not for Devine," [Cara Smith, Madigan's deputy chief of staff] said.
* But a recent AP story cited money as a big factor…
Illinois Attorney General Lisa Madigan's office says it can't handle the remaining cases related to former Chicago Police Cmdr. Jon Burge because of budget cuts imposed by former Gov. Rod Blagojevich.
* Back to Ald. Smith…
"If this is shifted back, it's gonna get lost in the cracks, put on the back burner and nothing will happen. Those people who are in jail will remain in jail. I want her to follow these cases to fruition and make sure that justice is served from her office," Smith said. […]

"Our community is still upset about these cases. It could give the impression that she just wants to walk away and let it go"
He has a point.
- Posted by Rich Miller 14 Comments


*** UPDATE *** "Premature" does not mean it won't happen, by any stretch of the imagination…
Gov. Pat Quinn said today that talk of a huge state tax increase in next month's budget proposal is "premature," and he reminded local officials and interest groups lobbying for more money that times are tight. […]

"It's premature to talk about that now," Quinn said as he entered the Capitol through its main North entrance, a marked departure from Blagojevich's habit of using a basement utility tunnel. "But when we have the plan, we'll lay out in full detail what the needs are and how to pay for it."
[ *** End of Update *** ]
* As I told subscribers this morning, Gov. Quinn isn't at all enthused with increasing the motor fuel tax to pay for the capital bill…
While the governors meeting focused in large part on building the nation's infrastructure, Illinois hasn't approved a major public works program in a decade. Part of the problem was Blagojevich's strained relationship with legislators, but funding remained a major stumbling block. Now, lawmakers there are floating the idea of using a gas tax to pay for it.

But after talking with fellow governors about how to pay for infrastructure improvements, Quinn said a gas tax hike sounds "counterproductive."

"If we want to wean ourselves from a petroleum-based economy, then we can't be using that particular source of funding to invest in the things we need to do to become energy-efficient," he said.

The governor, who plans to run for re-election in 2010, said he's "never been excited" about the gas tax because it is an excise tax that isn't based on a customer's ability to pay. But the idea of the gas tax as a user tax, to pay for infrastructure doesn't make sense, because infrastructure is more than just roads, he said.

Quinn suggested that infrastructure plans should include non-transportation items — such as laying fiber optic lines along highways — to promote telemedicine, online education and Internet commerce.
The Senate Dems are looking at a 16-23 cents per gallon increase in the tax. The House Dems are mulling an 8 cents per gallon hike. But Quinn doesn't appear to love either idea.
To raise a billion dollars for capital, he'd need about a third of a percentage point income tax increase. But that's without all the exemptions he wants to put into place for lower income taxpayers. Some downstaters are looking at the income tax for capital, but the income tax will probably also have to be raised to close the budget deficit.
* Semi-related…
* Govs' Q & A: Avoiding deficits post stimulus

* Illinois to Get First Chunk of Stimulus Money. But they're unclear on how much it will be, and what it can be used for.

* Reform committee wraps up second hearing

* Illinois officials call for letting public see secret investigations of corruption

* Ill. government inspectors want more transparency

* State salary data ought to be online

* Green Party leaders in Illinois slam Senate President John Cullerton's comments opposing campaign finance reform
- Posted by Rich Miller 16 Comments


*** UPDATE 2 *** Quigley claims he didn't vote for the resolution calling on the General Assembly to pass the transit bailout. From a press release…
The Quigley for Congress campaign responded today to false statements made today by state Rep. John Fritchey.

"Just like when it came to vote on sales taxes, John Fritchey got it wrong again today," said Tom Bowen, Quigley for Congress campaign manager.

Bowen added:

"Fritchey is doing what all politicians do when they are in trouble, they mislead the voters. Mike Quigley never voted for the resolution Fritchey cites, nor did he co-sponsor it. Quigley has said consistently that the reason the CTA was in such a dire condition was the direct result of John Fritchey and Sara Feigenholtz voting for budget after budget that shortchanged mass transit, while failing to hold the CTA accountable for the money it was wasting on mismanagement. When faced with a similar crisis in Cook County, Mike Quigley held his ground and voted against the Stroger sales tax hike while Fritchey and Feigenholtz voted for a sales tax hike, helping make Chicago's sales tax the highest in the nation."

"Mike didn't vote for sales taxes on that day, any day before, or any day since. John Fritchey can't say that. Sara Feigenholtz can't say that.

"And that's why the taxpayers of this district are saying they support Mike Quigley."
Fritchey's campaign claims that Quigley missed the committee vote, but was present for the floor vote, which was unanimous and a voice roll call. Quigley's people deny it. Stay tuned.
*** UPDATE *** This is a very legit hit by Rep. Fritchey. Several legislators were talking about Mike Quigley's attacks this week and weren't happy about them. We'll see if the media covers it. From a press release…
State Representative John Fritchey (D-Chicago), a candidate in next week's Special Primary Election to fill the 5th Congressional District vacancy, today chided one of his opponents in the race as an opportunist and a hypocrite. Rep. Fritchey's comments came in response to mailers and statements made by Cook County Commissioner Mike Quigley regarding the state's bailout of the CTA, Metra and Pace mass transit systems, and his supposed opposition to Cook County Board President Todd Stroger.

A recent Quigley campaign mail piece attacked Fritchey for supporting legislation that kept the buses and trains running in the Chicagoland area. But at the time the legislation was being considered in Springfield, Quigley actually voted for a Cook County resolution 'urging the Illinois General Assembly to take such action as is necessary and appropriate to increase
operating funding." (County Resolution 07-R-310)

"Mike Quigley has crossed the line from political spin and jumped right into the realm of deceiving the voters," stated Rep. Fritchey. "When it was politically popular to keep the buses and trains running so people could get to and from work, Mike was fully on board. Now that he's running for higher office, he's criticizing the same bailout that he wanted passed at the
time."
You can find the resolution on this page.
I wrote about Quigley's attacks on Fritchey and Rep. Feigenholtz on this issue yesterday. You can click here to see one of the mailers in question.
* Also, Jesse Greenberg points to this whack of Quigley by Forrest Claypool after the 2007 budget vote….
On February 10, Commissioners Quigley, Gorman, Goslin and Silvestri switched sides and voted for President Stroger's budget, which protected politically connected upper management personnel and sacrificed frontline personnel. These same commissioners then proceeded to vote against the very amendment they publicly supported a week prior, resulting in the defeat of our omnibus budget amendment 10 to 7.
[ *** End of Update *** ]
* While Rep. John Fritchey's ketchup on a hot dog mailer will probably go down as the goofiest ad of the season (if not the decade), his TV closer is quite strong…
Fritchey doesn't have nearly the money behind this ad that Rep. Sara Feigenholtz and SEIU have behind their TV buys. But this isn't a normal campaign. Phil Crane won a 1969 special congressional election (after Donald Rumsfeld left for the Nixon White House) with something like 3,000 votes in an 18-candidate primary. Weird things can happen when the ballot is crowded and nobody votes.
* I really don't get the Chicago media's aversion to this race. For instance, today's Tribune profile of Ald. Pat O'Connor (at least the online version) makes no mention of the paper's weeklong series of articles about O'Connor's zoning "issues." The paper's edit board also made no reference to the series when O'Connor was mentioned in its endorsement of Mike Quigley. Also, the Trib's Quigley profile posted online is only a small portion of the print story.
* Speaking of Quigley, David Ormsby claims the candidate is being hypocritical with his attacks on Feigenholtz and Fritchey over the mass transit bailout vote…
Fritchey and Feigenholtz had the courage to take a tough vote to keep the buses and trains running for thousands of their constituents and thousands of Quigley's. Quigley had the cowardice to attack them for it.
* If you want to follow the campaign via Twitter, WindyCitizen has a handy new tool.
* I banned someone for life yesterday because of a very inappropriate comment about a candidate. That commenter will never be allowed back in, no matter what, for as long as this blog exists. I even deleted all of his/her previous comments for good measure. It was a very satisfying Orwellian erasure.
Besides that one idiot, the comments weren't too horrible yesterday, but things have gotten out of hand in previous posts. I will ask one more time for a bit of civility and common sense. I'm in no mood and have no time to babysit overzealous campaign hacks today. Grow up or leave.
Also, please use only one screen name in comments. I can see your IP addresses, so I know when you're attempting to post multiple "thoughts" under different names.
- Posted by Rich Miller 37 Comments


*** UPDATE *** Burris hires new staff. From a press release…
Brady King, interim chief of staff], a Capitol Hill veteran since 1992, has served Representative Chet Edwards (D-TX) as Appropriations Advisor, Representative Allen Boyd (D-FL) as Legislative Director, and Senator Edward Kennedy (D-MA) as Defense Policy Advisor. King holds degrees from Texas A&M University and Baylor University, and he is completing a PhD at Temple University.

[Jim O'Connor, Communications Director] is a veteran of Chicago and Illinois politics. O'Connor has served as Press Secretary for US Senate candidate Blair Hull, Political Director at the firm of Wilhelm & Conlon, and has most recently been based in San Francisco as a political commentator for Bay-area evening news station, KRON4.
[ *** End of Update *** ]
* He isn't leaving and he's talking about running again…
"Roland is going to stay in the Senate, going to stay until the people of Illinois decide if he should leave," [Burris media and political adviser Delmarie Cobb] said.

Meaning what?

"Petitions will begin to be circulated in September," she responded. "Then we'll see."
Announcing that he wouldn't run in 2010 would've forced Sen. Burris to give up his only remaining leverage.
* Cobb clearly intends to use the race card…
Now, Cobb says, Burris' enemies are trying to bloody him up and weaken him with mounting legal bills.

"And then it won't be called racism," said Cobb.
Oy.
* Dick Durbin ramps up the pressure, but there's only so much anyone can do…
Durbin said he would not support Burris if he ran.
* Speaking of doing nothing…
A plan to change the way Illinois fills vacant US Senate seats faces a tough road in the state Legislature.
* This is strange…
Durbin said Burris told him he was under some financial pressure. Burris has said he now owes at least $400,000 for lawyers.
Burris said his legal bills were $400K three weeks ago, before the latest round of madness. Maybe he just hasn't received the new invoice, or he's just clueless or not telling the truth. The law firm he's using is his own, so they're really piling up the bills on the guy, or he's just making stuff up.
* The congressman didn't respond, but he could've said the same thing right back to Burris…
Burris approached fellow Illinois Democrat Rep. Jesse Jackson Jr., and while shaking his hand, said, "I did nothing wrong, Jesse. I did nothing wrong."
* Burris was given a taste of the "DC diss" during the president's speech last night…
Members of Congress have special public rituals for pariahs who cannot, for various reasons, be ejected. At best, they show a distinct lack of made-for-TV enthusiasm for the scorned. At worst, they'll stare into the middle distance as if through Those Not to Be Acknowledged.

More commonly, they smile, but not warmly; hug everyone else and issue a polite nod or maybe back-pat to the undesirable before moving on. Rarely, they'll turn their backs or be rude. Particularly not on live television.
Oooo. That's so… not gonna work at all. Whatta buncha goofs.
And, horror upon horrors, he had to walk alone…
U.S. Sen. Roland Burris walked alone to President Barack Obama's address tonight, while other senators walked in pairs.
* Brutal? Really?…
After the speech, Obama went around shaking hands. When Obama came near the area when embattled Sen. Roland Burris was standing — alone at this point and looking a little forelorn — Burris waved at him a few times.

Obama appeared not to respond. And the president certainly did not reach out. I don't know if this qualifies as a snub, but it was a brutal reminder of the tough time Burris has ahead now that he has decided not to resign in the wake of controversies stemming from his appointment by ousted Gov. Rod Blagojevich.
I really don't think he cares…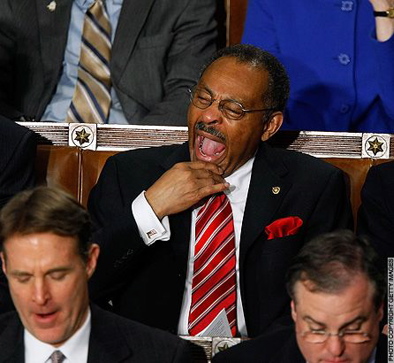 Caption?
* Related…
- Posted by Rich Miller 72 Comments


Illinois paid over 205,000 people unemployment checks last week.

That comes out to more than $114.7 million.
Power company ComEd slashed some employees' work hours by 40 percent this week — just one week after announcing it would cancel projects under way, but avoid layoffs.
110-story icon may get paint job to boost tenants, energy
The Cook County sheriff's office and the Chicago Police Department are launching new efforts to weed out bad apples.

Sheriff Tom Dart recently ordered his internal-affairs investigators to conduct background checks on every one of the office's roughly 7,000 employees, spokesman Steve Patterson said.
Daley's broadside came during a news conference at police headquarters, called to unveil his annual package of gun-control legislation. The only new features are proposals to increase penalties for shooting students on or near school grounds and public transit and to prevent the private sale of handguns without a criminal background check.
- Posted by Mike Murray 8 Comments