* 2:54 pm - The teevee is reporting that US Sen. Dick Durbin asked US Sen. Roland Burris to resign. Burris said no, of course.
Durbin also said that Burris hasn't made up his mind about whether he'll run in 2010. So, the trial balloon from earlier today apparently was either false or was walked back.
From USA Today…
Burris declined to comment as reporters circled around him and walked with him to the elevators. "My attorney suggests I don't discuss this," Burris said as he waited for the elevator.
* 3:05 pm - Politico…
Durbin: "[Burris] said he had not made up his mind as to whether he would be a candidate [in 2010]…I told him that under the circumstances, I would consider resigning, in his shoes. He said he would not resign."
* 3:38 pm - Video…
- Posted by Rich Miller 31 Comments


* Ah, Cicero…
Cook County Sheriff's police escorted armed security personnel hired by Cicero President Larry Dominick from polling places during today's primary election, according to the Cook County Clerk. […]

Officers from the Sheriff's department may assist with security at polling places, [Courtney Greve, a spokeswoman for Cook County clerk David Orr] said, but armed off-duty police officers hired by political candidates are not allowed.
Don't tell that to the Cicero flack in chief…
But Cicero Town spokesman Dan Proft claimed the security personnel were necessary, "to make sure Garcia and his hooligans don't cause any problems at the polling places."
So, to stop some "hooligans" from causing trouble, Cicero is using armed guards who are not allowed at the polls and who had to be escorted off the premises by county sheriff's deputies.
I suppose this is a big improvement from when Al Capone first took over the town's government in the 1924 election. Capone used Tommy Gun wielding gangsters, not off-duty cops, at the polling places. And the sheriff's deputies knew better than to show up.
Progress is relative.
* Meanwhile…
Mayor Richard Daley alleged today that federal authorities ignore blatant drug and gun trafficking but are overzealous in prosecuting star athletes such as Barry Bonds and Michael Vick.

"They can find Barry Bonds and Michael Vick, but they can't find a drug dealer?" Daley said at a news conference where he argued for tougher federal and state gun laws.

The mayor said federal law enforcement—which has targeted City Hall and Chicago police officials with indictments—has misplaced priorities because it charged football star Vick for dog-fighting and baseball slugger Bonds with lying about using steroids. […]

After his passionate defense of Vick and Bonds, the mayor would not say whether he thought the federal case against his former patronage chief Robert Sorich and two other aides was a fair use of law enforcement power.
And…
Randall Samborn, a spokesman for the U.S. attorney's office, declined to comment on the mayor's remarks.
The mayor seems a little edgy since the feds launched their probe of his airport.
- Posted by Rich Miller 23 Comments


* The man who probably did more than anyone except maybe George Ryan to drive Illinois voters away from Republican candidates offers advice to Illinois Republicans…
"The people are looking closely at the quality of candidates you put forward," Rove said. "You better not claw yourselves up and bloody yourselves up and cut yourselves up in a primary."
That sounds exactly like what Jim Edgar has been saying for years. The message has been ignored, particularly by the right. The fact that these words are coming from the darling of the right wing is significant, if those who've hung on his every word in the past decide to listen now. The war between the two halves of the GOP here has been beyond destructive.
* More…
"It strikes me that you have a pretty easy message," Rove told the several hundred attendees at the Schaumburg Marriott. "If you want change from the way things are then you ought to elect yourself a Republican governor."
The message isn't so simple, of course. Illinoisans are unhappy with the way things are going, but the polls I've published here in the past few months show the Republicans aren't yet seen as a viable alternative. When a goofy Democrat who hasn't held elected office since 1995 and was appointed to the US Senate by the completely disgraced Rod Blagojevich still led the best candidate the Republicans have by seven points, there's real systemic trouble afoot.
* And a bit more from Rove…
"Republicans are going to start winning … when they get candidates who can talk to suburban voters" about kitchen table issues
Actually, Republicans may start winning the suburbs when their national party (including people like Rove) stops scaring moderate suburbanites away in droves.
There are some very good suburban GOP legislators who've managed to hold on or even thrive. Many of those people are not exactly Rovian types, like Rosemary Mulligan, Sid Mathias, etc. But victorious legislative Republicans have lately become the exception in Cook, Lake and Will counties. The 2006 Senate Democratic gains were mostly suburban, as were the 2008 House Dem pickups. The Democrats have picked up two suburban congressional seats this decade, and another one may be in the offing if Mark Kirk runs statewide.
Staring into the future will burn your eyes, but does anyone really think that when Barack Obama's popularity starts to fall nationally that it will drop just as far in Illinois? So, rhetorical attacks on Obama or consistent votes against Obama's major legislation by statewide GOP hopefuls probably won't be a net positive next year.
* Meanwhile, the Democratic Congressional Campaign Committee is doing robocalls to voters in districts represented by GOP Congresscritters Judy Biggert and Mark Kirk. Here's the script, provided by the DCCC…
Hello, I'm calling on behalf of House Democrats with an important message about the economy.

Did you know [GOP member] voted against President Obama's economic recovery plan, endorsed by the U.S. Chamber of Commerce? [GOP member]'s empty rhetoric can't hide that s/he voted to raise the AMT tax on 22 million middle class Americans and against the largest tax cut in history.

Call [GOP member] at [xxx-xxx-xxxx] to ask why s/he voted to raise taxes on middle class families.
I doubt this will convince either Biggert or Kirk to get in line with the president, but it's interesting spin. Thoughts?
As always, keep your copy and paste DC talking points off of this blog, please. I'm not interested in what your favorite hack just told you to say on the radio or cable teevee. Be original. Thanks.
- Posted by Rich Miller 45 Comments


* Rep. Michael Tryon (R-Crystal Lake) has proposed creating a new, online searchable database with just about every possible bit of state government information imaginable, including state employee salaries…
"There just aren't any secrets in government," Tryon said. "This is our opportunity to be second to none."

But Joanna Webb-Gauvin, legislative director for the American Federation of State, County and Municipal Employees Council 31, says AFSCME members have concerns about putting that information in a searchable database.

She says there's no real public policy reason for rank-and-file state government workers to have their salaries disclosed, and doing so raises security and privacy questions. Instead, she says, lawmakers could put up salary ranges for job titles so the information is out there without tying it to specific individuals.

"They feel it's a violation of their personal privacy," Webb-Gauvin said. "They're feeling sort of like their laundry is being aired in a searchable database."

Other legislations questioned whether employees could benefit from seeing which employee make what, such as in cases of pay discrimination.
* The Question: Do you think state employee salaries should be included in a comprehensive, searchable online government database? Please explain fully. Thanks.
- Posted by Rich Miller 96 Comments


* Rep. Fritchey responds to a story we broke yesterday that SEIU will spend $250,000 on TV ads for Rep. Sara Feigenholtz, plus another $24K in phone-banking…
"It's obvious that [SEIU] thinks this is an election that can be decided by dollars rather than by issues," Fritchey said. "But it's the same strategy that they used to elect Rod Blagojevich twice."
That's mild compared to the acrimony behind the scenes in this race. It's pretty intense. Just hang around the comments section here for a tiny taste. And it's not just the candidates. Unions battling unions is always entertaining theater because labor unions often view themselves as an almost religious entity, so the fights are sanctimonious and brutal.
But what everyone seems to forget in this circular firing squad bloodbath is that the election is over in a week. People will have to go back to working together at the Statehouse, city hall, etc. In some cases, bygones will be bygones. In others, I'm not so sure the wounds will heal in the foreseeable future, considering what's been happening and the threats I've been hearing. Watch for trouble on the labor front, for instance.
* SEIU's TV ad is up and running today. I haven't seen it yet, but I'm told that it's a positive ad for Feigenholtz.
*** UPDATE *** Here's the ad…
* Mike Quigley was on Don & Roma's show this morning. Listen here. One of the first questions is about Feigenholtz's weeks-old refusal to acknowledge that she ran a poll which had some negative and false questions about both Quigley and Fritchey. Quigley slammed both Feigenholtz and Fritchey for voting for a sales tax hike to bail out public transit, which is the subject of a recent Quigley mailer…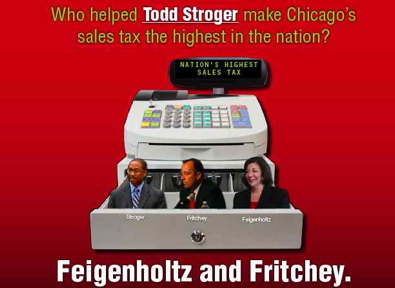 The full mailer is here.
* Two more unions have split with the Illinois AFL-CIO's endorsement of Fritchey and are backing Feigenholtz. The United Steelworkers District 7, which represents 40,000 Illinois workers, and the University Professionals of Illinois both announced endorsements within the past 12 hours. UPI is a branch of the Illinois Federation of Teachers, which is a major Fritchey supporter, so that one is quite fascinating…
"At this difficult time in our nation's history, there is no better qualified or dynamic leader on the issues that UPI cares about than Sara Feigenholtz," UPI President Sue Kaufman said. "Rep. Feigenholtz's record of supporting Illinois' public universities, expanding health care and fighting for the needs of working men and women make her the right candidate at the right time to partner with President Obama in getting our economy back on track."
* Charlie Wheelan seems to be spending a lot of money on things that nobody watches…
* Berkowitz has interviewed a few of the candidates, and I keep forgetting to link to them…
- Posted by Rich Miller 64 Comments


* If Roland Burris agrees not to run in 2010, will the heat truly be off? At least his possible purely caretaker role will allow him to stop running his mouth in public, so we'll see. Lynn Sweet floats a trial balloon about a meeting later today between Burris and Sen. Dick Durbin…
Burris understands that he needs to try to mollify Durbin and he will attempt to do that.

Scoop: Burris will also be sending, directly or indirectly (maybe this is it) two messages: he will not resign in the wake of the controversy surrounding his appointment by the ousted Gov. Blagojevich and he will not run for the seat in 2010. Burris has finally realized that not seeking election next year is the least price he will pay.
Sweet claims that the Senate Ethics Committe probe could take time. and the Sangamon County State's Attorney investigation into alleged perjury won't be finished soon. Maybe not. Durbin might be able to slow-walk the ethics committee, but that would be foolish. And the state's attorney doesn't exactly have a gigantic mound of evidence to sift through. It's pretty straightforward stuff (although perjury is probably unlikely).
* This won't help, however…
As U.S. Sen. Roland Burris prepared Monday to return to work in Washington, his attorneys continued to prepare a document they say will show he has not changed his story about how he secured the Senate seat from Gov. Rod Blagojevich. […]

"It will show he hasn't changed his story," [Burris attorney Tim Wright] said. "This will be a document that will be factually based, and I'm confident it will show that it's been the media that's changed their story, not the senator."
Yeah, blame Burris' prevarications on the media. That'll allow the heat to die down.
* Related…
* Illinois Republicans Interested in Burris' Seat


* Watchdog group joins chorus calling for Burris' resignation

* Did Senate leaders blow it on Burris?

* Durbin Seeks Meeting as Burris Returns to Washington

* Burris to Head Back to D.C., Remain Silent

* Roland Burris returns to DC to face colleagues
- Posted by Rich Miller 17 Comments


* My weekly syndicated newspaper column takes a look at the ongoing nightmare in the Illinois House…
The nasty and brutish Statehouse war is officially over for everyone but House Speaker Michael Madigan.

The House Republicans made a big stink last week. It was totally expected. They were upset with House Majority Leader Barbara Flynn Currie's explanation for why she did not immediately inform the House impeachment committee that U.S. Sen. Roland Burris had submitted a new and highly explosive sworn affidavit. The affidavit created a media feeding frenzy because it raised serious questions in reference to Burris' truthfulness about his appointment to the Senate by former Gov. Rod Blagojevich.

What wasn't expected is the way Madigan reacted to the minority Republicans. Madigan ordered his Rules Committee to pop a Rep. Jack Franks resolution onto the floor that asked for an investigation by the Sangamon County state's attorney, who is already looking into whether Burris committed perjury during his impeachment committee testimony and via his affidavits.

The Franks resolution asked the state's attorney to look into allegations made by Blagojevich on WLS-AM (890) several days ago. Blagojevich claimed a legislative leader asked him to find a state job for a legislator's secretary after the legislator's wife discovered the two were having an affair.

House Minority Leader Tom Cross (R-Oswego) immediately saw the move for exactly what it was: A blatant attempt to punish House Republicans for speaking out about an issue they believed to be important. Cross excoriated Madigan and the Democrats for bringing Franks' resolution to the floor and threatened to retaliate, vowing to ask the state's attorney to investigate everything that Blagojevich has ever said and ever will say about hanky panky by House Democrats.

Since Cross took the bait, pretty much everyone under the dome immediately assumed he was the legislative leader mentioned by Blagojevich, even though he later denied it.

But the Madigan trick worked. The emphasis was now off Currie and on a potential sex scandal involving a legislator. And because of that, the big issue on many minds last week was where Madigan's move might eventually lead.

Legislators are human beings. They are therefore flawed. Attacking one member for an egregious personal mistake could open up the biggest can of worms imaginable. I mean, seriously, are they now going to start outing legislators, statewide officials and top staff who've succumbed to various human temptations? Can Madigan truly think he can sanctimoniously throw the first stone knowing what he does (and what others do) about his own people and what he has done to help them solve their little problems or extricate themselves from sticky situations? If he asks, I'd be happy to remind him.

Since the nuclear option could destroy so many lives, things will probably stop right where they are. Sinners can breathe easy.

The real problem here is Madigan doesn't seem to realize the war is over. His former enemies Blagojevich and former Senate President Emil Jones are gone. The new Senate president is the godfather of Madigan's only son. The new governor is so eager to avoid Blagojevich's many mistakes that he appears to be more than willing to bow to Madigan's power. Last year's election resulted in Madigan controlling 71 seats, just one short of a super-majority, so the Republicans have been thoroughly defeated.

Yet Madigan continues to punish everyone he believes are his enemies. House Democrats who allied themselves with Blagojevich have been whacked but good. The onerous and oppressive House rules, originally put in place by the Republicans to keep Madigan from waging guerrilla warfare when he was in the minority party, have been left unchanged. And the pathetically powerless Republicans who dared defy Madigan last year by working with Blagojevich on the capital construction plan are being stomped at almost every turn.

Blagojevich's horrid legacy is being purged in the Senate. Democrats and Republicans are attempting to work with each other for the first time in years. Senate President John Cullerton even set up a bipartisan dinner event for senators and their spouses. And he has loosened his office's stranglehold on power.

But Blagojevich's ghost reigns supreme in the House. It's like he never left. He can still control events from afar, as was amply demonstrated last week.
Any commenter who speculates on who the legislator in question is will be banned for life. Period. No exceptions.
- Posted by Rich Miller 74 Comments


* Gov. Quinn confirms the obvious…
"I have no reason not to run," Quinn told me when I asked him about the 2010 election.

"I think I am doing a good job today. I anticipate I will continue to do that. Stabilizing the ship of Illinois is vitally necessary. I think even in the first three-and-a-half weeks we've done a decent job of turning a page in an unhappy chapter in the state's history," Quinn said.
* His charm is still his personal thriftiness, and he'll be pushing that angle with reporters as long as he can…
He sipped a cup of tea while we chatted at a hotel restaurant and insisted on handing me $3 for it, turning down my offer to pay. Blagojevich rarely attended NGA meetings, and when he did, he arrived on a state plane. Quinn flew United, coach. He refuses to get new business cards; he just scratches out the word "lieutenant" on his old cards.
That thriftiness will help counter what will likely be claimed is his love for more taxes and bigger government.
* But he'll have to be careful how he spends money on this never-ending state tour…
[Quinn wants to] Travel around Illinois, visiting different cities and suburbs each week.
* Among his plans for his first 100 days in office…
Consider creating a separate department to regulate the insurance industry.
That should send some ripples through the Statehouse, where the insurance committees are usually populated with friendly (to the insurance industry) faces.
…Adding… Quinn has long favored a Citizens Utility Board style consumer group for the insurance industry. Haven't heard that explicitly mentioned lately, but could that be part of what he's talking about here?
Thoughts?
- Posted by Rich Miller 24 Comments


Over a strong dissent from Justice Antonin Scalia, the U.S. Supreme Court turned away an appeal Monday from a former top aide to Mayor Richard Daley who was convicted of scheming to steer city jobs to campaign workers.

Lawyers for Robert Sorich and two co-defendants questioned whether the scheme to reward Daley's political supporters with city jobs amounted to a federal crime. The three were prosecuted for "honest services fraud," and they argued in their appeal that this was hazy and an ill-defined crime.

Only Scalia voiced a dissent, however. "This expansive phrase invites abuse by headline-grabbing prosecutors. … Carried to its logical conclusion," he wrote, it "would seemingly cover a salaried employee's phoning in sick to go to a ballgame."
The number of farms in Illinois is growing, but average size is down, a trend also reflected in Sangamon and several surrounding counties in a just-released federal census of agriculture.

In fact, the more than 1,100 farms in Sangamon County in 2007 was up nearly 19 percent from 2002.
The Canadian National Railway challenged the authority of federal regulators to make the railroad pay an estimated $70 million for two overpasses, in Aurora and in Lynwood.
C ook County State's Attorney Anita Alvarez on Monday filed a consumer fraud lawsuit against four Chicago-area towing companies, two near Blue Island, for preying on accident victims by charging fees ranging from $1,995 to $6,500.
Primary elections for various municipal offices are being held today in Cicero, Berwyn, Calumet City, Dolton and Aurora, among other communities.

The race for Cicero town president is a three-way contest among incumbent Larry Dominick, police officer Roberto Garcia and Morton College trustee Edward Ledvina.
Chicago Public Schools Chief Executive Officer Ron Huberman said today that community input helped convince him to take six schools off a proposed closing list expected to be voted on by the board this week.
How would you like to rent a car in Waukegan or St. Charles, only to be slapped with the 8 percent "transaction tax" that applies to Chicago car rentals?

Brace yourself. With a burgeoning $50.5 million budget gap, Chicago is reaching into suburban pockets. And Enterprise Rent-a-Car has filed a lawsuit challenging the Daley administration's effort to collect the tax from drivers who rent cars in the suburbs.
"I guess it promotes me," he added later when asked about the political edge the site might provide. "Yes, I'm the mayor of the City of Chicago, and it promotes Chicago."
- Posted by Mike Murray 11 Comments