* The numbers just naturally work against the GOP in Illinois. Gallup has this state near the top of "Blue" states…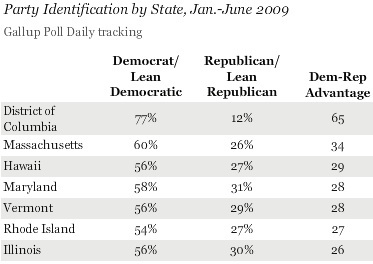 So, despite all that happened this year with the wild-eyed moron Rod Blagojevich, the new governor's tax hike plan, the failed spring session, the fight over ethics reform and everything else you can think of, this is, according to Gallup, a solid 56-30 Democratic state.
I'd like to see the monthly trend lines on those polls (5,383 interviews), but the end result can't be heartening for the Republicans.
* So, Paul Merrion is rightfully bearish on the GOP's gubernatorial chances…
A yearlong effort by big Illinois GOP donors to find and back a strong pro-business candidate for governor has failed, with no consensus in sight for the party's first wide-open gubernatorial primary in decades.

With business support split among the half-dozen Republicans in the race, the keepers of the party's purse strings are sitting tight. In fact, party leaders continue to look for candidates who would be widely acceptable to the business community, and two high-level Illinois executives are still pondering a jump into the race, says Chicago attorney Ty Fahner, who, as chairman of the GOP's finance committee, has been leading efforts to vet potential candidates. […]

By failing to back a single candidate, the GOP risks a messy, expensive primary at best. At worst, some fear a fractured primary could result in a victory for the party's conservative wing, producing a candidate with an uphill battle to win a Democratic-leaning state such as Illinois.
It's the same refrain every year with the GOP.
* Speaking of that race, Dan Proft takes a big whack at fellow gubernatorial candidate Sen. Kirk Dillard…
* And Greg Hinz is bullish on the Republicans' US Senate prospects…
On the Republican side, the big news is that GOP leaders were able to snag what most insiders consider to be the only horse who could carry the party to victory. That's North Shore Congressman Mark Kirk, who mixes moderation on hot-button social issues with fiscal conservatism and a hawkish streak on military and foreign affairs.

Now, Mr. Kirk will have some primary opposition. Several little-known conservatives are preparing to challenge him, and almost every one of them is making a huge deal out of the fact that Mr. Kirk was one of only eight GOP House members to vote in favor of President Obama's proposed cap-and-trade carbon tax.

But you don't get to Congress, much less the Senate, without being able to emphasize and de-emphasize at the right time. So ever since that vote, Mr. Kirk has been winking and nodding about how he really likes drill-baby-drill and nuclear power, America's security depends on energy independence and the Senate surely will amend what the House sent it. And when November rolls around, most of that dance will have been long forgotten because being pro-environment is a good general election position in Illinois.

More important, the GOP high-rollers have made their selection: Mr. Kirk. Snatching away Mr. Obama's old Senate seat would put a smile even on Newt Gingrich's face. And Democrats know that, too, which is why I've started to receive a steady stream of Democratic e-mails knocking Mr. Kirk a full 16 months before the election.
Thoughts?
36 Comments











































































































Sorry, comments for this post are now closed.