* In speaking today with the Chicago Board of Elections, it seems like everybody's trying to get their hands on the racial makeup of the city's voters. The Board doesn't have it, but Sen. Dick Durbin tried to lay out the ethnic situation…
"In the population, there are more Hispanics than blacks [and] more blacks than whites. In the voting population, there's more whites than blacks, [and] more blacks than Hispanics. So Mayor Daley has put together a coalition of mainly white voters and Hispanics, and enough blacks to get a majority. And the liberals would come his way, usually. Not his father, but for him. Now, you put in a black or a Hispanic or a white [candidate], and you say, 'OK, what's your coalition?' You can't do it alone. No single group can do it."
He's right about the coalition aspect, but wrong about the numbers. There are more whites living in Chicago than blacks and more blacks than Latinos, according to the 2000 Census.
The Chicago Elections Board estimates about 15 percent Latino registered voters, but they admit it's just a rough guess.
* However, the folks at the Illinois Manufacturers Association ran the city's Census block groups through the voter file and have come up with this breakdown of the city's registered voters by race and ethnicity…
* Black: 40.2%
* White: 35.6%
* Latino: 13.5%
* Asian: 3.6%
* Other: 7.1%
Including "other" into the mix means whites and Latinos increase by about three points each. Also, keep in mind that "registered voters" doesn't equal turnout. Latino turnout is notoriously low. Black turnout has been very strong.
*** UPDATE *** From the IMA we get 2008 turnout…

[ *** End Of Update *** ]
And while we're at it, the website Radical Cartography has a map of the city's racial breakdown…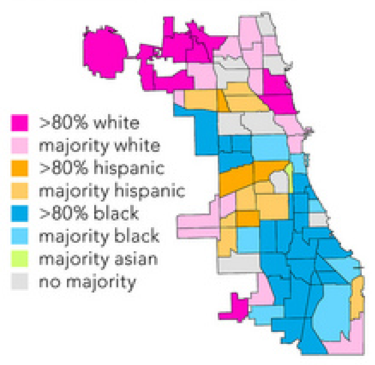 * Meanwhile, Congressman Bobby Rush says he's the George Mitchell of Chicago politics…
Rush says he is focused on trying to unify African-Americans around a single "consensus candidate."

"I'm trying to be a diplomat, a local George Mitchell, to try to help my community out of this maze that exists," he told the Chicago News Cooperative, referring to the former Senator and Middle East peace envoy for the Obama administration. "And I'm having some success in it."
If he's having success, there's no evidence of it yet. African-American folks like Larry Rogers, James Meeks, Terry Peterson, Jesse and Sandi Jackson, Jim Reynolds, Rickey Hendon, Carol Moseley-Braun and a cast of dozens still to be named are all out there floating their names. Congressman Danny Davis thinks he's the one who could unify the city…
Davis thinks he could be the one to lead Chicago's disparate factions to the promised land, saying that he could unify "all the different groupings of people" jockeying for power since Daley said last week he would not seek a seventh term next year. He said hundreds of people, "everywhere I go," have asked him if he would run in the Feb. 22 election.
Now, a lot of the people mentioned above and many, many others are floating their names so they can be in on the game later. They'll announce that they've decided not to run and are throwing their vast support to such-and-such candidate. Try to remember that as we move forward.
* On to the Latinos, where yet another Hispanic politician is claiming he's in. Newly appointed Illinois Commerce Commission Chairman Manny Flores is confirming a report by Windy Citizen that he is circulating petitions and will make a "special announcement" this Saturday.
Other Latinos talking about the race are Congressman Luis Gutierrez, City Clerk Miguel del Valle and Gery Chico. And Rep. Mendoza wants to replace del Valle…
A possible successor to City Clerk Miguel del Valle has emerged, one week after del Valle joined the stampede of mayoral hopefuls.

State Rep. Susana Mendoza, a Southwest Side Democrat, told the Chicago News Cooperative on Wednesday that she is gathering the voter signatures that would qualify her to appear on the ballot for city clerk in the Feb. 22 election.
* This was big news today…
White House Chief of Staff Rahm Emanuel met privately with Rep. Jesse Jackson Jr. Wednesday night to discuss the race for mayor of Chicago, a post for which both men are potential candidates. […]

"Rahm and I agreed that the city's financial crisis puts Chicago at a tipping point. The ramifications of this tipping point could tear at the social, political and economic fiber that holds our city together and makes it great," Jackson said. "Both of us are very concerned about the upcoming November 2nd election and the subsequent municipal elections, and agreed that every possible contender should conduct their effort on the moral high ground because our city deserves a very serious debate about its economic future."
Jackson has had some harsh words for Emanuel, so if he and Emanuel stick to their pledge it could lower the temperature gauge a bit. But that's just them. And Jackson talked a bit of trash today to RollCall…
Rep. Jesse Jackson Jr. (D-Ill.) may not be ready to announce whether he will run for Chicago mayor, but he is already talking tough about taking on another potential candidate — Rahm Emanuel.

"I know what it takes to compete against Rahm," Jackson said Thursday of President Barack Obama's chief of staff.
* But is Jackson actually backing state Sen. James Meeks? The Senator seemed to indicate that to Kristen McQueary…
[Meeks'] candidacy is telling on several fronts. It indicates that U.S. Rep. Jesse Jackson Jr. (D-2nd), of Chicago, isn't running, nor is his wife, Ald. Sandi Jackson, of the 7th Ward. Meeks and Jackson remain tight. They wouldn't run against one another.

"I am godfather to his children," Meeks said.
Thoughts on all this?
48 Comments















































































































































Sorry, comments for this post are now closed.