* It's Apportionment Day…
December 21st at 11:00am eastern time, the Census Bureau will release the first official data from the 2010 census–the total U.S. population and the population for each state. For redistricting geeks, this is like Christmas Eve to the 10th power (since it only happens once a decade). The Secretary of Commerce, along with the Director of the Census Bureau, will hold a press conference at the National Press Club to release the numbers. These numbers will tell states how many seats they get in the U.S. House of Representatives for the next ten years. Those numbers also correlate to the total electoral college votes each state gets for President.

The Bureau will update their website simultaneously as they release the new data in DC. It's a cool website that you should check out. The website has an interactive, state-by-state map that allows you to looks at historic population trends by state back to 1900. You can access the snazzy population widget here: http://2010.census.gov/2010census/data

If you would like to listen to the Bureau's announcement live, they will be streaming it on the Internet here: http://www.visualwebcaster.com/event.asp?id=74725

It is widely expeceted, based on projections and estimates data, that southern and western states will be the big winners [today] at the expense of great lakes and northeastern states.
The apportionment data will be here. Illinois has gained congressional seats just once in the past hundred years: 2 seats in 1910. We've lost seats after six apportionments, and broke even after three. We're expecting to lose another seat this year.
* From the AP…
Census data so far suggests new Hispanic-dominated districts could emerge, particularly with growth in some Chicago area neighborhoods. States are required under the Voting Rights Act to respect the interests of minority voting blocs.

Other scenarios include a lost seat in downstate Illinois, which has lost population.

"It could be good news for Democrats," said U.S. Rep. Phil Hare, who lost a former Democratic stronghold to tea party-backed GOP challenger Bobby Schilling in November, but could benefit from redrawn lines if he decides to run again in 2012.

Pat Brady, chairman of the Illinois Republican Party, warned that the GOP would push back if the Democrats in Springfield become too "heavy handed" and don't cooperate in creating new congressional and legislative districts that are competitive for both sides.
* 10:36 am - Illinois was not one of the five states with the slowest growth. New York and Michigan were included in that list. From the Washington Post's Twitter page…
The West is now more populous than midwest for 1st time

A U.S. House district, on average will be 710,767 residents. Up from 646,000 in 2000.

The apportionment results are in. 8 states gained seats in the House of Representatives. 10 states lost seats.

NE grew 3.2 percent; Midwest 3.9 percent; south 14.3 percent and west grew 13.8 percent.
*** 10:46 am *** Illinois has lost a seat. Here is the regional map. Orange means the state lost at least one seat. Grey means no change. Blue indicates seat gains…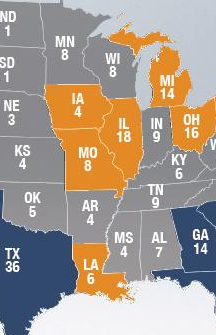 * The initial estimate had Illinois missing the cutoff for staying even on its congressional seats by just 75,046 residents.
* National map…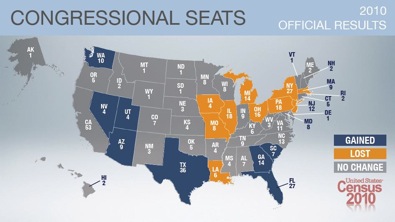 *** UPDATE 2 *** David Weigel…
This is about as bad as it could get for Democrats, and as good as it could get for Republicans. The next GOP presidential candidate gets six free electoral votes from South Carolina, Texas, Utah. The Democratic caucus in the House is about to see internal warfare in the rust belt and northeast, as their members are forced into Thunderdome battle for the diminished number of seats.

Only in Illinois, I think, will the Democrats be able to create a map that hurts the GOP's newly elected members and takes back a seat or two.
77 Comments






































































































































































































































Sorry, comments for this post are now closed.