* From a Daily Herald editorial…
Illinois remains 48th in job creation while it wallows in a $13 billion deficit.
OK, first of all, that $13 billion figure is outdated because of the income tax increase. I wish people would stop using it. But facts always get in the way of long-established memes when you're dealing with the mainstream media.
Second, I keep seeing this "48th in job creation" stat without a citation. Here are the actual numbers from the federal government of net jobs created between December, 2009 and December, 2010…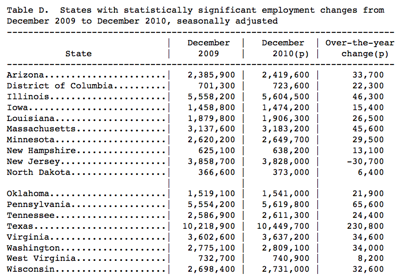 According to this federal list, Illinois is third best overall with 46,300. What's the worst? New Jersey, which lost 30,700 jobs.
* Speaking of New Jersey, Gov. Chris Christie was on Larry Kudlow's CNBC program yesterday and took more shots at Gov. Pat Quinn…
"And so between me and Governor Quinn in Illinois, here's the very simple difference: He's raising taxes, I'm cutting them. And the promise I made to the business owners in Illinois is come to New Jersey, and for as long as I'm governor we're not going to raise your taxes. If you stay in Illinois, you know for a certainty that Pat Quinn's going to raise your taxes. Because what he's done is made his bed with the public sector unions during the election campaign."
Gov. Christie already did raise taxes. By getting rid of the state's property tax rebate program, property taxes jumped almost 30 percent. And that doesn't count the actual property tax increases to cover state cuts to education and local governments.
* Illinois Statehouse News has an excellent article knocking down all that silly national talk about allowing states to declare bankruptcy…
In several reports by national media, Illinois has been used as an example of a state that could use a bankruptcy option because of its billions-dollar deficit.

But there are constitutional hurdles that would be hard to overcome, according to Douglas Baird, a law professor at the University of Illinois at Chicago.

"A state may contract debt but, typically speaking, you can't go to an Illinois court and sue the state of Illinois to collect the debt and you can't go to federal court to sue a state and collect the debt because states have what's called sovereign immunity," Baird said.

Bankruptcy affords individuals and businesses a way to get out from under the debt they owe and, in some cases, reorganize that debt to remain in business. States don't need that option because of sovereign immunity, Baird said.

"If you're immune from suit, then you don't need bankruptcy because your creditors can jump up and down but they're not going to be able to do anything because they can't seize your assets or do stuff like that anyway," he said.

This immunity makes bankruptcy for states unnecessary, according to opponents of the plan.
Exactly. Move along.
* Meanwhile, the Chicago Tribune engaged in more than a little revisionist history…
Last March 24, the pols who run Illinois nearly ruptured multiple vertebrae by slapping themselves so enthusiastically on the back.

In one day they had rammed through the Illinois General Assembly a bill establishing scaled-down pension benefits for public employees — but only those hired in 2011 and later. This was the so-called major pension reform that had Gov. Pat Quinn and his budget director, David Vaught, bragging that they had saved taxpayers $200 billion over nearly 35 years. Why, they even estimated that Illinois could reduce $300 million to $1 billion from the state's required pension contribution in the fiscal year that began July 1. House Speaker Michael Madigan and Senate President John Cullerton were thrilled too. Pension mess? Solved! Slap, slap.
Talk about hyperbole. Sheesh. Here's what Illinois Chamber President Doug Whitley said as the pension reform bill was working its way through committee…
If you can't watch the video, Whitley called the pension reform legislation "the biggest thing that I've seen around here in years."
* All that being said, there's very little good news out there right now…
Nearly 1,100 people turned out to apply for the 50 full-time jobs available at a Joliet distribution center.

The jobs with Central Grocers drew long lines of applicants interested in the positions, which are union jobs and pay benefits.
And…
The foreclosure crisis is getting worse as high unemployment and lackluster job prospects force homeowners in an increasing number of U.S. metropolitan areas into dire financial straits. […]

In the Chicago-Naperville-Joliet metropolitan area, foreclosure activity rose 16 percent, while home repossessions climbed nearly 20 percent, RealtyTrac said.
And…
Robertson was the lead author of a study published by Northwestern University Feinberg School of Medicine that found that doctors who study in Illinois are fleeing the state in droves. Robertson is chairman of the Department of Family and Community Medicine at Northwestern. […]

The study surveyed Illinois' graduating residents and fellows, and sampled about 561 respondents, of a 1,738 total population size.

The primary reason for the exodus was overall practice opportunities; however, the medical malpractice liability environment was a major consideration, the study stated.

Sixty-seven percent of the study's participants cited the medical malpractice liability environment in Illinois as a reason for leaving the state. There are no caps to the amount of money for which a physician can be sued, Robertson said.
* Related…
* Edgar: State needed a tax hike: Saying that Democrats have likely "used up all of their courage," Edgar, who was governor from 1990 to 1998, said more efforts to cut spending and put the state on a "fiscal diet" will have to come from both sides of the aisle, along with cooperation from the governor's office.

* State lawmakers grilled over income tax in Kane County: "You guys are one of hundreds of organizations that are screaming that we haven't paid you," said Chapa LaVia, of Aurora. "You're just as important as our kids … as our veterans … just as important as all our vendors who haven't gotten paid."

* Some in Illinois GOP Want to Link Work Comp Reform, State Borrowing

* New-home sales in 2010 fall to lowest in 47 years: For December, sales rose in all parts of the country except the Northeast, which saw a 5 percent decline. Sales surged 71.9 percent in the West and were up 3.2 percent in the Midwest and 1.8 percent in the South.

* What happens at Mitsubishi has wide impact

* DuPage's no-bid emergency radio contract with Motorola is in shambles

* IDOT top staffer canned; No. 2 director may retire
32 Comments































































































Sorry, comments for this post are now closed.